Passover is a time to reflect on the journey of the Jewish people from slavery in Egypt to freedom in their own land. It's a time to celebrate the renewal of spring and the promise of new beginnings. Also known as the Spring Festival and the Festival of Freedom, this hearty dish harkens back to the roots of Jews overcoming hardships, with the matzo meal representing the unleavened bread the Jews ate while escaping slavery in Egypt; its vegetables signaling the celebration, promise, and hope of Spring; and the modern-day warmth of gathering with friends and family to celebrate freedom.
This comforting and nourishing dish has been a staple of Jewish cuisine for generations, and this plant-based version is no exception. With a delicious combination of flavors and textures, it's the perfect way to pay tribute to the rich history and cultural significance of Passover while still indulging in a modern and healthy twist on a beloved classic.
It's important to keep in mind that Kashrut is a set of dietary laws that describe the foods, preparations, and other important details that Jews follow in accordance with Halakha, the rules derived from the Torah. Food that may be consumed under these rules is considered Kosher, or fit for consumption. Your loved ones might say they "keep kosher" or "observe kosher practices".

Additionally, during Passover, some Jewish communities follow the dietary law that forbids the consumption of leavened foods, known as chametz, which includes grain-based foods or those with leavening agents, like yeast. Therefore, while some products are considered kosher year-round, they are nevertheless considered unacceptable for Passover. The best way to know the correct modifications to make in order to follow your family and friends' religious dietary preferences is simply to ask! So gather your loved ones, break out the vegan wine during the Seder, and enjoy a bowl of vegan matzo ball soup that will warm both your belly and your heart.
Eggless Matzo Ball Soup, Perfected—Finally!
Over the years I've experimented with a lot of vegan matzo ball recipes, often with little luck. Matzo balls are very delicate and are traditionally held together with eggs, so it can be challenging to find plant-based ingredients (and egg replacers) that bind the matzo meal together effectively.
I can't even count how many times I've made perfect-looking matzo balls that end up completely disintegrating in the soup. But after much trial-and-error, I've finally found my dream recipe that really works!
The star ingredient this recipes uses in place of eggs? Silken tofu!
This is a recipe modified from the matzo ball soup recipe in Vegan: The Cookbook. It's foolproof, and perfect for Passover, for Hanukkah, for sick days, on chilly days, and heck, even in the heart of summer. It's really easy to make and a true crowd-pleaser. So load up your pantry with matzo meal and get cooking!
Key Ingredients in this Matzo Ball Soup
When it comes to making a delicious and satisfying plant-based, eggless matzo ball soup, the ingredients you choose can make all the difference. From the matzo meal that gives the matzo balls their signature texture to the silken tofu that binds them together, each ingredient plays a crucial role in creating a dish that is both comforting and nourishing.
In this section, we will dive into some of the key ingredients that make this soup so special, exploring their significance in Jewish Passover tradition, their unique flavors and textures, and how they come together to create a truly memorable meal. The best part? Kosher versions are available for every ingredient listed below, as well!
Matzo Meal
This humble ingredient is the star of the show when it comes to matzo ball soup. Made from ground-up matzo crackers, it adds that signature texture and flavor to the soup that we all know and love. Not only is it essential for the recipe, but it also holds special significance during the Jewish holiday of Passover, when matzo (unleavened bread) is eaten to commemorate the Israelites' hasty departure from Egypt.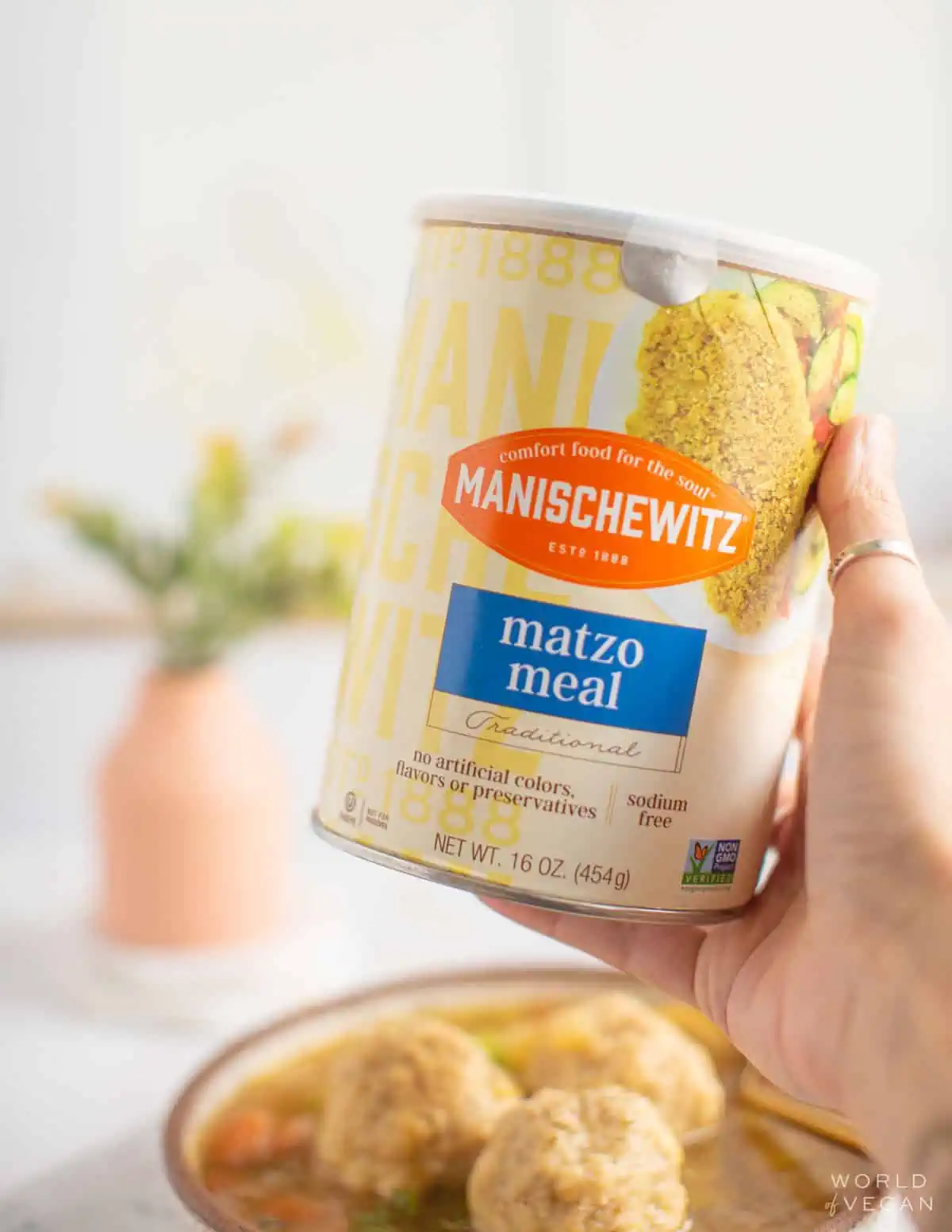 Matzo meal is vegan, and most matzo ball mixes are too! This recipe calls for matzo meal, which you can find at most grocery stores or online. Matzo ball mixes already contain baking soda (sodium bicarbonate) and they're also usually pre-mixed with spices like celery seed, garlic, onion, and pepper. Not all matzo is certified kosher, so be sure to read the package and labeling to be certain.
Silken Tofu
Who knew that tofu could be the secret ingredient to delicious matzo balls? This plant-based protein powerhouse not only adds a delicate creaminess to the matzo balls, but also helps bind the ingredients together for that perfect texture.
While silken tofu is a great alternative to eggs, not all Jews consider it to be "Kosher for Passover". Some Jews refrain from eating kitniyot foods on Passover, which are derived from legumes (like soy-based tofu), while others will consume such foods if they are certified kosher. Some organic tofu brands have received kosher certification from the Kosher Supervision of America, which is acceptable to some Jews to eat on Passover. If you're hosting a vegan Passover seder, please be sensitive and check with your guests to see if they are comfortable eating tofu!
Nutritional Yeast (Optional)
For those new to plant-based cooking, nutritional yeast may seem like a strange ingredient to include in soup. But trust us; it's worth it! This flaky, golden powder adds a nutty, cheesy flavor to the matzo balls, giving them that umami kick that we all crave.
But…is Nutritional Yeast Kosher for Passover? Again, that depends on the specific dietary guidelines and customs followed by each Jewish individual or community. If you don't consider nutritional yeast Kosher for Passover, you can simply leave it out!
Vegetable Broth (or Bouillon)
Store-bought vegetable broth is a fantastic option when it comes to making a delicious and easy plant-based matzo ball soup. But you can also opt use vegan bouillon and water instead! Bouillon is essentially a concentrated soup base made from dehydrated vegetables, herbs, and spices. It's a quick and easy way to add flavor to your soup; simply dissolve it in hot water and use it in place of vegetable broth. Better Than Bouillon makes several varieties of vegan bouillon that we love!
Celery Seeds
These tiny seeds may be small, but they pack a big punch in this soup. The earthy, slightly bitter flavor of celery seeds complements the other ingredients in the soup perfectly, adding a depth of flavor that takes the dish to the next level. And did you know that celery has been used for medicinal purposes for centuries? So not only is this soup delicious, but it's also good for you!
Parsley
This versatile herb adds a bright pop of green to the soup, as well as a subtle, fresh flavor that balances out the richness of the broth. In Jewish tradition, parsley is often used as a symbol of spring and rebirth, making it a fitting addition to the Passover seder plate. But in this soup, it's just a delicious and nutritious ingredient that takes the dish to the next level. While many dried herbs are kosher, if you're preparing foods that must be certified "Kosher for Passover", be cautious of seasonings (blended spices) and additives that may render the spices unsuitable for Passover.
How to Make Matzo Balls Without Eggs
Making vegan matzo balls may seem daunting, but fear not! With a few simple tips and tricks, you'll be shaping perfect balls in no time.
Silken tofu is a fantastic egg substitute in matzo ball soup, providing the same creamy texture and binding properties as eggs without any animal products. With silken tofu as a vegan alternative, you can enjoy delicious and fluffy matzo balls without sacrificing taste or texture.
To make vegan matzo balls using silken tofu, simply blend the tofu with olive oil in a food processor until it reaches a smooth and creamy consistency. Then, add the matzo meal and other dry ingredients, mixing until a dough forms. The dough should be thick, and a bit crumbly, but you should be able to press it together into balls that don't fall apart. If you followed the recipe precisely, the dough should come out perfectly. But if it's too wet, add a bit more matzo meal.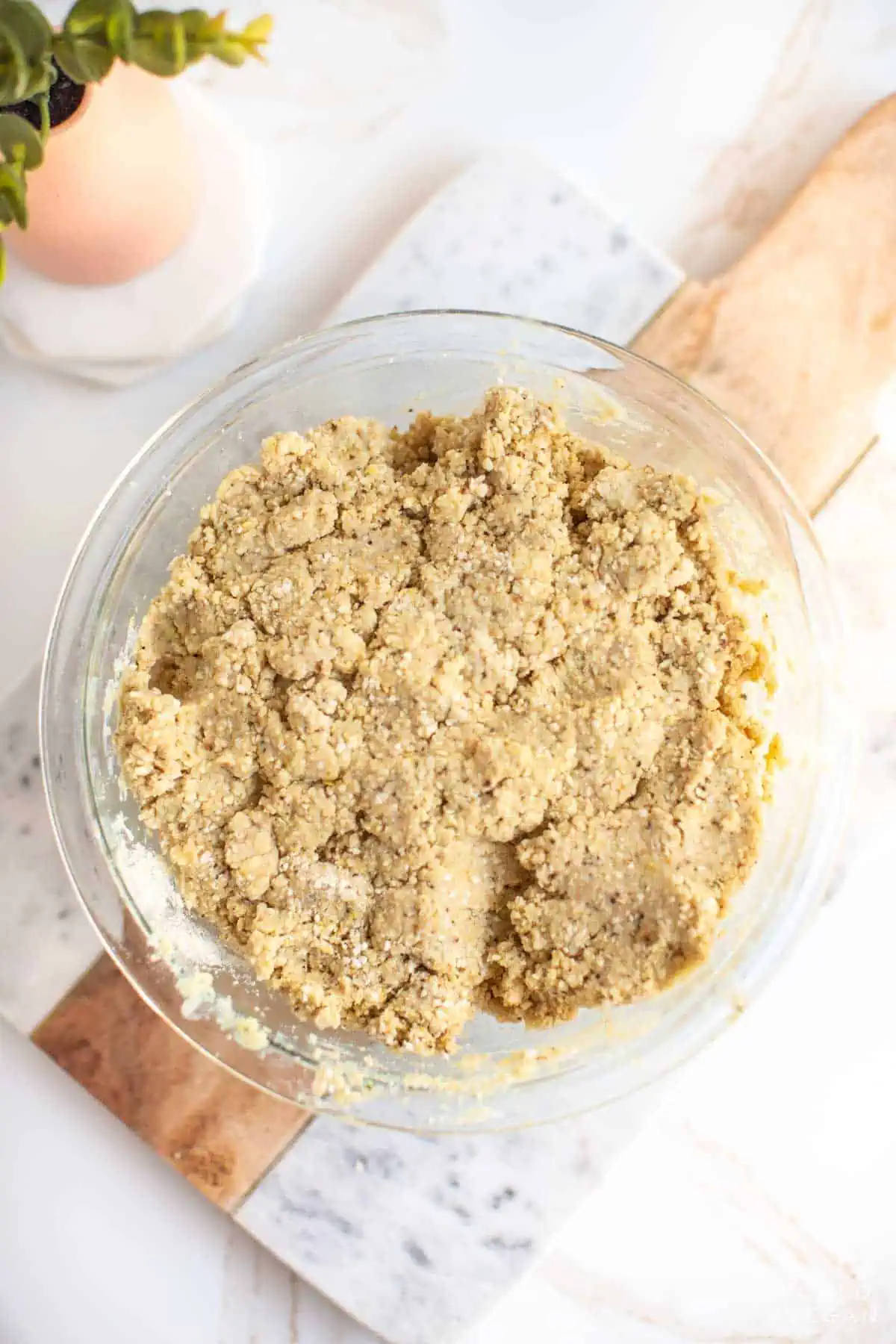 Once the dough is ready, let it rest in the fridge for at least 8 hours, or up to two days, before shaping into balls and cooking in the soup.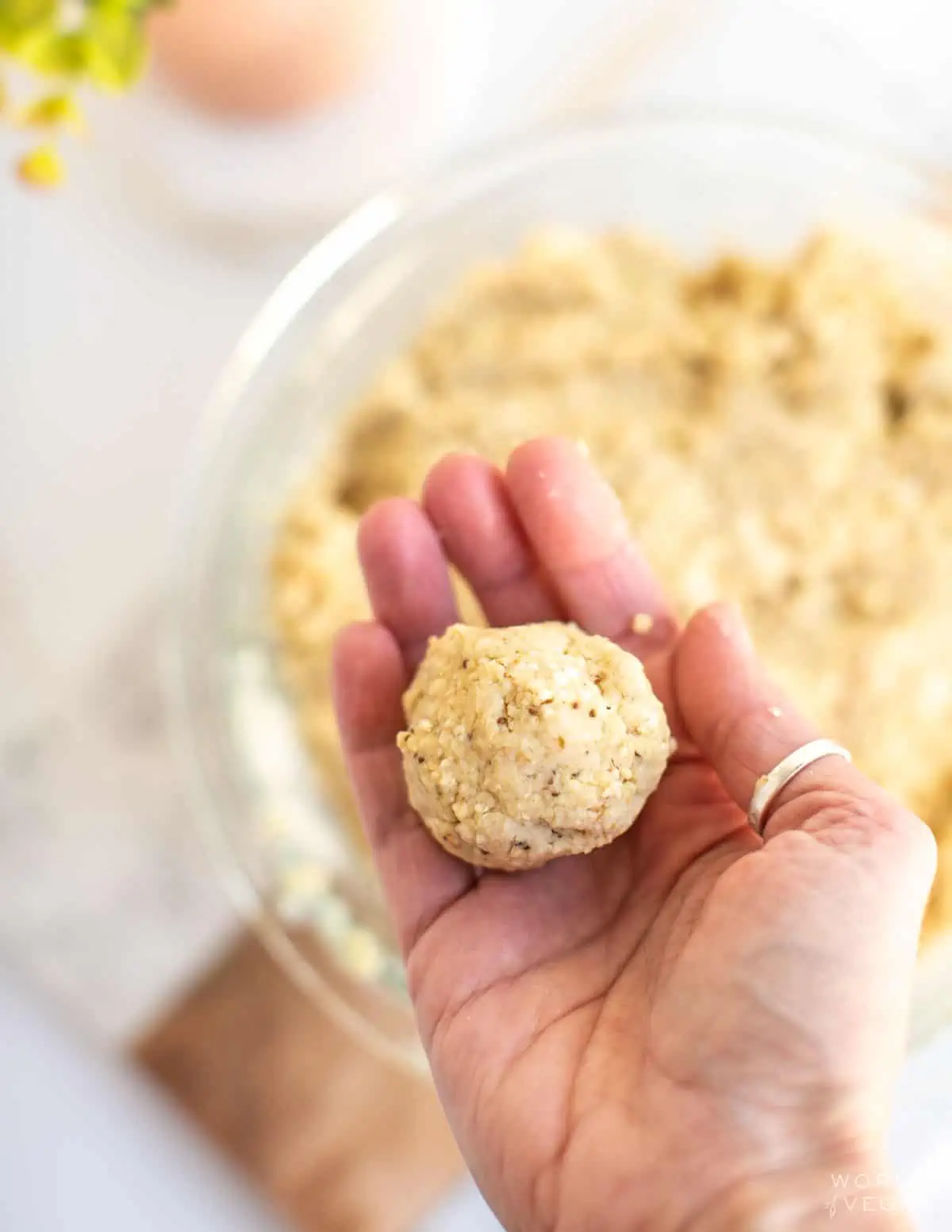 Helpful Tips for Making the Perfect Matzo Ball Soup
Make sure to refrigerate the dough for at least 8 hours, or up to two days, to allow the flavors to meld together and the dough to firm up.
When you're ready to shape the matzo balls, wet your hands to prevent sticking.
As you press and shape the dough into into 2-inch balls, be careful not to compress them too much. The goal is to create light and fluffy dumplings, so handle the dough gently.
Once the balls are formed, drop them carefully into the simmering soup, and resist the urge to stir them. Let them cook undisturbed for 40 minutes, allowing them to fully absorb the flavors of the broth.
When the time is up, taste the soup and adjust the seasoning as needed.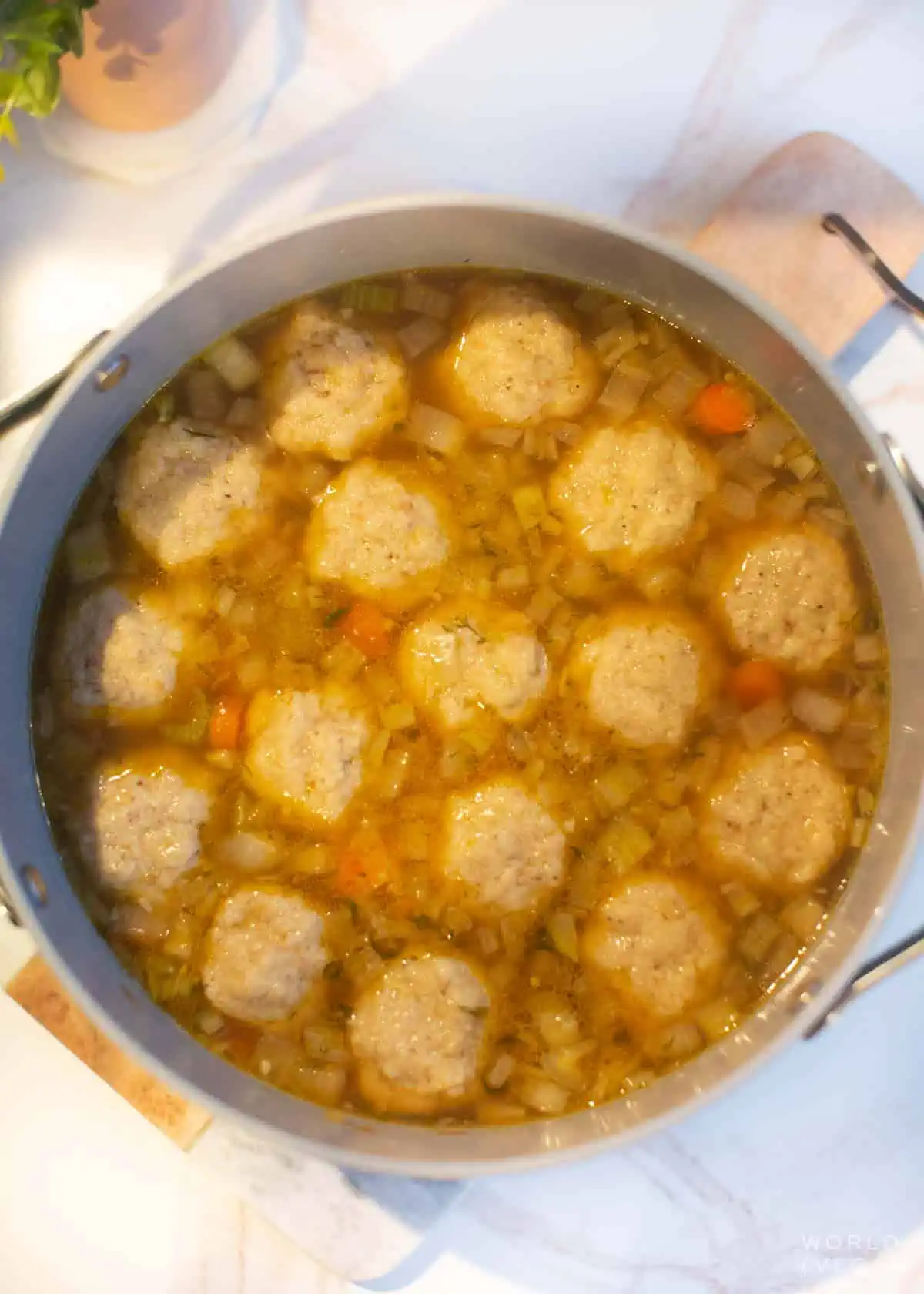 More Vegan Passover Resources
Whether you're getting ready to celebrate a vegan Passover, vegan Hanukkah, or just want to whip up some delicious traditional Jewish vegan recipes, we've got you. Here are a few resources and recipes that can help!
For the matzo balls
2 packages silken tofu, (680 g), drained
⅓ cup olive oil
2½ cups matzo meal, (340 g)
3 tablespoons nutritional yeast, (optional)
1½ teaspoon baking powder
1½ teaspoon garlic powder
1 teaspoon onion powder
1 teaspoon celery seeds
1 teaspoon salt
½ teaspoon black pepper
For the soup
2 tablespoons olive oil
1 yellow onion, chopped
2 carrots, sliced
2 stalks celery, sliced
2 tablespoons dill, chopped
6½ cups vegetable broth, (or vegan bouillon and water)
2 tablespoons parsley, chopped, for garnish
2 tablespoons fresh lemon juice, optional
Prepare the matzo ball dough: In a food processor (or high-speed blender), add the silken tofu and olive oil and blend until it reaches a smooth mayonnaise-like consistency. Transfer the mixture to a large bowl and stir in the matzo meal, nutritional yeast, baking powder, garlic powder, onion powder, celery seeds, salt, and pepper. Cover the dough and refrigerate overnight (or for up to two days).

Once the dough has rested in the fridge for at least 8 hours, prepare the soup. Heat the olive oil in a large stockpot over medium heat. Add the onion, carrots, and celery and sauté for 5–6 minutes, until the onion is soft. Add the dill and vegetable broth (or water and bouillon), bring to a boil, and then immediately reduce the heat to low and maintain a simmer.

Using your hands or a soup spoon, shape the dough into 2-inch (5 cm) balls. Carefully drop the dumplings into the soup, trying not to break them. Cover the pot and cook the soup at a low simmer for 40 minutes.

Remove the pot from the heat, season the soup to taste with salt and freshly ground black pepper, and stir in the lemon juice. Garnish with the parsley and serve immediately.
Calories: 430kcal | Carbohydrates: 59g | Protein: 9g | Fat: 18g | Saturated Fat: 2g | Polyunsaturated Fat: 2g | Monounsaturated Fat: 12g | Sodium: 1540mg | Potassium: 301mg | Fiber: 4g | Sugar: 4g | Vitamin A: 4123IU | Vitamin C: 7mg | Calcium: 94mg | Iron: 3mg
Will you be celebrating a vegan Passover? Or a plant-powered Hanukkah? Or do you just have a hankering for nostalgic matzo ball soup made without eggs? This vegan matzo ball soup is so good it's worth enjoying all year round!
This vegan matzo ball soup recipe was adapted and published with permission from Phaidon Press and the author and chef Jean-Christian Jury. All rights reserved.