This easy vegan miso noodle soup by Kristie Middleton, author of MeatLess, is top-notch! Who wouldn't want a warm, savory, and noodle-packed broth bursting with beautiful vegetables? You can enjoy this soup all season long and never get tired of its fantastic flavor.
Traditionally, this soup contains miso, tofu, vegetables, kombu, seafood, and bonito (fish) flakes. This irresistible vegan miso soup recipe steps it up to a new level with nori instead of kombu (a type of kelp) and omits any ingredients made from sea creatures. An excellent alternative, if you ask us!
Satisfy your longing for a sumptuous soup and make this recipe with real zeal! Bring out your best bowls, find your most charming chopsticks, and lug out your loosest pants. Fill your belly with all the glorious goodness that is in this plant-based pot of soup.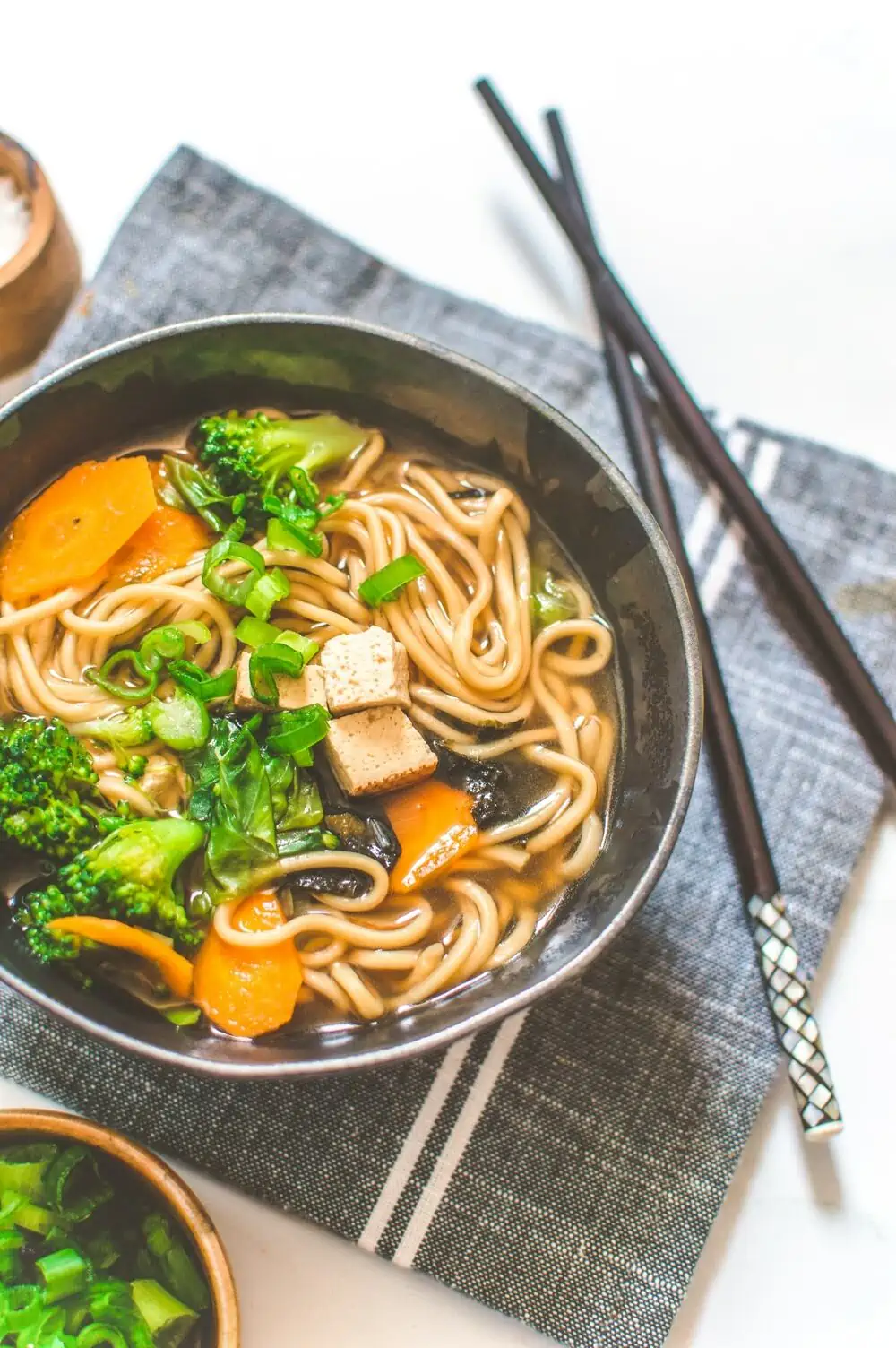 What Is Miso?
Does miso seem mysterious to you? It was seriously strange to me for a long time because I didn't know what it was and how to handle it. Now, I love it, and I want you to love it, too!
Miso is a mixture of mold (the good kind!), water, a little bit of salt, and cooked soybeans (sometimes with a grain, like rice or barley) that is fermented in crocks from a week up to an entire year. The mold, Aspergillus Oryzea, is called Koji in Japanese. Think of it as being similar to the way blue cheese is created.
This inscrutable ingredient gives a powerful punch to any soup, stew, or even salad dressing. Add a small teaspoon of miso to any liquid or broth and you'll be blown away by its bold new flavor. Keep a container of miso in the fridge to have on hand for any situations that need a salty spark!
How To Use Soba Noodles
Soba noodles, a staple of Japanese cuisine, are thin, light brown to grayish-brown noodles made from buckwheat flour. Combined with a little water, an accomplished Japanese artisan traditionally rolls the dough out very thin and cuts it into long, thin strips, forming the characteristic soba noodles. Sometimes whole wheat flour is added to keep the noodles from noticeably breaking down.
It's super important to stir your soba noodles when cooking. The noodles have a tendency to become a mushy mass if left unattended. Stay near the stove and do your best to prevent the noodles from pressing together.
Any soggy, overcooked soba can also be revived if you quickly rinse them in cold water and submerge them for a moment in a little ice water. These noodles have a wonderful texture when cooked well and they have the most satisfying slippery sensation when enjoying your soup. Well worth the time and effort.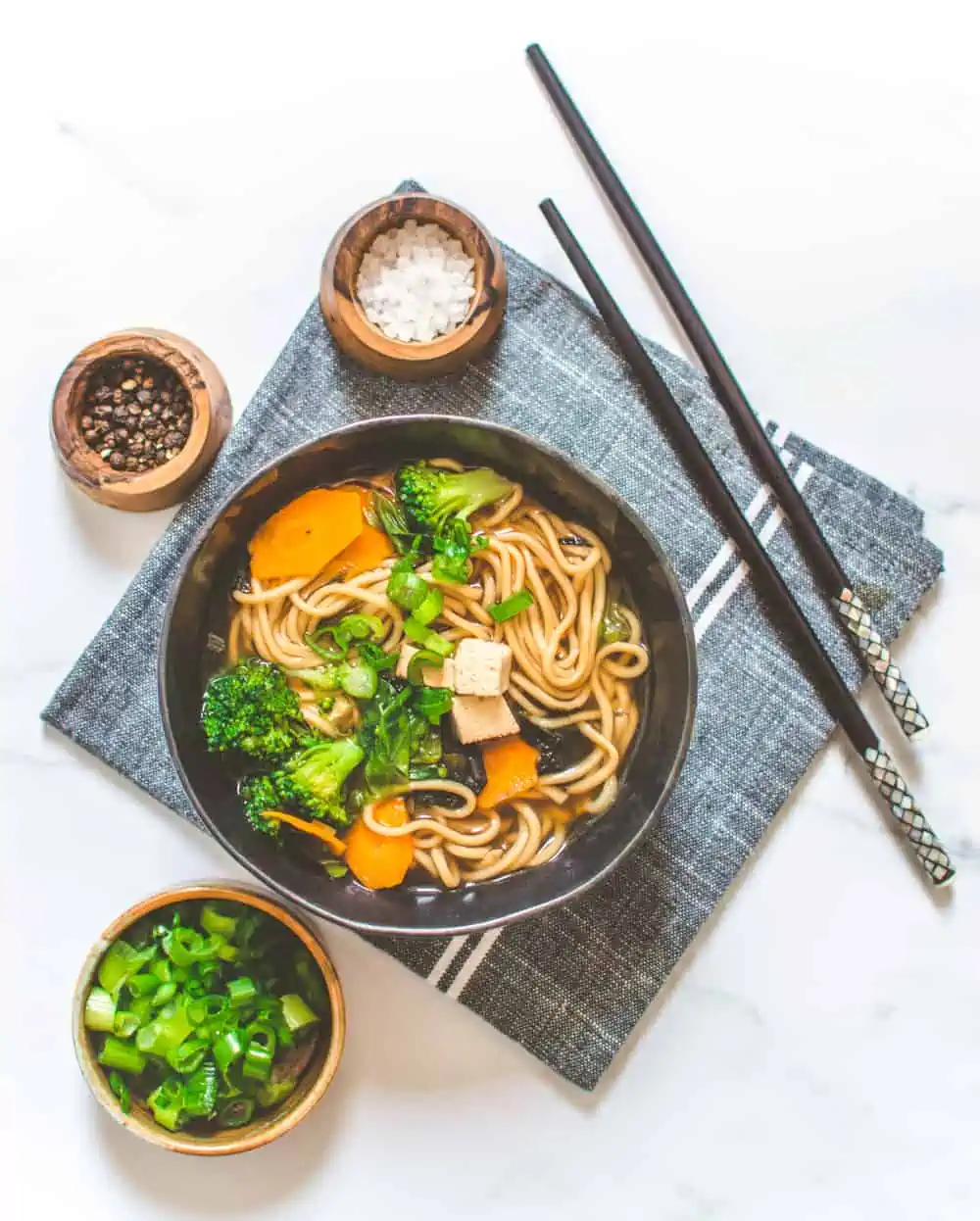 What Is Nori?
If nori is unknown to you, here's what it is: the Japanese name for an edible seaweed used in cooking, especially in the making of sushi. This type of seaweed comes from the red algae genus, Pyropia. It's pronounced, "naw-ree."
This glorious, dark green ingredient is made in almost the same way that paper is made, by shredding the seaweed, pressing out the excess water, and dehydrating on a special screen. The texture is super thin, light, and smooth. Nori usually comes in a packet of 10 sheets (sometimes toasted) and can be found in the Asian section of the grocery store.
Nori adds a lovely umami flavor which is slightly sweet and salty but not at all strong or fishy. It offers a host of vitamins and minerals such as iodine, vitamins A & C, potassium, magnesium, calcium, iron, and zinc. Sometimes labeled as "laver" seaweed, it is a staple in this miso noodle soup.
Top Tips
Don't be too quick to add miso. To preserve the full flavor and nutritional value of miso, add it towards the end of cooking. Avoid boiling the miso paste, as high heat can diminish its taste and beneficial enzymes.
Stir the soba noodles. Soba noodles cook quickly and have a tendency to stick together if left unattended. Make sure to stir them while they cook to keep them from clumping together.
Vary Your Vegetables
Feel free to use a variety of vegetables in this soup. If you have some kale that's looking pretty sad, chop it up and add that! If you don't have any brilliant green broccoli on hand, you can always substitute a cup of crunchy cauliflower.
Other super tasty options include:
Bok choy
Snow peas or sugar snap peas
Edamame
Mung bean sprouts
Water chestnuts
Purple cabbage
To keep this soup light and easily slurpable, it's best to keep all of the vegetables thinly sliced and as delicate as possible. Cutting your vegetables on a mandolin might help or using a sharp knife. Prepping your vegetables the night before will make cooking even easier the next day.
Storing Your Savory Vegan Miso Noodle Soup
Any extra vegan miso soup with noodles can be simply stored in a container in the fridge for up to 5 days. If your soup has lost some of its liquid and is more like a stew, you can easily add a little extra water or vegetable broth before heating.
If you don't want to lose any of the savory, salty flavors, mix up another small batch of the miso mixture and add to a saucepan with the remainder of the soup. For the miso mixture, add 2 tbsp of miso to ½ cup water or vegetable broth and whisk well. Heat on medium-low for 2-5 minutes, making sure the soup does not come to a boil.
Leftovers can also be kept frozen for up to 6 months in a freezer-safe, covered container. Alternately, you can spoon the soup into empty ice cube trays and store the "soup cubes" in a freezer bag until ready to use.
More Easy Vegan Soup Recipes to Try
If you try this Vegan Miso Noodle Soup let us know what you think by leaving a comment and rating below! Be sure to follow along on Pinterest, Instagram and Facebook for even more vegan recipe inspiration.
4 cups water + 1 tablespoon warm water, reserved
2 bundles soba noodles, or ⅔ of a package
2 green onions, white parts diced, greens reserved and sliced into thin circles
4 tablespoons yellow miso paste
Your favorite vegetables, options include:
2 carrots, sliced
1 cup broccoli florets
1 cup kale or Swiss chard ribbons
¼ cup mushrooms, sliced
¼ cup firm tofu, cubed, optional
1 sheet nori, cut into squares, optional
Put water in a pot and bring to a boil.

Add onions and noodles and boil for 3 minutes.

Meanwhile, put miso in a small bowl and add a tablespoon of warm water. Stir until smooth, removing all lumps. Set aside.

After the onions and noodles have boiled for 3 minutes, reduce heat to a simmer and add vegetables and nori. Allow to simmer for 2-3 minutes.

Add miso and tofu, if using and allow to warm for 1-2 minutes, ensuring the soup doesn't bubble to a boil.

Remove from heat. Ladle into bowls and top with green onions if desired.
Calories: 156kcal | Carbohydrates: 22g | Protein: 11g | Fat: 4g | Saturated Fat: 1g | Polyunsaturated Fat: 2g | Monounsaturated Fat: 1g | Sodium: 1379mg | Potassium: 605mg | Fiber: 7g | Sugar: 7g | Vitamin A: 14035IU | Vitamin C: 78mg | Calcium: 209mg | Iron: 3mg
We want to thank our amazing recipe testers Nicole Benson and Anne Sparks for helping us perfect this recipe!
Vegan Miso Noodle Soup recipe by Kristie Middleton, author of MeatLess. Photos by Zhoro Apostolov for World of Vegan. Article and photographs copyright of World of Vegan™, all rights reserved.