This vegan chickpea noodle soup recipe was generously sponsored by our friends at Pastabilities—makers of fun-shaped pasta for every occasion! 
It's cold outside. Maybe you're feeling a little under the weather. You just know that a steaming hot bowl of comforting, belly-warming vegan chicken noodle soup would sooth your soul. Dear friend, I see you, and I crafted this recipe to help you give yourself the healthy dose of self-care you need and deserve. SO move over, chicken—this hearty herbaceous chickpea noodle soup is comin' in hot!
This is a perfect "get well" soup because it's loaded to the brim with nutrients. You've got carrots, celery, onion, loads of illness-fighting garlic, green onions, thyme, dill, and more. Speaking of spices, did you know that spices and herbs (like dill and thyme) are some of the most health-promoting foods on the planet? According to the New York Times bestselling book How Not to Die by Dr. Michael Greger, the more herbs spices you can add to your meals, the better.
And then there's the broth, which carries with it even more nutrition. The broth you use is up to you—any veggie broth will do. You can choose your favorite store-bought veggie broth, make your own broth from scratch, or use vegetable bouillon and water. The more flavorful the broth, the better!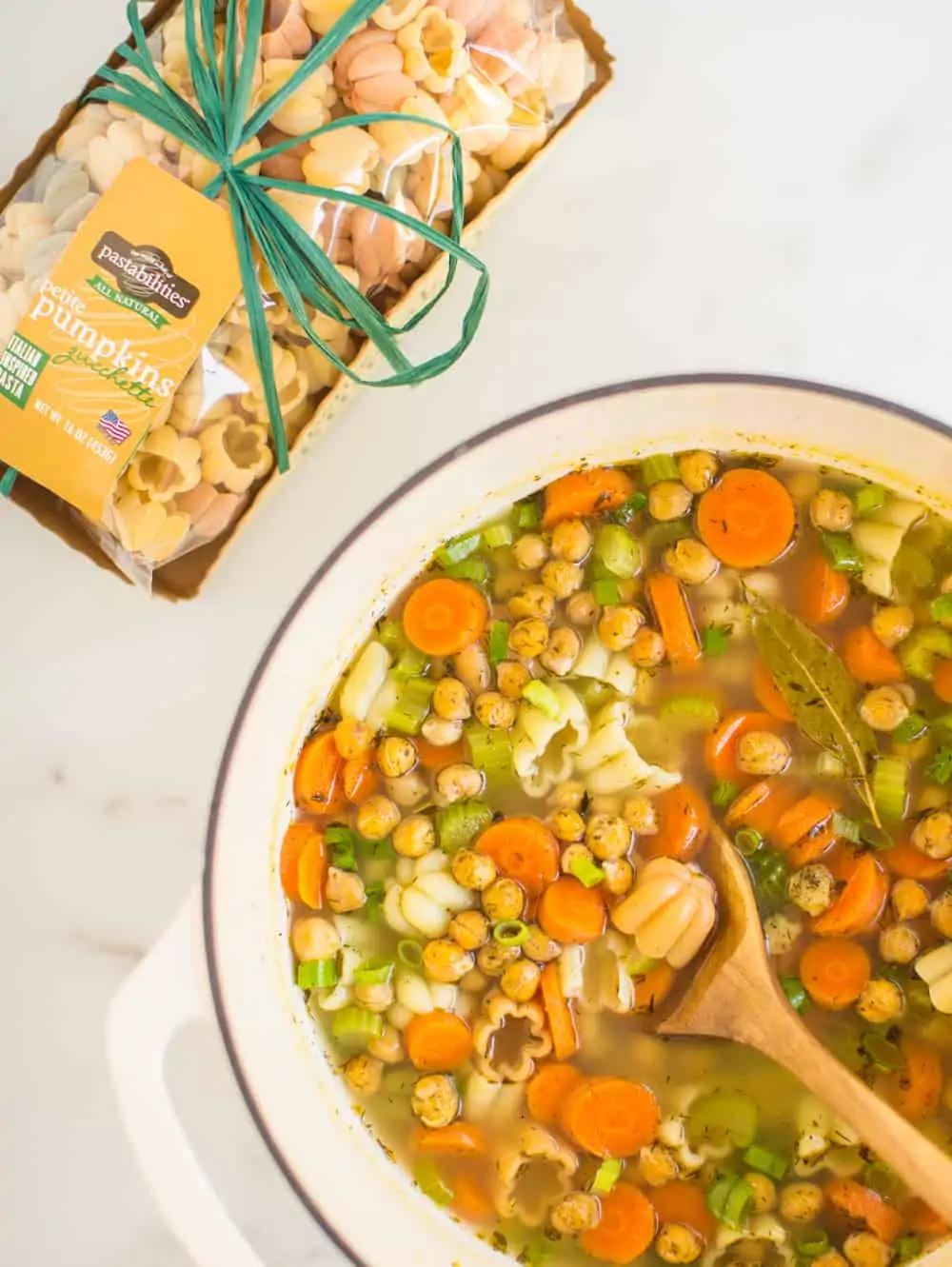 1 tablespoon olive oil
½ large yellow onion, diced
3 medium ribs celery, sliced
3 medium carrots, sliced
5 medium cloves garlic, minced
½ teaspoon dried thyme
8 cups vegetable broth, or equivalent amount of vegetable bouillon and water
2 bay leaves, optional
1 can chickpeas
1 teaspoon olive oil
½ teaspoon dried dill
8 ounces packaged pasta
2 green onions, sliced
½ small lemon, cut into wedges or slices (optional)
Preheat oven to 400 degrees (if you'll be roasting your chickpeas).

In a large soup pot over medium-high heat, heat 1 tablespoon of olive oil. Add the onion, celery, carrots, garlic, and thyme and sauté for about 5 minutes until the onion becomes translucent.

Add all the vegetable broth (or 8 cups of water and the equivalent amount of bouillon) and the bay leaves and bring the pot to a rolling boil.

Meanwhile, open a can of chickpeas and rinse, drain, and pat them very dry. Toss with 1 teaspoon of olive oil and the dried dill, and bake for 15 minutes. Set aside to add to the soup at the end.

Add the uncooked pasta and boil until the pasta is just cooked (using the al dente cooking time suggested on your package of pasta).

Once the pasta is cooked, immediately remove the pot from the heat, remove the bay leaves, and sprinkle in the roasted chickpeas and sliced green onion. Garnish with a slice of lemon and enjoy!
If you're strapped for time and prefer to simplify this recipe, you can skip the chickpea roasting step, and instead add the drained, rinsed chickpeas (un-roasted) straight into the soup at the end. Be sure to also mix in the dried dill!
Calories: 313kcal | Carbohydrates: 58g | Protein: 9g | Fat: 6g | Saturated Fat: 1g | Polyunsaturated Fat: 1g | Monounsaturated Fat: 3g | Sodium: 1920mg | Potassium: 364mg | Fiber: 4g | Sugar: 9g | Vitamin A: 8736IU | Vitamin C: 14mg | Calcium: 52mg | Iron: 1mg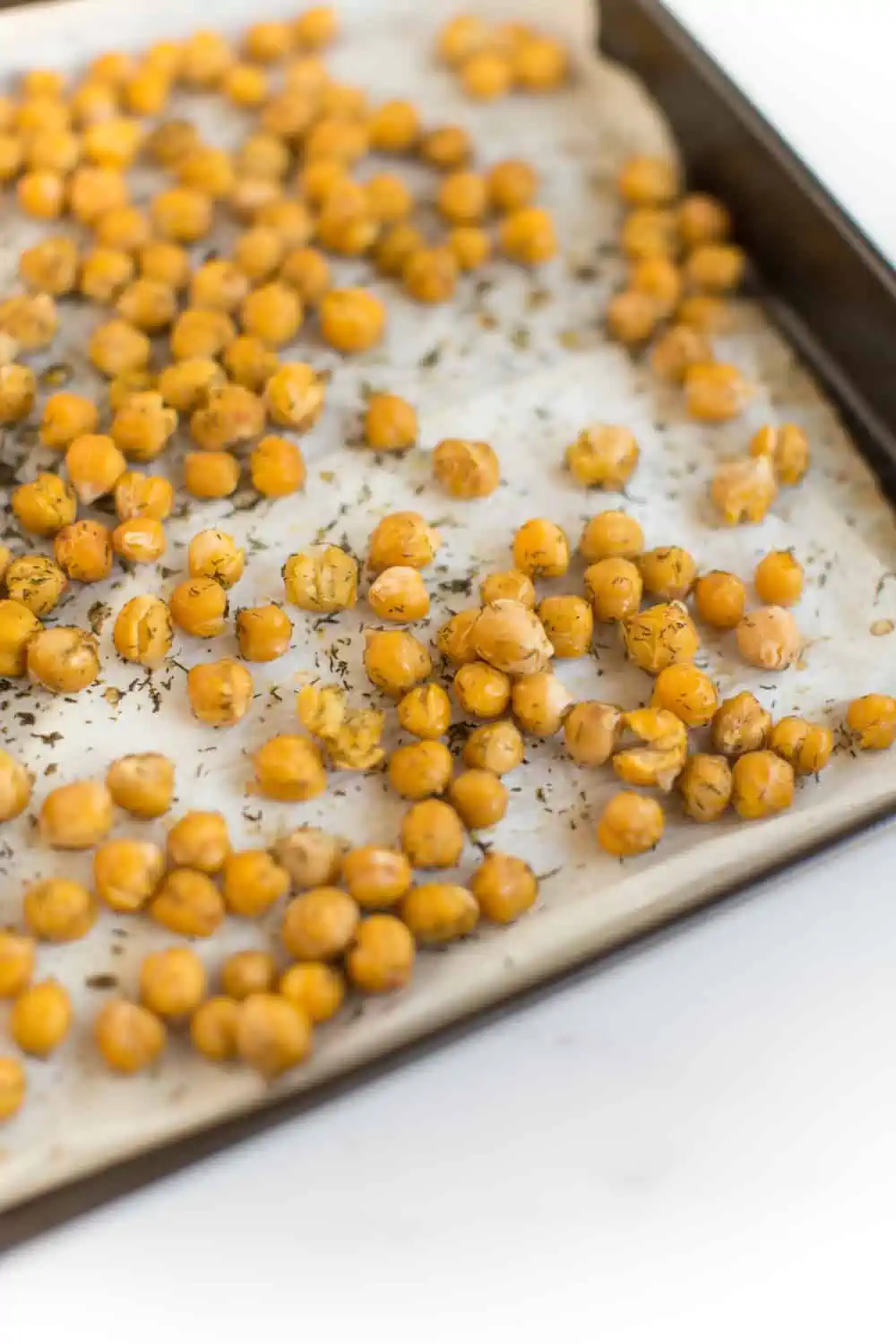 Protein-Packed Chickpeas
We're using one of our favorite ingredients here at World of Vegan—chickpeas! Chickpeas, also known as Garbanzo Beans, replace chicken beautifully in this recipe. They're packed with protein, you can keep shelf-stable cans of chickpeas in your pantry so you always have them on hand, and they're innocent little bite-sized balls. Unlike chicken, no beings had to suffer for them to land in your bowl, which is a serious win all around!
Roasted Your Chickpeas—Or Toss Them In Plain!
I make this soup both ways—with roasted herbed chickpeas (as shared in this recipe), and with plain chickpeas that I simply drain, rinse, and dump straight from the can into the soup. It's delicious both ways, but if you do have the time and energy to roast your chickpeas (it's super simple), that gives this soup and little somethin' extra special.
Plus, roasted chickpeas make a fantastic snack! Bake them for an additional 5 minutes (20 minutes total at 400 degrees F) to get crisp roasted chickpeas that you can snack on all day long. The are finger-lickin' good.
The key to roasting chickpeas and getting a nice crispy result is to thoroughly dry them before adding the oil and herbs.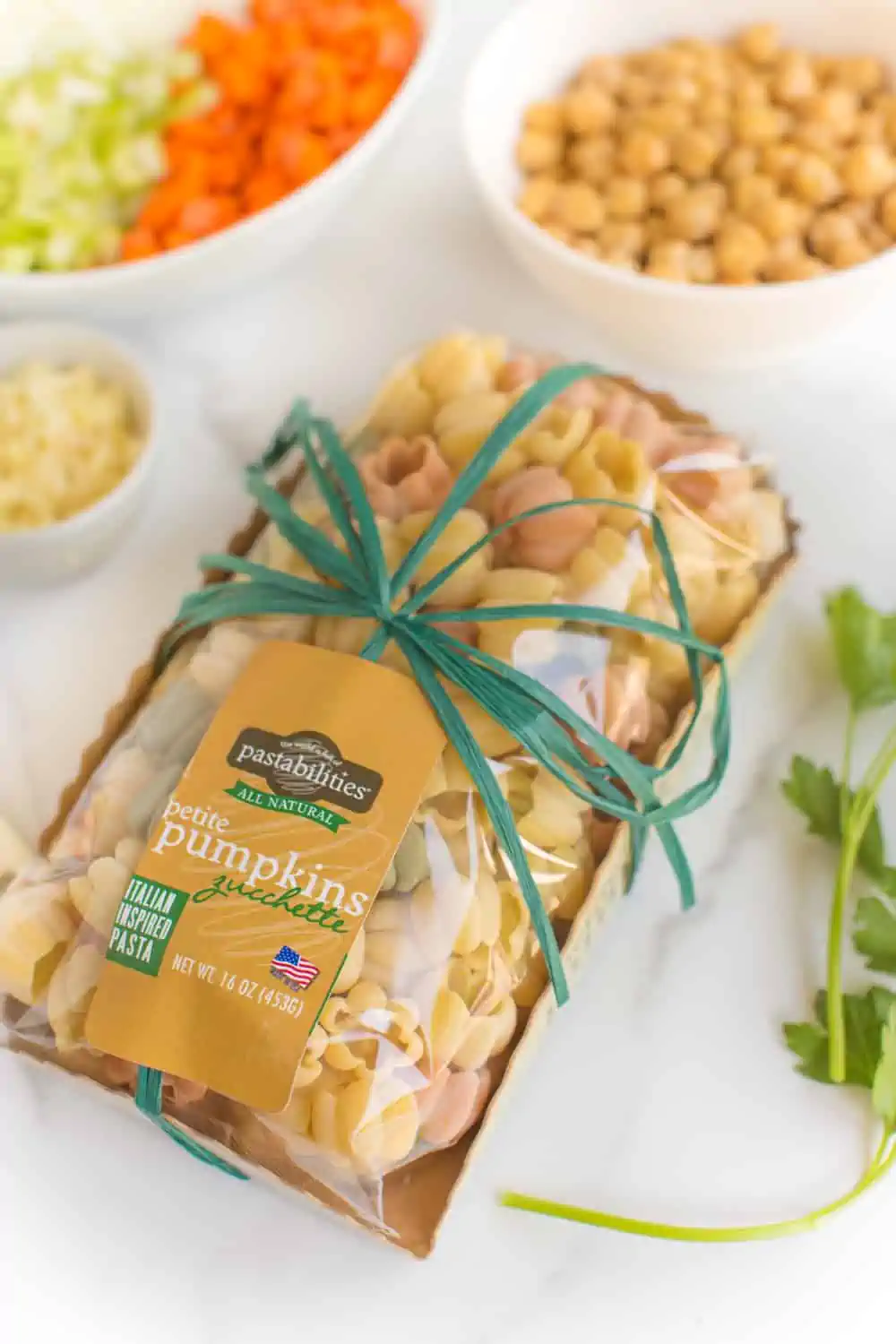 Power of Pastabilities
While this soup will work great with any type of pasta or noodles, my favorite to use are fun shaped pastas from Pastabilities! Since I'm writing this in the heart of fall, I went for this tri-colored pumpkin-shaped pasta from The Pasta Shoppe. They're also known as Zucchette!
I love this pasta not only because it comes in such fun shapes, but also because it's made from 100% durum wheat and colored with spinach powder (green) and tomato powder (orange). Plus, pastabilities also makes my absolute favorite boxed vegan mac and cheese. Yum.
More Soup Recipes
Many thanks to The Pasta Shoppe (also known as Pastabilities) for supporting this recipe and our work at World of Vegan! You can order their pasta on Amazon and it ships free with Prime! Recipe and food photography by Michelle Cehn. All content copyright of World of Vegan™, all rights reserved. Please note that this article contains affiliate links which means shopping through them supports World of Vegan.