I know what you're thinking… lasagna soup? If you've never tried it then you absolutely must. If you're a serious lasagna lover or soup lover you will not be disappointed.
The flavor is out-of-this-world and this is one of those recipes that you can really impress people with. It's comfort food at it's finest and makes for the perfect soul-soothing winter meal.
A lot of soups will take anywhere between 30-60 minutes to achieve a nice deep flavor, but with a few hacks, this soup only needs to cook for around 22 minutes or less.
As soon as you make this warming soup, you'll be saying, "Where has this soup been all my life!?"
This recipe serves four people, so if you're cooking for many, you can easily double the ingredients. And hey, if you're just cooking for yourself, you can easily refrigerate or freeze leftovers (if you have any left, that is).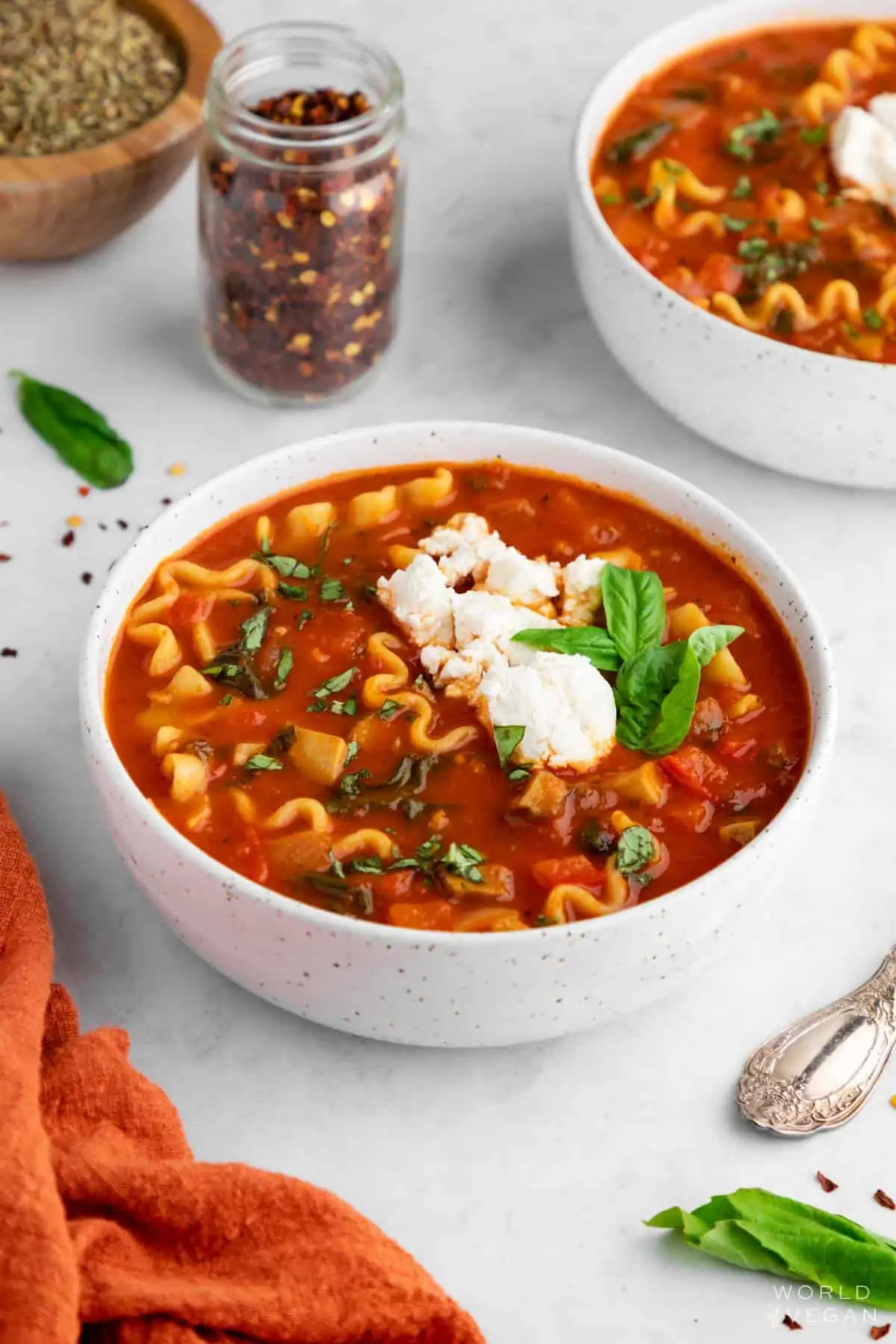 Star Ingredients
Yes, you can certainly make your own marinara sauce and vegan ricotta from scratch. But we know you're busy and we're all about keeping our recipes here at World of Vegan as simple as possible. So we've included two main hacks that will save you time in the kitchen: using a store-bought marinara sauce and cheese.
Use Your Favorite Marinara Sauce
The marinara sauce is key to this recipe, so it's important to use a flavorful sauce you love. Using your favorite store-bought tomato marinara sauce will also save you cooking time, and it will also spare you from needing so many ingredients.
It's so easy to just pour in the marinara which is already perfectly flavored and spiced. And, since the vegetables and tomatoes in the marinara sauce are already cooked down, the soup hardly needs any time on the stove! You only need a very short time to sauté the veggies and then cook the pasta.
If you have extra time, you can certainly make your own homemade marinara sauce from scratch!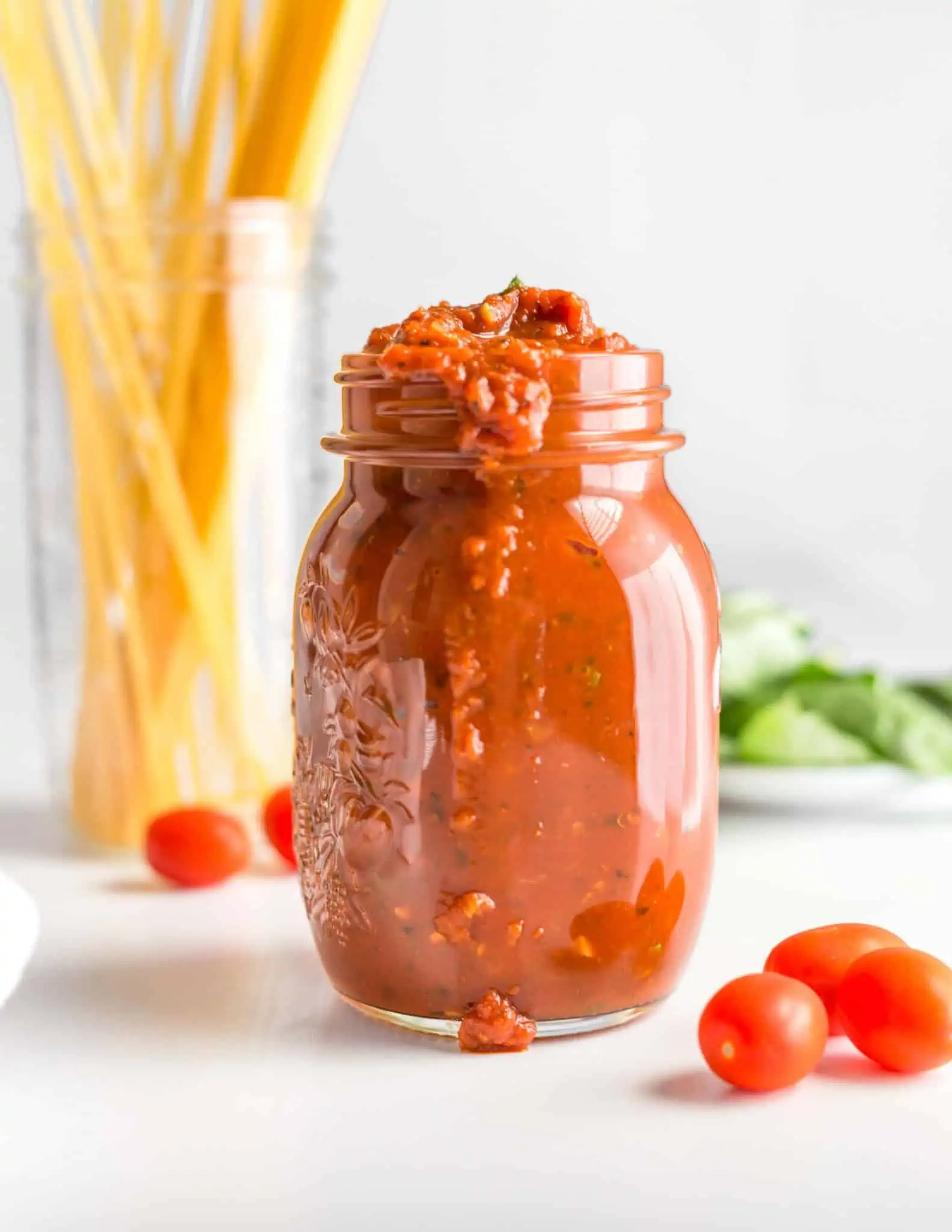 Note that you can use any variety of tomato-based marinara sauce that is your favorite. The flavor you choose will make a big difference in the finished product. You could choose a classic marinara, a mushroom variety, basil, roasted garlic, Arrabiata, and more.
Add Your Favorite Vegan Ricotta or Cheese (Optional)
You can absolutely skip the cheese altogether in this recipe—it's just added as a fun garnish. But if you have you heart set on vegan ricotta, you can save time buying purchasing a store-bought vegan cheese.
If you're savvy, you're absolutely welcome to make homemade cheese (go girl!). But there are so many wonderful varieties of vegan cheese on the market today that getting a store-bought cheese is an easy shortcut if you don't have enough time or don't want to put in all the work to hand make your cheese. In today's world, especially in bigger cities, it's becoming so much more accessible to find quality vegan cheeses, even in big box grocery stores!
You can use a wide variety of cheeses for this vegan lasagna soup, just like with any lasagna. Think: a soft vegan cheese such as ricotta, a veganized goat-style cheese (which is what I used), mozzarella, and more. If you don't want a soft cheese, cheese shreds such as cheddar or mozzarella style shreds are another great option.
Honestly, you can't go wrong if you just use your favorite cheese!
If you're using a soft cheese, just scoop a dollop of cheese onto your bowl of soup when serving. If you're using shredded cheese, add the shreds to the soup bowl when it's nice and hot so it gets melty and gooey (uhhh yum, we know you want that). Also, I wouldn't blame you if you used both a soft and a shredded style cheese to top your soup since most lasagnas use both varieties anyways.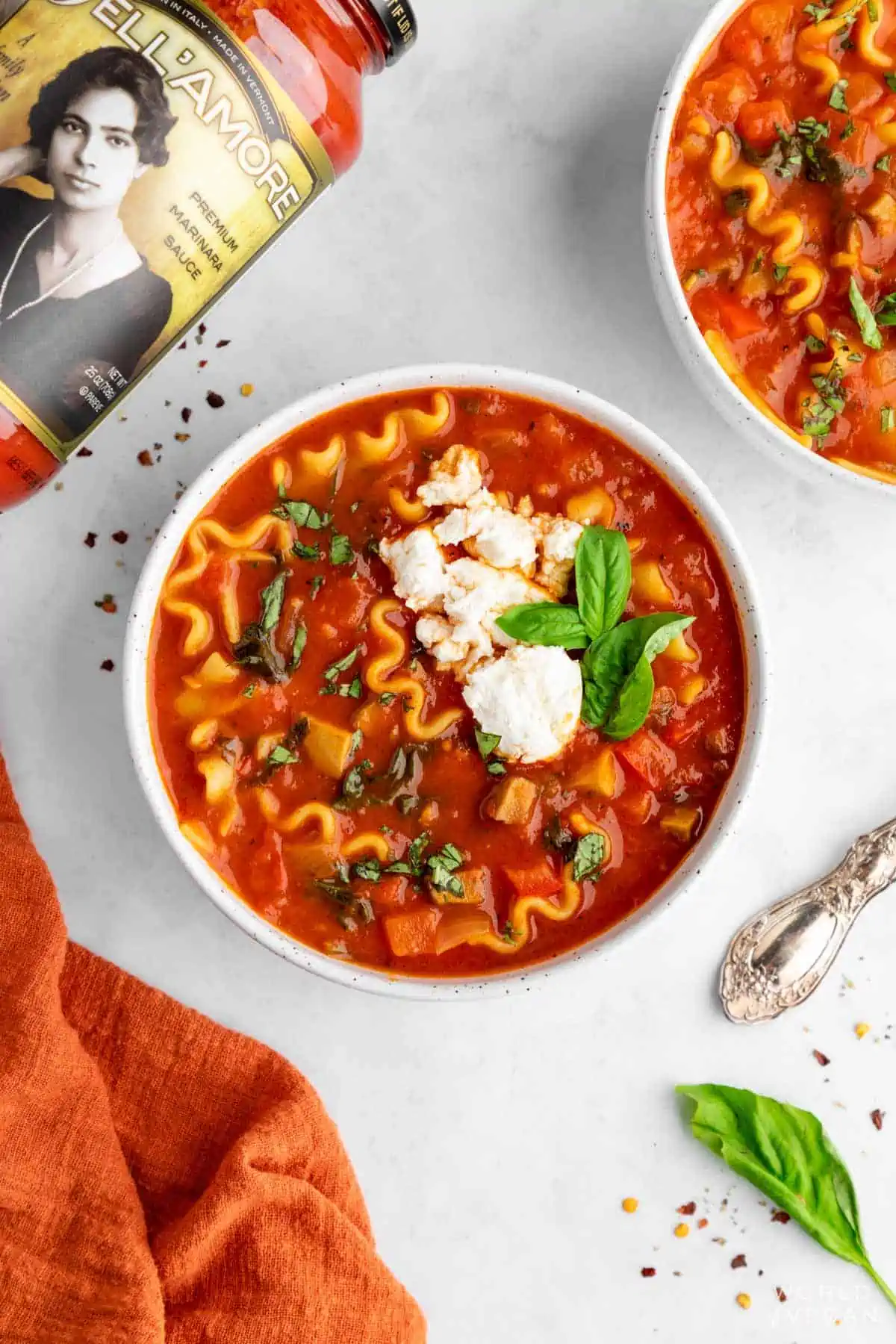 Swap in Your Favorite Veggies!
If you feel like playing around with the recipe, you can swap out some of the veggies for your favorites or whatever is in season. Any veggies that you'd put in a regular lasagna will work great in this soup! Instead of bell pepper and mushroom, you could add vegetables such:
Zucchini
Eggplant
Squash
Carrots
Sweet potato
…and more.
Step It up With Vegan Beefy Crumbles
Another fun option is to add some vegan ground beef to the onions, garlic, and veggies when they're sautéing. This will create a more classic lasagna taste if you want to go for that type of flavor profile. It will also add more substance and protein. Just cook the vegan beef crumbles according to the package directions and continue the recipe from there!
And Yes… It's Easy to Make Gluten-Free
If you eat gluten-free, you don't have to miss out on this recipe. You can make this recipe completely gluten-free by using gluten-free lasagna noodles. Brown rice pasta is a great option because it is naturally gluten-free and usually has the same delicious taste and flavor as wheat pasta. But you can use any option you like including wheat pasta, corn pasta, white rice pasta, and much more.
Here's a roundup (and taste-test) of some common gluten-free pasta options.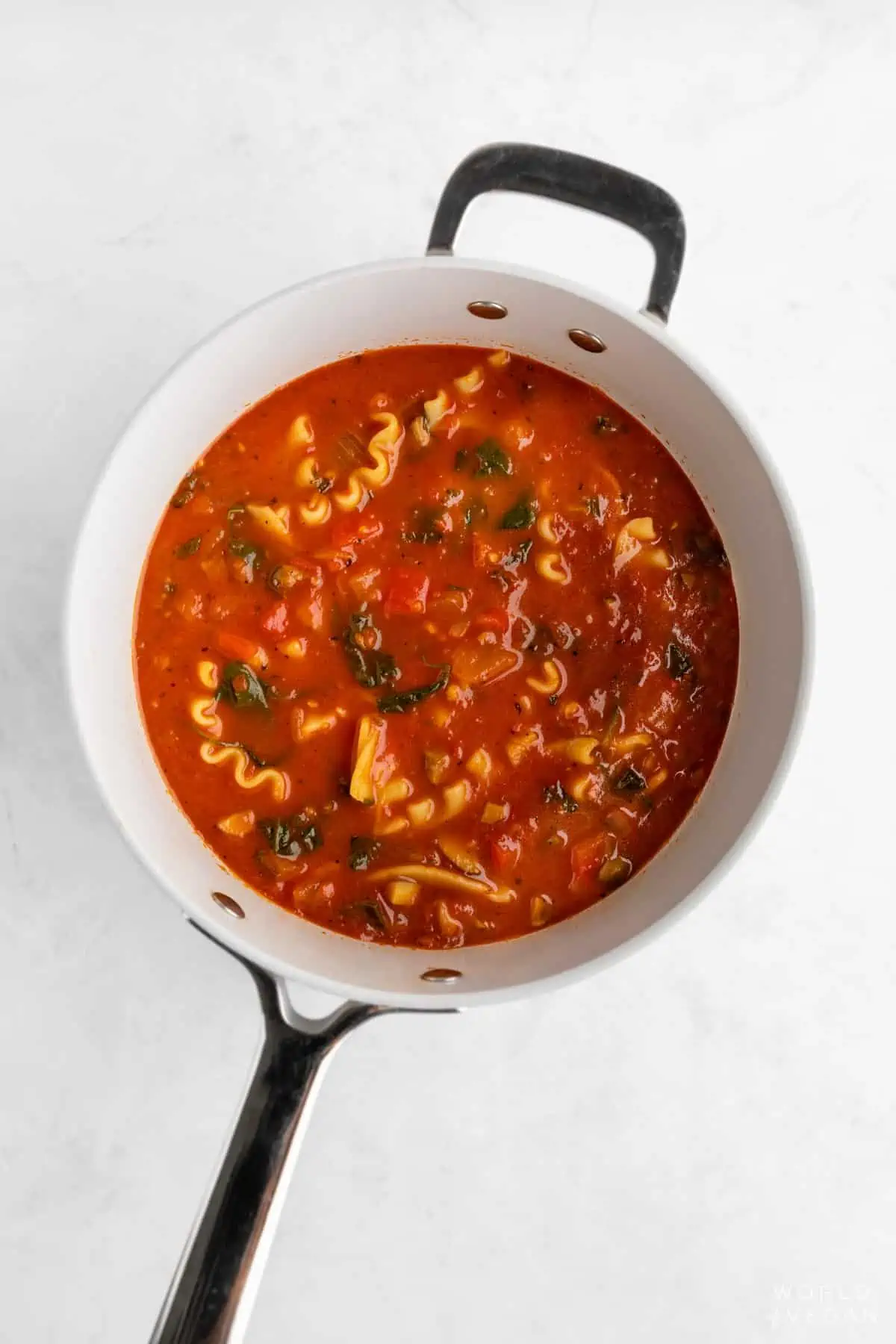 Swap Out Lasagna Noodles for Any Pasta
It's also good to know that you don't even really need to use lasagna pasta in this recipe. You can completely sub out the lasagna noodles for any shape of pasta that you like such as bow tie pasta, penne, etc. It all tastes the same in the end, so use whatever pasta shape you'd like!
As you can see this recipe is very customizable, but this is the perfect base and now you can get creative and make it your own. I challenge you to make this vegan lasagna soup and impress your family and friends, especially those that aren't vegan because they will seriously love it.
More Vegan Italian Dishes:
1 tablespoon extra-virgin olive oil
1 medium yellow onion, roughly chopped
3 cloves garlic, minced
1 red bell pepper, diced into small chunks
1 cup mushrooms, diced into small chunks
4 cups low-sodium vegetable broth
2 cups tomato marinara sauce
5 sheets lasagna noodles, broken up into bite-sized chunks
2 cups baby spinach
½ cup fresh basil, finely chopped
salt and pepper to taste
vegan cheese for serving, such as ricotta, optional
Heat the oil in a large pot. Add the onions and garlic and saute for 2 minutes.

Add the bell pepper and mushrooms and saute for another 10 minutes.

Add the vegetable broth and the marinara sauce and bring the soup to a boil.

Once the soup is gently boiling, add the pasta and then reduce to a simmer. Cook the soup until the pasta is cooked through. The time will vary depending on the type of pasta you chose so cook according to package directions and taste for doneness. Stir frequently.

Once the pasta is cooked, add the spinach and basil and stir to wilt.

Add salt and pepper to taste.

Ladle the soup into a bowl and add vegan cheese and garnish with fresh basil if desired.
Calories: 235kcal | Carbohydrates: 42g | Protein: 9g | Fat: 5g | Saturated Fat: 1g | Polyunsaturated Fat: 1g | Monounsaturated Fat: 3g | Trans Fat: 0.003g | Sodium: 600mg | Potassium: 721mg | Fiber: 6g | Sugar: 9g | Vitamin A: 3028IU | Vitamin C: 54mg | Calcium: 59mg | Iron: 3mg
Lasagna soup photos by Kathy Chrzaszcz for World of Vegan. Recipe and photographs copyright of World of Vegan, all rights reserved.