Looking for the best vegan mac and cheese recipes on the web? We've got a whole bunch for you, from healthy nut-free macaroni and cheese made from veggies to some totally decadent baked mac and cheese. All vegetarian, all plant-based, with a selection of gluten-free, nut-free, and soy-free options. No matter the weather, it's always time for a bowl full of creamy dairy-free mac!
There have never been more ways to whip up a super delicious serving of vegan mac and cheese. With so many vegan mac and cheese recipes out there, it can be overwhelming to navigate just which one could be best for you! Whether you're looking for something super cheez-y or want a more whole foods-based mac, we've got just the guide to help you navigate the endless pastabilities. Gluten, soy, or nut-free? We've got you covered (in vegan cheese). And if you'd rather just stick with a boxed vegan mac for convenience, we totally get that.
What is Vegan Mac & Cheese Sauce Made Of?
Vegan cheese sauce can be made from many different bases! From nuts to seeds to veggies, there are several different ways to combine ingredients into one big creamy vegan cheese sauce. Some of the most common ways to make vegan mac and cheese sauce are from ingredients like:
Avocado
Cauliflower
Carrots
Miso
Nuts
Onions
Potatoes
Pumpkin
Seeds
Squash
Best Vegan Mac and Cheese Brands
Looking for the best vegan mac and cheese brands on the shelf? Here are some delicious options to check out and try for yourself!
Best Vegan Mac and Cheese Recipes
With so many variations of vegan mac and cheese out there, there's a little something out there for everyone. Whether you're sensitive to nuts or just like to try as many vegan macaroni and cheese dishes as you possibly can (and we don't blame you!), here are a few amazing recipes for vegan mac and cheese with and without cashews (and other nuts).
Nut-Based Vegan Mac and Cheese Recipes
If the creaminess of a cashew strikes your fancy when it comes to making a pot of creamy vegan mac and cheese, then these recipes are for you! 
This deliciously healthy vegan baked mac is one of our favorite recipe here at World of Vegan! The cheese sauce is made from a base of cashews, onion, garlic, and nutritional yeast, with some tomato paste and turmeric for the perfect yellow color and cornstarch as a thickener. Cook up some macaroni pasta, grab your high-speed blender, and you're off!
Potatoes in vegan mac and cheese? Why, yes! This delicious "Epic Mac" calls for just a few simple ingredients such as carrots, cashews, nutritional yeast, and potatoes to make the sauce. The creamy cashews and fluffy potatoes blend together to deliver a sauce that's epically simple and delicious! All you need to do is simmer the ingredients and blend them together! This recipe is also naturally free of soy and gluten, too!
If you like your mac with a little pizzaz, look no further than this beautiful baked vegan mac and cheese from Heartful Table. The base of the sauce calls for a variety of common ingredients such as cashews, potatoes, parsley, and smoked paprika as well as breadcrumbs for a crunchy topping.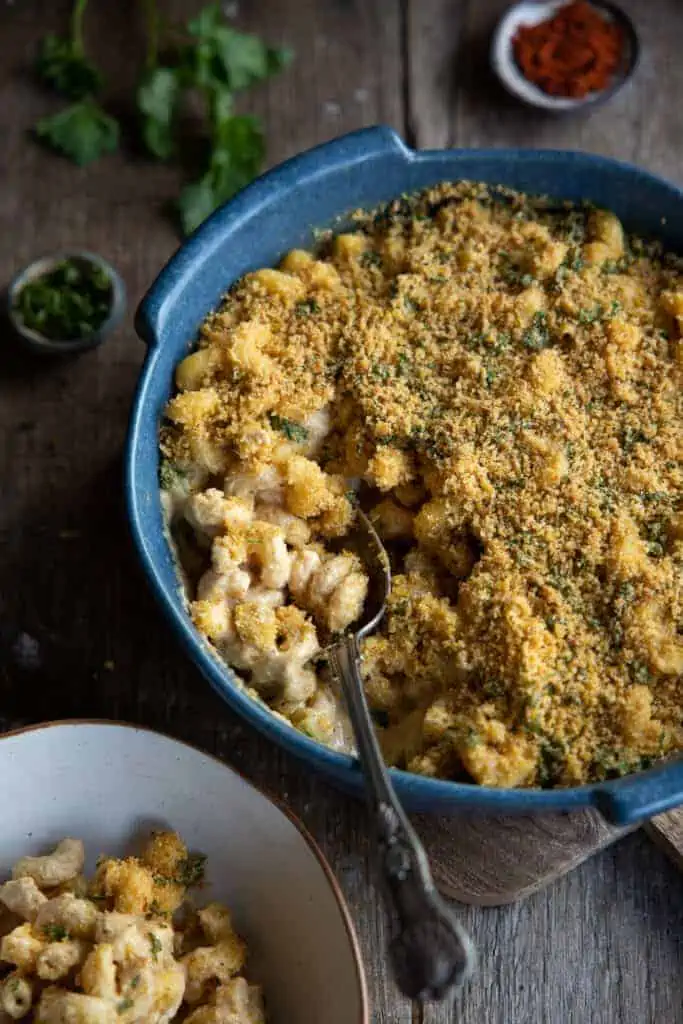 Sometimes cashew sauce tastes better with a little help from the mighty avocado. This recipe by Kirsten Nunez from Clean Green Simple is creamy, dreamy, and oh-so-tasty! Even better is that it's soy-free and easily made gluten-free if you use a gluten-free pasta!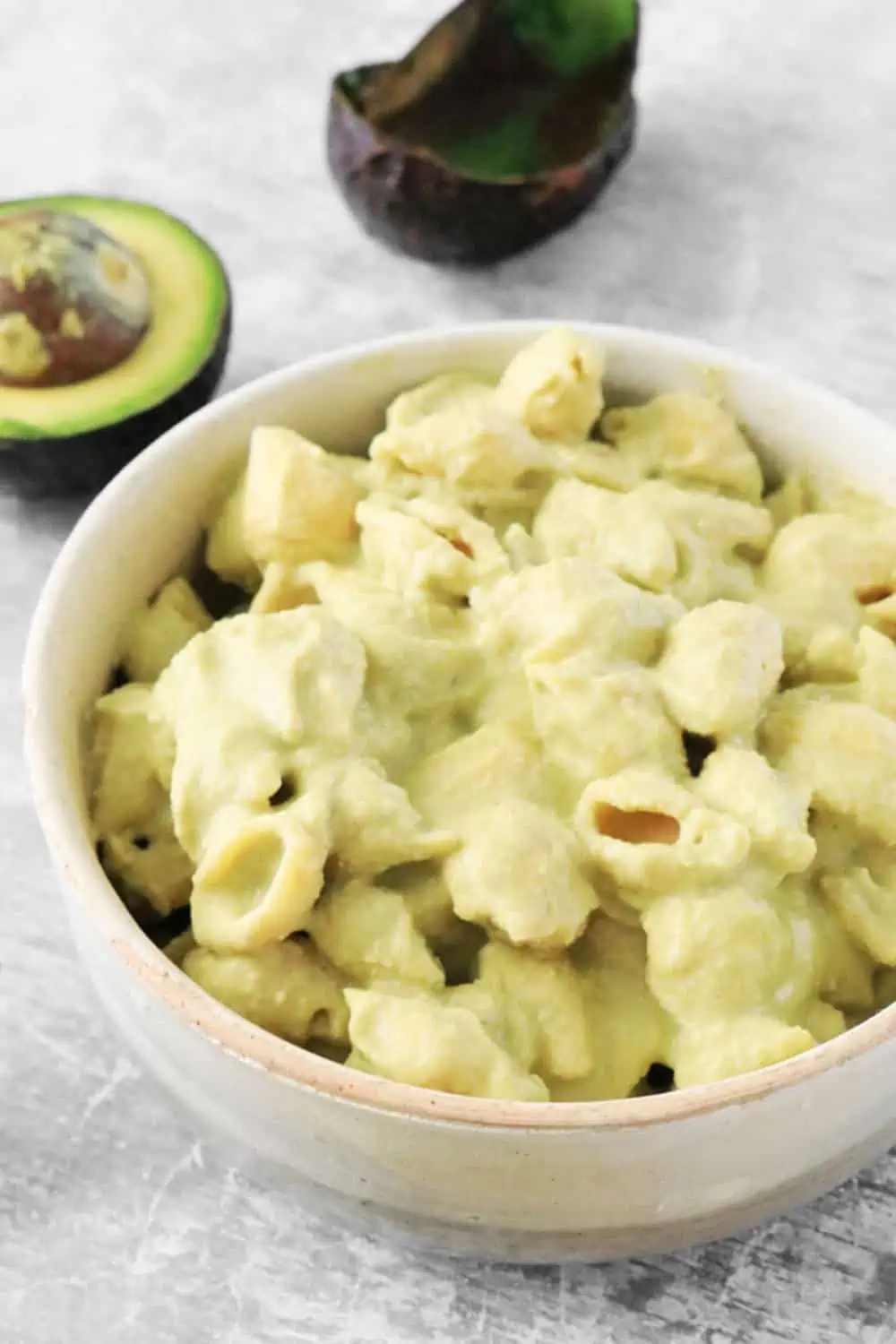 Nut-Free Mac and Cheese Recipes
Made from sunflower seeds, carrots, spices, and chickpeas, this "Magic Mac" is perfect for those who prefer a mac that's made from whole foods. Gluten-free? Just choose your favorite wheat-free pasta and dig right in!
Butternut squash mac is not only a perfect fall food but it makes a delightful nut-free vegan dish. Kate Ford from The Veg Space wrote this recipe and we are so grateful she did! You can opt to include vegan cheese shreds or just use nutritional yeast instead!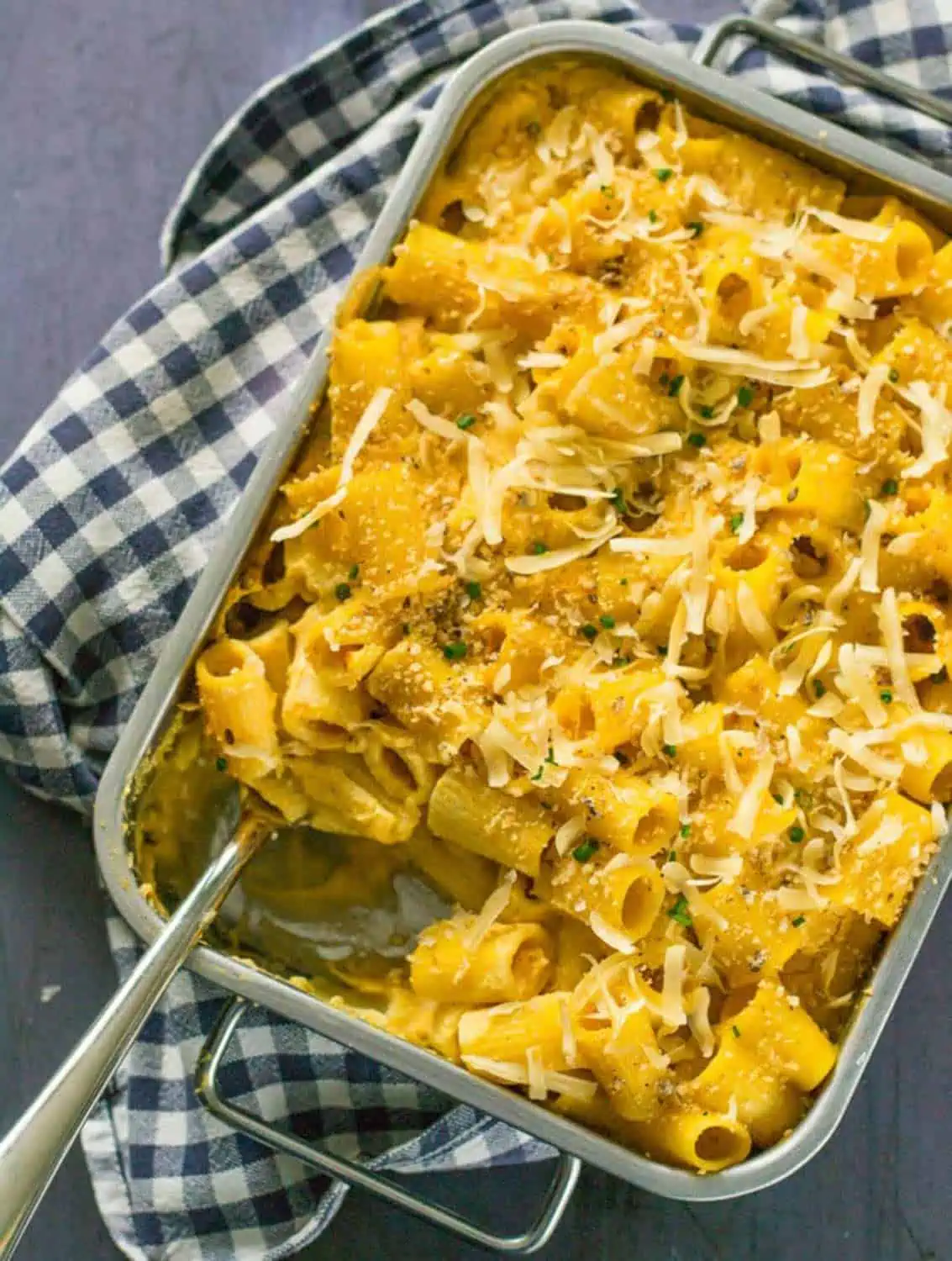 Oil-free, nut-free, and gluten-free, this recipe by Sherri Hall at Watch Learn Eat is full of flavor and looks great to boot! Ingredients include pumpkin puree, arrowroot powder, light coconut milk, and nutritional yeast. Yum!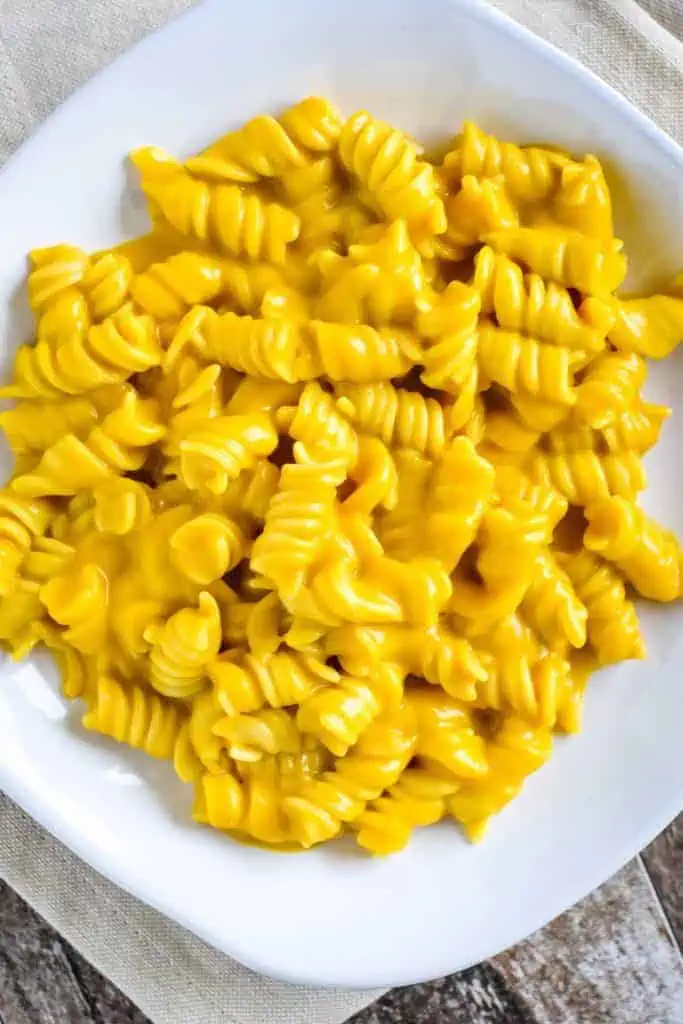 Unique Variations on Vegan Mac and Cheese
One of the best things about vegan mac is how many ways it can be customized. Check out some of these yummy variations on vegan mac below!
Struggling to decide between Thai food and vegan mac for dinner? Well, with this amazing recipe by Mary Ellen Valverde from V Nutrition, you can have both! Made from cashews, coconut milk, and Thai red curry paste, you'll absolutely love the variety of flavors that arise from this stellar combination of ingredients.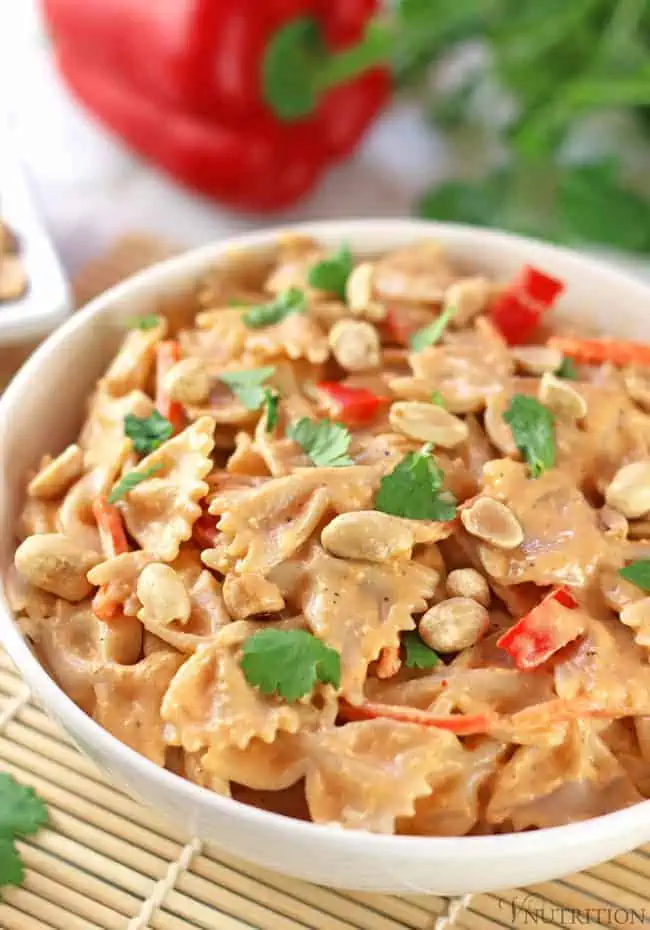 This uniquely Southern mac recipe from Very Vegan Val features okra, squash, white miso paste, and cashews along with a variety of spices to make a fantastically delicious vegan pasta dish. Not a fan of okra? You can easily substitute it for another green vegetable such as broccoli or bell peppers!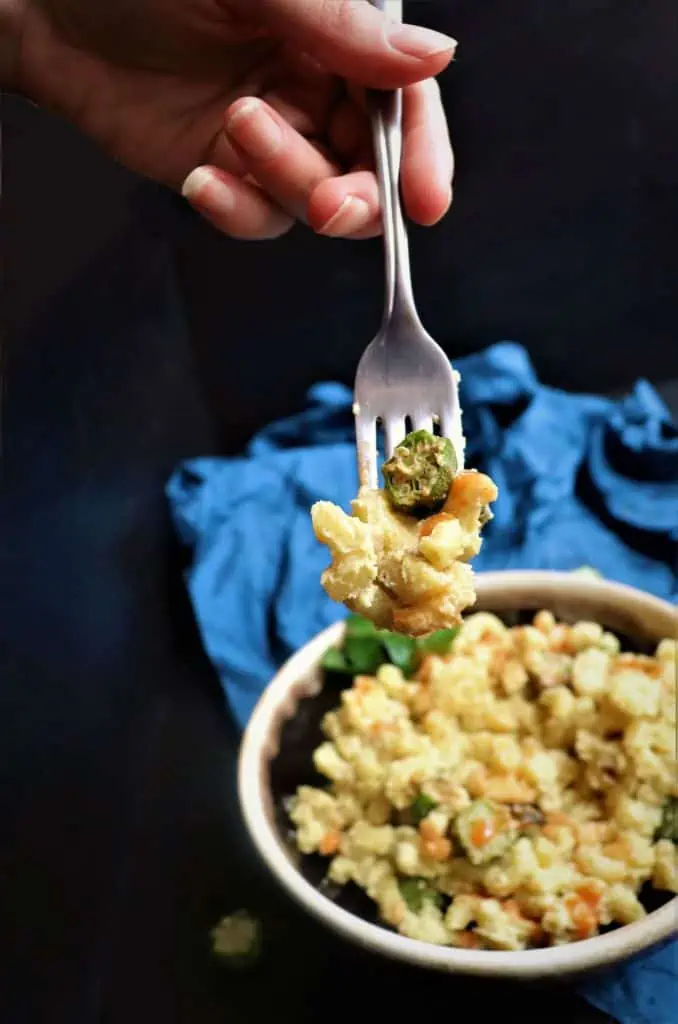 Want a spicy vegan mac and cheese? Then look no further than this ridiculously good recipe by Christin McKamey from Veggie Chick! Using both jalapeños and green chiles, this dish definitely doesn't lack in flavor. You can also keep it nut-free by using cauliflower instead of cashews and it's naturally oil-free!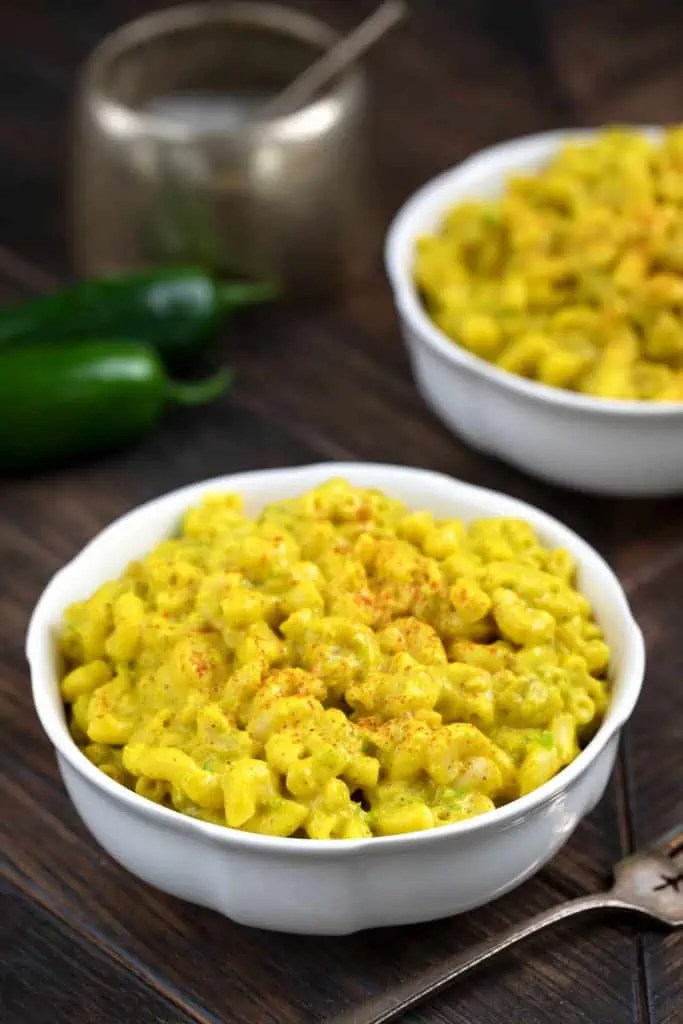 These adorable vegan mac and cheese bites from Strength and Sunshine are perfect for kids or just a fun new way of enjoying your pasta. This recipe is naturally free from gluten and the top 8 most common allergens, calling for vegan egg replacer and a nut and soy-free vegan macaroni recipe to form the bites.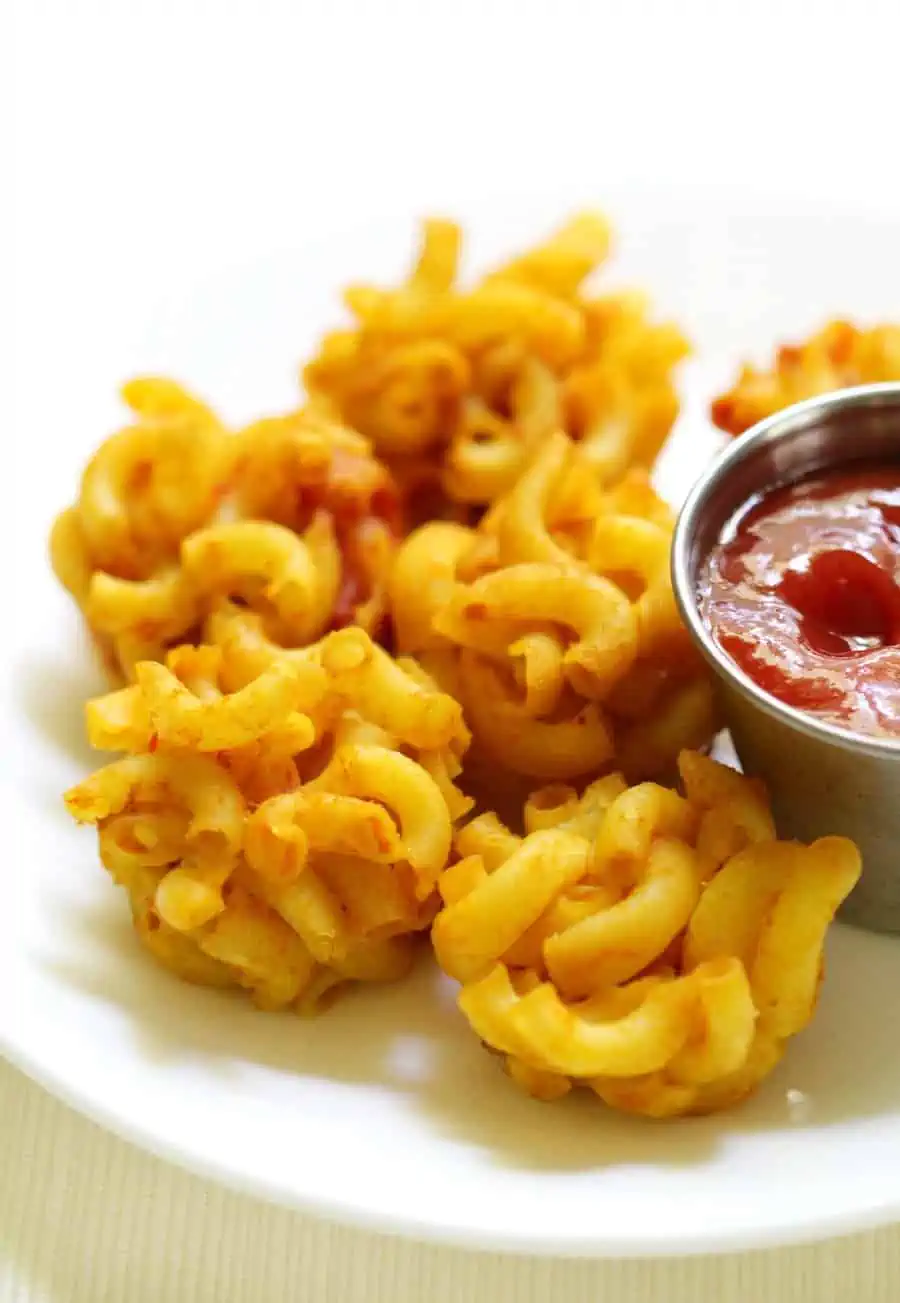 Fun Vegan Mac and Cheese Additions
If you're looking to perk up your vegan macaroni and cheese game a bit, check out these cool recipes!
Sometimes it's really nice to have a pre-made vegan cheese powder on-hand for your vegan mac and cheese recipes. This simple recipe by Vegan on Board is perfect for busy bees and also packing along for a camping trip! Nutritional yeast, flour, and a variety of spices are all you need for this practical powder.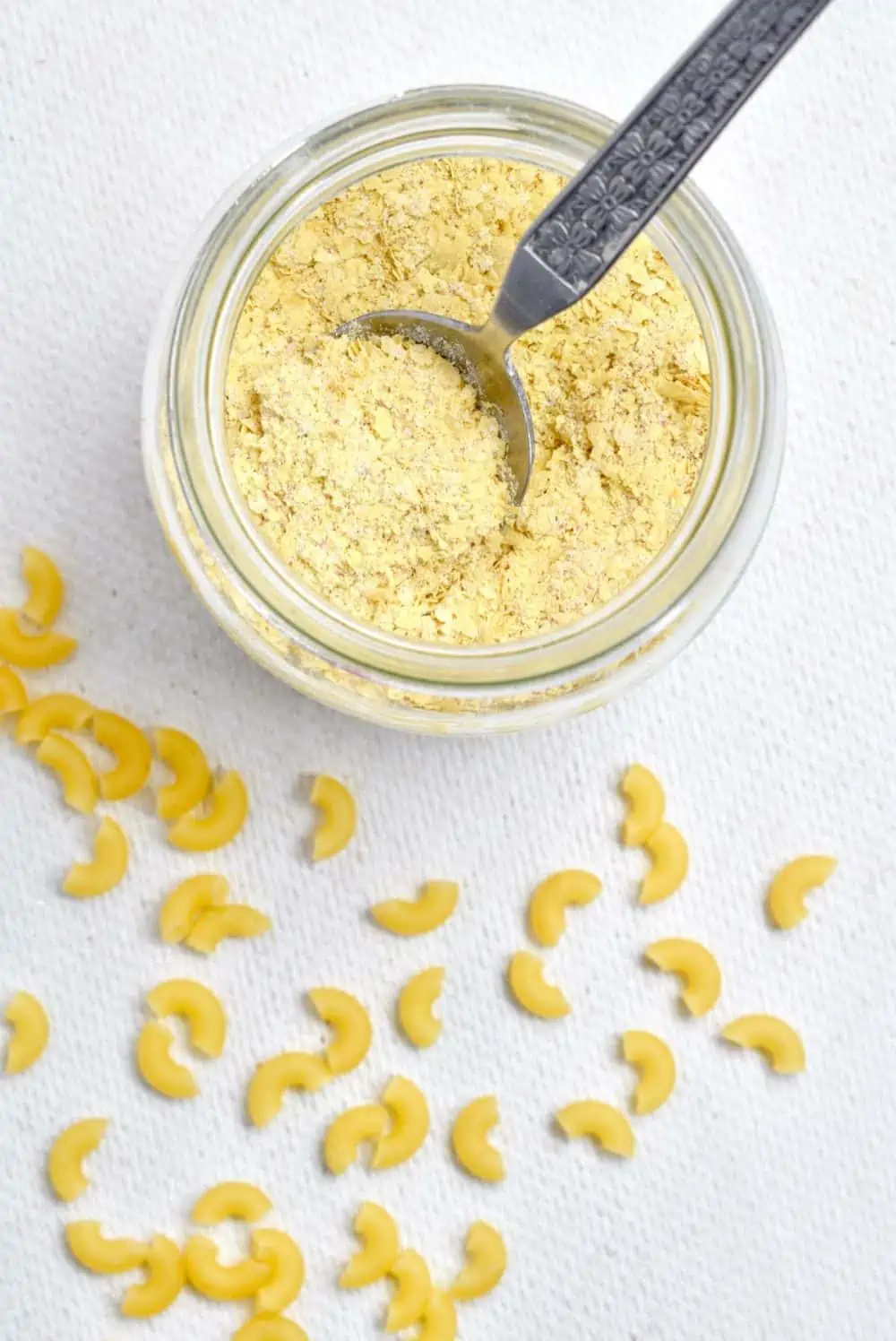 Like your pasta with a bit of a kick? Our chipotle vegan parmesan seasoning is here to give a nice serving of spice to your pasta dishes and more! Made from ground flax seeds, nutritional yeast, and a number of hotter spices, it also makes a perfect homemade gift for the spicy food lover in your life!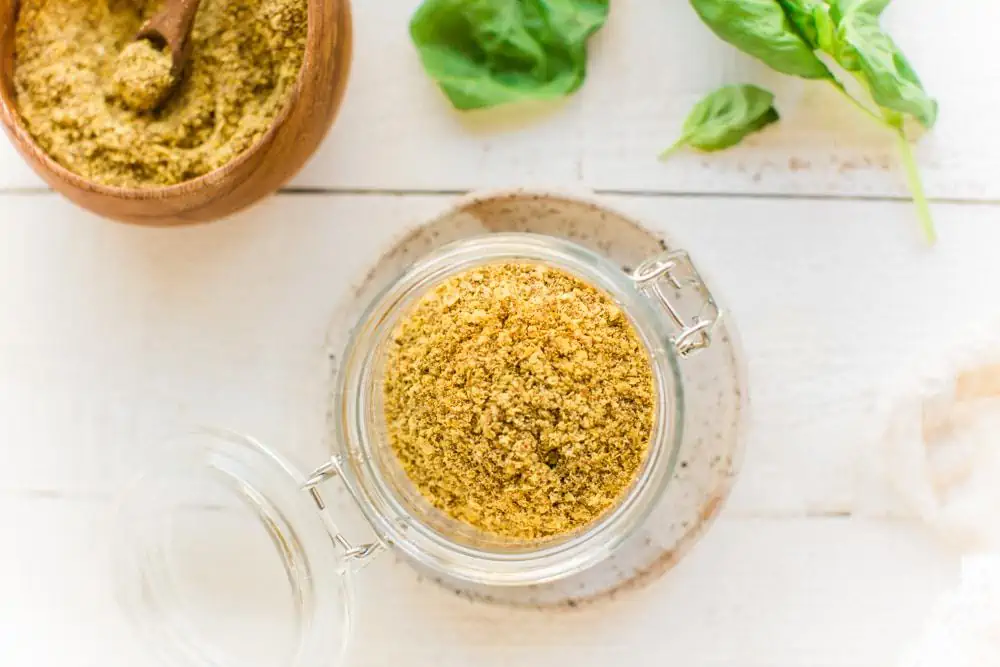 More Vegan Recipes to Try:
This roundup of vegan mac and cheese recipes was written by Amanda Meth, copyright of World of Vegan™. Photos by Michelle Cehn. This article may contain affiliate links, and shopping through these links supports our work at World of Vegan. Although we love the brands mentioned above, this article is not sponsored by any of them!