If you're here, it probably means you are already daydreaming of making these incredible vegan soft pretzels. Let's face it; soft pretzels are what dreams are made of! Salty and spongy and delicious. This vegan version will rock your world.
So where are soft pretzels from? These delicious treats are the result of an Americanized German tradition, and we couldn't be happier it took place. Life is much better with pretzels in it. Don't you think? Let's dive right into these soft pretzels from the Cravings Made Vegan cookbook! 
for soft pretzels
1¼ cups all-purpose flour, and a bit more for dusting
½ teaspoon instant yeast
⅛ teaspoon salt
1 teaspoon olive oil , and a bit more to coat the dough
⅓ cup water + 3 cups divided
1½ tablespoons baking soda
2 teaspoons coarse salt
for cheese dip
1 tablespoon coconut oil melted, or vegan butter
¼ teaspoon salt, to taste
⅛ teaspoon turmeric powder
⅛ teaspoon curry powder
1 tablespoon all-purpose flour
1 tablespoon nutritional yeast
¼ cup cider, if you don't have any, mix apple juice and sparkling water
½ teaspoon maple syrup
For soft pretzels
Combine the flour, instant yeast, and salt in a mixing bowl. Add olive oil and 1⁄3 cup water. Mix and knead by hand until a soft dough forms or put all the ingredients in a kitchen machine and let the machine knead the dough for you. This will take 4 to 5 minutes. Fine-tune the mixture: If it's too sticky, add more flour. If it's too crumbly, add more water.

Coat the ball of dough with a drizzle of olive oil. Cover the bowl with a clean kitchen towel and let the dough rest in a warm spot for 2 to 3 hours (depending on room temperature) until it doubles in size.

Preheat the oven to 400°F/200°C.

Divide the dough into 4 equal parts, roll them into ropes, and cut them into bite-sized pieces.

In a medium-sized pot, bring the remaining 3 cups water to a boil. Add in the baking soda and stir to combine.

Work in batches to cook all the pretzel bites in the baking soda bath for 1 minute. Then, transfer them to a baking tray lined with parchment paper and sprinkle them with pretzel salt.

Bake them in the oven for 15 to 20 minutes until golden and serve with a side of cider cheese dip. You've waited long enough. Dig in!
For cheese dip
Heat the coconut oil or butter in a small pot over low heat. Add the salt, turmeric powder, and curry powder. Add in the flour and whisk. Add nutritional yeast and whisk again until clumpy.

Add in the cider and maple syrup and whisk on low heat for a few minutes until creamy. If it gets too thick, add more water or cider and whisk again to make it smooth and creamy. Set aside until pretzel bites are ready to serve.
Calories: 273kcal | Carbohydrates: 45g | Protein: 8g | Fat: 7g | Saturated Fat: 4g | Polyunsaturated Fat: 0.5g | Monounsaturated Fat: 1g | Sodium: 3487mg | Potassium: 148mg | Fiber: 3g | Sugar: 1g | Vitamin A: 2IU | Vitamin C: 0.04mg | Calcium: 14mg | Iron: 3mg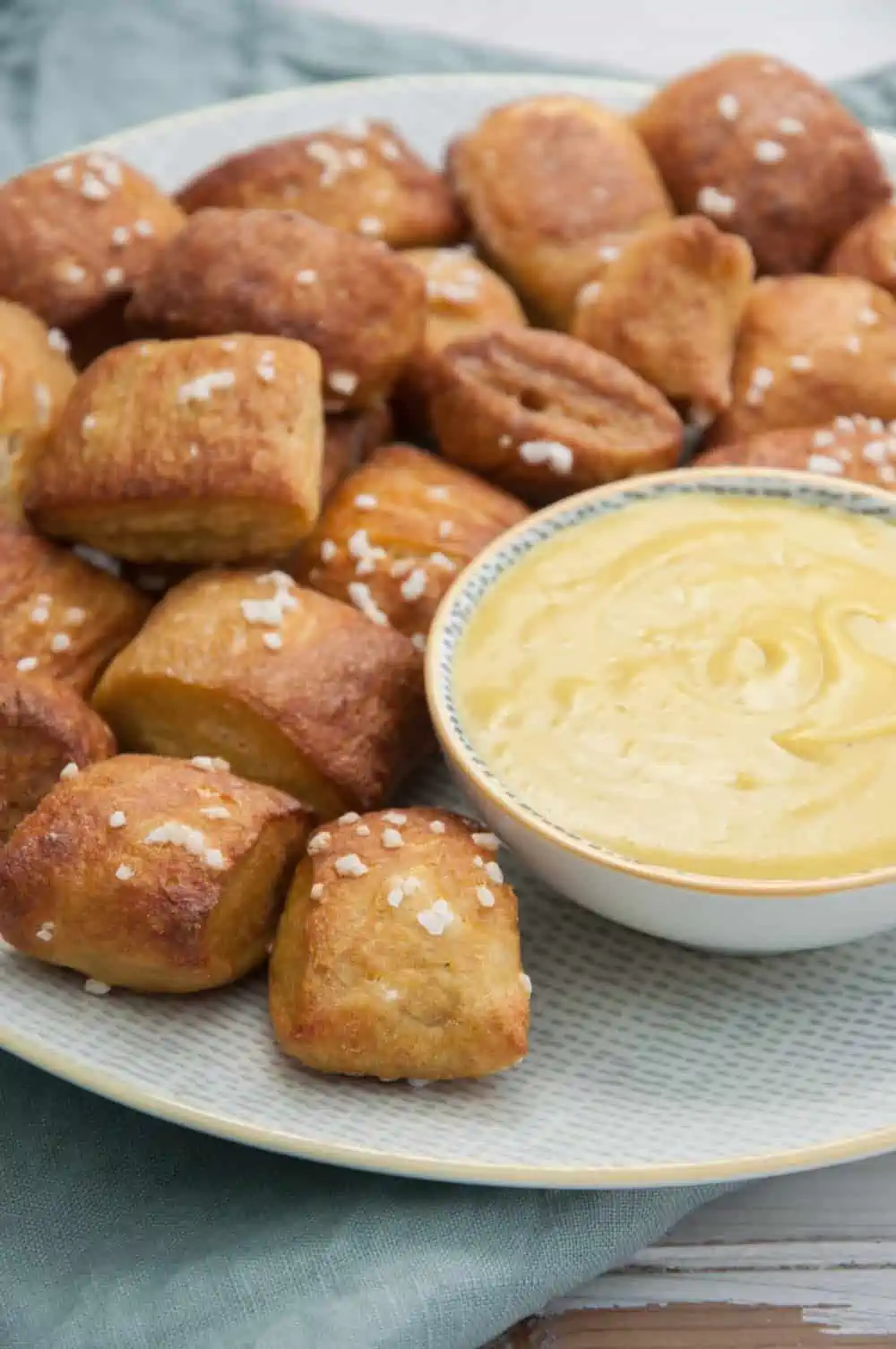 How Are Soft Pretzels Made?
Ok, it's not exactly the quickest recipe, but I promise it is so worth it! Be prepared to follow this recipe to the T because baking the soft pretzels alone won't cut it. Two vital steps are uber important to make a pretzel a pretzel. First, you have to let the dough shapes grow for a few hours, and then you boil the soft pretzels in water with baking soda. Sounds like a lot but if you plan ahead and calculate few hours in between you start until you put them in the oven, it won't seem so daunting.
Can you imagine what your house will smell like after baking these? Buttery and salty dough heaven! These soft pretzels would be perfect for making before a get together with friends or to take them for a picnic day out. I am sure they wouldn't last an hour! They are truly irresistible! You'll know what I'm talking about once you make them.
What To Dip Soft Pretzels In?
These soft pretzels would be amazing with the cider cheese dip but, to be honest, they are amazing on their own! Skipping this dip makes the recipe simpler, and you'll need a lot fewer ingredients. So enjoy the bites alone (or with some mustard) if you prefer.
If you choose to dip them but don't want the hustle of making the cheese sauce you can try to get a store bought vegan dip or create your own simple sauce.
About The Authors
Cravings made vegan is Bianca Haun & Sascha Naderer's second vegan cookbook. This vegan foodie couple is passionate about sharing their amazing recipes with the world. Bianca started by sharing her vegan ideas on the Elephantastic Vegan Blog, and her creations are seriously addictive! Sascha, on the other hand, is a fan of easy recipes that cook themselves, which makes him Bianca's perfect cooking partner in crime, complementing each other so well.
This book seriously is fantastic! All of the vegan versions of your dream comfort non-vegan foods are in here. I promise! Philly cheesesteak, lasagna, corndogs, pannacotta… should I stop? You will fall in love with these creations.
Go get your own copy of the book here!
More Vegan Appetizer Recipes to Try
We want to thank our amazing recipe testers, J.J Steele, Taylor Gillespie, and Anne Sparks.
Vegan soft pretzels with cheese dip recipe excerpted from Cravings Made Vegan: 50 Plant-Based Recipes for Your Comfort Food Favorites by Bianca Haun and Sascha Naderer with permission from Skyhorse Publishing, Inc. Photos by Bianca Haun and Sascha Naderer. Please note that this article contains affiliate links that support our work here at World of Vegan.