Welcome to the world of vegan cottage cheese, where creamy dreams come true without a single moo! If you thought cottage cheese was strictly reserved for the dairy-loving crowd, think again. This plant-based twist on a classic favorite will have your taste buds doing a happy dance.
Why do people love vegan cottage cheese? It's creamy, cruelty-free, and utterly delicious.
Packed with wholesome ingredients and bursting with flavor, plant-based cottage cheese is here to prove that you don't need cows to create a velvety, protein-rich delight. Say goodbye to the cow and hello to a bowlful of veggie-powered goodness!
How is Cottage Cheese Made?
Traditionally, cottage cheese is made by curdling cow's milk with an acidifying agent, such as lemon juice or vinegar, which separates the milk into curds and whey. The curds are cut, heated, and stirred to expel more whey, then drained and rinsed. Optional steps include washing the curds, adding salt for flavor, and packaging the cottage cheese for refrigerated storage.
When making a plant-based cottage cheese, you can't recreate this chemical reaction in the exact same way. But, you can use comparable ingredients (such as nondairy milk, lemon juice or vinegar, salt, and seasonings) for a very similar flavor and texture.
Vegan Cottage Cheese Brands
Sadly, there is only one brand on the brink of debut. Recreating a classic cottage cheese recipe that tastes just like the original might be a daunting task for manufacturers at the moment. As new plant-based products emerge, we'll make sure to update this list. All new cottage cheese substitutes are our priority!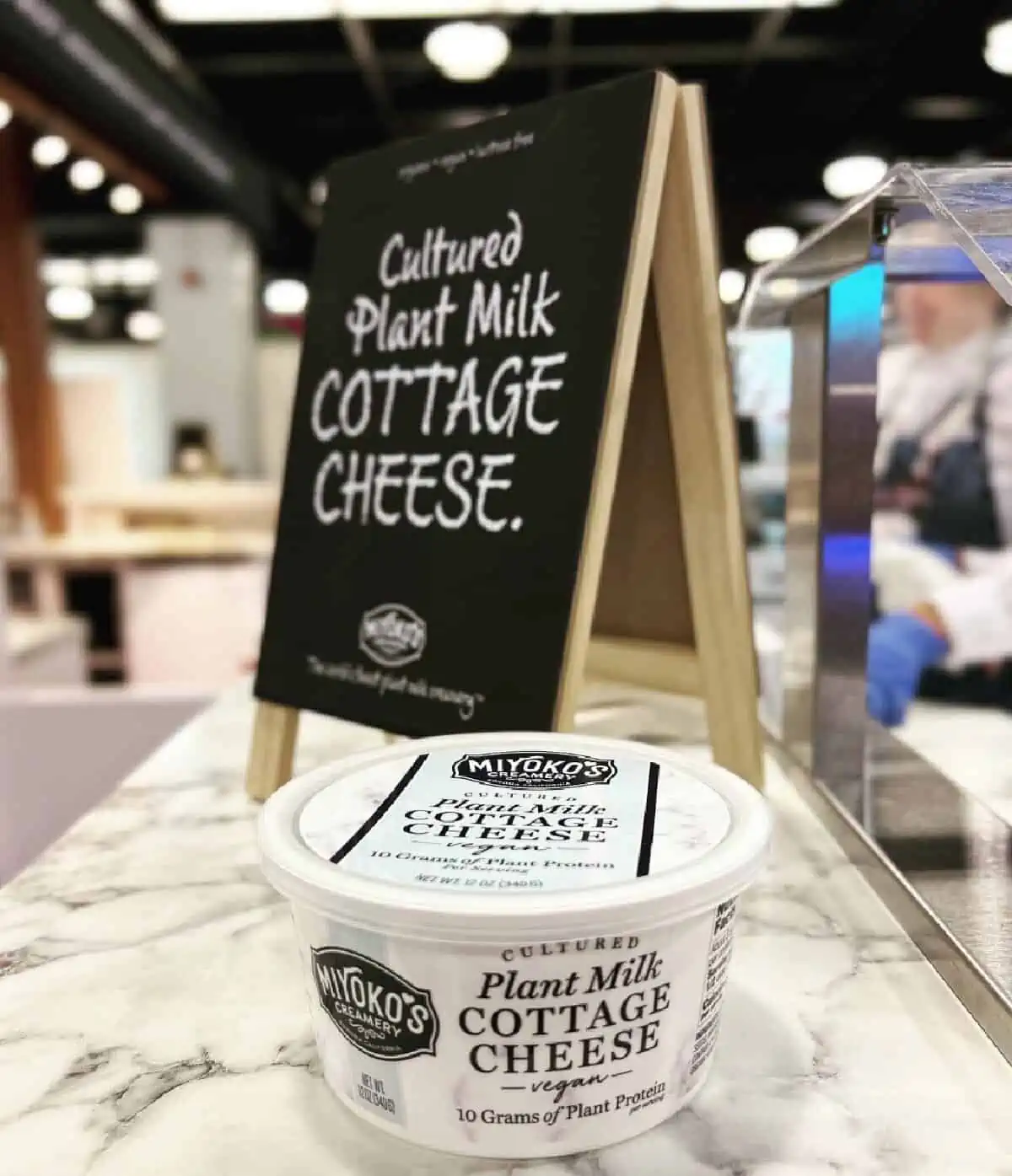 Everyone is crossing their fingers that this organic watermelon seed and sunflower seed milk cheese blend will be on the shelves sometime in 2023. The creamy, curd-like texture and lovely mild taste has been much awaited by dairy-free fans. If this vegan cottage cheese is anything like Miyoko's other plant-based dairy alternatives, we can certainly expect a delicious version that rivals traditional brands!
Best Vegan Cottage Cheese Recipes
From zesty herb-infused spreads to mouthwatering fruit-infused delights, this curated collection of cottage cheese creations will take your love to a whole new level of deliciousness. These ravishing recipes will give you a boost of plant-based protein and another appetizing addition to your weekly meals!
Sam's terrific tofu-based (two types!), dairy-free cottage cheese is creamy but also has the perfect curd-like texture. In less than 10 minutes, you can have a high protein meal that pairs excellently with both fruit or veggies. A super tasty recipe by one of our favorite vegan bloggers.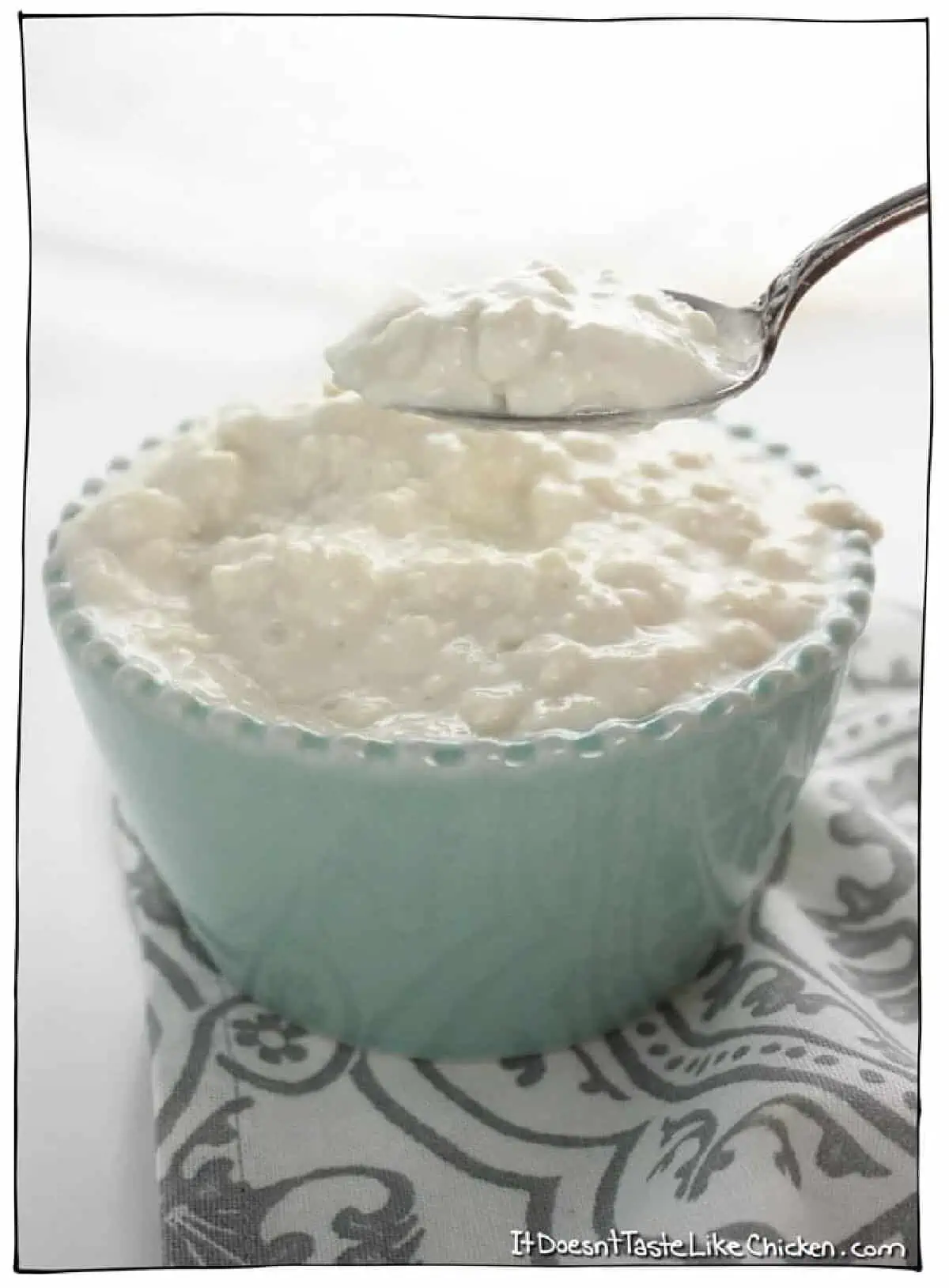 Conscious Plant Kitchen's recipe is gluten-free, nut-free, oil-free, keto-friendly, low carb, and grain-free. Their recipe takes advantage of probiotics (for health, as well as flavor) in addition to tofu, unsweetened coconut yogurt, apple cider vinegar, and salt to create a delectable dairy-free version of this classic food. Definitely give it a try!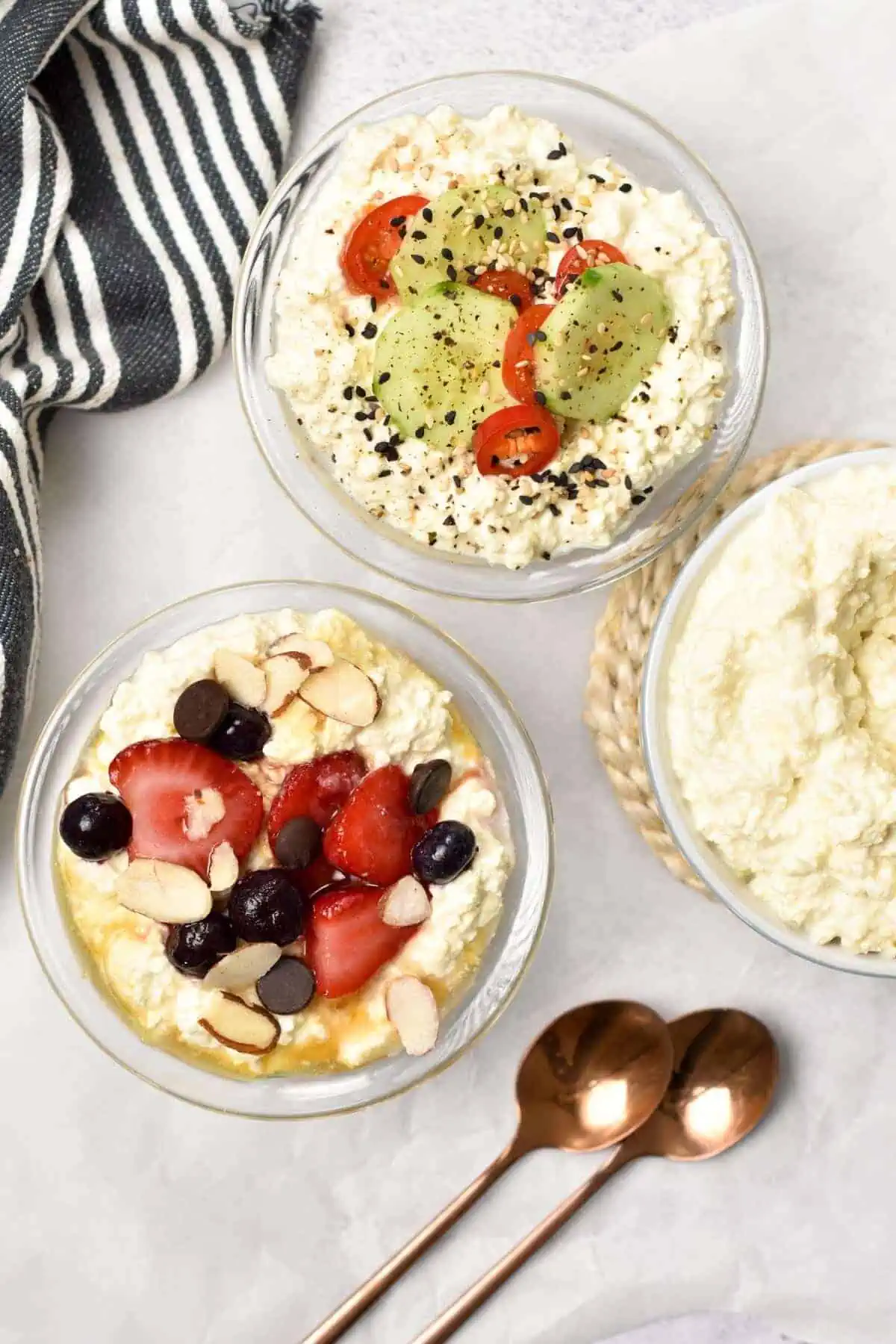 A unique blend of extra firm tofu, plant-based yogurt, lemon juice and, surprisingly, garlic powder! This recipe by My Quiet Kitchen takes no time at all and results in a lovely texture and taste. A worthy tofu cottage cheese that has tang, but no off-putting sour taste.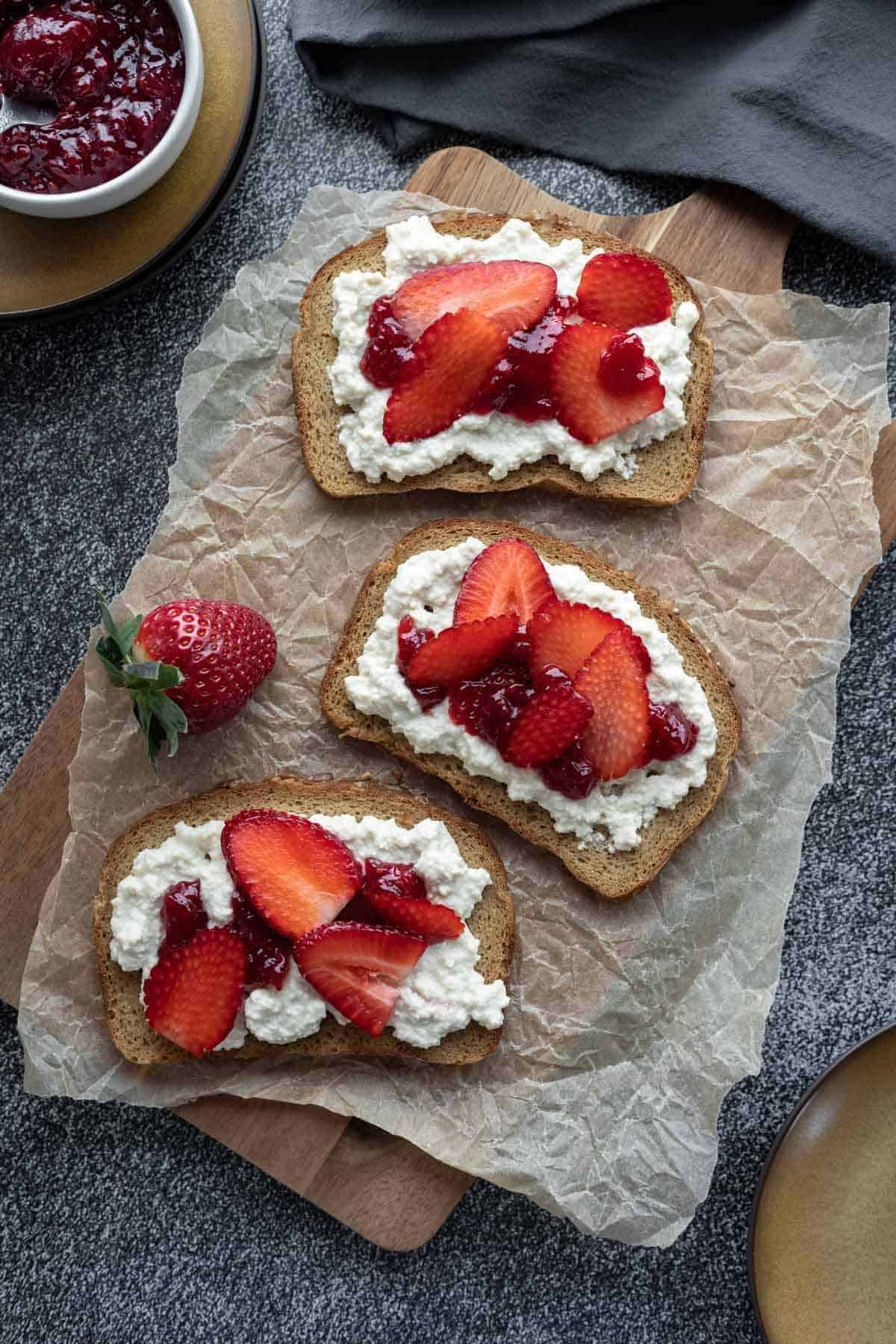 Ela Vegan's cool and neutral plant-based cottage cheese recipe is gluten-free, low-carb, dairy-free, low-fat, and uses only 5 simple base ingredients. This is a more savory version of the traditional by incorporating chives, spices, vinegar, and plant-based yogurt along with the tofu. You'll have a delightful dish of cottage cheese whipped up in just minutes!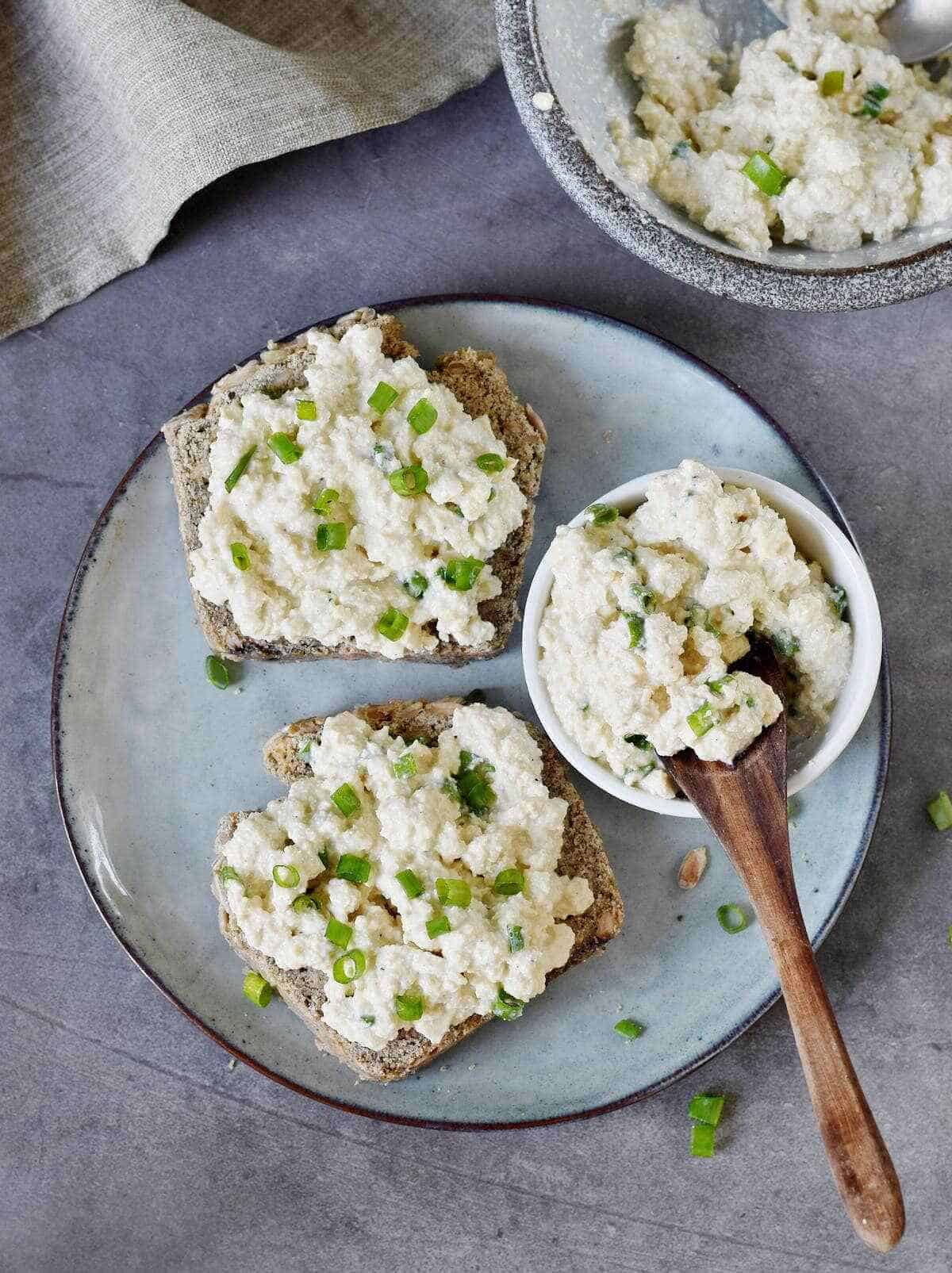 Tasty Tips and Serving Suggestions
Get ready to elevate your nondairy cottage cheese game with these terrific tips and suggestions that will turn you into a plant-based cheese connoisseur. From innovative serving ideas to experimenting with flavor combinations, we'll inspire you with the knowledge you need to create delectable dairy-free delights that will impress even the most discerning taste buds.
FAQs
Is Daisy cottage cheese dairy-free?
No, this brand does not have a dairy-free option for their cottage cheese. Let's hope they will offer one in the future!
Is Cottage Cheese vegan?
Unfortunately, no. Traditional cottage cheese is made with dairy milk, so it is vegetarian, but not vegan.
Can you eat cottage cheese if dairy free?
If you're dairy-free, conventional cottage cheese is off the menu. Cottage cheese is made with dairy products and by-products, so it is not a good choice if dairy bothers your digestion.
More Delightful Dairy-Free Recipes to Try
So, friends, that's all we know (for now) about vegan cottage cheese. It's got all the creamy goodness without any of the moo-ness! Dairy-free cottage cheese is here to prove that alternatives can be utterly delightful. So go ahead, grab a spoon, and let the plant-based party begin!