If you're a lover of classic Italian food—and who isn't?—you'll adore these vegan stuffed shells. They're like a fancier remix of lasagna. They plate beautifully, are sure to wow dinner party guests, and are shockingly easy to make. Ready to feel like a top chef?
Just boil some jumbo pasta shells and gently fill each one with our cheesy tofu-based ricotta filling made flavorful with onion, garlic, fresh basil, lemon, and other fresh ingredients. Sprinkle some extra vegan cheese on top (if you'd like), bake them, and pour yourself a glass of wine. It's time to close your eyes, take a bite, and be transported instantly to the coast of Italy.
Why We Love These Vegan Stuffed Shells With Tofu
This recipe hits all the marks. It's a warm filling comforting vegan dinner that will make you feel like you're dining in a little villa on the coast of Italy. Plus, it's:
This recipe can also be made gluten-free vegan if you can find gluten free jumbo shell pasta! I you're looking for a soy-free option, try using Pumfu (pumpkin seed tofu) or another soy-free tofu alternative. It will still be absolutely delicious!
Star Ingredients in These Vegan Tofu Ricotta Stuffed Shells
Jumbo Pasta Shells – This is the one unique ingredient you'll need to make these vegan stuffed shells. You can find jumbo shell pasta online and at many mainstream grocery stores as well as many big box stores such as Target and Walmart. But if you can't find them, you can also use manicotti pasta or even lasagna noodles rolled up around the filling to make vegan lasagna rolls!
Firm or Extra-Firm Tofu – To create a soft ricotta-like cheese filling, I prefer using Firm or Extra-Firm tofu in this recipe (rather than super-firm, which comes vacuum packed and is denser and more chewy).
Fresh Basil – If you have fresh basil that's the most ideal for this recipe, but if you don't have any you can always substitute dried basil instead. I've done that many times and it's still delicious!
Nutritional Yeast – A staple in every vegan kitchen, nutritional yeast (aka "nooch") gives a cheesy flavor to this dish.
Marinara Sauce – The marinara sauce provides a substantial portion of the flavor of these stuffed shells, so it's key to use a flavorful marinara or arrabbiata sauce you love. You're welcome to use store-bought from a jar—just know that these vary tremendously in depth of flavor and freshness. For this dish, skip the Prego and invest in a higher quality pasta sauce if you can. We have an incredible homemade vegan marinara sauce recipe if you feel inspired to make your own. It will make your house smell divine.
Vegan Cheese (Optional) – The vegan cheese is completely optional. I often make stuffed shells without added vegan cheese on top and I never miss it. But if you are a die-hard cheese lover, get your favorite package of vegan cheese shreds and sprinkle them on top before you bake!
1 12-ounce package jumbo pasta shells
1 16-ounce block of firm (or extra-firm) tofu, pressed
1 medium yellow onion, roughly chopped
5 medium cloves garlic
¼ cup packed fresh basil leaves
2 teaspoons dried oregano
2 teaspoons salt
¾ teaspoon ground black pepper
¼ teaspoon red chili pepper flakes, optional
2 tablespoons nutritional yeast
1 medium lemon, juiced
1 cup packed spinach leaves
1 25-ounce jar flavorful marinara sauce
½ cup vegan cheese shreds, optional
Fresh basil leaves, for garnish (optional)
In a large pot of boiling water, cook the jumbo pasta shells according to the prebake cooking directions on the package. Then drain, rinse with cold water to prevent sticking, and set aside.

Meanwhile, in the bowl of a food processor, combine the tofu, onion, garlic, basil, oregano, salt, black pepper, red chili pepper flakes (if using), nutritional yeast, and lemon juice. Pulse 15 times or until partially mixed. Add the spinach and pulse just a few more times until combined. The resulting texture should be ricotta­-like. Do not over pulse or your ricotta will turn green!

Preheat the oven to 375 degrees F. Pour half of the marinara sauce into a 9×13 ­inch baking dish, spreading to evenly coat the bottom of the dish.

One by one, fill each cooked shell with a generous spoonful of the tofu ricotta filling and place in the prepared baking dish. Continue until the tofu mixture is gone and the baking dish is filled. Sprinkle the vegan cheese (if using) on top.

Drizzle the remaining marinara sauce over the stuffed shells. Cover the pan with aluminum foil and bake for 20 minutes. Remove the foil and bake for another 20 minutes or until the cheese (if using) is melted and the edges of the shells are lightly browned. Garnish with the basil leaves (if using). Serve immediately and enjoy hot.
You will likely have several cooked pasta shells left over, and they can be enjoyed just as you would any other pasta. We love dressing them with extra- virgin olive oil, garlic powder, salt, red chili pepper flakes, and nutritional yeast.
Calories: 41kcal | Carbohydrates: 5g | Protein: 2g | Fat: 2g | Saturated Fat: 1g | Polyunsaturated Fat: 0.03g | Monounsaturated Fat: 0.01g | Sodium: 657mg | Potassium: 99mg | Fiber: 1g | Sugar: 1g | Vitamin A: 420IU | Vitamin C: 3mg | Calcium: 26mg | Iron: 1mg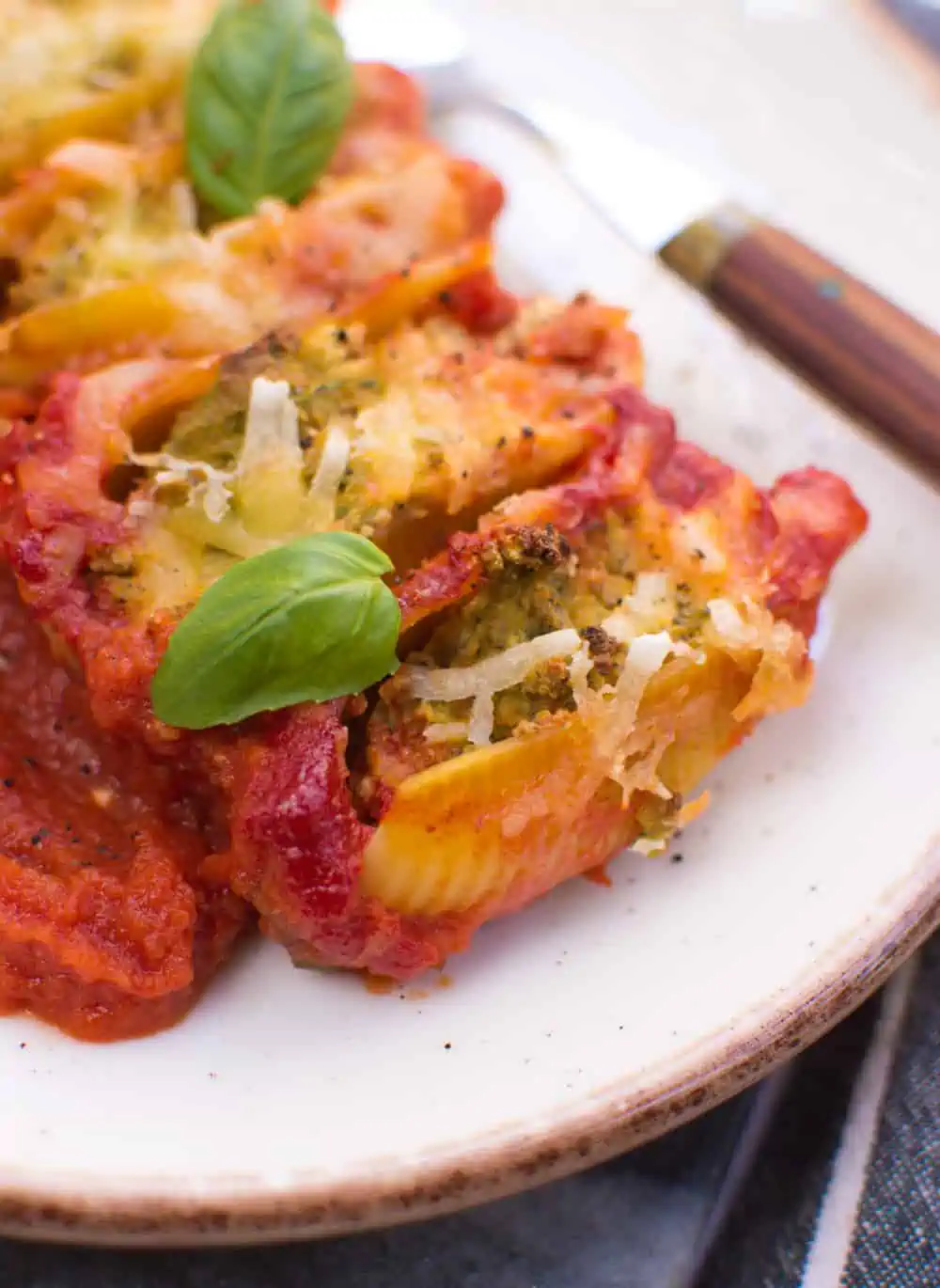 The Friendly Vegan Cookbook
Hungry for more crazy-delicious vegan recipes for your favorite foods that we've perfected for you, rigorously tested, and make all the time in our kitchens? Grab a copy of The Friendly Vegan Cookbook and get ready to cook up:
…and 100 more dishes worth your time in the kitchen.

I wrote this book with my co-author Toni Okamoto as a compilation of the best-of-the-best recipes we've created and turn back to again and again over the past 13 years (each) of being vegan. I hope it empowers you to step into your kitchen with confidence and whip up food so good you're excited to share it with even your most skeptical friends and family.
More Vegan Italian Recipes
This vegan stuffed shells recipe with tofu ricotta is from The Friendly Vegan Cookbook by Michelle Cehn and Toni Okamoto. Published with permission from BenBella Books, 2020, all rights reserved. Photos by Zhoro Apostolov. Please note that this article contains affiliate links.