This delicious vegan ramen recipe was generously sponsored by my friends at Lotus Foods. They make some of my favorite healthy ramen noodles made from brown rice. Enjoy!
Ramen noodle soup is such a versatile comfort meal. It can be simple and inexpensive, or you can make it fancy and jam-packed with colorful vegetables and flavors!
This easy vegan ramen is the best of both worlds. It's simple and easy to make, yet healthy and seriously delicious. This ramen noodle soup is the perfect base recipe, containing tofu and veggies, and you have the option to add any additional flavors and toppings you'd like. There are endless ways to make ramen noodle soup, so get creative and make it your own!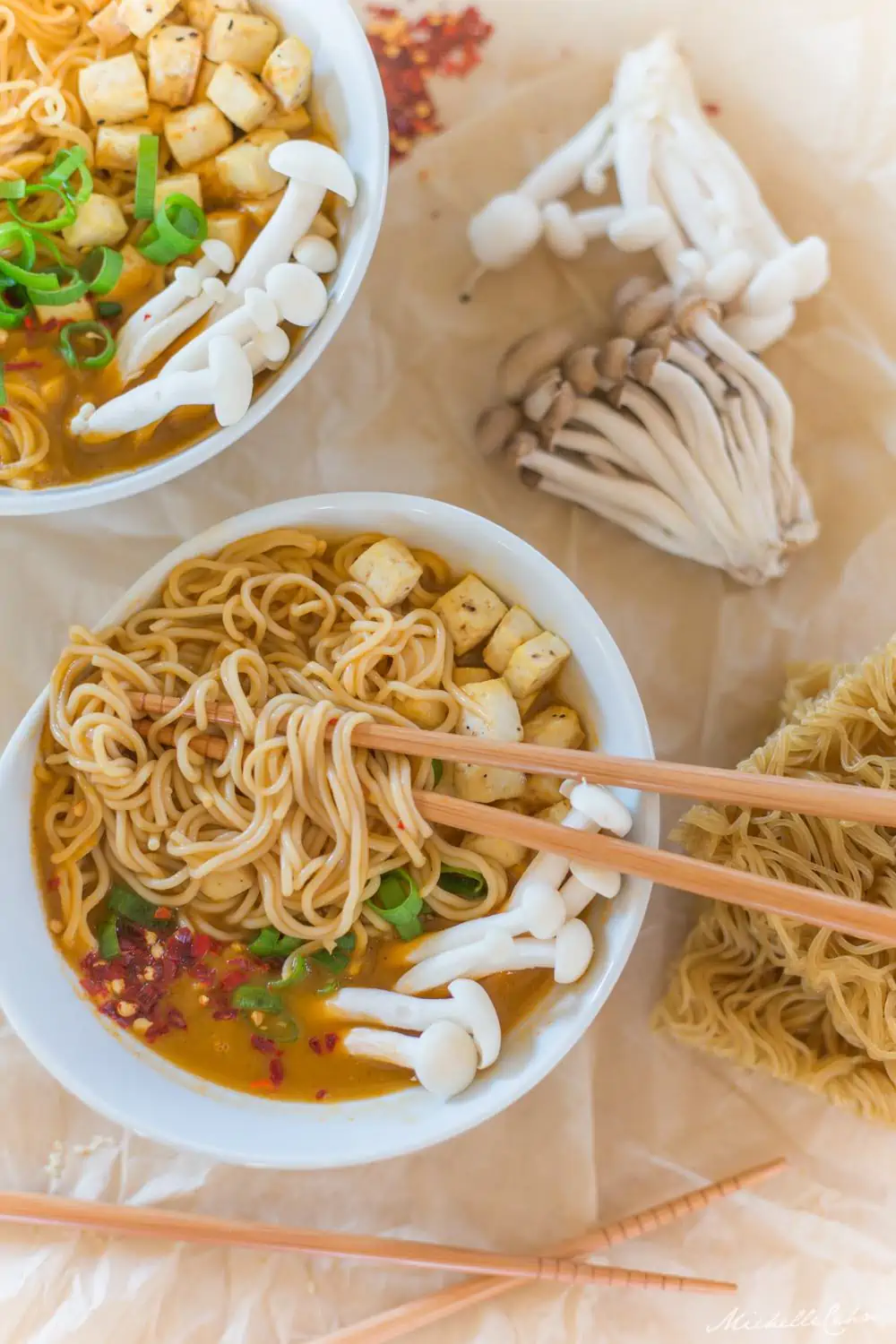 Why You'll Love This Easy Vegan Ramen
There's nothing quite like a big steaming bowl of ramen to warm up with. From the slurpy noodles to the savory broth, there's something to be enjoyed in every bite. If you need more convincing, here's a few more reasons why you'll want to add this vegan ramen to your weekly rotation:
Fast: It only takes 25 minutes from start to finish which makes it perfect for busy weeknights!
Easy to customize: By adding your favorite veggies and toppings, adjusting the spice level or make it extra umami, the possibilities are endless!
Extra filling: This ramen uses tofu for a crispy and filling plant-protein that truly rounds out the dish!
Simple ingredients: Nothing crazy in this recipe, in fact, if you've been cooking vegan for a minute, there's a good chance you already have everything on hand.
Crowd-pleaser: Everyone loves ramen, even picky eaters!
Is Ramen Healthy?
Instant ramen is usually filled with highly processed ingredients such as MSG. Aside from that, there is little to no nutritional value with instant ramen because it lacks vegetables and protein.
If you're looking to enjoy this classic dish but in a healthier way, simply choose healthier ramen noodles! We love these rice noodles from Lotus Foods.
I don't know how they do it, to be honest, because the noodles taste amaaaazing! And good news if you eat gluten-free, because you can still have this dish. The Lotus Foods ramen noodles are naturally gluten-free.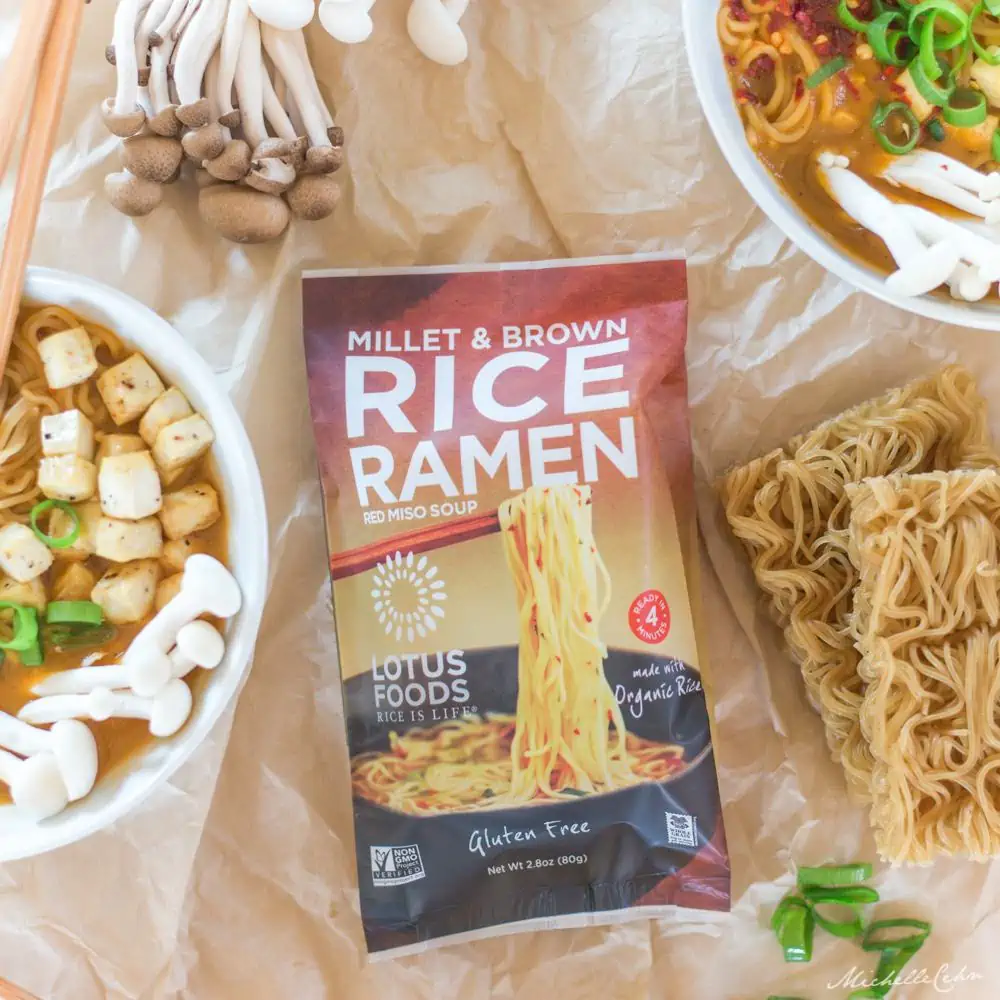 If you are looking for instant ramen, however, Lotus Foods does have ramen noodles with flavor packets to create your own instant ramen! If you're not using the seasoning packet and you're making your ramen from scratch, like with this recipe, I highly suggest using a nice flavorful vegetable broth. I find if I make this recipe with a broth that is a bit bland, the soup overall needs more seasoning.
Can You Meal Prep Ramen?
This easy vegan ramen recipe serves one, but please feel free to double, triple, or quadruple the recipe if you feel so inclined.
If you do make multiple servings, we recommend consuming the soup the same day rather than storing leftovers. The noodles will absorb quite a bit of the broth by the next day.
If you'd like to make a big enough batch for leftovers, however, you could skip adding the noodles and just make the soup. When you're ready to have a serving of ramen, you can boil the leftover soup and add the desired amount of Lotus Foods ramen noodles and boil it for around 5 minutes.
How To Make This Easy Vegan Ramen
The method is very simple. Here's a quick run-down but you can see the full recipe with ingredients in the recipe card at the bottom of this post.
First, you will season the tofu and bake it in the oven for 20 minutes.
While the tofu is in the oven you can prepare the soup. Quickly sauté garlic, then add the vegetable broth and veggies. Next, add the ramen noodles and seasonings.
When the tofu is finished, put everything in a bowl and top it with additional ingredients if desired. It's seriously that simple to make an incredible bowl of easy vegan ramen.
Instant ramen is such a nostalgic dish. Whether you have memories of being a college student making instant ramen, or you remember this dish from childhood.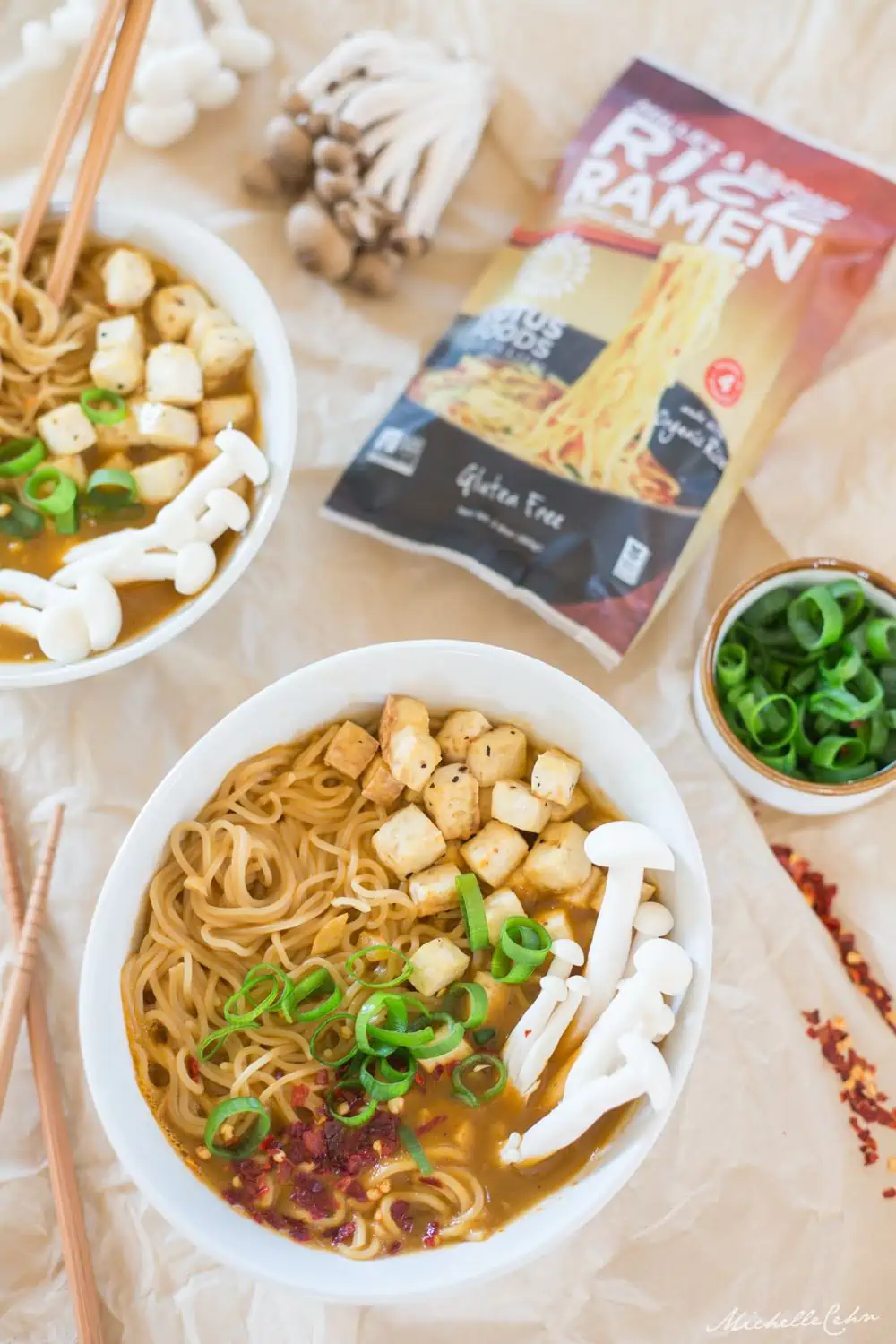 Vegan Ramen Add-Ins
If you're like me and you like to get creative with your ramen, here is a list of possible toppings and add-ins that you can include with this recipe:
Other Vegetables
We've included the basic veggies in this recipe. You can swap some veggies out or include additional vegetables if you prefer. Some wonderful options include kale, thinly sliced bell peppers, green peas, sugar snap peas, edamame, and shredded cabbage. Edamame is a great option if you want to increase the protein content!
Miso
Miso is a fermented soy product that is very healthy because it contains probiotics and it's very nutrient dense. It adds a really nice flavor to any ramen dish. If you want to add this to your dish, whisk it in with the vegetable broth before adding the veggies.
Sesame Seeds
We love adding black sesame seeds or white sesame seeds to the ramen at the very end. It adds a really nice flavor as well as additional minerals like calcium.
Dried Seaweed
Dried seaweed is another great way to increase the mineral content. Seaweed is loaded with essential minerals and it adds a nice flavor and crunch as well. Nori (the same type of seaweed you would use for sushi) is a really delicious option. Add it right at the end so it doesn't get soggy.
Kimchi
Kimchi is a delicious add-in for ramen. It adds fantastic spice and flavor if you like heat. Kimchi is loaded with probiotics and it's an excellent health food all around. It kicks up the flavor of any ramen soup big time!
Pickled Ginger
Pickled ginger will create a similar flavor profile as adding kimchi. If you love pickled foods, pickled ginger is wonderful in Asian cuisine!
Hot Sauce
We use sriracha in this recipe. But if you prefer another kind of hot sauce, feel free! If you don't like spice, you can leave it out completely but the flavor will be very different. In this case, add more soy sauce/tamari to taste.
Vegan Mock Meat
Traditional ramen often has meat. If you fancy this type of ramen soup, feel free to source some vegan pork or beef as an extra special add-in!
Sprouts
Bean sprouts are another really yummy option, especially if you want to add a bit of crunch. Pea shoots are a really nice option if you want to add a really fresh flavor.
Cilantro
Cilantro isn't always the most popular herb, but if you love cilantro like us, we love adding it to ramen. Add it as a garnish to your bowl at the end.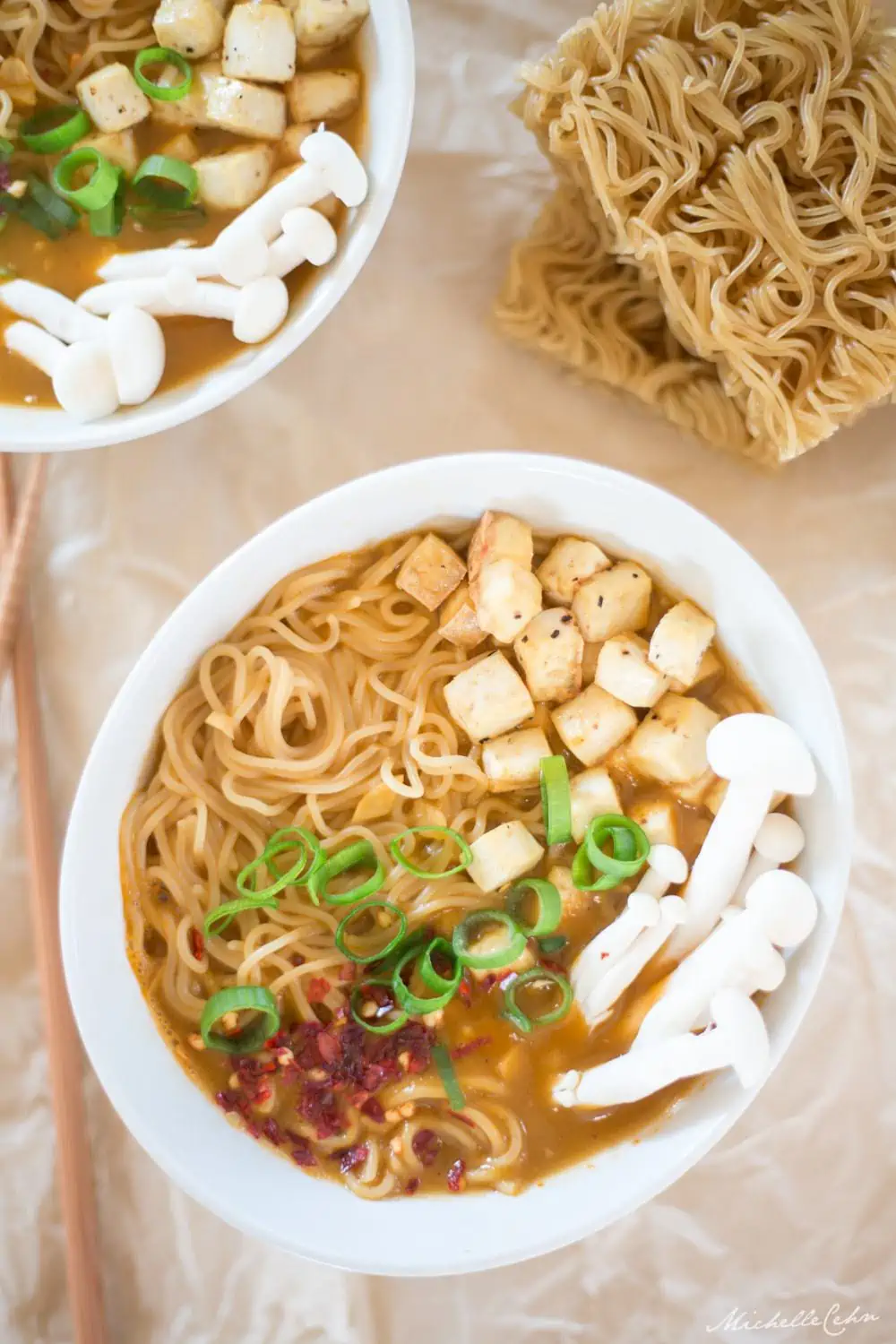 Cup Noodles Goes Vegan?
Psssst… want some more nostalgic vegan ramen hacks? Lotus Foods actually makes a more natural and totally plant-based version of the "Cup Noodles" many of us grew up eating. Check it out:
More Vegan Soup Recipes You'll Love
Try these plant-powered recipe favorites:
Baked Tofu Cubes
½ cup extra-firm tofu, cubed
½ teaspoon toasted sesame oil
¼ teaspoon salt
1 pinch pepper
Ramen Noodle Soup
½ teaspoon toasted sesame oil
1 medium clove garlic, minced
2 cups vegetable broth
1 package ramen noodles, we used rice ramen noodles from Lotus Foods
1 tablespoon soy sauce or tamari
sriracha, to taste
1 tablespoon finely chopped green onion
1 pinch red pepper flakes, optional
Optional Veggie Add-Ins
2 baby bok choy, sliced in half
¼ cup thinly sliced mushrooms
½ cup broccoli, chopped into small pieces
¼ cup thinly slicedcarrots
Optional Toppings
1 pinch sesame seeds, black or white
1 teaspoon nori seaweed, thinly sliced into small pieces
any additional toppings you desire
Baked Tofu Topping
Start by preparing the baked tofu cubes. If you'd prefer to skip this step, you can use raw cubed tofu instead or leave it out altogether.

Preheat your oven to 400 degrees F.

Combine the cubed tofu, sesame oil, salt, and pepper in a bowl and toss to coat.

Place the tofu in a single layer on a parchment lined baking tray. Bake the tofu for 10 minutes, then flip it and bake for another 10 minutes.
Ramen Noodle Soup
Heat a medium sized pot and add ½ of a teaspoon of sesame oil (or olive oil) and the garlic. Saute for 2 minutes.

Add the vegetable broth and bring the pot to a boil.

Add your veggies of choice (see suggested veggies add-ins and create your own combo) and simmer for about 3-5 minutes, until veggies are cooked yet still crisp.

Add the ramen noodles and simmer until the noodles are cooked, following the cooking time noted on the package.

Remove the pot from the heat. Add the soy sauce and sriracha and adjust to taste. Pour the soup into a bowl, add the baked tofu, and sprinkle with green onion and red pepper flakes. Serve with any additional toppings and add-ins if you desire.
Calories: 586kcal | Carbohydrates: 77g | Protein: 25g | Fat: 21g | Saturated Fat: 7g | Polyunsaturated Fat: 5g | Monounsaturated Fat: 8g | Sodium: 5466mg | Potassium: 758mg | Fiber: 7g | Sugar: 12g | Vitamin A: 17044IU | Vitamin C: 149mg | Calcium: 372mg | Iron: 8mg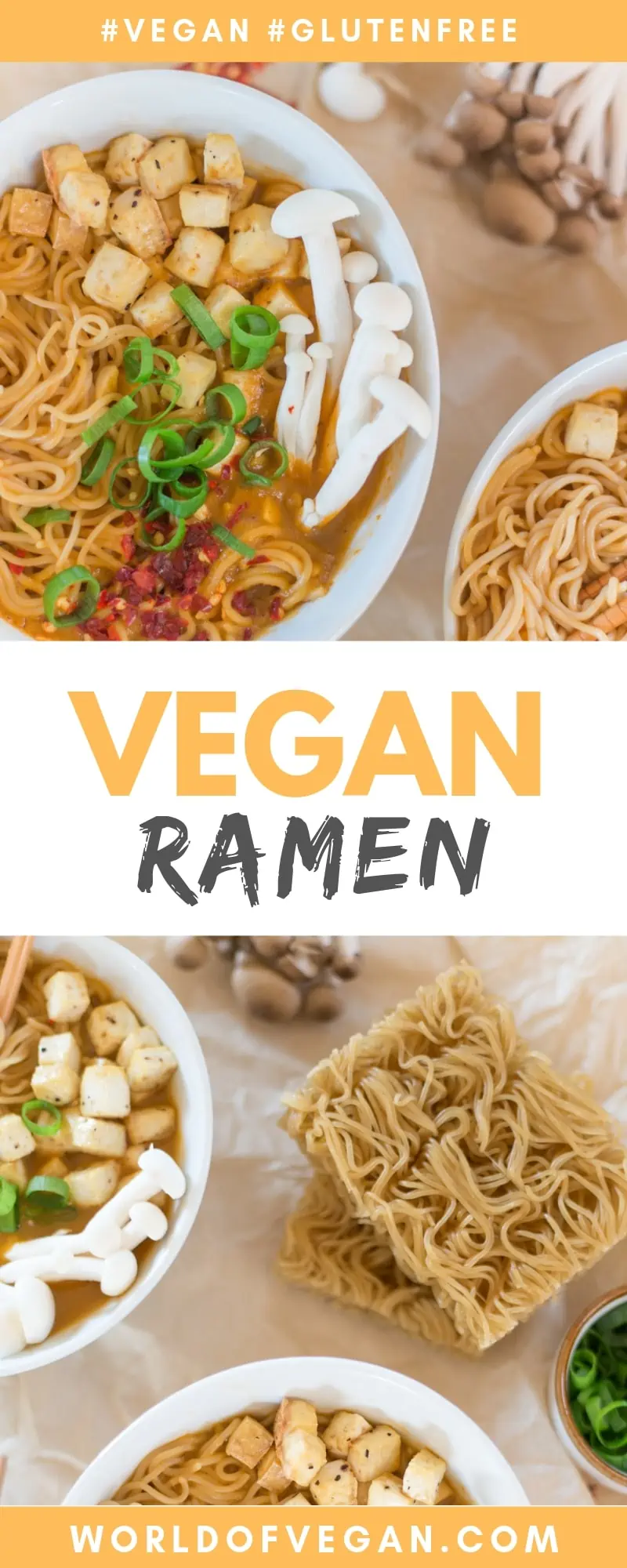 Photos by Michelle Cehn for WorldofVegan.com. Article edited by Rachel Lessenden. Many thanks to Lotus Foods for supporting this recipe and our work at World of Vegan!