Do you need an excuse to include more veggies in your meals? Packing in the vegetables is one fantastic thing you can do to feel healthy, but, let's face it, it's not always an easy task. Preparing a pot of soup for dinner is one of the best ways to add loads of greens and other nutritional powerhouses to a meal.
This squash & cauliflower soup recipe from the Much More Veg cookbook is delicious and family approved!
1 small to medium-sized cauliflower
1 squash, such as a small onion squash, or ½ of a large butternut, or a chunk of Crown Prince
1 large onion, roughly chopped
4 cloves garlic, peeled but left whole
2 tablespoons roughly chopped sage, (plus a few finely ribboned leaves to finish)
2 tablespoons olive or vegetable oil
1 liter veggie stock, hot or warm
sea salt and black pepper
TO FINISH
balsamic vinegar
flaky sea salt, to sprinkle
Preheat the oven to 390°F

Remove any very damaged or tough-looking leaves from the outside of the cauliflower and trim the very end of the stalk. Then roughly chop the rest of the cauliflower—stem, leaves, and all—and put into a large roasting tray.

Peel and deseed the squash then cut into bite-sized chunks. Add these to the roasting tray with the onion, whole garlic cloves, and chopped sage. Trickle over the oil, season with salt and pepper and stir well.

Roast for about 45 minutes until the vegetables are soft and nicely caramelized, stirring halfway through. Make sure there's some good color on the cauliflower especially—this adds to the flavor of the finished soup.

You now need to purée the soup with the hot veggie stock. There's a lot of vegetables here, so do this in two batches: blitz half the veggies with half the stock in a blender until smooth then pour into a large saucepan; repeat with the rest of the veggies and stock.

Once the two batches are reunited, you may want to add a touch of hot water to thin the soup a little. Taste and add more salt and pepper if needed, and reheat if necessary.

Ladle the soup into warmed bowls, splash some balsamic onto each serving, then add a little finely ribboned sage, ground pepper, and a few grains of flaky sea salt.
Calories: 243kcal | Carbohydrates: 40g | Protein: 3g | Fat: 10g | Saturated Fat: 1g | Polyunsaturated Fat: 1g | Monounsaturated Fat: 7g | Sodium: 1338mg | Potassium: 987mg | Fiber: 6g | Sugar: 10g | Vitamin A: 27282IU | Vitamin C: 58mg | Calcium: 165mg | Iron: 2mg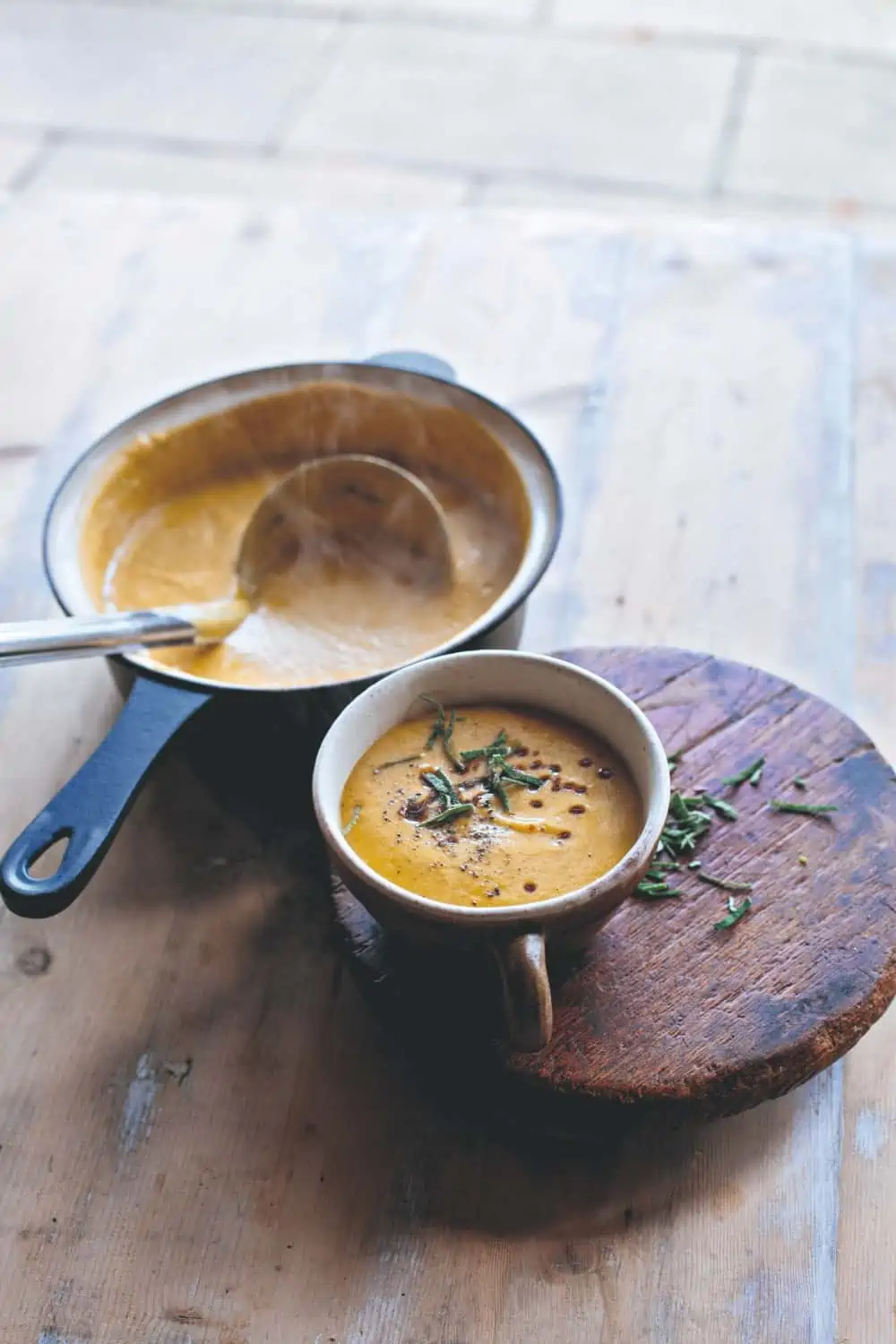 Squash Away!
This recipe calls for squash, but you have the option to choose from three different kinds. You can choose whichever you find on sale or simply use your favorite. Just make sure you pick a winter squash variety like:
Butternut squash
Kuri squash
The simplest way to go is with good old butternut squash. Its orange flesh is sweet and perfect for a creamy soup. Plus it's super affordable, it will stay fresh for weeks and one large squash goes a long way.
You can also try a kabocha squash! This is a Japanese squash has a nuttier flavor and with a more dense texture which makes it ideal for this squash soup (and also for delicious pie fillings).
If you're lucky, you might find the beautiful red Kuri squash. It's also Japanese and has more of a chestnut flavor. They do best in soups (or just drizzled with olive oil and then roasted in the oven). Did I mention how cute they are?
Butternut Squash Soup: Let's Add Texture!
Some people like very creamy and velvety soups, silky smooth and easy to eat. But others, like me, also enjoy a bowl of soup with a bit more texture. You know, when you can actually chew on bits and pieces. So, how can you add different textures to your soups?
In this case, I would stir fry some chopped kale with some salt and a bit of balsamic vinegar (and some black pepper!) until it's bright green and full of flavor. Place it on top of your smooth butternut squash soup and voila! I might also sneak in some roasted pumpkin seeds to make it nuttier.
Another way to do it is by simply adding some yummy croutons at the last minute. You can easily make your own! Just cut some old(ish) bread in pieces or squares, drizzle them with olive oil and spices and pop them in the oven at 350°F for 15 mins. That easy!
If you just don't have time to make your own…they sell great ready-made vegan croutons at the grocery store.
Do you have any favorite soup toppings? Let's wrap them up, shall we?
Soup Toppings
sautéed kale
croutons
toasted seeds like pumpkin, sesame, or sunflower
caramelized onions
pesto drizzle
small roasted potatoes
simple olive oil and cracked black pepper
About The Cookbook
Much More Veg is a perfect book for those trying to add more living foods into their lives. We've already established that an abundance of veggies is crucial for optimal health and well-being but, unfortunately, it's easy to fall into the routine of eating the same pasta dish every day and leave out all those beautiful energy-giving vegetables out! Life gets in the way, right? Well, this book helps you find ways to include more veggies in a series of simple and seriously delicious recipes.
The author of this beautiful book is Hugh Fearnley-Whittingstall, and he is an amazing ambassador for sustainable living while also being an active campaigner for issues like animal welfare. He hosted a very popular UK TV Show (River Cottage) where he navigated his way to becoming a self-reliant farmer in rural England. He managed to prove that feeding your family and friends with locally produced vegetables and fruits is possible. Such a valuable lesson for today's complicated sourcing crisis.
Can you imagine knowing exactly where everything you are eating comes from? Can you picture yourself being able to be fully self-sufficient and avoid big retailers altogether? Sounds dreamy, right? Well, if this concept is something that speaks to you, then go grab this book right now and fall in love with veggies all over again.
Are you inspired to try more veggie-heavy recipes? Check these out!
River Cottage Much More Veg by Hugh Fearnley-Whittingstall published by Bloomsbury. Please note that this article contains affiliate links which means shopping through them helps keep the lights on at World of Vegan!