This vermicelli noodle soup is so good and so easy to make! If you love Thai food, and love warming plant-based soups, then this Thai curry soup recipe is for you. Creamy, spicy and sweet!
Curry and coconut are a match made in heaven! This soup from the Vegan On a Budget cookbook is just one more proof of that. The rice noodles make it even dreamier along with fresh veggies and aromatic herbs.
Trade Takeout for Cook-In!
Take-out is really convenient. Coming home tired after a long day, you probably have zero desire to spend time deciding what to eat let alone wanting to be in the kitchen preparing something. This is a situation we face often—or for some of us, daily. Just order in and wait for it to arrive. Perfect!
But what if I told you that you can have an amazing and comforting Thai dinner in 30 mins. Basically the same time it will take to get your take out, right? With a few essential ingredients and spices and just one pot, you can recreate your favorite takeout soup.
The best part is, you'll save tons of money too. Sold!
Fill Up That Piggy Bank!
If you're looking to clean up your budget, this is a great way to start. Start searching for some simple home-cooked recipes similar to your favorite takeout dishes and make them a few times a week instead of reaching for your phone for a quick fix delivery. In a few months, you'll be amazed at how much money you'll save.
Why not try and do the same with your daily store-bought cup of coffee? Make it at home a few times a week and take it along with you (in your reusable mug!) and you'll have enough budget to buy a super high-end coffee machine in a few months. Easier said than done. I know, but start slowly and work up from there. This book can help!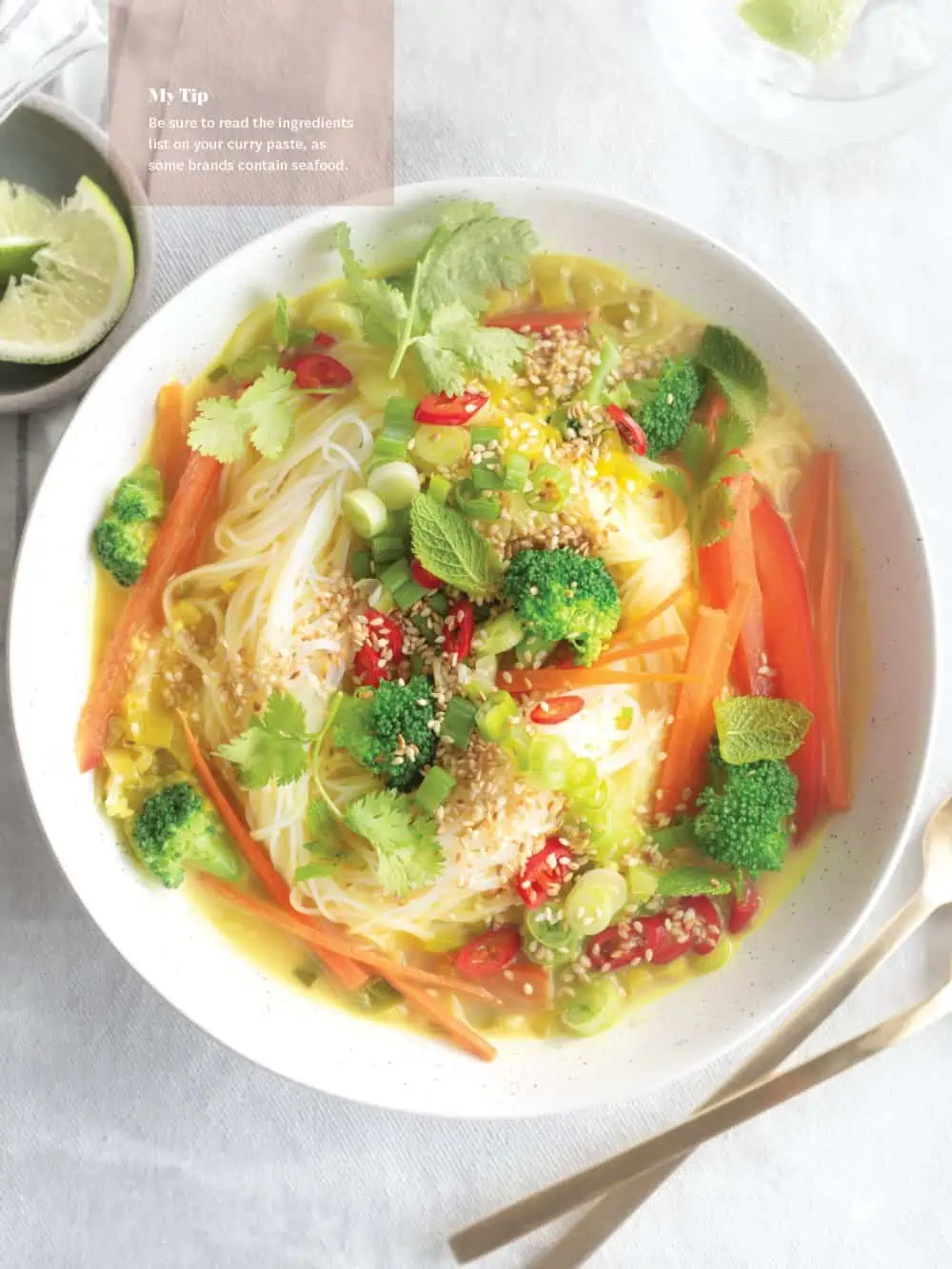 The Love for Thai
What is it about Thai food that makes people fall in love with it so easily? Some of the main focuses of this Asian cuisine is the aroma and the use of its medicinal ingredients. The creaminess and the spiciness, the crunch, and the exotic herbs make this unique cuisine so honest and comforting.
I guess comfort is the key word here. Since we live an agitated and crazy life (most of the time) we are craving something soothing, something that forces us to slow down and reflect while disconnecting from our stress-filled day.
Enjoy The Health Benefits
This soup is not only tasty but healing as well. Some of the ingredients in this recipe have some pretty awesome superpowers.
Take ginger, for example, it's a great anti-inflammatory and has been used for thousands of years. Garlic is also very gifted. It can help regulate blood pressure and blood sugar levels, and it's also known to boost the function of the immune system which basically means it can help you recover quicker.
All these great ingredients make this Thai coconut soup perfect for those cold winter days when we are feeling a bit under the weather.
To Broth or Not to Broth!
This recipe calls for vegetable broth, but it doesn't specify which kind or how to make it. At this day and age, we have plenty of good store-bought veggie broths and vegan bouillon cubes available. But if you feel inspired to make your own, go for it!
If that's the case, congrats to you on your double efforts! You'll get to freeze some for later meals, and you'll save even more money. Awesome!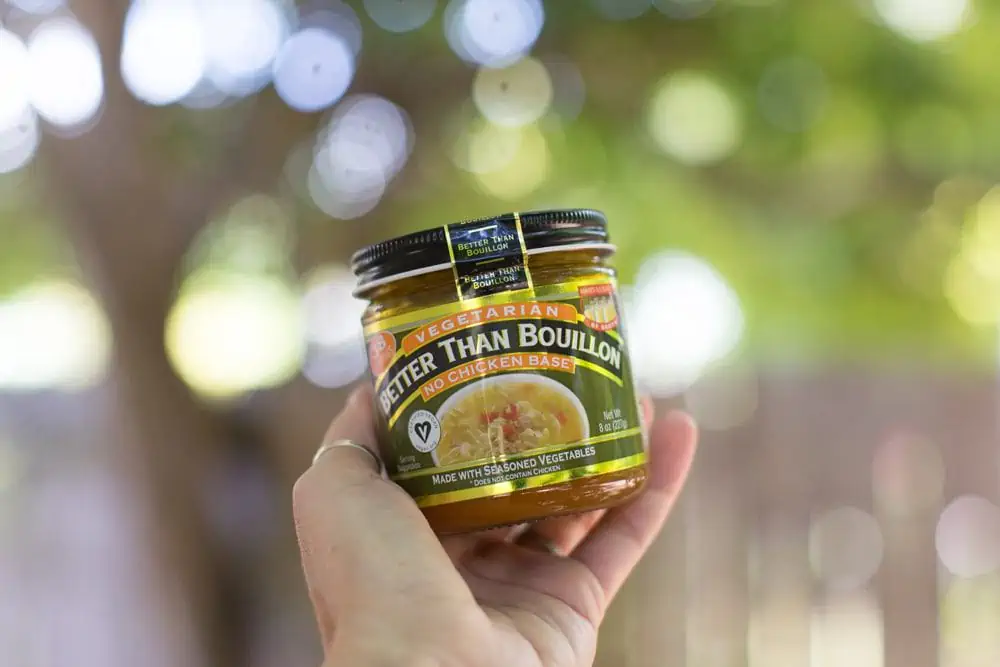 How to Make Your Own Vegetable Broth
Here is a simple recipe for DIY veggie broth. Cut up 8 carrots, 6 celery stalks, 2 onions, and 4 small potatoes. Sautee them with a bit of olive oil until slightly golden and then add some herbs and spices. Add bay leaves, peppercorns, salt to taste and thyme. Add 16 cups of water and bring to a simmer. Let it cook for an hour and then check the taste. If it has enough flavor, you're good to go. Basically the longer you let it cook, and the liquid reduces the stronger the flavor will be. Strain it, and you got yourself some homemade vegan stock!
About The Author
Liv B is a Canadian vegan food and lifestyle blogger and YouTuber who started her channel to share her simple, budget-conscious vegan recipes with people looking for plant-based inspiration. After two years of beginning her venture, her following grew massively and now she is launching her gorgeous first book Liv B's Vegan On a Budget. Get her book here!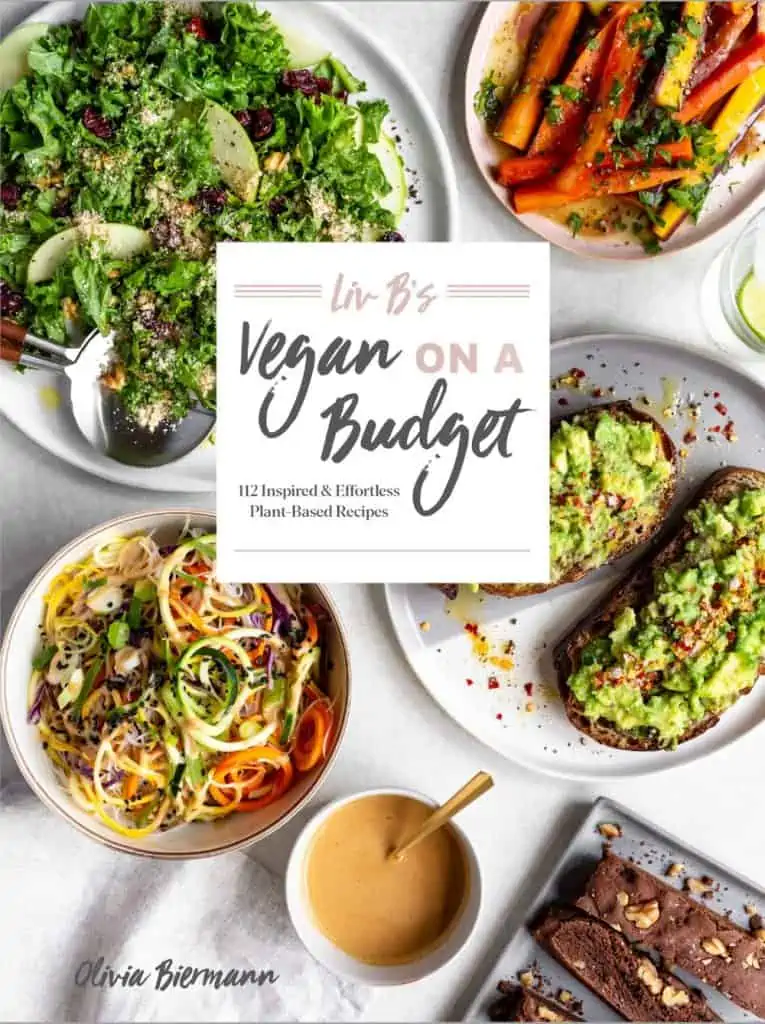 Are you crazy for soup? Don't miss out on these recipes!
2 tablespoons coconut oil
2 cloves garlic, minced
½ cup chopped green onions
1 cup chopped red bell pepper
1 cup chopped broccoli
1 medium carrot, chopped
3 tablespoons vegan Thai yellow curry paste, see tip
½ teaspoon ground ginger
2 cups vegetable broth
1 cup water
1 14-ounce can full-fat coconut milk
3 tablespoons brown sugar
4 ounces rice vermicelli noodles
Heat a medium pot over medium heat. Add the coconut oil and heat until simmering. Add the garlic and green onions and cook for 3 minutes, stirring frequently until the garlic is just beginning to brown. Add the bell pepper, broccoli, and carrot. Cook for 3 to 4 minutes, stirring occasionally, until softened slightly.

Add the curry paste, ginger, vegetable broth, water, coconut milk, and brown sugar. Stir until combined and the curry paste is completely dissolved. Reduce the heat to low and simmer for 10 minutes, stirring occasionally, until the soup has thickened slightly.

Meanwhile, cook the noodles in a separate medium pot according to the package directions. Drain.

Add the noodles to the curry mixture and stir to combine. Divide evenly among 
four bowls. Serve.
Tip: Be sure to read the ingredients list on your curry paste, as some brands contain seafood.
Calories: 246kcal | Carbohydrates: 42g | Protein: 3g | Fat: 8g | Saturated Fat: 6g | Polyunsaturated Fat: 0.4g | Monounsaturated Fat: 1g | Sodium: 549mg | Potassium: 264mg | Fiber: 3g | Sugar: 14g | Vitamin A: 6003IU | Vitamin C: 73mg | Calcium: 61mg | Iron: 1mg
Courtesy of Liv B's Vegan on a Budget by Olivia Biermann © 2019 RobertRose.ca. Reprinted with permission. Image credit Brilynn Ferguson. Please note that this article contains affiliate links which means shopping through them helps lights on at World of Vegan!