Ready for the most gorgeous hot pink show-stopping beetroot soup? If you have a pound of raw beets on hand, this is the perfect healthy soup recipe for you. It's absolutely delicious and the best plant-based, dairy-free, gluten-free, vegan soup with beets, potatoes, onions, garlic, and ginger you'll ever try!
Nothing beats a beet for earthiness and vibrant color. This superb beetroot soup is no exception. Imbued with warm spices and a terrific texture, this recipe from the cookbook East: 120 Vegan and Vegetarian Recipes from Bangalore to Beijing by Meera Sodha is sure to become a family favorite.
The ingredients in this beet soup tend to be either in the 'love it' or 'leave it' category. Well, this one is for the beet lovers out there (me, me, me!), and it may even win over some skeptics! Although this reddish root vegetable has a particular taste that is sometimes unpopular, this recipe rises above it with a bit of zing and zest.
Warm Spice Is Really Nice in This Beet Soup
Part of what makes this particular soup so superb is the selection of simple but potent spices. On a wintery day, the combination of these ingredients will make you feel so wonderfully warm.
Ginger – Peppery and sweet with a pungent and spicy aroma. Aids in digestion reduces nausea and helps to fight the flu and common colds. Full of antioxidants and anti-inflammatory properties.
Garlic – Another ingredient with a pungent and spicy aroma. Sulfurous and slightly herbal. High in Vitamin C, B6, and manganese and excellent for boosting the immune system.
Onion – Sharp, astringent, and slightly sweet. Full of soluble fibers and prebiotics, with a decent amount of Vitamin C, B6, B9, and potassium. Rich in antioxidant properties and flavonoids, especially quercetin.
Green Finger Chili Pepper – A bit spicier than the Serrano, this little pepper is a popular pick for Indian dishes. High in fiber, Vitamins A, B, and C, as well as iron and magnesium. Excellent for firing up a mellow metabolism.

How to Serve Up This Soup
Super With Sourdough – A slice of crisp and tangy sourdough toast makes a sensational sidekick with this beautiful beet broth. A wedge of focaccia bread would work well, too!
Yay for Yogurt! – Create a wonderful contrast of colors with a creamy white swirl over the pool of reddish-purple. The combination of the slightly sour yogurt over the rich, earthy blend is un-beetable! Try one of these vegan yogurt brands. No yogurt on hand? You could also use vegan sour cream!
Pair With Potatoes – Power up your savory soup with a satisfying side of potatoes. Including a Hasselback potato or two will not only help to extend your soup but will also add some crackle and crunch to your meal.
Sprinkle With Sassy Seeds – Nigella seeds (also known by many other names including black cumin, fennel flower, and black caraway) have a slightly bitter, toasted onion type flavor. You can simply substitute sesame seeds as a sweeter, nuttier topping if you don't have Nigella seeds.
Meet and Greet the Beautiful Beet
Did you know that beets began in ancient Babylon times, along with Greeks and Romans? At that time, the leaves and stalks were used for culinary purposes while the root was employed as medicine. By the 1500s, modern beets (the types that we are familiar with now) were popularized in both Germany and Italy.
What makes these bulbous roots so beneficial to your health? There are many health benefits of beets you can look forward to when you make a soup with beets in it:
They're low in fat and high in fiber, folate, manganese, and potassium.
Beets boast a decidedly good dose of vitamin C, magnesium, B vitamins, copper, and iron.
They also help to fight inflammation and boost brainpower.
'Turnip the beet' in more of your recipes for extra nutrition!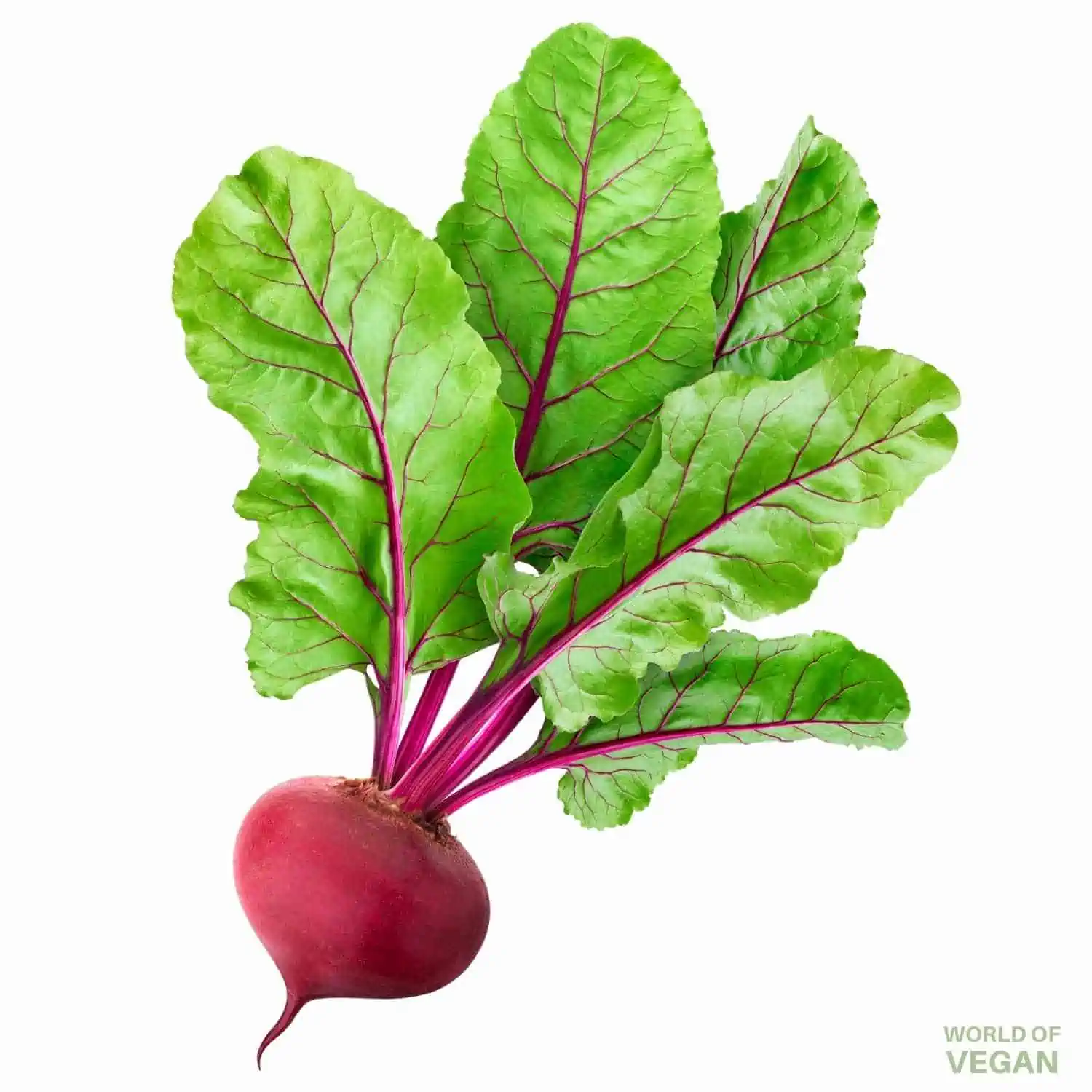 How to Shred Your Beets (Without Making a Huge Mess)
Let's face it, beets are messy AF. An innocent attempt to make some beet salad, Russian borscht, beetroot rice, beet salad, or any other beet recipe, ends up making your cutting board and kitchen look like a crime scene.
The easiest way to shred beets while minimizing the mess is using your handy food processor.
You know that metal disc attachment with little shredding blades that comes with almost every food processor? Many people (myself included for many years) toss this attachment in the back of a drawer and never look at it again. Well, time to find that magical disc, pull it out, and put it to use!
Step 1: Wash your beets! Peeling is optional.
Wash beets and slice the ends off using a sharp knife. If desired, peel the skin with a vegetable peeler. But feel free to skip this step—the peels are just fine to eat and will ultimately be blended in this recip! Skipping the peeling step will reduce the messiness big time.
Step 2: Slice into large chunks.
Using a sharp Chef's knife, slice the beet into large chunks just small enough to fit into your food processor feed chute.
Step 3: Set up your food processor
Pull out your food processor. Remove the chopping blade and attach the metal shredding disc. If you aren't sure how to do this, a quick YouTube tutorial will help! With the shredding blade attached, place the plastic top securely on the food processor.
Step 5: Shred the beets!
Push the beet chunks down into the plastic feed tube and press the pulse button (or simply turn the food processor on). Add more beets into the chute and continue to push them down until the food processor bowl is full. If needed, empty the shredded beets into another bowl and continue until all your beets have been shredded. The process will be very fast!
Step 6: Clean up.
Once the shredded beets are in a bowl, wash everything promptly to prevent any stains. Voila! Beets shredded.
Storing Your Savory Soup with Beets
Place any leftover soup into a sealed container. It can easily be stored in the refrigerator for a few days. To reheat, pour into a saucepan and let come to your desired temperature over medium-low heat. Stir frequently.
If the soup is too thick, just add a little bit of vegetable broth to thin it out. If you don't think you'll use the soup within 3 days, pour the leftovers into an ice cube tray and freeze. When frozen, throw the soup cubes into a freezer-safe bag. They should last for at least a month.
Other Splendid Plant-Based Soup Recipes to Try
If you're ready to slurp up more divine vegan soups, we've got many for you to try! Here are the best vegan soup recipes from all around the web, and here are a few of our all-time favorites:
3 tablespoons canola oil
1 medium onion, chopped
¾ inch ginger, peeled and grated or shredded
3 cloves garlic, crushed
1 green finger or serrano chile, finely chopped
1 pound raw beets, scrubbed and grated
¼ pound potato, peeled and grated
3 cups vegan vegetable stock, or equivalent amount of vegetable bouillon and water
Salt, to taste
Thick vegan yogurt, plain, to serve
Nigella seeds, to serve (optional)
Grilled sourdough, to serve
Heat the oil in a large saucepan and, once it's good and hot, add the onion and fry for 10 minutes, stirring occasionally.

Add the ginger, garlic, and chile, then fry for 3 minutes, stirring all the while. Add the beet and potato, stir to coat, then pour in the stock and bring to the boil.

Turn down the heat and leave to simmer for 30 minutes.

Leave the soup to cool a little, then blend and taste—add up to ¼ teaspoon of salt if you like.

Transfer the soup into bowls and top with a spoonful of yogurt and a sprinkling of nigella seeds. Serve hot with the grilled sourdough.
This soup goes well with a chunk of grilled sourdough bread and thick tart yogurt seasoned with a pinch of salt. 
See tip for how to shred beets quickly, easily, and with no mess using a food processor in the article!
Calories: 188kcal | Carbohydrates: 22g | Protein: 3g | Fat: 11g | Saturated Fat: 1g | Polyunsaturated Fat: 3g | Monounsaturated Fat: 7g | Trans Fat: 0.04g | Sodium: 797mg | Potassium: 547mg | Fiber: 4g | Sugar: 11g | Vitamin A: 428IU | Vitamin C: 15mg | Calcium: 32mg | Iron: 1mg
About the Cookbook Author
Meera Sodha is a food writer, chef, and author of three fantastic Asian cookbooks. Her first book, Made in India, was a Top 10 bestseller and her second book, Fresh India, won the Observer Food Monthly Best New Cookbook Award in 2017. This recipe for the most divine vegan soup with beets comes from her most recent book: East: 120 Vegan and Vegetarian Recipes from Bangalore to Beijing.
When she's not working on her amazing recipes, she also contributes to The Guardian with her 'New Vegan' column. Meera was given The Guild of Food Writers Cookery Writing Award in 2018 and also named Fortnum & Mason's Cookery Writer of the Year for her work at The Guardian.
Sodha cooks, writes, and lives in London with her husband and daughter.
We want to thank our amazing recipe testers Taylor Gillespie, J.J. Steele, and Kathleen Walters for helping us perfect this recipe!
This recipe for a delicious vegan soup with beets was reprinted with permission from the East: 120 Vegan and Vegetarian Recipes from Bangalore to Beijing cookbook by Meera Sodha (Flatiron Books, October 2020). Photo credit: David Loftus. Please note that this article contains affiliate links that help support our work at World of Vegan!