Whether you're enjoying this recipe in fall, winter, summer, or spring, this Green Chili Soup will bring in the zing! A satisfying recipe that is oh-so-warm and slightly spicy with a pop of jalapeño pepper.
Slow roasted veggies are key to this delightfully blended broth. Combined with mellow mushrooms, pearly potatoes, and creamy cannellini beans, this soup really hits the spot!
Though this savory soup might take a little bit of time, it's totally worth it. You could even make the stock the night before and finish up the final steps the next day. This is the perfect soup to share with family and friends at any time of year.
For the stock
3 green bell peppers, stem removed and deseeded
2 medium plum tomatoes, cut in half
1 medium red onion, halved
1 small jalapeño pepper, stem removed and deseeded
8 big stems fresh parsley, with the leaves
1 teaspoon red pepper flakes
7 cups vegetable broth, or equivalent amount of vegetable bouillon and water
For the soup:
2 tablespoons canola oil
2 medium potatoes, sliced thinly to create round discs and then cut into halves or quarters to be bite-sized
1 cup mushrooms, sliced
½ medium yellow onion, sliced into strips
3 medium cloves of garlic, minced
1 15-ounce can of cannellini beans, drained and rinsed
1 teaspoon salt
1 teaspoon black pepper
1 teaspoon dried oregano
2 bay leaves, optional, remove before serving
Fresh parsley leaves, for garnish
Sliced lemon, for garnish
More red pepper flakes, for garnish
Preheat your oven to 400° Fahrenheit.

Place the bell peppers, tomatoes, red onion, and jalapeño, in a baking tray, and bake them for about 35 minutes.

Once ready, add them to a blender with the vegetable broth, parsley, and red pepper flakes and blitz until smooth. You might need to blend it in batches to avoid it from overflowing. Set aside.

Add canola oil to a soup pot over medium-high heat. Then add the potatoes, mushrooms, sliced yellow onion, and garlic and cook for about 5 minutes. Then add the cannellini beans.

Add the salt, black pepper, and dried oregano. Then cook for another 2 minutes, stirring regularly.

Pour your previously prepared blended stock into the pot and add the bay leaves (if using). Lower the heat to medium and let the soup simmer for 15 minutes. Remove the bay leaves.

Serve and garnish with red pepper flakes, fresh parsley, and a slice of lemon.
Calories: 146kcal | Carbohydrates: 24g | Protein: 3g | Fat: 5g | Saturated Fat: 0.4g | Polyunsaturated Fat: 1g | Monounsaturated Fat: 3g | Trans Fat: 0.02g | Sodium: 1500mg | Potassium: 578mg | Fiber: 4g | Sugar: 6g | Vitamin A: 1224IU | Vitamin C: 72mg | Calcium: 37mg | Iron: 1mg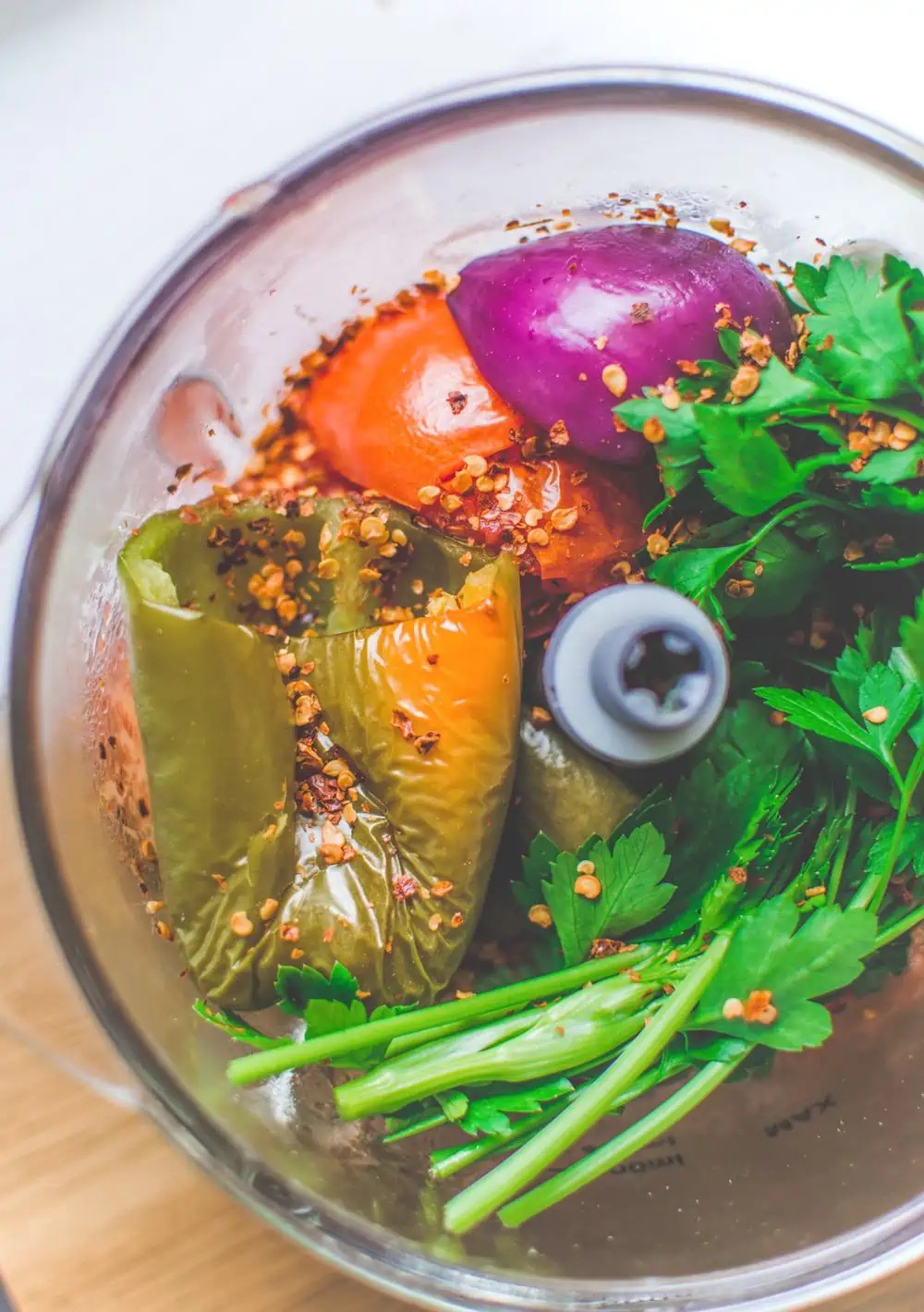 Fullness of Flavor
In this recipe, a good deal of deliciousness comes from the roasted veggies. If you want to bump up the flavor factor, feel free to:
Raise the temperature to 425 degrees F for the same length of time.
Increase the roasting time by 15 minutes at current temperature.
Add a variety of vegetables–use different colored peppers (green, yellow, red), tomatoes (red, yellow, orange), and hot peppers (banana, anaheim, poblano, serrano).
Double the amount and mix up the type of onion you include—yellow, red, shallot, etc.
Switching up potato types can also make a big difference in taste. Try sweet potatoes for a softer, sweeter quality, and deeper color. Use russet potatoes to add more substance with a more neutral flavor.
Thick or Thin?
The perfect soup texture can vary from person to person. If you like a truly thick soup (more like a stew), increase the amount of potatoes, mushrooms, and beans in the recipe. If you're more of a broth-lover, double the amount of stock or decrease the amount of veggies.
You can also blend the entire recipe with the immersion blender, if you prefer your soup to be super smooth. For a more substantial Green Chili soup, you can leave all of the veggies chunky and blend less.
Spicy Substitutions
Let's face it. Everyone has different ideas of what "spicy" means. For some, a tiny sprinkle of crushed red pepper might have them wailing for water. For others, an entire bottle of Sriracha might not reach the required 'fires of hell' hotness level.
What can you do? Easy peasy. Try the recipe 'as is' first. If it's too spicy for you, add ½ the amount of peppers and crushed red pepper. If it's not hot enough, you can simply add more of either (or both) to the meal as you're eating it.
How to Serve It Up
Top With Tortilla Chips – Throw a few crispy chips on top or crumble into the soup itself. Adds an extra bit of texture and crunch.
Cover With Vegan Cheese – Love a little bit of cheese on your soup? Sprinkle generously with your favorite plant-based cheese shreds.
Bring Out the Brown Rice – Our Green Chili Soup pairs perfectly with some basic brown rice. Add as much as you wish to a bowl and spoon your soup right over it.
Pour Over Potatoes – Bake some potatoes, slice open, and add a soupy scoop or two for an even more filling meal.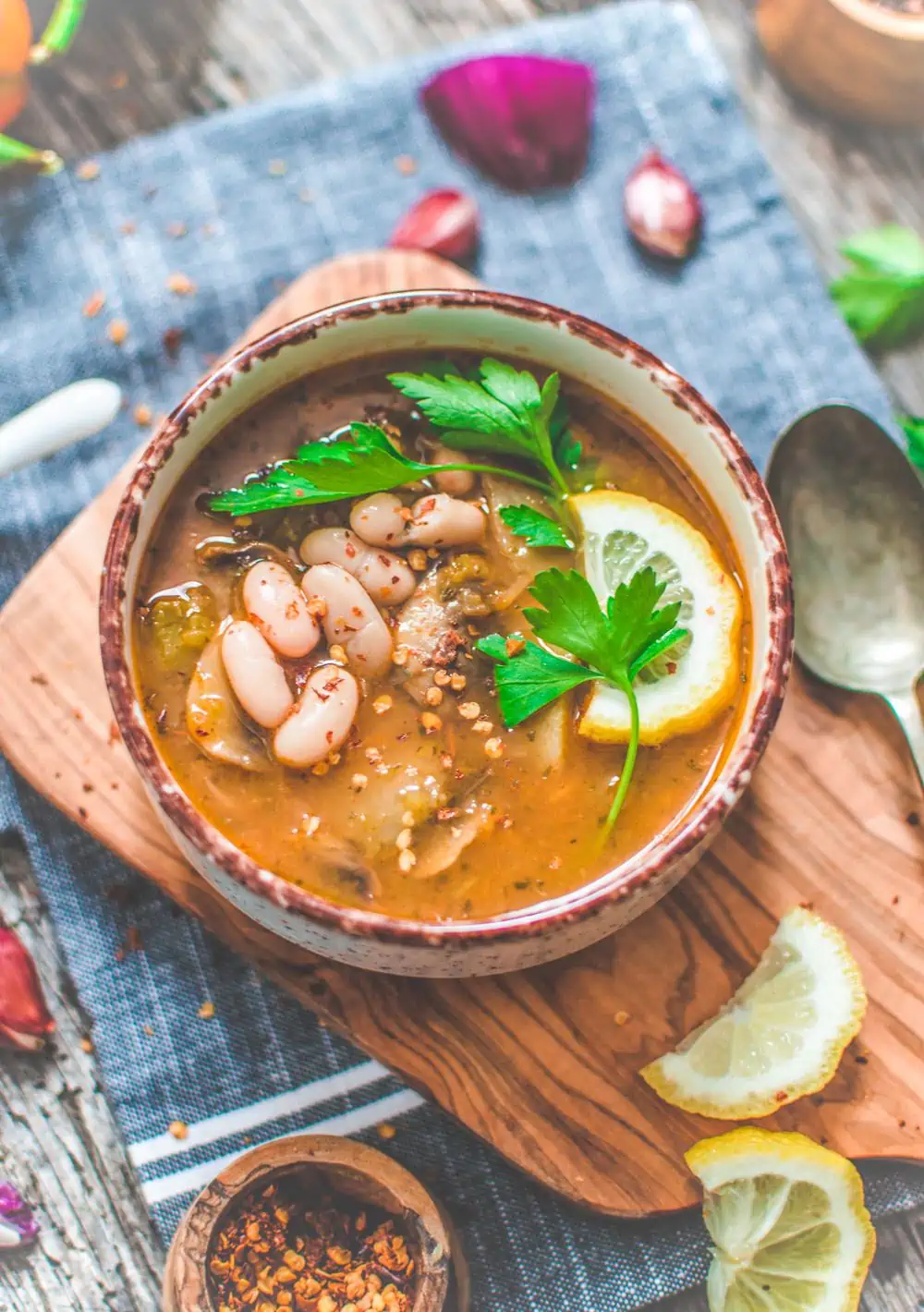 Saving Leftover Soup
Easily store your leftover Green Chili Soup in a covered glass container or ceramic dish and place it in the refrigerator for a few days. For a longer storage period, pour the remaining soup into ice cube trays and freeze for up to 6 months.
To reheat, pour refrigerated leftovers into a saucepan and heat over medium for 5-10 minutes or until the desired temperature. If using frozen soup cubes, you can either thaw them overnight in a covered container or let them heat longer on the stove on medium-low heat for about 20-25 minutes.
Soup looking too thick? Add extra vegetable broth! If the soup is too thin, steam or sautée some extra veggies (potatoes, carrots, mushrooms, etc.) to add to the broth. This is also a good time to adjust the spiciness level and salt and pepper seasonings.
More Savory Soup Recipes to Try:
We want to thank our amazing recipe testers J.J. Steele & Taylor Gillespie (@food.in.focus), Anne Sparks, Kathleen Walters, and Helen di Renzo for helping us perfect this recipe!
Green Chili Soup recipe by Zhoro Apostolov for World of Vegan. Copyright of World of Vegan™, all rights reserved. Please note that this article may contain affiliate links that support our work at World of Vegan.