There is nothing more welcoming than a steaming bowl of soup at the end of the day. This ultra-comforting, Indian-inspired toor dal recipe features the nuttiness of split pigeon peas, sweet warmth of ginger and mild spices, and a squeeze of fresh lemon juice to balance out all of the flavors.
This toor dal recipe is bursting with flavor and packed with nutrients! The nutrients in toor dal feature protein, fiber, good carbohydrates, and more. This recipe is adapted from the Indian toor dal soup with turmeric in the Heavenly Vegan Dals & Curries cookbook by Rakhee Yadav.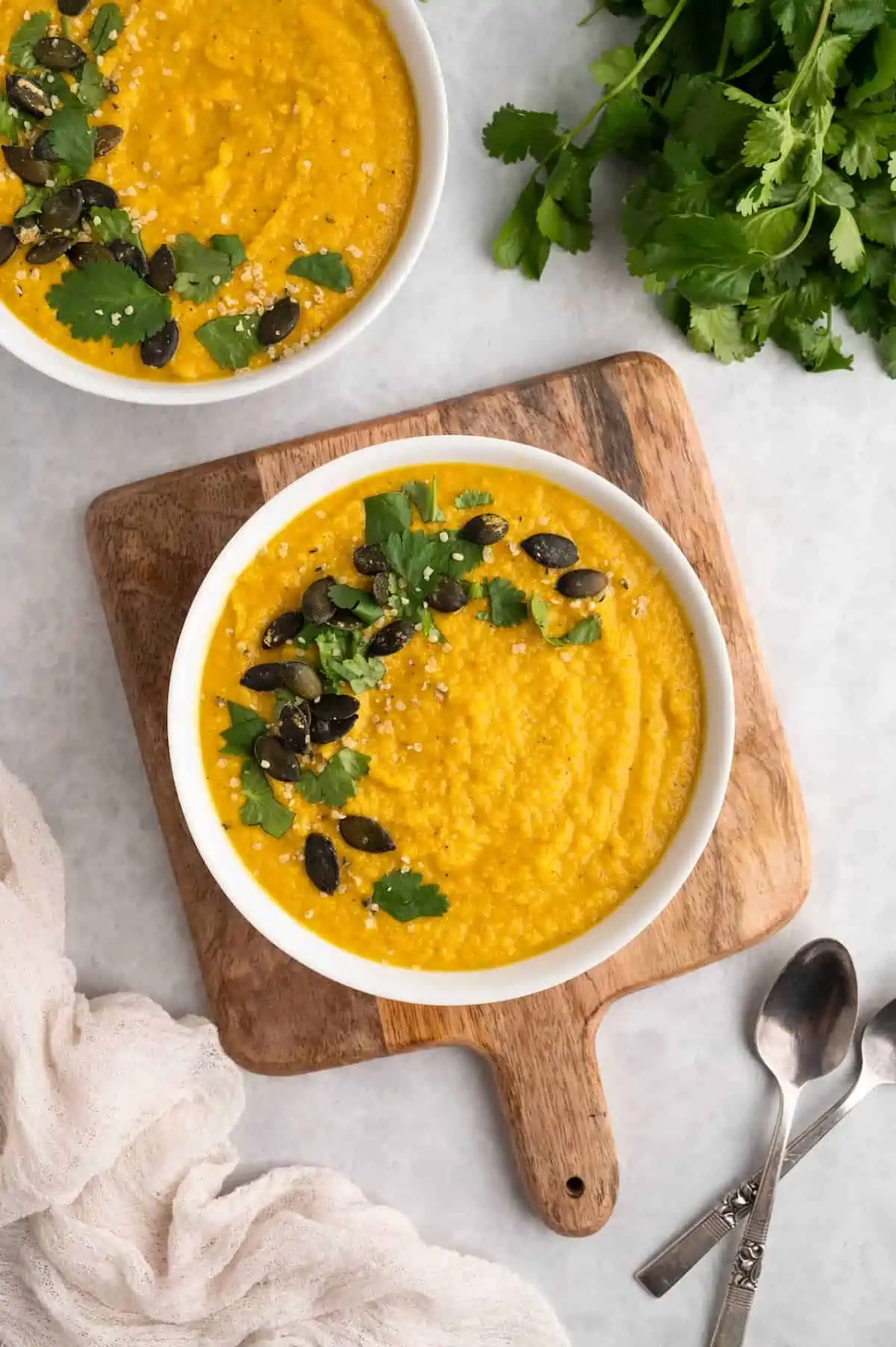 What Is Toor Dal?
This recipe is a special one because it is Indian inspired and uses a special ingredient: yellow split peas (also known as pigeon peas or toor dal). This flavorful soup also features health-promoting ingredients like carrots, ginger, turmeric, and garlic. Whether it's flu season or just one of those times when you feel a bit run down, this heavenly soup will hit all the right spots.
With a thick and creamy texture, this vegan dal recipe is the perfect way to end a busy, stressful day. Serve it with toasted bread smeared with some vegan butter and treat yourself. This is a moment to unwind and enjoy, slow down and disconnect.
Why This Toor Dal Recipe Is So Awesome
This Indian stew is so dreamy! This recipe is simple and quick but so yummy and delicious at the same time. All of the spices work together to create a fantastic aroma, and you can leave the stew semi-pureed or blend it to be as silky smooth as you'd like. Here are more reasons why we love it:
Inexpensive to make
All of the ingredients may be easily found at your local supermarket
Highly nutritious
Minimally processed ingredients
Can be easily stored and leftovers are easy to reheat
Super-filling and perfect for weeknights
You can expect this toor dal recipe to be:
Super creamy
Comforting and warm
Wholesome and simple
Star Ingredient—Pigeon Peas
You can find pigeon peas canned or dried. This recipe uses split pigeon peas which have a unique nutty flavor and takes about 30 minutes to cook. If you can't find split pigeon peas, don't worry. Red lentils can be used instead! Here are more reasons why we love the mighty pigeon pea:
High in fiber
Low in saturated fat and calories
Excellent source of plant-based protein
Rich in folic acid
This recipe is also:
Soy-free
Nut-free
Gluten-free
Dairy-free
Vegetarian and vegan
So delicious!
Ingredients Notes
Toor Dal (Yellow Split Pigeon Peas): These can be found in the bulk section of your supermarket or in any Indian grocer. If you can't find them, feel free to replace them with red lentils.

Fresh Ginger: Who doesn't love the warm and slightly peppery taste of fresh ginger? This flavor here will mellow as it cooks down with the other ingredients.

Carrots: These are the second main ingredient, and you can add any other veggies that might complement its unique flavor. Sweet potato or celery could be great additions! Just make sure whatever you're adding doesn't clash with the creamy texture too much.

Turmeric Powder: This gives the stew its beautiful and bright ochre color. Turmeric is a plant related to ginger and is an amazing antioxidant. This recipe is a great way to add some into your diet!

Coriander Powder: This spice is produced from the round, tan-colored seeds of the coriander plant. The flavor is earthy, tart, and sweet.

Cumin Powder: Also earthy and sweet, cumin adds a slightly bitter flavor that is balanced out by the other ingredients.

Lemon Juice: The lemon juice brings an acidic kick and lifts all the flavors in this dish, highlighting and providing contrast to the other elements.
How To Make This Vegan Toor Dal Recipe
Step 1: Cook the onion, ginger, and garlic, carrot and spices together in a large Dutch oven or other heavy pot.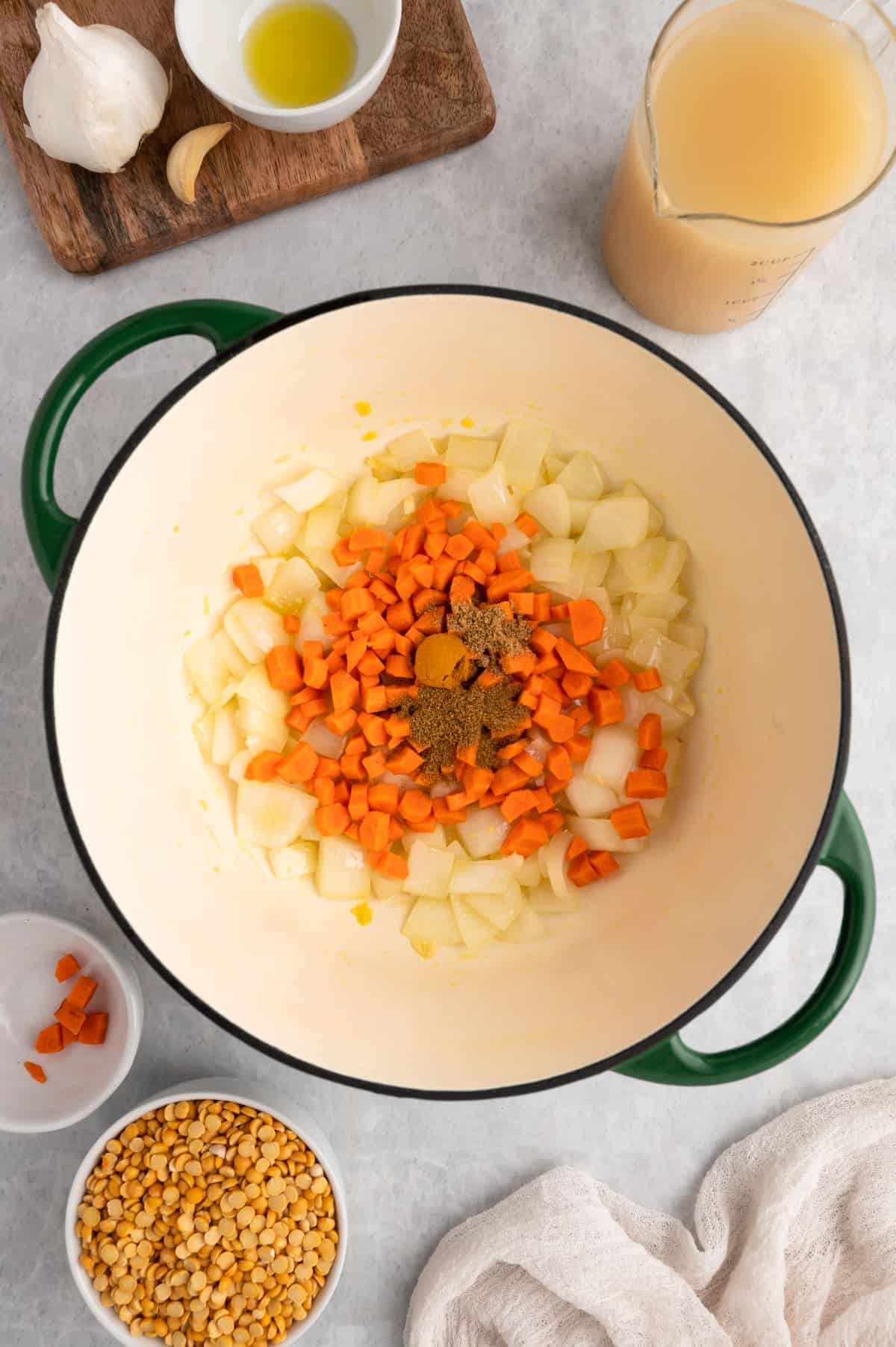 Step 2: Add the broth and the pigeon peas and bring to a boil. Cook the pigeon peas over low heat until they are soft. Then use an immersion blender to puree everything until completely smooth.
You can also use a high-speed blender, but make sure the soup is completely cooled before blending it. Feel free to leave it semi-pureed if you like a little texture in your stew! Add a little bit of water to thin it out if it's too thick.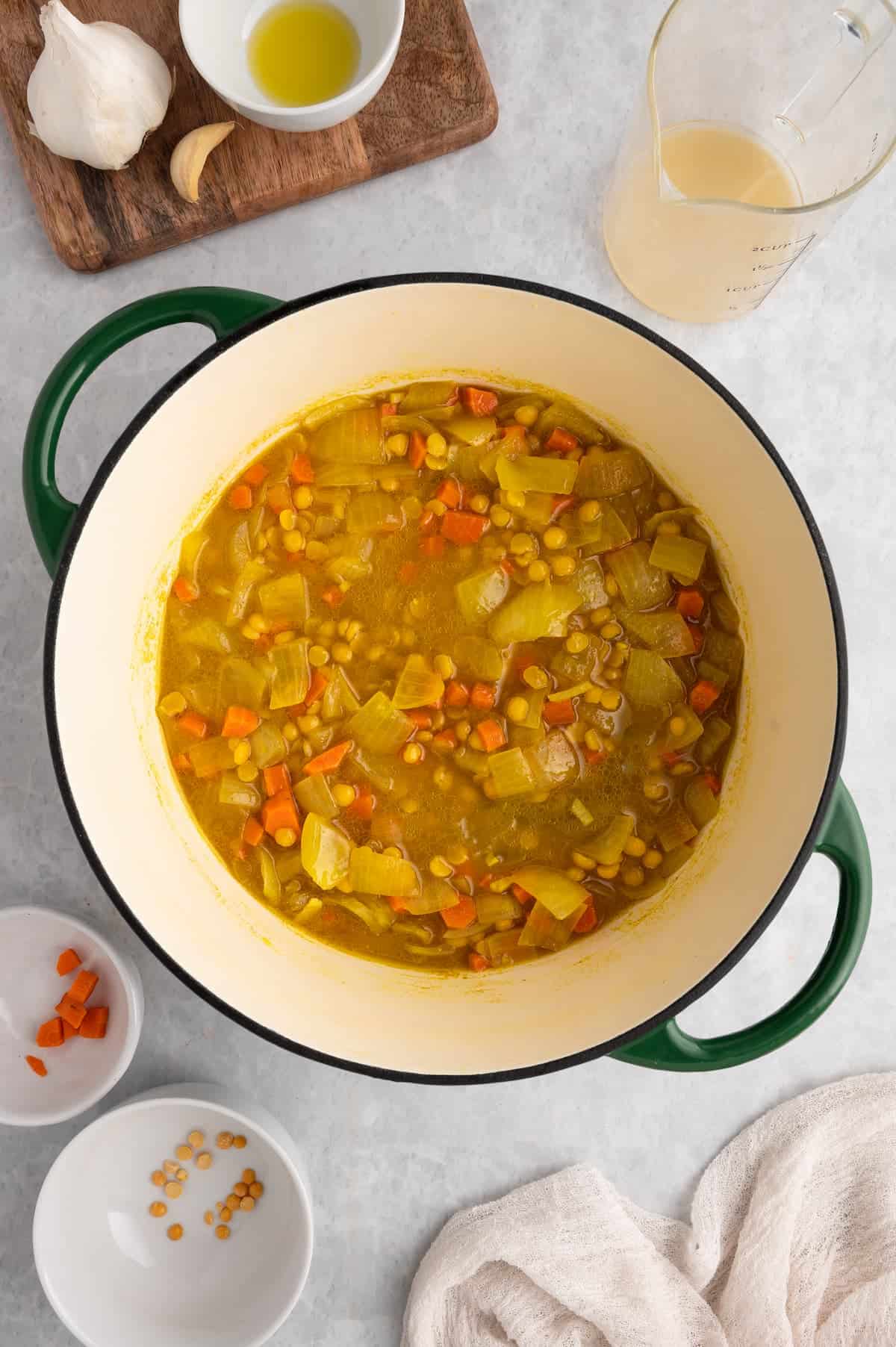 Step 3: Season with salt and pepper and mix in the lemon juice. Serve with garnishes as desired. Simple, quick and delicious!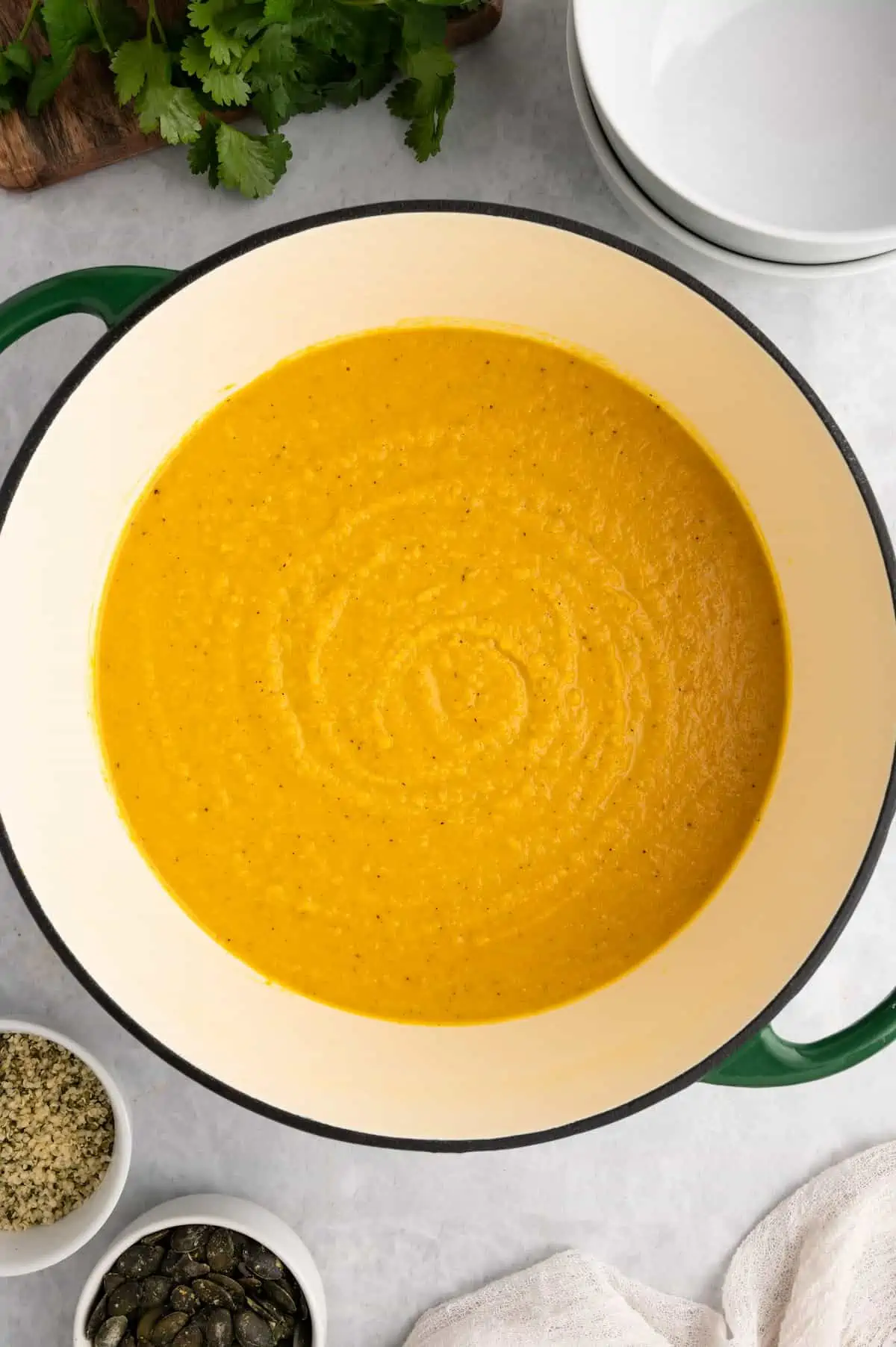 It's so silky, gorgeous and aromatic once complete. Look at that vibrant orange the turmeric gives the stew!
How To Garnish This Toor Dal
When it comes to toppings, the sky is the limit. Get creative and choose what works for you! This toor dal recipe calls for pumpkin seeds and fresh herbs, but you can also garnish with diced and roasted potatoes if you'd like! Here's how to do it:
Cut two large red potatoes in small cubes, then put them in a bowl and spice them up with lots of black pepper, sweet paprika, cumin, and sea salt. Add a tablespoon of nutritional yeast if you like a more cheesy flavor. Drizzle some olive oil on top!
Mix everything up and transfer them onto a baking sheet in a single layer to promote even cooking. Roast them for 15 to 20 minutes at 375 degrees or until slightly golden. Use them to top off your soup!
Nutrients In Toor Dal
We covered the nutritional benefits of pigeon peas above, but here's another reason this vegan dal recipe is so healthy: turmeric! Turmeric is a spice that has been around for ages, and is touted for its amazing anti-inflammatory properties (and even anti-cancer properties).
Turmeric (or Curcuma) is a plant related to ginger, and it has been used in Indian cuisine and medicine for thousands of years. It's also a favorite of ayurvedic medicine, and it's been known to be used in India to dye fabrics thanks to its super intense color. This is an excellent example of sustainability! Turmeric can be used in cooking, as a healing supplement and for naturally dyeing your clothing. Pretty cool, right?
Apart from its fantastic color, this spice has some true superpowers! It's an amazing antioxidant and can have the same effects (or better!) as over the counter anti-inflammatory medications. Dr. Michael Greger, author of the New York Times bestselling book How Not to Die and founder of NutritionFacts.org, recommends incorporating turmeric into your diet every day.
Is Indian Food Vegan-Friendly?
Indian food captivates many of us in a very special way. Its colors, aromas, deep flavors, and simplicity gives it that amazing touch and takes us somewhere unique and beautiful every time we savor it. India has so many different regions, and each one has its own amazing cuisine, although they all have something in common.
Indian food is also incredibly vegan-friendly. Many fantastic Indian dishes are legume-based, full of vegetables and spices, and use coconut milk instead of dairy. There is a huge array of dahls, curries, naans, and pakoras to choose from. Just watch out for ghee!
Next time you're struggling to find a vegan restaurant or vegan take-out, try finding your nearest Indian place. They will like have many vegan-friendly options!
More Vegan Indian Dish Favorites
3 tablespoons olive oil
1 onion, chopped
1 inch piece ginger, grated
2 cloves garlic, minced
3 carrots, diced
½ teaspoons turmeric powder
½ teaspoon coriander powder
1 teaspoon cumin powder
4 cups veggie broth
1½ cups yellow split pigeon peas, toor dal or replace with red lentils
Salt and pepper, to taste
Juice of ½ lemon
Pumpkin seeds, to garnish
Fresh herbs, like cilantro, to garnish
Heat the oil in a deep pan over high heat. Once hot, add the onion, ginger, and garlic. Cook until the onion is transparent and the raw smell of the ginger and garlic is gone, 2 to 3 minutes.

Lower the heat to medium and add the carrots, turmeric, coriander, and cumin and stir well to mix.

Cook for a few minutes and then add the broth and the peas. Bring to a boil on high heat and then cover with a lid and let simmer on low heat for 20 to 25 minutes or until the peas are thoroughly cooked.

Use an immersion blender to puree everything until completely smooth.

Season with salt and pepper and mix in the lemon juice. Serve with garnishes as desired.
Calories: 321kcal | Carbohydrates: 44g | Protein: 13g | Fat: 12g | Saturated Fat: 1g | Polyunsaturated Fat: 1g | Monounsaturated Fat: 8g | Sodium: 1019mg | Potassium: 218mg | Fiber: 11g | Sugar: 7g | Vitamin A: 8151IU | Vitamin C: 5mg | Calcium: 61mg | Iron: 2mg
The "Heavenly Vegan Dals & Curries" Cookbook
Heavenly Vegan Dals & Curries is a stunning book! There are lots of beautifully photographed plant-based Indian recipes created by passionate vegetarian Rahkee Yadav. Currys and dals are so easy to make and such a great way to incorporate veggies and legumes into your diet.
Rahkee Yadav is a cook, born and raised in India, who decided to put all her childhood cooking experience to good use. She manages to simplify all her favorite Indian dishes and make them entirely vegan and uber healthy. With beautiful photos and carefully crafted recipes, this book is one to hold on to.
Why not give it to someone as a gift? Giving vegan cookbooks to your loved ones is a great way to spread the word and practice some indirect activism. Once people realize vegan food can be delicious and uncomplicated, they will open up to the possibility of making it a lifestyle.
This vegan Indian toor dal soup recipe is reprinted with permission from Heavenly Vegan Dals & Curries by Rakhee Yadav, Page Street Publishing Co. 2019. Article written by Beatriz Buono-Core and edited by Rachel Lessenden. Photos by Amanda McGillicuddy for World of Vegan, all rights reserved.