The holiday festivities and parties are behind us, and they've left many of us feeling sluggish, tired, and perhaps harboring a few extra pounds. It happens, and sometimes it's not even in your control when other people are constantly serving you delicious home cooked meals and desserts!
Instead of feeling guilty (there's no need for that, honey!), take this brand new year as a great opportunity to set healthy intentions. It's wonderful to make resolutions to eat healthier, but sometimes you just need that little extra kick-in-the-bum with a bit of detox after the holidays.
If clean eating and detoxing from all those holiday cookies is on your list of New Year's resolutions, this soup is most definitely for you. I'm obsessed with this vegan green detox soup because it's so light and so refreshing. It's earthy and bright with a touch of sweetness from the green peas. You'll love the ease and simplicity of making this plant-powered soup!
Personally, I like to eat healthy detoxifying soups all throughout the winter since it's cold out and I'm not always craving salads and smoothies. It's so easy to pack tons and tons of delicious healthy vegetables into one pot and make a phenomenal soup.
How to Enjoy This Green Detox Soup
This soup is light and creamy and makes 3-4 side servings. If you'd like to eat it as a light meal rather than a side, it will serve 2 bowls. If you want to make it just a bit more filling, you can add some beans to the soup, either before blending or after blending for some texture. White beans would work really nicely in this soup (such as navy beans). You could also try chickpeas!
I love to top this soup with fresh green sprouts such as pea shoots or sunflower sprouts because it adds to the delicious light flavor, and I really like the texture of sprouts as well. Not to mention, sprouts also have astounding health benefits! The sprouts are completely optional though. You could also top your soup with other ingredients like croutons, hemp seeds, or a drizzle of vegan sour cream.
Chunky or Silky Smooth?
Sometimes I like a nice and chunky, rich soup. But other times, like with this green detox soup, it tastes super delicious when it's blended completely smooth because it's so light.
But what if you just can't decide, and you want a creamy, smooth and chunky soup all at the same time? If you want your soup to be a mix of creamy and chunky, here's the trick.
I find that if I make a soup and it's a bit too brothy for me, I'll actually blend half of the soup into a smooth creamy consistency and return it to the pot. That way you'll have a nice creamy soup base since the veggies have all been blended nicely (it works best when you use vegetables that are starchy such as potatoes, carrots, yams, etc…). But you'll also still have nice chunks as well if you prefer more texture. You can totally use this technique when making this soup!
1 tablespoon of coconut oil
½ cup of leeks, packed (see recipe notes)
3 medium garlic cloves, minced
1½ cups of zucchini, diced into small chunks
1½ cups broccoli, roughly chopped
1 teaspoon of salt
½ teaspoon of pepper
4 cups of vegetable broth
1 cup of green peas
1 cup of spinach, packed
½ cup of parsley
sprouts for garnish, optional
Add coconut oil to a large pot. Heat the pot and add the leeks and garlic and sauté for 3-5 minutes.

Add the chopped zucchini and broccoli, along with the salt and pepper and sauté for another 12 minutes.

Add the vegetable broth and bring the soup to a boil and then simmer for 5 minutes.

Add the green peas, spinach, and parsley, and simmer for another 5 minutes.

Transfer the soup to a blender and blend until smooth (alternately you can use an immersion blender).

Top with fresh sprouts (or croutons) if desired. Enjoy!
Don't have leeks? You can use yellow or white onion instead.
As a nutritionist, I like to focus on whole foods with powerful properties and use them medicinally and therapeutically when needed. The ingredients in this soup are all fantastic for detox and they're absolutely packed with wellness-promoting vitamins, nutrients, and antioxidants. Some of these wonderful nutritious ingredients include leeks, garlic cloves, broccoli, zucchini, spinach, and parsley. All of these fantastic foods are bursting with phytonutrients.
Star Ingredients & Why They're So Awesome
Fresh Parsley for the Win!
One of my favorite ingredients in this soup is fresh parsley. Using fresh parsley will make a world of a difference in taste compared to dried parsley. I would not suggest substituting the fresh for dry in this recipe. But herbs aren't just for flavor!
Fresh parsley is a wonderfully cleansing herb. Some say that it can pull heavy metals from the body (which accumulate in the body since we're exposed to them every day). It is also a diuretic. Diuretics are foods and herbs that help reduce water retention and bloating. It's a great way to detox your kidneys and it can help to reduce bloating after the holidays.
Parsley has vitamin A, vitamin B, vitamin C, vitamin K, iron, potassium, and so much more. It can also balance blood sugar which is needed after all of the sweets and treats from the last few weeks. I also love how fresh it tastes and it's a dominant flavor in this soup.
Give It up for Broccoli!
Everybody knows that broccoli is a healthy food overall, but it's benefits soar far beyond being a healthy green vegetable. Broccoli is a cruciferous vegetable, which makes it amazing for detoxing excess hormones in the liver and the rest of the body.
In the New York Times bestselling book How Not to Die, Dr. Greger recommends that we all eat at least one serving of cruciferous vegetables (about a half a cup of chopped cruciferous veggies) every single day. With this soup, you can check that right off your Daily Dozen checklist!
Cruciferous veggies are awesome because they're low in calories and high in vitamins, minerals, and antioxidants. They fight inflammation which is a very common side effect of overindulging during the holidays. Broccoli can also boost the immune system because of the vitamin C and other immune boosting compounds. Yes, your mom wanted you to eat broccoli for good reason!
Go, Garlic, Go!
Aside from the obvious benefit of adding delicious flavor to soup and other savory meals, garlic has many health benefits. In fact, garlic has over 5000 peer-reviewed articles detailing it's powerful properties, showing it to be a widely loved superfood!
Garlic has been linked to combatting some of our major diseases including heart disease, stroke, high blood pressure, infections, and more. Garlic is one of the most inexpensive superfoods out there and it can be used in a variety of meals every single day.
Garlic adds delicious body to this soup and pairs really nicely with the leeks (if you don't have leeks, you are completely welcome to use yellow or white onion instead).
Enjoy, and happy detoxing!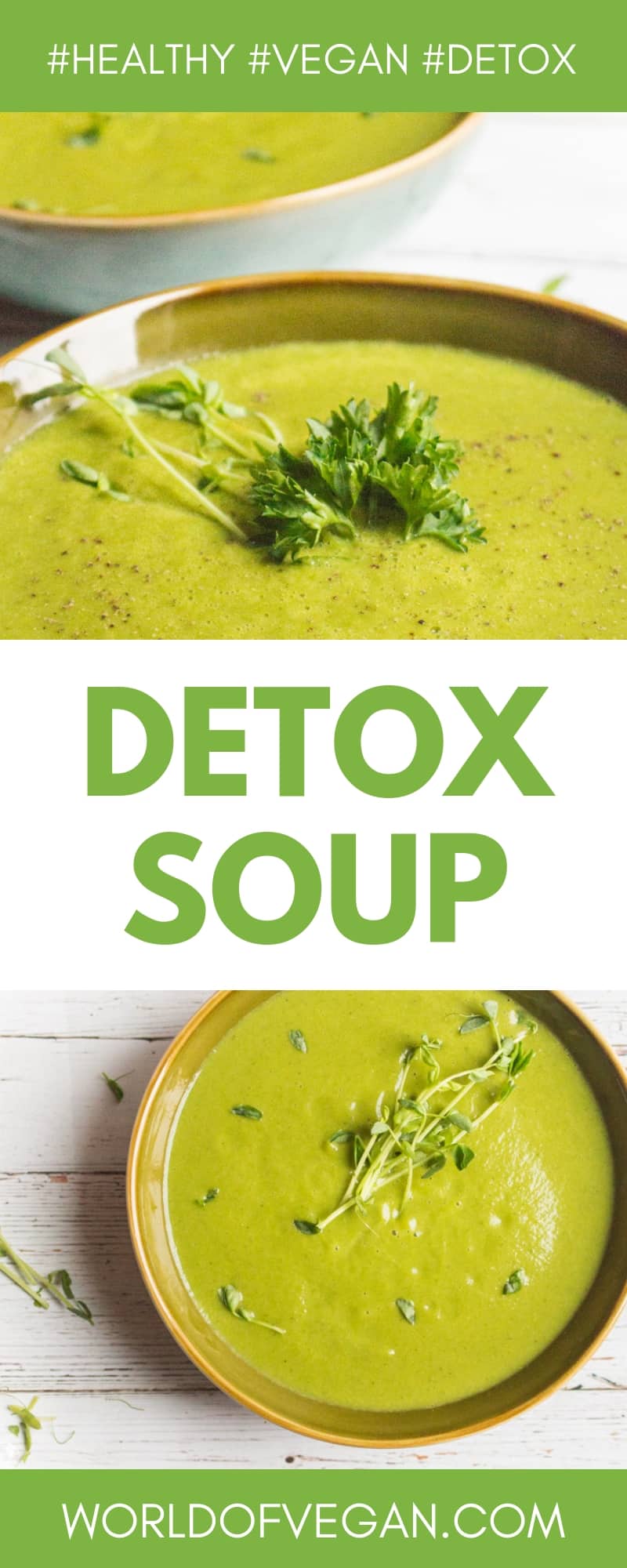 More Delicious Soup Ideas:
Green Detox Soup photos by Kathy Chrzaszcz for World of Vegan. Recipe and photographs copyright of World of Vegan™, all rights reserved. Article edits by Amanda Meth. Please note that this article contains affiliate links which means shopping through them helps lights on at World of Vegan!