Matzah is eaten all around the world during Passover. We love Passover for many reasons, but the most delicious is the multitude of ways to eat matzo over the course of the week.
Passover is a week-long Jewish holiday during which observers abstain from eating leavened bread, or any leavened foods that require time to rise. Instead, we get to eat matzah—a flat cracker-like "unleavened bread" made without yeast so it doesn't rise.
Matzah tends to be a central favorite throughout the week of Passover. It can be made into all kinds of dishes, like matzo ball soup, matzah tater tots, and matzah brei. But it can be challenging to come up with different ways to serve it in unique and tasty ways every day. This vegan matzah pizza recipe is simple, delicious, and can be spun in lots of different creative directions! Whether you're craving a basic cheese pizza,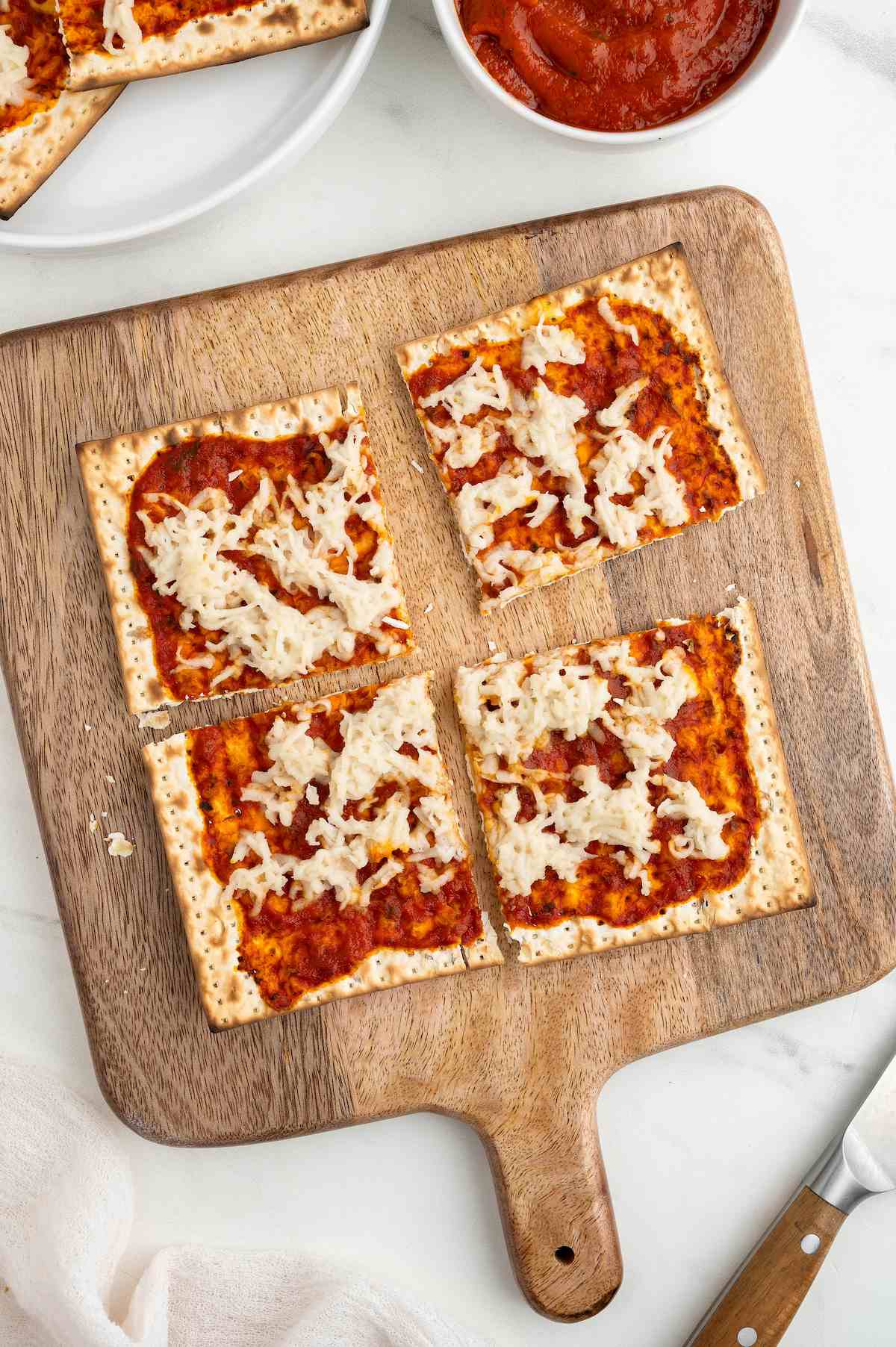 What Is Matzah?
Matzah is simply unleavened bread made from wheat flour and water. Because it doesn't rise in the oven, it's very thin, flat, and more like a cracker than a conventional loaf.
It has a very mild, agreeable flavor due to its basic ingredients which often don't even include salt for seasoning. Alternate spellings also include matza, matzo, and matzoh; all are correct!
Although you could technically make matzah from scratch at home, it wouldn't be considered kosher or pesadich (acceptable for the celebration of Passover) without the blessing of a rabbi. Likewise, there are gluten-free versions in some specialty markets for those who can't eat wheat, but they may or may not be appropriate for those who are ultra-orthodox.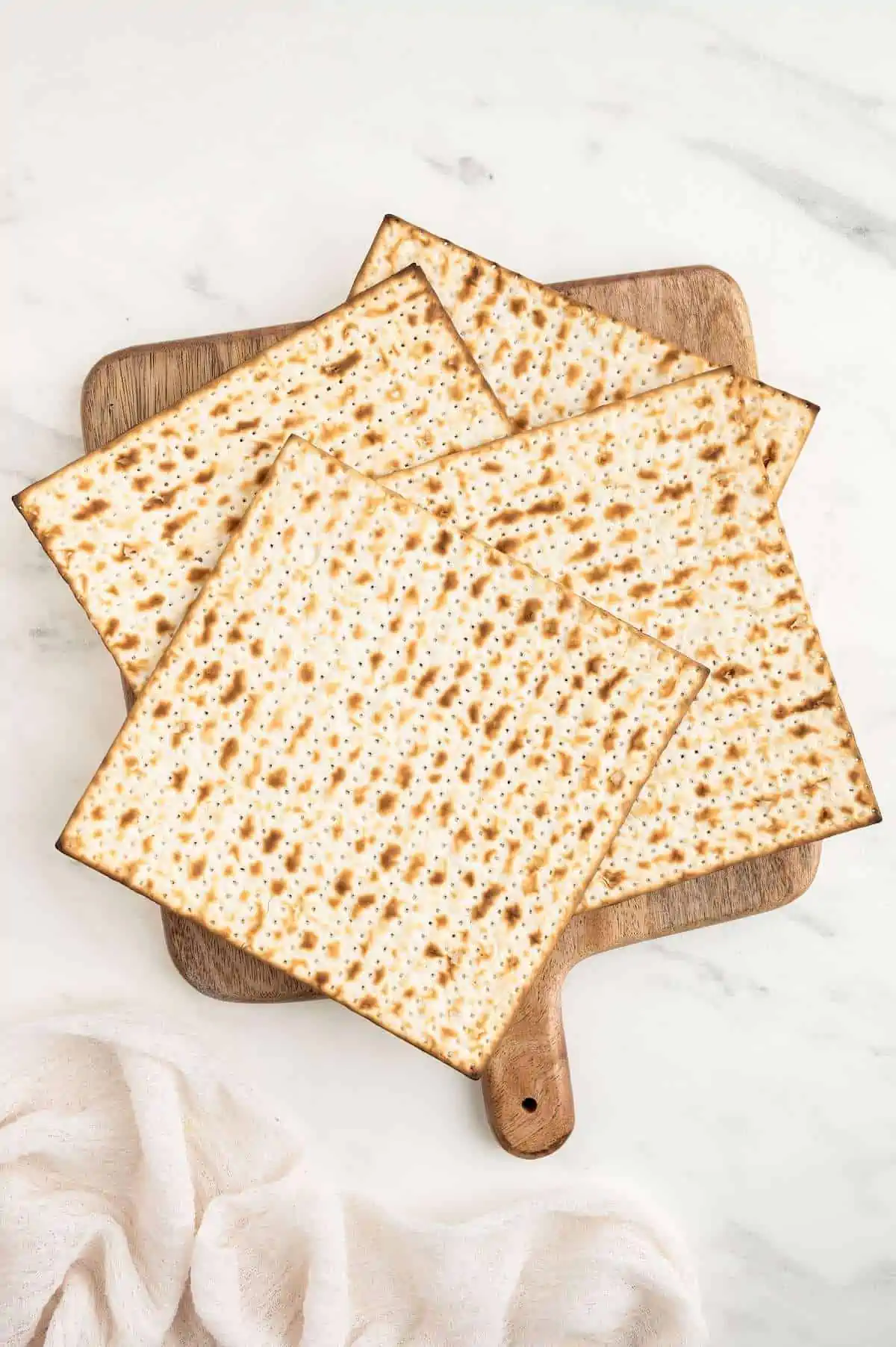 Is Matzah Vegan?
Matzah is vegan by default (it is simply made from flour and water) but there are some sneaky variations that could spell trouble for anyone avoiding animal products.
There are all sorts of matzah-based snacks made for the days following the seder, which may include many other ingredients, especially eggs. Egg matzah is considered a richer take on the classic, but at least is always clearly marked as such. Always read the ingredient labels for everything else to make sure.
What's The Best Way To Enjoy Matzah?
There are countless ways to use it in vegan Passover recipes. My family loves to eat matzah plain with Earth Balance butter or vegan cream cheese spread across it, but we also love to grind it up as matzah meal for making pancakes or break it into pieces for layering into casseroles.
What Is Matzah Pizza?
Matzah pizza is more of an idea that a set recipe. Consider it an interactive, adaptable formula, great for getting little hands in on the action. Line up your favorite toppings on the counter and let your family make their own matzah pizza creation.
For extra fun, try making thematic matzah pizzas with some of these ideas:
Taco Matzah Pizza (Refried beans, Soyrizo, jalapeño, vegan cheddar shreds and avocado)
My Big Fat Greek Matzah Pizza (Chickpeas, Kalamata olives, red onion, artichoke hearts, and roasted red peppers)
Italian Matzah Pizza (Basil, black olives, and vegan Italian sausage or meatballs)
Falafel Matzah Pizza (Tahini sauce, sliced falafel, and Greek pickles)
BBQ Matzah Pizza (BBQ tofu or jackfruit, vegan ranch dressing, BBQ sauce, corn, tomatoes, and avocado)
However you top your matzah, your family will love this fun meal! Read on to see some of these topping ideas in action!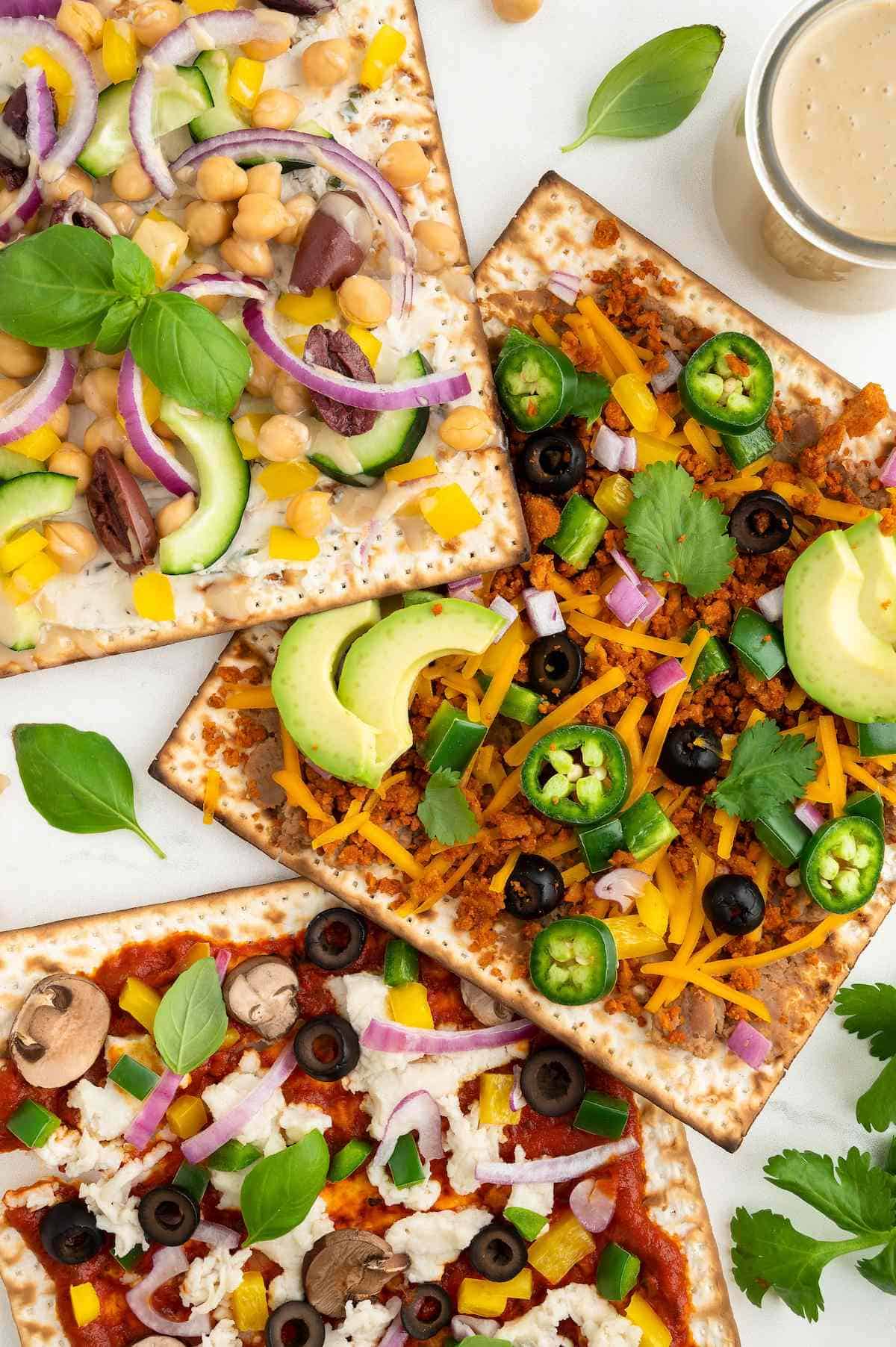 Why is Matzah Eaten on Passover?
The Jewish Holiday of Passover celebrates the Exodus of the Jewish people from Egypt and their freedom from Egyptian slavery over 3000 years ago. When the Jewish people left Egypt they did so in a hurry and had no time to wait for the bread they were baking to rise. The bread they baked came out flat and thus the Torah commands Jews to eat Matzah every year on the first night of Passover, commemorating the Exodus from Egypt.
Because Passover lasts for eight days and does not permit for the consumption of leavened foods, Jewish people will often get creative with how they prepare matzah, sometimes making it into sweet recipes or even creating a new kind of meal to enjoy during the holiday.
Whole sheets of matzah can also be ground into matzah meal or matzah flour to make other baked goods, like cakes, pie crusts, cookies, and more.
How To Make Matzah Pizza
Think of each sheet of matzah as a ready-made pizza crust and you're already halfway done! For some flavor variations and specific toppings, you don't need to heat them at all, but this is the basic procedure for a classic combination: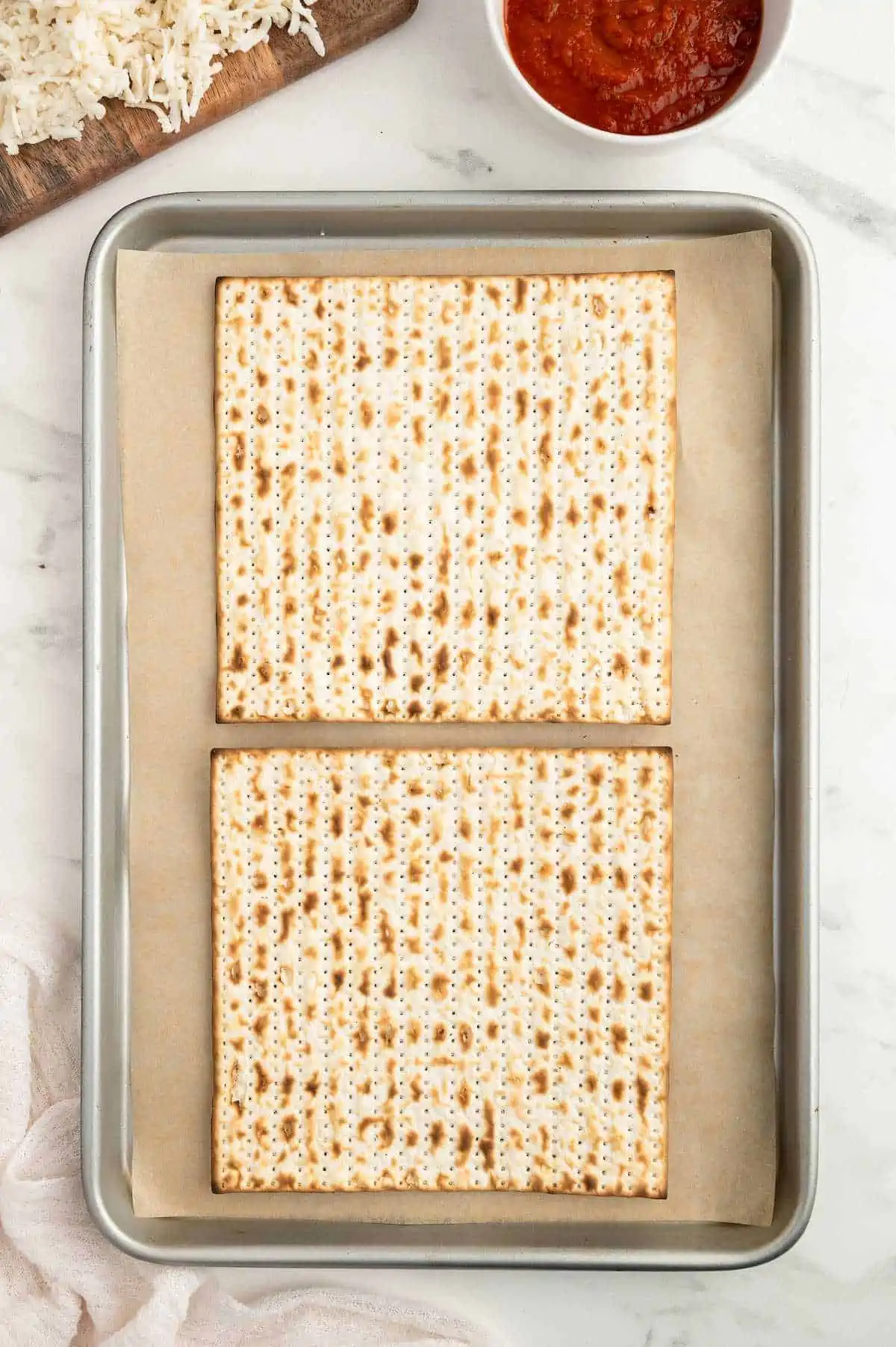 Use one sheet of matzah per serving, laying them out on a sheet lined with parchment paper.
Top each with 2 tablespoons of sauce, spreading it out in an even layer leaving a small margin around the edges clear.
Sprinkle, spread, or scatter your selected toppings over the sauce. Cover with 2 tablespoons of shredded vegan cheese.
Bake at 350 degrees F for about 5 minutes, until the cheese is melted and gooey. Enjoy hot!
Topping Ideas
The only limit to the topping possibilities is your creativity! Get inspiration from your favorite traditional pizzas or start from scratch with a bold new combination.
Veggie Matzah Pizza
Love your veggies in every color of the rainbow! This is a great way to clear out anything you have in the crisper. My favorite mix includes:
Red onion
Sliced mushrooms
Diced bell peppers (both yellow and green)
Sliced black olives
Fresh basil
Miyoko's mozzarella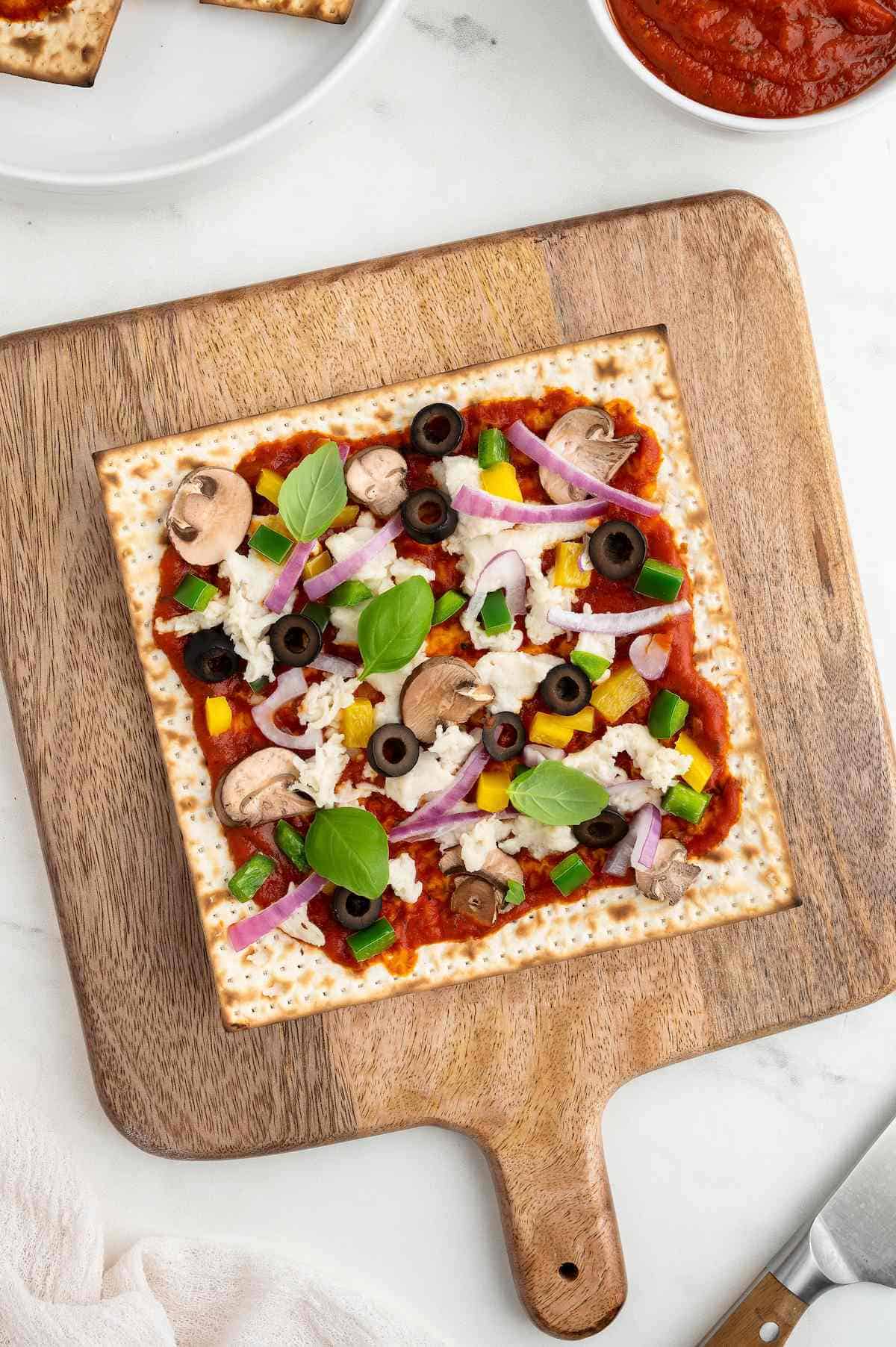 Taco Matza Pizza
Who needs to wait for Taco Tuesday when you can enjoy those same great flavors any day? No tortillas need apply when you have matzah as a base. Here's how this one stacks up:
Greek Matzah Pizza
It's all Greek to me, and that's a very good thing. Skip the lifeless iceberg lettuce and translate that rich classic salad into pizza format! Lay out your matzah and spread it on thick:
Onion & chive dairy-free cream cheese
Chickpeas
Diced yellow bell peppers
Halved kalamata olives
Fresh basil
Sliced cucumber
Diced red onion
Drizzle of tahini
This is a great one for lunch in a hurry, since it doesn't even need to be heated. Cherry tomatoes make a great addition, too!
Balsamic Peach Pizza
Pull out all the stops with this sophisticated sweet and savory number. Pour yourself a nice glass of wine, put the kids to bed, and set the mood:
Onion & chive dairy-free cream cheese
Sliced fresh peaches
Toasted walnuts
Arugula
Fresh basil
Drizzle of balsamic glaze
No need to apply heat on this baby either. It's brilliant as is, cold or at room temperature.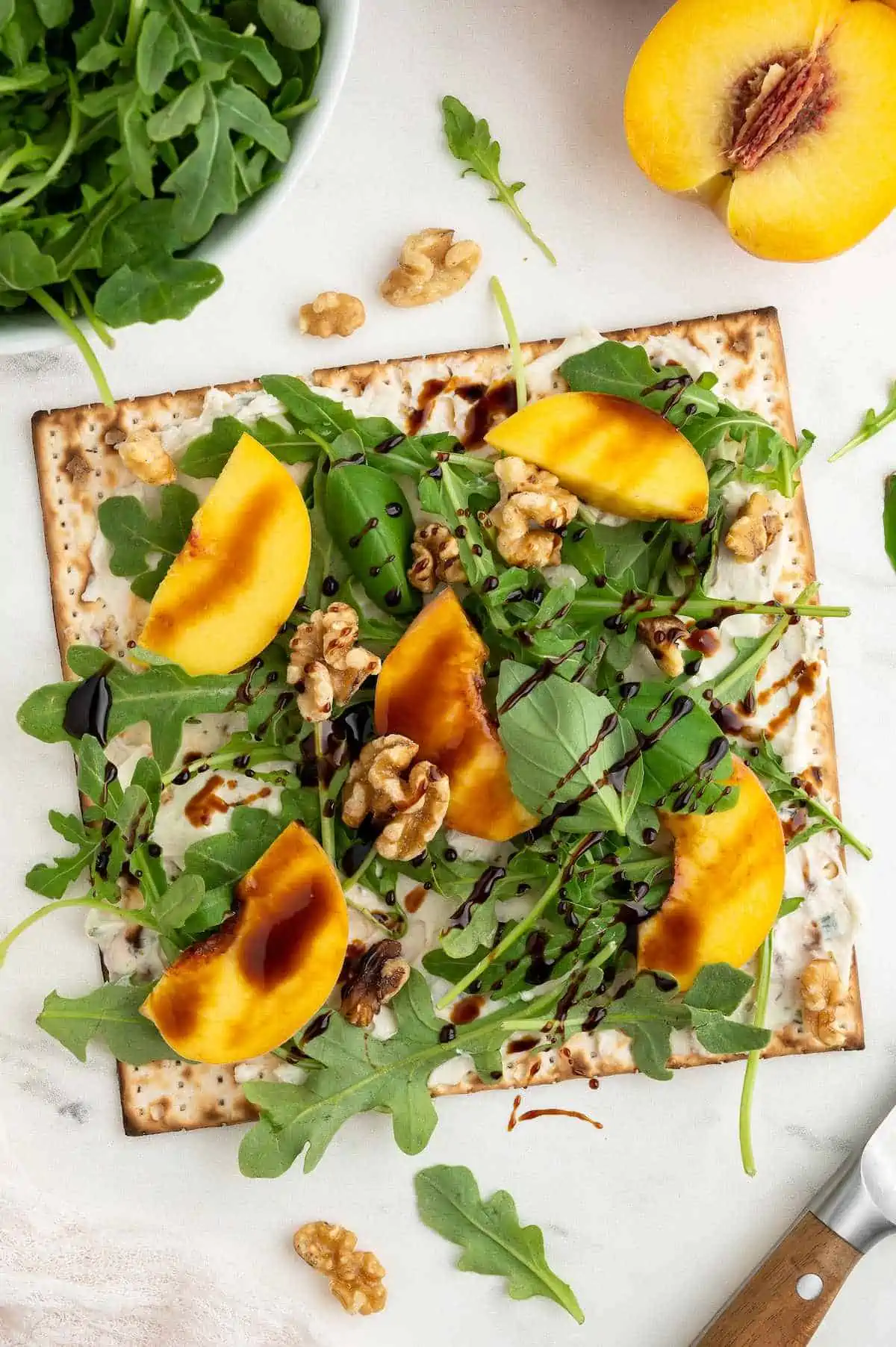 Buffalo Ranch Matza Pizza
For those who like it hot, spice up your night with a fiery bite that tastes like wings, without the hassle, mess, and grease of deep frying. There are only three components here:
Chickpeas tossed in buffalo sauce
Green onions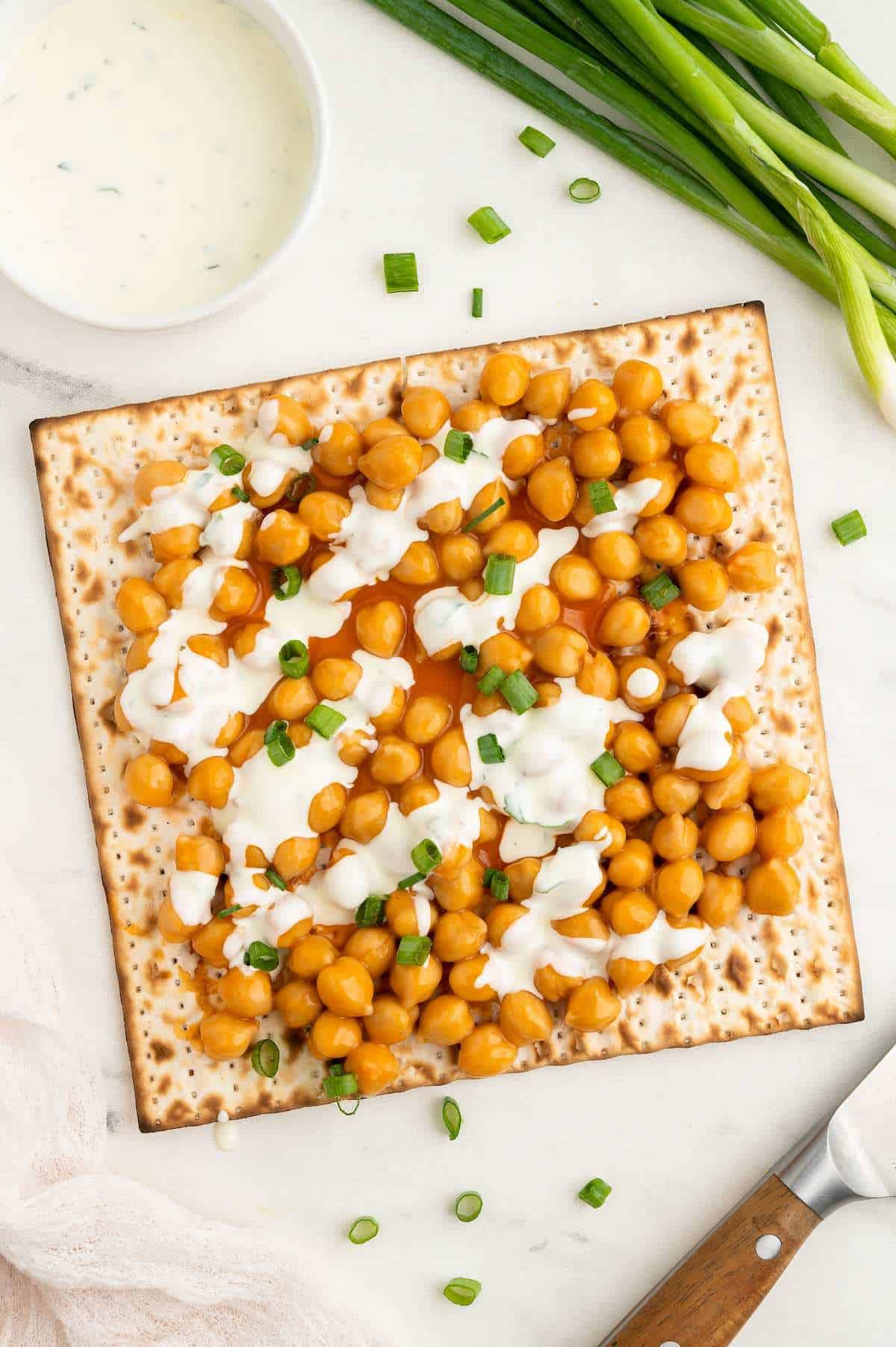 Chocolate Strawberry Dessert Matzah Pizza
Yes, matzah pizza is for dessert, too! Satisfy your sweet tooth or midnight snack cravings with ease:
No need to heat, but it could be delightful with melted, gooey chocolate chips, too.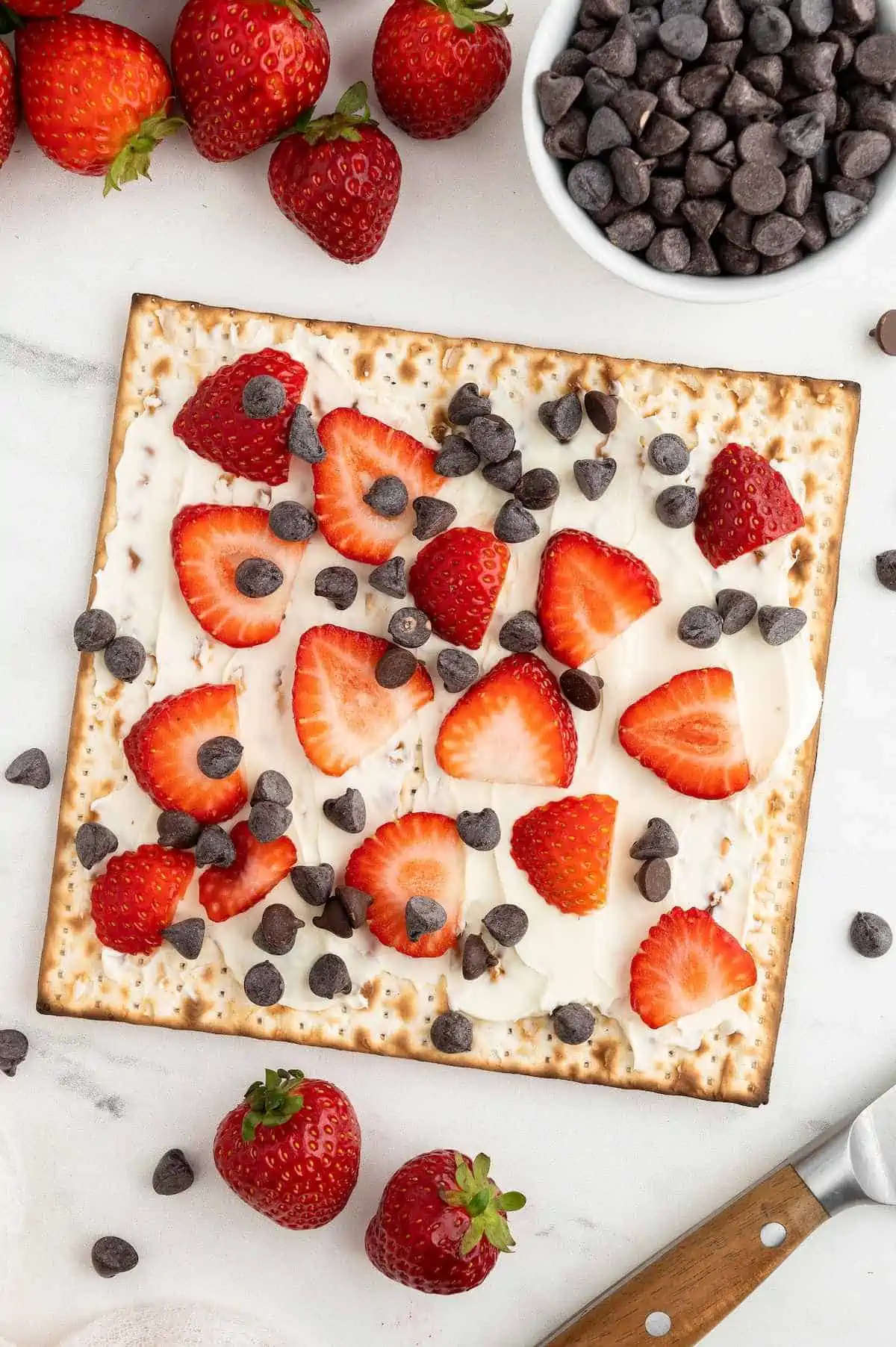 Kid-Friendly Classic Cheese Pizza
Appeal to picky eaters by keeping the toppings simple, and maybe even a little bit silly! Don't be afraid to play with your food and encourage them to style their own tasty designs too. You can't help but smile when your meal is smiling too!
Vegan cheese – Stick with classic mozzarella-style shreds or mix it up with a variety of plant-based cheeses. Vegan cheddar, pepper jack, and Parmesan are all fun, flavorful choices.
Olives & cheese – Satisfy salty cravings without busting out a bag of chips. Olives have a savory, briny flavor that helps round out this meal.
Vegan pepperoni (cut into quarters) & cheese – Pepperoni is the single most popular pizza topping in the US. Increase the protein with a meatless option to keep it cruelty-free.
Smiley face with olive eyes, mushroom nose, and bell pepper mouth – Let out your inner artist and use matzah pizza as your canvas! Spread joy with an extra smile right on your plate.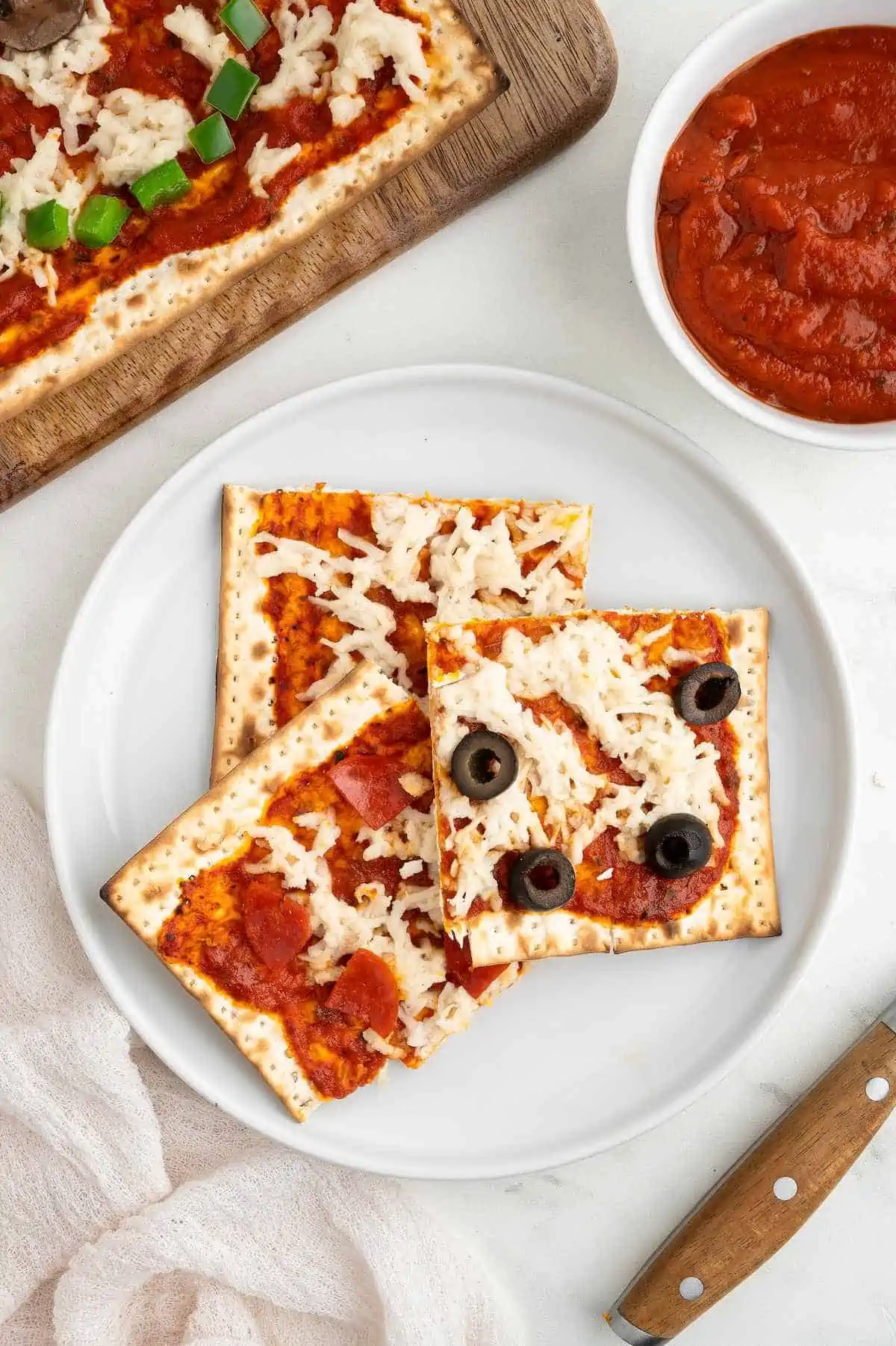 How to Serve Up Your Vegan Matzah Pizza
Want to turn your matzah pizza into more of a meal? Luckily we have a whole bunch of suggestions for keeping both the tradition and the taste.
Can I Store Matzah Pizza?
Due to the delicate nature of matzah, we'd recommend making these pizzas fresh since they won't hold up well afterwards in the fridge or freezer. The last thing you'd want is for your pretty pizza to turn soggy overnight! Matzah can be surprisingly filling so even one pizza may be enough for you!
More Awesome Jewish Recipes to Try
4 matzah crackers
½ cup pizza sauce, or vegan pesto sauce
½ cup shredded vegan parmesan or mozzarella cheese
Toppings of choice
Preheat the oven to 400°F.

Place each matzah cracker on a baking sheet lined with parchment paper and top with 2 tablespoons of sauce, your selected toppings and 2 tablespoons of shredded cheese.

Bake for about 5 minutes.
Need topping ideas? See the above article for 10 easy and delicious suggestions!
Calories: 159kcal | Carbohydrates: 28g | Protein: 3g | Fat: 3g | Saturated Fat: 1g | Polyunsaturated Fat: 0.2g | Monounsaturated Fat: 0.04g | Sodium: 211mg | Potassium: 76mg | Fiber: 2g | Sugar: 1g | Vitamin A: 65IU | Vitamin C: 1mg | Calcium: 16mg | Iron: 1mg
If you try this Vegan Matzah Pizza, let us know what you think by leaving a comment and rating below! Be sure to follow along on Pinterest, Instagram and Facebook for even more vegan recipe inspiration.
Vegan Matzah Pizza recipe by Stephanie Dreyer. Article collaboratively written by Stephanie Dreyer, Hannah Kaminsky, and Michelle Cehn and edited by Rachel Lessenden.