Dazzling daffodils, teams of tulips, and glimpses of glorious sunshine seem to signal that spring has arrived. It's a time when the first delicate seeds of fruits and vegetables can be planted in rich, fertile soil. When delightful dishes like roasted asparagus with garlic are starting to be served, you can be sure that spring is in full swing.
Prepare to savor every earthy and slightly salty bite of this tall and tender vegetable. Its distinct Italian flavor and creamy tahini topping make it the perfect side to any pasta dish or savory casserole, such as our Pesto Pasta or Vegan Lasagna. In other words, a wonderfully elegant accompaniment to any meal!
1 pound asparagus, stalks trimmed
½ pound cherry tomatoes or grape tomatoes, halved
5 large cloves garlic, cut in half
3 tablespoons vegan butter, melted (or 3 tablespoons of olive oil + ¼ teaspoon of salt)
¼ teaspoon pepper
¼ teaspoon garlic powder
5 large leaves basil
½ medium lemon, sliced, for garnish
Tahini Drizzle:
1 tablespoon tahini
1 tablespoon lemon juice
1 tablespoon water
⅛ teaspoon salt
⅛ teaspoon garlic powder
Preheat your oven to 400 degrees.

Line a large baking sheet with foil or a silicone mat. Lay the asparagus in a flat layer and the tomatoes and halved garlic cloves in the remaining space on the pan.

Drizzle the top with the olive oil and evenly sprinkle on the salt, pepper, and garlic powder. Using your hands, mix the asparagus and then the tomatoes and garlic on the pan until evenly coated.

Place in the oven and cook for 14-20 minutes until the asparagus is cooked to your liking (exact timing will depend on how thick your asparagus stalks are).

While baking, prepare your tahini drizzle. In a small bowl, mix together the tahini, lemon juice, water, salt, and garlic powder until you have a viscous creamy white drizzle sauce.

Remove the baking sheet from the oven and place the asparagus on a serving platter. Top the asparagus with the roasted tomatoes and garlic cloves, drizzle with tahini dressing, and sprinkle with fresh basil.
Don't have any lemons? A splash of white vinegar will work in place of lemon juice in the tahini drizzle sauce.
Calories: 142kcal | Carbohydrates: 11g | Protein: 4g | Fat: 11g | Saturated Fat: 2g | Polyunsaturated Fat: 4g | Monounsaturated Fat: 5g | Trans Fat: 2g | Sodium: 153mg | Potassium: 416mg | Fiber: 3g | Sugar: 4g | Vitamin A: 1174IU | Vitamin C: 29mg | Calcium: 52mg | Iron: 3mg
Equipment You'll Need
The De-Aging of Asparagus
A member of the Lily family, asparagus is thought to be around 2,000 years old, having originated from the Mediterranean. This leggy veggie is made of the most balanced nutrients and can be eaten both raw or cooked. Though eating our roasted asparagus with garlic might not turn back the clock completely, its high nutrient content is considerable!
Foods That Fight Disease
Asparagus is not the only element in this recipe that deserves attention. Above all, we want to add as many vitamins and minerals to our meals as we can. These additional ingredients play a huge role in boosting the health benefits of this dish: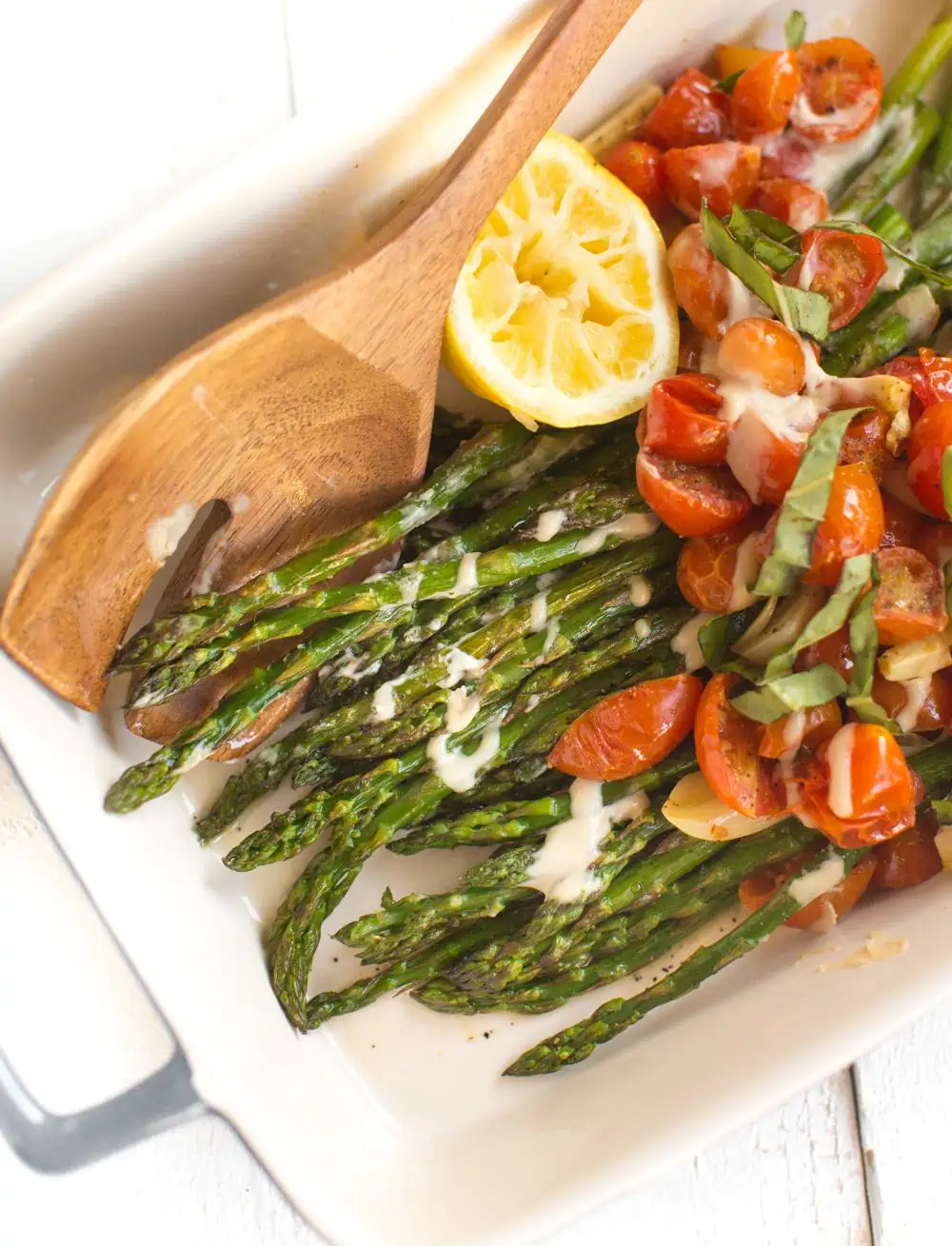 How to Serve Up Your Asparagus
The vertical aspect of asparagus shouldn't matter much when it comes to serving with a meal, but I find styling with it can be super fun. Many foods, when dished up, can appear downright dowdy, especially if they all settle into an unsatisfying, semi-spherical shape.
Here are some unique ways to wow your guests with artistically arranged asparagus spears:
Storing Your Roasted Asparagus With Garlic
Any leftover asparagus can be placed in an airtight container and be stored in the fridge for up to 7 days. If this veggie won't be gobbled up immediately, it can be stored in a freezer-safe bag for about 10 months. Any brown spots on your asparagus means that it's gone bad and should be composted or thrown away.
You can easily reheat these gorgeous green stalks either in the microwave for a minute or two, for five minutes in a preheated oven or skillet. If reheating from frozen, allow your spears to come to room temperature on the counter or let rest in the refrigerator overnight.
More Spring Sides To Try:
More Roasted Vegan Recipes
Roasted Asparagus with Garlic, Tomatoes, and a Tahini Drizzle recipe and photos by Michelle Cehn, copyright of World of Vegan™, all rights reserved. Article written by Gina House and edited by Amanda Meth. Please note that this article may contain affiliate links which supports our work at World of Vegan.