Search no longer for the perfect sautéed kale salad recipe! This savory salad will not only taste of heaven with its hints of toasted sesame, but it will wholly satisfy your heroic hunger. Brimming with soft beans and smooth avocado, you'll be forced to forget the days when kale wasn't cool.
If you've never had a warm kale salad before, you're in for a treat. When this cruciferous leafy green is combined with a sizzling skillet and a spoonful of sesame oil, it's transformed into something magical. Every mouthful will be memorable and we guarantee you'll be begging for more in minutes.
1 tablespoon toasted sesame oil 
2 large bunches curly kale, rinsed, stems removed, and roughly chopped into bite-sized pieces.
¼ teaspoon garlic powder, or two large cloves of garlic, minced
¼ teaspoon sesame seeds, white or black
¼ teaspoon salt, adjust to personal taste
¼ teaspoon red pepper flakes 
1 can pinto beans, rinsed and drained
1 avocado, diced
2 tablespoons tahini 
2 cups cooked quinoa, optional
In a large sauté pan over medium heat, add the toasted sesame oil.

Once hot, add the chopped kale and toss it with the oil using a spatula.

Add the garlic powder (or fresh minced garlic), sesame seeds, salt, and red pepper flakes and mix it evenly with the kale.

Cook for about 5-7 minutes, regularly tossing frequently to prevent burning. Remove from heat.

Mix in pinto beans and diced avocado and serve atop quinoa (if desired). Top with a generous drizzle of tahini and enjoy!
Is your tahini too thick to drizzle? Mix in a tiny bit of water to thin it out.
Calories: 538kcal | Carbohydrates: 52g | Protein: 13g | Fat: 33g | Saturated Fat: 5g | Polyunsaturated Fat: 10g | Monounsaturated Fat: 17g | Sodium: 321mg | Potassium: 891mg | Fiber: 13g | Sugar: 2g | Vitamin A: 340IU | Vitamin C: 12mg | Calcium: 71mg | Iron: 4mg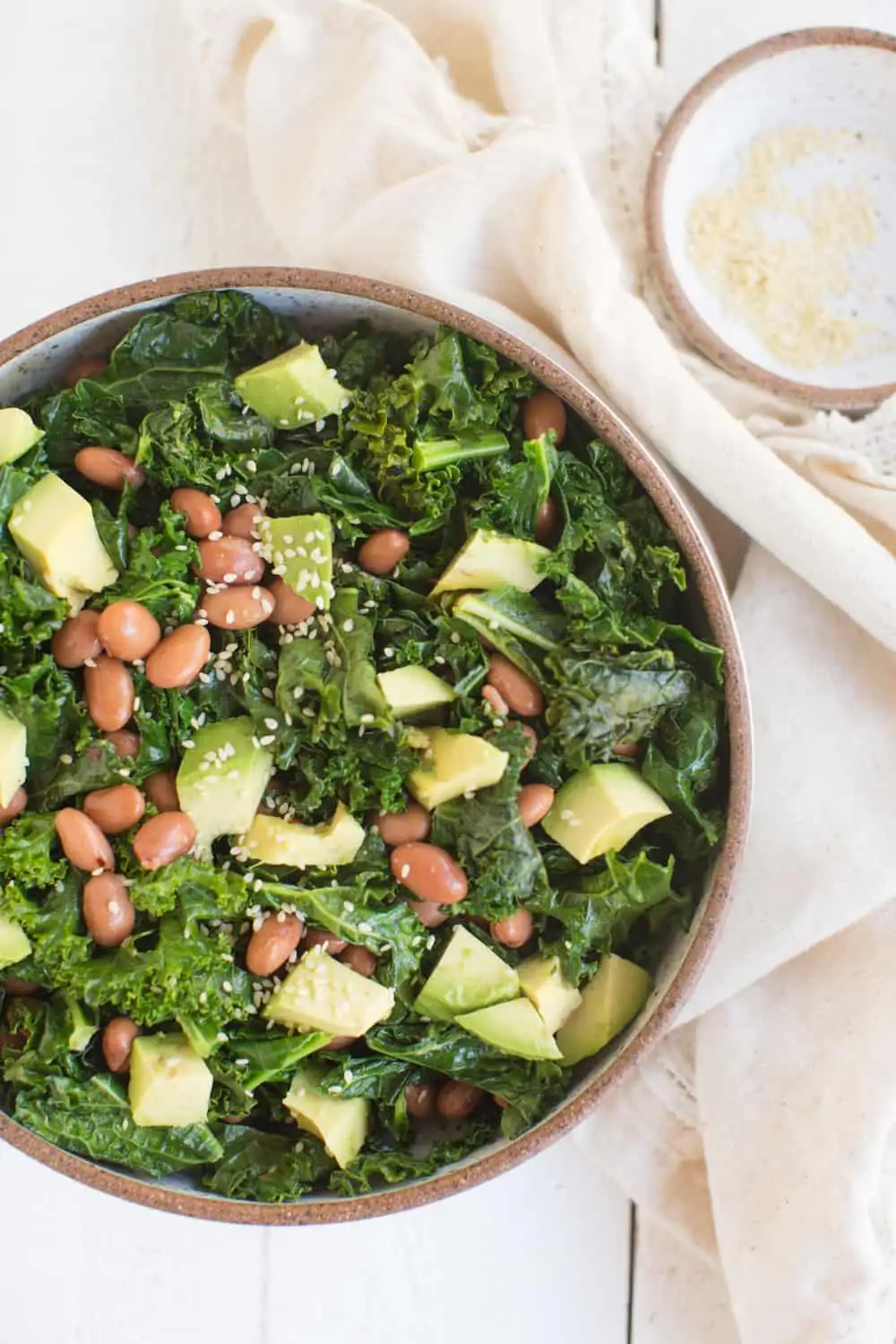 Equipment You'll Need
Superstar Ingredients
Our sautéed salad gains Superstar Status from its extraordinarily healthy ingredients, such as:
With just one serving of this sautéed kale salad recipe, you can get a ton of your nutrients totaled for the day.
How to Serve Up Your Sautéed Kale Salad
Greens go with pretty much anything, so serving your salad with other sides is super easy. Here are a few of our most mouthwatering suggestions:
Simple Storage
Any leftover sautéed kale salad can be be stored in a covered container in the fridge for a day or two. After that, it's much better to make a fresh batch. If possible, try to keep the kale and other individual ingredients separate when storing because it will help a lot when re-heating.
If you've run out of one or more of the recipe items, feel free to add more. For instance, you still have cups of quinoa and an abundance of beans, but not enough kale, sauté up a skillet-full. When you only have a spoonful of sauce and it will scarcely cover the kale, throw together an additional dollop of tahini with a splash of water.
More Kale Recipes to Keep in the Kitchen: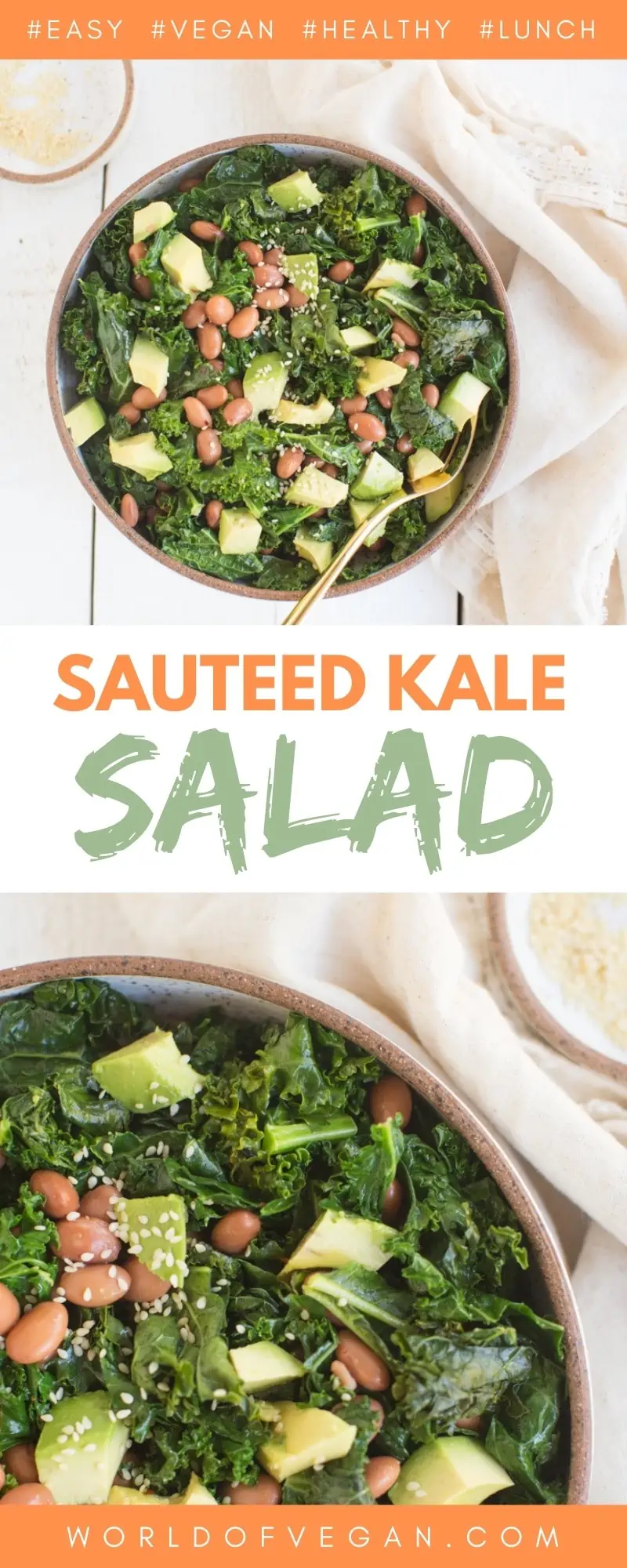 Sautéed Kale, Bean, and Avocado Salad recipe and photos by Michelle Cehn for World of Vegan. Copyright of World of Vegan™, all rights reserved. Article written by Gina House and edited by Amanda Meth. Please note that this article contains affiliate links that help support our work at World of Vegan!