Knishes, those beloved pockets of pastry goodness, are a tasty tradition that brings together the flakiness of golden dough with some truly irresistible savory fillings.
In this recipe, we've reimagined the classic knish with a plant-based twist, offering a mouthwatering combination of "beef," potatoes, and caramelized onions that will tantalize your taste buds. Regardless of whether you're a long-time knish lover or a newcomer, our knish recipe is here to impress and satisfy your cravings. So, roll up your sleeves and let's dive into the art of creating these easy vegetarian knishes!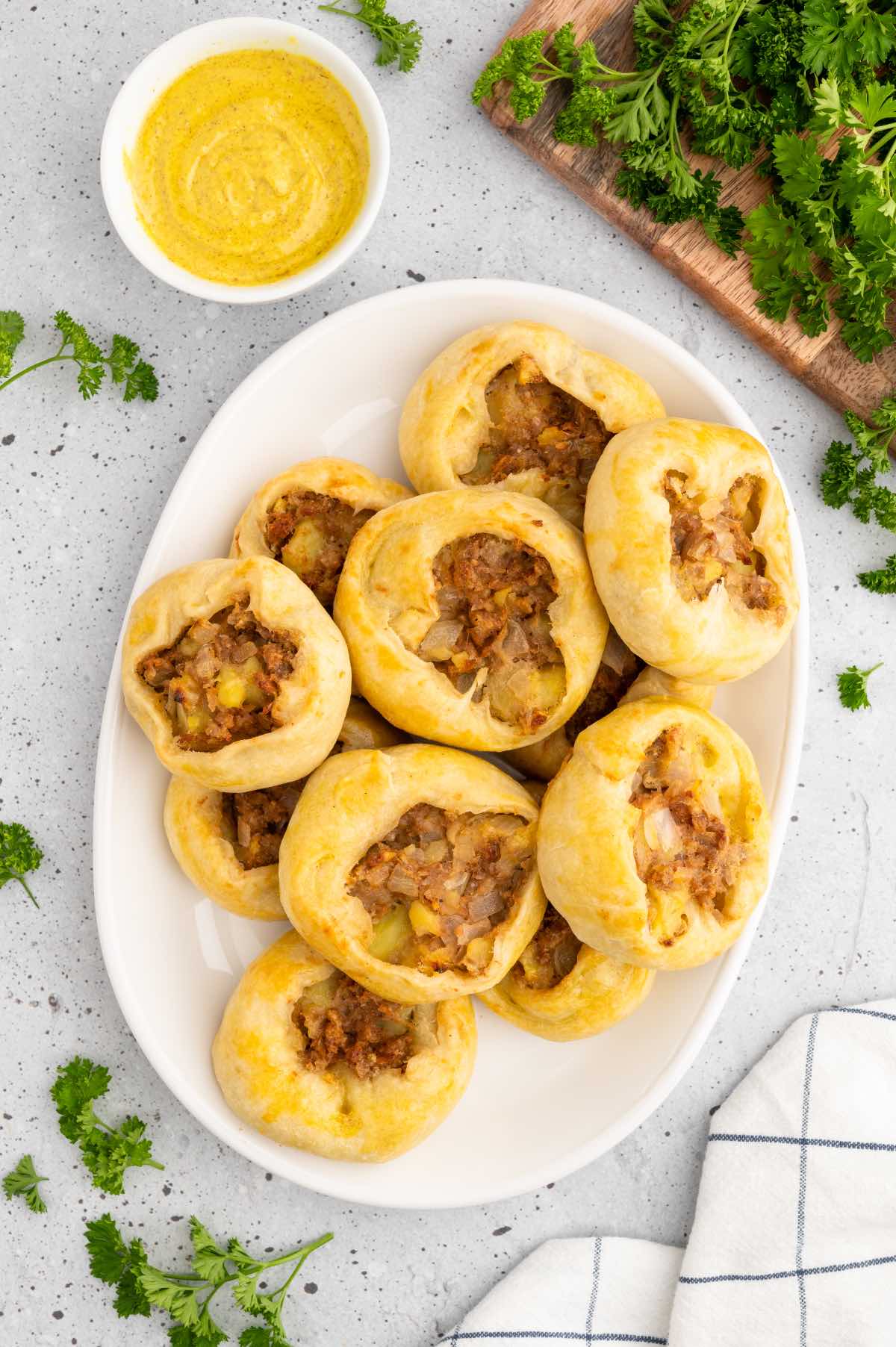 What is a Knish?
A knish (pronounced "k-nish") is a traditional Eastern European Jewish food consisting of a thin buttery dough filled with things like mashed potatoes, onions, and/or ground meat. Knishes come in various shapes but are typically round and squat and can be found baked or fried.
Whether you're strolling the bustling streets of New York City or cozying up on a chilly day, knish is the perfect snack or light meal to fuel your adventures. It's compact, portable, and bursting with flavor.
Its origins can be traced back to Jewish communities in Eastern Europe, where it was a staple comfort food. Over the years, it's traveled across continents and evolved into a fusion of flavors, reflecting the diverse communities that have embraced it.
Today, you can find knish in bakeries, delis, and food trucks in various corners of the world. It's not just a snack; it's a symbol of comfort and tradition, offering a flaky pastry hug wrapped around a flavorful surprise inside!
Ingredient Notes And Substitutions
These incredible vegan knishes are made with mostly pantry staples, aside from vegan ground beef. Here are the key ingredients you'll need and some handy substitutions:
Apple Cider Vinegar – Distilled white vinegar can be used in place of apple cider vinegar.
Olive Oil – Avocado oil, canola oil or another neutral flavored cooking oil can be used in this recipe; however, I don't recommend using coconut oil (unless it's refined).
Yukon Gold Potatoes – Mashed potatoes are a traditional knish filling. Yukon Gold potatoes are light, buttery, and fluffy, making them perfect for this vegan mashed potato filling. You can also use yellow, Idaho, or Russet potatoes, but be sure to measure by weight instead of the number of potatoes, as potato size can vary significantly.
Vegan Ground Meat – Any type of vegan ground meat can be used in this recipe. We used Creative Pea's ground beef but feel free to use whatever plant-based meat crumbles you have available.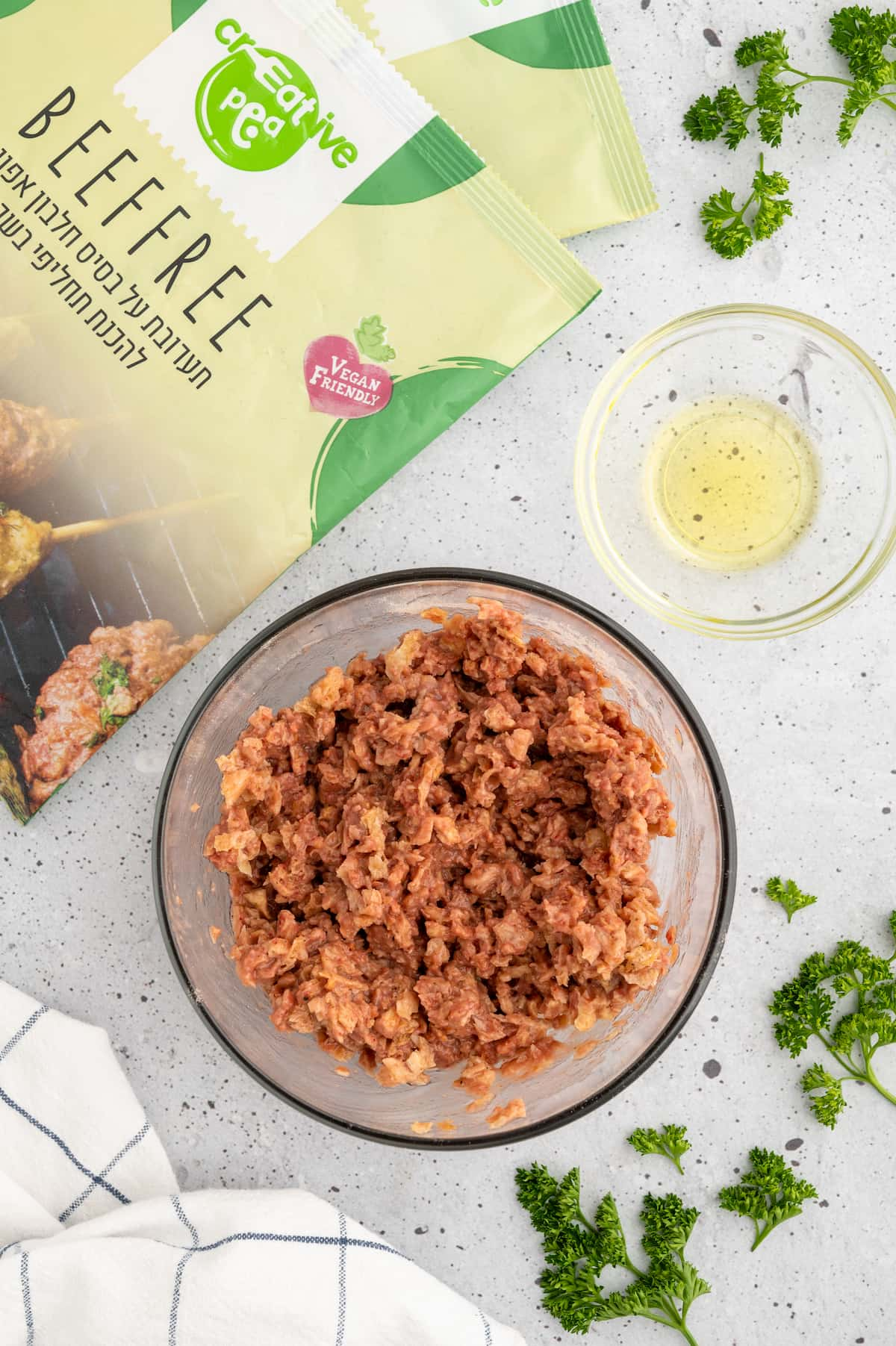 Yellow Onion – A slightly sweet onion works best in this recipe, so a regular yellow or a sweet brown/yellow onion are good choices. A white onion will work in a pinch, but it will be even more important to caramelize it in order to bring out some sweetness.
Vegan Butter –Because the butter is only used in the mashed potatoes and to sauté the onion, the flavor of the butter is the most important quality here, so use one that you like and that has a convincing buttery flavor. Miyoko's or Earth Balance are good options.
Egg Wash – I like using a combination of soy milk with a little agave or just melted vegan butter for an "egg wash" to help these knishes brown beautifully. The "egg wash" basted on the outside of the knishes is purely for aesthetic purposes and can be skipped if you choose.
How To Make Knish
Prepare The Dough
In a small bowl, combine water and vinegar. Stir dry ingredients in a separate small bowl. Using a food processor, blend the dry ingredients and water/vinegar mixture until a dough forms. Drizzle in olive oil while processing, being careful not to overmix.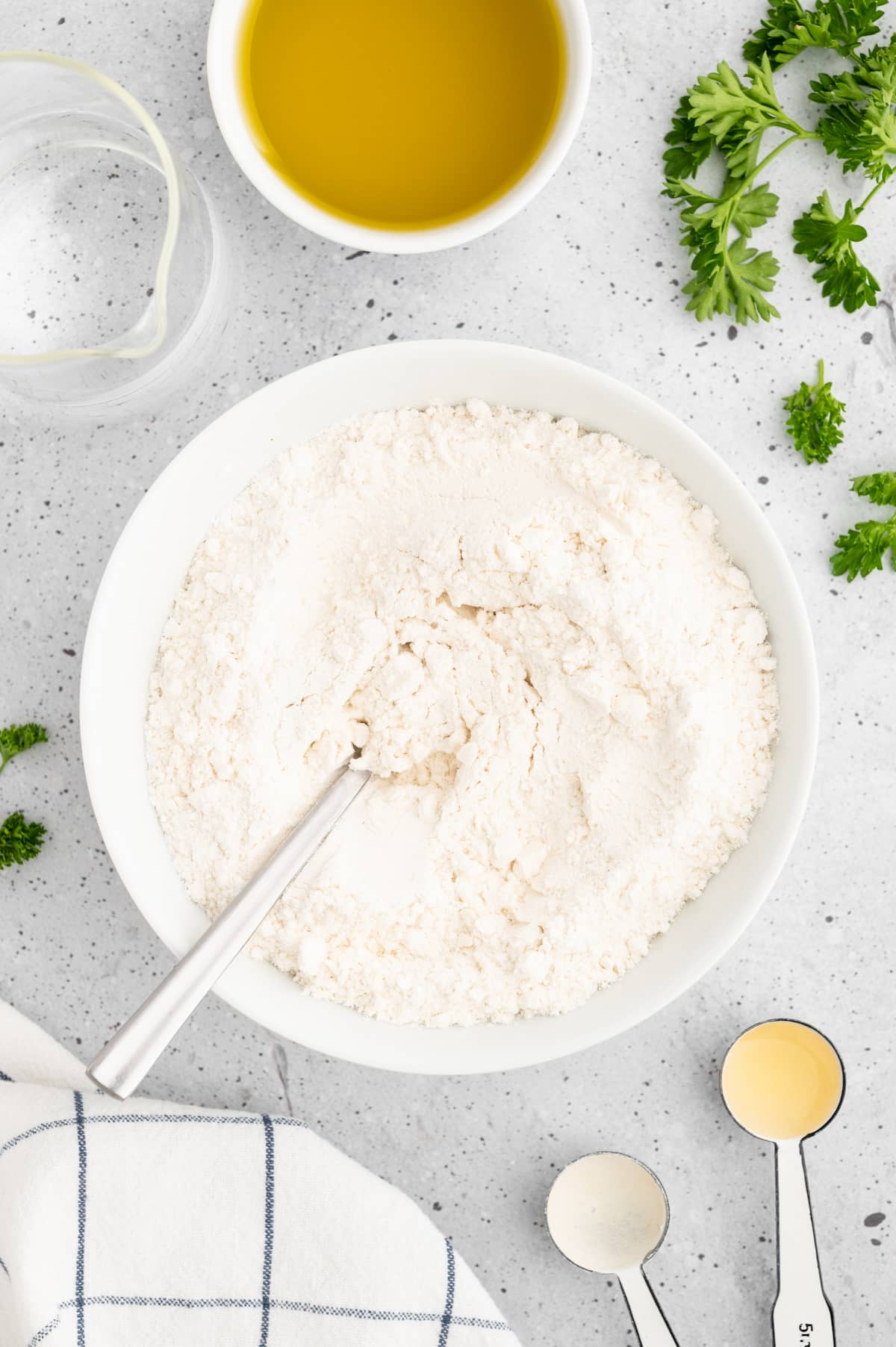 Lightly knead the dough on a floured surface for about 2 minutes, adding flour as needed. Wrap in plastic wrap and chill in the fridge for 1 hour.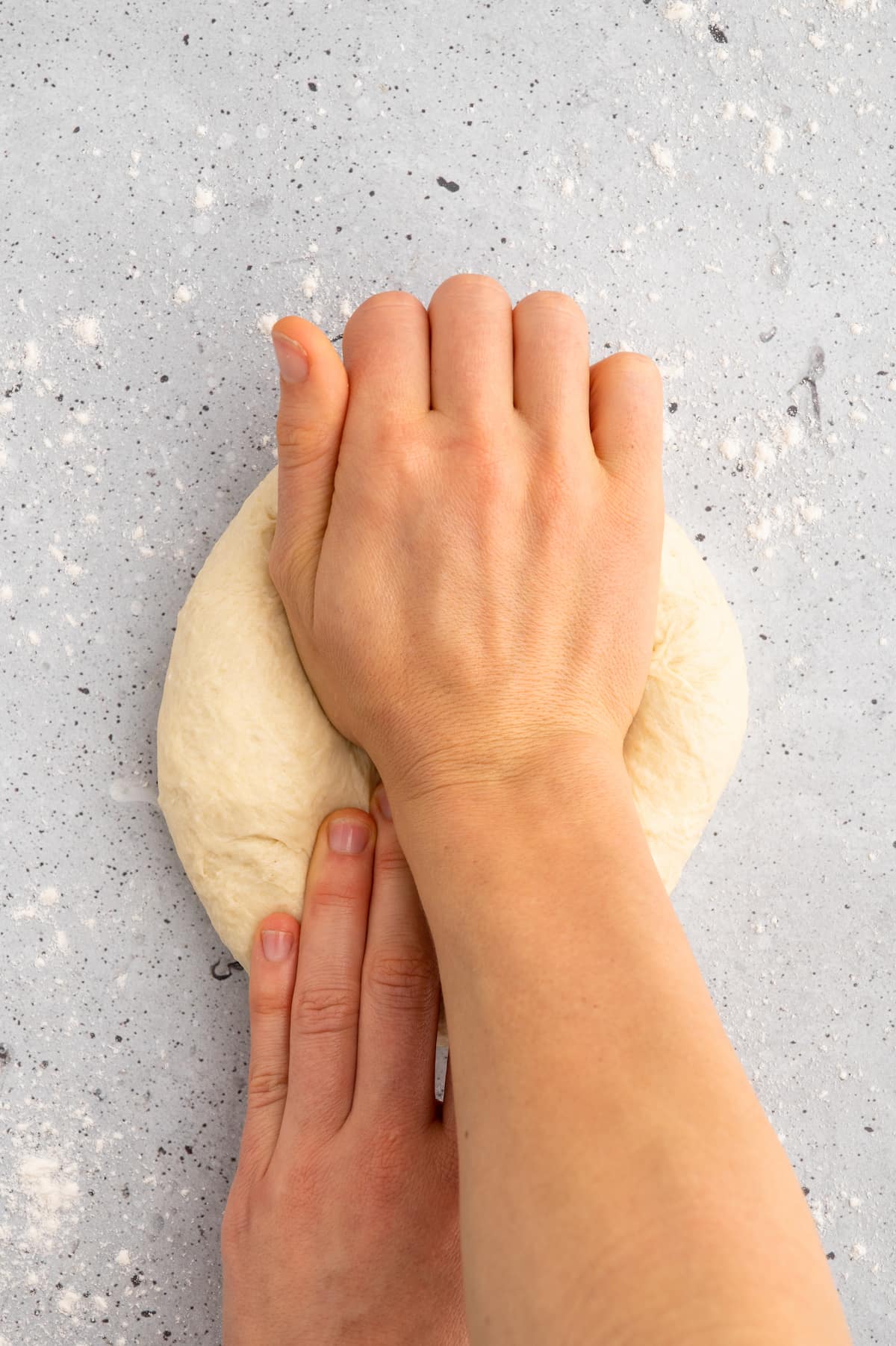 Make The Filling
While the dough chills, prep the filling. Boil potatoes until fork-tender, then mash with a little butter and salt. Sauté diced onions in vegan butter until caramelized.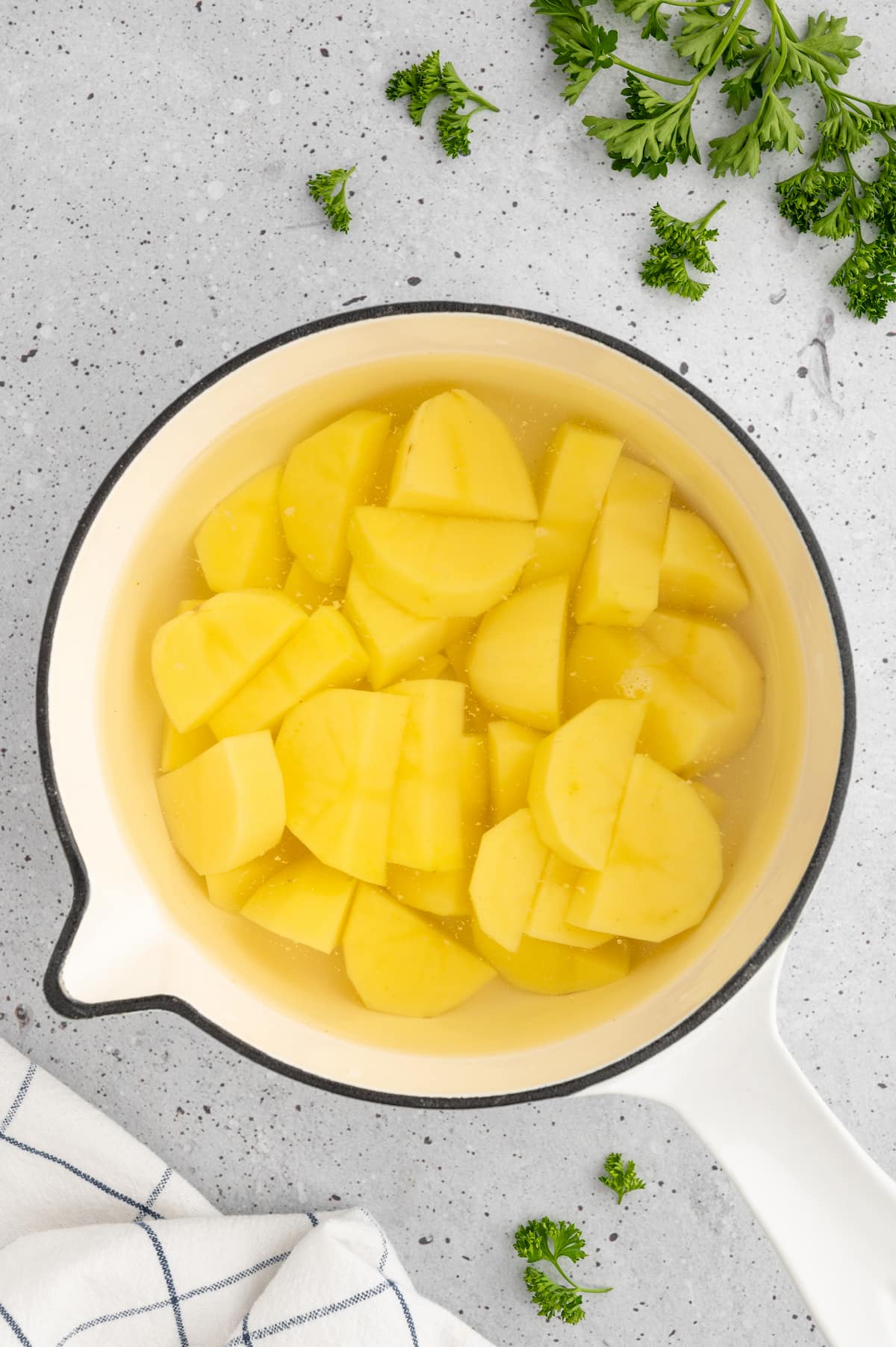 If using Creative Pea's BEEFFREE, rehydrate half a package according to instructions. Combine rehydrated BEEFFREE with onions, then mix with mashed potatoes.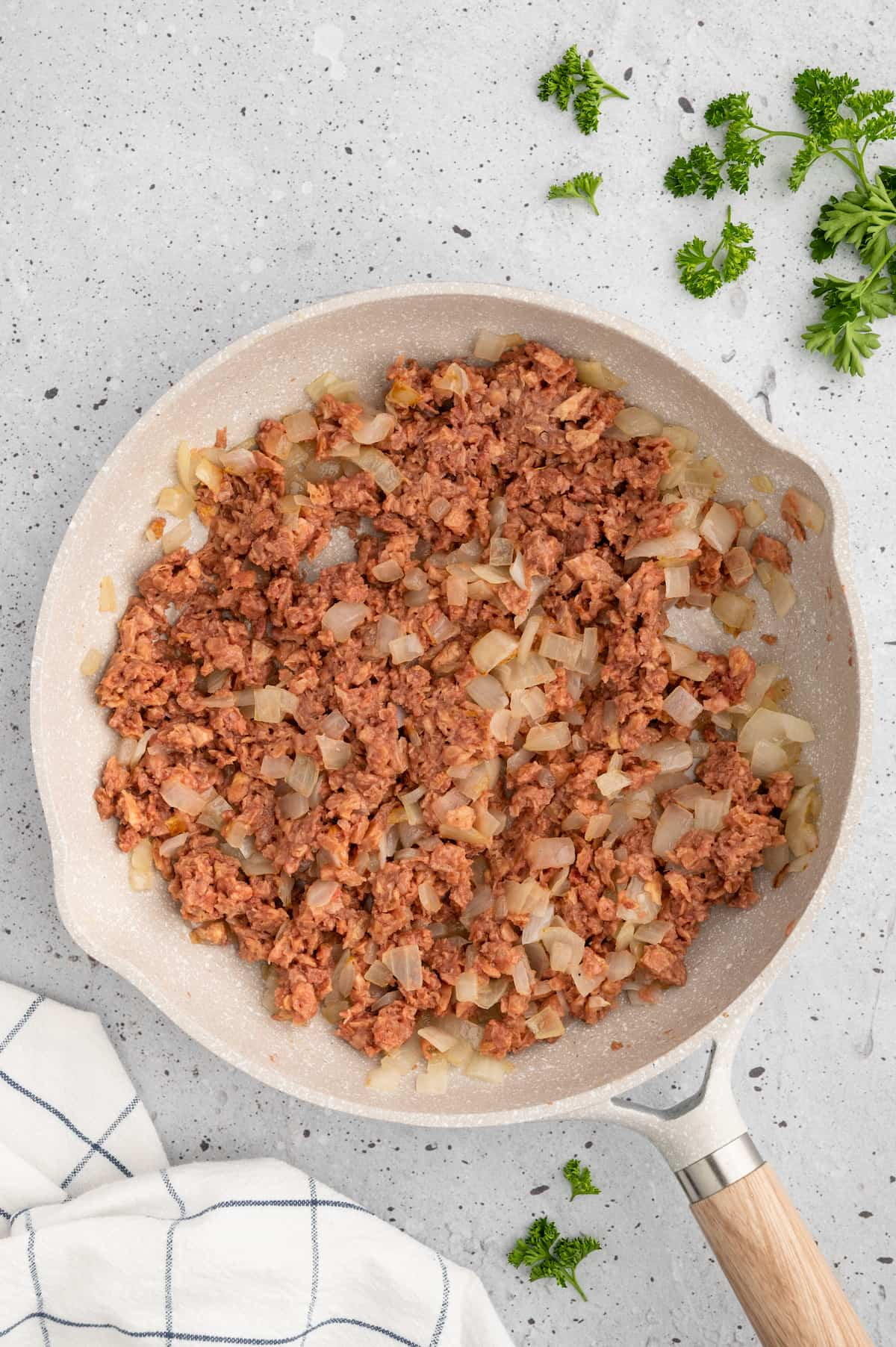 Assemble Knishes
Preheat oven to 375°F and line a baking sheet with parchment paper. Divide the dough in half and roll it out into two rectangles about 12-14 inches long and ⅛-inch thick. Fill each rectangle with a log of filling, careful not to overfill. Brush the long sides of the dough with an "egg wash," fold both sides of the dough over the filling, and seal. Slice into 6 equal pieces.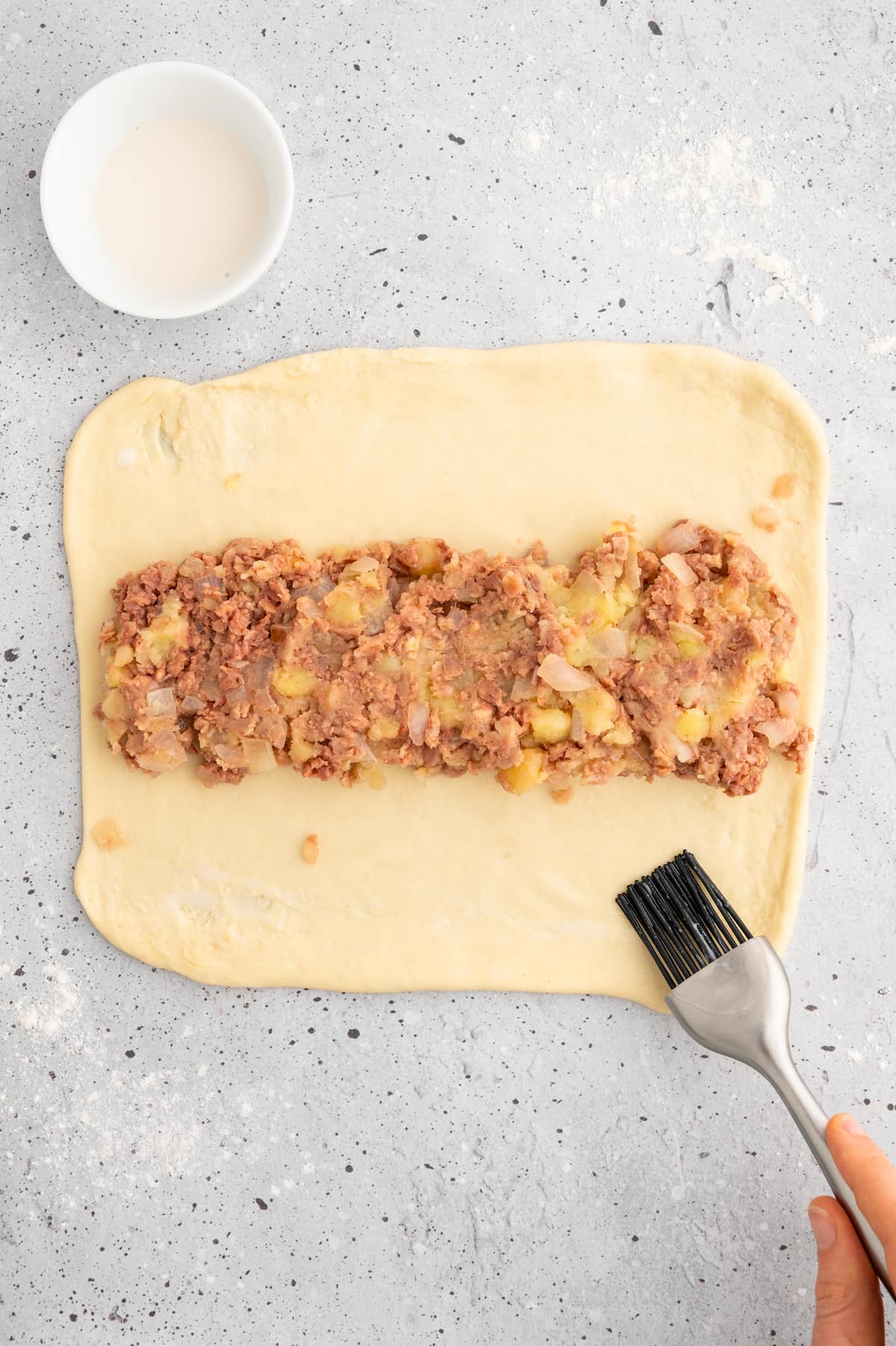 Shape pieces into round knishes by squishing down the top to create a squat ball and tucking everything into the center to form a round knish. Then, brush with an "egg wash" and bake for 25-30 minutes until golden. Cool for 5-10 minutes before serving. Enjoy hot, at room temperature, or chilled.
Serving Suggestions
Knishes can be enjoyed as a snack or made into a meal and can be served with a variety of sauces or sides. Traditionally, knishes are served with things like sauerkraut, horseradish, or spicy brown mustard sauce but there are so many other delicious ways to serve this tasty pastry.
Mixed Greens Salad: Balance the hearty knish with a light mixed greens salad dressed in vinaigrette. The freshness and crispness of the salad provide a refreshing contrast.
Soup: For a heartier meal, consider pairing your knish with a bowl of hot soup, such as a creamy tomato soup or a flavorful vegetable broth. The warm, soothing combination of knish and soup is sure to satisfy your appetite and warm your soul.
Roasted Vegetables: For a well-rounded meal, pair your knish with a medley of roasted vegetables. The caramelized flavors of the vegetables harmonize beautifully with the pastry.
Hot Sauce or Sriracha: For those who love a little heat, drizzle your knish with hot sauce or sriracha. The spicy kick adds an exciting dimension to each bite.
Fruit Preserves: If you're craving a sweet knish, consider serving it with fruit preserves like apricot, raspberry, or strawberry jam. The fruity sweetness can transform your knish into a dessert-like treat.
Hummus: Explore the fusion of cultures by enjoying your knish with a dollop of creamy hummus. The chickpea-based dip provides a Middle Eastern twist to this Eastern European delight. Try a creamy white bean hummus, vibrant pink beet hummus, or easy oil-free hummus to pair with this knish recipe.
Storage
Store the knishes in an airtight container and consume within 4-5 days for best quality. Knishes
can be reheated in the microwave, air fryer, or oven until warm, or enjoyed room temperature or
even cold.
Knishes can be frozen for longer storage. Simply place cooled knishes in an airtight resealable
freezer bag and freeze for up to 1 month. Thaw in the fridge overnight and reheat in the oven or
air fryer until warm.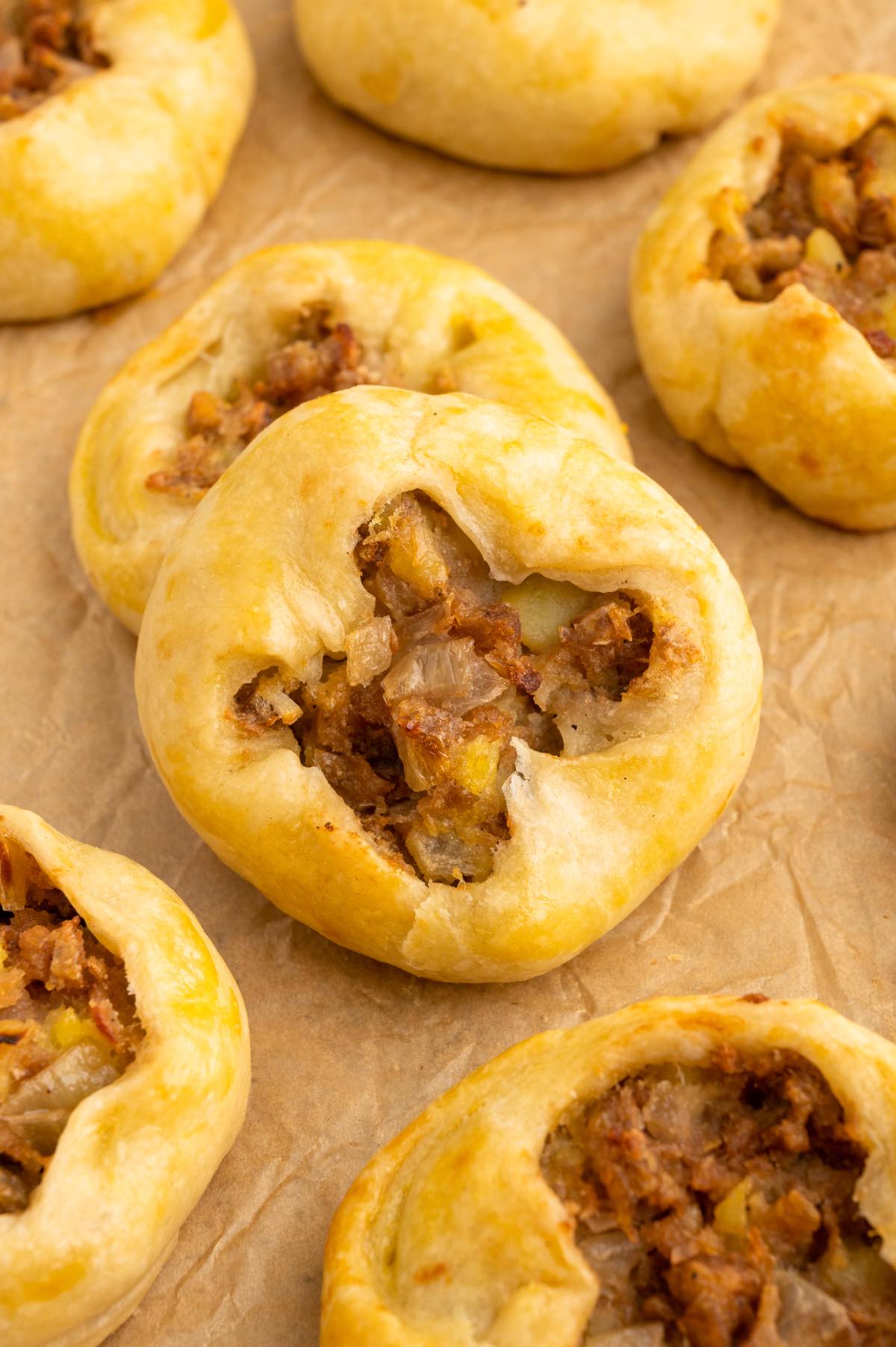 Knish Filling Variations
The beauty of knish is the ability to add a variety of delicious fillings to it! While the classic potato filling is a beloved staple, the dough is the perfect base to add whatever flavor you're craving, whether that's sweet or savory! Here are some of our favorites:
Kasha (Buckwheat) Knish: Kasha knish typically features buckwheat groats cooked with onions and mushrooms. The earthy and nutty taste of kasha pairs wonderfully with the pastry's buttery layers.
Sweet Potato Knish: For a sweeter twist on the classic, sweet potato knish offers a tasty alternative. The natural sweetness of roasted or mashed sweet potatoes, combined with a hint of cinnamon and nutmeg, gives this knish filling a unique twist reminiscent of sweet potato pie.
Meaty Knish: Ground beef and chicken are common knish fillings. We love using vegan ground beef from Creative Pea but any plant-based meat or ground meat substitute can work! For chicken, soy curls make a great alternative. Season with herbs and spices for a savory and satisfying option that can be enjoyed as a main dish or a hearty snack!
Mushroom and Onion Knish: Mushroom and onion knish features sautéed mushrooms, onions, and sometimes a touch of garlic. The umami-rich mushrooms and the sweetness of caramelized onions provide a robust and earthy flavor profile.
Cheese Knish: Cheese lovers can relish in a creamy, cheesy knish filling made with a combination of your favorite vegan cheeses like cheddar, mozzarella, or cream cheese.
Spicy Jalapeño and Black Beans Knish: For those who like a little heat, this knish filling includes diced jalapeños and hearty black beans. It offers a spicy kick that's sure to awaken your taste buds.
Cinnamon Apple Knish: Embrace the flavors of fall with a knish filled with sautéed cinnamon-spiced apples. It's like a mini apple pie wrapped in flaky pastry!
Nutella and Banana Knish: Are you a fan of Nutella? Fill a knish with the indulgent hazelnut spread, along with slices of ripe banana, to create a heavenly dessert option that's sure to satisfy your sweet cravings.
FAQ's
What is a knish made of?
A knish is typically made of a flaky pastry crust filled with various ingredients, with the most common filling being mashed potatoes seasoned with onions and sometimes other spices. However, there are many variations, including those with ingredients like kasha (buckwheat), sweet potatoes, sautéed mushrooms, cheese, and meat.
Can I make the dough without a food processor?
Yes, you can mix and knead the dough by hand. The food processor just saves some time but is not entirely necessary. To make the dough by hand, mix the dry ingredients making a well in the center. Add the water/vinegar mixture and then combine, mixing by hand, until the dough pulls together. Once a dough forms, turn dough out onto a lightly floured surface and knead until soft and elastic. Wrap in plastic wrap and allow it to rest for one hour. You can also use a blender if it has a pour spout for the oil, but it is easier to overwork the dough in a blender and you may need to scrape the sides with a rubber spatula.
More Comforting Jewish Recipes You'll Love
Rolling Pin

Potato Masher

Basting Brush
Dough
¾ cup water
1 teaspoon apple cider vinegar
2 ½ cups all-purpose flour, (300 g) + additional flour for kneading/rolling
1 teaspoon baking powder
1 teaspoon kosher salt
½ cup olive oil
Potatoes
1 pound Yukon gold potatoes, peeled and chopped (about 3 medium potatoes, 455 g)
2 tablespoon vegan butter
1 tablespoon kosher salt + ½ teaspoon kosher salt, divided
Filing
2 tablespoons vegan butter
½ medium brown onion, finely diced (155 g)
1 ½ cups vegan ground meat, we use ½ package of Creative Pea's BEEFFREE mix, rehydrated
1 teaspoon kosher salt
"Egg Wash"
¼ cup soy milk
1 teaspoon agave nectar, or 2 tablespoons melted vegan butter
Knish Dough:
Mix the water and vinegar in a small bowl and set aside.

Place the dry ingredients in a small bowl and stir to combine.

In a food processor, add the dry ingredients and the water/vinegar mixture and process until a dough forms, about 1 minute, scraping the sides if needed.

Drizzle the olive oil in while the processor is running, and process for about 1 minute or until the oil is fully worked into the dough. Avoid overmixing.

Lightly dust a clean, flat working surface with flour. Remove the dough from the food processor and place it on the surface and knead for about 2 minutes. If the dough is soft and sticky, add flour, one sprinkle at a time, and work the dough until you can form a ball.

Wrap the kneaded dough in plastic wrap and put in the fridge for 1 hour to chill.
Knish Filling:
While the dough is chilling, prepare the knish filling. Peel the potatoes and chop them into about 1-inch pieces. Put them in a large pot, cover with water, and add one tablespoon of kosher salt to the water. Bring the water to a rolling boil, then reduce the heat to maintain a gentle boil and cook for 15-20 minutes, or until the potatoes are easily pierced with a fork.

While the potatoes boil, finely dice the onion, and add to a skillet with 2 tablespoons of vegan butter over medium heat. Cook the onions over for about 10 minutes, or until tender and lightly caramelized, stirring frequently.

Add your vegan ground meat to the pan with the onions and sauté for about 2 minutes. Remove from heat and set aside.

Once the potatoes are finished cooking, drain them, and add them to a large mixing bowl.

Using a potato masher, mash the potatoes with 2 tablespoons of sliced vegan butter and the remaining ½ teaspoon of salt (or salt to taste). It is okay to leave some chunks of potatoes, they do not need to be smoothly mashed.

Add the cooked onion and "meat" mixture to the bowl with the potatoes and stir with a rubber spatula to combine.
Knish:
Preheat the oven to 375 F. Line a large baking sheet with parchment paper and set aside.

Halve the dough. Place the halves on a lightly floured working surface. Roll each out to a rectangle that is about 12-14 inches long and ⅛-inch thick.

Divide the filling in half and fill each rectangle of dough with a 2-inch thick log of filling that goes the length of the rectangle. Avoid over filling.

Bast the long edges of the dough with an "egg wash" and then fold both sides of the dough over the filling and seal. Repeat for both halves of dough.

Mark each log with the side of your hand, pressing down lightly and moving your hand back and forth, dividing it into 6 equal pieces, and then cut with a knife to separate.

Place each piece with one cut end facing down and the other facing up on the lined baking sheet, leaving 1 ½ inches between each knish. Squish down the top, creating a squat ball and tuck everything into the center to form a round knish.

Brush the tops of the knishes with "egg wash" and then place in the preheated oven to bake for 25-30 minutes, or until golden brown. Remove from the oven and allow to cool for 5-10 minutes before serving. Enjoy hot, room temperature, or cold.
How to prepare Creative Pea's Ground Meat: While the onions are cooking, rehydrate ½ of a package of Creative Pea's BEEFFREE (65 grams) according to instructions on the package. Shake the package well to distribute the seasonings. It can be helpful to use a kitchen scale to get precisely half of the package. To rehydrate half of a package you will need to mix the dry BEEFFREE mixture with about 2/3 cup (150 ml) of cold water and 2 ½ tablespoons (37.5 ml) of olive oil. Stir well and place in the fridge for 5-10 minutes.
Recipe Tips: 
The dough can be sticky when coming out of the food processor. Sprinkle it lightly with flour when kneading. Repeat several times if needed, until you are able to form a ball.
Vegan frozen puff pastry or even pie crust can be used as shortcuts in this recipe.
Allow the filling to cool slightly before filling the dough. It should be close to room temperature before it goes in the dough.
When rolling out the dough, aim for an even thickness throughout to achieve the most uniform knishes.
Calories: 264kcal | Carbohydrates: 28g | Protein: 8g | Fat: 13g | Saturated Fat: 2g | Polyunsaturated Fat: 2g | Monounsaturated Fat: 8g | Trans Fat: 1g | Sodium: 1095mg | Potassium: 202mg | Fiber: 2g | Sugar: 1g | Vitamin A: 21IU | Vitamin C: 8mg | Calcium: 41mg | Iron: 3mg