For avid bakers, dessert lovers, and especially chocoholics, a house is not a home without chocolate chips in the pantry. Although they're a relatively new food innovation invented in 1937, it's hard to imagine life without these sweet little morsels. But what's the scoop with vegan chocolate chips?
What was once a simple matter of choosing semi-sweet chocolate or nothing has blossomed into myriad flavors and shades of brown. While that diversity keeps fueling new dessert inspiration, it's trickier to know what is and isn't vegan.
Although there are certain ingredients in conventional chocolate chips that are not vegan, you'll be pleased to know that there are several fully vegan chocolate brands plus chocolate chip brands with vegan friendly options.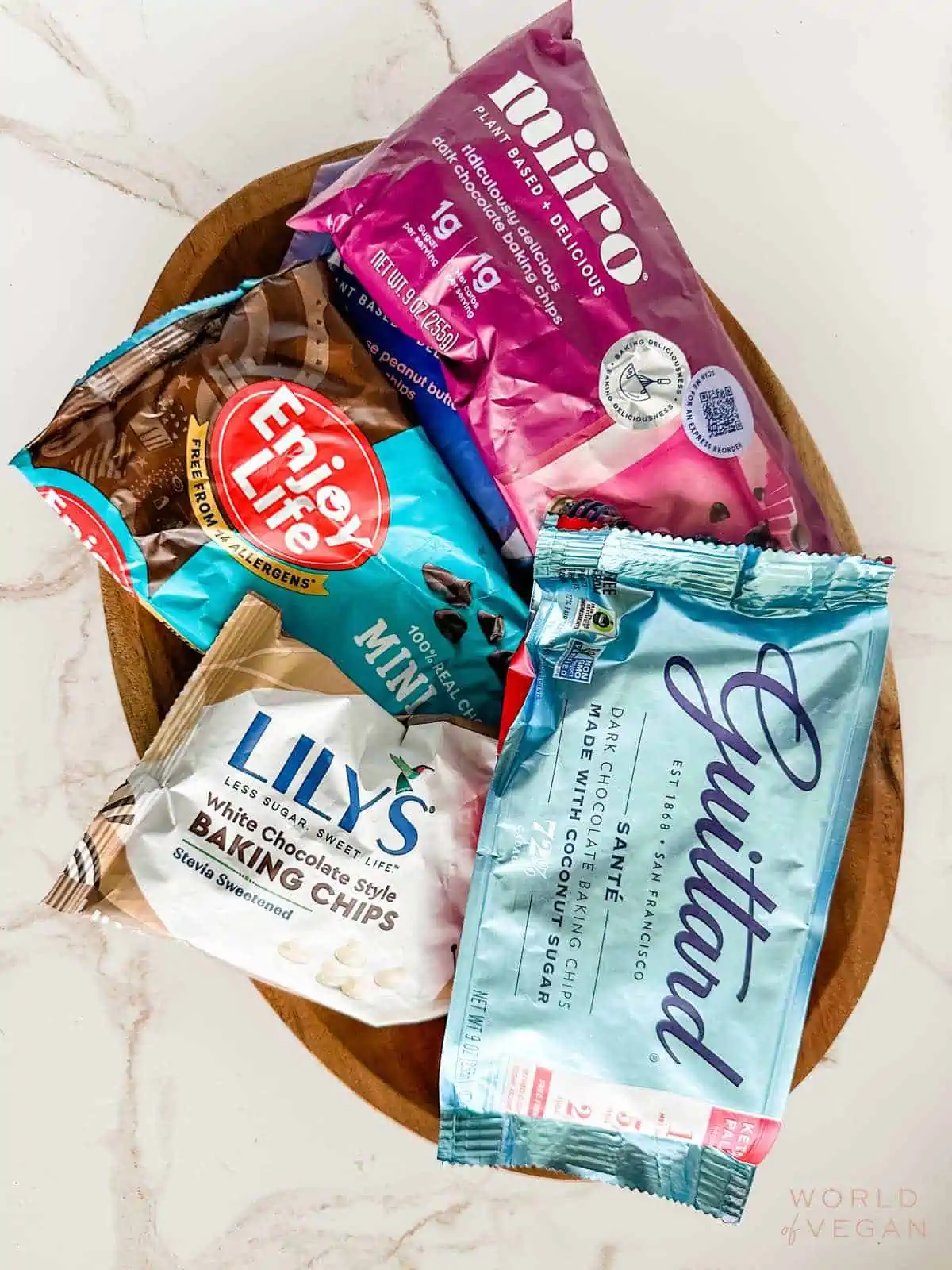 What To Look Out For In Vegan Chocolate Chips
Like chocolate bars, confections, and snacks, dairy is a common additive to watch for. It's a cheap filler and flavoring, turning up in some products that are labeled as "dark" chocolate, nonetheless. Read the complete guide to vegan chocolate for more insight on specific chocolate shopping do's and don'ts.
Many of these brands are even certified vegan! You can rest assured that you're supporting the top tier of ethical companies when you see various seals of approval boldly stamped on each bag. Official certification requires oversight and approval from a third party, such as Vegan Action (Vegan.org) to verify that there are no animal products involved in any part of the manufacturing process, there's no animal testing, and any production lines shared with non-vegan items are properly sanitized between use.
100% Vegan Chocolate Chip Brands
While many brands make vegan chocolate chip options, we love supporting fully brands when possible. And there are several fully vegan brands that make chocolate chips!
Enjoy Life (Certified Vegan)
Free of gluten and all top 14 allergens, Enjoy Life creates a wide range of ready-to-eat snacks and treats, along with chocolate chips to bake up your own. Those offerings include Semi-Sweet Mini Chips and Chunks, Dark Chocolate Morsels, Ricemilk Chocolate Morsels, and White Baking Mini Chips.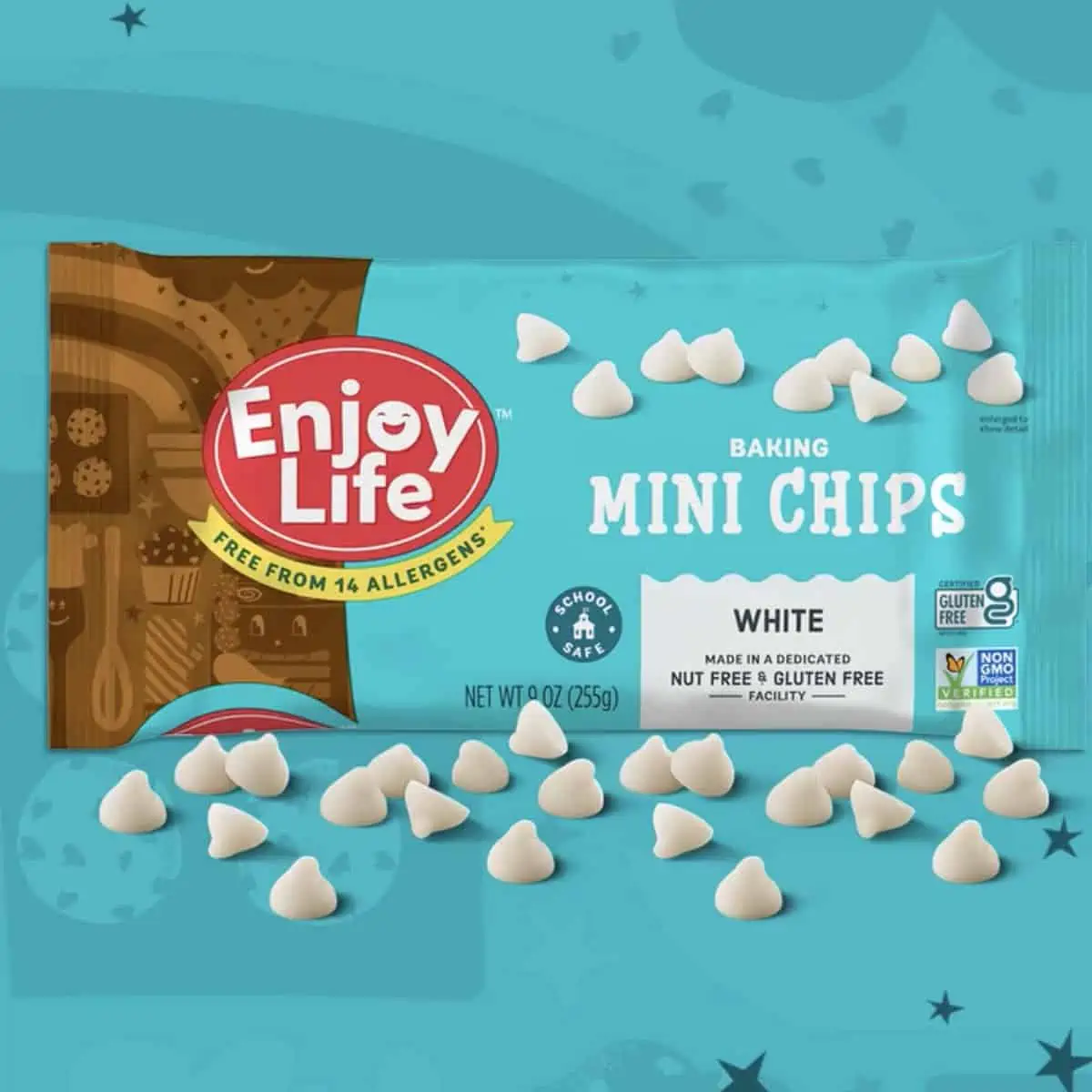 Pascha (Certified Vegan)
Made from fair trade, single origin, rainforest alliance certified beans, these morsels are better for you and the planet alike. They cover every possible craving with their gourmet baking chips, including 100% Cacao Unsweetened Dark Chocolate Baking Chips, 85% Cacao Bitter Sweet Chocolate Baking Chips, 70% Keto Sugar-Free Bitter Sweet Baking Chips, 55% Cacao Semi Sweet Chocolate Baking Chips, Vegan No Milk Baking Chips, and Vegan White Chocolate Baking Chips.
Select products are sold in mainstream grocery stories, and you can find their full range available for purchase online.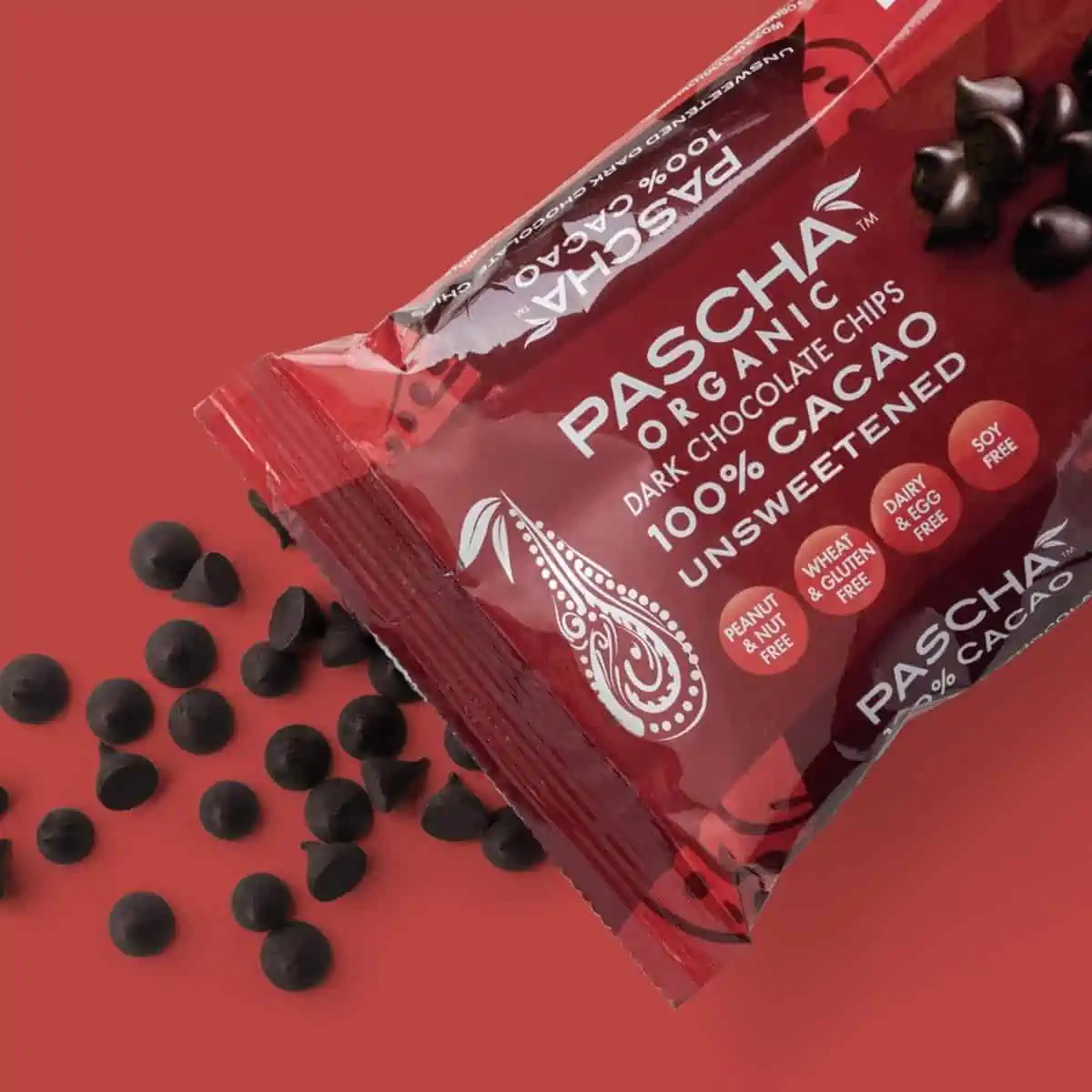 No Whey! Foods (Certified Vegan)
Specializing in seasonal treats like chocolate Easter bunnies and wintery peppermint bark, this dedicated dairy-free brand also offers small packages of Milkless Choco Morsels. These creamy chocolate drops are made in a facility free from the top 9 common food allergens and is gluten free.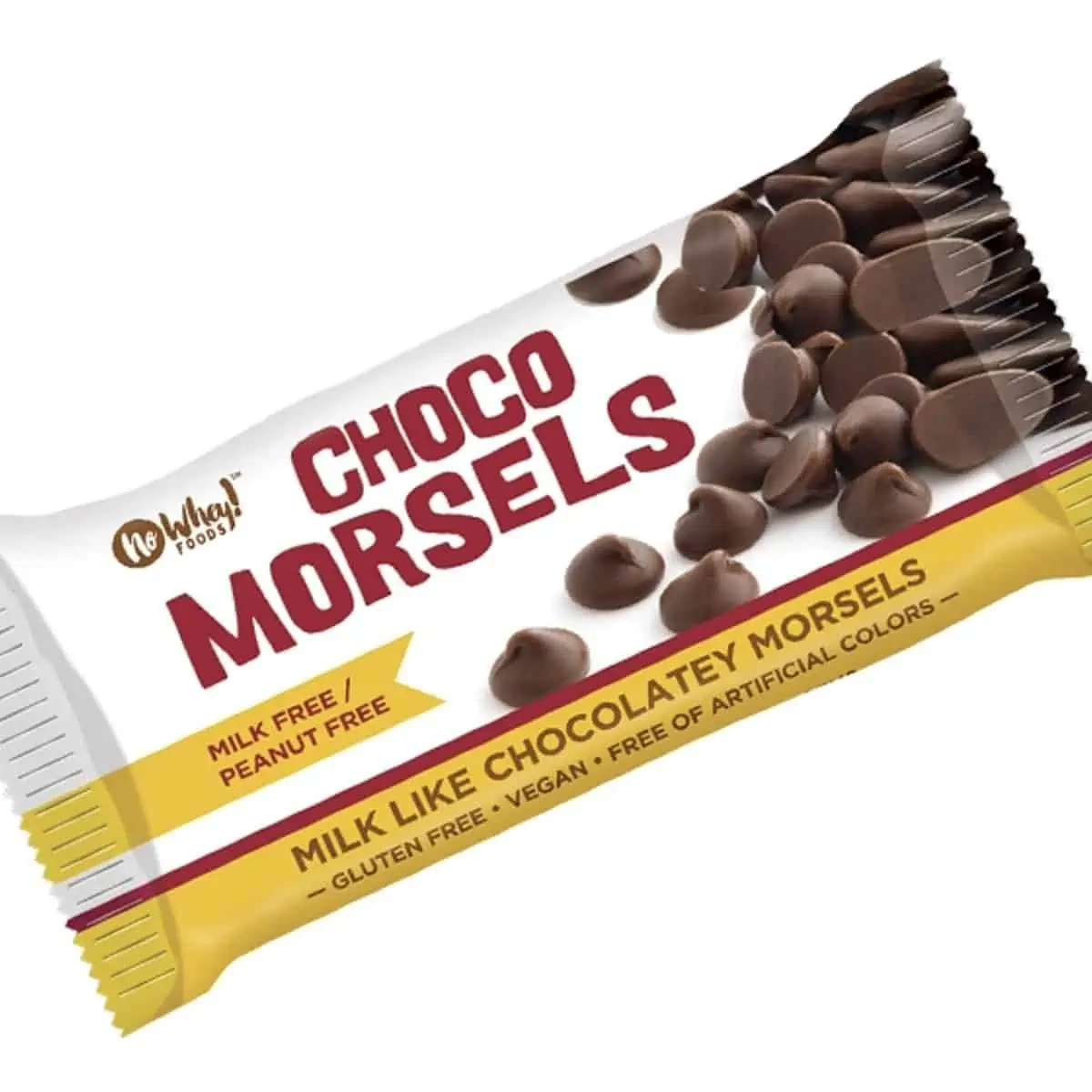 MiiRo
MiiRo stems from the Latin miro, meaning "to wonder" which will have you wondering why you haven't tried their delicious vegan chocolates sooner! All of their chocolates are low-sugar, low-carb and keto-friendly, plant-based, and incredibly decadent and delicious!
Chocolate Emporium
A renowned Cleveland-based chocolate shop that's dedicated to the art of crafting exquisite dark chocolates. They specialize in dairy-free, gluten-free, vegan, and Star-K certified kosher options.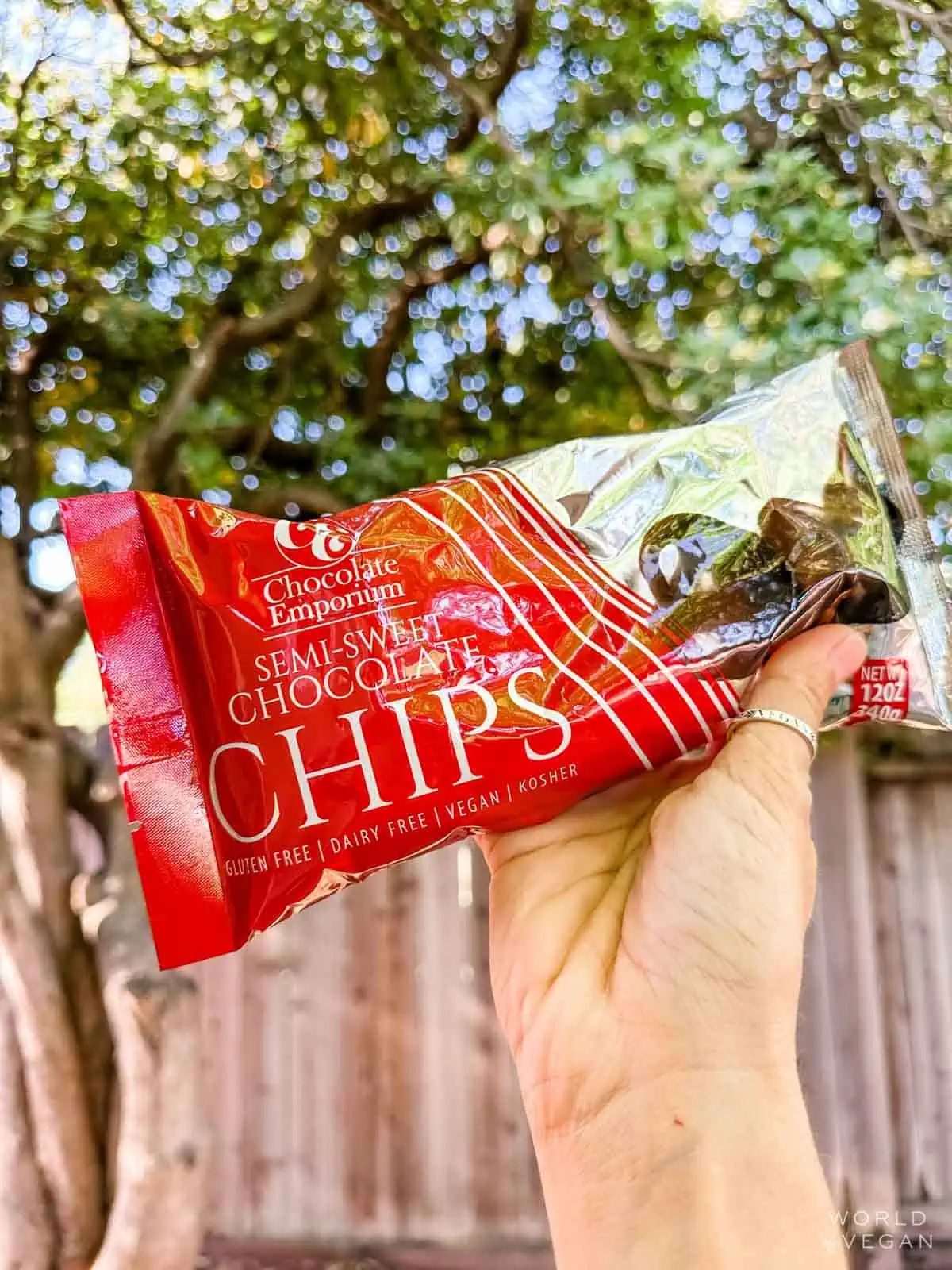 Brands with Vegan Chocolate Chip Options
You may not see the word "vegan" anywhere on the package, but these options include no animal products and are a relatively safe bet. If severe allergies are a consideration though, you're better off steering clear in case of trace ingredients
While there isn't the insignia from the vegan council to confirm their products are 100% vegan, these companies actively market to plant-based eaters based on their own commitment to transparency. Most of their products do contain animal products, so always shop carefully and check labels in case of formulation changes.
Equal Exchange
Purveyors of fair-trade chocolate, coffee, tea, and so much more, Equal Exchange takes great pains to support small farmer co-ops to support local economies. Their bestselling Organic Semi-Sweet Chocolate Chips in both 55% and 70% Cacao are perfect for ethical eaters of all stripes. They're fully organic, kosher, and free of the 8 major allergens.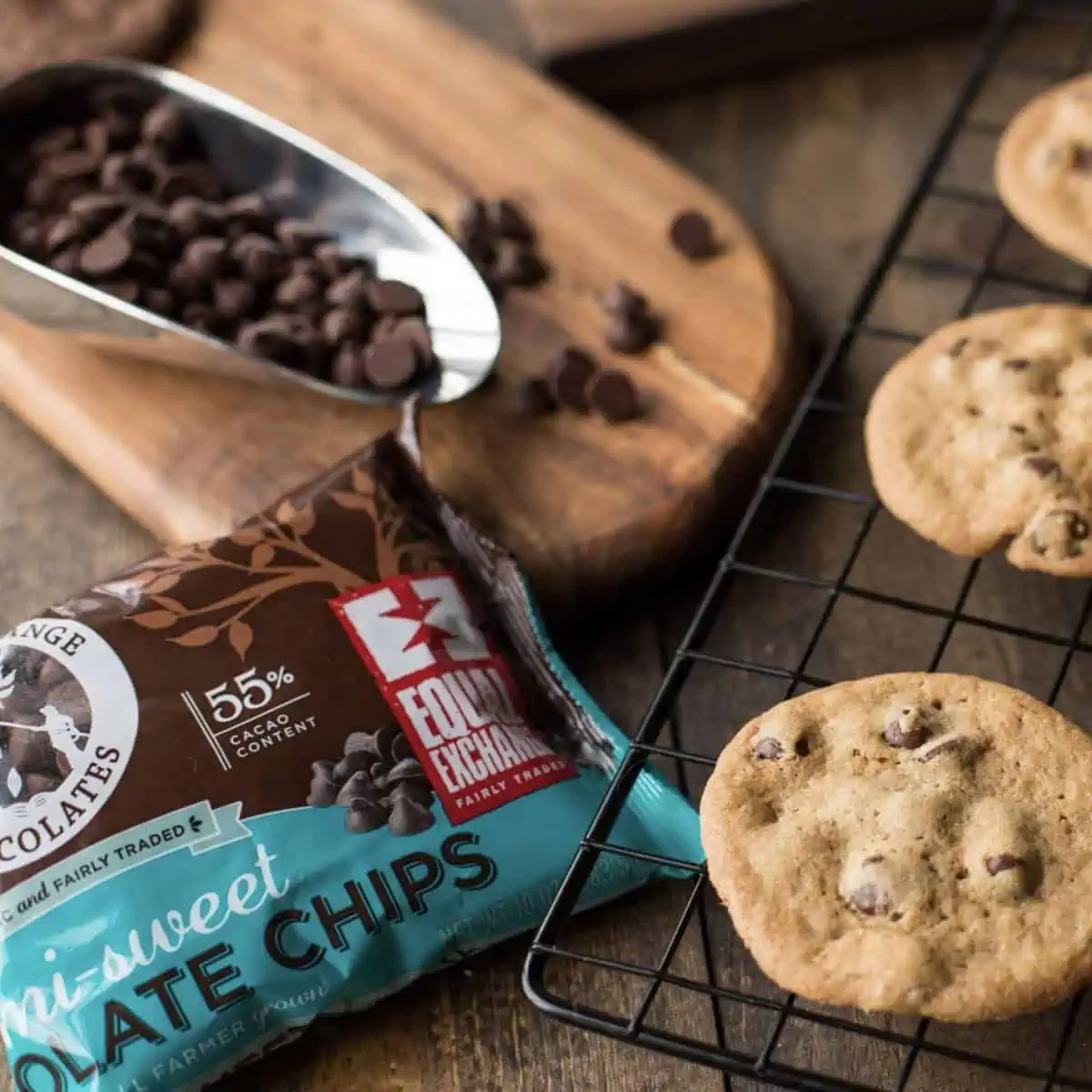 Guittard
Many of these chips appear to be vegan-friendly at a glance, but unfortunately, there's more than meets the eye. The company has confirmed that only their Organic 66% and 74% Baking Wafers are made with organic cane sugar that is not processed using bone char. All the rest, even if dairy free, are likely processed using animal products.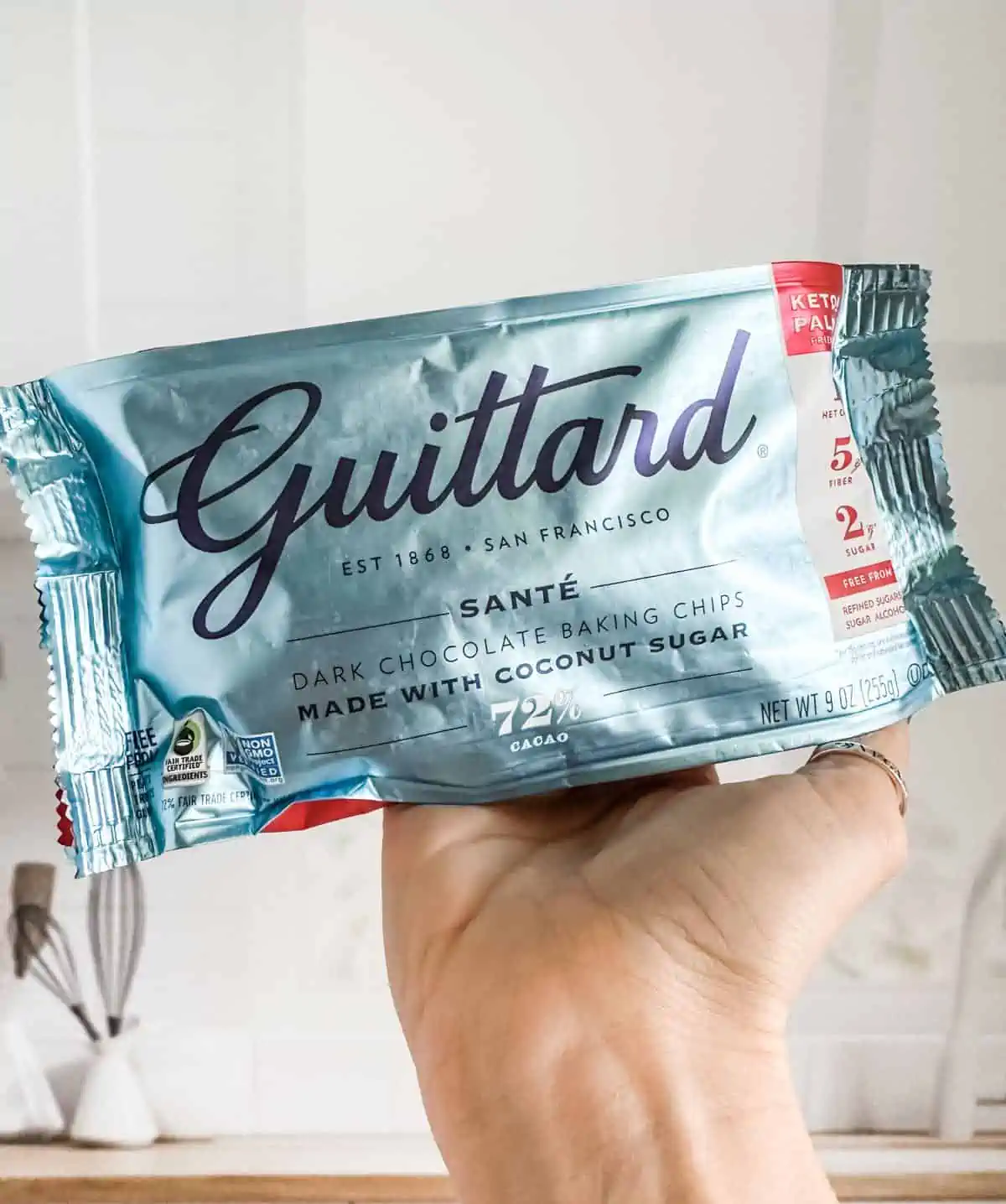 Toll House Allergen Morsels
The first and original makers of chocolate chips, Toll House finally released a line of dairy-free options only a few years ago, finally bringing that nostalgic favorite back into countless homes across the country. This includes Dark Chocolate Morsels, Semi-Sweet Chocolate Morsels, and White Morsels. Each one is formulated with a clean label, including only real chocolate, cocoa butter, and pure cane sugar.
Lily's
Best known for producing keto-friendly confections made with a blend of erythritol and stevia, these sugar-free chocolates offer a healthier indulgence without sacrificing flavor. When it comes to baking, only the 55% Dark Chocolate Baking Chips and 55% Dark Chocolate Keto Baking Chips are vegan. All the other chips contain dairy products.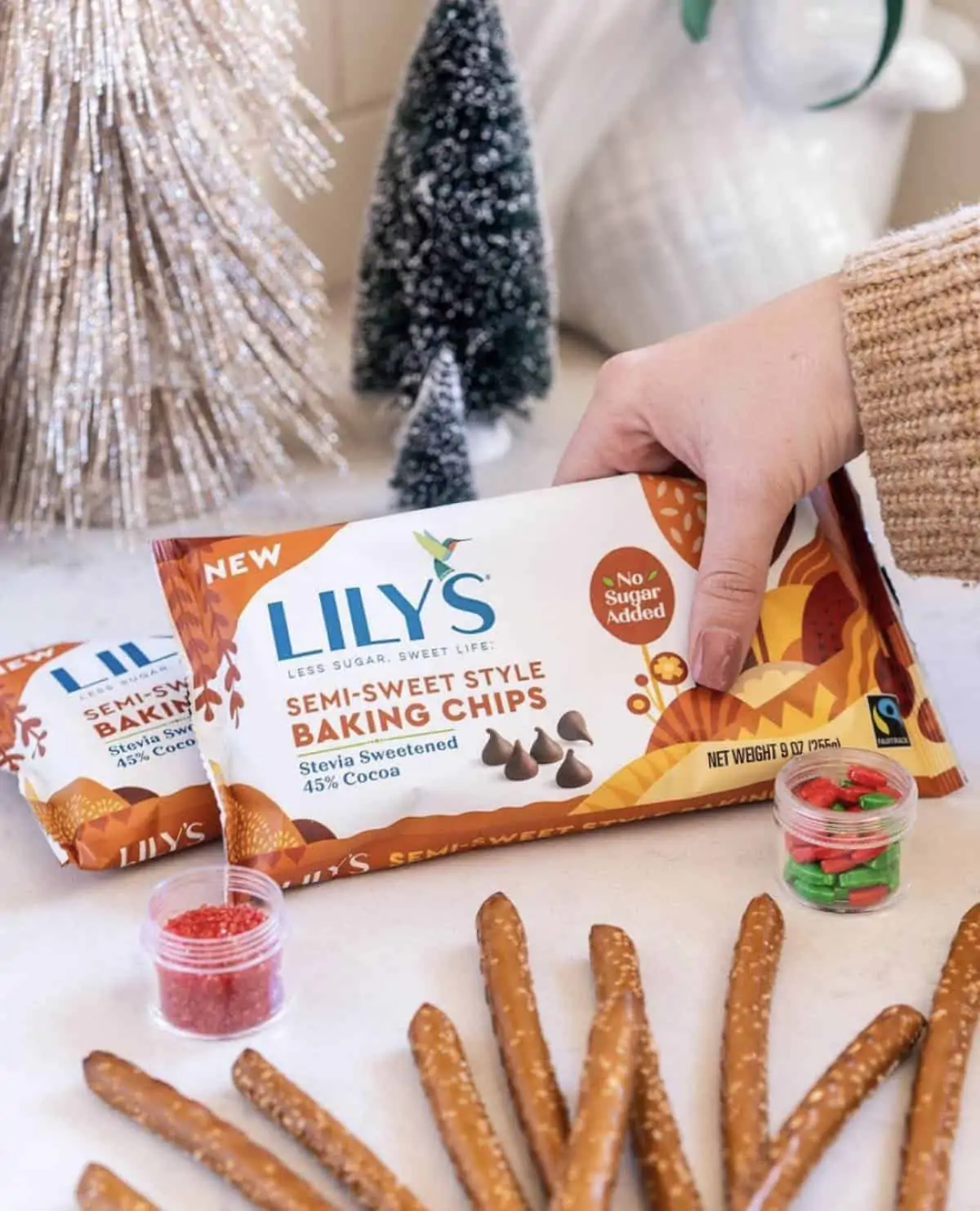 Hu Kitchen (Certified Vegan)
Standing apart from the pack with just one conventional baking chocolate option, Hu has No Added Sugar Keto Baking Chocolate Chips that are sweetened entirely by dates. If you want a bigger chunk, they also offer Snacking Gems in Original Dark Chocolate, Salty, and Mint flavor.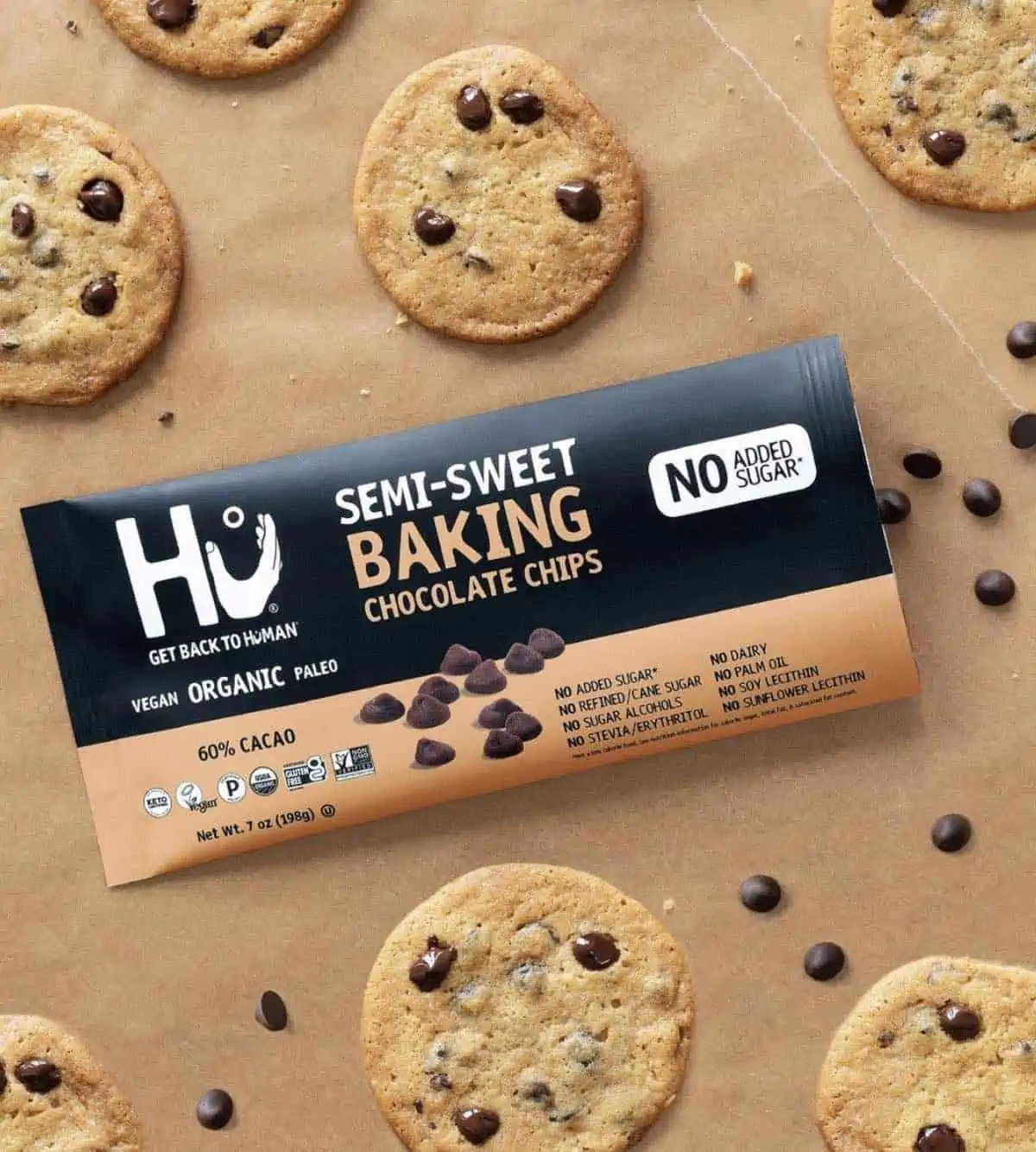 ChocZero
Focused on crafting zero sugar chocolate with zero sugar alcohols, monk fruit is the sweeter of choice for these premium chips. In addition to Dark Chocolate Chips, their Peanut Butter Chips are also vegan-friendly, which is a rare find when it comes to alternative flavored chips! Stock up online because this specialty isn't sold in stores.
365 by Whole Foods Market
The package of Organic Semi Sweet Chocolate Chips specifically notes that it's vegetarian and sodium-free, but appears to have no animal products, based on the short and sweet list of ingredients. The online listing does go further to list "vegan" as a key asset.
Trader Joe's Semi-Sweet Chocolate Chips
A lifesaver for bakers on a budget, these Semi-Sweet Chocolate Chips are some of the cheapest, tastiest, vegan options around. They're available all year round, unlike many of their other limited time and seasonal offerings.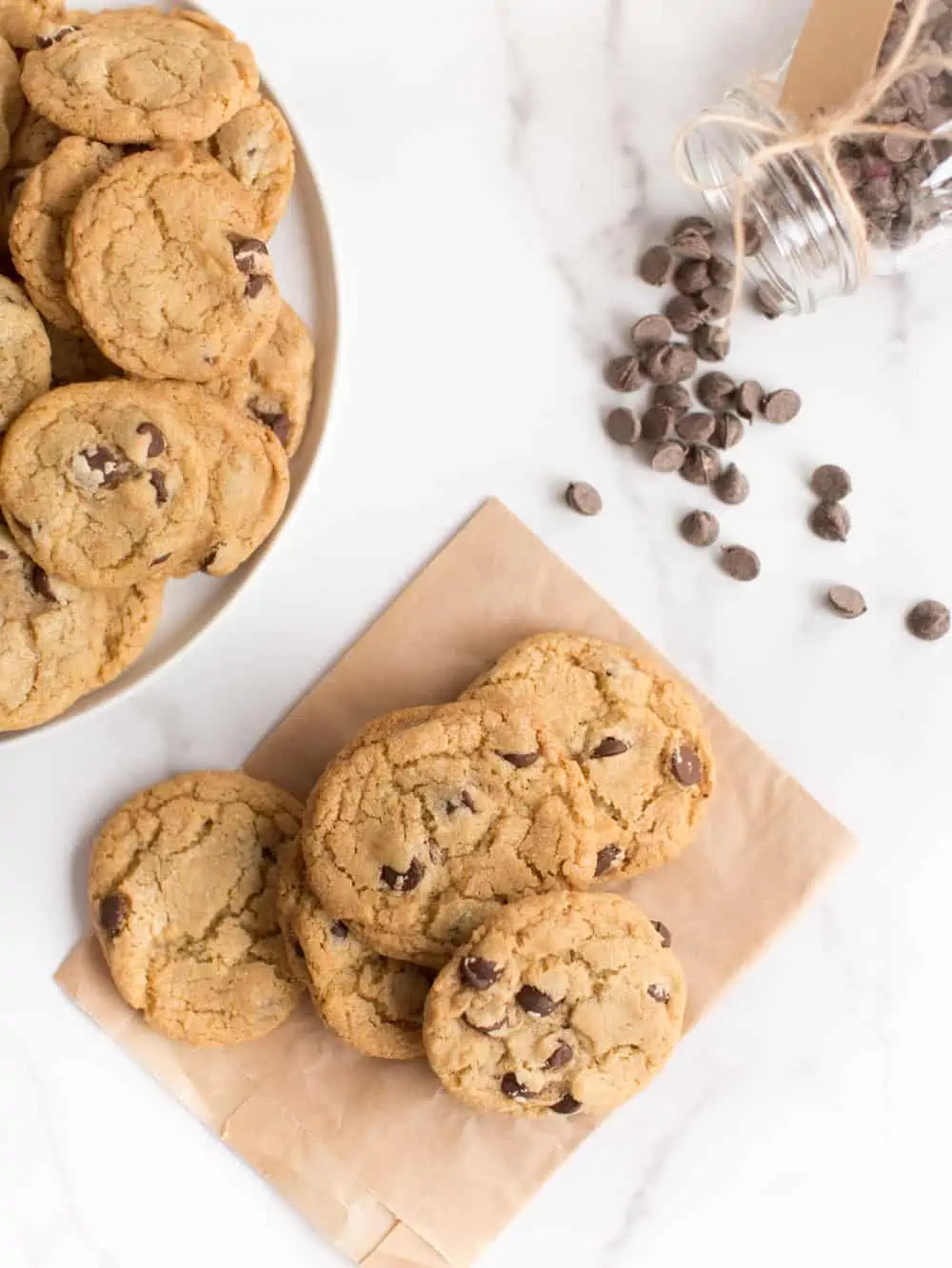 Homemade Chocolate Chips And Chunks
If you reach into the pantry and find your supply of chocolate has vanished, don't panic! You can easily make your own vegan chocolate chips from scratch. In addition to being a fun project for avid DIY-fans, it's an excellent way to reduce or eliminate added sugars and adapt the results specifically to your tastes.
Homemade Chocolate with Cocoa Butter calls for the liquid sweetener of your choice, leaving options open for suiting vegan, low-carb, keto and/or paleo diets.
Homemade Chocolate Chunks use coconut oil for the base, which creates a creamy, melt-in-your-mouth texture. You can pour the liquid mixture into molds if you'd like to make conventional triangular chip shapes or bars.
Homemade Two-Ingredient Chocolate Chips take bitter, unsweetened baking chocolate and transform it into a snackable treat. An alternative sweetener is ideal for cutting out the excess sugar while still satisfying your sweet tooth.
Best Recipes Using Chocolate Chips