Tortillas are the foundation of Mexican cuisine. Burritos and tacos get a lot of love, but let's not forget the incredible range of dishes that these humble flat breads support. Everything from crispy taquitos and tostadas to tender scrambled migas and cozy tortilla soup needs a tall stack of this perennial staple to take shape.
There are entire aisles dedicated to tortillas in some grocery stores, shelves overflowing with options in every shape, size, and color. It can be an overwhelming experience when you just want to know one thing: Are tortillas vegan?
What Are Tortillas?
Defined as simply a thin round of unleavened bread made from cornmeal or wheat flour bread, which can be eaten hot or cold, tortillas were first made by the indigenous peoples of Mesoamerica as early as 500 BCE. They're often used to wrap up or sandwich savory fillings but can also be used for desserts, or fried and eaten solo as chips.
Most tortillas are sold at room temperature and can be kept at home in the same way but will last longer if refrigerated or frozen for long term storage. Even stale tortillas are still useful in many recipes though!
Different Types Of Tortillas
There are two categories that all tortillas fall under: Corn or flour. Those are umbrella terms that contain a multitude of variations on those themes.
Corn Tortillas
Corn is the original base for the earliest tortillas. The process starts with whole dried corn, which is boiled with calcium hydroxide, softening the kernels and makes their nutrients more bioavailable (AKA, easier to absorb.) This is known as nixtamalization.
Then, the corn is finely ground to create a soft dough called masa, which is an essential building block for many other Mexican dishes. In this case, the masa is rolled into small balls and pressed flat before being cooked briefly on a hot griddle.
The most common types of corn tortillas are:
White corn
Blue corn
Crunchy or hard taco shells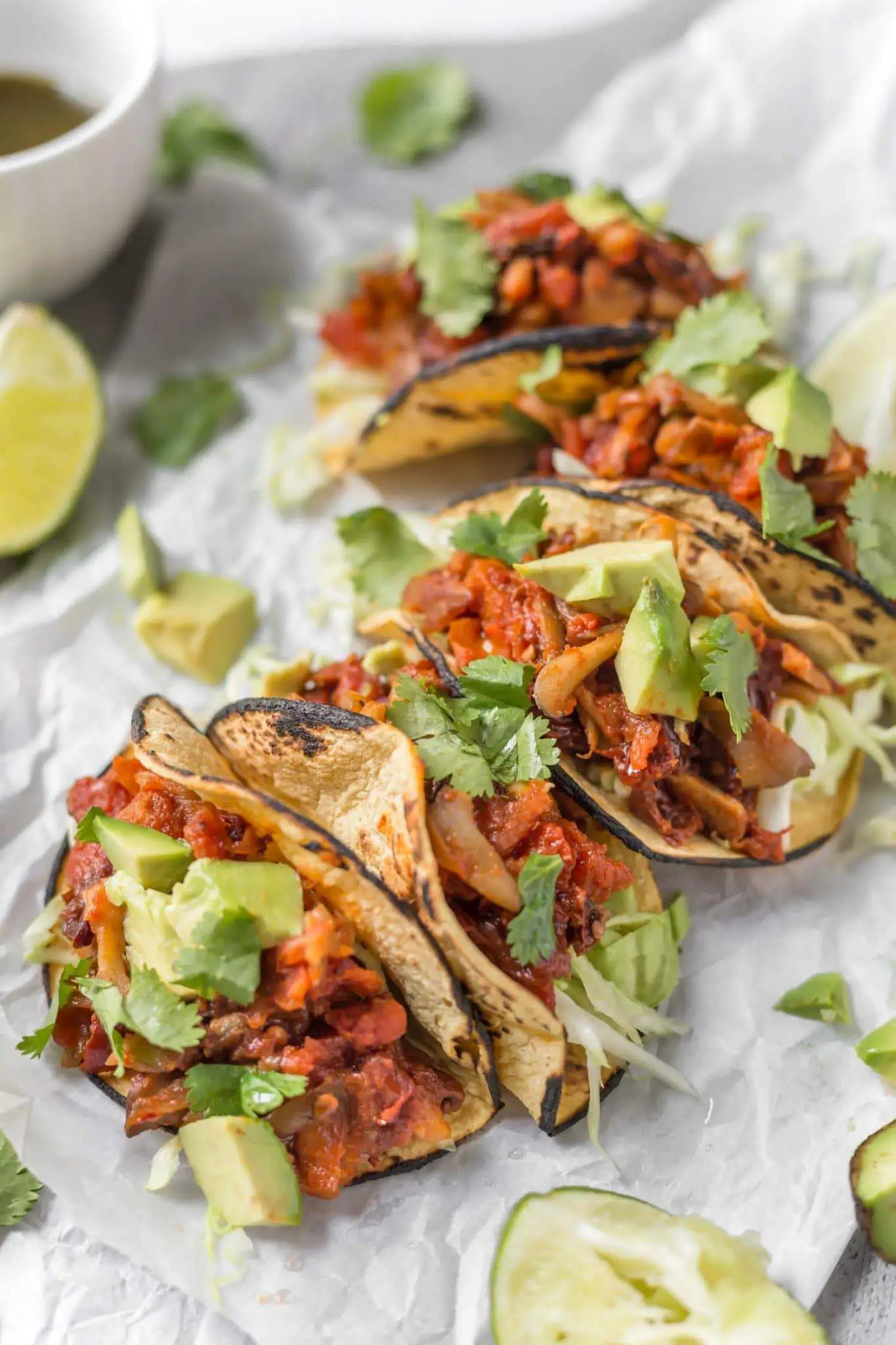 Flour Tortillas
Thicker and more resilient wheat flour tortillas tend to be favored by Spaniards and Texans in particular. This opens the door to a bold new world of flavors and flours, too. Here's what you can expect to find in stores:
White flour
Whole wheat flour
Gluten-free flour
Flavored, such as spinach, tomato, chipotle, etc.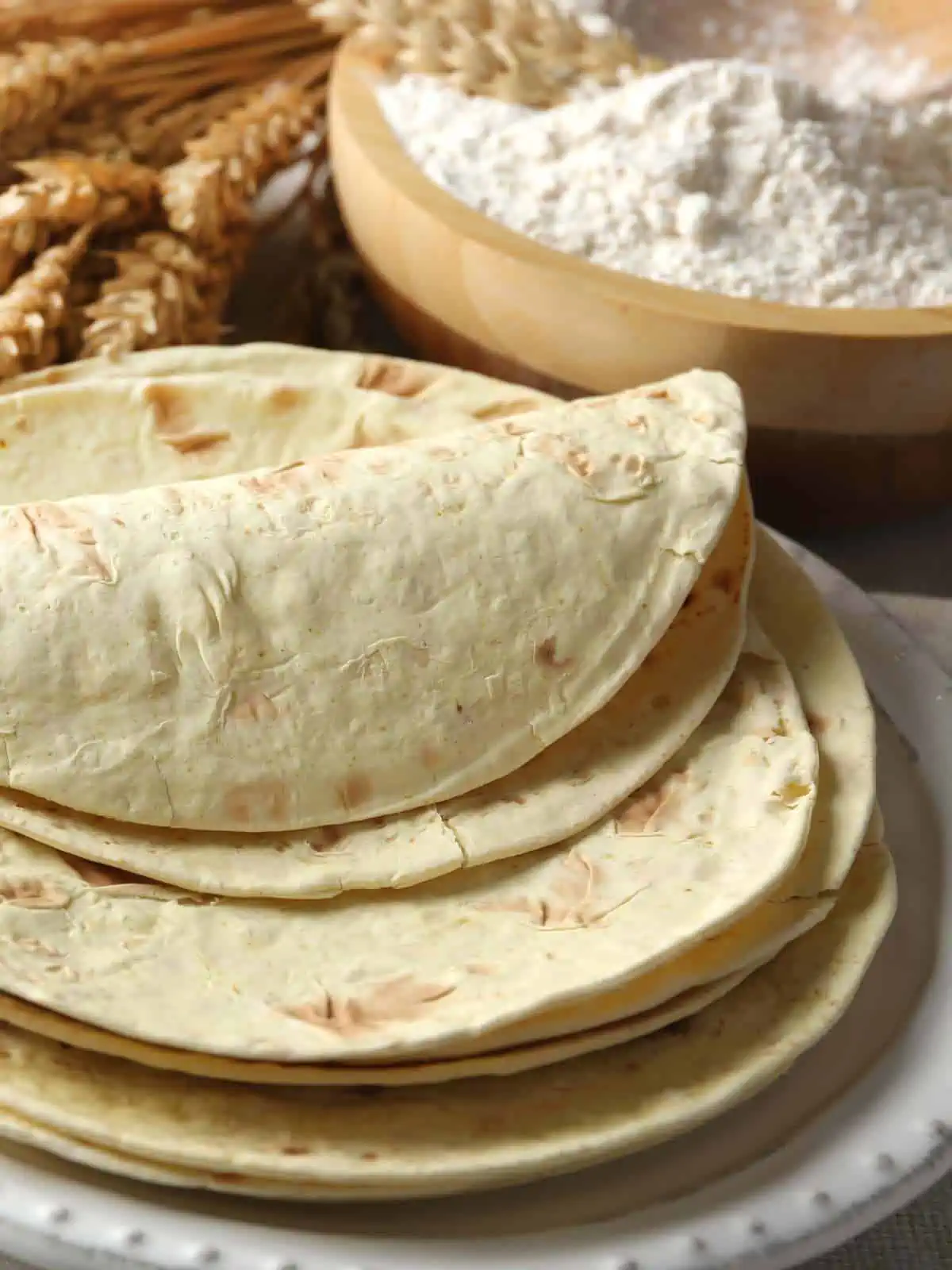 50/50 Tortillas
Get the best of the worlds by combining equal parts flavorful, toasted corn with sturdy yet flexible wheat. Just as you might imagine, these tortillas are made with half cornmeal and half wheat flour.
Ingredients To Look Out For That Are Not Vegan-Friendly
The best vegan tortillas should have a short list of ingredients to read through. However, it's becoming increasingly complicated with modern manufacturing introducing additives meant to improve textures and extend shelf life. These are the primary problem ingredients to avoid to ensure your meals are 100% plant-based:
Lard: Lard is the biggest potential offender in tortillas. It was the most abundant, affordable cooking fat for centuries, and some people don't consider tortillas to be "authentic" without it.
Butter: Though less common, some swap lard for butter to make wheat tortillas with a richer, more decadent flavor.
Buttermilk: Only seen in flour tortillas, buttermilk or buttermilk powder is sometimes added for a softer, more pliable texture and richer flavor.
Egg: Low-carb, gluten-free, paleo, and keto tortillas may use eggs or egg whites (also potentially listed as albumin) as a binder to hold together otherwise crumbly doughs.
Cheese: Only a concern in tortillas with special novelty flavors, you might occasionally find some with cheddar or pepper jack mixed right into the dough.
Vegan Tortilla Brands
Most mainstream tortilla brands currently on the market are either explicitly or "accidentally" vegan. Formulations can change at any time, so always check the labels to confirm. Here are your best bets for the best plant-based tortillas:
Siete Foods
La Tortilla Factory
Toufayan
Food for Life
Rudi's
Mission
Old El Paso
And many more!
Let us know in the comments if you have a favorite vegan tortilla brand!
Vegan Recipes with Tortillas
Now that we know which tortillas are vegan-friendly, it's time to cook up something delicious! Here are some incredible ways to serve up those vegan tortillas:
This vegan tortilla guide was written with support from Hannah Kaminsky and edited by Rachel Lessenden.