With Cinco de Mayo just around the corner, there is no shortage of yummy vegan recipes to help you celebrate. When you think of Mexican food, "healthy" may not be the first thing to come to mind. But have no fear, Mexican food can be delicious and nutritious!
Many traditional Mexican dishes are plant-based, emphasizing ingredients like corn, beans, and fresh tomato salsas. Without the addition of lard, cheese, and sour cream, Mexican food is naturally loaded with nutrients like fiber, protein, and vitamins and minerals.
Cinco de Mayo Recipes to Sink Your Teeth Into
Here are 5 delectable vegan Cinco de Mayo recipes to help you celebrate in a nourishing way:
1. Mexican Bowl from Keepin' It Kind
If it's possible to fit everything delicious into one bowl, this is it. With a foundation of nutrient-packed whole grains and dark leafy greens, you know this bowl is going to be ultra satisfying. It's layered with zesty beans, fresh tomato, corn & zucchini salad, guacamole, and creamy cashew cheese. Oh and pumpkin seeds for an added nutritional bonus and crunchy kick!
If you've never tried making a cheese or sauce out of cashews, you've got to try it! Cashews are incredibly versatile and are a nutritious way to add delicious creaminess to your meals.
2. Vegan Breakfast Tacos from Minimalist Baker
These easy tacos can double as breakfast or lunch and are loaded with protein thanks to a spicy tofu scramble and black beans. They include the usual suspects of corn, avocado, and cilantro and also add a juicy, fruity flair with pomegranate!
These puppies are chock-full of fiber and protein and include some healthy fat, making them an excellent breakfast to help fuel your day and keep you full until lunchtime.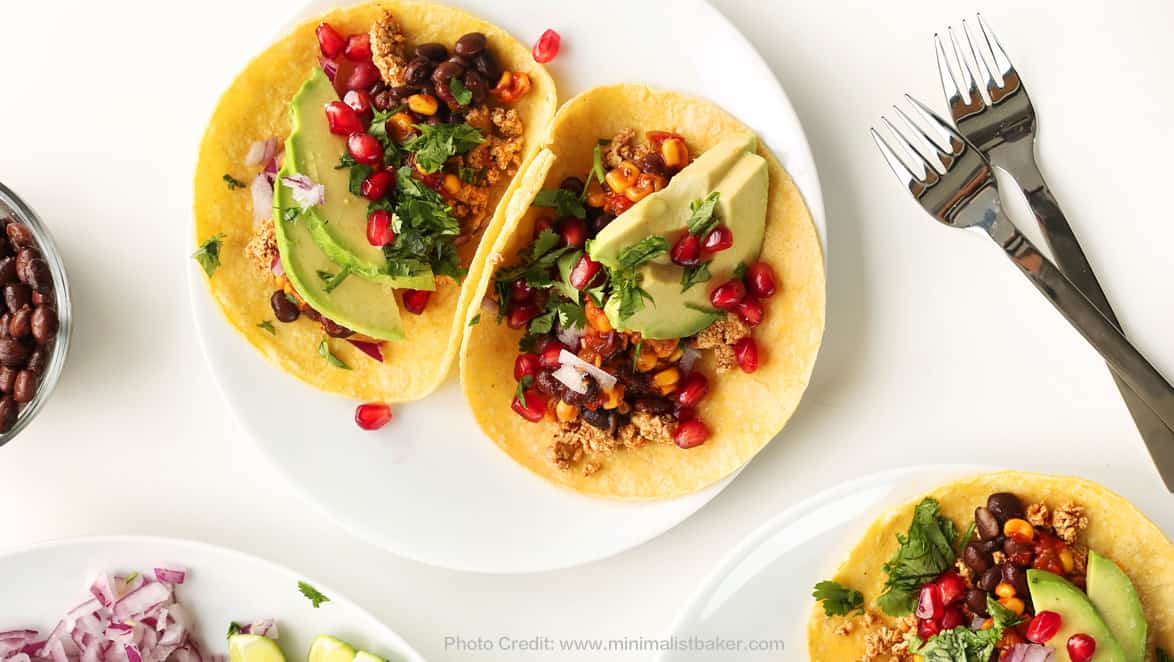 3. Black Bean Mango Quinoa Salad from Hell Yeah It's Vegan
I've never met a quinoa salad I didn't like, and this one will get your taste buds ready for summer with mango, cucumber, and black beans. This recipe is so simply delicious it doesn't even require a sauce, the natural juices from the mango and lime offer up plenty of fresh flavor.
Quinoa salads are super easy to make and are a great grab-and-go option for snacks and lunches. It's fun to experiment by mix-and-matching various veggies, legumes, and sauces. Mexican-style salads with cilantro are scrumptious as well as Indian-style versions with curry. Shredded cabbage, sliced bell peppers, and chopped greens are some of my favorite additions.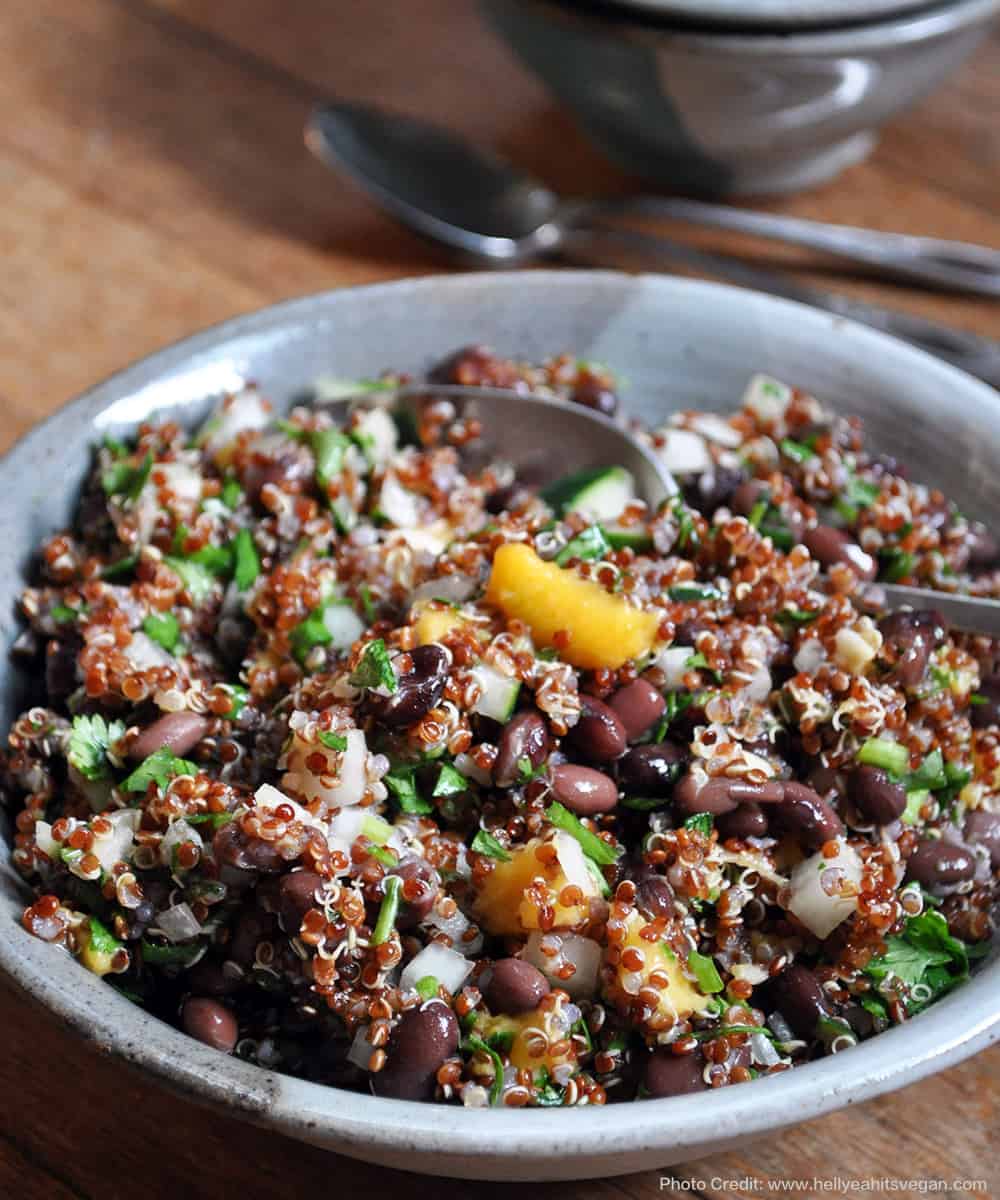 4. Vegan Enchiladas from One Ingredient Chef
Seeing a theme with the ingredients of beans, veggies, and corn tortillas? That's because they're just so good and can be combined in countless to create delicious meals! Most enchiladas you'll find on restaurant menus are smothered in cheese and loaded with greasy meat! But these vegan enchiladas are completely dairy-free and filled with fresh veggies. Add a homemade sauce and these plant-based enchiladas make an ultra healthy alternative to what you may find in the freezer section of the grocery store.
Making meals from scratch also lets you control two ingredients that are often overused in restaurants and commercial food: oil and salt. When you make your own meals, you're the boss! These recipes can easily be modified by using more or less of many of the ingredients as you please.
5. Mexican Chocomole from Choosing Raw
It may be hard to believe something that tastes this rich includes no dairy whatsoever! In fact, it's raw, gluten-free, and soy-free. Creamy avocado and sweet dates provide the base for this zesty dessert. Cinnamon and chili kick this up from a standard chocolaty pudding to a distinctive dessert worthy of a fiesta.
This is one of those dump-everything-in-the-blender-and-go recipes making it super simple. Keeping plant-based ingredients on hand means you'll always have what you need to whip up a creamy treat in a matter of seconds.
Now you're covered with vegan recipes to celebrate Cinco de Mayo from breakfast to dessert! If you think it wouldn't be a fiesta without a margarita, you're in luck. The Healthy Voyager created this video to show you how to make a refreshing skinny cucumber dill margarita!
More Mouthwatering Mexican Dishes to Try:
Cinco de Mayo recipe roundup by Taylor Wolfram. Article edited by Amanda Meth. Please note that this article may contain affiliate links which supports our work at World of Vegan.