If you're looking for a delicious and sustainable way to satisfy your constant taco cravings, look no further than these vegan fish tacos! Packed with flavor and creativity, these plant-based tacos are a game-changer for anyone who loves the taste of seafood but wants to avoid harming marine life. From crispy fillings to zesty toppings, get ready to fall hook, line, and sinker for these scrumptious tacos.
What really sets these tacos apart is the fantastically fresh toppings that are added on top. From crispy slaw to creamy avocado, juicy mango to tangy salsa, the plant-based possibilities are endless. Plus, you can feel good about indulging in this delicious dish without harming any sentient sea creatures in the process.
So go ahead, grab a taco (or three) and get ready for a fish-free flavor explosion!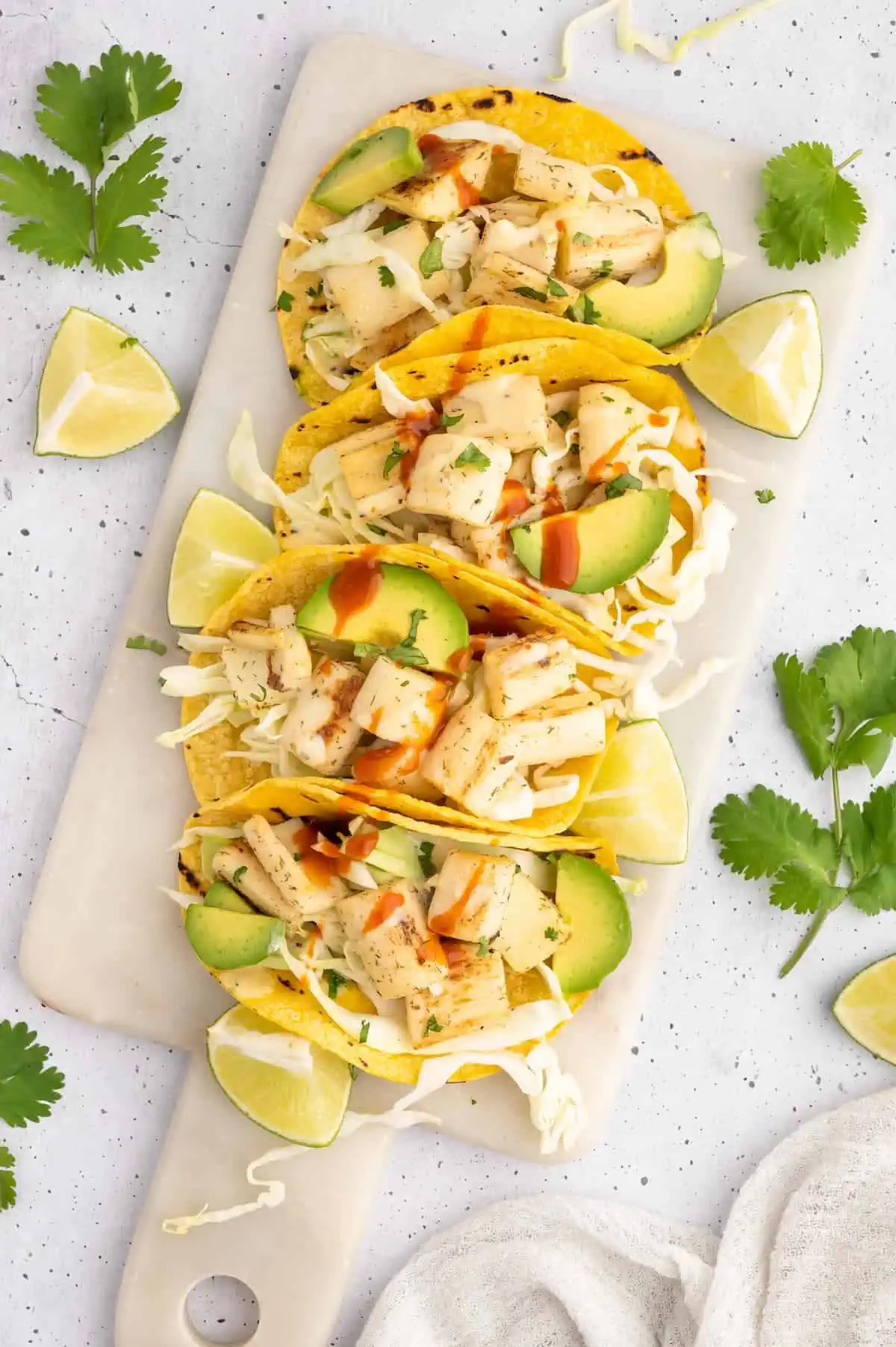 Why You'll Love These Vegan Fish Tacos
Vegan fish tacos are one of the best things you can sink your teeth into! They taste even better than the original, especially when you know you're saving a sea creature's life. Besides being mouthwatering (though messy) to eat, they're just so much fun. Not convinced yet? Here are more reasons to love these hearts of palm tacos:
Delicious. There's a reason why no one can resist a fresh vegan fish taco. It's an enticing combination of cool, crisp, warm, and savory that is out of this world!
Versatile and Easy-to-Make. The "fish" in these tacos is made from hearts of palm then seasoned to perfection with a blend of spices that mimic the flavor of real fish. Change the spice selection and you'll have a completely new flavor.
Tons of Tasty Toppings. You can totally make this dish every night of the week with different results. Just change up the types of toppings you use and you'll never get tired of them!
Perfect for Sharing. A great choice for summer cookouts, beach trips, and backyard parties. Consider creating a tempting Taco Buffet with several types of toppings to satisfy every seafood-lover!
Key Ingredients
What makes vegan fish tacos so delicious and satisfying? It's all in the ingredients! Let's dive into the key components of a perfect vegan fish taco, from the plant-based, protein-packed fillings to the zesty toppings that bring it all together. These essential ingredients are the key to creating a mouthwatering taco that will have you hooked from the very first bite.
Hearts of Palm: Hearts of palm are the perfect stand-in for fish, with a similar texture and flavor that pairs perfectly with zesty lime and smoky spices.
Corn Tortillas: No taco is complete without a sturdy and flavorful corn tortilla, the perfect vessel for all of your delicious fillings. Pretty handy that this wrap is also high in protein and fiber, too!
Cabbage: Whether you prefer crunchy and raw or slightly wilted with a splash of vinegar, this nutrient-rich veggie adds a refreshing and tangy crunch that perfectly complements the other fantastic flavors in your tempting taco.
Avocado: What's a taco without some creamy avocado? Whether mashed into guacamole or sliced fresh on top, avocado adds a rich and satisfying element to every bite. Plus, a nice dose of healthy, plant-based fat.
How To Make Vegan Fish Tacos
What goes into making a satisfying and sea creature-free vegan fish taco? Well, it all starts with the right ingredients. From buttery smooth hearts of palm to cool crispy cabbage, you can't go wrong using fresh ingredients right from your very own kitchen. Here is our favorite way to build the perfect vegan fish taco:
Step 1: Gather the ingredients and mix up the vegan mayo sauce.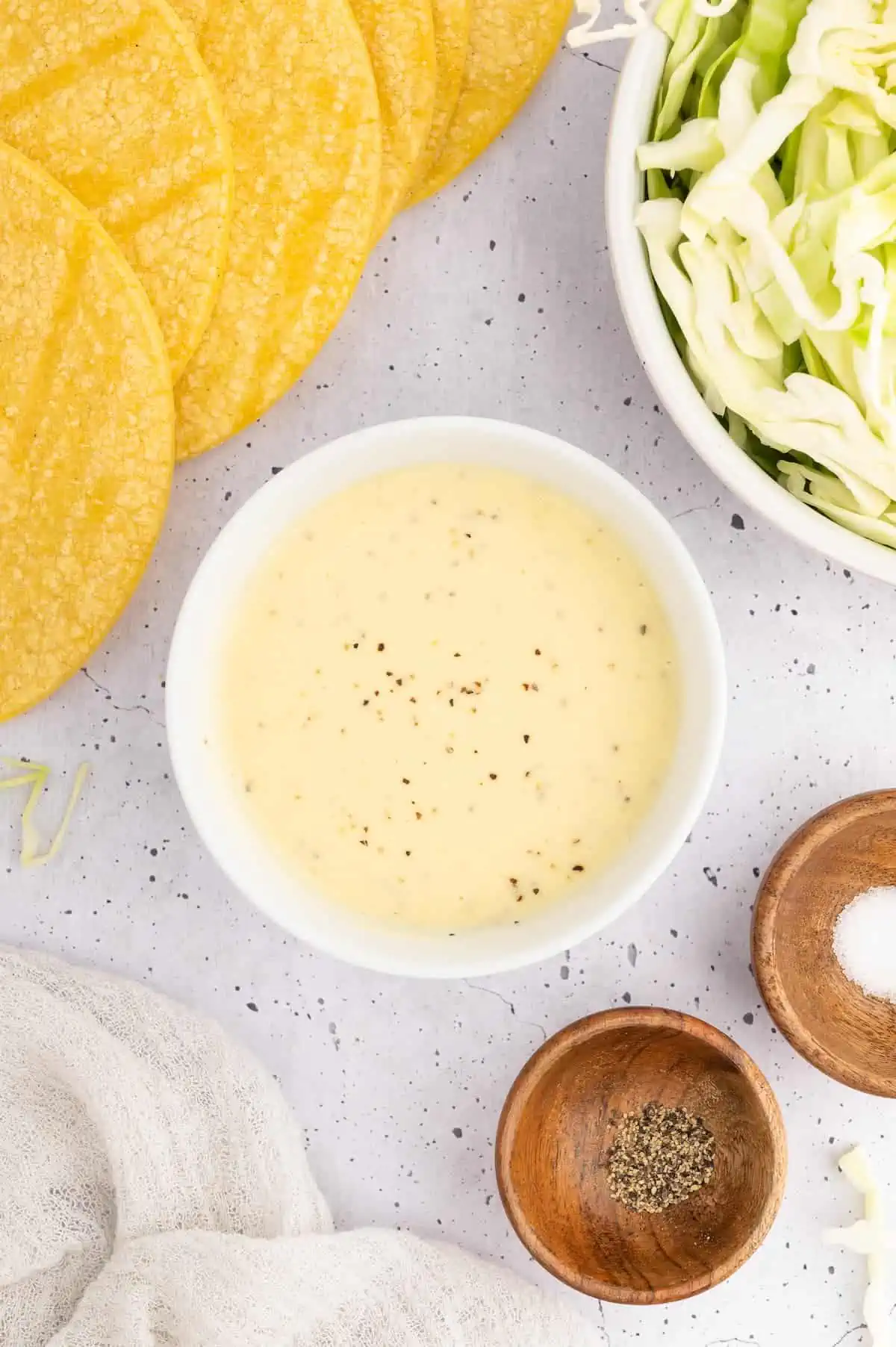 Step 2: Over medium-low heat, stir-fry the hearts of palm with vegan butter, white wine, and spices. Cook for 2 minutes, flipping occasionally until they are slightly charred.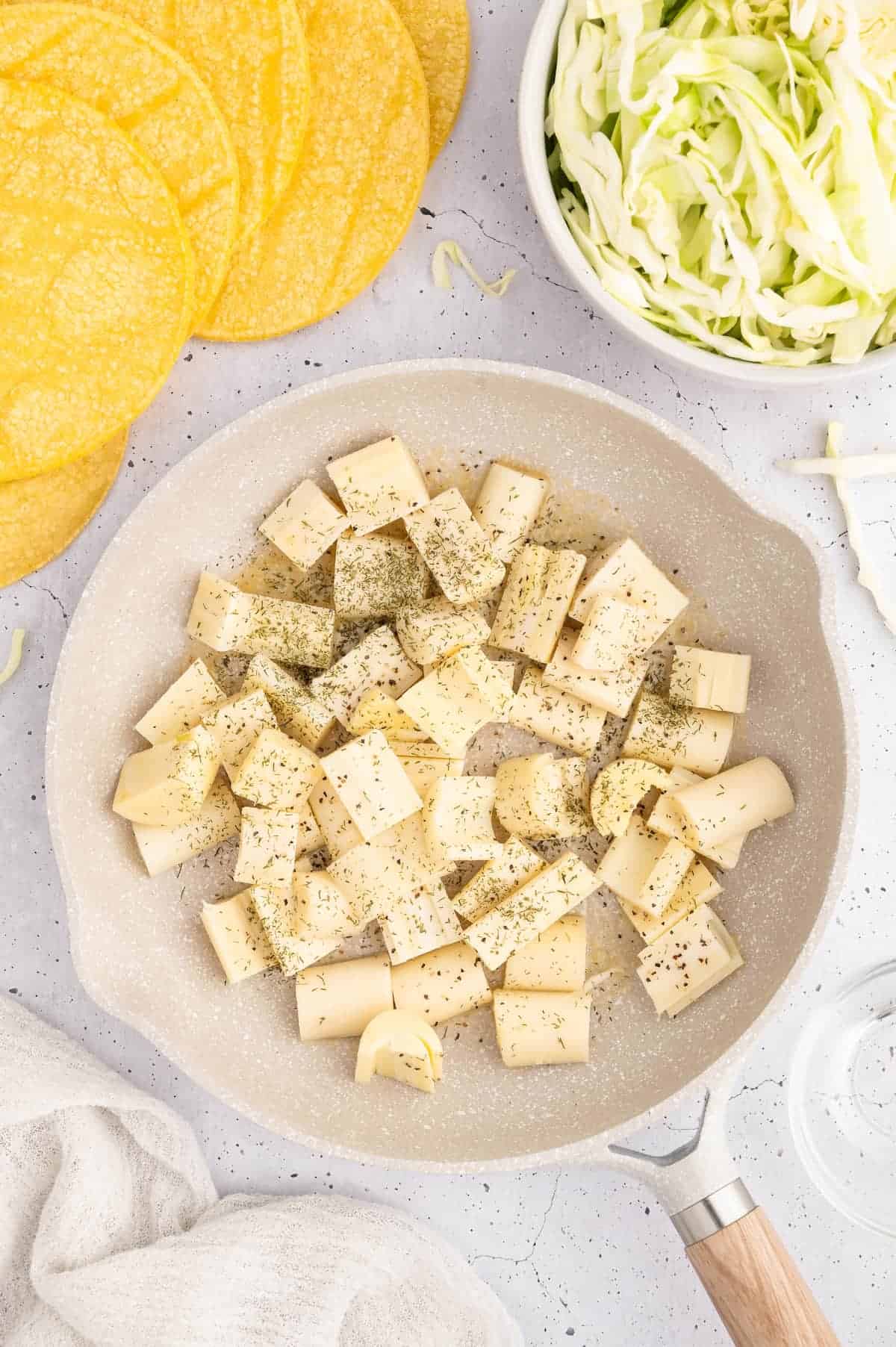 Step 3: Warm the tortillas and top with the hearts of palm, mayo, cabbage, and a slice of avocado. Voila!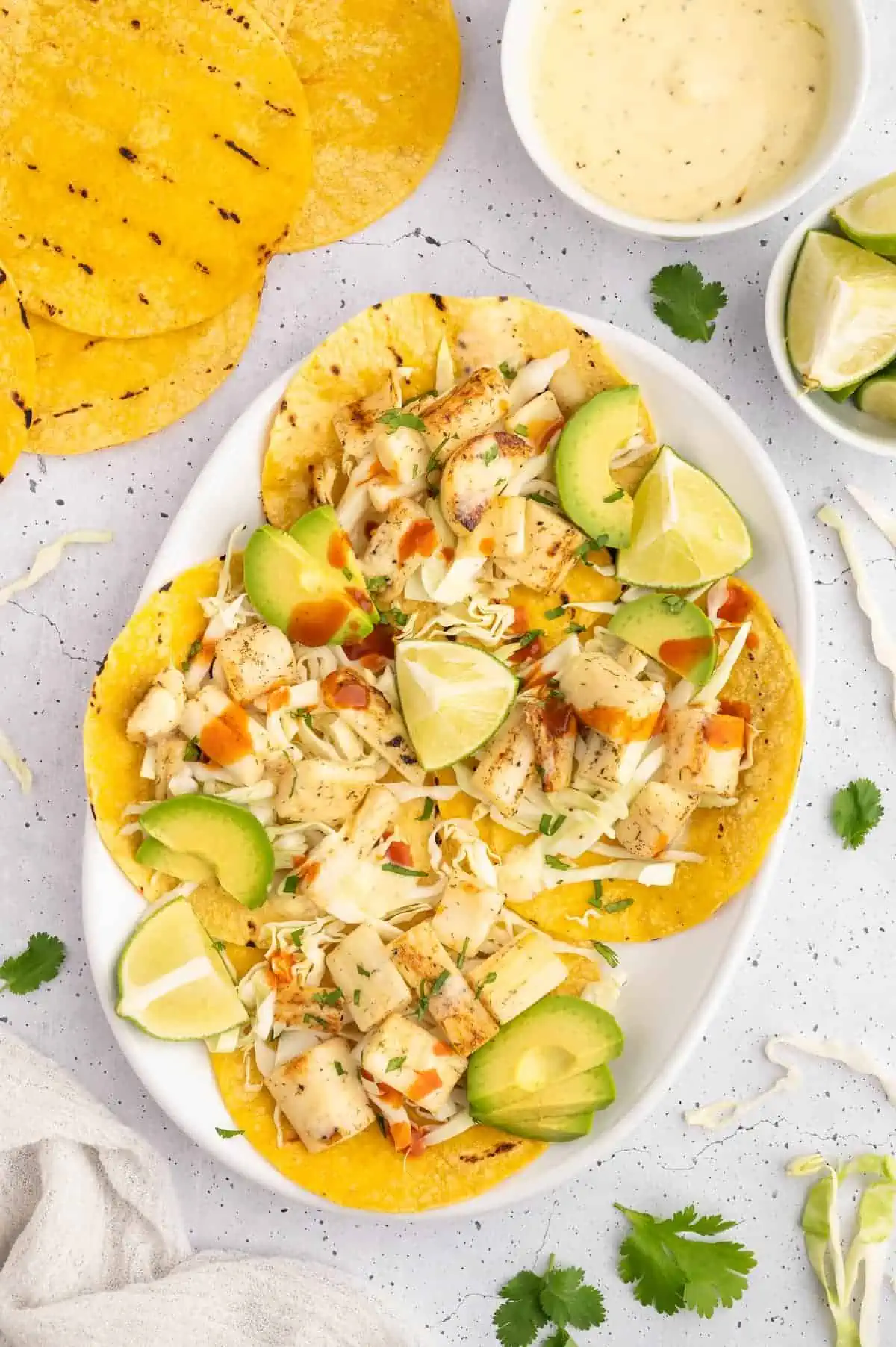 How To Serve These Vegan Baja Fish Tacos
Ready to take your vegan fish taco game to the next level? It's time to share our best tips on how to serve up your plant-based tacos like a pro. From choosing the perfect toppings to crafting a new way to serve the tortillas, we'll let you in on our top seafood secrets to make your vegan fish tacos look as good as they taste.
Tantalize your taste buds with terrific taco toppings and savory sides. These are fan favorites, but always feel free to add whatever you love to your vegan fish tacos: avocado, Mexican rice, salsa verde, refried beans, pickled onions, and chipotle corn ribs.
Drizzle with vegan fish taco sauce. The terrifically tangy, mayo-based sauce included in this recipe is the best, but if you're looking for a few more sassy sauce options, consider using Cholula, Tabasco, Frank's Red Hot, or vegan-friendly sriracha.
Swap out soft corn tortillas for crunchy corn chips. Make yourself a plate of vegan fish nachos instead! Lay out the chips, then vegan fish chunks, and, lastly, a few handfuls of dairy-free cheese onto a baking sheet. Bake at 350 degrees for 10-15 minutes until the cheese is bubbly and golden brown. Take the out of the oven and top with all of the cool and crisp veggies like the cabbage slaw, avocado, and salsa. Sensational!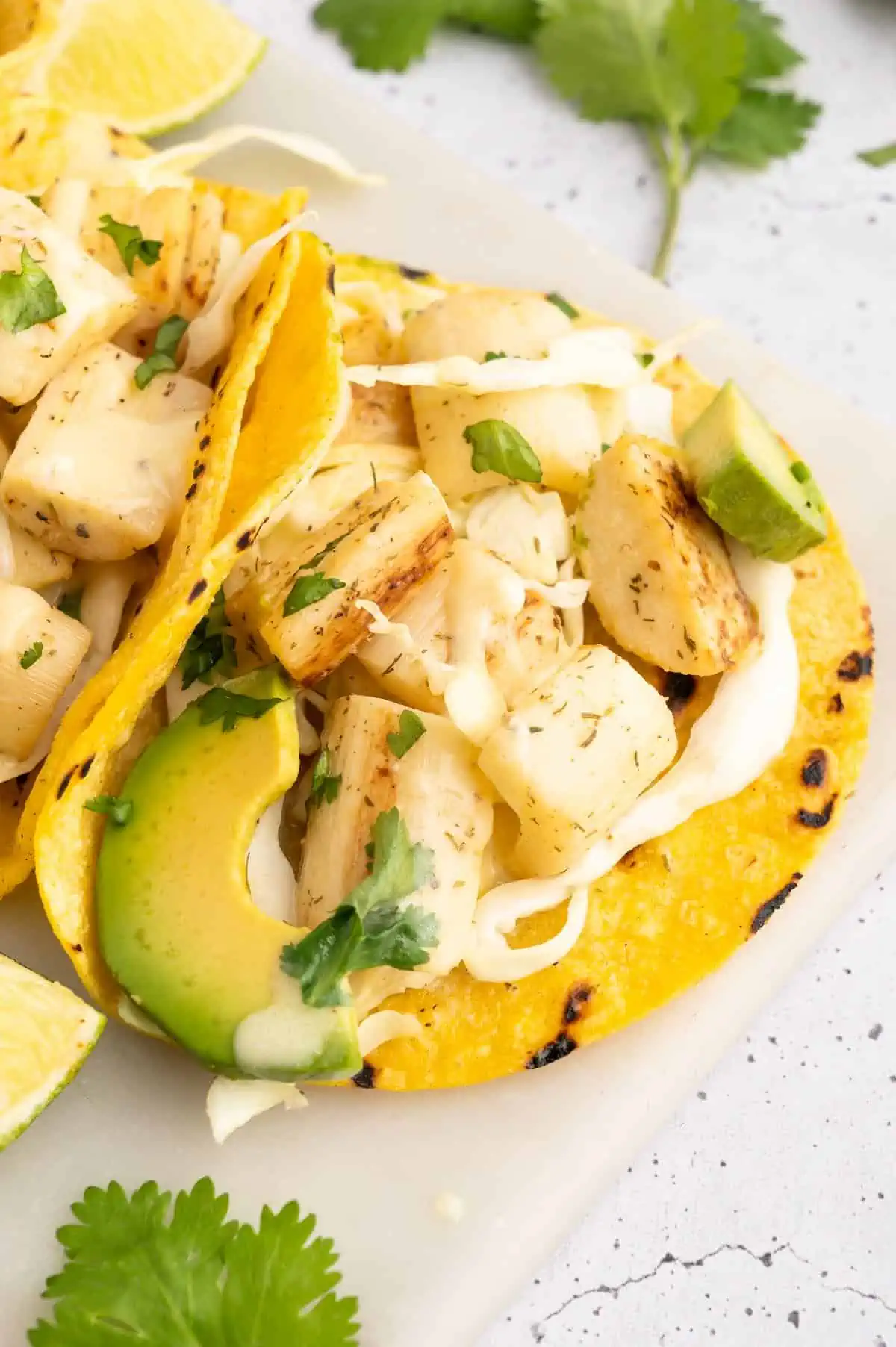 Frequently Asked Questions
Where can I find hearts of palm in the grocery store?
You can usually find canned heart of palm in the Asian section of your local grocery store or, sometimes, in the canned vegetable section. Whole Foods Market also sells their own brand, 365. These brands are also available online at stores like Amazon and Walmart: Native Forest, Goya, Gefen, and Pastene.
What does hearts of palm taste like?
This core of the palm plant has a somewhat sweet, mild, less acid-y taste than artichoke hearts. The texture is a wonderful combination of crunchy on the outside and soft on the inside. It's a little bit like a mix between artichoke hearts, jicama, and water chestnuts.
Can you eat hearts of palm raw or do they have to be cooked?
It can be eaten both raw and cooked and is similar to jicama in texture and flavor. When canned, hearts of palm are softer and more succulent, so they are preferred for many recipes.
More Vegan Fish Recipes To Try
If you're very fond of vegan fish, you're in the right place! We think you'll find these five, fish-free articles fun and informative. And, more importantly, incredibly sea-licious!
For The Vegan Mayo Sauce
½ cup vegan mayonnaise
3 tablespoons apple cider vinegar
¼ teaspoon black pepper
¼ teaspoon salt
⅛ teaspoon garlic powder
To Make The Hearts Of Palm
3 tablespoons vegan butter
¼ teaspoon garlic powder
3 tablespoons white wine or cooking wine, or sub 1 tablespoon fresh lemon juice, plus more to taste
¼ teaspoon onion powder
2 14-ounce cans hearts of palm, drained and roughly chopped into bite-sized pieces
⅛ teaspoon salt
a few dashes of black pepper
¼ teaspoon dill, dried or ½ teaspoon fresh
12 small corn tortillas*, see note below
2 cups green cabbage, shredded
1 avocado, thinly sliced
vinegary hot sauce, to serve (optional)
To Make The Vegan Mayo Sauce
Whisk together vegan mayo, apple cider vinegar, black pepper, salt, and ⅛ teaspoon garlic powder in a bowl, and set aside.
To Make The Hearts Of Palm
In a large skillet over medium-low heat, melt butter. Add garlic powder, white wine or lemon juice (careful with splashing oil), and onion powder. Whisk together until fragrant, 1 minute.

Add in hearts of palm, season with the salt and pepper and sprinkle the dill on top.

Stir-fry hearts of palm for 2 minutes, until evenly coated with sauce and spices.

Arrange in a single layer and turn up the heat to medium.

Flip hearts of palm every minute until each side starts to char slightly.
To Assemble The Tacos
Warm up tortillas in 10-second increments in the microwave, over a skillet, or an open flame on your stove, whatever your preference is.

Assemble tacos by adding hearts of palm, cabbage, a drizzle of the mayo sauce, and a slice of avocado on top. For added heat, a vinegary hot sauce works best.
Store-bought corn tortillas work perfectly well here, but making your own corn tortillas from scratch is fun and tasty. Check out our homemade corn tortilla recipe to learn how!
Calories: 264kcal | Carbohydrates: 22g | Protein: 3g | Fat: 18g | Saturated Fat: 3g | Polyunsaturated Fat: 2g | Monounsaturated Fat: 5g | Trans Fat: 1g | Sodium: 246mg | Potassium: 241mg | Fiber: 5g | Sugar: 1g | Vitamin A: 55IU | Vitamin C: 9mg | Calcium: 43mg | Iron: 1mg
Although this is the end of our vegan fish taco adventure, we hope this recipe has inspired you to think outside the box when it comes to plant-based cuisine and try something new and exciting. With these super tasty and sustainable tacos, you can indulge your taste buds and feel good about what you're eating at the same time. So go forth and create your own vegan fish taco masterpiece, and make sure to let us know what you think about these hearts of palm tacos in the comments below!
Many thanks to our amazing recipe testers Taylor Gillespie and Margo Henderson for testing this recipe! Photos by Amanda McGillicuddy for World of Vegan, all rights reserved.