Have you ever tried making your own tortillas? These three-ingredient homemade masa harina tortillas are easy as uno…dos…tres! Once they're done cooking, you can go ahead and load them up with your favorite fillings for a fantastic and flavorful meal! Taco Tuesday? Why not Taco Everyday?!
The superstar pantry ingredient? Masa Harina! Masa Harina is flour made from ground corn, and all you need to turn it into tortillas is some hot water, oil, and salt. A tortilla press will come in handy too (but isn't absolutely necessary, as you'll read below). 
Making your own tortillas from scratch is a great way to save money, reduce plastic waste (especially if you shop for masa from bulk bins and bring your own reusable bags!), and reduce your reliance on grocery stores (if, say, you're in the midst of a pandemic). 
This incredible recipe comes from the new vegan cookbook La Vida Verde by Jocelyn Ramirez. You'll get to eat delicious and uber-fresh tacos and also take part in a very old Mexican tradition and help keep it alive. Pretty awesome, right?
What Is Masa Harina?
Masa harina literally means "dough flour." It's a kind of flour made from dried corn kernels that are cooked and then soaked in a lime solution (calcium hydroxide, not the fruit) to make hominy. The soaking process is what gives corn tortillas that distinct sour flavor that makes them taste so refreshing. Masa is what you get when you mix the masa harina with water to form a corn dough essential to various staples in Mexican cuisine, such as tortillas and tamales.
What Are The Benefits Of Corn Tortillas?
While masa harina tortillas are ideal for those who are sensitive to gluten, they also come with a number of health benefits! A typical corn tortilla contains:
96 calories
20 grams of carbs
3 grams of protein
1 gram of fat
3 grams of fiber
8% of the DV for Magnesium
Tortillas made from corn are also 100% whole-grain, which is great for getting your daily dose of fiber in. Corn tortillas also tend to be smaller which can make them easier to hold which is great for serving kids!
Choosing Your Masa
For this recipe, we'll be using store-bought masa harina to make our dough. The author prefers brands such as Bob's Red Mill, Masienda, and Gold Mine, which can be purchased online or at your local grocery story or health food store. 
Corn can be purchased in either white, yellow or blue varieties, but most often you'll find golden or white masa harina. When choosing your masa harina, make sure it has gone through the nixtamal process of being cooked and soaked in calcium hydroxide. This process, called nixtamalization, creates an alkaline solution that releases the hull from the corn kernel and makes for a more nutritious ingredient.
How To Make Homemade Corn Tortillas
The process is a lot simpler than you might imagine. Understandably, many of us get intimidated but the idea of creating something from scratch—and by the word "kneading." But, do NOT fret! This precious process is simple and very intuitive, so let's just go for it!
In short, you just mix the corn flour and hot water to create the "masa" or dough. Once you knead it and bring it all together, you add the oil and salt. Roll the dough into small balls and press it in a tortilla press (made from two big round flat plates that flatten the dough into perfectly flat tortillas. Cook them in a hot skillet for 20 seconds each side and keep the finished tortillas warm with a towel.
That's it! Now I'm wondering: where has this recipe been all my life?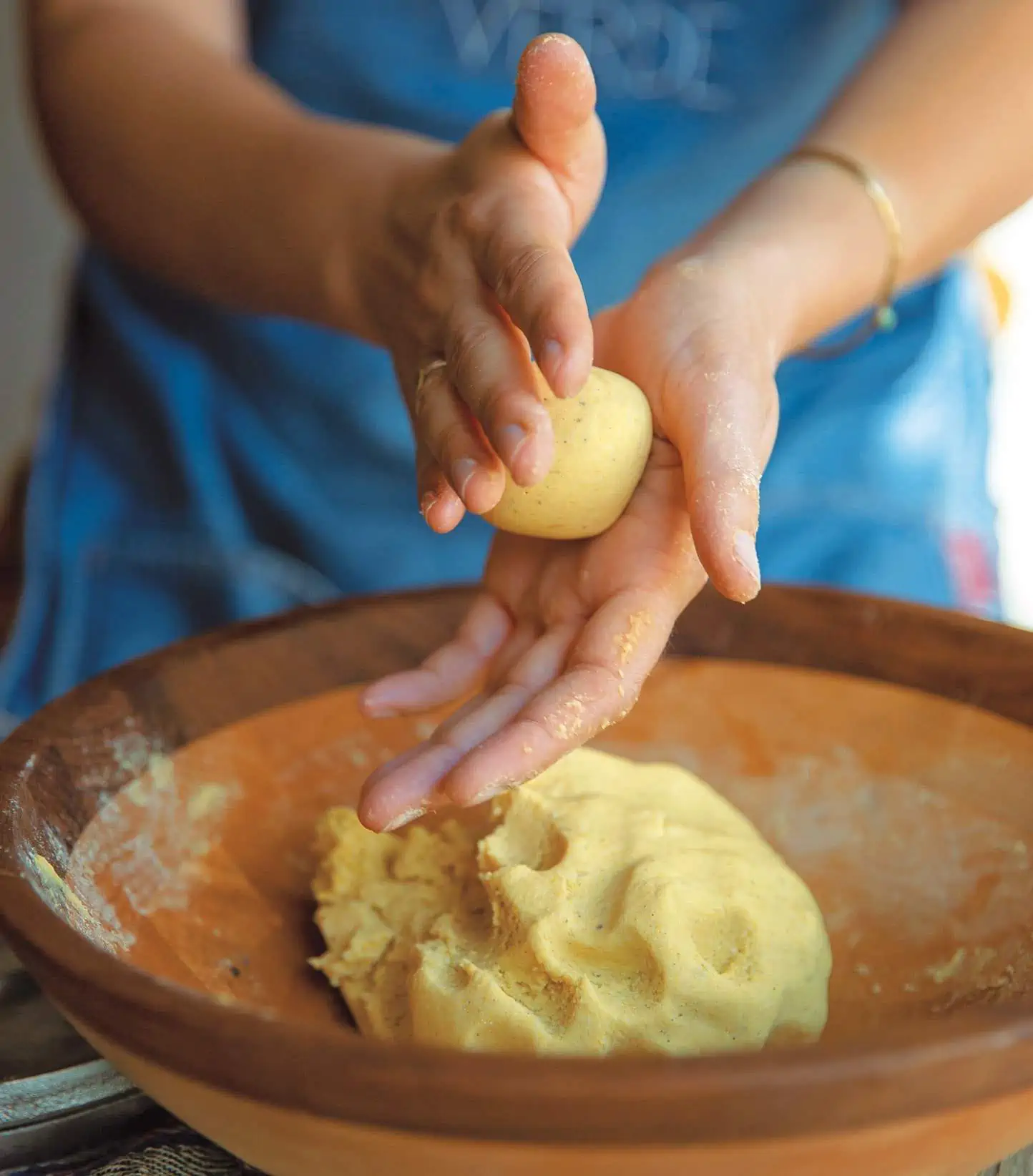 Do I Need a Tortilla Press in Order to Make Tortillas?
You do not need a tortilla press to make your own homemade corn tortillas, but this simple tool will make tortilla making much easier and the end result pretty perfect. You can get circular parchment paper liners that fit your press to prevent sticking.
If you don't have a tortilla press, not to worry. You can place the dough ball between two squares of baking paper or plastic and press it flat with a cutting board. Add another cutting board over the top or a clear glass oven dish, and use your hands to evenly press down until the masa is flattened evenly. Here's a 50 second super helpful tutorial showing how to do it!
What Can I Fill My Tortillas With?
The short answer is: anything you want! You can fill them with so many delicious vegan Mexican fillings. What about some easy lentil tacos? Or turning them into some cheesy vegan quesadillas? Beefy tacos made with a vegan beefy crumble, anyone?
Here are more delicious fillings to try:
Simple Beans and Rice – Sometimes keeping it simple is the way to go! You can assemble delicious tacos or enchiladas with some Mexican red rice, refried beans, pickled veggies, tomatillo salsa, and vegan cheese.
Time for Tofu – That's right! Tofu is a fantastic choice for adding some savory protein to your tortillas. Sizzle up some strips, crumble into soyrizo, or air-fry tofu cubes for a truly delicious experience.
Veggie Heavy – The beautiful thing about tortillas are the countless ways in which you can fill them up. If you prefer your meals heavier on the veggies, Cauliflower Tacos or our Sautéed Kale, Bean, & Avocado Salad is an excellent choice for pairing with these tortillas. If you're a salad lover, go ahead and make your own to go with whatever else you're having for taco night!
Three Cheers for Chickpeas – While beans are a classic choice for tortillas, don't count out the mighty chickpea! Whether roasted or mashed into a vegan tuna salad, you may find yourself pleasantly surprised by the combination of these lovely legumes and your tasty tortillas.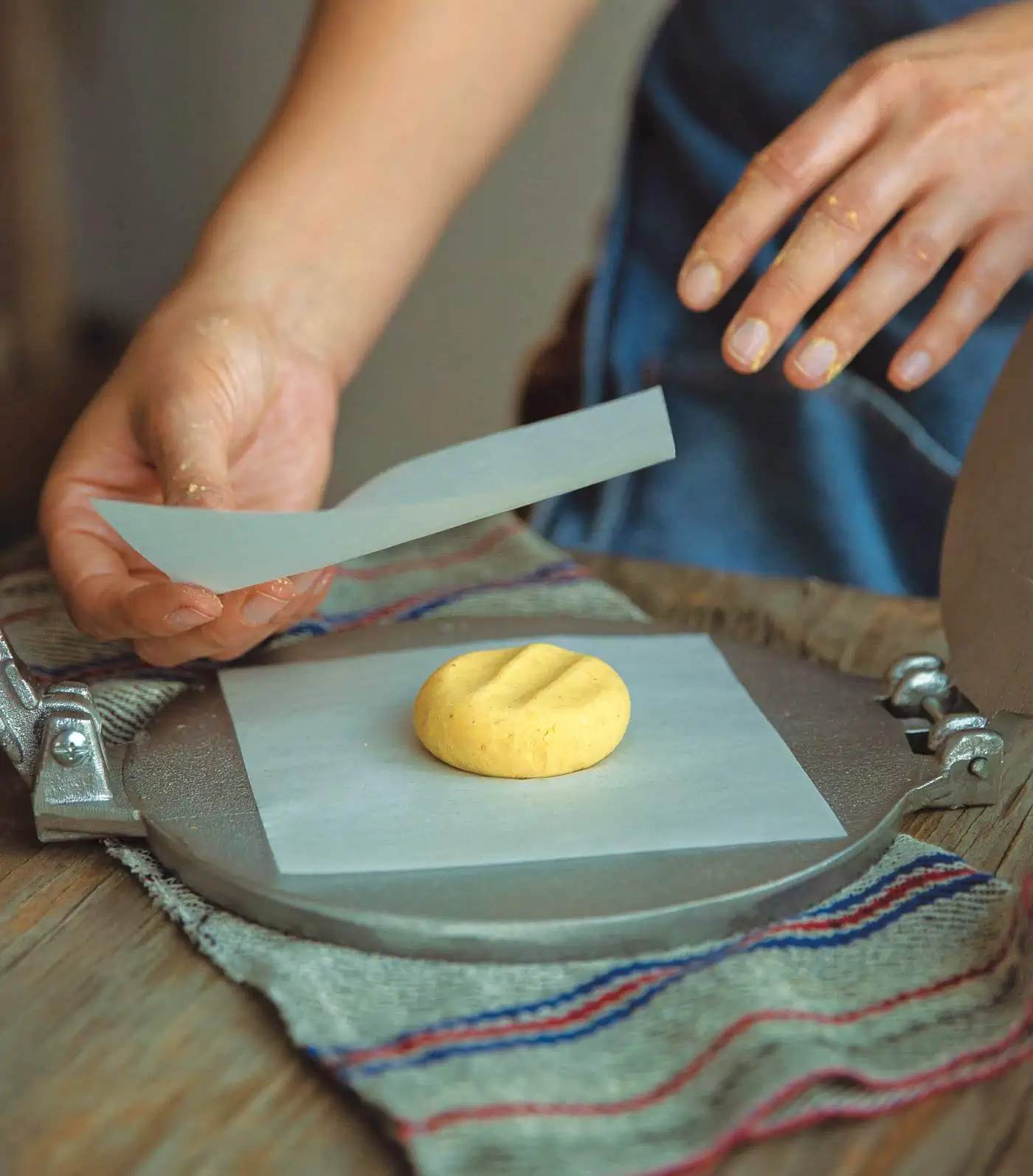 Simple Storage
If you end up with a surplus of tortillas after dinner, you have a few different ways of storing them, though you won't want to leave them out much longer than twelve hours because then mold will begin to grow!
If refrigerating, wrap in a sealable plastic bag or airtight container with pieces of waxed paper placed between them so they don't stick. They'll keep for up to two weeks in the fridge. Fan of freezing instead? Follow the same instructions for refrigerating! The tortillas will last about three to four weeks.
When ready to reheat, either place the tortillas in the microwave or stovetop! Feel free to spray with a little water to get them softer, if needed.
Some Thoughts From The Author
"Tortillas are the cornerstone of Mexican cuisine. They easily transform to make tacos, enchiladas, chilaquiles, taquitos, tortilla soup, tostadas, nachos and so much more that have been the center of traditional Mexican cooking for generations.

Although many consider tortillas to be a simple ingredient, they are an immensely laborious flatbread that take days to become the pillowy aromatic staple that pulls together most Mexican dishes.

Although they are made and sold in different forms, nothing compares to a hand-pressed homemade corn tortilla."

– Jocelyn Ramirez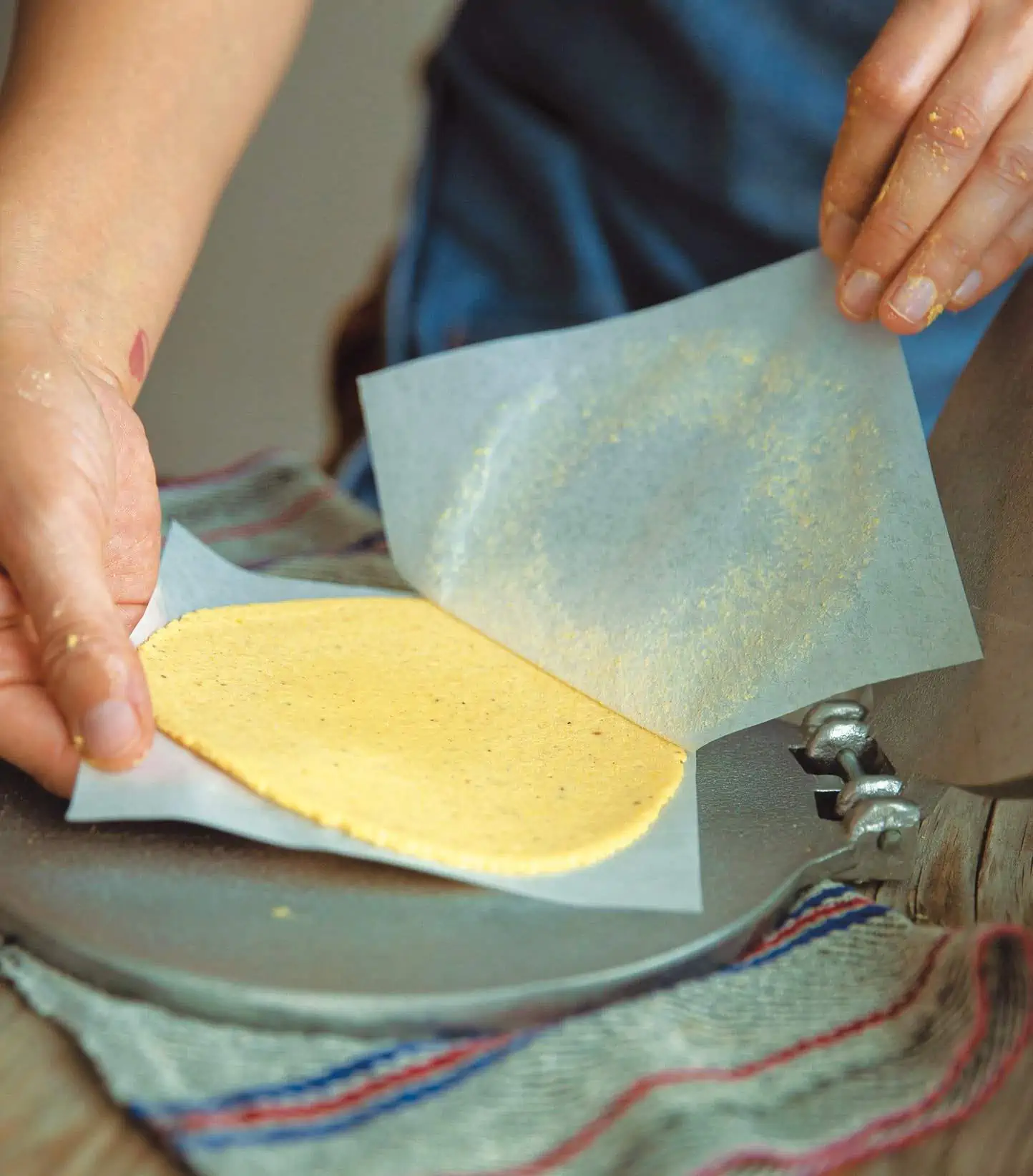 More Vegan Mexican Recipes
2 cups masa harina
2-3 cups hot water
¼ cup cooking oil, divided
salt to taste
Add the masa harina to a medium bowl. Pour in 2 cups (480 ml) of hot water, and use your hands or a spoon to mix the masa.

Slowly add more water as needed. Once the masa starts to form into a dough, continue to use your hands to amasar, or knead, the masa to bring it all together.

The masa should be a Play-Doh–like consistency that sticks together and doesn't stick to the bowl or your hands. Add 1 tablespoon (15 ml) of the oil and salt to taste, and continue to knead the masa, adding more oil as needed, up to 1⁄4 cup.

Preheat a comal (flat cast iron pan) to medium-high heat.

Roll the masa into small walnut-sized balls. Use a tortilla press lined with wax paper (or plastic) to press the tortillas evenly until the masa becomes a tortilla about 4 to 5 inches (10 to 13 cm) in diameter.

Add the first tortilla to the preheated comal (the griddle). Let it cook for about 20 seconds, or until the first side begins to sear and the outer layer of the tortilla seals. The tortilla should release from the pan. Flip the tortilla to cook on the second side for 20 seconds. Flip it back to the original side, and the tortilla may start to puff up after another 20 seconds. Repeat for all the tortillas. Place the cooked tortillas in a tortilla holder lined with a cloth towel to keep them warm. They will continue to steam and cook in the basket.
Calories: 111kcal | Carbohydrates: 14g | Protein: 2g | Fat: 5g | Saturated Fat: 0.4g | Polyunsaturated Fat: 2g | Monounsaturated Fat: 3g | Trans Fat: 0.02g | Sodium: 1mg | Potassium: 50mg | Fiber: 1g | Vitamin A: 41IU | Calcium: 26mg | Iron: 1mg
About Jocelyn Ramirez
Jocelyn Ramirez is the author of La Vida Verde and the chef and founder of Todo Verde, a woman-owned catering company making plant-based cuisine accessible throughout Los Angeles. Jocelyn co-founded Across Our Kitchen Tables, an organization that uplifts women of color in food. Her work has been featured by Vice, BuzzFeed, Los Angeles Times and many others. Jocelyn currently lives in Los Angeles, California. 
This vegan Mexican tortilla recipe is reprinted with permission from La Vida Verde by Jocelyn Ramirez, Page Street Publishing Co. 2020. Photo credit: Zohra Banon. Please note that this article contains affiliate links which means shopping through them supports World of Vegan.