If you've never tried vegan tamales, you're in for a treat! Tamales are little masa hot pockets that can be stuffed with a variety of ingredients. This version of tamales verdes is stuffed with jackfruit, onions and salsa verde to create a simple yet flavorful tamale.
Mexican food can easily be made vegan. The simple and wholesome ingredients found in this cuisine offer opportunities to create amazingly delicious and deeply aromatic dishes. Fresh and bright produce adds a pop of color and clean notes to finish your dishes. Once you try swapping out animal-based ingredients with plant-based ones, you'll quickly fall in love with the endless possibilities that open up.
Making these tamales verdes is a bit of a process, but all of the steps are simple. When you taste the delicious end result, you'll see that the extra time and effort is worth it! If you'd like, turn making this recipe into an event with friends. Gather your ingredients, prep and assemble them together and then enjoy your special feast together!
This recipe from The Gracias Madre Cookbook celebrates the simple and wholesome ingredients found in Mexican cuisine. The flavor and texture of these tamales verdes can't be beat. We are so excited to share the process of making this dish with you! Gather your ingredients and we'll walk you through this very fun and gratifying process. Let's go!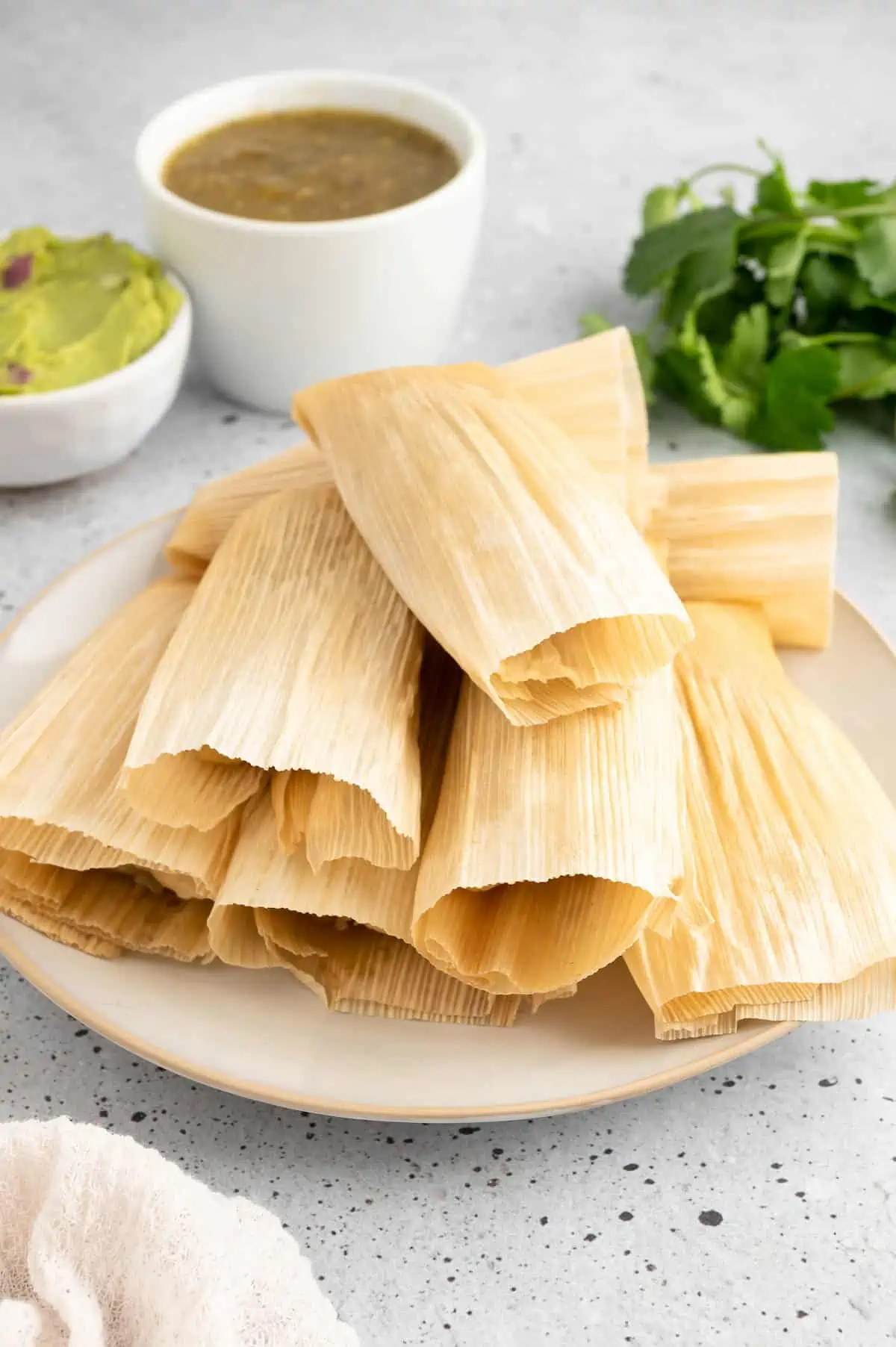 What Are Tamales Verdes?
Tamales verdes is traditionally made with shredded meat, sautéed onions and salsa verde or another fresh combination of tomatoes and chilis. It is wrapped in a corn flour dough and then folded up into a corn husk and steamed.
Tamales verdes can easily be made vegan! This tamale recipe uses jackfruit, but the possibilities for fillings are up to you. Beans, vegan cheese, mushrooms, vegan crumbles, vegan beef, or veggies like zucchini and corn can be used as fillings to create vegan tamales!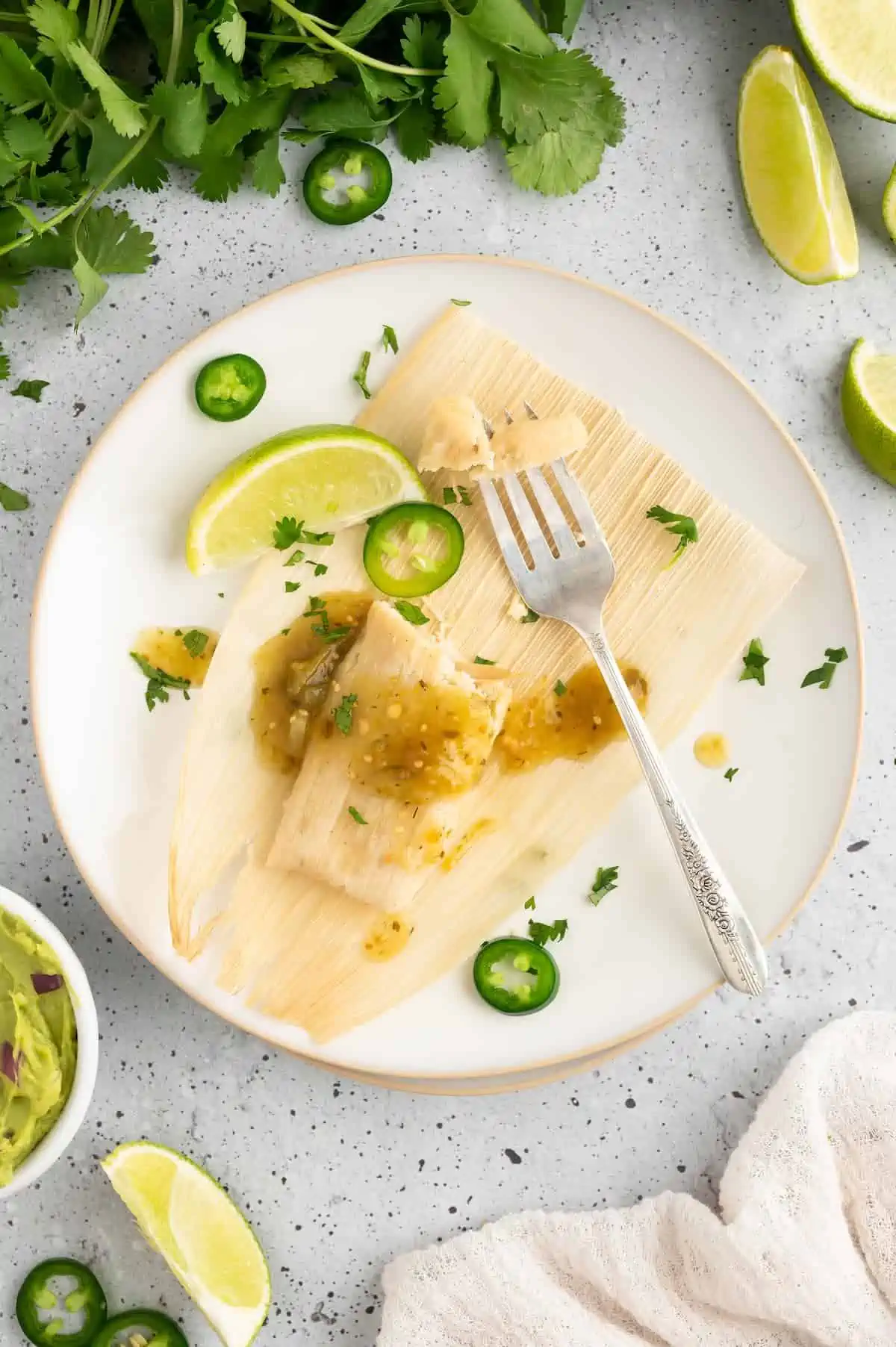 What Is Masa Harina?
Masa harina literally means "dough flour." It's a very soft flour made from finely ground hominy or dried corn kernels that have been cooked and soaked in a lime solution (a diluted solution of calcium hydroxide, not the fruit). Masa is what you get when you mix masa harina with water to form a corn dough.
The soaking process is what gives corn tortillas (which are made from masa harina) that distinct sour flavor that tastes so good. It's essential to various staples in Mexican cuisine, such as tortillas and tamales. Since it's made from corn, it's naturally gluten free.
Key Ingredients
Corn Husks: These are the outer covering of an ear of corn that has been dried. They can be found in any Latin market but can also be found in most grocery stores, near the bulk Mexican spices section.
Vegetable shortening: This helps bind together the tamales. You can use Crisco or Spectrum brand in this recipe.
Masa Harina: This soft flour is the main ingredient for the tamales. We recommend Maseca, but any brand will do. It's a delicious yet inexpensive ingredient.
Jackfruit: This recipe calls for canned jackfruit. Be sure to find jackfruit canned in brine, not syrup. This can be found in grocers like Whole Foods or Trader Joe's, and in any Asian grocer.
Salsa Verde: Made from tomatillos, onion, jalapeño, lime, and cilantro, this is a green sauce that's bright and fresh. You can use any store brand or make your own salsa verde.
Baking Powder: The baking powder is important here to help make the dough light and fluffy. If you are unsure if your baking powder is still active, test it first!
How To Test Baking Powder For Freshness
Place 1 teaspoon of the baking powder in a small bowl.
Add about 1/2 cup of very hot water to the bowl.
If it bubbles up or foams, your baking powder is okay to use.
If the baking powder does nothing, you'll need to buy fresh baking powder before making this recipe!
How To Make These Vegan Tamales
Vegan tamales are a labor of love but 100% worth the effort! To make the process as easy as possible, we've provided these step-by-step photos for guidance. Check out the recipe card at the bottom of the post for exact times and temperatures. Now, let's get to it!
Prepare The Dough And Corn Husks
Step One: Soften your corn husks. In a large stockpot, place the corn husks with just enough hot water to cover them. Weigh them down with a plate and allow them to soften for about 2 hours.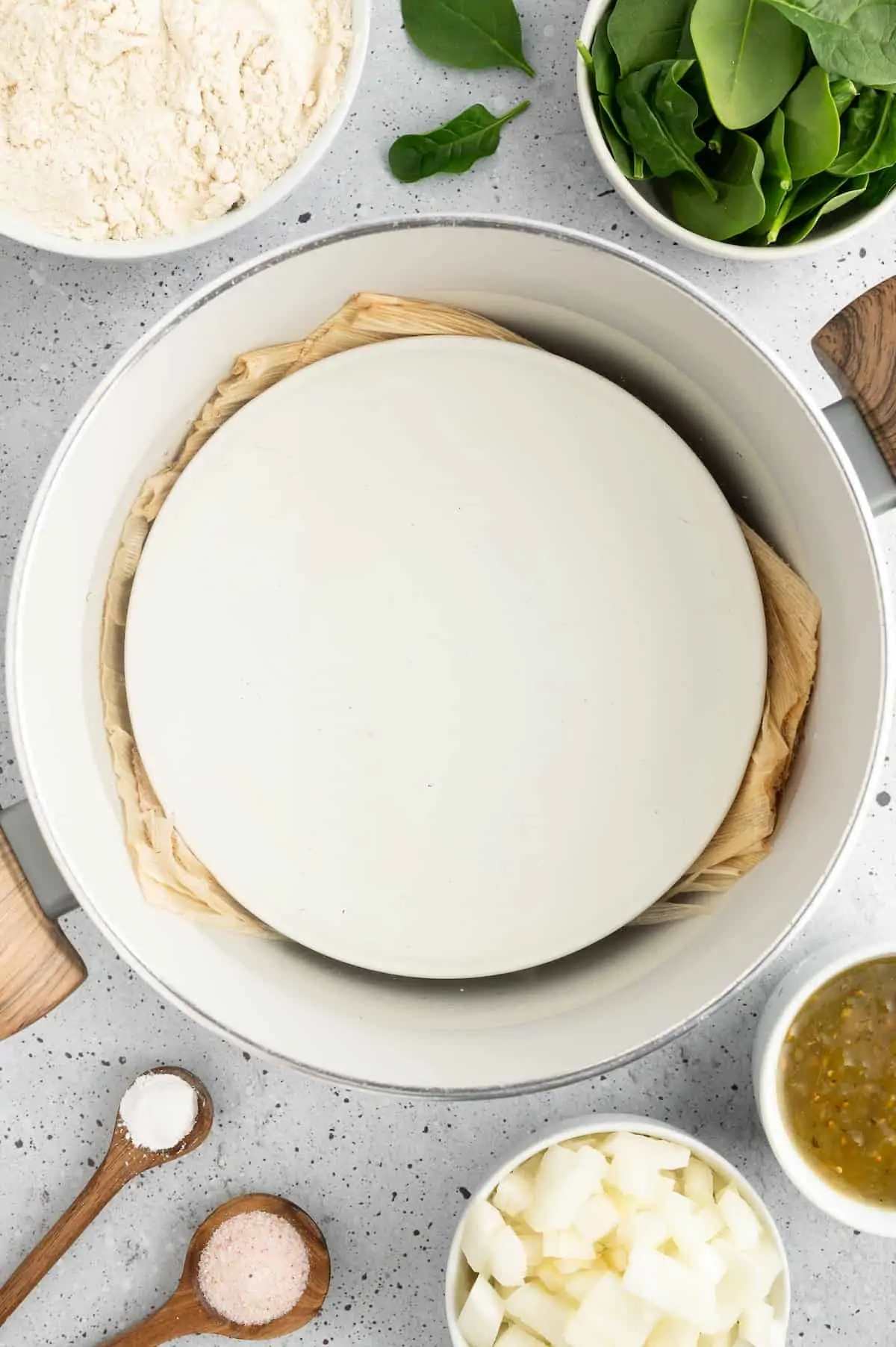 Step Two: Make your tamales. In the bowl of your stand mixer, add the shortening, Himalayan salt and baking powder. Using the paddle attachment, beat on medium-high speed for about a minute or until your mixture becomes light and fluffy.
Reduce the speed to medium-low. Add one cup of your masa harina while the mixer is running and allow it to fully incorporate before adding another cup. Repeat until your dough is uniform. Drizzle in the broth while the paddle attachment is still running and mix for about a minute more.
The Masa Float Test For Tamales
To ensure your tamales are light and fluffy and ready to use, perform the masa float test before assembling your tamales! To perform this quick and easy test, follow these steps:
Fill a small glass with cold water.
Take a very small amount of the dough (about a half-teaspoon) and place it into the glass.
The dough is ready when it floats and holds its shape.
If the test fails, mix the dough for another minute and repeat until it floats.
Taste the dough and add more salt if needed.
Place plastic wrap over your bowl and place into the refrigerator for one hour. Remove it from the refrigerator and allow it to come to room temperature. If necessary, add a splash of broth or water to the dough. You want it to be soft.
Make The Filling
Step Three: Make your filling. In a large skillet, heat the oil over medium-high heat. Add the onion and cook until soft. Transfer the drained jackfruit and garlic to the skillet and sauté for 10-12 minutes, or until the jackfruit begins to soften and break up.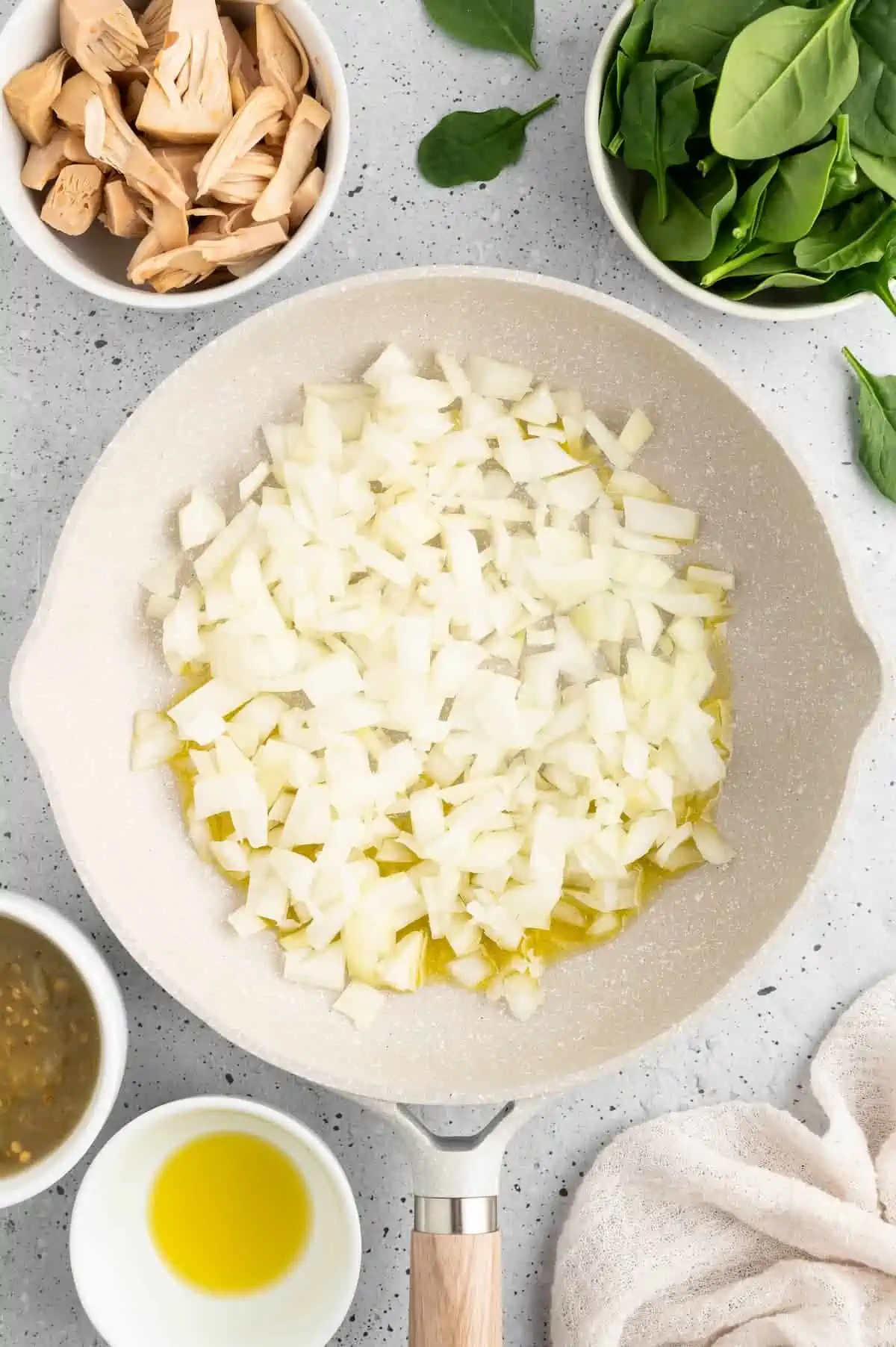 Add the salsa verde and salt and allow to warm for about a minute. Remove from the heat and add in the spinach or purslane, giving it a gentle stir to allow it to wilt.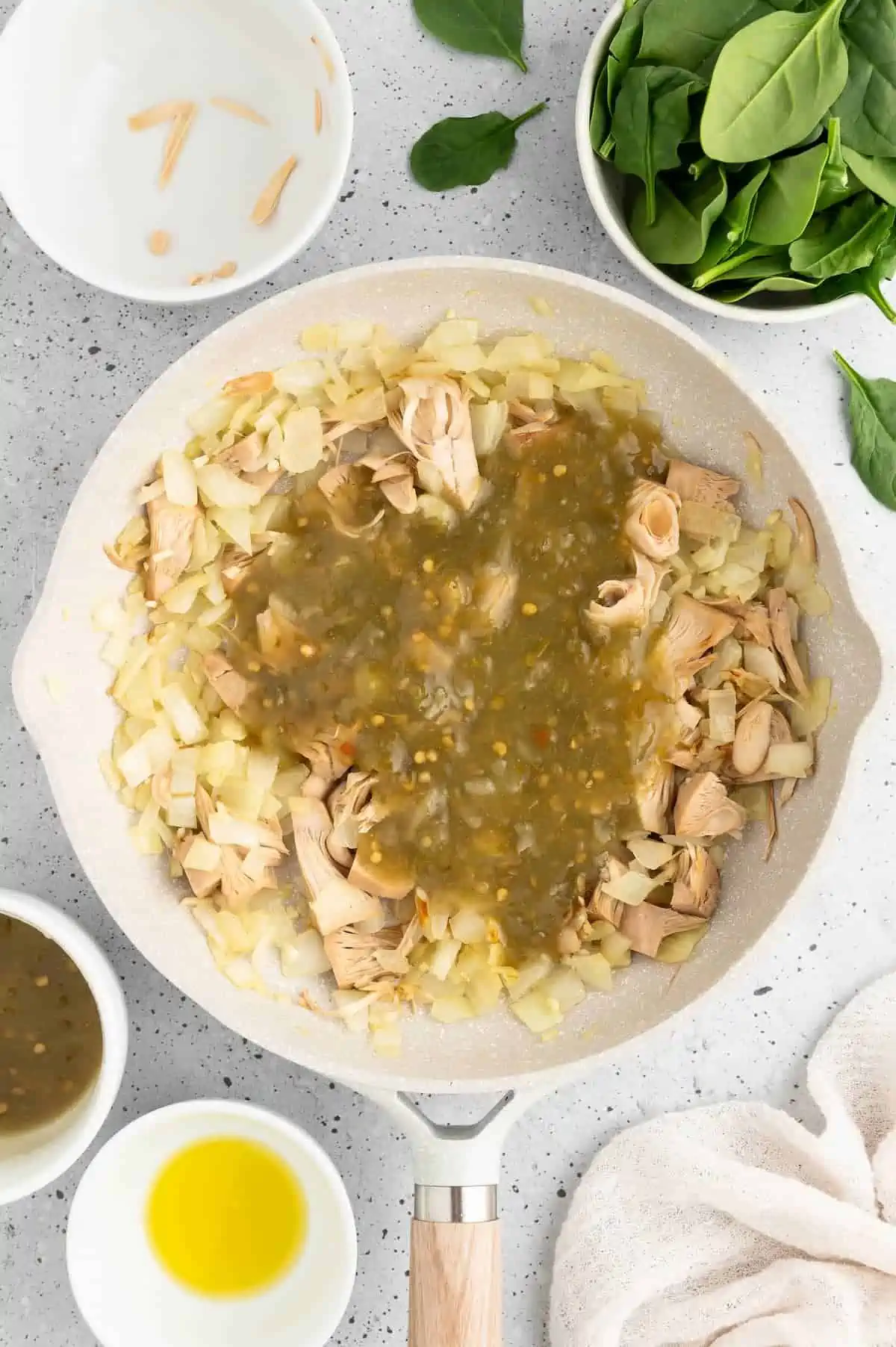 How To Assemble Tamales
Step Four: Lay out one softened corn husk. Scoop out a little less than 1/4 cup of the dough and shape into a 4-inch square. Add a few tablespoons of your jackfruit filling into the center of the dough. Fold the sides inwards adding a little pressure to seal it.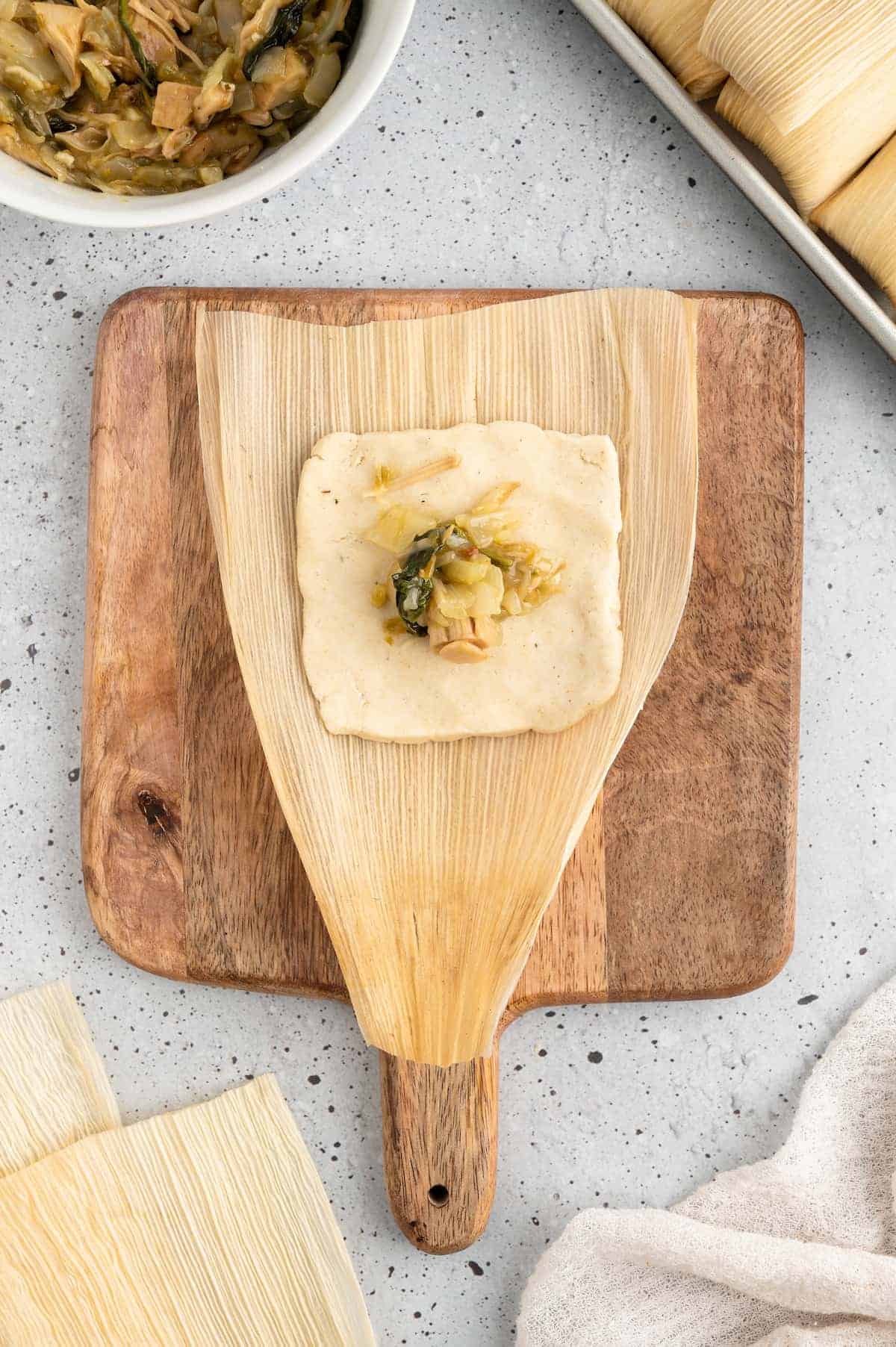 Fold the sides of the husk towards the center, then fold the tapered end up and away from you. Leave the top unfolded/open. Place the tamale on a baking sheet with the folded side down. Assemble the remaining tamales.
Step Five: Steam your vegan tamales. Place a steamer basket or rack in the bottom of a stock pot. Add just enough water so it's below the steamer. You don't want water coming in contact with your tamales. Line the rack with a few corn husks. This will ensure that no water and only steam will come in contact with your tamales.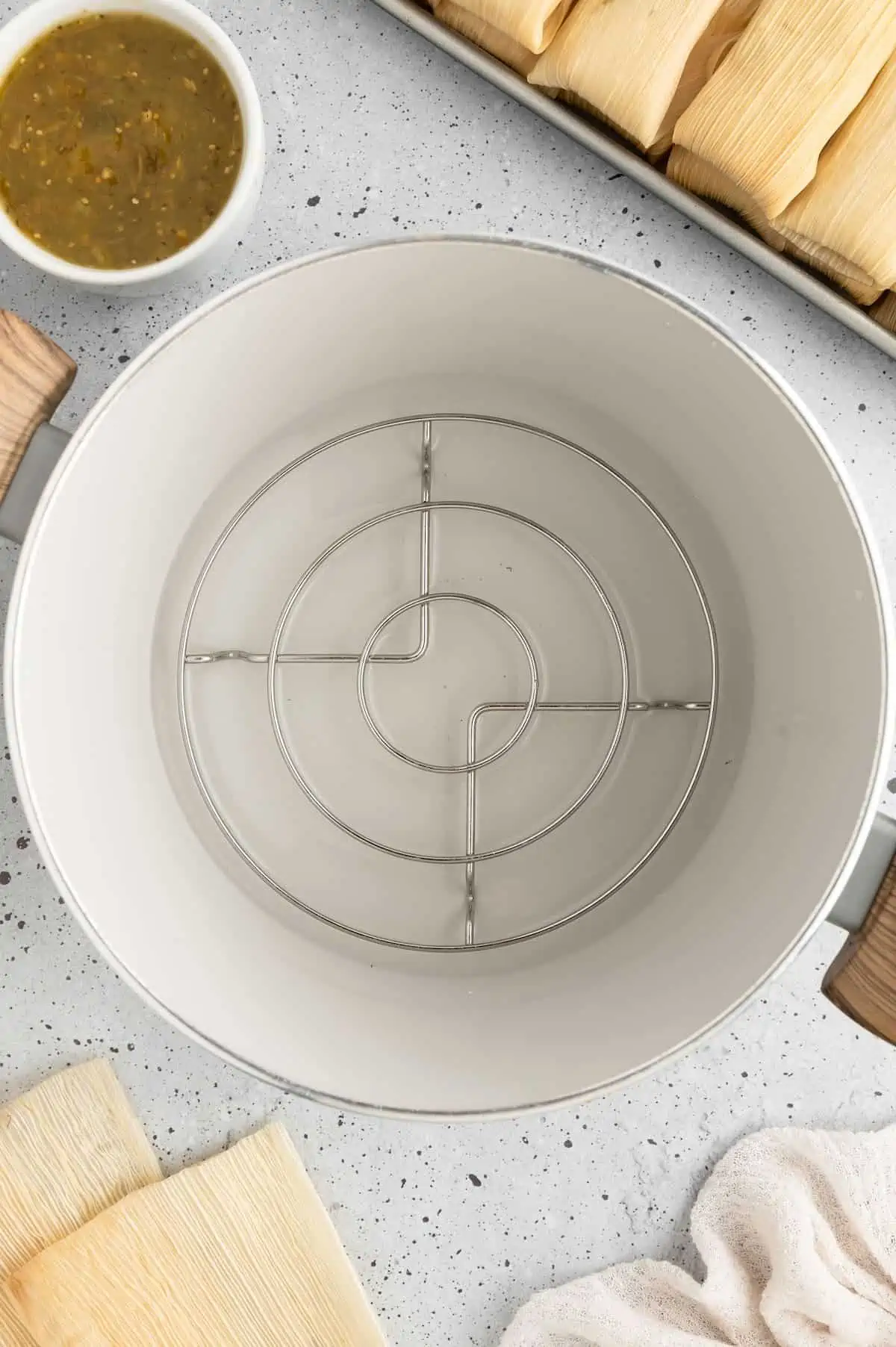 Place your assembled tamales vertically around the pot, with the open side of the tamales pointing up. They will expand as they steam, so don't pack them too closely together. It's helpful to add a bowl into the center of the pot to help keep the tamales upright.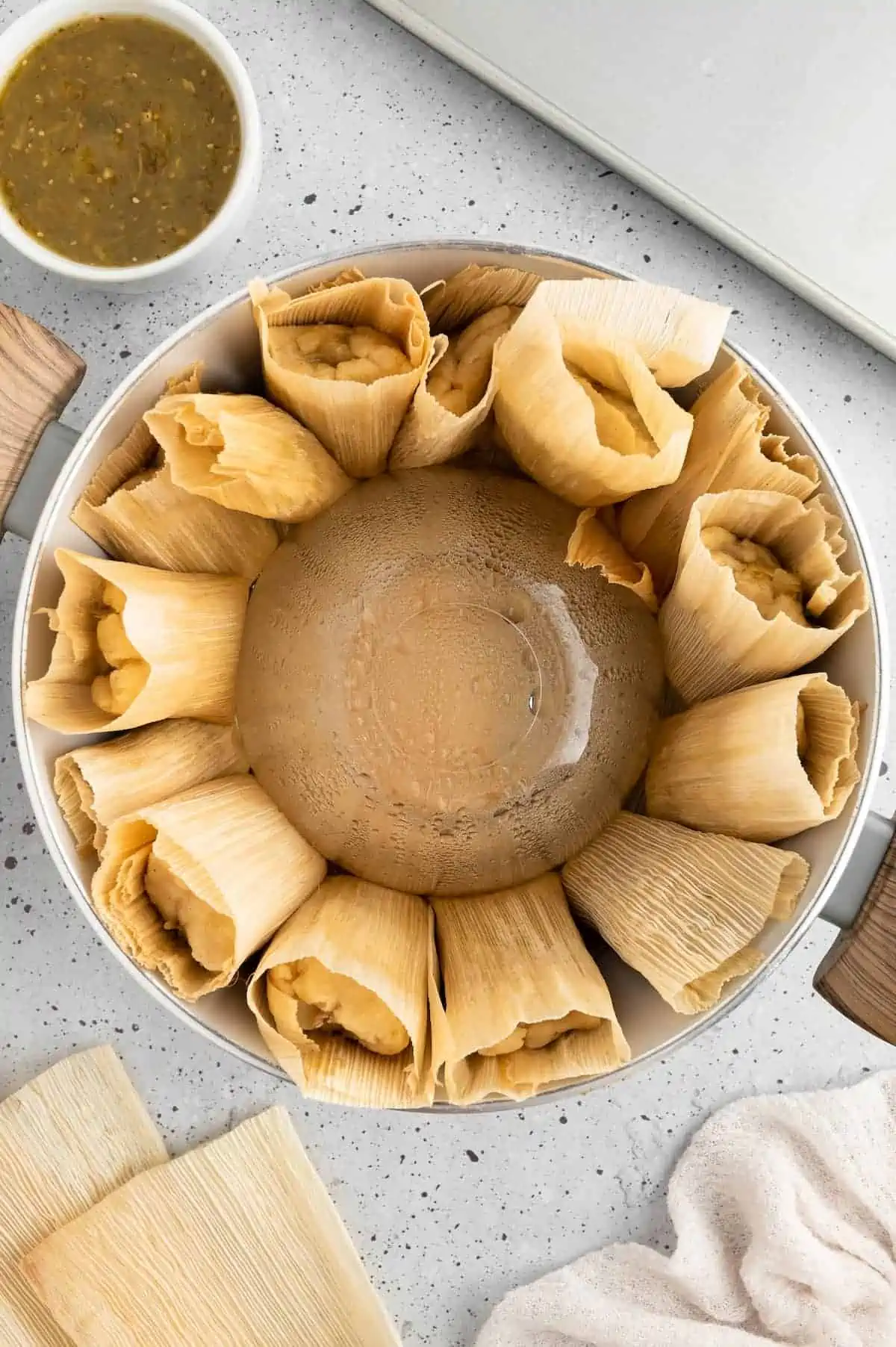 Once the tamales are assembled, place another layer of corn husks over the top, then cover with a lid. Turn the heat on to medium and allow them to steam for about 45 minutes or until the husks pull evenly away from the tamales. Once this happens, remove the pot from the heat and allow the tamales to rest and firm up for about 15 minutes.
How To Serve These Tamales
You can garnish your vegan tamales with fresh herbs, lime, thinly sliced jalapeños or whatever fresh component you like! Cashew crema, guacamole, or vegan sour cream can be served with them as well. Make your own salsa verde or Pico de Gallo if you'd like, but store-bought is fine too!
Can I Freeze Tamales?
Yes! After assembling your tamales in Step Four above, place them into sealed plastic bags and tranfer to your freezer. When you are ready to make them, proceed to steaming them as directed in Step Five and then serve and enjoy.
Turn Your Tamales Into A Mexican Feast
Enjoy these vegan tamales alone or create a Mexican feast with some of these other dishes:
Servings 6 (Makes about 12 Tamales)
For the tamales
16 dried corn husks (see Recipe Notes below), plus more for lining the pot
1 cup vegetable shortening
1½ teaspoons Himalayan salt
1½ teaspoons baking powder
3 cups masa harina, (such as Maseca)
1 cup vegetable broth, plus more as needed
For the filling
2 tablespoons extra-virgin olive oil
1½ cups chopped onion
1 cup canned jackfruit , drained and rinsed
2 cloves garlic, chopped
¾ cup Salsa Verde, (any brand)
1 teaspoon Himalayan salt
1 cup fresh purslane or baby spinach
For serving
1 cup Salsa Verde , (any brand)
2 cups Pico de Gallo, optional
To make the tamales
Place the corn husks in a large stockpot and cover with hot water. Place a small plate on top of the husks to keep them submerged. Let stand until the husks are pliable, about 2 hours.

In the bowl of a stand mixer fitted with the paddle attachment, add the shortening, salt, and baking powder. Beat on medium-high speed until the mixture is light and fluffy, about 1 minute. Reduce the speed to medium-low and, with the mixer running, add the masa harina in thirds, waiting to add more until the flour is incorporated. Slowly add the broth and continue mixing for about 1 more minute.

Fill a small glass with cold water, scoop out a half-teaspoon dollop of the dough, and place it in the water. If it floats and holds its shape, taste and add more salt if desired. If it sinks, mix the dough for another minute, test again, and repeat as needed.

Cover and chill the dough for 1 hour to let it rest. Let it come back to room temperature, adding a splash more water or vegetable broth if needed to resoften the dough.
To make the filling
In a large nonstick or cast-iron pan over medium-high heat, heat the oil. Add the onion and cook until it begins to soften, about 5 minutes. Add the jackfruit and garlic and continue cooking, stirring occasionally, until the jackfruit is soft and broken down, 10 to 12 more minutes. Add the salsa verde and the salt and simmer for 1 minute. Remove from the heat and add the purslane, folding and stirring to help it wilt.
To assemble the tamales
Lay out a corn husk with the tapered end facing you and wipe off any remaining water. Scoop about a little less than 1/4 cup of the dough about a third of the way from the top of the husk and press it into about a 4-inch square. Spoon a few tablespoons of the filling down the center of the square. Using the sides of the husk, lift the sides of the dough up around the filling and press lightly to seal it. Fold the sides of the husk over each other into a tube shape, then fold the tapered end under, pressing down where the mixture ends inside and using the fold as another seal. Set aside on a baking sheet, folded side down, and repeat with the remaining tamales.

In a tall stockpot or soup pot, add a few inches of water. Place a rack or steamer basket in the bottom of the pot, making sure the water is below the level of the rack. Line the rack with a few corn husks—this protects the tamales from direct contact with the steam and adds flavor.

Place the tamales vertically, open side up, inside the pot, leaving a bit of room between them so they can expand as they cook. Add another layer of corn husks on top and cover. Turn the heat to medium and let the tamales steam for about 45 minutes or until the husks easily pull away from the tamales. Remove from the heat and let the tamales stand in the steamer for 15 minutes to firm up.
Canned jackfruit can be found at Trader Joe's, Asian markets, Whole Foods and other natural food stores.
Corn husks can be found at most grocery stores near the bulk Mexican spices/seasonings.
Calories: 666kcal | Carbohydrates: 70g | Protein: 6g | Fat: 42g | Saturated Fat: 10g | Polyunsaturated Fat: 11g | Monounsaturated Fat: 18g | Trans Fat: 4g | Sodium: 2250mg | Potassium: 403mg | Fiber: 5g | Sugar: 13g | Vitamin A: 1442IU | Vitamin C: 12mg | Calcium: 166mg | Iron: 5mg
About The Cookbook
The Gracias Madre Cookbook is filled with fresh, wholesome and bright flavors of Mexico and Southern California cuisine. The recipes in this cookbook are from the renowned Los Angeles restaurant of the same name. It offers 125 simple, entirely plant-based recipes adapted for the home cook.
The vegan Tamales Verdes recipe is reprinted with permission from The Gracias Madre Cookbook by Gracias Madre and Avery, a member of Penguin Group (USA) LLC, A Penguin Random House Company 2022. Article written by Erin Wysocarski and edited by Rachel Lessenden. Photos by Amanda McGillicuddy for World of Vegan, all rights reserved. Special thanks to our amazing World of Vegan recipe testers Amanda Turner and Margo Henderson for their valuable help and feedback!