Salads have been getting a bad reputation for far too long. The image of sad-looking iceberg lettuce in a bowl still haunts some people but things are looking much brighter for salads, and we are determined to prove it! This vegan Mexican 3 bean salad recipe will become your new go-to.
The days of salad as a boring side dish are over. This delicious recipe from the new Plant-Based on a Budget cookbook definitely takes the center stage. It has it all. Tons of flavor, loads of protein, and a touch of freshness. Plus, it's zero fuss to make. Ready to dive right in?
Corn & 3 Bean Salad: The Easiest Salad To Make!
These are the times for easy cooking. Being able to prepare a meal in less than 15 minutes is highly on demand when life gets busy.
Can you imagine that opening a few cans of veggies and beans being the hardest part of preparing your meal? Can you believe it? Well, it's true!
Just choose your favorite ready-made legumes and veggies, throw them in a bowl and mix them up. Done. This recipe calls for pinto beans, chickpeas, and black beans, but you can choose whatever you have in your pantry or buy your favorite ones! Don't have pinto beans? Swap them for a can of lentils! Don't like cilantro? Chopped up some parsley and throw it in there. There isn't a more versatile salad out there!
1 15-ounce can pinto beans , (drained and rinsed)
1 15-ounce can black beans, (drained and rinsed)
1 15-ounce can chickpeas, (drained and rinsed)
1 15-ounce can unsalted corn, (drained and rinsed)
¾ cup diced tomato
¼ cup chopped cilantro
3 to 4 tablespoons lemon or lime juice, (about 1 small lemon or lime)
Salt, to taste
Optional Additions:
1 avocado, diced
½ cup chopped red onion, (about ½ medium onion)
½ teaspoon garlic, minced (about 1 small clove)
Toni's Tips: To make this a meal, serve it over a bed of brown rice. If your canned beans and corn have salt, you don't have to add salt to the dish. Testers' Tips: "I like salads with crunch and seasonings, so I recommend adding some matchstick-sized pieces of jicama or carrot, and maybe some cumin or chili powder. If serving over rice, definitely skip the crunchies, but I love this over lettuce!" —Susan M. from Kingsland, GA
Calories: 98kcal | Carbohydrates: 9g | Protein: 2g | Fat: 7g | Saturated Fat: 1g | Polyunsaturated Fat: 1g | Monounsaturated Fat: 5g | Sodium: 6mg | Potassium: 362mg | Fiber: 4g | Sugar: 2g | Vitamin A: 380IU | Vitamin C: 14mg | Calcium: 17mg | Iron: 0.4mg
Salad Add Ons!
More Volume:
If you're looking to make this dish a bit more complete and even more filling, then serving the salad over brown rice, quinoa or couscous would be amazing! It would add more substance and add enough volume for you to serve this as a lunch for the whole family.
If you still want volume but wanna keep it light, serve it over a bed of romaine lettuce. This one would tick the boxes for crunch and volume, and makes this recipe a perfect summer lunch!
More Crunch:
Add some sliced almonds, sunflower seeds, or crushed pecans. Not only will they make it crunchy but also will also add some healthy fats into the mix. Another crunch punch idea is to mix in some sliced red cabbage!
More Dressing:
If you are in the mood for a creamier dressing, then try making a cashew ranch and drizzle it on top. So good! Soak 1/2 cup of cashews overnight (or a few hours) and add them to your blender or food processor with 2 cups of water, some lemon juice, salt, and maple syrup. Play with the quantities until you get the desired consistency.
Don't have cashews? Use some vegan mayo mixed with some water to make it runnier. Enjoy!
7 Days Mini-documentary: The Power of Plants
This 3 bean salad recipe is not just any recipe. It has a special meaning for Plant-Based on a Budget founder Toni Okamoto and World of Vegan founder Michelle Cehn. When producing the 7 days documentary, they began the search for someone who was longing for a lifestyle change, and that's how they found their protagonist.
Raul is a small-town young man who was struggling with his weight and a series of other health conditions at the time and needed to turn his life around.
This is the first meal we taught Raul to make in order to reclaim his health. While working with this young man, they experienced the highs and lows of a serious lifestyle change, and as a result, all three of them emerged on the other side as good friends. This recipe is dedicated to you, Raul!
Isn't that amazing? Raul turned his life around in just 7 days and discovered a new love for healthy eating, and in the process has helped showcase how powerful plants can be.
He went from eating fast food and struggling to get up in the mornings, to eating a whole foods plant-based diet and thriving. This documentary has already inspired so many to turn their life around and proved that sharing your story can change lives.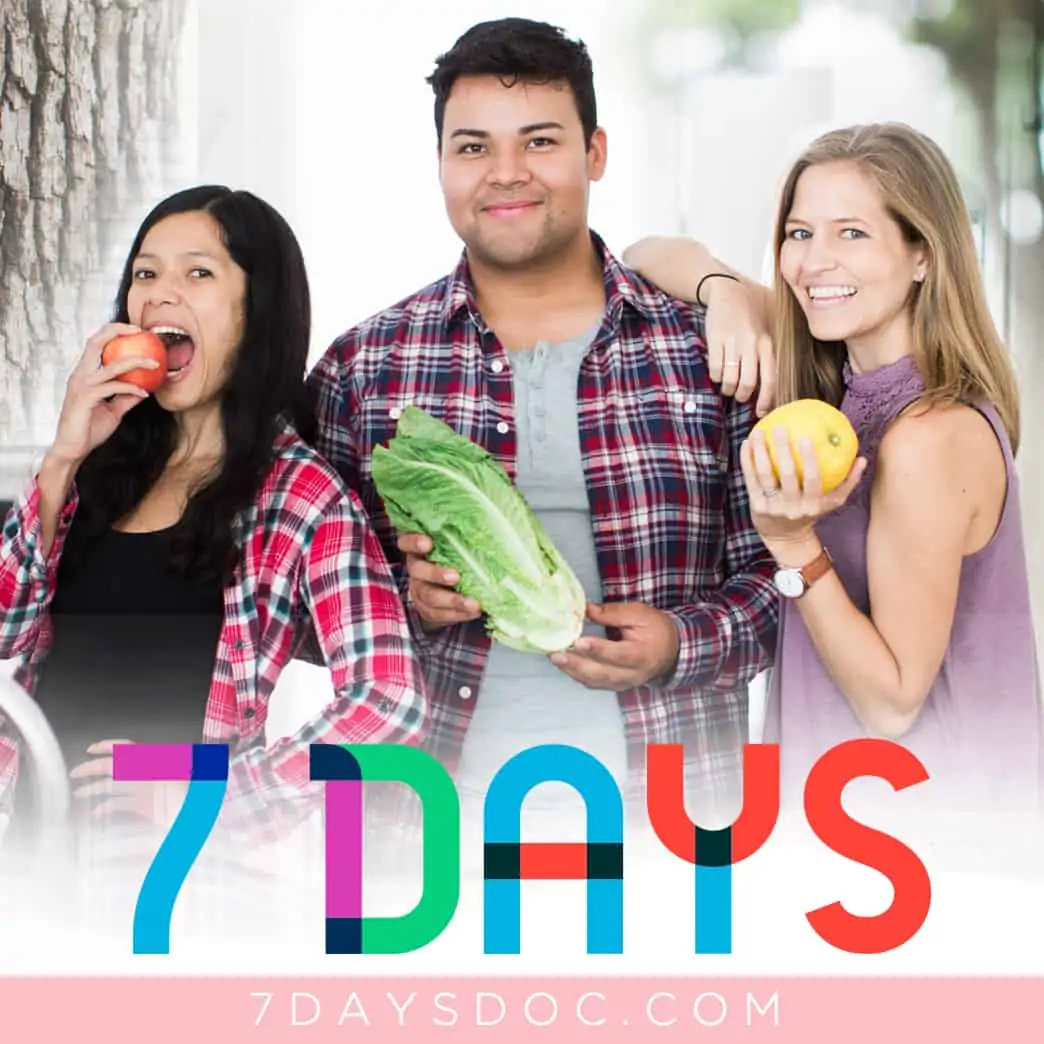 Vegan Doesn't Equal Expensive
How many times have you heard this:
"I would love to go vegan, but it's just too expensive!"
This misconception has been around for a while, but it's time to break the myth! Eating a plant-based diet can be very affordable if we follow a few easy recommendations:
Don't focus on packaged vegan foods! Go for basic whole food ingredients like vegetables, fruits, legumes, nuts, and seeds.
Buy in the bulk section of your grocery store whenever possible! Bring a reusable container with you and fill it up with what you need. Think oats, lentils, beans, rice or almonds. Stock up!
Plan your meals ahead of time to avoid improvising. When you plan your meals, then you automatically organize and optimize your grocery shopping for the week. You'll save so much!
Always bring snacks with you! Taking healthy and affordable snacks wherever you go is always a good idea. Grab some fruits, nuts, or a vegan sandwich on your way out, and you'll avoid buying something to curve your unexpected hunger in the nearest gas station.
Keep it simple…most of the time. Don't think you need to create super elaborate Instagram worthy meals every single day. Turn to simple and easy recipes, and you'll keep your costs down.
This book is an excellent resource for you to live a healthy plant-based lifestyle without breaking the bank. Arm yourself with helpful resources and remember that this is a learning process, you'll find a way to make this work for you and rock it!
About The Cookbook
Toni Okamoto has been an advocate for a budget-friendly plant-based lifestyle for years. She founded her blog Plant-based on a Budget in 2012 and has helped thousands of people find their way into a plant-based sustainable lifestyle. Her motto is "you don't have to sacrifice time, taste or money in the pursuit of healthier, tastier eating."
This is her second cookbook, a compilation of years of work, and it's a fantastic resource for those starting on the vegan lifestyle. It includes many easy-to-make recipes using super-inexpensive ingredients. Your health and your pocket will cherish this book, and I'm sure you'll have it smudged in no time!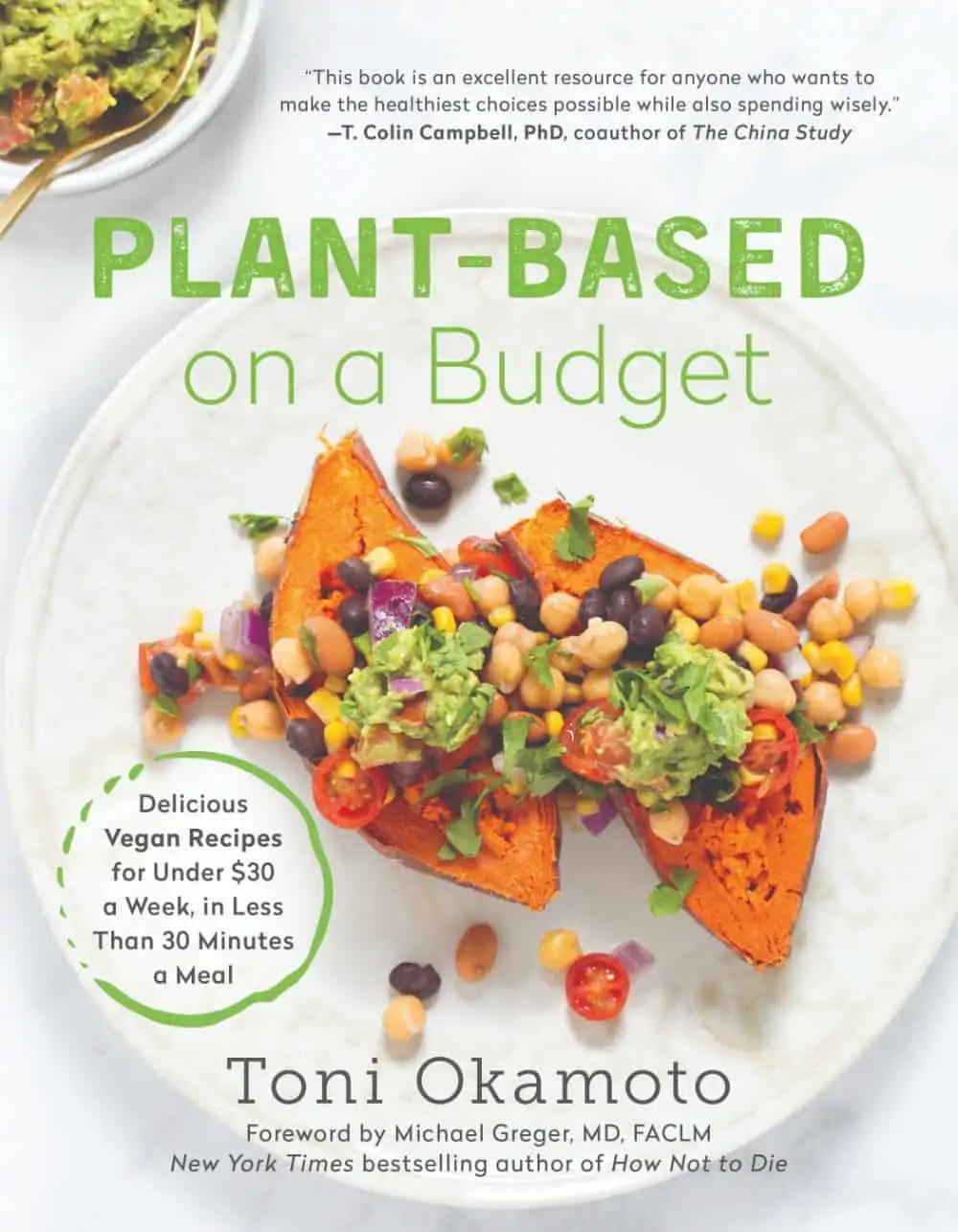 Feeling the salad vibe? Check these out!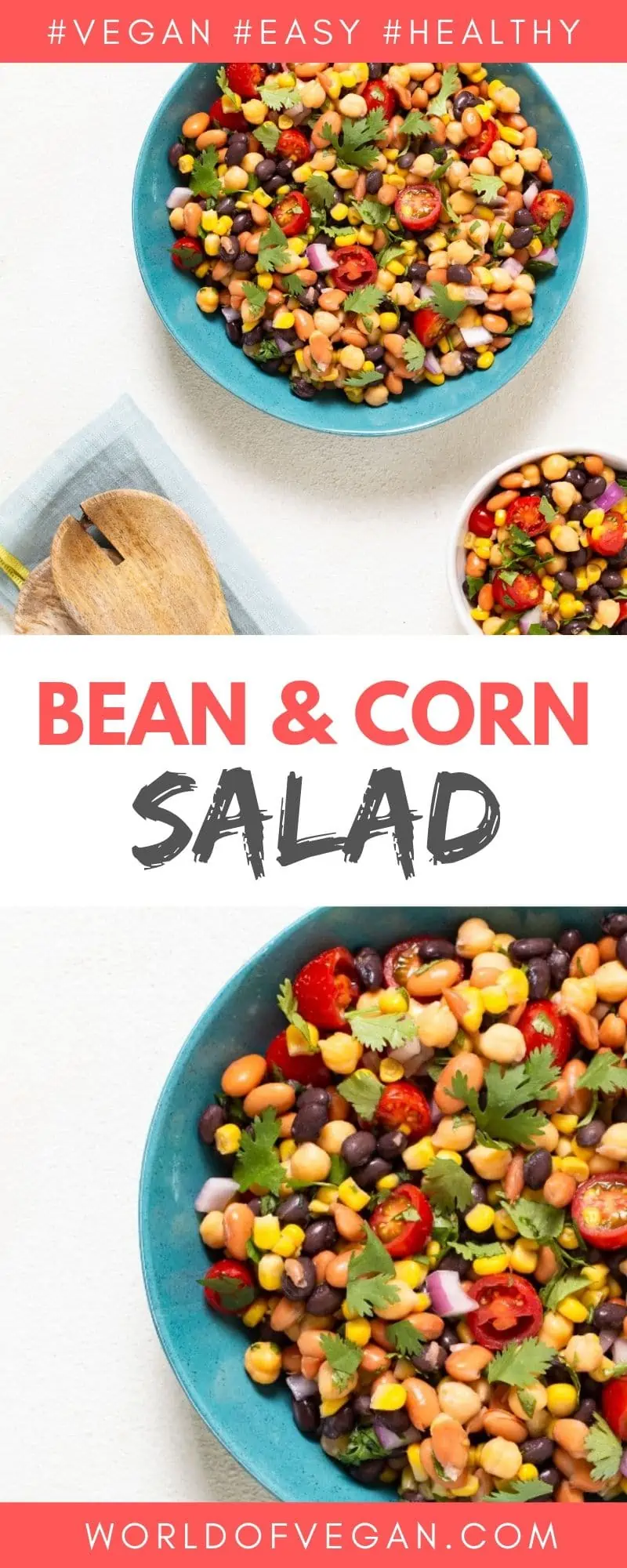 This 3 bean salad recipe was excerpted from Plant-Based On a Budget by Toni Okamoto, BenBella Books. 2019. Photos by Jenny Love. Please note that this article contains affiliate links that support our work here at World of Vegan.