Welcome to the most delicious kale recipe ever! This sautéed kale recipe is so easy, made with just 6 ingredients, and it's so tasty you may want to eat the whole pan.
So, let's talk about kale. Can you be counted on as a Loyal Kale Lover or do you take pride in being an Enduring Kale Enemy? If you're in the last category, I'm here to change your mind with our simply scrumptious sautéed kale recipe.
I have a sense that you might be skeptical, but stick with me and keep reading. If you can count on one hand how many times you've eaten kale, you're the person I want to convert. The reason why you haven't liked it in the past is because you haven't cooked it like this.
By including just a small amount of sautéed kale to any part of your plate, you're giving yourself an extra ticket to health and finding a new favorite vegetable to boot. Go on, give it a try!
Kale – The Cruciferous King
We all know that adding cruciferous vegetables to your day is beneficial in every way. I know that we do our best to add them in when we can, but some of us aren't huge fans of these sturdy, hearty, and, frankly, smelly foods. Though, the stronger the smell, the more powerful their nutritional punch can be.
Maybe green smoothies aren't your thing. Maybe you can't bear the taste of broccoli. Or you recoil when you encounter cauliflower. Not to worry. This is the simple cruciferous recipe I use to turn any apprehensive friend into a die-hard kale fanatic. You will want to eat the entire pan of this stuff, guaranteed.
Kale Nutrition Facts:
Did you know? Per calorie, kale has…
More iron than beef
More calcium than cow's milk
10x more vitamin C than spinach
4 Ways to Banish the Bitter of Kale
If you follow these four suggestions, I can promise you much less bitter and much more enjoyable kale. Taking the time to tackle these steps can improve not only the taste but the texture as well.
Slice off the Stems – The stems can be tough and cutting them off makes a huge difference. You can either use a sharp knife to cut along each side or buy a gadget that cuts off the greens in one mighty pull.
Massage the Leaves – A few minutes rubbing the leaves and giving them love softens them enough to become tender and tasty.
Sautée, Steam, or Stir Fry – The heat from cooking really helps the cut the bitterness.
Supplement With Sweet – Adding a bit of sweetness can also help, if you're not cooking the kale. If you're eating kale in a salad, it's a good idea to add some fruit, sweet vinaigrette, caramelized onions, or even candied walnuts.
How to Serve Up Your Sautéed Kale
Kale is a delicate green, so it's best eaten immediately after cooking. But, if you do have any leftovers, there are so many things you can do with them. Clever uses for extra cooked kale include:
Toss With Tofu – Give your tofu scramble extra flavor with some leftover sesame kale. Chop it up, throw it in, and you've just given your meal major nutrition points!
Sprinkle Into Your Salad – Place a few pieces of warm kale on top of your vegan salad so that it adds an interesting texture and an entirely different temperature to your plate. This is perfect if you only have a small amount of kale to contribute.
Pair With Pasta – Suppose you made a double batch of this savory side and only ate half a portion. Use the other half to boost up your pasta bowl. You'll not only accent your meal with additional color, but also with antioxidants and vitamins A, K, and B6.
Add to the Soup Group – Soup is always better with a little bit of gorgeous greens. Especially tasty in Ten-Minute Miso Noodle Soup, Thai Vermicelli Noodle Soup, and Ramen Noodle Soup. Each of these recipes would be enhanced by the slightly spicy, sesame, and garlic flavor profile.
Simple Storing
If you have time, prepare your kale a couple of days in advance. Wash, pat dry, and then wrap in kitchen towels. Place your lovely, clean leaves into reusable bags that seal (like Stasher bags). They'll keep fresh in the fridge for up to 3 days.
For any uneaten, but cooked curly kale, store in a sealed container in the refrigerator for a day or two. You can use the suggestions shared above or simply reheat in the oven, microwave, or air fryer for a quick snack.
More Savory Vegan Sides To Try:
1 tablespoon of toasted sesame oil
2 large bunches of curly kale, rinsed, stems removed, and roughly chopped into bite-sized pieces.
¼ teaspoon of garlic powder, or two large cloves of garlic, minced
¼ teaspoon of salt, adjust to personal taste
¼ teaspoon of red pepper flakes
¼ teaspoon of sesame seeds, white or black
In a large sauté pan over medium heat, add the toasted sesame oil.

Once hot, add the chopped kale and toss it with the oil using a spatula.

Add the garlic powder (or fresh minced garlic), salt, and red pepper flakes and use the spatula to mix it evenly with the kale.

Continue to cook for about 5-7 minutes, regularly tossing with the spatula to prevent kale from burning. The kale should shrink in size drastically and become soft, bright green, and chewy.

Stir in sesame seeds, remove from heat, and enjoy!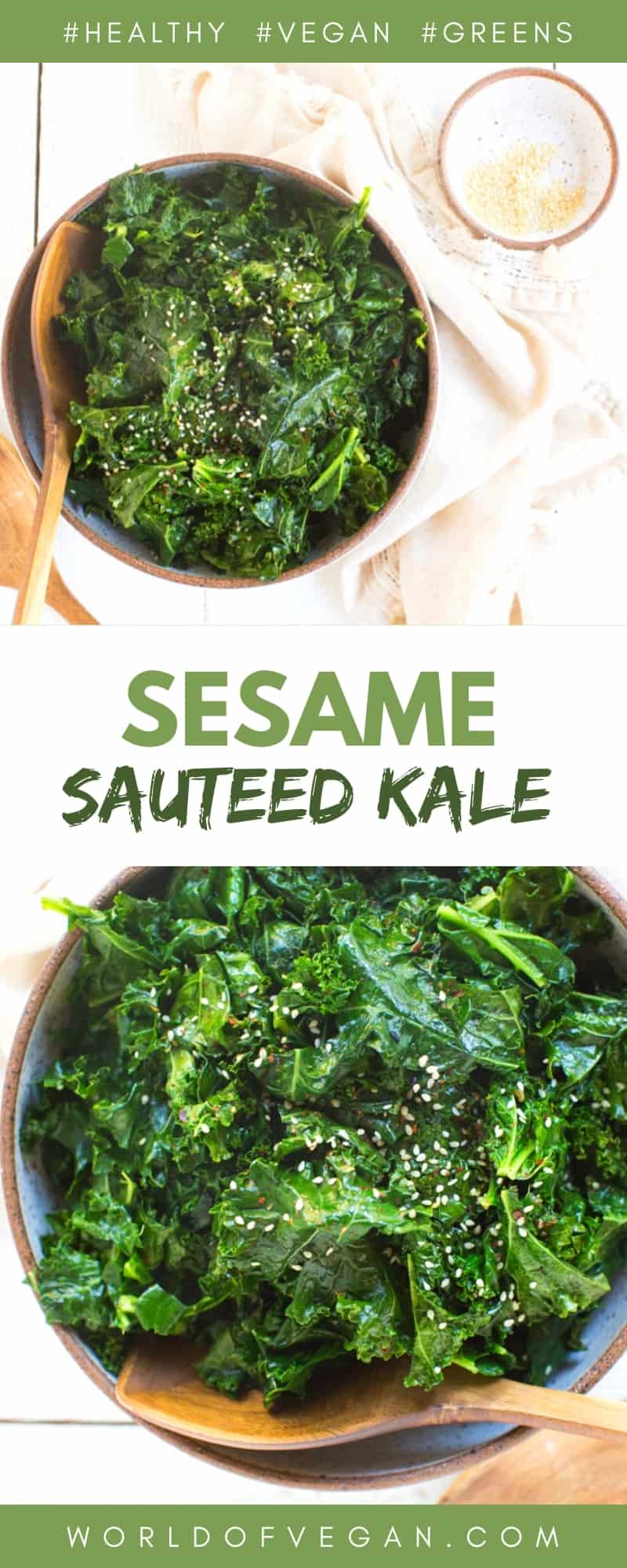 Sautéed Kale with Garlic & Sesame recipe by Michelle Cehn for World of Vegan. Copyright of World of Vegan™, all rights reserved. Article written by Gina House and edited by Amanda Meth. Please note that this article may contain affiliate links that support our work at World of Vegan.