Breakfast is by far my favorite meal of the day. After fasting through the night, there's nothing better than waking up and enjoying a delicious breakfast.
On weekdays, I rarely have the luxury to indulge in a slow meal as I've got to rush to school drop-offs and work. But on weekends, breakfast is sacred in our house. Slowing down and enjoying a delicious home-cooked breakfast is a privilege I encourage you to make time for on weekends.
And what better way to indulge than cooking up a batch of these easy vegan pancakes from the What Vegans Eat cookbook?
Pancakes have a special place in our hearts. They take us back to those happy days in our childhood when our mom or dad would pile them up on our plate. Pure joy.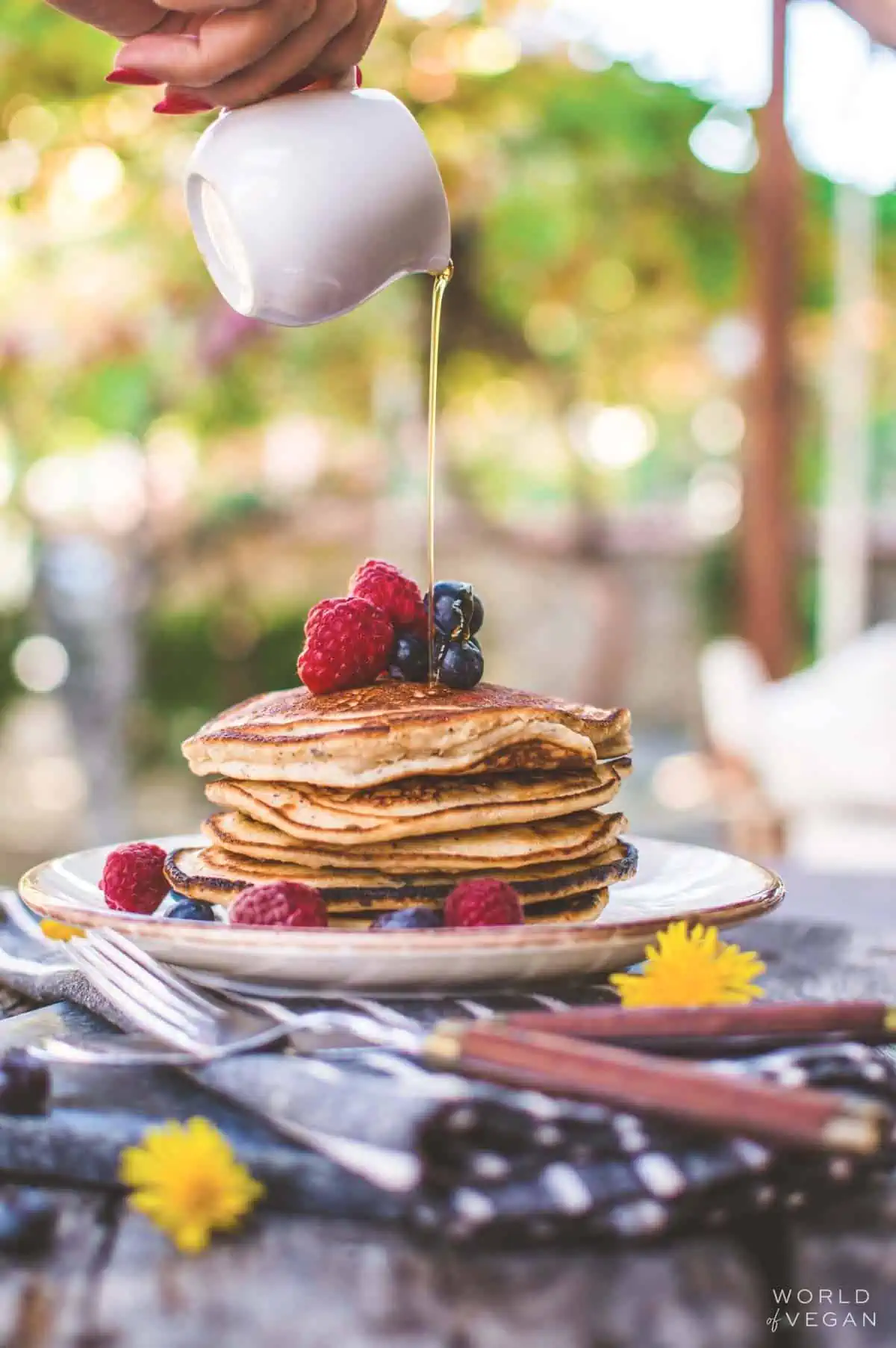 Why You'll Love These Vegan Pancakes
These incredibly easy vegan pancakes are so good and simple that they will become another staple in your household. Only a couple of ingredients and a pan and you're set! You can use endless toppings and drizzle them (or soak them!) with maple syrup. Use the fruits that are in season and therefore on sale and, if you're feeling fancy, you can sprinkle some walnuts or add some blueberries to the batter.
Needless to say, my kids go wild for these! Without even trying, it became our Sunday morning ritual, and we are so happy it did. If I'm honest, we make a batch large enough for the kids to snack on later on or store them in the fridge and heat them up the next morning. Who has the time or motivation to make breakfast on Monday mornings? Lifesaver!
Pancakes for breakfast just make life, well…better! So why not commit to making these once a week and share them with your loved ones. No tricky ingredients or cooking skills needed!
Key Ingredients
With just a handful of simple ingredients, you can effortlessly create these easy vegan pancakes—chances are, you already have most of them readily available!
Flour: Opt for all-purpose flour or whole wheat flour for a wholesome touch. Need a gluten-free option? Select an all-purpose gluten-free flour.
Baking Powder: This essential ingredient is what helps leaven these pancakes and make them extra thick and fluffy!
Plant-based Milk: Any non-dairy milk will work! Almond milk, soy milk, or oat milk all would work well.
Maple syrup: To add a subtle touch of sweetness, we're using maple syrup. It's great in both the batter and as a topping! Feel free to use any liquid sweetener you prefer, such as agave syrup.
Vanilla Extract: Adds a lovely comforting, and warm aroma to the pancakes!
How To Make Vegan Pancakes
Step One: In a large bowl, whisk together the flour and baking powder. Then, add the dairy-free milk, maple syrup, vanilla extract, and salt. Whisk to combine until the batter is nice and smooth.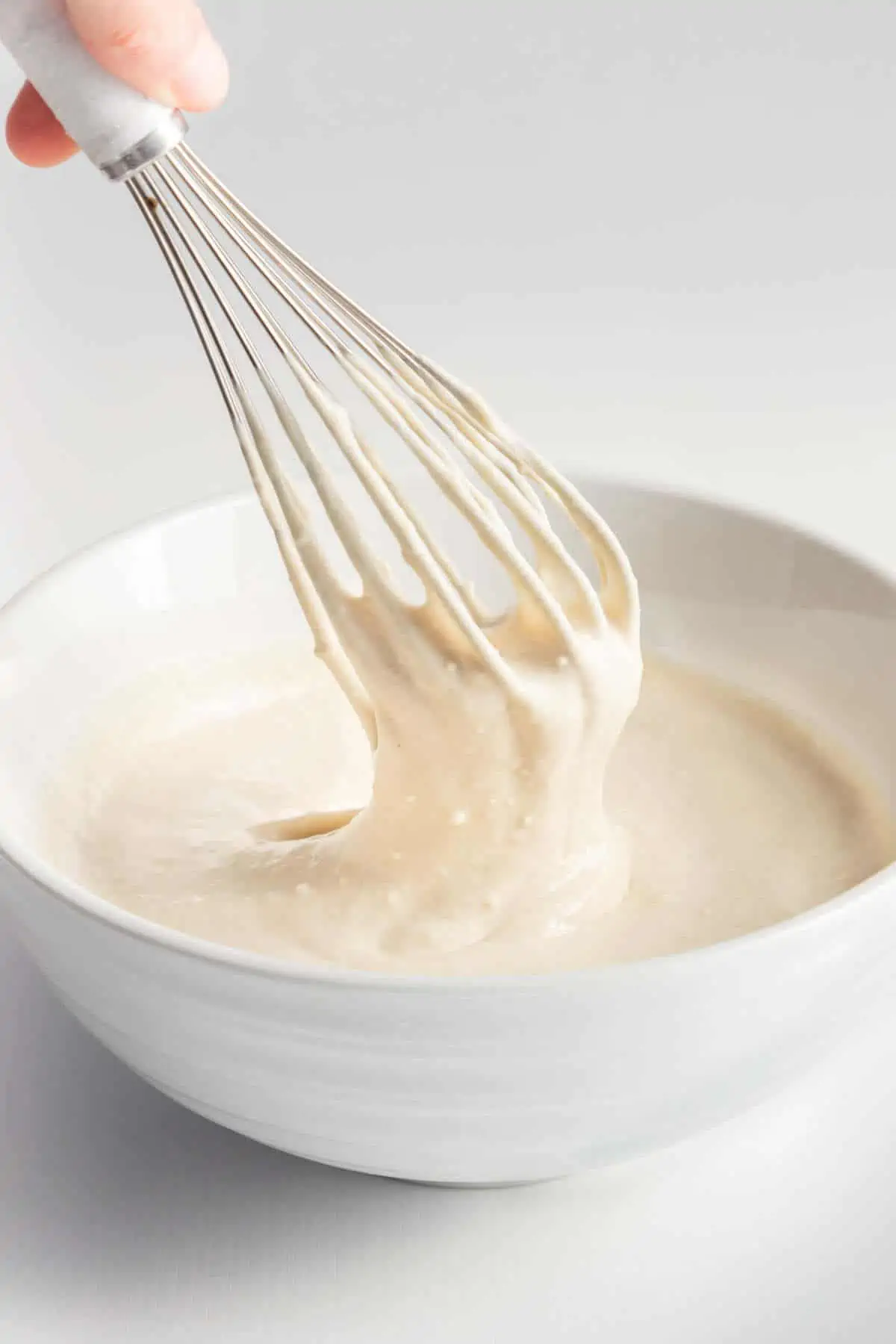 Step Two: Add a little oil to a frying pan over low heat, then add one tablespoon of the batter to the pan, tilting the pan to create a flat, circular pancake.
Step Three: Allow it to cook for a little over 30 seconds, until the pancake firms up enough to slide when you give the pan a gently shake. Flip it and cook for another half minute until both sides are crispy and golden.
Step Four: Repeat with the remaining batter, keeping the finished pancakes somewhere warm while you cook the rest.
Storage
If you have leftover pancakes, no worries! These vegan pancakes are super easy to store and reheat!
Allow the cooked pancakes to cool completely at room temperature then stack them with a layer of parchment or wax paper between each pancake to prevent them from sticking together. Place in an airtight container or zip-top bag, pressing out excess air before sealing.
These pancakes can be stored in the fridge or freezer!
Reheating Instructions
Did you know you can meal prep pancakes and reheat them later? This can be a huge time saver for busy mornings!
If reheating from frozen, defrost the pancakes in the refrigerator overnight. Here are a few easy ways to reheat pancakes:
Microwave: For a quick option, you can microwave pancakes. Place a damp paper towel over the pancakes to retain moisture. Heat in 15-30-second intervals until warmed.
Toaster Oven: You can also reheat by toaster oven or oven. Place the pancakes directly on the toaster's rack or on a baking sheet in the oven, set to a low or medium setting and reheat for a few minutes until warmed through.
Stovetop: For the best texture, use a skillet on a stovetop. Heat a non-stick skillet over medium-low heat and warm each pancake for a minute or two on each side.
Pancake Variations
You can easily customize your pancakes by incorporating add-ins! Here are some classic options:
Blueberries – Or any berry you prefer!
Chocolate chips – Just make sure to choose dairy-free chocolate chips to keep it vegan.
Sliced bananas
Chopped nuts like walnuts or pecans
Pumpkin pie spice – A dash of cinnamon and nutmeg gives it a delicious autumnal aroma!
Vegan sprinkles – For a fun birthday cake pancake!
Coconut flakes – Adds a tropical vibe!
How To Serve
These pancakes pair perfectly with a number of toppings, breakfast dishes, and drinks to turn this into a full brunch feast!
For toppings, add some slices fresh berries for some natural sweetness. Keep it creamy with a dollop of coconut whipped cream, or spread your favorite nut butter on top for a dose of healthy fats. Peanut butter, almond butter, or even cashew butter make these pancakes extra filling!
Hosting brunch and need some sides? Try a fresh fruit salad with a mix of seasonal fruits, a savory tofu scramble for a protein-packed accompaniment, or chia pudding parfait for a balanced and visually appealing side!
Don't forget to wash it all down with a refreshing strawberry spritzer or peach juice! Quench your thirst with an iced coffee or if it's fall or winter, a warm mug of pumpkin spiced latte. The possibilities are endless!
Vegan Pancake FAQs
Is Bisquick vegan?
Yes! Lucky for us, Bisquick is vegan-friendly, egg-free, and dairy-free. If you add in your own vegan butter, plant-based milk, and egg replacer, you can make anything you like from this pre-made mix.
Is Aunt Jemima pancake mix vegan?
It is! Although the company is now renamed the Pearl Milling Company, the original ingredients are still the same and are all vegan-friendly. The ingredients are as follows: enriched bleach flour (bleached wheat flour, niacinamide, reduced iron, thiamin mononitrate, riboflavin, folic acid), sugar, leavening (baking soda, sodium aluminum phosphate, monocalcium phosphate), salt, and calcium carbonate.
What pancake mix can vegans eat?
You'll be happy to know that there are many pre-made pancakes mixes that are accidentally vegan! They include Annie's, Arrow Head Mills, Birch Benders, Bisquick, Bob's Red Mill, Krusteaz, and Pearl Milling Company (previously Aunt Jemima).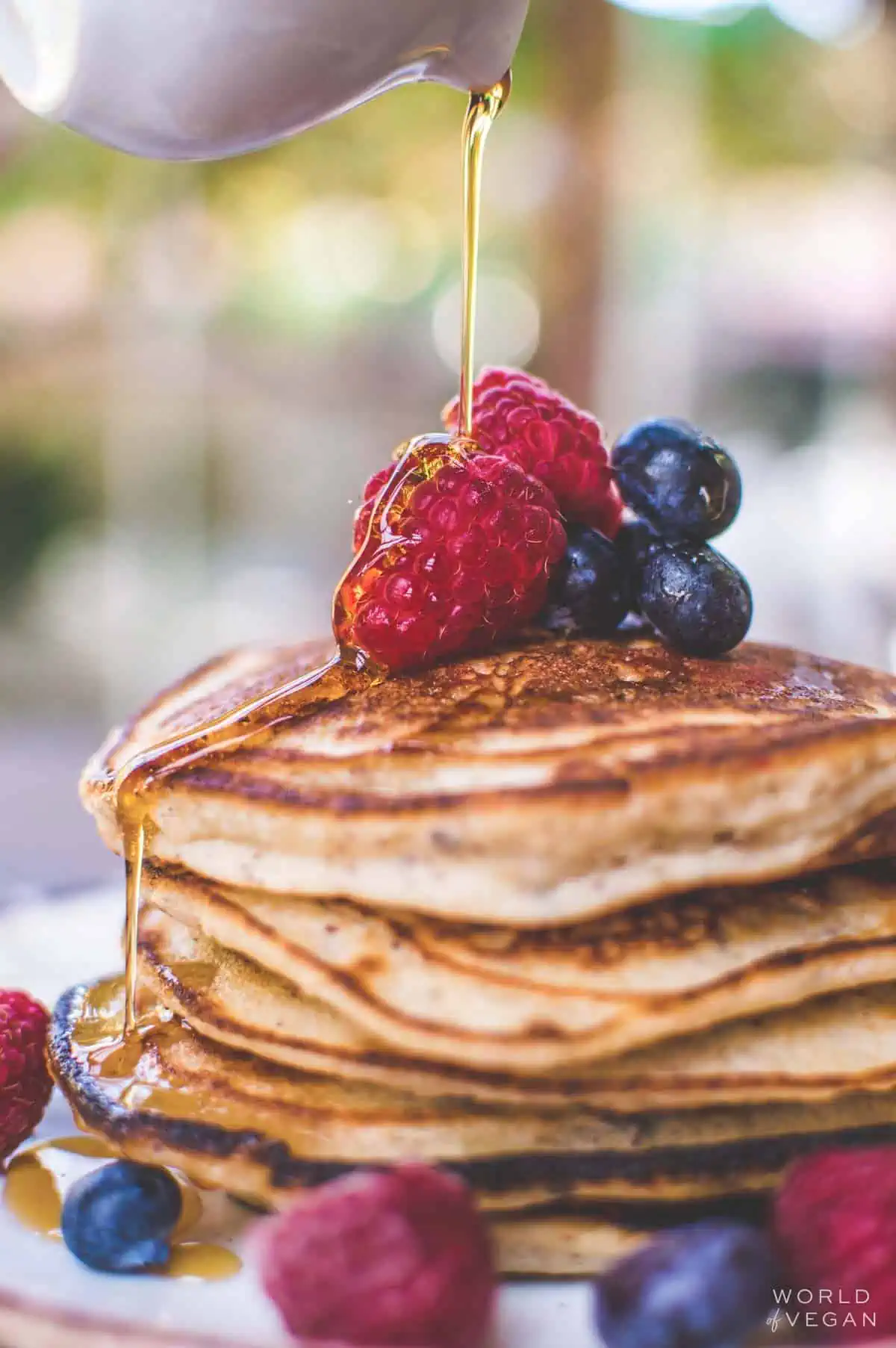 More Vegan Breakfast Recipes
1 cup flour
1 teaspoon baking powder
1 cup plant-based milk
2 tablespoons maple syrup
1 teaspoon vanilla extract
pinch salt
oil for frying
Combine the flour and baking powder in a large bowl, then add all the remaining ingredients, except the oil, and mix together with a whisk.

You aren't trying to whisk the mixture or add bubbles here, but a whisk just works best to make the batter nice and smooth.

Use a brush to apply a thin layer oil to a frying pan set over low heat, then add 1 tablespoon of the set over a low heat, then add 1 tablespoon of the batter mixture to the pan—keeping it flat and level to make a neat circular pancake.

Cook for a little over 30 seconds until the pancake is firm enough to slide when you shake the pan, then flip it over and cook for another 30 seconds until both sides are crispy and golden.

Keep the pancake somewhere warm while you make the others. Cook the rest of the batter in the same way—you should have between 12 and 16 pancakes.

Serve with your preferred toppings—my favorite way to serve these beauties is with coconut cream and fresh strawberries.
Calories: 153kcal | Carbohydrates: 31g | Protein: 4g | Fat: 1g | Saturated Fat: 0.05g | Polyunsaturated Fat: 1g | Monounsaturated Fat: 0.4g | Sodium: 189mg | Potassium: 58mg | Fiber: 1g | Sugar: 6g | Calcium: 149mg | Iron: 2mg
About the Cookbook
Brett Cobley just released his first book, What Vegans Eat, and it's perfect for those of you starting on a plant-based diet. The recipes are simple but delicious!
Brett, a passionate vegan cook and activist, started an Instagram page a few years ago because he wanted to share his plant-based creations with vegans and non-vegans out there. His following grew so quickly that he created his website EpiVegan, and now he is launching his first book. Congrats, Brett!
Want to indulge in more of Brett's simple vegan recipes? Pick up your own copy of What Vegans Eat.
Reprinted with permission from What Vegans Eat by Brett Cobley, Harper Collins, 2018. Photos by Zhoro Apostolov for World of Vegan, all rights reserved.