This air fried broccoli is the easiest broccoli recipe you'll ever make! It takes just a couple minutes of prep and 15 minutes in the air fryer. Boom—healthy vegan side dish served! Read on to see how to make it, what to serve it with, and some fun facts about broccoli.
Are you a broccoli lover or hater? It seems like there's no middle ground, dividing those who enjoy the green florets and those who would rather eat dirt. Let's take the fight out of dinner and make it effortless to love your veggies. Even kids will love gobble them up with this simple preparation!
This easy air fryer broccoli is my go-to solution when I don't know what to make for dinner. The florets come out of the gloriously golden brown, crisp, and tender all the way though. It's hard to resist eating them all straight out of the basket, but they're also a fantastic addition to all sorts of meals, other recipes, and a delicious side dish on their own.
Why You'll Love this Air Fryer Broccoli Recipe
Ready in 20 minutes. Only 5 minutes of prep and 15 minutes of inactive cooking time stand between you and a super satisfying, delicious side dish.
Plays well with others. Flavorful yet subtle and agreeable, this is a side dish that pairs well with just about any meal.
Almost allergen-free. Nut-free, soy-free, sugar-free, dairy-free, gluten-free, egg-free, and of course vegan, everyone can enjoy this dish without worry! The only concern might be a seed allergy for the inclusion of sesame oil, but that can also be swapped out for any vegetable oil if that's the case.
Super healthy. Low fat and high fiber, it's never been so easy to get your veggies in.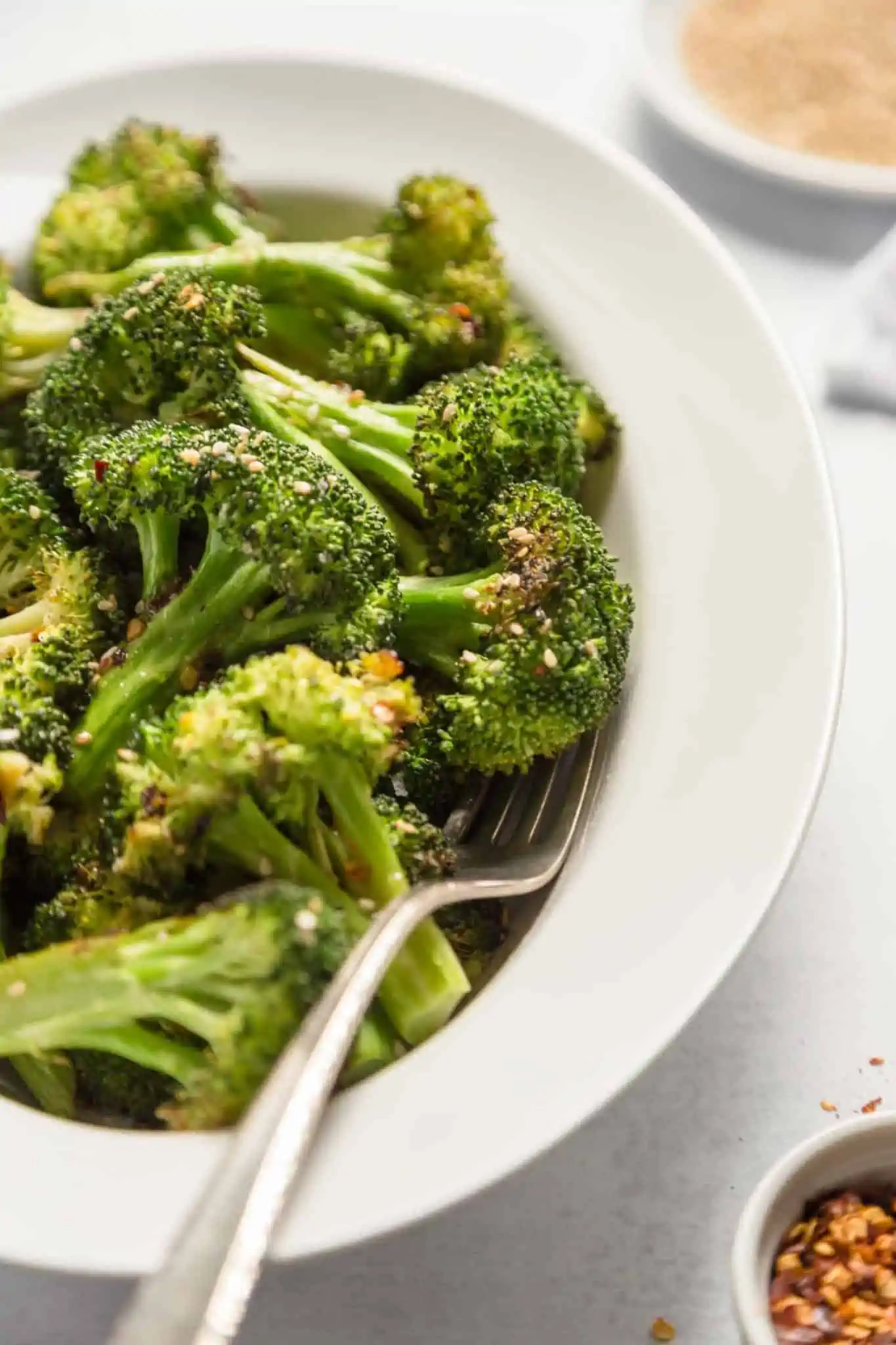 How to Serve Your Air Fried Broccoli
Anything goes with this versatile vegetable, but if you need some more inspiration, here are a few excellent ideas for making the most of your work:
Add to hot pasta and a creamy or cheesy sauce for healthy decadence.
Toss with chilled pasta and vinaigrette to make a picnic-worthy pasta salad.
Use in a rice bowl along with baked tofu or beans, avocado, and your favorite healthy sauce.
Mix into leafy salads, chopped more finely if desired.
Serve alongside a meatless main like seitan cutlets, lentil loaf, or tofu tenders.
Dip into dairy-free ranch dressing.
Star Ingredients
Broccoli – When buying fresh, look for crowns with tight and compact florets that are bright green. Anything soft or yellowed is past its prime.
Toasted sesame oil – Made from cold pressed, lightly roasted sesame seeds, this oil has a very strong, distinctively nutty flavor that really shines here. A little bit goes a long way.
Garlic powder – Easier to use than whole garlic, you'll get much more even distribution of flavor by using this finely ground, dehydrated garlic powder.
Red pepper flakes – For just a gentle kick of heat without a serious burn, a tiny pinch of crushed red pepper flakes does wonders. If you'd rather play it safe, you can always use regular ground black pepper instead, too.
Broccoli Tips and Tricks for Success
Wash and thoroughly dry your veggies. Give the broccoli a good rinse under room temperature water to get rid of any residual dirt, and make sure to dry it off before with a clean kitchen towel before proceeding. A little residual moisture is fine, but if it's still wet when it goes in the air fryer, it won't get brown and crisp.
Don't be afraid of salt. Bland broccoli is the worst, so salt generously before cooking, and then more to taste, after it's done.
Cut your florets to the same size. Similar-sized pieces will cook at a similar rate, preventing smaller ones from burning before larger ones become tender.
Don't crowd the basket. If the florets are too close together, they will steam rather than brown and crisp. Make sure to spread your florets in an even layer with a little space in between.
Don't toss the stalk. Chop it and roast it right along with the florets or save it to make soup. It's still full of flavor and nutrition!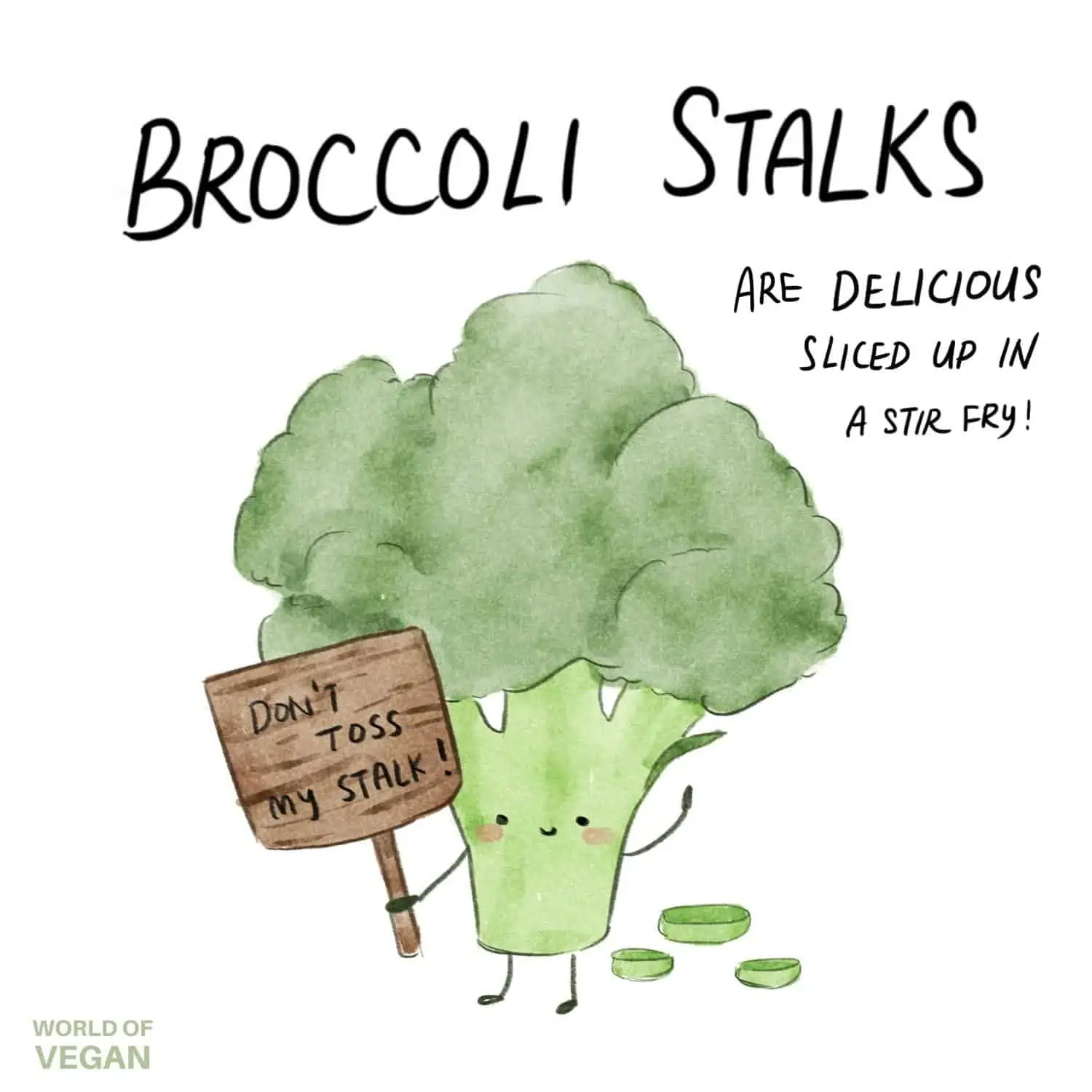 Air Fryer Broccoli FAQs
Can I make this without an air fryer?
No problem! Just bake in a conventional oven at 375 degrees for 20 – 25 minutes.
How long will it last?
Stored in an airtight container in the fridge, leftovers will last for up to 5 days.
Can I double the recipe for a crowd?
Absolutely! You may need to cook in batches, depending on the size of your air fryer basket, or use two separate racks if you have an oven-type model, rotating them halfway through.
Can I use frozen broccoli?
The results will be a bit softer overall, but in a pinch, frozen broccoli can work. No need to thaw before using.
What can I use instead of broccoli?
You can easily substitute cauliflower, broccolini, romesco, or broccoli raab.
Is there something I can use to replace sesame oil?
While you won't get that same nutty flavor, you can use any other oil you prefer, such as olive oil, avocado oil, or rice bran oil, just for starters.
10 ounces fresh broccoli florets, if you have extra broccoli stalks, slice them up and add them in—they're edible and delicious too!
1 tablespoon toasted sesame oil
¼ teaspoon garlic powder
¼ teaspoon red pepper flakes
¼ teaspoon salt
A sprinkle of sesame seeds for topping, optional
In a large bowl add the fresh broccoli florets (and sliced stalks if you have them), toasted sesame oil, garlic powder, red pepper flakes, and salt. Using your hands, mix thoroughly until evenly coated with the oil and spices. 

Place broccoli into your air fryer basket and arrange in a single layer. 

Air fry for 6 minutes at 400 degrees F. Remove basket, check broccoli, and continue in 2 minute increments until you have perfectly broccoli. Adjust timing according to how crispy you like your broccoli!

Remove from air fryer, sprinkle with sesame seeds (if desired), and enjoy!
Calories: 43kcal | Carbohydrates: 0.3g | Protein: 0.1g | Fat: 5g | Saturated Fat: 1g | Polyunsaturated Fat: 2g | Monounsaturated Fat: 2g | Sodium: 197mg | Potassium: 6mg | Fiber: 0.1g | Sugar: 0.02g | Vitamin A: 49IU | Vitamin C: 0.003mg | Calcium: 1mg | Iron: 0.04mg
Health Benefits of Broccoli
We all know that broccoli is an everyday superfood, but what exactly makes it so good for us? There's a long list of vitamins and nutrients to be found in every serving:
Boosting immunity and fighting free radicals, one cup of broccoli has as much Vitamin C as an orange, and much less sugar.
Bolstered with generous amounts of vitamin K, potassium, magnesium, phosphorus, and calcium, broccoli is excellent for building strong bones.
Broccoli is very low calorie yet high in fiber, which makes it very filling and helpful for weight loss.
Look out! It's also good for your eyesight. Lutein and zeaxanthin protect the retina and eye lens, reducing the risk of macular degeneration and cataracts.
Stay sharp and eat your veggies; broccoli consumption has been linked to healthy brain and function, in addition to protecting against age-related cognitive decline.
Fun Broccoli Trivia
The word broccoli comes from the Latin word brachium and the Italian word braccio, which both mean "arm."
Broccoli is part of the Brassica oleracea cultivar which includes, cabbage, kale, collards, Brussels sprouts, and cauliflower.
Although it's available all year round, worldwide, Broccoli is a cool weather crop that's in season between October and April.
Almost all of the broccoli eaten in the US is grown in California. It's the third largest producer of broccoli in the world, following China and India.
There are multiple National Broccoli Days. St. Broccoli Day (following St. Patrick's Day) is observed on March 18th, I Love Broccoli Day is on March 22nd, and plain old National Broccoli Day is celebrated on April 4th.
More Broccoli Recipes to Try:
Hope you enjoy this recipe for how to make air fried broccoli! Food photography by JJ Steele. Please note that this article may contain affiliate links which supports our work at World of Vegan.