What do you do when you're craving a rich and creamy pasta with a particular summer-like sensation? It's really a no-brainer. You make a beautiful green batch of our walnut pesto pasta, pronto! Fantastically fresh, vibrant, and as enjoyable for the eyes as it is for the stomach.
The combination of fragrant, shiny basil leaves with crumbly, nutty walnuts makes for an incredibly flavorful pesto sauce that's out of this world! Pour in a half of a cup of smooth, golden olive oil and a pound of your favorite pasta and you've got yourself a truly mouthwatering meal. You'll not only impress your guests, but your taste buds as well!
Do you know why we think this pesto pasta recipe is so perfect for a luscious lunch or delightful dinner? Keep reading to find out more!
Why Does This Pesto Use Walnuts instead of Pine Nuts?
You might be skeptical about this recipe because it's made with walnuts instead of pine nuts (which are traditionally used in pesto). We chose walnuts because they're much less expensive than pine nuts (which can cost 4x or 5x more than other nuts). But guess what? This pesto tastes almost exactly the same as pesto made with pine nuts.
Don't believe us? Just give it a try. We've served this to many pesto lovers and many non-vegans and it always gets rave reviews. Many people have shared that they actually like it better than their favorite pesto.
What Are the Health Benefits of Walnuts?
Walnuts not only resemble a human brain in shape and texture (have you ever noticed this?), but they also provide our bodies with so many much-needed essential nutrients such as:
High in omega-3s
Loads of vitamin E and polyphenols
Melatonin to help you sleep
Highest antioxidant activity of any common nut
They also promote healthy bacteria growth in your gut, which can help with reducing inflammation and heart disease risk. Plus, they taste absolutely yummy with their buttery, nutty flavor and are a super portable, satisfying snack. Now you have even more reason to try this walnut pesto pasta recipe!
What's Great About Basil?
Basil is one of the best herbs for a beginner because it's easy to grow and also bursting with antioxidants such as lutein, beta-carotene, zeaxanthin, and beta-cryptoxanthin. All of these are amazing for eye health and reducing oxidative stress.
The bright green, rounded leaves have a strong, attractive scent and are grown with more than 60 unique varieties. Did you know that basil is actually native to India, Asia, and Africa, but it mostly associated with Italian and Thai-inspired dishes?
Five most common varieties of basil (with the Latin name of Ocimum basilicum) are Sweet Basil (with a slight licorice-clove flavor), Greek Basil (strong scent, but mild taste), Thai Basil (used in Thai cuisine with an anise-licorice profile), Cinnamon Basil (native to Mexico and wonderful with legumes or spicy veggies), and Lettuce Basil (again having a licorice flavor, but also large, soft wrinkly leaves).
Essential Ingredients For The Walnut Pesto
Now that you know all the good things about walnuts and pesto, let's dive in and see how easy it is to make!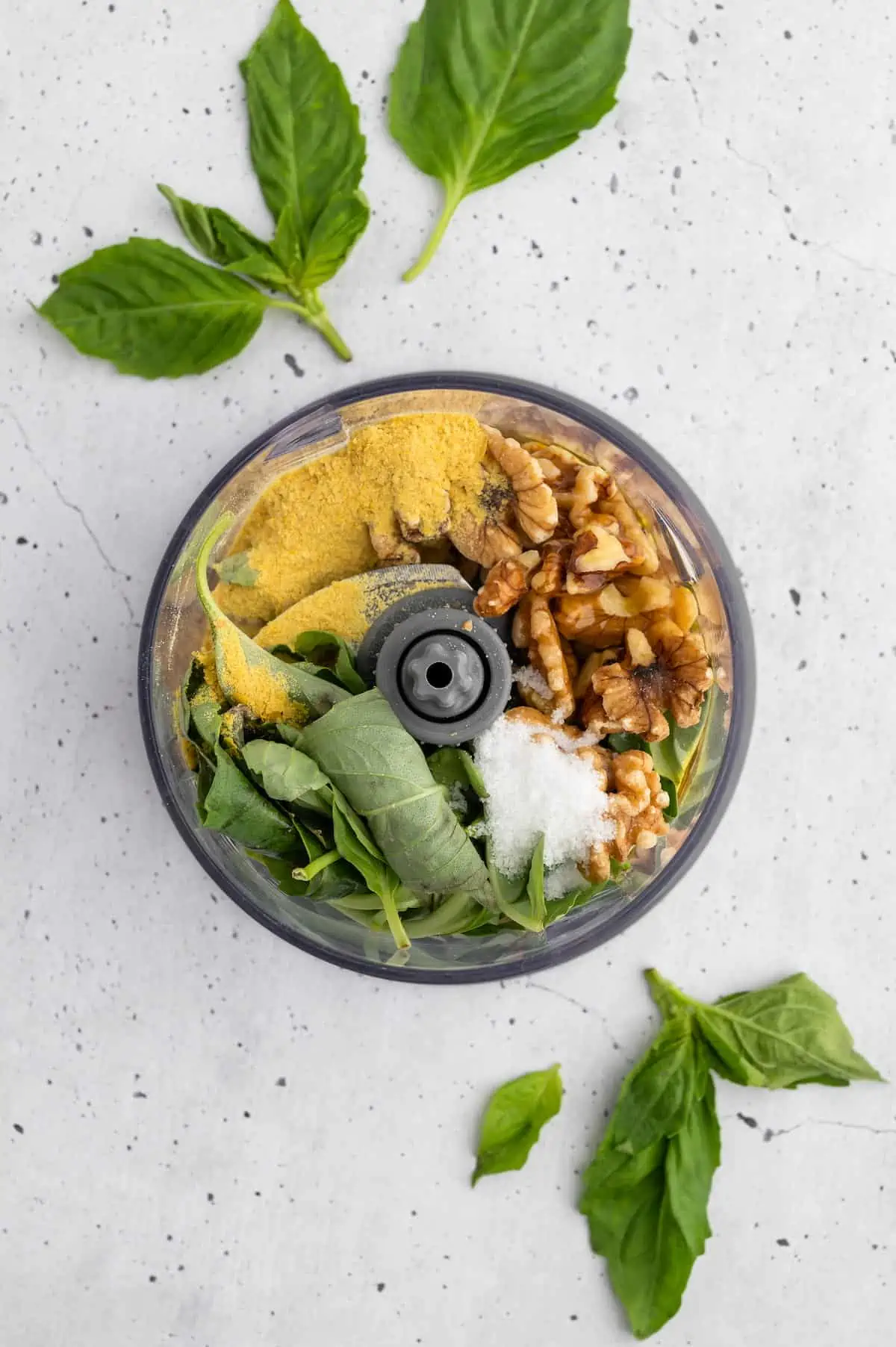 Place all of the walnut pesto ingredients into a food processor and blend until smooth. That's it!
How To Serve Up Your Pasta
Pasta meals are usually pretty pleasant on their own, but there are ways to plump up the portions or pump up the already amazing flavor. Here are some of our favorite tips: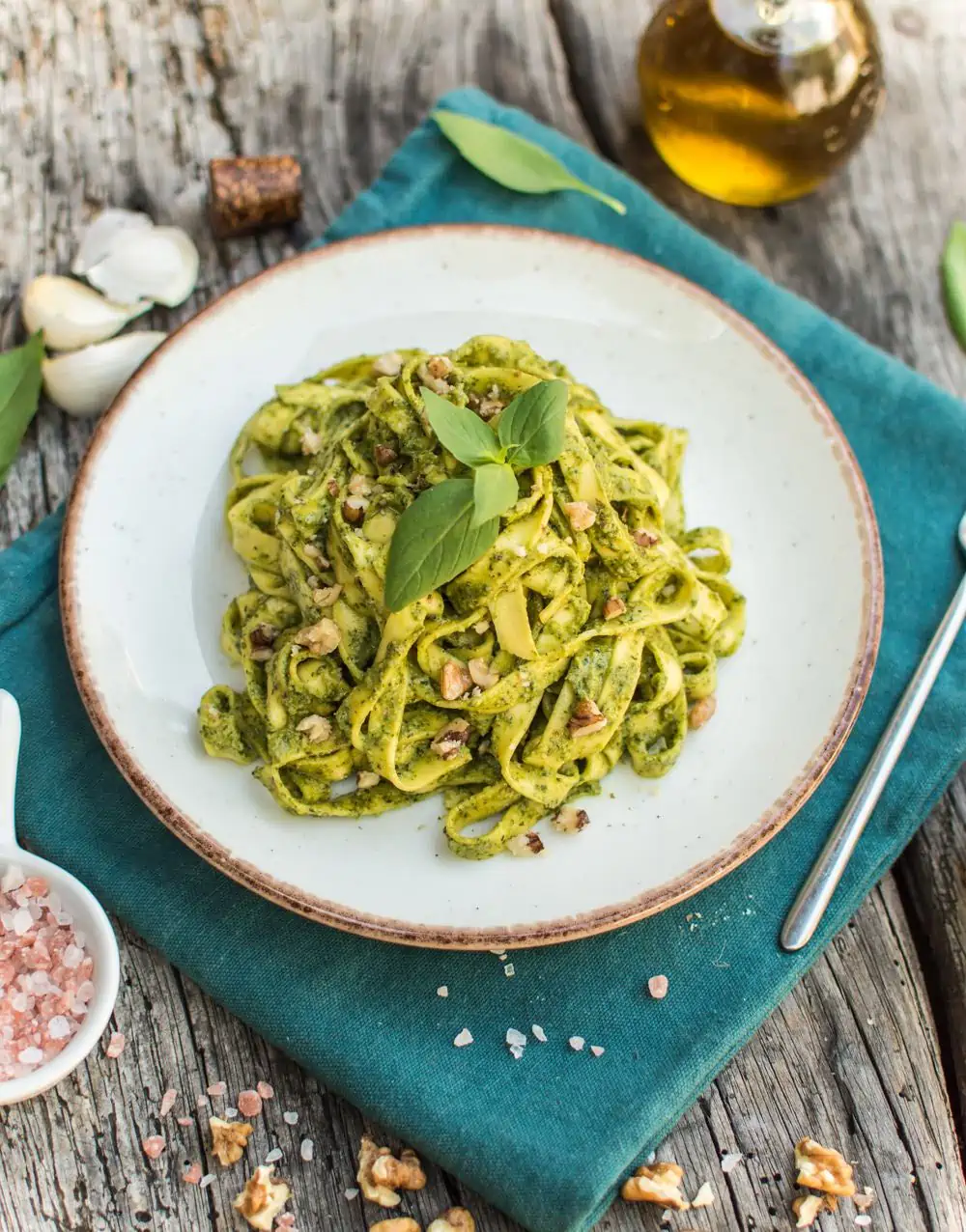 Simple Storage for Walnut Pesto Pasta
Any pasta leftovers can be placed in a covered container and placed in the refrigerator. They should last for up to 5 days. When re-heating, add a tablespoon of water (or, better yet, more pesto sauce) to the mix, stir well, and cook until heated through. Either 1-2 minutes in the microwave or about 5 minutes over medium/low on the stovetop would work. Sprinkle on a few more chopped walnuts, if you wish.
Leftovers can also be frozen for up to 2 weeks if placed in an airtight, freezer-safe container. You can store them in glass containers or you can even use a Stasher bag for this––the mega bag size is so handy and you can reheat right in the bag itself!
Equipment You'll Need
More Vegan Pasta Recipes to Try
If you try this Walnut Pesto Pasta recipe, let us know what you think by leaving a comment and rating below! Be sure to follow along on Pinterest, Instagram and Facebook for even more vegan recipe inspiration.
Walnut Pesto
½ cup tightly packed fresh basil leaves
1 cup raw walnuts
1 teaspoon minced garlic, about 2 small cloves
½ cup olive oil
2 tablespoons nutritional yeast
1 teaspoon salt
Walnut Pesto Pasta
1 16-ounce package your favorite pasta
1 batch Walnut Pesto
salt, to taste
1 tablespoon chopped walnuts, for garnish (optional)
Walnut Pesto
In a high-powered blender or food processor, combine all ingredients.

Blend on high until smooth and creamy.
Walnut Pesto Pasta
In a large pot of boiling water, cook the pasta according to the directions on the package. Drain thoroughly.

Combine the pesto with the cooked noodles.

Serve with an extra sprinkle of salt and garnish with the chopped walnuts (if using).
Enjoy the pesto immediately or store in a sealed jar in the fridge for up to 5 days.
Calories: 463kcal | Carbohydrates: 6g | Protein: 7g | Fat: 48g | Saturated Fat: 6g | Polyunsaturated Fat: 18g | Monounsaturated Fat: 23g | Sodium: 583mg | Potassium: 228mg | Fiber: 3g | Sugar: 1g | Vitamin A: 165IU | Vitamin C: 1mg | Calcium: 38mg | Iron: 1mg
Walnut Pesto Pasta recipe Michelle Cehn & Toni Okamoto shared from The Friendly Vegan Cookbook. Photos by Zhoro Apostolov. Article written by Gina House and edited by Amanda Meth. Please note that this article contains affiliate links to help support our work at World of Vegan!