If you often crave take-out, this sizzling Chinese green beans recipe will soon become your best friend. The silky and spicy dark brown sauce will make your mouth water while the crisp, bright string beans stimulate your senses. Serve over steaming, white sticky rice along with a cup of hot, black oolong tea for the ultimate Asian-inspired experience.
To truly make this homemade vegan meal top-notch, consider laying your table with chopsticks, your best china dishes, and sprinkling in a few starters. For instance, our mellow Miso Soup would be an excellent appetizer, as well as a side of tantalizing Air-Fried Tofu or scrumptious little Rainbow Spring Rolls With Peanut Sauce.
Glorious Green Beans
Did you know that, nutritionally, green beans are pretty darn awesome just on their own? Add in a bit of immune-boosting garlic and a spoonful of calcium-rich sesame seeds for a meal that is chock full of super healthy ingredients.
There are over 130 varieties of these gorgeous green beauties to choose from and they're all high in antioxidants. Keep an eye out for them at your local farmer's markets from May to October.
Sizzling Stir-Fry Fundamentals
You may be wondering, 'What makes a good stir-fry'? How do I get that restaurant-quality taste and texture? Here are four essential steps that will almost guarantee a satisfying and super delicious finished dish:
Choose & Prepare – Pick a protein (tofu, tempeh, beans, etc), vegetable (bell pepper, broccoli, carrots, mushrooms, and more!), and an aromatic (garlic, onion, ginger, etc). In this dish, we only have the veggies, but feel free to add a protein, if you wish. To save time and make the ingredients cook more evenly, make sure to cut your protein and veggies into small bites or thin slices.
Select Your Sauce – The sauce sometimes makes or breaks your dish. If you're not using a packaged sauce and you're in a pinch, keep in mind that you should have a savory/salty element (like soy sauce), a tangy taste (like rice vinegar or citrus juice), something sweet (like brown sugar or maple syrup), and a thickener (such as cornstarch or arrowroot). Remember to mix your thickener with a cold liquid, not hot, for the best consistency.
Coordinate Cooking – To stir-fry a dish means to cook it at a high temperature (usually with oil, broth, or water) for a short amount of time while stirring constantly. Cook your protein first (set aside), add your aromatics to activate flavor, and then it's time for your vegetables. Make sure that they're tender, but still slightly crisp.
Go for the Garnish – Lastly, top with your favorite fresh herbs or veggies. We love using chopped scallions, a sprig of parsley or cilantro, or chopped nuts or seeds. For instance, black sesame seeds offer a great flavor and bold, contrasting color.
How to Serve It Up
Because this Asian Green Bean recipe is pretty simple to make, there are so many ways in which you can personalize this dish to make it your own. Here are just a few of our favorite suggestions:
Storing Your Sizzling Chinese Green Beans
If you have any dinner leftovers (I bet you don't!), store them in an airtight container in the fridge for 2-3 days. To re-heat, either microwave for two minutes (covered) or in a skillet on medium heat. If you have any extra sauce, add a tablespoon or two before heating the beans to add extra moisture. You can also use a mixture of half water and half soy sauce or tamari if you don't have any remaining sauce.
We wouldn't recommend freezing your prepared Asian green beans unless you are making a fresh batch. You can freeze your cooked, room-temperature beans in a freezer-safe container and the sauce in a separate container. They'll be good for 2-3 months if properly stored. To re-heat, either let your beans and sauce defrost overnight in the refrigerator or flash-steam the frozen beans and heat your frozen sauce in a saucepan over medium heat before cooking in the wok.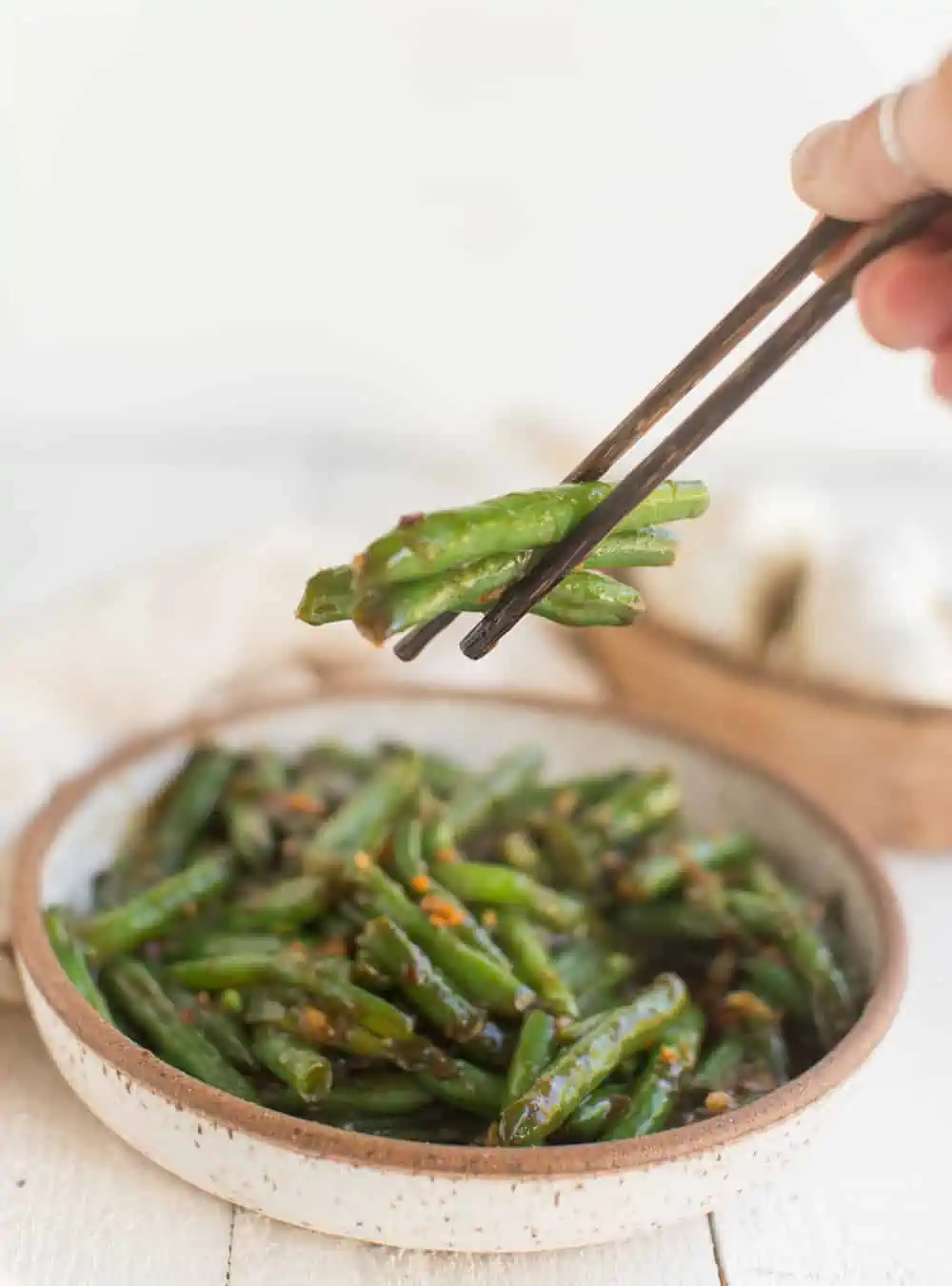 Equipment You'll Need for Your Sizzling Chinese Green Beans
Green Beans
1 pound fresh green beans
¼ cup water
1 tablespoon vegetable oil, peanut oil would be even better!
2 teaspoons garlic, minced
2 large scallions, finely chopped (optional)
1 tablespoon toasted sesame seeds, optional, but recommended
Sizzling Sauce
4 tablespoons soy sauce or tamari
4 tablespoons water or vegetable broth
2 teaspoons toasted sesame oil
2 teaspoons cornstarch, or arrowroot powder
1 teaspoon maple syrup, or sweetener of choice
½ teaspoon crushed red pepper flakes
Add your green beans to a colander, rinse with water, pinch off any unwanted stems, and break in half.

Place your wok or large skillet over high heat.

While your wok is heating up, mix up the sauce ingredients in a small bowl. Whisk well and put aside for later.

Once the wok is pre-heated, add your green beans and water. Cover immediately. Steam for 4 minutes or until just tender.

Add the oil and minced garlic. Cook for about 30 seconds, constantly stirring.

Whisk your sauce once more and then pour over the steamed beans and garlic.

Stir the green bean and sauce mixture constantly while allowing the sauce to come to a light boil. This should take only 1-2 minutes. You'll know the sauce is done when it is thick, glossy, and smells fragrant.

Serve over steamed white or brown rice and garnish with chopped scallions and toasted sesame  seeds.
If you'd like the recipe to be oil-free, just sauté your green beans and minced garlic with water. 
Add more or less crushed red pepper flakes to your liking. You can also add cayenne pepper or an Asian-flavored hot sauce.
You can substitute any vegetable you wish if you don't like green beans. Broccoli or snow peas would also work really well in this recipe. If you switch up the veggies, make sure you use the correct steaming time for that particular vegetable.
For a lower-sodium version, use low sodium soy sauce (or tamari) and vegetable broth. You can also substitute water for the vegetable broth, if desired.
Double the ingredient amounts for the sauce if you like to have extra to pour over your rice. (Highly recommended!)
Instead of the maple syrup, feel free to use agave, granulated sugar, or any other sweetener that you like. You can also leave out the sweetener all together.
Calories: 119kcal | Carbohydrates: 13g | Protein: 5g | Fat: 7g | Saturated Fat: 1g | Polyunsaturated Fat: 3g | Monounsaturated Fat: 2g | Trans Fat: 0.02g | Sodium: 1079mg | Potassium: 318mg | Fiber: 4g | Sugar: 5g | Vitamin A: 949IU | Vitamin C: 15mg | Calcium: 75mg | Iron: 2mg
More Vegan Asian-Inspired Recipes to Try
This Sizzling Chinese Green Beans recipe and article was written by Gina House. Vegan food photography by Michelle Cehn. Article edited by Amanda Meth. Content copyright World of Vegan, all rights reserved.