Unfortunately, most ready-made pesto sauces available today have parmesan cheese in them making them not-vegan-friendly. But do not worry because you can easily make your own delicious vegan pesto at home and enjoy it whenever you please!
Why You Should Make Vegan Pesto Pasta
Ok, let's settle this. Making this recipe takes zero cooking skills and minimum time, so if you can't cook for your life, then this is will become your go-to! When your fridge is almost empty, and you come home starving or when you want to impress your friends with a fancy meal, pesto pasta will be there for you. Isn't that awesome? Take note!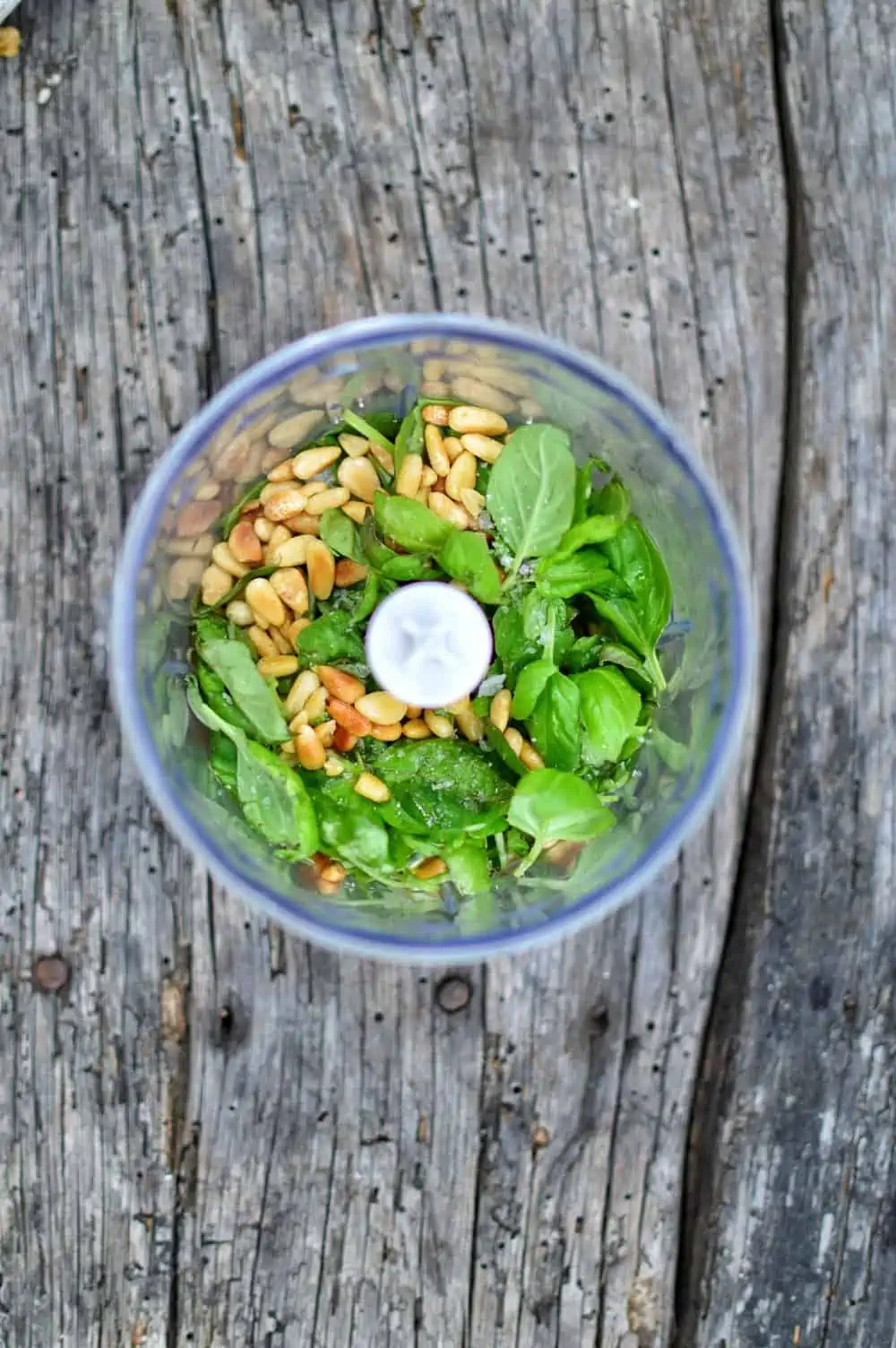 Which Pasta To Use with Pesto
We need to get serious. Choosing which pasta to cook is serious business, friends.
Here are some of the options:
Penne
Spaghetti
Linguini
Fettuccini
Pappardelle
Bow Ties
Macaroni
…and beyond. Pesto pairs with most pasta shapes, but it's best to avoid those that are too large.
My favorite is spaghetti! There's something about the pesto running through the long noodles that makes it perfect and just classic. What's your favorite?
You can even use different types of noodles than the traditional wheat pasta. There are loads of healthy noodle options out there now. Try chickpea pasta for more protein and fiber or hearts of palm noodles for a low calorie option.
Should I Eat Pesto with Dry Pasta or Fresh Pasta?
This will depend solely on your preference. Dry pasta is so easy-peasy and always readily available. But when you can get your paws on some fresh pasta, that always adds an extra special touch. If you want to feel like you're sitting in a small restaurant in Italy, then get yourself some nice fresh fettuccini.
Just beware—eggs or other non-vegan ingredients that can often find their way into fresh pasta!
Different Ways To Use Pesto
The best part about a classic and simple recipe is that you can use it for so many different meals. We actually originally published this as a classic vegan pesto sauce recipe to be used for any number of purposes!
You could use it as a spread for a veggie sandwich or as a base or topping for your homemade pizza. Amazing! You can basically use it on anything, and that's the beauty of it.
This recipe is so easy and versatile you'll enjoy it all the way through. From picking the fresh ingredients to preparing the pesto and mixing it with the pasta, to eating it and showing off in front of your friends and family. This vegan pesto pasta is a must-try!
More Vegan Pasta Recipes
Want more Italian-inspired pasta dishes? Try some of these mouth-watering meals:
For the vegan pesto
¼ cup fresh basil leaves
1 clove garlic
¼ cup toasted pine nuts
1 tablespoon olive oil
pinch sea salt
pinch black pepper
1 teaspoon freshly squeezed lemon juice
1 tablespoon water
For the pasta
9 ounces vegan pasta, tagliatelle is ideal
1 tablespoon olive oil
½ red onion
1 cup frozen peas
1 zucchini, about 4 ounces
½ cup fresh spinach
1 tablespoon toasted pine nuts
2 tablespoons vegan pesto, from recipe above
For the pasta
Cook the pasta according to the instructions on the package.

In another pan, start with heating up the oil. When it's nice and hot, add the finely sliced red onion and cook for 2 minutes.

Now add the frozen peas with the sliced zucchini (¼ of an inch slices) and cook for another 3 minutes.

Add the spinach and season with salt and pepper to taste.

When the pasta is ready, drain it and add it straight into the pan. Turn off the heat and add the pesto in and mix nicely until it coats all the pasta.

Serve with some sprinkled pine nuts on top and enjoy!
Storage – Store leftover pesto sauce separately in a sealed container in the fridge for up to 10 days. See article above for different ideas for using pesto sauce! Leftover pesto pasta can be stored in an airtight container in the refrigerator for up to a week.
Calories: 910kcal | Carbohydrates: 112g | Protein: 28g | Fat: 41g | Saturated Fat: 6g | Polyunsaturated Fat: 11g | Monounsaturated Fat: 16g | Trans Fat: 0.1g | Sodium: 187mg | Potassium: 974mg | Fiber: 11g | Sugar: 12g | Vitamin A: 2001IU | Vitamin C: 53mg | Calcium: 128mg | Iron: 6mg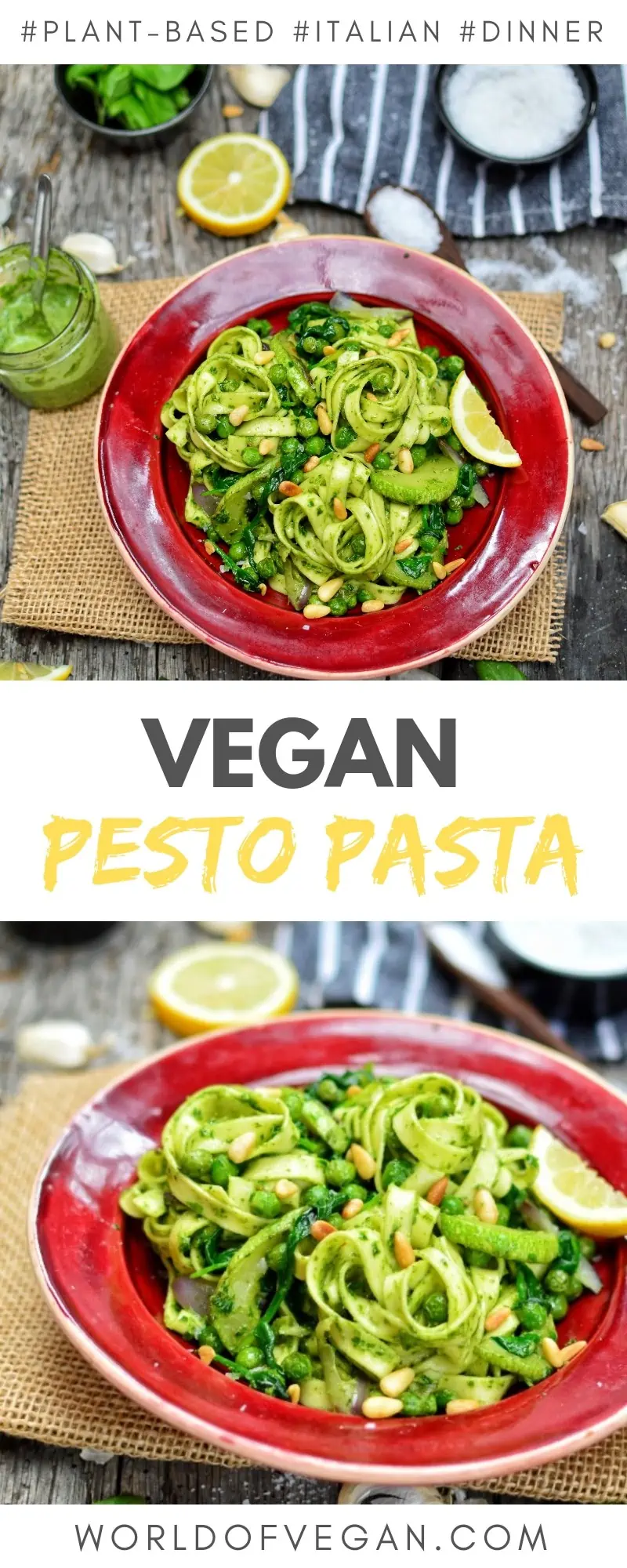 Vegan Pesto Pasta photos and recipe by Zhoro Apostolov from Top Food Facts for World of Vegan. Article edited by Rachel Lessenden. Recipe and photographs copyright of World of Vegan™, all rights reserved.