Get ready to shred the tofu scene! Shredded tofu, the ultimate chameleon of the plant-based protein world, is here to rock your taste buds with its unique and tempting texture. You won't believe how easy it is to transform this simple staple into something truly sensational!
Shredded tofu is an incredibly versatile and nutritious way of getting in more plant-based protein. This finely textured meat-alternative has a neutral flavor and a super satisfying texture. It's delightful in a variety of dishes, from stir-fries and salads to breakfast burritos and grain bowls.
This new approach to cooking tofu is sure to steal the spotlight at your next dinner party and bring a bit more pizazz into an otherwise ordinary meal. If you're ready to tackle this new tofu technique, then let's get started!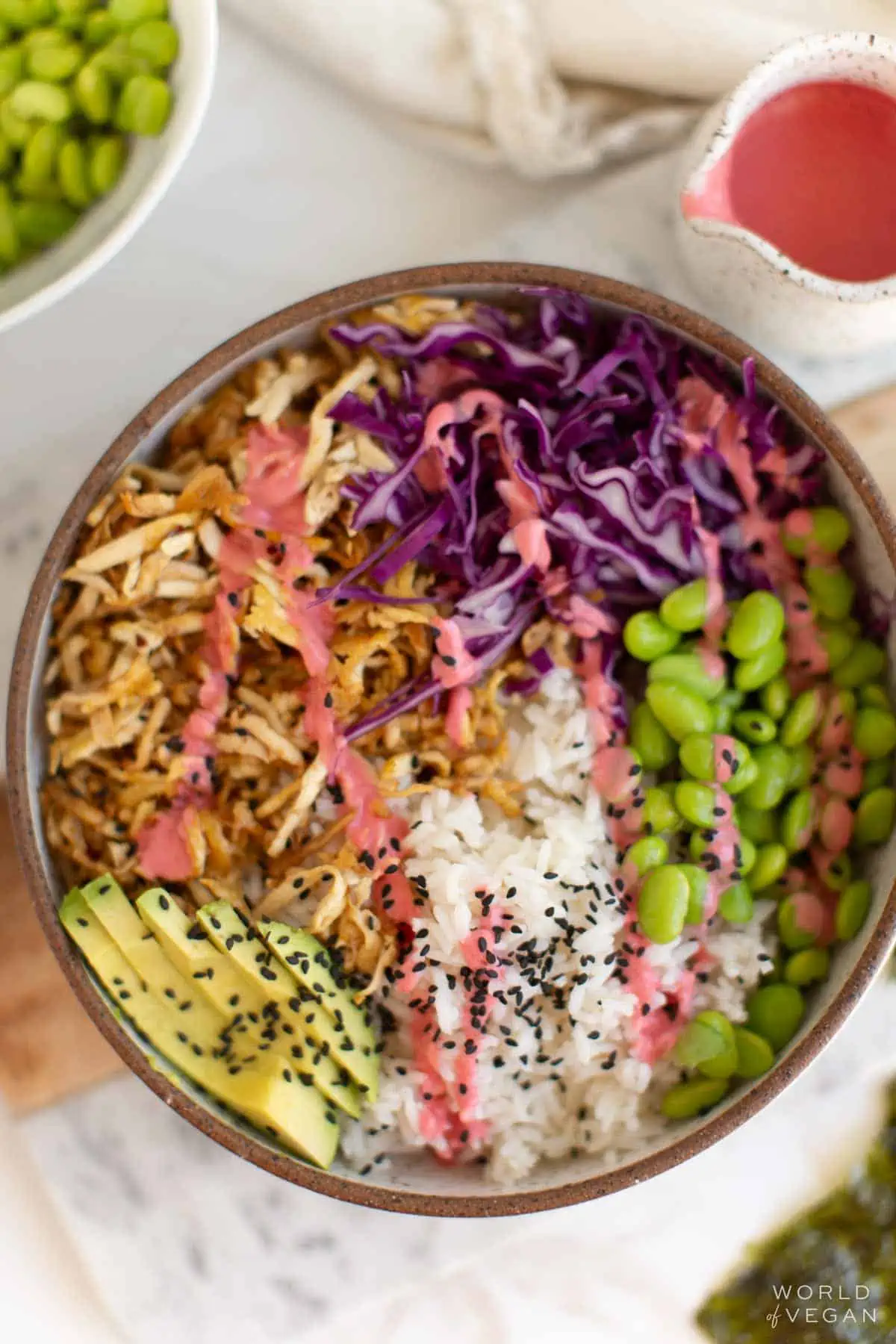 Why This Shredded Tofu Recipe is So Awesome
Key Ingredients
Tofu – In order to save time and make the most of this shredded tofu recipe, choose a super firm or extra firm tofu. You'll be able to skip the entire step of either pressing or freezing the tofu before cooking. The less water inside the tofu, the more marinade and flavor it can soak up—and that's a good thing! Our choice is Hodo Extra Firm.
Shredding the tofu is simple—just use the biggest blades on a cheese grater and rub the tofu against it, as shown below. Simple!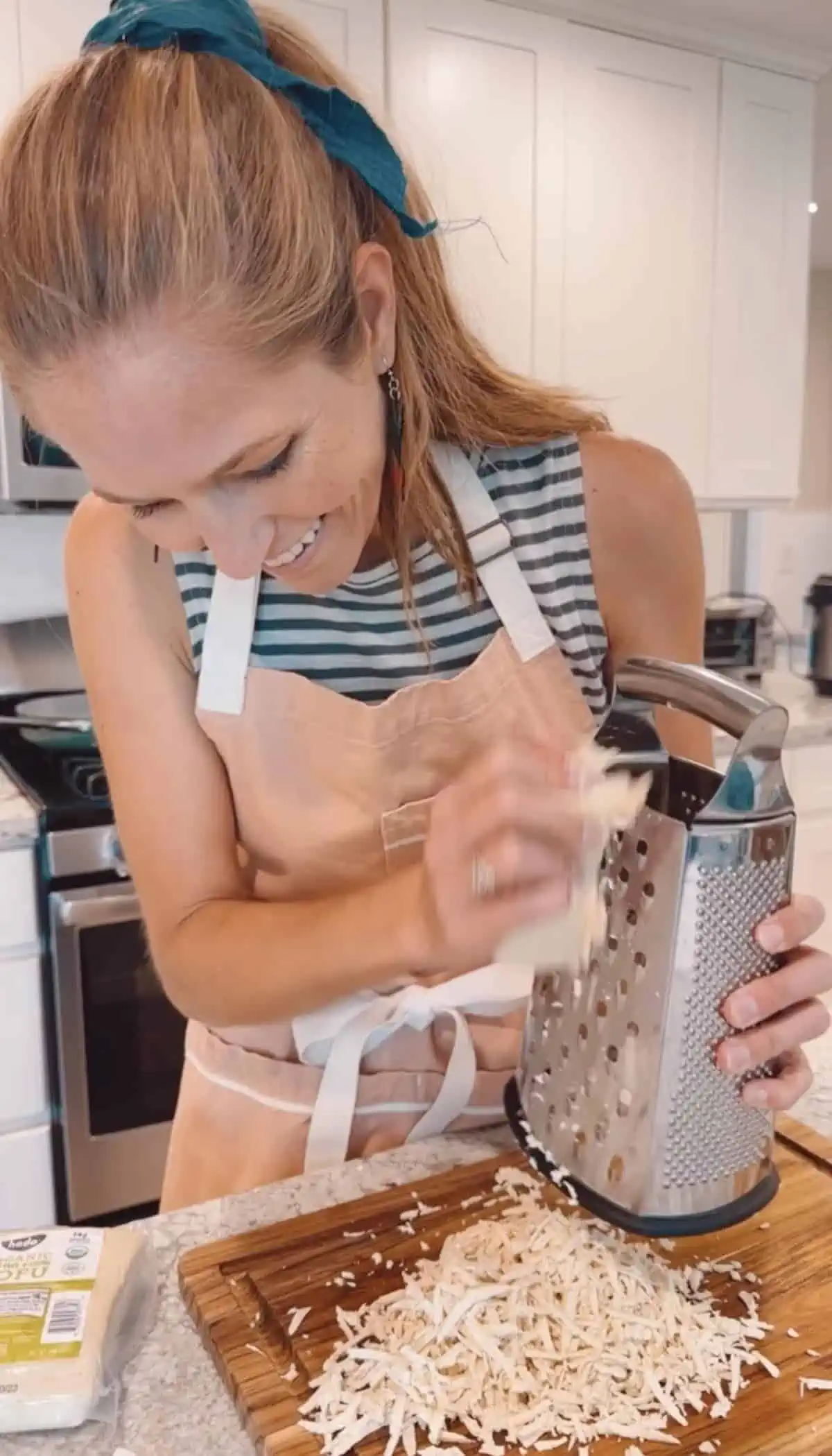 Toasted Sesame Oil – This nutty and delicious oil is the icing on the cake when it comes to flavoring this tofu dish. You only need the a few drops to infuse your plate with deep, rich flavor. If you don't have toasted sesame oil in your pantry, consider investing in a bottle. It lasts a long time and imparts a wonderful flavor to most foods. If you're in a hurry and want to make this dish tonight, don't sweat it. Simply use your favorite vegetable oil.
Soy Sauce – A dark, savory ingredient that makes all the difference in this recipe. It's what gives the tofu that salty and umami flavor we all love. If you're gluten-free, swap out the soy sauce for tamari or coconut aminos. If you're lucky to live near an Asian market, go there to find the best brands of soy sauce.
Garlic – This aromatic superhero of the kitchen, not only adds a punch of flavor to your recipes, but also brings a host of health benefits to the table. Packed with antioxidants, garlic can boost your immune system, improve heart health, and even ward off vampires (well, maybe not that last one).
Serving Suggestions and Simple Substitutions
Using grated tofu opens up a whole new world of possibilities for adding protein to your day. If you think outside the box, you can come up with endless ways of creating new and unique shredded tofu recipe ideas. Here's a list of our most popular and appetizing suggestions for serving up this tantalizing tofu.
Mouthwatering Marinades
If you're totally stuck coming up with ideas for marinades, look no further! All of these sweet and savory sauces would work well. Feel free to mix and match and pair with your favorite sauce-appropriate sides.
FAQs about Shredded Tofu
What is the best tofu for grating?
Choosing super or extra firm tofu, like Hodo's organic extra firm tofu, will give you the best result with the least amount of effort.
Can you eat tofu raw?
Yes, you can! It may be surprising, but any type of tofu can be eaten right out of the package. Just remember to drain any excess liquid first. Once opened, you should refrigerate any leftover tofu.
Why won't my tofu get crispy?
The main reason for limp and soggy tofu is too much moisture. Tofu that isn't properly drained or patted dry beforehand is usually the culprit. Also, if the type of tofu used isn't firm enough, there will be excess water still inside the tofu that will not allow it to crisp up properly. If you're not using Hodo tofu, we would recommend pressing the tofu ahead of time.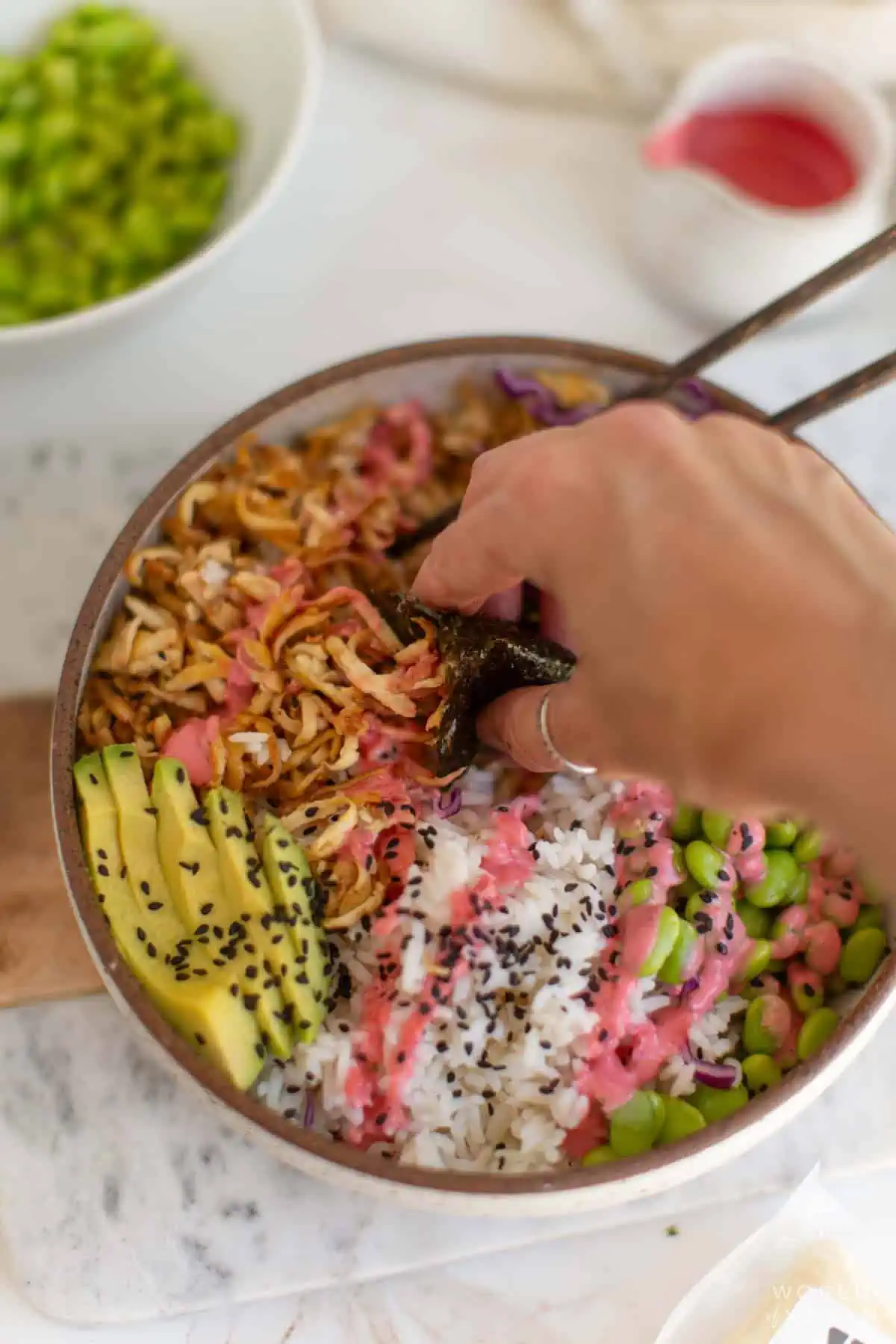 More Tempting Tofu Recipes to Try
Searching for ways to amp up your tofu game? There's something to be said for tried-and-true recipes, but maybe it's time to be bold and branch out of your comfort zone. Here's a list of our top favorite, foolproof, tofu-licious recipes:
So, friends, go ahead and embrace the shredded tofu revolution—let it be your kitchen's funky, protein-packed secret weapon. From tantalizing tacos to mind-blowing grain bowls, this versatile veggie delight will leave you jumping for joy and craving more tofu-packed adventures! It may just become your new favorite way to cook tofu!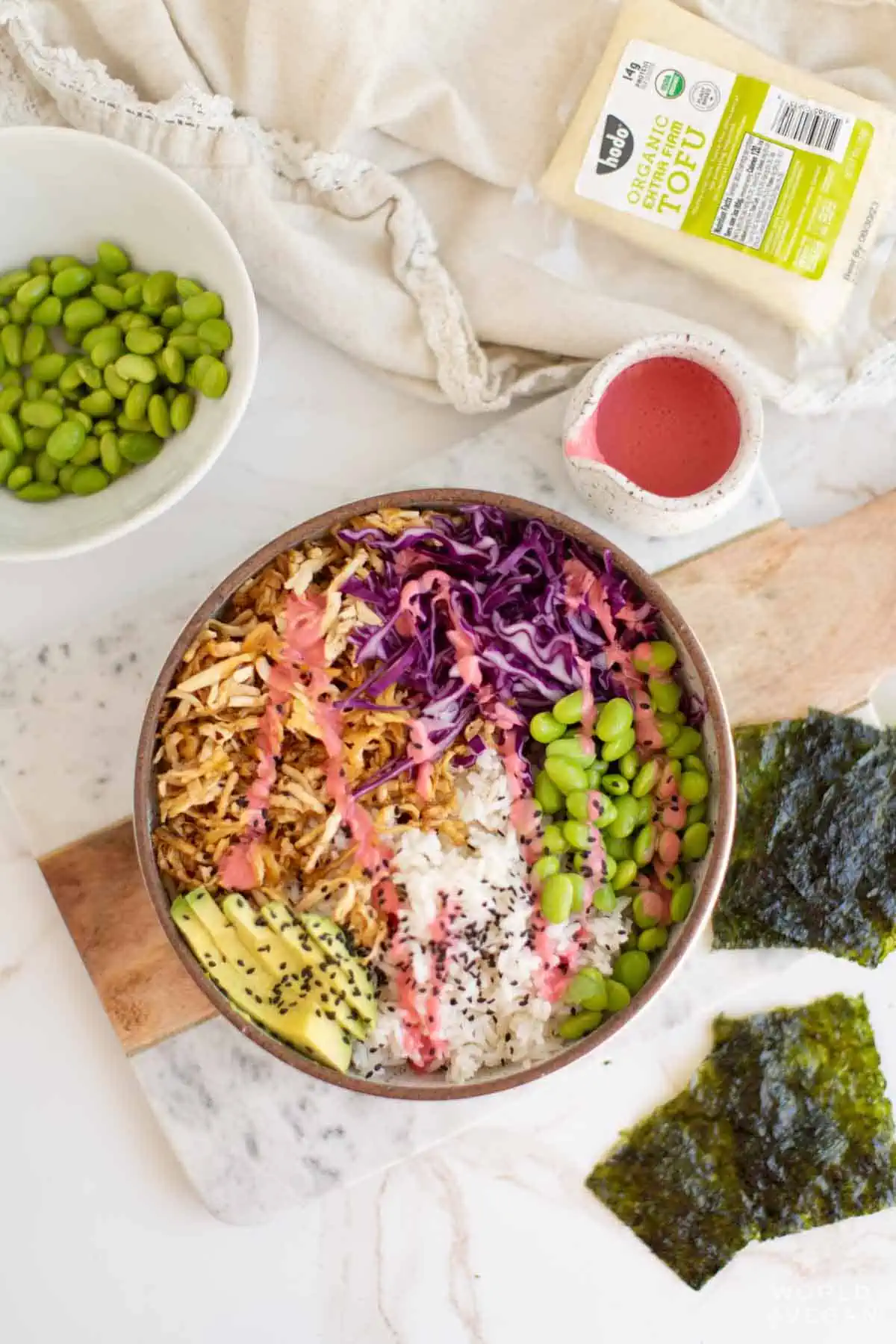 Shredded Tofu
1 package super firm tofu, extra-firm tofu from Hodo works best!
2 tbsp toasted sesame oil
3 large cloves of garlic, minced
soy sauce, to taste
red chili pepper flakes, to taste
Sauce
¼ cup vegan mayo
1 tbsp sriracha
1 splash rice wine vinegar
1" chunk boiled beet, blend in to create a bright pink hue
Bowl Ingredients (Optional)
2 cups cooked rice
1 cup purple cabbage, shredded
½ cup edamame
1 avocado, sliced
1 tsp black sesame seeds
1 package roasted nori snack sheets
Remove the tofu from the package and pat dry. Using a classic cheese grater, shred the entire block of tofu on the coarse side of the grater.

In a large nonstick frying pan over medium heat, add the toasted sesame oil. 

Once hot, add the minced garlic and saute for one minute. 

Add the shredded tofu, soy sauce, and red pepper flakes to the pan and mix with a spatula. Spread the tofu into a flat layer on the pan and allow to cook for several minutes, until lightly browned on the bottom side. Then mix with a spatula and allow to sit undisturbed again for a few minutes. Repeat this until your tofu is beautifully browned or cooked to your liking. Remove from heat. 

Mix your sauce—either simply mixing together vegan mayo, sriracha, and white rice vinegar in a small bowl with a spoon, or blending the sauce ingredients with a small chunk of boiled beet to get a hot pink sauce color. 

Assemble your bowl with rice, cooked shredded tofu, purple cabbage, edamame, and avocado. Drizzle with sauce, shake on sesame seeds, and serve with crispy roasted nori seaweed snack sheets. 
Calories: 581kcal | Carbohydrates: 48g | Protein: 19g | Fat: 35g | Saturated Fat: 5g | Polyunsaturated Fat: 7g | Monounsaturated Fat: 11g | Sodium: 1336mg | Potassium: 826mg | Fiber: 7g | Sugar: 4g | Vitamin A: 677IU | Vitamin C: 28mg | Calcium: 112mg | Iron: 4mg