I love Thai curry—but I always assumed it would be difficult to make, and something I would only be able to enjoy at restaurants. Thankfully, my good friend and vegan chef Tess Challis shared this vegan Panang curry recipe from her cookbook Radiant Health, Inner Wealth with me and I've fallen head-over-heels in love!
First, because it's foolproof. And second, because it tastes just like the restaurant curries I have long loved. Plus, you can save money by making it at home!
Quick 5-Minute Panang Curry
You can whip up this creamy vegan curry sauce in just about 5 minutes, and serve it with rice or rice noodles with steamed veggies. 
I now always keep red curry paste and coconut milk in my pantry so I'm ready when my vegan curry cravings strike. Thanks for sharing your magic, Tess!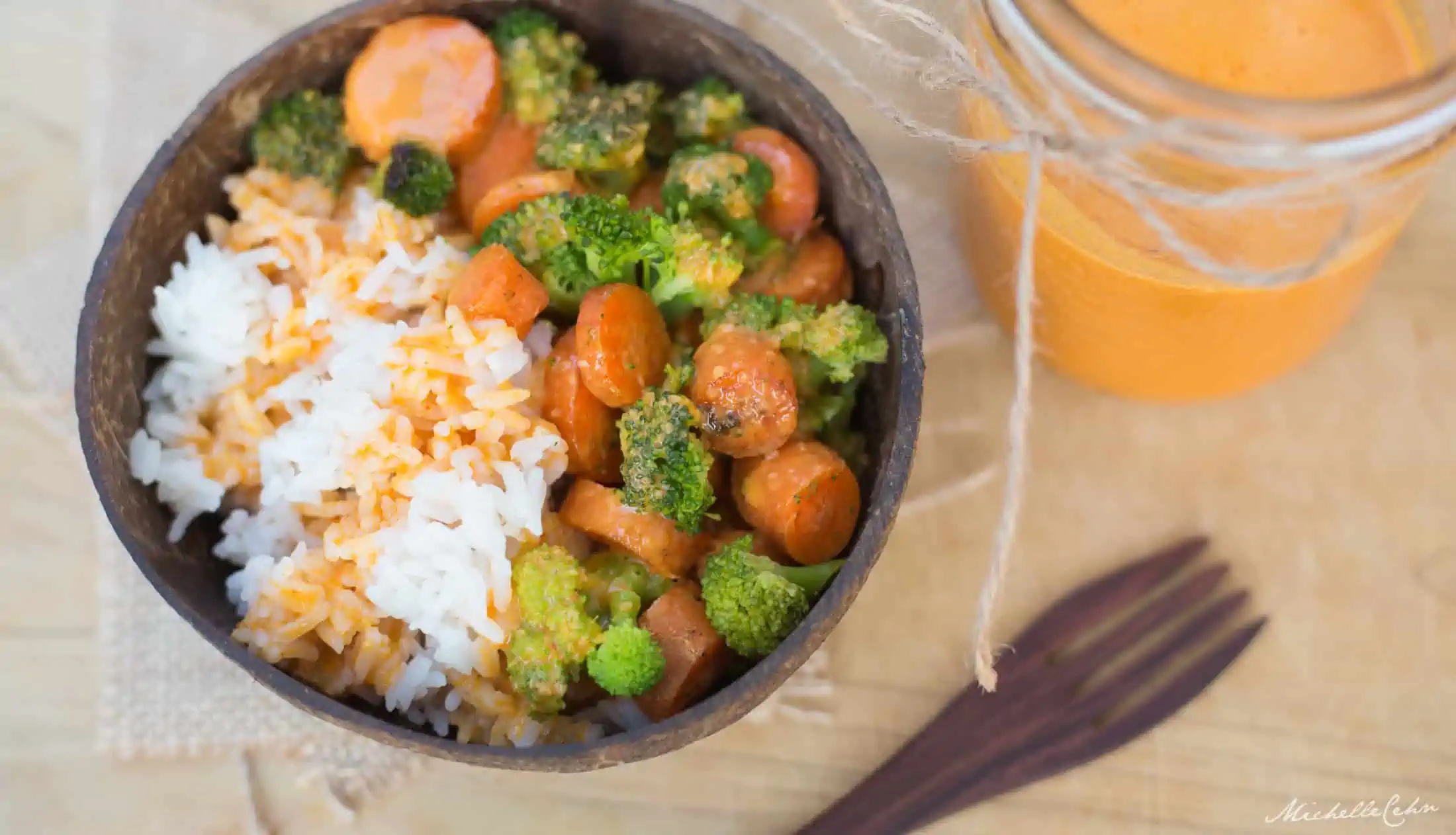 How to Serve Up This Panang Curry:
Ready Your Rice – Panang curry is perfect for rice! You can steam up some of your favorite rice to enjoy with this sauce or even make a panang curry fried rice if you fancy.
Tofu Lovers – Grill, roast, air-fry, saute, or simply chop up a block of tofu and serve it over your favorite grain topped with this divine vegan panang curry sauce.
Roast Veggies – Any vegetable under the sun will taste glorious with this sauce. Cook them up however you please…in the oven, on the stove, or even on the grill.
Nom Up Your Noodles – Udon, ramen, soba, and rice noodles all go great with this panang curry sauce. You could even use zucchini or potato noodles!
Drizzle on Your Salad – Though traditionally enjoyed with rice or noodles, you could totally make an Asian salad with this sauce! Cook up some tofu, chop some veggies, and enjoy!

Panang Curry vs. Red Curry — What's The Difference?
Many people confuse red curry with Panang curry, because they are both Thai curries that are made with red curry paste. However, Panang curry is made with peanuts (or peanut butter) giving it a creamy and lightly nutty undertone, and it's sweeter and less spicy than red curry. Both curries can be served similarly with rice, tofu, and veggies, they just carry different flavor profiles.
Where Can I Find Red Curry Paste?
Head to the Asian section of most grocery stores and you're likely to find little jars of curry paste. Two popular brands are Thai Kitchen and Mekhala (organic) — both work perfectly and are delicious! And both are clearly labeled vegan.
Other brands are great too! Red curry paste is almost always vegan, but double check the ingredients just in case. If you're having trouble finding red curry paste in stores, you can always order some on Amazon and it will be there as soon as tomorrow.
Best Way to Store Your Leftover Curry Sauce
You can keep your vegan panang curry sauce in an airtight container for up to two weeks! Freezing is not recommended since the texture would be affected.
14 ounce can coconut milk, full fat
¼ cup sugar, or ¼ cup plus 2 tablespoons of coconut sugar
¼ cup red curry paste
¼ cup peanut butter, smooth
4 large cloves garlic, peeled
1 teaspoon grated lime zest
1 teaspoon sea salt
2 tablespoons coconut oil, optional
Place all of the ingredients in a blender and process until smooth and emulsified. Store in an airtight container, refrigerated, for up to two weeks. To serve, simply reheat over low heat until warm.
Serving: 4g | Calories: 210kcal | Carbohydrates: 11g | Protein: 3g | Fat: 19g | Saturated Fat: 13g | Polyunsaturated Fat: 1g | Monounsaturated Fat: 3g | Sodium: 332mg | Potassium: 161mg | Fiber: 1g | Sugar: 8g | Vitamin A: 1165IU | Vitamin C: 2mg | Calcium: 26mg | Iron: 2mg
You can find more vegan recipes, cooking classes, and beyond on Tess's website. Also be sure to check out her books and cookbooks like Food Love!
More Vegan Sauce Recipes:
Vegan Panang Curry recipe by Tess Challis. Food photography by Michelle Cehn, copyright of World of Vegan. Article edited by Amanda Meth. Please note that this article may contain affiliate links which supports our work at World of Vegan.