The freshest flavors of raw vegetables and creamy peanut sauce all come together in this delicious Zucchini Noodle Bowl.
I'm obsessed with this dish. It's filling, delicious, and super nutritious. I was eating it and just couldn't stop! It's got such a great variety of textures from the crunchy veggies and sesame seeds and the creamy, zesty sauce. You'll love the bursts of flavor from green onion, cilantro, sugar snap peas, soy sauce, and lime.
This batch serves 2-3 people for a meal, and I recommend it for lunch or a light dinner. Or, you can absolutely use it as a side for any meal! I can see this dish being perfect in the summertime and for potlucks and picnics. It would be so delicious on the side of a veggie burger, tacos, and other summer meals. It would also be really great alongside other Asian-inspired dishes.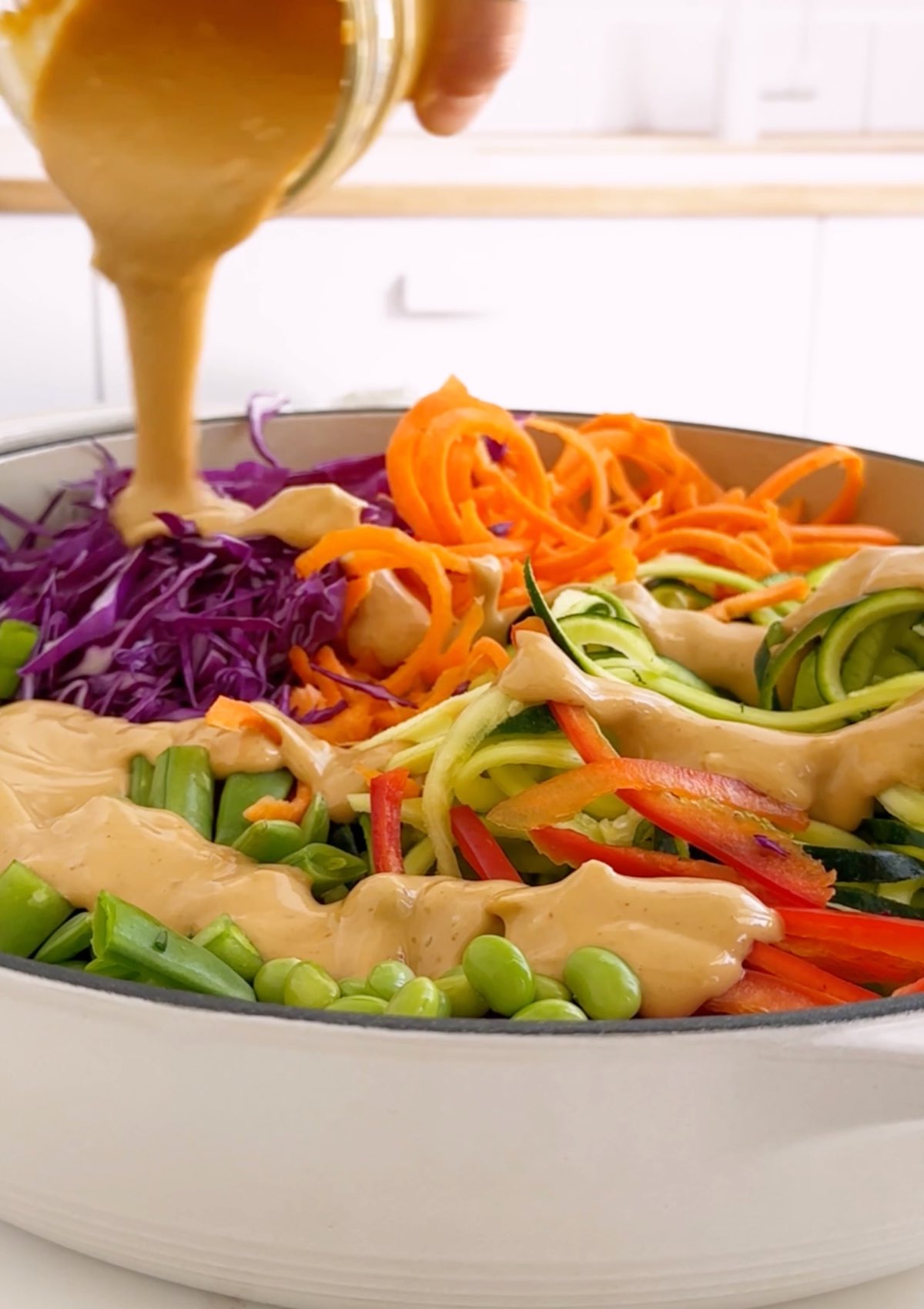 How to Make Zucchini Noodles
Zucchini noodles, also known as "zoodles," are simply zucchini that has been spiralized with a spiralizer tool to make noodle shapes.
Method 1: Use a Spiralizer
With this recipe, carrots are also spiralized. If you don't have a spiralizing tool, you can actually find some pretty inexpensive ones at your local kitchen shop or on Amazon. I've seen handheld ones for as little as $9. You can also invest in an electric spiralizer to make the process even faster and easier.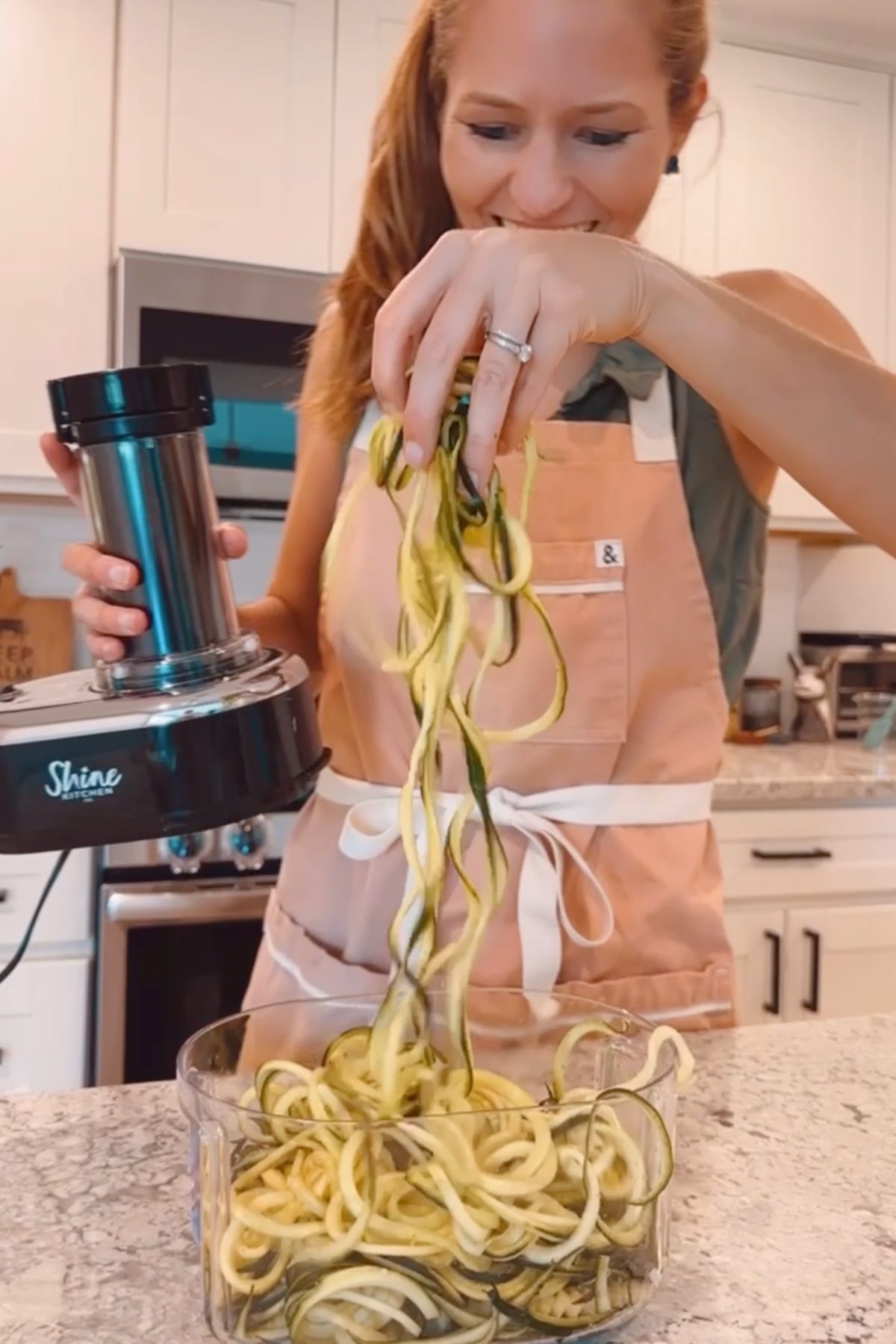 Method 2: Buy Pre-Spiralized Veggies
If you don't want to purchase a spiralizing tool, there are actually a couple of alternative options. Some grocery stores actually sell zucchini and carrots (and other veggies like beets) that have already been spiralized and packaged so that they're ready to use. Here's an example. They're very convenient, albeit a bit more expensive and generally packaged with a great deal of plastic.
Method 3: Thinly Slide With a Mandolin or Peeler
Alternatively, you could also very thinly slice both the zucchini and carrots using a mandolin or even making ribbons with a vegetable peeler. Always use caution when using a mandolin since they are very sharp and it's easy for your hand to slip!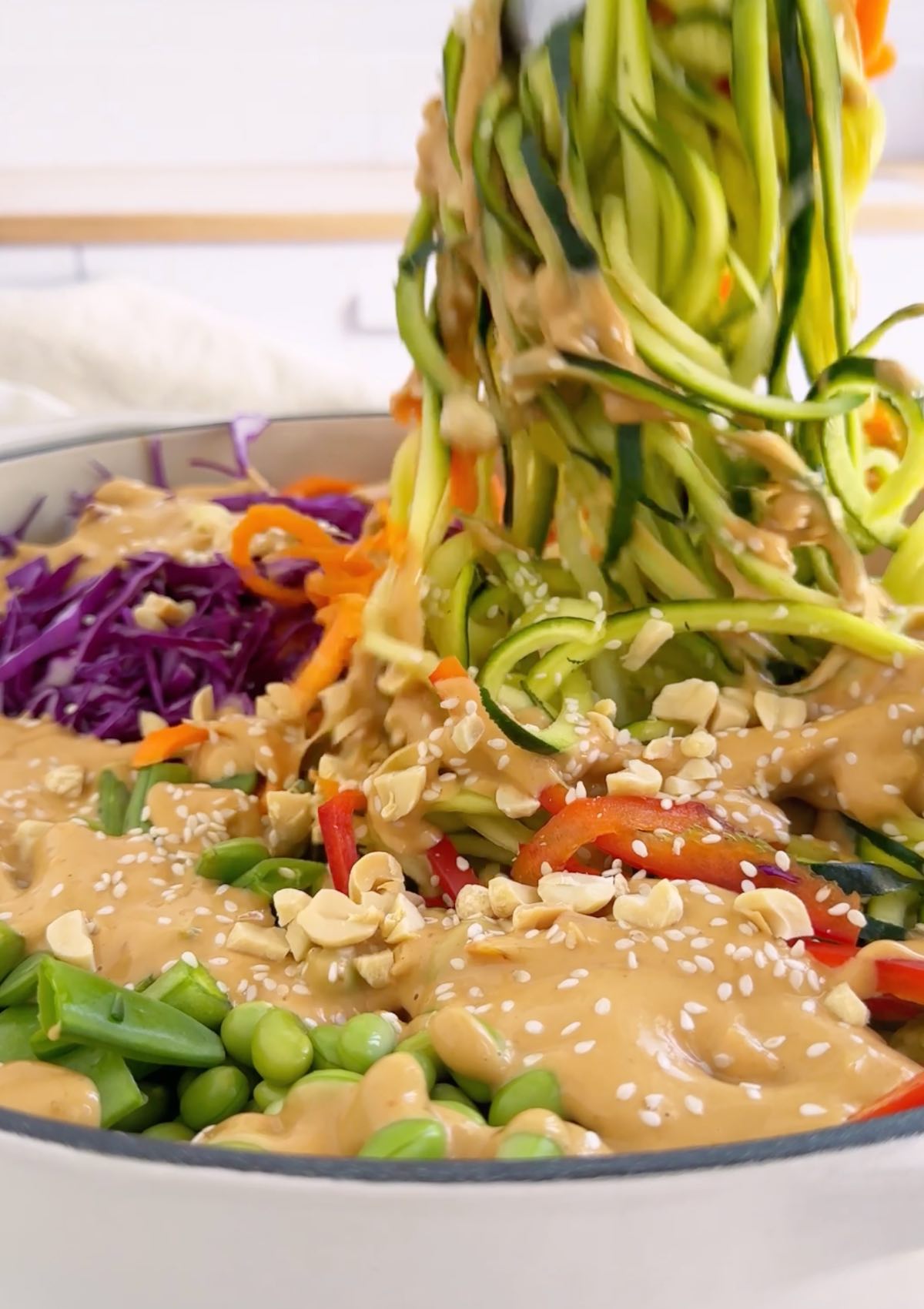 Easy to Make With Zero Cooking!
The method for this recipe is really simple, and there is absolutely no cooking involved. Add all of the raw vegetables to a large bowl. Whisk together the delicious sauce ingredients and adjust the flavors to taste. If you like a more zesty sauce, add more fresh lime juice.
While it's not listed in the ingredients, if you want some spice you can add spices like cayenne pepper or a few drops of your favorite hot sauce (who's on Team Sriracha?). I absolutely love almond butter in the sauce and I think it works perfectly, but you could definitely use all-natural smooth peanut butter instead.
Make It Fresh
I suggest preparing this meal the day you plan to serve it. If you're making it for yourself, eat any leftovers within the next day or so. If you let the meal sit too long, the veggies will eventually soak up the sauce and it can become soggy or mushy. It tastes so much better when it's fresh, light and crisp.
It's best to use the freshest zucchini so that the zoodles don't have too much moisture. If your zucchini is somewhat soft because it's been sitting in your fridge for a few days, you might get floppy, soppy noodles, which are no fun. But if that's what you're working with, you can dry the zoodles with some paper towel or sprinkle them with a bit of salt and let them sit for around 10 minutes. This will draw any moisture out and then you can use a paper towel to absorb that excess water.
Packed With Health Benefits
The health benefits of this zucchini noodle bowl are pretty impressive! The dish packs a ton of vitamin a, b vitamins, vitamin c, e, and k. It's also rich in minerals like calcium, iron, manganese, magnesium, potassium, and zinc. It even contains a variety of all of the amino acids.
The sauce turns this dish from a salad to a meal because it's protein-packed and rich in healthy fats, making it quite satiating. The fiber also helps to fill you up, but you'll feel light and love that it's so easily digestible and low in carbs! Furthermore, the veggies (as well as the garlic and ginger) are all anti-inflammatory.
Variety is the spice of life, and getting in a nice variety of vegetables and whole foods is one of the best ways to ensure you're getting all of the required nutrients on a vegan diet. Some nutrients like calcium and zinc can be difficult to obtain if you aren't eating enough healthy veggies and fruits, but a meal like this is a fantastic way to ensure you meet your required intake of nutrients.

Make It Fully Raw With a Few Tweaks!
This meal is almost completely raw. If you're a raw foodie, you can make this meal 100% raw by using two simple substitutions. Use raw almond butter instead of roasted almond butter, and untoasted instead of toasted sesame oil.
Tamari and soy sauce aren't raw, so you could swap this ingredient for coconut aminos (which is raw). Simply adjust the quantity to suit your taste since it has just a slightly different flavor from traditional soy sauce.
How to Make It Gluten-Free
If you are gluten-free, then you can most certainly have this meal as long as you use tamari (gluten-free soy sauce) or coconut aminos as soy sauce isn't gluten-free.
Get Creative With Different Veggies
Feel free to switch up some of the veggies if you'd like. I personally love this combination of vegetables but you're welcome to use other types of vegetables such as red cabbage, daikon radish, or bok choy. Just thinly slice any veggies you decide to use in order to get the best texture and flavor.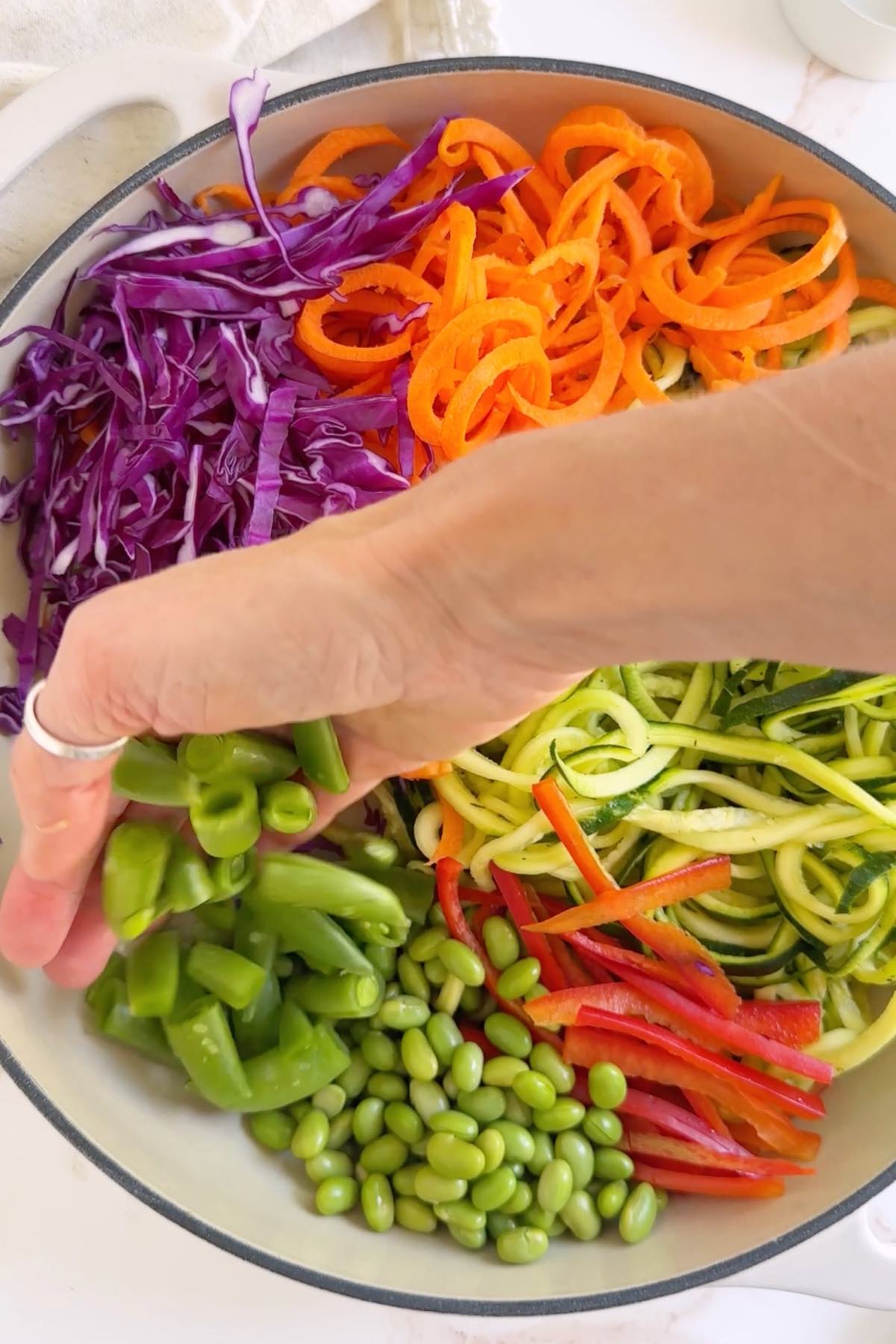 Cilantro… Love It or Hate It?
I know that there are a lot of people who don't like cilantro. I actually used to never like it and somehow it became an acquired taste to me. Now I adore it! Cilantro is very cleansing for the body and can even detoxify heavy metals. However, if you don't enjoy it, you can simply add more green onion to the bowl or swap it out for parsley. Parsley won't give it that same Asian-inspired flavor but it will still be refreshing and delicious, and it has some of the same cleansing health benefits as cilantro.
More Delicious Noodle Dishes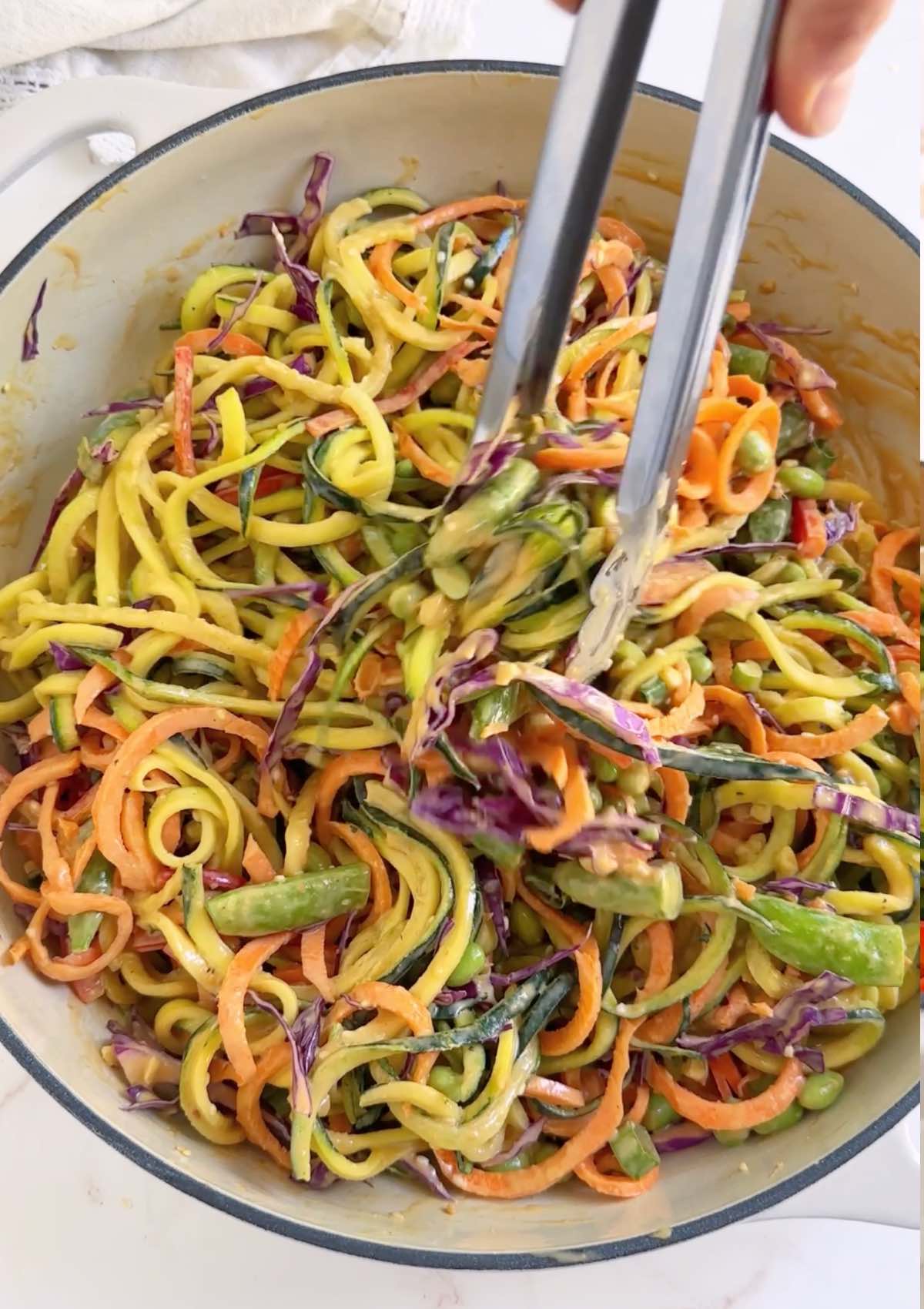 Noodle Bowl
3 cups spiralized zucchini
1½ cups spiralized carrots
½ thinly sliced or julienned red bell pepper
½ cup sugar snap peas
2 green onions, finely chopped
⅓ cup roughly chopped cilantro
1½ tablespoon sesame seeds
Sauce
½ cup peanut butter, or any other nut butter or seed butter
2 tablespoon toasted sesame oil
1 clove garlic
1 teaspoon fresh ginger
2 tablespoons low-sodium soy sauce
2 tablespoons lime juice
2 tablespoons water
Add all of the vegetables and sesame seeds to a large bowl and toss to mix.

In a separate medium bowl, whisk together all of the sauce ingredients until smooth.

Pour the sauce onto the veggies and mix well to combine. Serve immediately. Store any leftovers in the fridge and consume within a few days.
Calories: 1303kcal | Carbohydrates: 71g | Protein: 40g | Fat: 105g | Saturated Fat: 10g | Polyunsaturated Fat: 32g | Monounsaturated Fat: 54g | Sodium: 1338mg | Potassium: 3062mg | Fiber: 27g | Sugar: 30g | Vitamin A: 35832IU | Vitamin C: 199mg | Calcium: 740mg | Iron: 10mg
Easy zoodles recipe photos by Kathy Chrzaszcz for World of Vegan. Recipe and photographs copyright of World of Vegan™, all rights reserved.