Revitalize your mornings with the creamy goodness of silken tofu smoothies! If you're searching for a protein-packed and nutritious breakfast option, this smoothie is a game-changer. Creating the perfect tofu smoothie is simple and will not only tantalize your taste buds but also nourish your body.
You might be wondering, "Can you really put tofu in a smoothie?" Heck yes, you can! Although it may sound a little strange, this smoothie is wonderfully rich and luscious. Like all tofu, the flavor comes into being when you blend it or marinate it with whichever tastes you love. In this case, it's cheery cherry!
If you're brave enough to tackle silken tofu, let's get blending!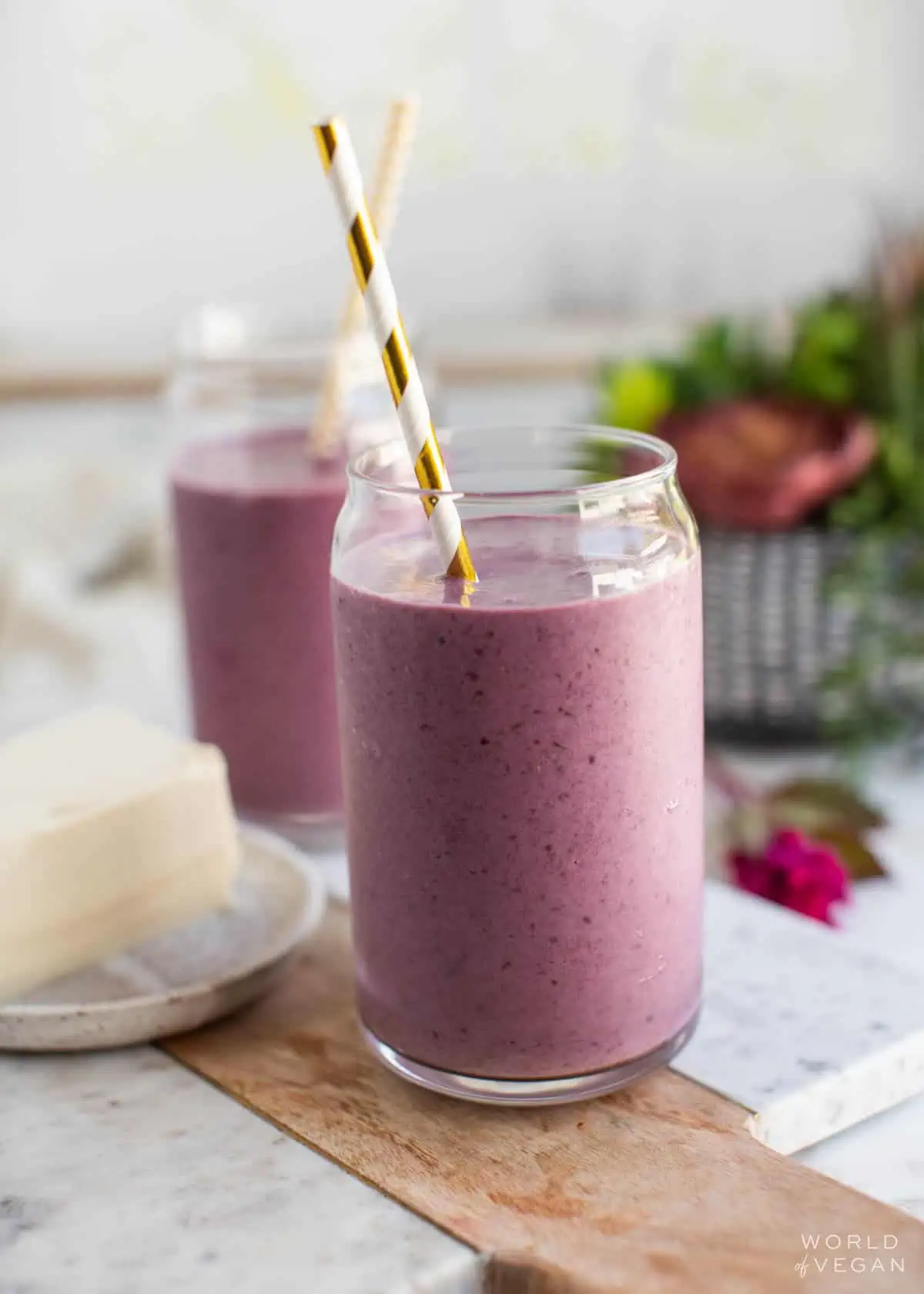 Why You Must Make This Terrific Tofu Smoothie
Smoothie lovers, prepare to be convinced of the compelling reasons why you simply must whip up this silken tofu smoothie. Packed with nourishing ingredients, delightful flavors, and health benefits galore, this beverage is about to become your new daily must-have.
3 Simple Ingredients: Everything you need might be in your fridge right now. Just search for silken tofu, dairy-free milk, and some frozen fruit.
Super Quick & Easy: Just blend and enjoy. If the fruit is already frozen and you simply add the vanilla extract to the blender, your beverage is ready in less than 5 minutes!
Perfect Breakfast or Snack: When you're short on time, this is a great option for a satisfying snack. Mix in a spoonful or two of nut butter and/or seeds (flax, chia, or hemp) for even more staying power or to substitute for a full meal.
High in Protein: Every eight ounces of silken tofu has around 6 ounces of plant-based protein. Woo!
Antioxidant Rich: Full of vitamin C, potassium, protein, and fiber.
Very Versatile: Mix and match any fruit flavors that you like in this smoothie. They're all fantastic!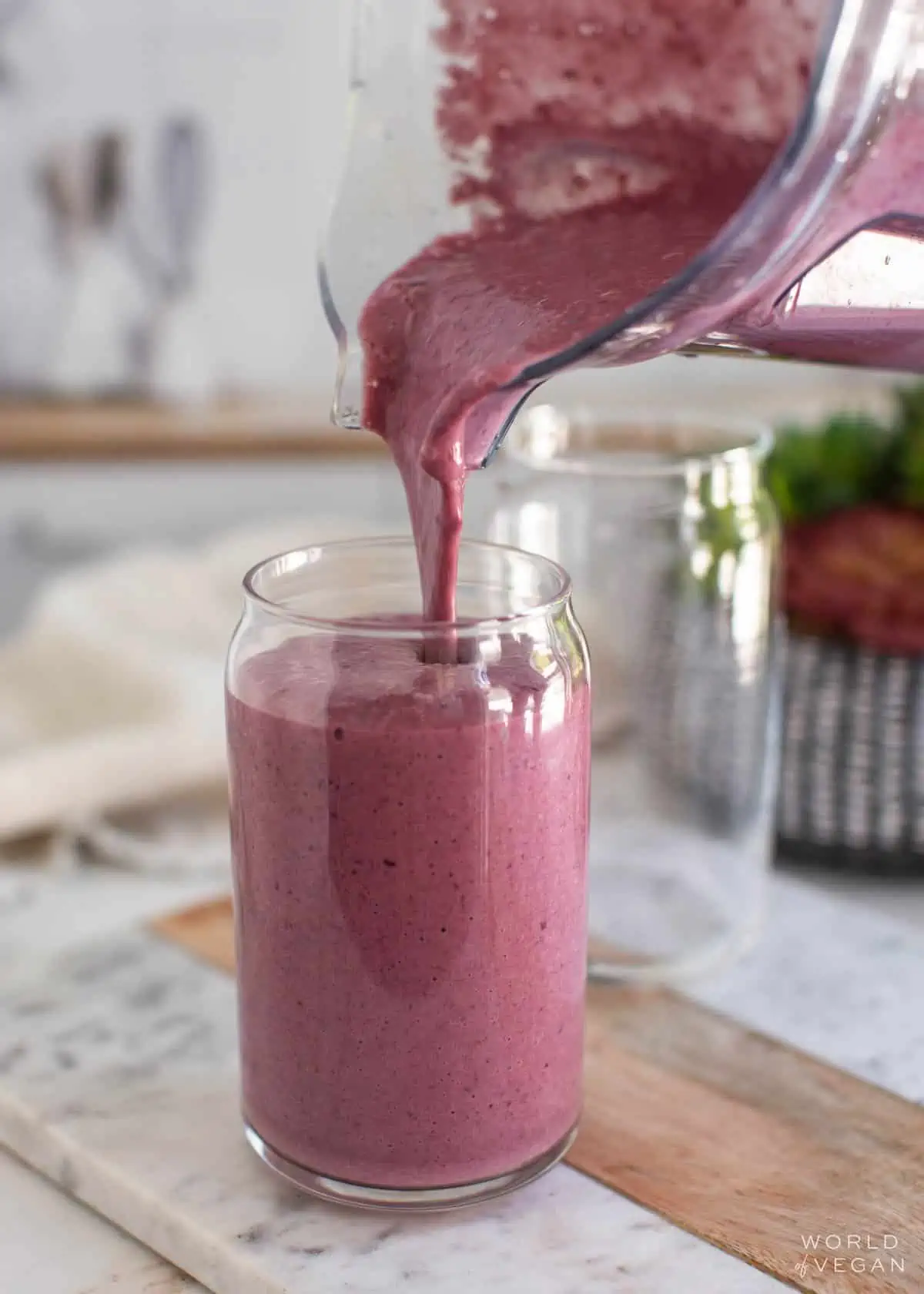 Key Ingredients
The core components of this silken tofu smoothie are simple and satisfying. They can transform a simple blend into a delicious, protein-packed morning ritual. Let's explore these basic, nutrient-rich ingredients:
Silken Tofu. Very different in texture to both soft and firm types of tofu. Silken tofu has a custard-like consistency, which makes it perfect for smoothies. In addition, it's a fantastic substitute for vegan yogurt. In this recipe, you can use either the refrigerated or shelf-stable type.
Cherries. Sweet and super tasty in smoothies! Cherries also have a hefty dose of fiber, potassium, vitamin C, and polyphenols. Be careful to choose sweet and not sour cherries for this smoothie. But, if you like a tart smoothie, give sour cherries a try. We'd recommend adding extra sweetener or an extra banana, if you're trying the tart version.
Plant Milk. Any dairy-free milk works wonderfully with this recipe, though soy and cashew are the creamiest. If you've always wanted to try a new plant-based milk, this is the time to add it in. How about macadamia, pistachio, or hazelnut?
Frozen Banana. The best friend of all who love smoothies. Frozen bananas add sweetness and a thicker texture to any smoothie. You can always count on the humble banana for additional fiber, potassium, vitamin B6, vitamin C, and lots of antioxidants.
How To Freeze Fresh Cherries
It's wonderful when we can grab a bag of frozen sweet cherries at Trader Joe's or Whole Foods but, if they're all sold out, here's what you can do to easily freeze (store-bought or handpicked) cherries at home.
All you need to do is:
Remove the stems.
Carefully remove the pits. (This cherry picker tool is very handy and eliminates purple-y fingers when you're finished!)
Freeze for a few hours or overnight for best results.
Silken Tofu Smoothie Tips and Suggestions
The best tofu for smoothies is (seriously) silken. Although you can use soft tofu in a pinch, it won't have quite the same smooth and luxurious texture. Our favorite tip for this particular smoothie recipe is to "marinate" the tofu overnight in vanilla extract. This step brings the flavor to another level of enjoyable flavor!
Almond Cherry Vanilla Smoothie Bowl Suggestion – Reduce the dairy-free milk by ½ cup to create a thicker consistency. Pour the smoothie into a wide, shallow bowl and garnish with sliced cherries, banana coins (or plantain chips!), slivered almonds, a dollop of dairy-free whipped cream, and a drizzle of melted vegan chocolate. Feel free to add a ¼ teaspoon of almond extract to the mix before blending for extra almond flavor.
Make a Tofu-tastic Vegan Milkshake! – For a delightful and decadent treat, swap out the frozen banana for a couple of scoops of dairy-free ice cream! Any flavor would work well, but we think the Strawberry or Rocky Road would be best!
Festive Fruit Flavors – Remember, you don't have to stick with cherry. Substitute for any favorite frozen fruit you wish. How about raspberry, blackberry, orange, peach, or even pineapple. The list is endless!
Smoothie Not Sweet Enough? – Use sweetened instead of unsweetened dairy-free milk. Or, feel free to add a tablespoon or more of a sweetener of your choice or a couple of soaked, pitted dates to the smoothie.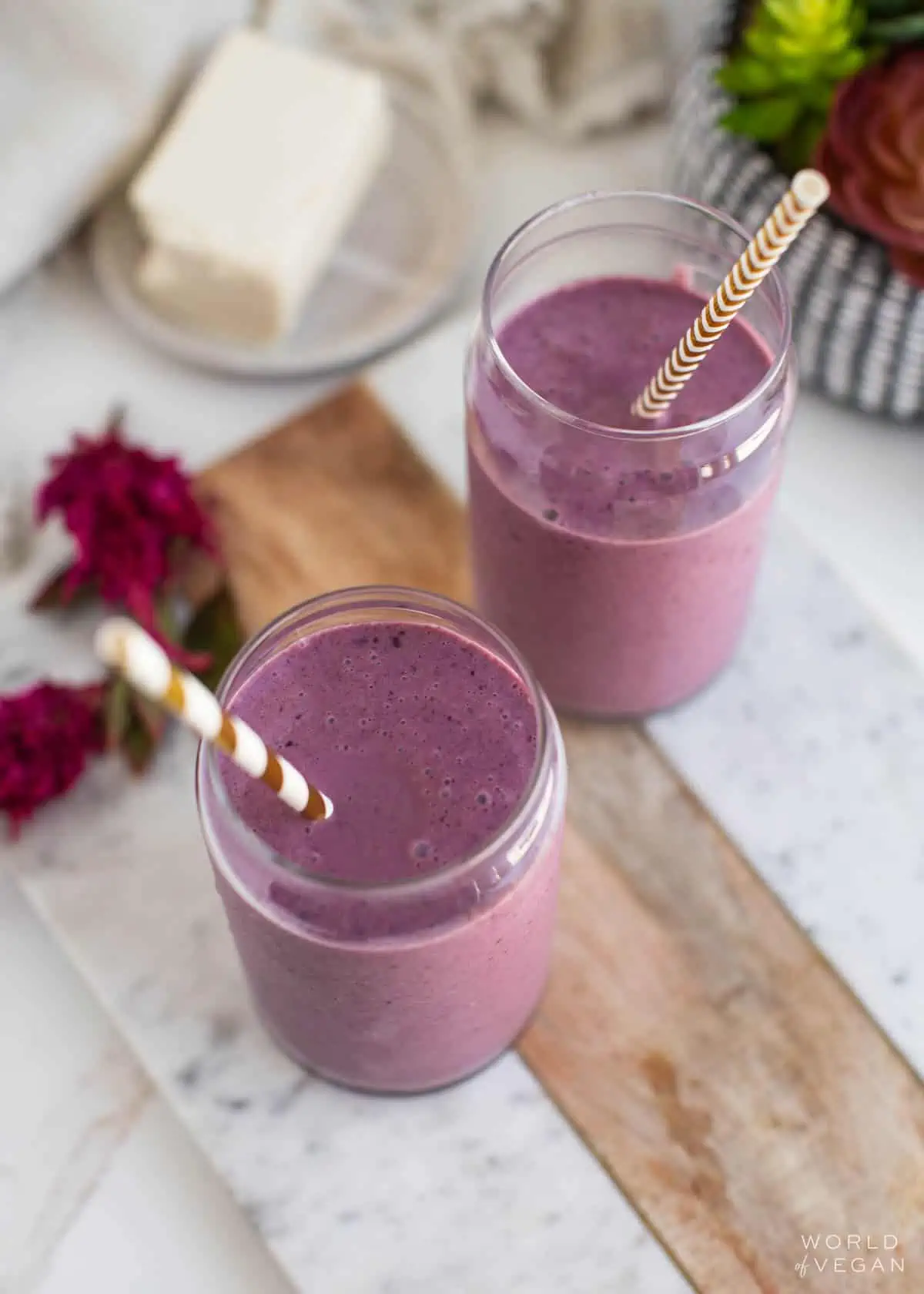 Cherry Smoothie with Tofu FAQs
What is a good substitute for tofu in smoothies?
If you're fresh out of silken tofu, try using a ripe avocado, coconut cream, or a plain, unflavored plant-based yogurt (even better if it's soy).
How do you make a tofu protein shake?
This recipe definitely counts as a protein shake because of the 8 ounces of tofu added. But, feel free to add in a scoop or two of protein powder if you'd like an extra boost of protein.
Can you freeze silken tofu for smoothies?
All tofu can be frozen but, in this case, the smoothie is enhanced by the silken (non-frozen) texture. If you freeze the silken tofu first, it will have a very different consistency that will not be as creamy and smooth. But, it's totally up to you.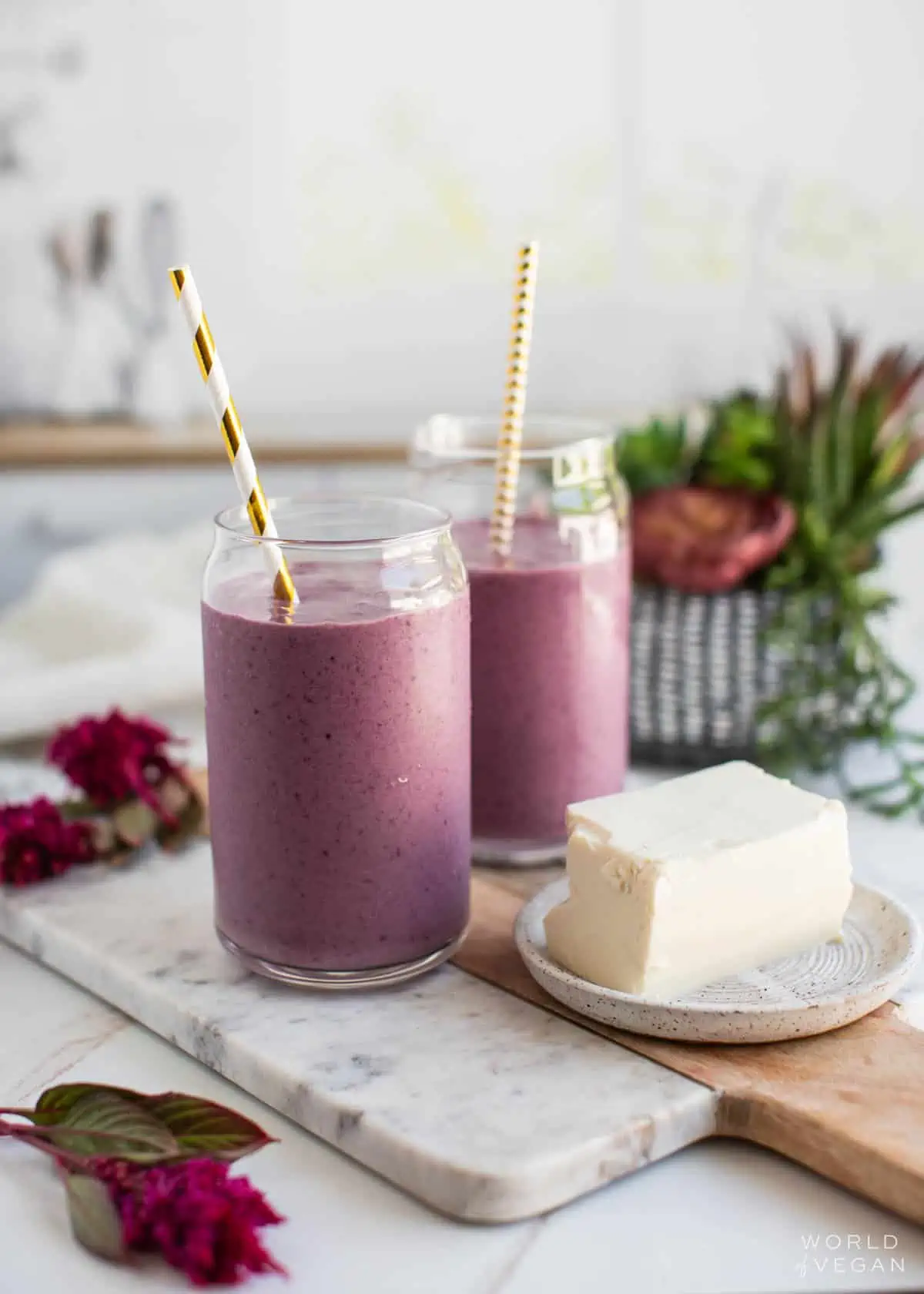 More Sensational Silken Tofu Recipes to Try
These scrumptious silken tofu recipes are scrumptious for all ages. Once you try adding this type of tempting tofu to your recipes, you'll be amazed by the finished texture and fantastic flavor. Even better, you'll get a boost of plant-based protein with every bite (or sip!)
1 cup plant-based milk
½ packet silken tofu , approximately 8 oz.
2 cups frozen cherries, about 12 oz.
½ frozen banana, ripe
1 teaspoon vanilla extract
Directions:
To a blender, add the dairy-free milk, silken tofu, cherries, banana, and vanilla (if you did not infuse it ahead of time). Blend for one minute or until smooth and creamy.

Pour the finished smoothie into four 8 oz. or two 16 oz. glasses. Garnish with fresh cherries on a fancy toothpick, if desired.
Select Sweet, Not Sour – Be careful to choose sweet and not sour cherries. If you prefer a tart smoothie, you could use 1 cup sour cherries and 1 large frozen banana instead.
Not Sweet Enough? – Use sweetened, instead of unsweetened dairy-free milk. Or, feel free to add a tablespoon or more of a sweetener of your choice or a couple of soaked, pitted dates to the smoothie.
Calories: 199kcal | Carbohydrates: 33g | Protein: 8g | Fat: 5g | Saturated Fat: 0.5g | Polyunsaturated Fat: 3g | Monounsaturated Fat: 1g | Sodium: 169mg | Potassium: 619mg | Fiber: 4g | Sugar: 23g | Vitamin A: 107IU | Vitamin C: 12mg | Calcium: 205mg | Iron: 2mg