Peanut-y Paradise
This delightful dip is to die for! We might be biased, but one taste of this stupendous sauce and you'll have yourself going in for more. You can use this sweet and savory sauce over anything you wish. At World of Vegan, we love spooning it over our Rainbow Spring Rolls.
Rich peanut butter, salty soy sauce, and a zesty tang of lime juice create a combination of flavors that will tempt and tingle your taste buds. With a simple mix and whisk, your sauce will be ready in minutes and add an extra heavenly mouthful to your meal.
How to Serve up This Peanut Dipping Sauce
Rain Over Rice Noodles – Cook up a super quick batch of rice noodles, rinse, and pour your peanut dipping sauce right over. Top with crunchy carrot sticks, sliced scallions, and a few broccoli florets. Add a little spice with crushed red pepper or sriracha hot sauce. Soba noodles would also work well. Perfection!
Venture Into Veggies – Our scrumptious sauce will turn veggie-despising 'nays' into veggie-loving 'YAYS!'. Cut up some sweet tasting vegetables (such as cucumber, carrot, red pepper, and sugar snap peas) and watch them disappear in moments. A great addition for a hummus platter party, too!
Terrific on Tofu – This is a terrific topping for our marinated tofu triangles. Even though they have a great garlicky taste on their own, this sauce will step it up a notch.
Peanuts Prohibited? – Swap out the peanut butter for any nut or seed butter. The flavor will be slightly different, but will still taste delightful.
½ cup peanut butter 
2 tablespoons soy sauce
2 tablespoons lime juice
1 tablespoon rice vinegar
2 teaspoons sugar
½ teaspoon ground ginger
1 teaspoon garlic powder
¼ teaspoon red pepper flakes
5 tablespoons water, use more or less to get the perfect desired consistency
In a medium-sized bowl, add the peanut butter, soy sauce, lime juice, rice vinegar, sugar, ginger, garlic powder, and red pepper flakes and whisk until well combined.

Add the water one tablespoon at a time until the perfect creamy, dippable peanut sauce consistency is achieved.

Serve with our rainbow spring rolls or drizzled over tofu or rice and veggies or with cooked rice noodles!
This peanut sauce may be prepared in advance and stored in a sealed container in the fridge for several days. If it thickens, simply add more water and whisk until it becomes a creamy sauce once again.
Calories: 212kcal | Carbohydrates: 11g | Protein: 8g | Fat: 17g | Saturated Fat: 3g | Polyunsaturated Fat: 4g | Monounsaturated Fat: 8g | Sodium: 645mg | Potassium: 225mg | Fiber: 2g | Sugar: 6g | Vitamin A: 41IU | Vitamin C: 2mg | Calcium: 21mg | Iron: 1mg
Storing Your Leftover Peanut Sauce
While I doubt you'll have any leftover sauce, you might if you make a double batch. Having some extra sauce on the side is definitely a good idea. This delightful dip will last at least a few days in the fridge in a covered container. If it becomes too thick, add a tablespoon of water, mix, and reheat in a saucepan or in the microwave.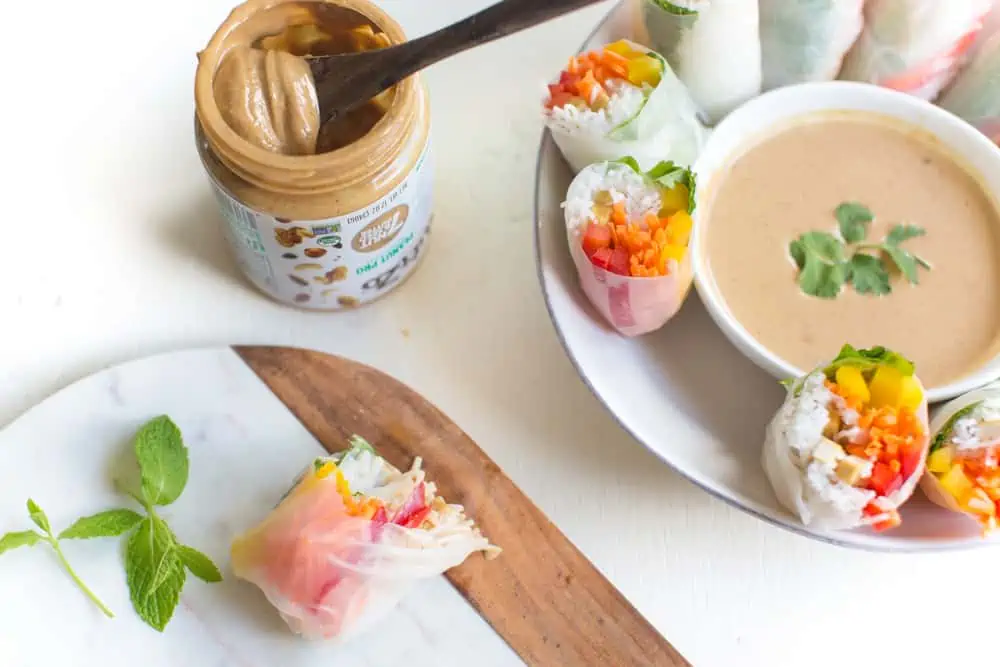 More Super Sauces and Delightful Dips to Try:
Recipe and photos by Michelle Cehn, copyright of World of Vegan™, all rights reserved. Article written by Gina House and edited by Amanda Meth. Please note that this article contains affiliate links which supports our work at World of Vegan.