Want to know how to make the best frozen sweet potato fries in the air fryer? It's easy! We've shown you how to make your own sweet potato fries from scratch and crispy potato wedges, but now we're making it even easier by using a bag of store-bought fries.
Pick your favorite brand (we love the Alexia Sweet Potato Fries) and follow the instructions below to get the perfect crispy sweet potato fries (or sweet potato wedges) every time. Delicious vegan air fryer side dish, here you come!
All you need to do to satisfy your crunchy fry cravings is to buy a bag of frozen sweet potato fries, season, and add them to the air fryer. So simple, so easy. A mountain of mouthwatering snacks will be done in merely minutes, ready for munching.
They're excellent to eat by all by themselves, dabbed into delightful dips, or as a side to vegan burgers, bean salads, or even plant-based burritos. Guys (and gals), we tell you no lies, this recipe gets the prize for being so easy to memorize. For fries, the sky's the limit!
Why You Need To Make These Frozen Sweet Potato Fries
There's no need to disguise (or analyze) your love of fabulously crispy fries. These succulent veggie strips with a golden crust and pillowy soft insides are just divine. Once you try our frozen sweet potato fries recipe, there will be cries of delight, as well as deliciousness.
There are so many reasons why we think you'd love this frozen fries recipe. Here is a short list, but we think you get the picture. Time flies when you're enjoying sweet potato fries!
Star Ingredient – The Sincere Sweet Potato
Though we think of sweet potatoes as being part of the potato family, they're actual the sweet roots of the morning glory family. Isn't that weird and wonderful? A yam, on the other hand, is just like an everyday potato (or vegetable tuber). Today, we're setting our sights on the simple sweet potato.
A single sweet potatoes offers:
How To Serve Up Your Sweet Potato Fries
Sure, you can eat these scrumptious sweet potato fries right out of the basket, but here are a few ways to enjoy them to add a little more nutrition (and extra flavor). Remember––they're best eaten hot as soon as they're done, so plan your potato meals accordingly.
Helpful Tip: Add a medium-sized lettuce leaf (romaine works well) to the bottom of your pita before you add any veggies or hummus. This helps to keep the bottom of your pita bread dry so it doesn't get as wet or disintegrate as quickly.
How Do I Store My Leftover Air Fryer Sweet Potato Fries?
We all know how icky and limp fries can get once they're left out on the counter for a while or after they've been in the fridge overnight. Even though it's tempting to throw any leftover fries away, don't do it! You can easily reheat these fries in the air fryer.
To reheat french fries (or, in this case, sweet potato fries) in the air fryer, first preheat the oven at 400 degree for 5 minutes. Then, place fries in a single layer into the air fryer basket and cook for around 4 minutes at 350 degrees. If you like them a little less crisp, check them at 3 minutes. If you want them extra crispy, cook for another minute more.
Equipment You'll Need
You really only need a couple of things for this recipe. Most importantly, the air fryer and your frozen sweet potato fries. The rest is just a big ol' bonus. Grab your kitchen tools and let's get cookin'!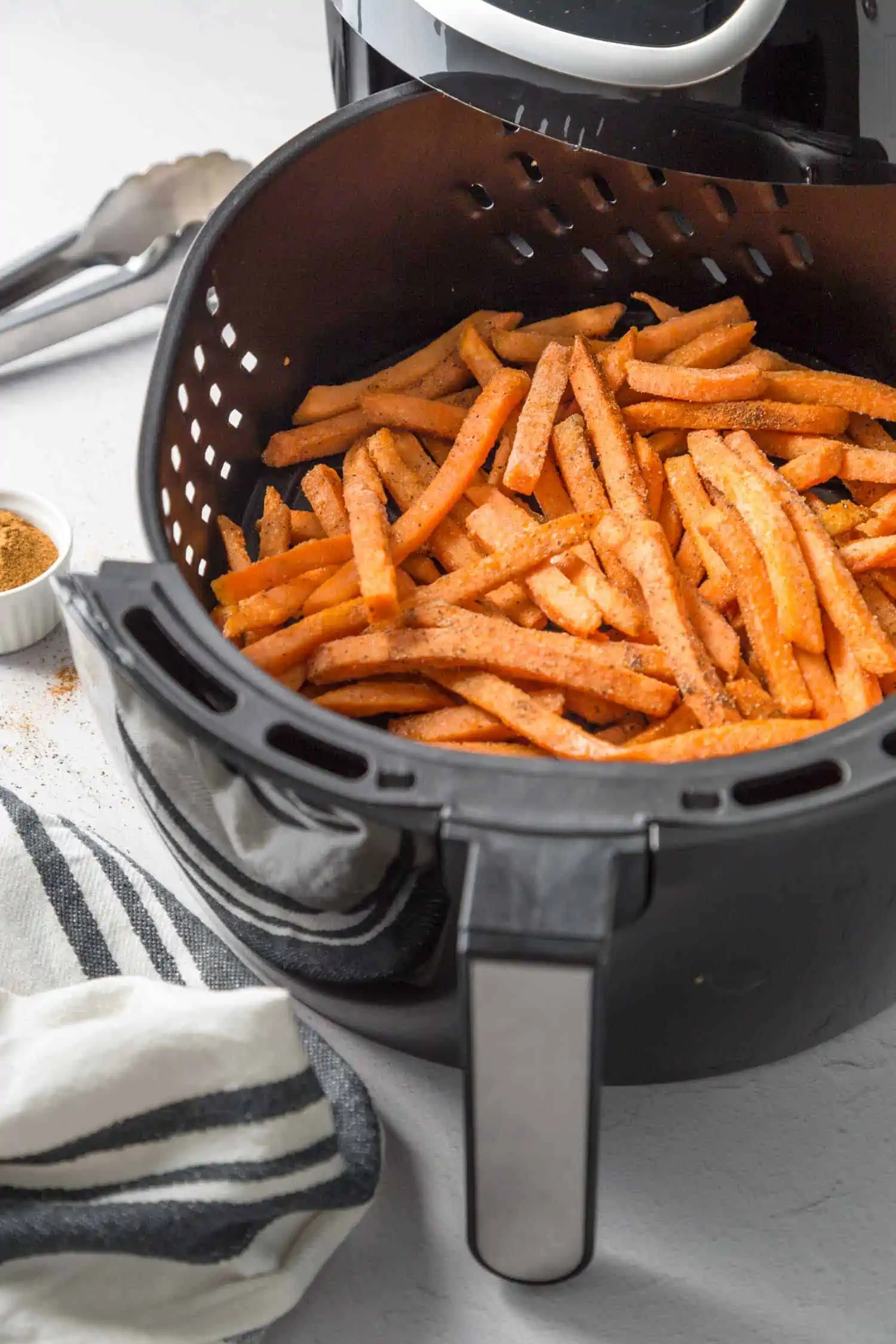 Main Ingredients:
1 or ½ bag frozen sweet potato fries, I used the Alexa brand, but the 356 Whole Foods brand is very good, too.
Optional: Spray Oil, I used avocado oil
Optional: ¼ teaspoon cayenne pepper, if you like spicy fries
Optional: ½ teaspoon black pepper, if you like peppery fries
Spicy Maple Mustard Sauce Ingredients:
4 tablespoons maple syrup
2 tablespoons Dijon mustard
¼ teaspoon dry mustard powder
½ teaspoon garlic powder
¼ teaspoon cayenne pepper, or to taste
Squirt of sriracha or hot chili paste, optional
If your air fryer requires preheating, preheat the air fryer at 400 degrees for 5 minutes.

OPTIONAL: If you'd like to add spices, add frozen fries to a large bowl and spritz with a little bit of spray oil. Stir. Sprinkle on the black and/or cayenne pepper and mix. If you prefer plain fries, skip this step.

When the air fryer is ready, dump half the bag of frozen sweet potato fries (or however many will fit) into the air fryer basket, arranging the fries to lay flat leaving some room for the air to move around them.

Cook at 400 degrees for 8 minutes. Shake or flip the fries over and cook for another 7 minutes at the same temperature.

While they're cooking, make the Spicy Mustard sauce. In a small bowl, mix all of ingredients together. Whisk until well blended. Put aside for later.

Serve your seasoned fries along with the Spicy Mustard Sauce or dip of choice. Enjoy while hot.
Cooking Time - Because some air fryers are different, it might take you a little more or less than 15 minutes for the fries to be done. Check on the fries halfway to see how they're doing. When golden brown and crispy, it's time to take them out.
These air fryer sweet potato fries are vegetarian, dairy-free, soy-free, gluten-free, nut-free, sugar-free, plant-based, and totally delicious! 
Calories: 61kcal | Carbohydrates: 14g | Protein: 0.4g | Fat: 0.3g | Saturated Fat: 0.03g | Polyunsaturated Fat: 0.1g | Monounsaturated Fat: 0.2g | Sodium: 85mg | Potassium: 65mg | Fiber: 0.4g | Sugar: 12g | Vitamin A: 111IU | Vitamin C: 0.1mg | Calcium: 27mg | Iron: 0.2mg
Frequently Asked Questions
Does this recipe work for any type of frozen fries?
For the most part, yes. Frozen sweet potato fries are a little more fragile than regular potatoes, so they may need a shorter time in the air fryer. But, if keep an eye on your fries and check them often, you're sure to get just the right consistency when cooking.
Do I have to use a certain brand of frozen sweet potato fries?
Not at all. We used the Alexia brand and also the 365 Whole Foods brand to test for this recipe and they both came out great. The only thing to keep in mind is the quantity that you add to your air fryer. Some bags have a small amount of fries, while others have lots. If you try to keep it to a sort-of-single-layer amount, it should be fine.
How do I keep my fries from getting soggy?
Our best advice is to eat the fries right away, as soon as they're done. Plan on air frying the quantity you'll eat in one sitting so that you won't have leftovers. But, if you do have extras, you can put them back into the air fryer at 350 degrees and cook for about 3-5 minutes to crisp them up again.
More Salty and Savory Air Fryer Sides to Try:
Are Frozen Sweet Potato Fries Healthy?
Good question! The answer is––it depends on how you define healthy. While they are healthier than other junk food like chips, candy, or colas, they are still fried in oil before freezing. Plus, they usually have additives and preservatives. But, they are preferable over fast food fries.
Sometimes, you can find a brand that has very few ingredients; such as only sweet potatoes, salt, and oil. If you can find a brand like that, even better. For the healthiest alternative, try our air fryer sweet potato fries recipe which uses fresh instead of frozen sweet potatoes.
If you try this sweet potato fries air fryer frozen recipe, let us know what you think by leaving a comment and rating below! Be sure to follow along on Pinterest, Instagram and Facebook for even more vegan recipe inspiration.
Alright friends. Now do you know how to make the most perfect frozen sweet potato fries in the air fryer? The air fryer is key to the quick, crispy finish! This article was written by Gina House. Frozen sweet potato fries in air fryer photography by JJ Steele. Edited by Amanda Meth and Michelle Cehn. Please note that this article may contain affiliate links which supports our work at World of Vegan.