Jalapeño poppers offer the perfect combination of spicy, creamy and crispy. Biting into these is so satisfying, it's no wonder it's perfect Game Day food. These are also great for parties, an appetizer, or an anytime snack.
With only five ingredients and four easy steps, these vegan jalapeño poppers are also incredibly easy to make. The jalapeño peppers are sliced open, the cheesy and creamy filling is spooned in, then they are sprinkled with breadcrumbs and baked until bubbly and crispy. The most difficult part of this recipe is waiting for the poppers to cool down before eating!
When you're in need of an easy and delicious appetizer to please the masses or just for yourself, this irresistible recipe will hit the spot. For more fun game day or anytime appetizer ideas, check out our vegan taco cups, football puff pastries, and cauliflower buffalo wings!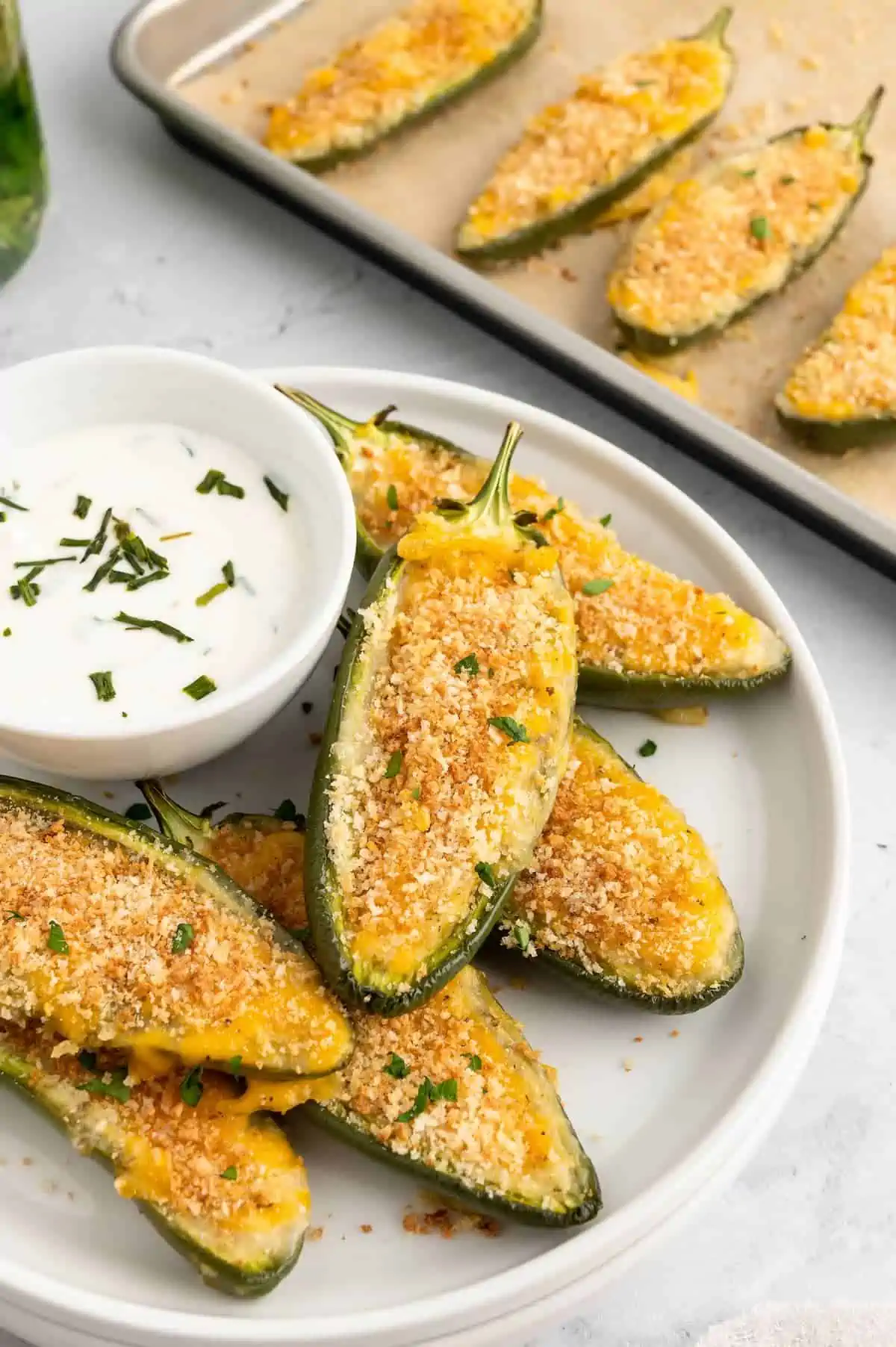 What Are Jalapeño Poppers?
Jalapeño poppers are jalapeño peppers that have been halved, hollowed out and filled with a mixture of cream cheese, cheese shreds, topped with breadcrumbs and baked. These are incredibly easy to make vegan by using vegan cream cheese and vegan cheese shreds. We like using Tofutti cream cheese in this recipe, because its texture holds up well under the heat of the oven.
How to Serve These Jalapeño Poppers
These irresistible party poppers will be gone in no time after serving them, but here are a few ways to make them last a little longer. Savvy serving, picky peppers, and creative creams come to mind. Feel free to come up with your own inventive ideas, too!
Savvy Serving – People love appetizers that are cute and come in bunches. Arrange a pleasing platter with peppers all along the perimeter and, even better, have some peeking off the plate. Pass out fancy little forks or small napkins for easy handling and protection from hotness (and volatile oils!) on the hands.
Picky Peppers – Jalapeños are not the only peppers you can pick for this jalapeño poppers recipe. If you're a little hesitant about the heat, try anaheim, poblano, or ancho chili peppers (medium spicy). If you love jalapeños, but crave something new, try smoky chipotle peppers (hot). For a scorchingly spicy selection, choose scotch bonnet or habaneros. Holy hotness!
Creative Creams – Using the same cream cheese base, consider switching up the types of shredded cheese you use. Add in mozzarella, Fiesta blend, colby jack, or parmesan for the pepperjack or cheddar. Instead of oregano, use chives, scallions, dill, or smoked paprika. The options are endless!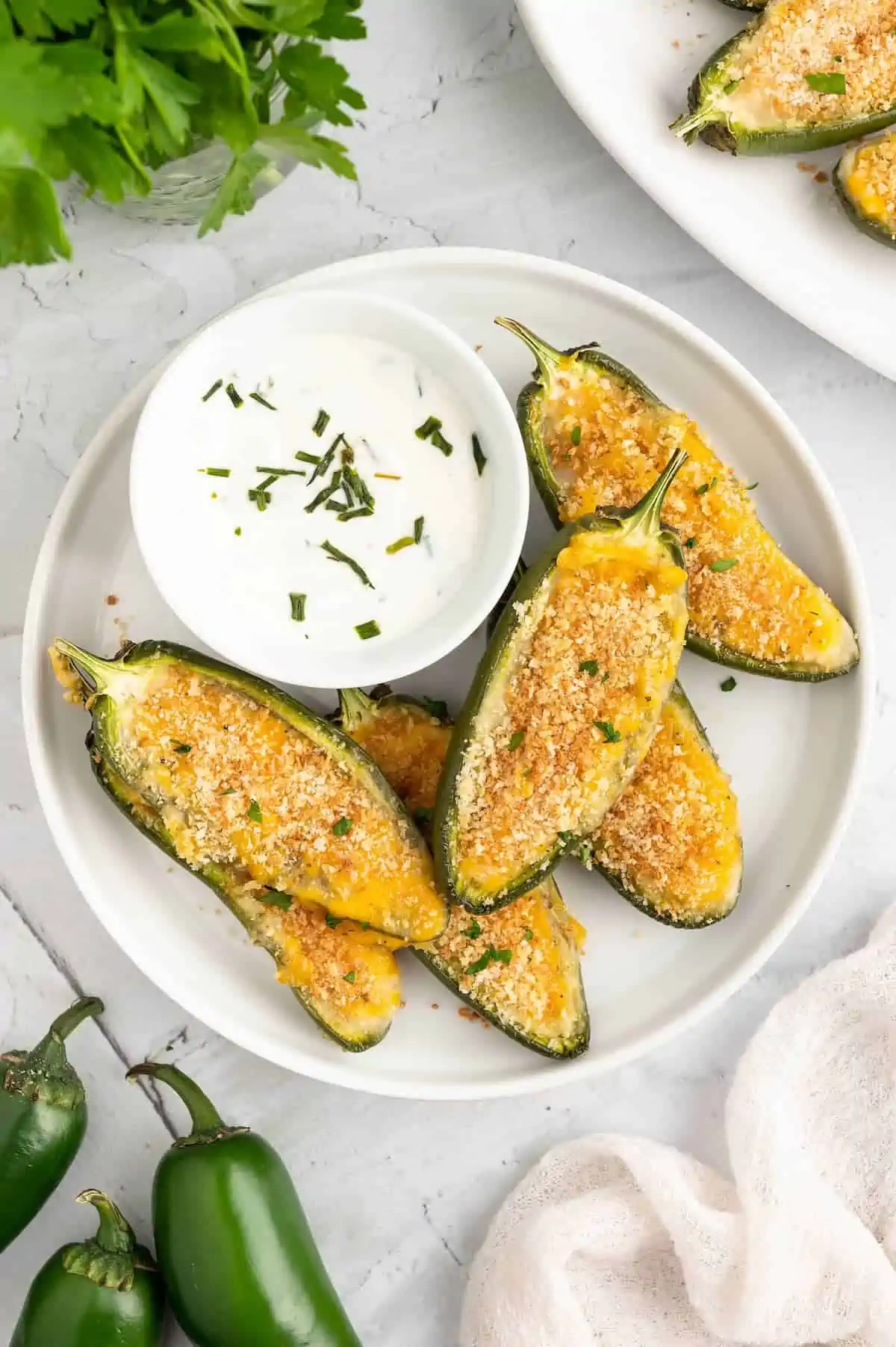 Enjoy These Jalapeño Poppers Baked Or Grilled
These vegan jalapeño poppers can be baked or grilled—we've done both! Baking them enables you to whip these up for a vegan Super Bowl party appetizer, while tossing them on the grill makes them a perfect addition to any summer BBQ. Throwing a pool party? Pull out the barbecue for these gorgeous poolside snacks.
Air Frying Our Vegan Jalapeño Poppers Recipe
While baking these beauties in the oven gives them a lovely crisp exterior, you can step up the crunch factor a notch and use your air fryer instead. Simply make the peppers as directed, preheat your machine for 5 minutes, and then air fry at 325 degrees for about 12 minutes.
You'll be amazed at the extra crispy texture! To make these peppery poppers even more pleasing, add a strip of eggplant bacon or pre-packaged vegan bacon around the outside before air-frying or baking. It's incredibly indulgent and mind-blowingly delicious!
Key Ingredients
Jalapeño Peppers: When selecting jalapeño peppers, ask yourself if it's heat you seek! Inspect your peppers at the grocery store. Jalapeños wrinkle as they age, and you can tell by observing vertical lines running down the length of the pepper. Older jalapeños with "wrinkles" tend to be spicier, so select those up if you want a little more kick. Otherwise, choose less spicy peppers that are smooth with no wrinkles.
Vegan Cream Cheese: There are so many brands to choose from! We love using Tofutti in this recipe because it holds up well to heat. We recommend avoiding brands with high amounts of coconut oil, as it will liquify under high heat.
Vegan Pepperjack or Vegan Cheddar Cheese Shreds: Again, there are so many brands to choose from! We used Follow Your Heart brand here with great results. Some vegan cheeses melt better than others. If you have a favorite brand and are familiar with how it melts when baked, then go for it!
Oregano: You can use dried or fresh oregano in this recipe. Oregano has a minty, peppery undertone that works well with the spiciness of the jalapeño and the creamy elements of the popper filling.
Breadcrumbs: We used regular breadcrumbs here, but you can use seasoned breadcrumbs or panko. They bake up to a beautiful, golden brown and provide a nice crispy crunch.
How To Make These Vegan Jalapeño Poppers
Here's a quick step-by-step tutorial to show the process of making these vegan jalapeño poppers. It's a very quick four-step process, making it especially easy if you are busy or have other appetizers to make!
Step One: Using a sharp knife, halve and de-seed each jalapeño. Leave a little bit of the stem intact. It creates a little handle that makes picking up and eating them easier. We recommend wearing gloves in this step to avoid getting the volatile oil on your hands. It's very hard to rinse away and can burn your eyes if you rub them! Place the cut peppers on a baking sheet.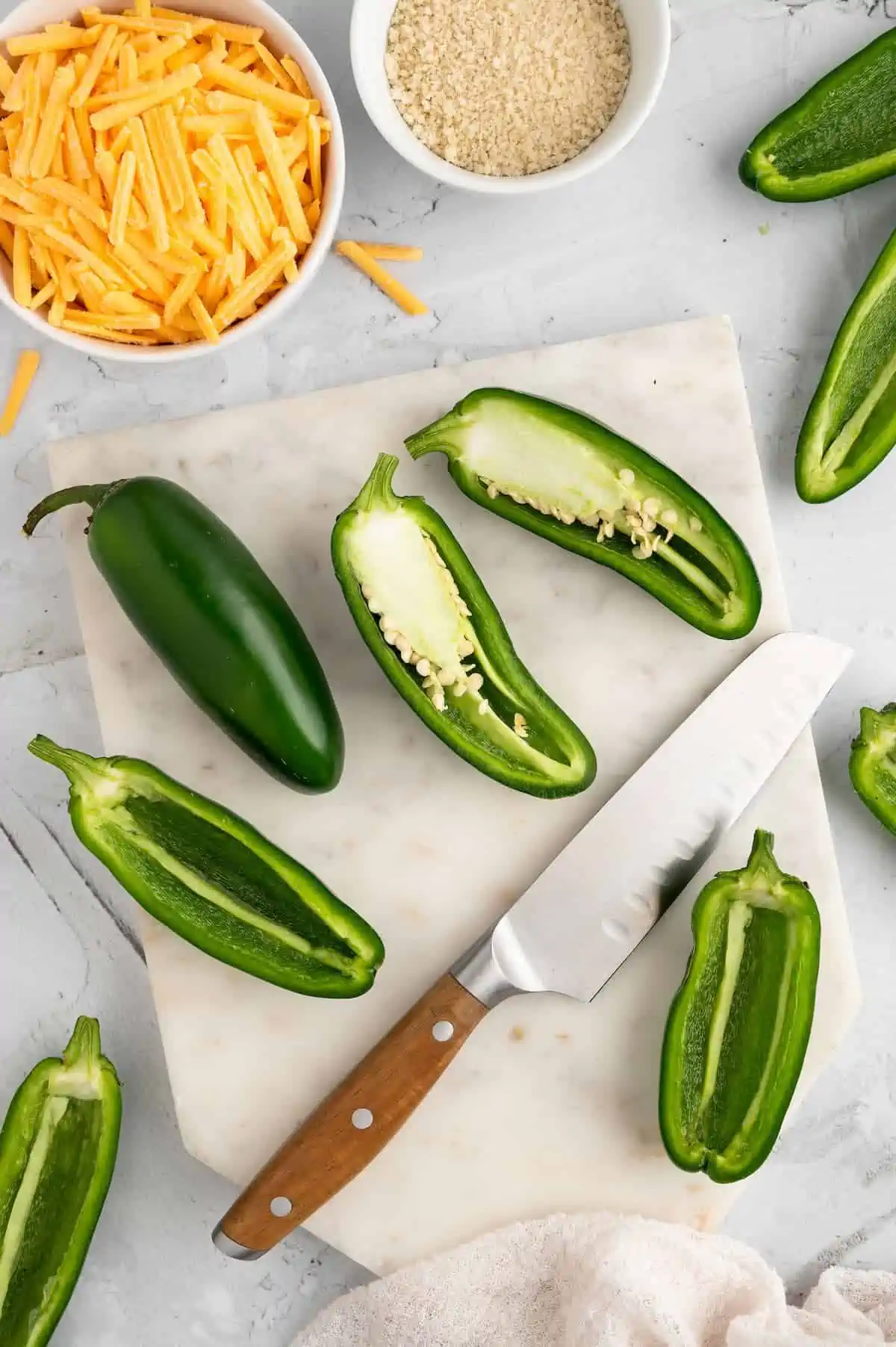 Step Two: In a medium-sized bowl, combine the vegan cheeses and oregano with a spatula.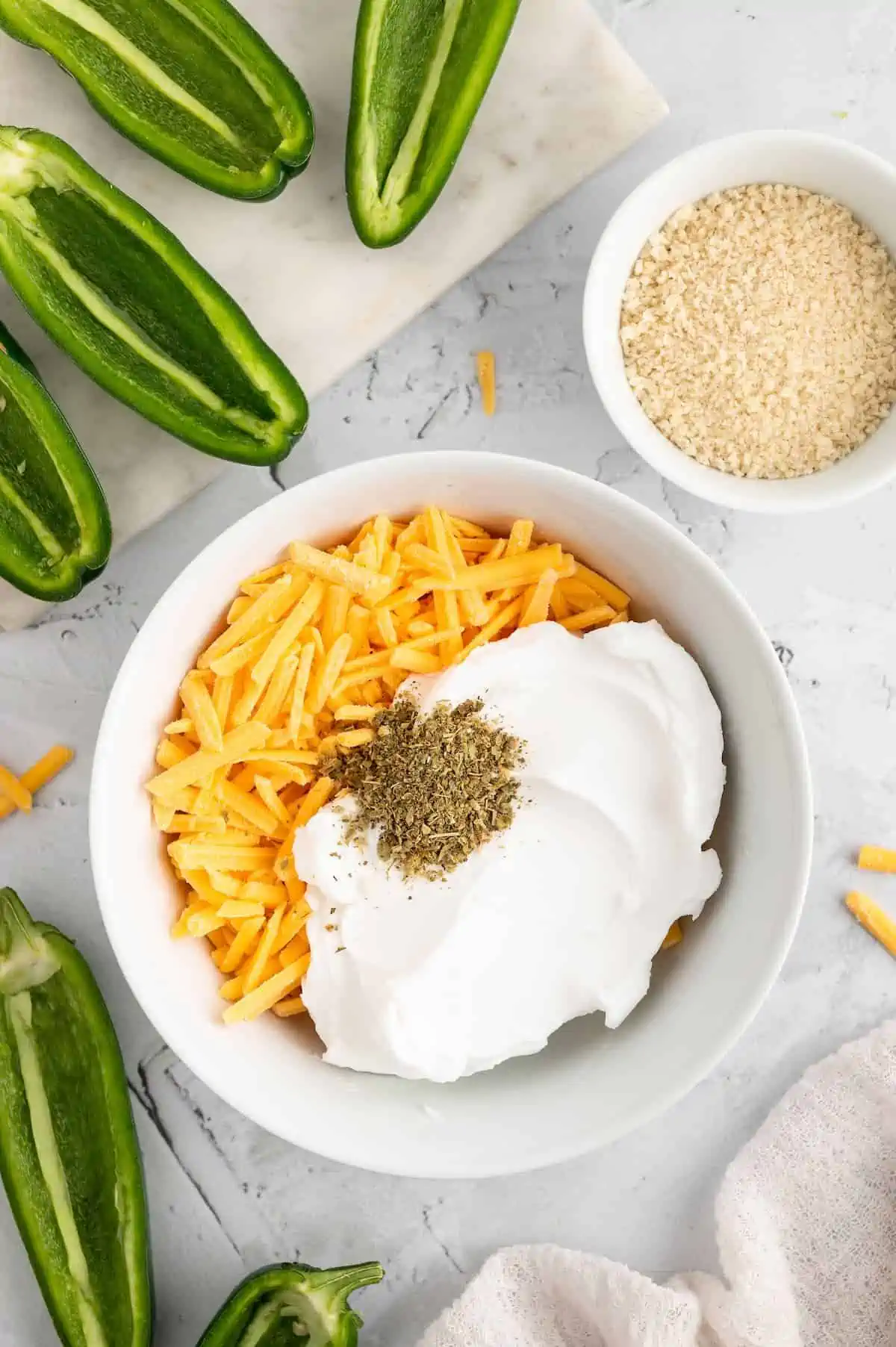 Step Three: Using a spoon, transfer some of the vegan cheese mixture into the hollow of each jalapeño pepper. Use enough of the cheese mixture to fill the peppers half way.
Step Four: Sprinkle a generous amount of breadcrumbs over the peppers and place into a preheated 400°F oven for about 25 minutes. To brown the tops, place under the broiler for about a minute or until golden brown.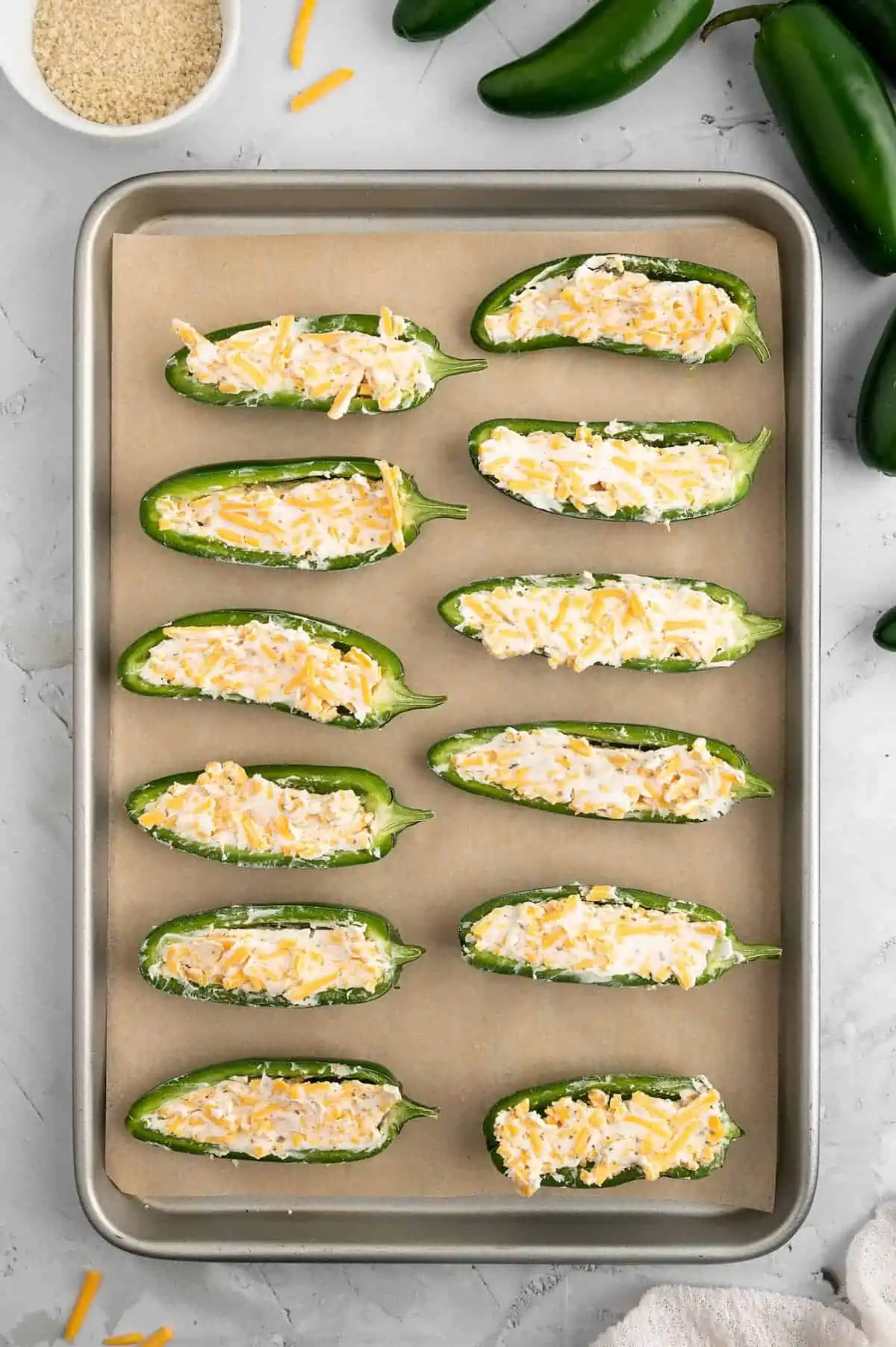 Simple Storage
Our jalapeño poppers recipe can easily be made ahead of time (Woo! Easy party prep!) and stored in the fridge for 3-5 days. On the day that you want to make the poppers, simply take them out of the refrigerator and allow them to come to room temperature while the oven is heating up. Bake as usual.
Can These Vegan Jalapeño Poppers Be Frozen?
Any leftovers can also be refrigerated for about 3-5 days. If you don't think you'll eat them before that time, simply freeze them in an airtight, freezer safe container (or bag) for up to five months. Take the peppers out the night before you are planning on re-heating them.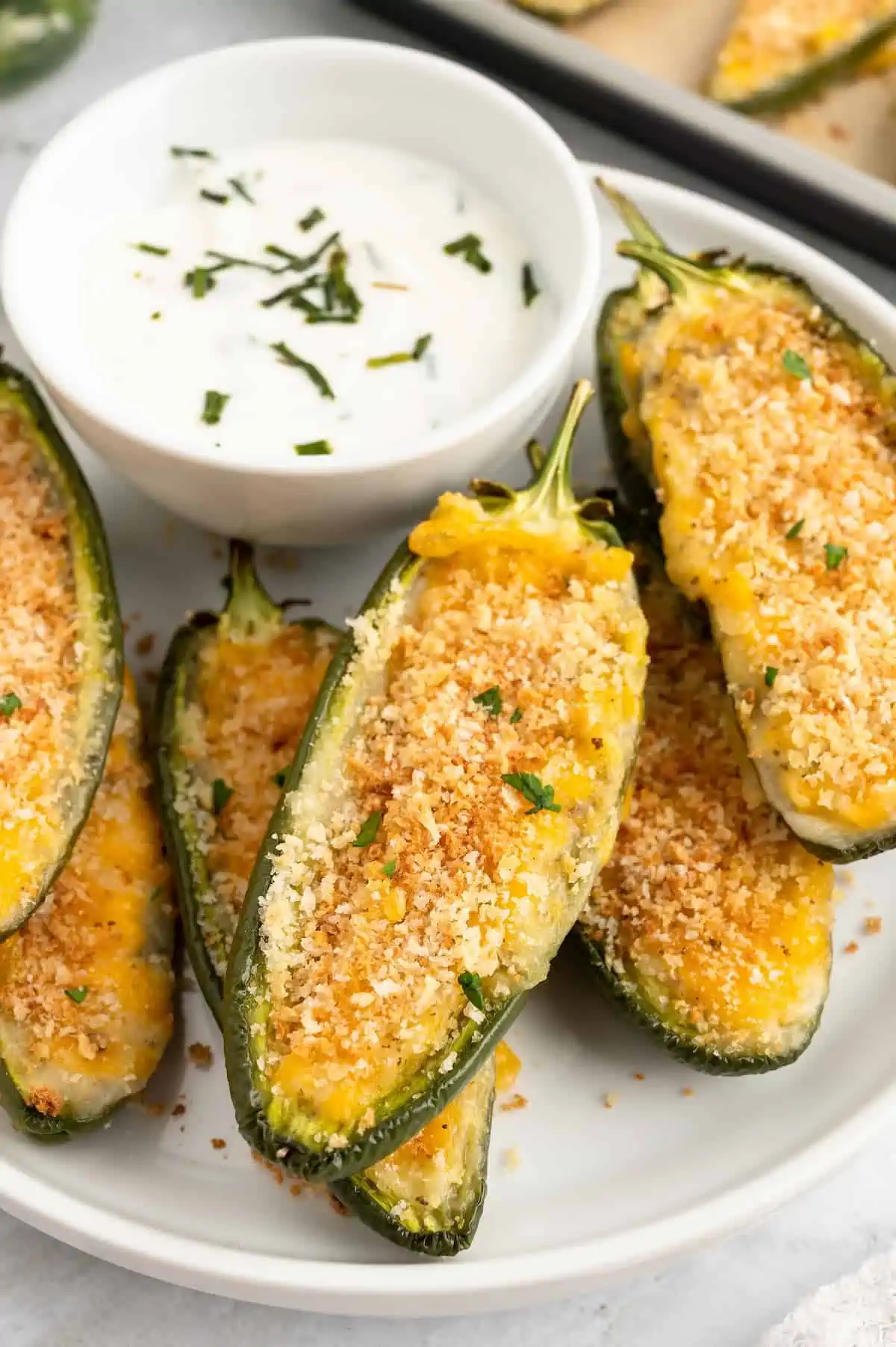 More Amazing Vegan Appetizers to Try
Servings 6 servings of 2 poppers
12 jalapeño peppers
1 8-ounce tub vegan cream cheese, we use Tofutti
1 8-ounce package vegan pepperjack or cheddar cheese, we use Follow Your Heart
1 teaspoon oregano, fresh or dried
¼ cup breadcrumbs
Preheat oven to 400°F.

With a sharp knife, halve and de-seed each jalapeño and place them in a baking dish.

Mix the cream cheese, cheese shreds, and oregano together until well combined.

Scoop a dollop of the cheese mixture into the hollow of each jalapeño pepper to fill half-way.

Sprinkle generously with breadcrumbs, and bake for 25 minutes.

To brown the top, you can then broil for another minute.
TIP: If you have rubber gloves, throw those babies on before handling the raw jalapeño peppers as protection from the volatile oils! This is especially important if you wear contact lenses. If not, just be careful not to touch the seeds, wash your hands thoroughly with soap and water and don't touch your eyes for the next 24 hours.
Calories: 258kcal | Carbohydrates: 18g | Protein: 5g | Fat: 19g | Saturated Fat: 6g | Polyunsaturated Fat: 0.1g | Monounsaturated Fat: 0.1g | Sodium: 558mg | Potassium: 82mg | Fiber: 5g | Sugar: 3g | Vitamin A: 308IU | Vitamin C: 33mg | Calcium: 68mg | Iron: 1mg
This Jalapeño Poppers recipe and photos by Michelle Cehn and Toni Okamoto. Article written by Gina House and edited by Rachel Lessenden. Content copyright World of Vegan, all rights reserved.