Pasta is the ultimate comfort food but there's one dish that goes above and beyond to warm us. If you're a fan of a big bowl of hearty bolognese, this is your recipe! A filling and crazy delicious vegan lentil bolognese recipe to add to your favorites collection.
No meat necessary. The magic ingredient? Lentils!
2 tablespoons olive oil, or your favorite vegetable oil
½ red onion, diced
2 cloves garlic, minced
1 medium carrot, diced
2 celery ribs, diced
Salt and black pepper, to taste
1 cup cooked lentils
2 cups tomato sauce, pasta sauce works best!
fresh basil, for garnish
1 package spaghetti, cooked
In a large pot, add the oil and warm over medium heat. Add the onions and garlic and saute for 2 minutes.

Add the carrots and celery and season with salt and pepper, to taste. Cook for 5 minutes.

Add the cooked lentils and the tomato sauce and allow to boil for 5 minutes. If the sauce is too thick, add some extra water.

Serve on top of spaghetti, garnish with fresh basil, and enjoy!
Calories: 164kcal | Carbohydrates: 20g | Protein: 6g | Fat: 8g | Saturated Fat: 1g | Polyunsaturated Fat: 1g | Monounsaturated Fat: 5g | Sodium: 595mg | Potassium: 627mg | Fiber: 6g | Sugar: 7g | Vitamin A: 3091IU | Vitamin C: 12mg | Calcium: 38mg | Iron: 3mg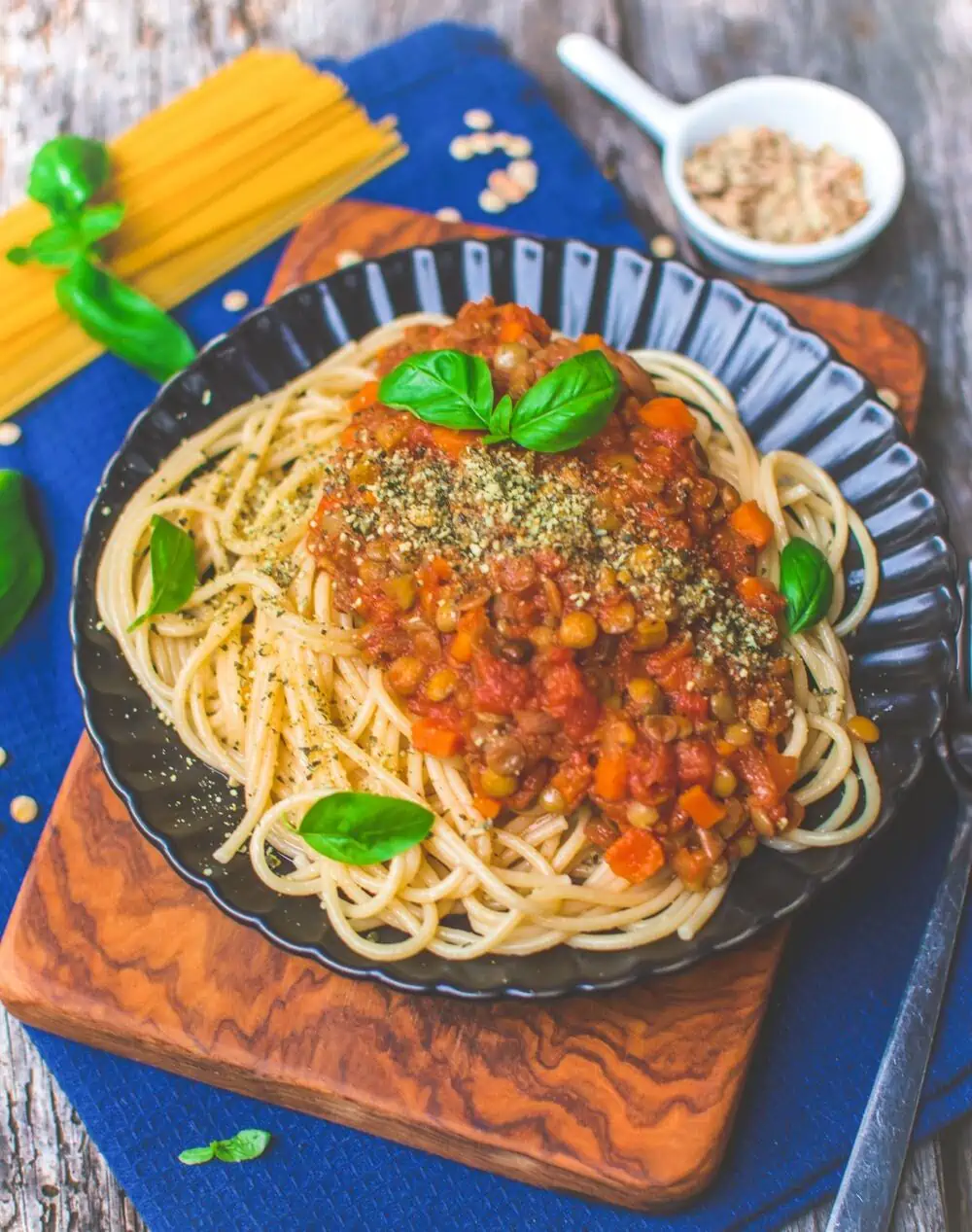 Amazing Lentils!
This legume is really amazing! Lentils are full of healthy plant protein, packed with fiber, and so versatile. Plus, they're one of the most affordable foods on the planet! If you're living vegan on a budget, this is a great go-to dish that is filling, satisfying, delicious, and will save you money.
I still remember when I was a little girl and I would cringe the moment they were announced for dinner. Who would have thought I would be so in love them years later. One thing is for sure, I'm certain that if my parents would have made this lentil bolognese I would have loved it! Big time!
These little gems are so easy to prepare and can be the center of so many different dishes. Among the better-known lentils are red, brown and green.
Red Lentils are typically used for dahl and they cook super fast (without any need for soaking), sweet and very tiny.
Green Lentils are really great for salads since they don't fall apart after cooking, so they are chewier.
Brown Lentils are good for soups and stews, and our new favorite, this lentil bolognese!
I've prepared this recipe with all three and they all give it amazing texture and flavor. So pick your favorite!
Easy Weeknight Dinner
This dish is such a perfect quick weekday dinner! If you use canned lentils (which is such a lifesaver if you didn't get food prep on Sundays!) it takes around 25 minutes and you have a delicious, filling and family-approved meal. So give this recipe a shot and I'm pretty sure it will end up at the top of the list of your favorite meals!
Try Swapping Pasta for Zucchini Noodles!
If you'd like to make this dish a little lighter you can always swap the spaghetti for spiralized zucchini noodles! You might like them raw with the hearty lentil bolognese sauce on top or you can always sautee them a bit with some olive oil in the pan before serving them.
If you don't have a spiralizer (like this one here!) or you simply don't have the extra time to add this step, you can get them ready from the shop! Nowadays you can find great options like these! (Cece's noodles?). This is such a great way to add veggies to your daily meals! For some reason, vegetables taste better when spiralized. Don't you agree?
Wanna Try More Vegan Pasta Recipes?
Here are a few of our favorite plant-powered pasta dishes:
Vegan Lentil Bolognese photos and recipe by Zhoro Apostolov for World of Vegan. Recipe and photographs copyright of World of Vegan™, all rights reserved. Please note that this article contains affiliate links, which means shopping through them helps lights on at World of Vegan!