Everyone loves pizza rolls. And it's easier than ever to make your own vegan pizza rolls from scratch! All you need is some store-bought pizza dough, pizza sauce, vegan cheese, and your favorite fixings.
These pizza rolls are especially handy as an appetizer for parties, pizza and movie nights, and school lunch season. Whether you're prepping for a celebration or doing your best not to fall into a lunch box rut, this quick and easy dinner has your back.
These pizza roll-ups have quickly become a favorite on many family dinner menus. Just beware, your kids will be asking for them every week! Gather your ingredients and let's get rolling.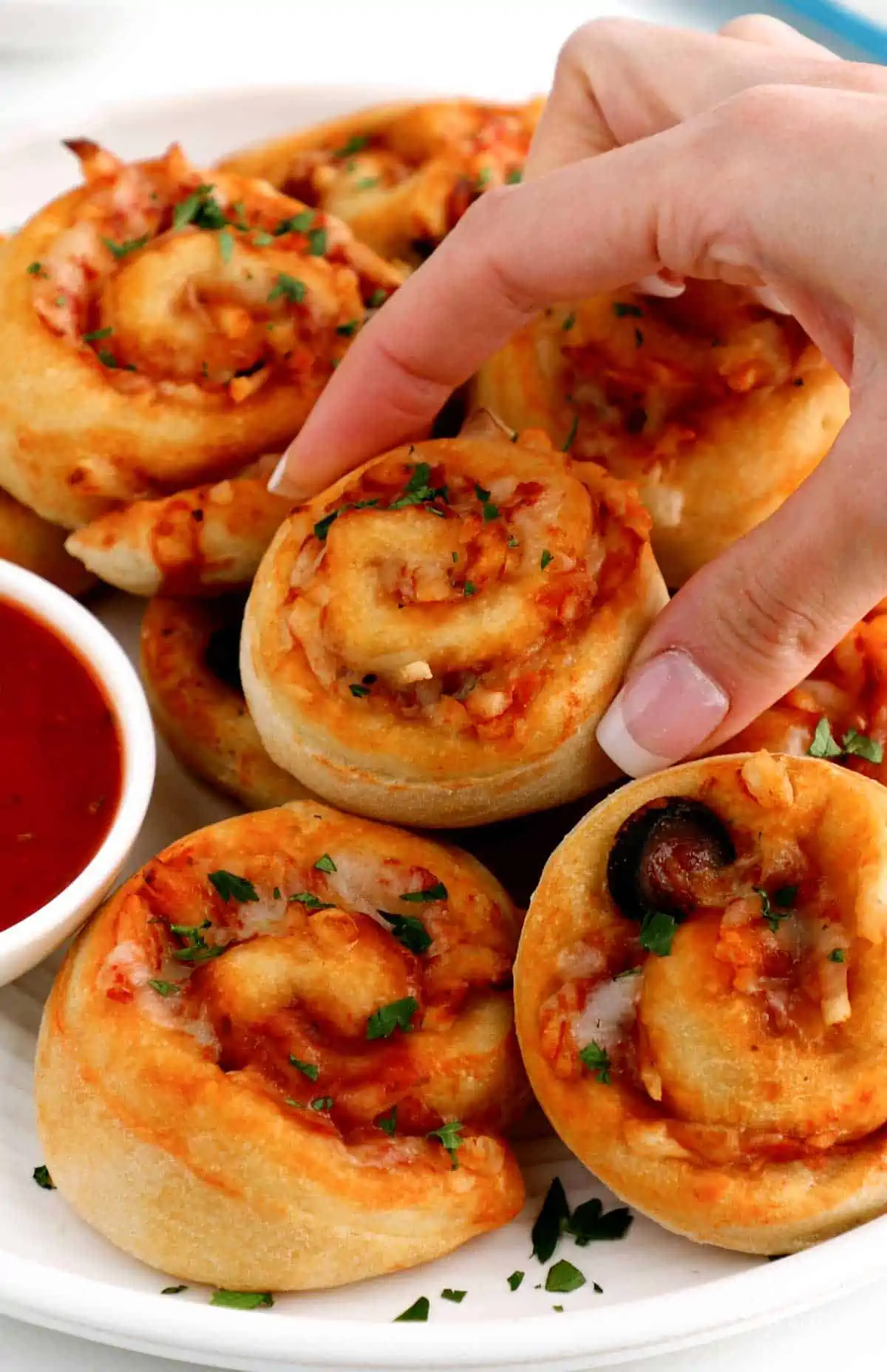 Why We Love These Vegan Pizza Rolls
These pizza rolls tick so many boxes. They are:
Vegetarian
Vegan
Dairy-free
Cholesterol-free
Finger-food friendly
Great for lunch or a snack
Freezer-friendly
With just 4 ingredients, these are simple enough to prep while making dinner the night before. Or, make a big batch on the weekend and reheat (pack in thermoses) the morning you are packing!
You can use olives, vegan pepperoni, veggies, or whatever you usually love on pizza. Have fun with the toppings and add whatever you or your kids like.
Be sure to serve with more marinara or pizza sauce on the side for delicious dipping.
More Family-Friendly Vegan Kids Recipe Ideas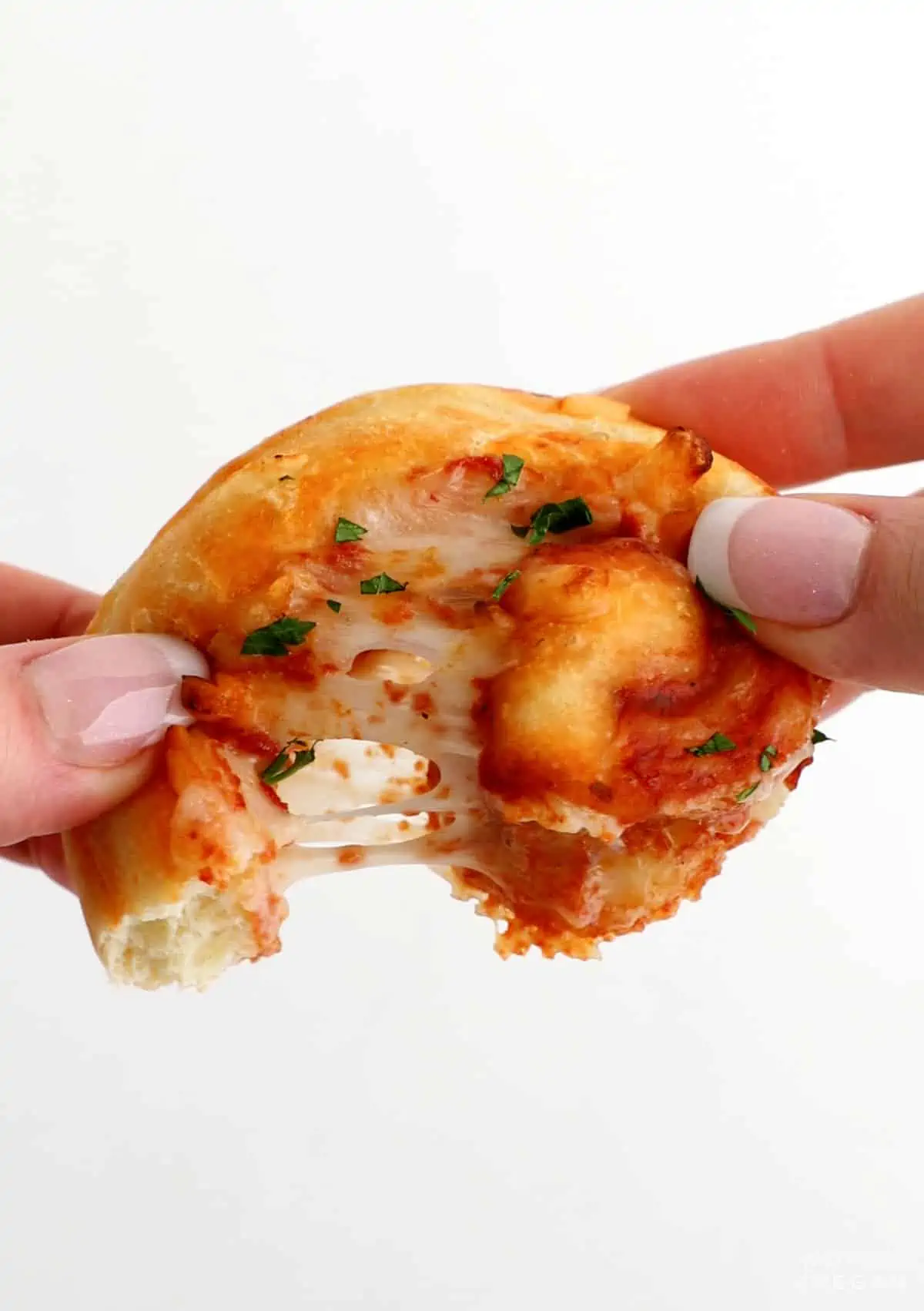 Key Ingredients and Toppings
Vegan Pizza Dough: You can find pre-made vegan pizza dough in the refrigerated section of many grocery stores (such as Trader Joe's and Whole Foods) or you can make your own.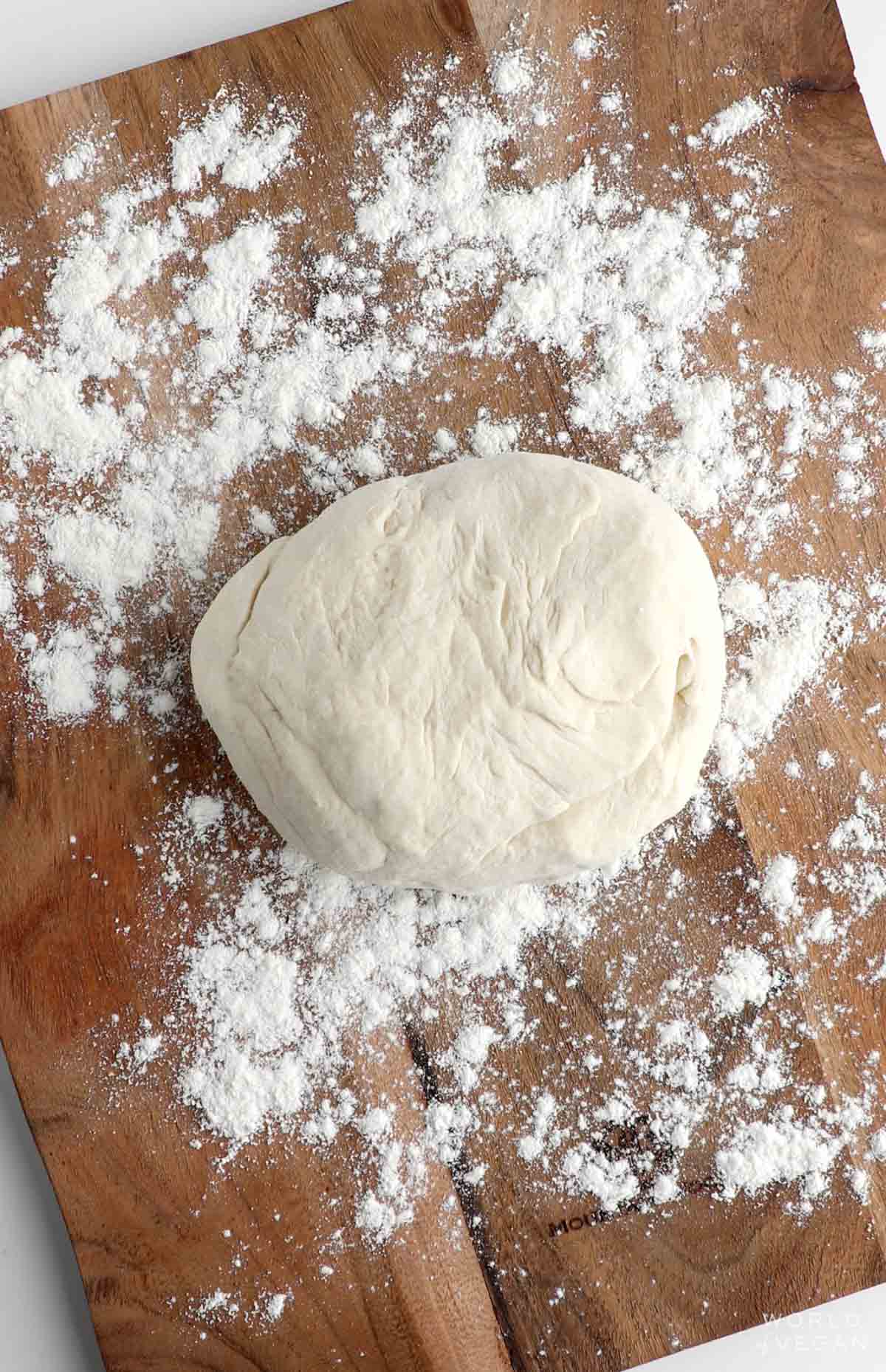 Vegan Pizza Sauce: You can use any plant-based pizza sauce — or even pasta sauce or marinara if you don't have pizza sauce on hand. I used the Trader Joe's pizza sauce (found in a tub in the refrigerated section).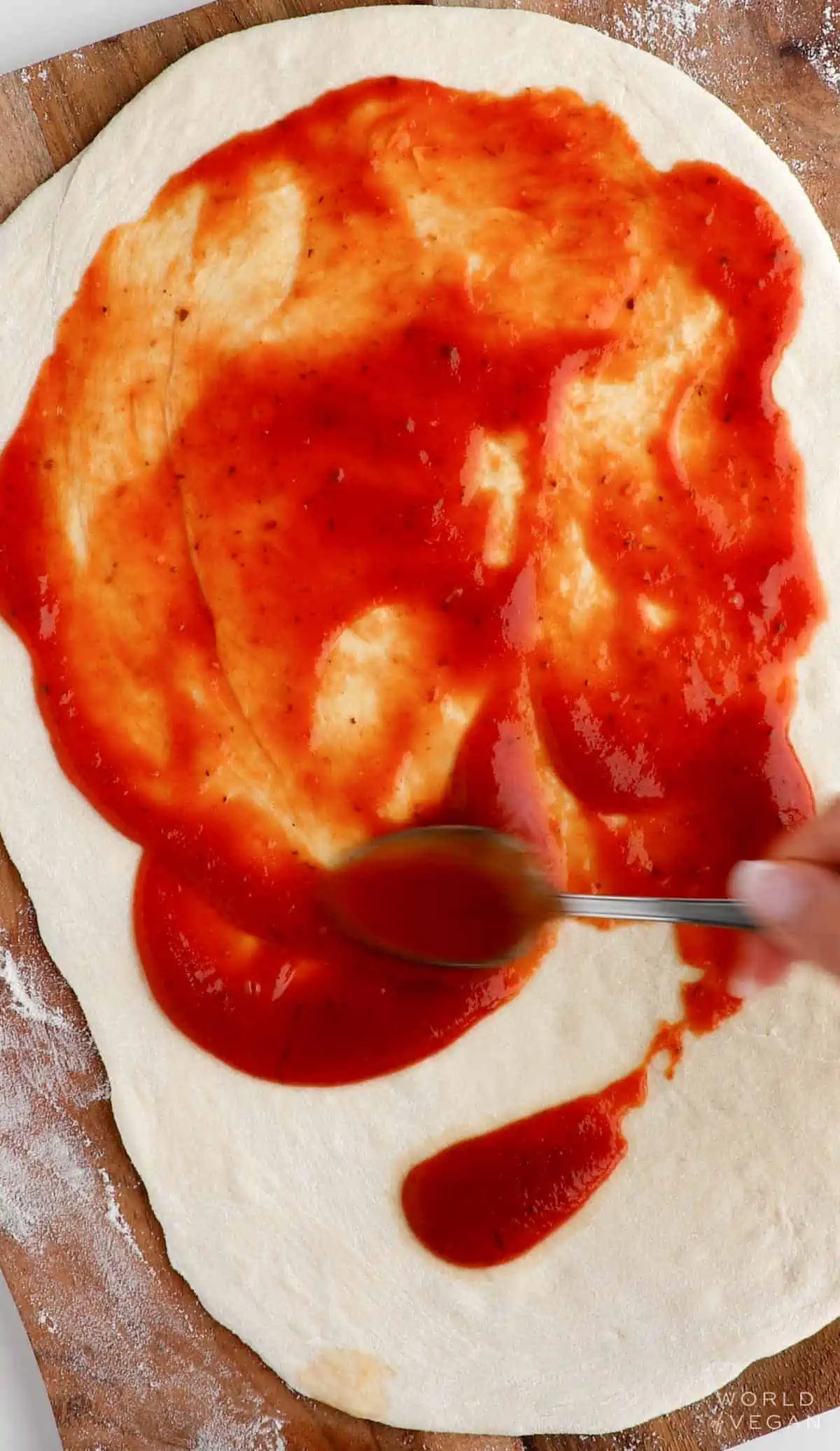 Plant-Based Cheese: Pick your favorite vegan shredded cheese! If you don't have shredded cheese, sliced cheese will work just find too. I used GOOD PLANeT's mozzarella vegan cheese.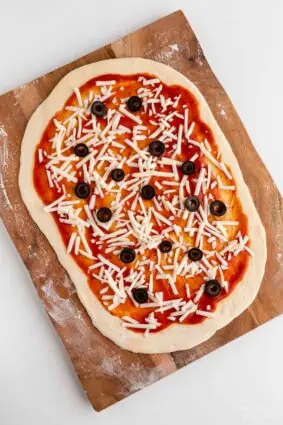 Veggie Meat Or Other Add-Ins: If you can find vegan pepperoni, it's delicious in this recipe! I used the Yves vegan pepperoni slices (chopped up into small pieces). If you want to add an extra handmade touch to these pizza roll-ups, consider making your own vegan pepperoni to throw in! You can also add in other types of vegan meat, vegan ground beef, veggies, herbs, jalapeno for a spicy kick, and beyond.
How to Make Pizza Rolls
One of the reasons why this recipe is so popular for busy parents and kids alike is because it's so easy. Assuming you use store-bought dough, all you need to do is:
roll out the pizza dough on a floured work surface
add your toppings (or rather fillings)
roll it up like a log
slice into 1-inch thick rounds
bake, garnish, and serve!
If you're a visual learner, these step-by-step photos show exactly how it's done.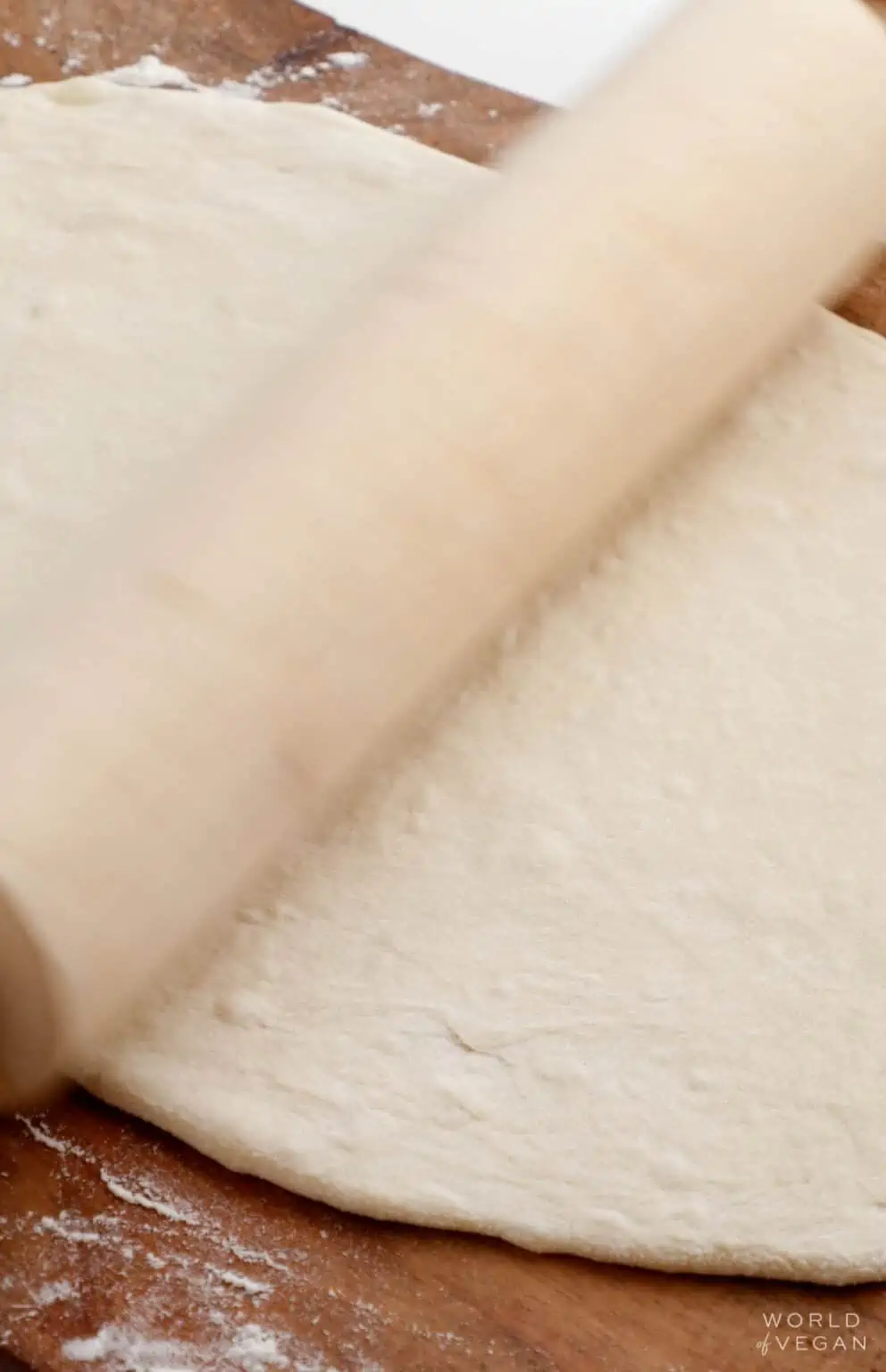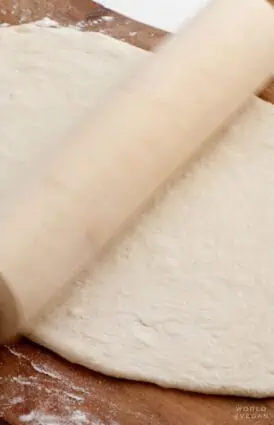 Common Pizza Roll Questions
Can I make these veggie pizza rolls gluten-free?
Absolutely! Just use a gluten-free pizza crust and make sure the plant-based cheese you choose is gluten-free. Gluten free vegan pizza rolls, here you come!
Which vegan cheese is best to use?
You can use any vegan cheese you have on hand — but our favorite is shredded vegan mozzarella, cheddar, or a mix of both.
I'm not a kid — can I still make this recipe?
Do you even have to ask? Of course! This recipe is for anyone and everyone that loves good food and pizza with a fun twist.
1 package vegan pizza dough, store-bought refrigerated pizza dough or homemade
⅓ cup pizza sauce, plus more for dipping
½ cup vegan mozzarella cheese, shredded
⅛ cup sliced black olives
2 tablespoons parsley, finely chopped, for garnish
Preheat the oven to 400 degrees and line a baking sheet with parchment paper or a silicone baking mat.

On a floured work surface, roll out the pizza dough using a flour-dusted rolling pin to create a large flat oval-rectangle shape as pictured.

Spread the pizza sauce over the crust with a spoon, leaving a 1-inch border around the edge of the circle.

Sprinkle with shredded vegan mozzarella cheese and top with sliced olives (and/or any other desired toppings).

Start on the long side closest to you and roll the dough into a log, sealing it on the bottom by pinching the dough together.

Using a serrated knife, slice the log into 1-inch rounds. Place on baking sheet, leaving space between each.

Bake for 10 minutes, or until cooked all the way through.

Garnish with a sprinkle of parsley and serve with marinara sauce for dipping.
If you don't have pizza sauce, marinara sauce can also work!
Calories: 99kcal | Carbohydrates: 17g | Protein: 3g | Fat: 2g | Saturated Fat: 1g | Polyunsaturated Fat: 0.3g | Monounsaturated Fat: 0.2g | Sodium: 336mg | Potassium: 21mg | Fiber: 1g | Sugar: 2g | Vitamin A: 35IU | Vitamin C: 0.5mg | Calcium: 5mg | Iron: 1mg
Vegan pizza rolls recipe by Stephanie Dreyer for World of Vegan. Pizza roll photos by Michelle Cehn. Photos by Kaylie Grace.