Fall is here and we're deep into school lunch season! I'm doing my best not to fall into a lunch box rut. My weekly meal plan includes a lunch box menu that's as fun for the kids to eat as it is for me to make (not to mention healthy and delicious!).
These Pizza Roll-Ups have quickly become a favorite on the menu. I made them on a whim and now my kids are asking for them every week!
With just 4 ingredients, these are simple enough to prep while making dinner the night before, or make a big batch on the weekend and reheat (pack in thermoses) the morning you are packing. I used olives (a favorite in our house) and Michelle has used Lightlife's vegan pepperoni but have fun with the toppings and add whatever you or your kids like! Be sure to serve with more marinara or pizza sauce on the side for delicious dipping.
Vegan Pizza Roll-Ups
2018-10-19 16:37:35
These delicious vegan pizza rolls will be a big hit with kiddos everywhere!
Ingredients
1 package of pre-made refrigerated pizza dough
⅓ cup pizza sauce (if you don't have pizza sauce, marinara sauce can also work)
½ cup vegan mozzarella cheese
⅛ cup sliced black olives
Instructions
Preheat the oven to 400 degrees.
Roll out the pizza dough on a floured surface.
Spread the pizza sauce over the crust, leaving a 1-inch border around the edge of the circle.
Sprinkle with shredded vegan mozzarella and top with sliced olives.
Start on the side closest to you and roll the dough into a log, sealing it on the bottom and stretching it out it's about 1-inch in diameter.
Using a serrated knife, slice the log into 1-inch rounds. Place on a cookie sheet lined with parchment paper.
Bake for 10 minutes, or until cooked all the way through.
Serve with marinara sauce for dipping.
World of Vegan https://www.worldofvegan.com/
Where Can I Find The Ingredients?
You can find pre-made vegan pizza dough in the refrigerated section of many grocery stores (such as Trader Joe's and Whole Foods) or you can make your own. The pictured pizza rolls were made using the Trader Joe's Garlic & Herb pizza dough, Trader Joe's pizza sauce (found in a tub in the refrigerated section), Miyoko's vegan mozzarella cheese, and Yves vegan pepperoni slices (sliced into small pieces).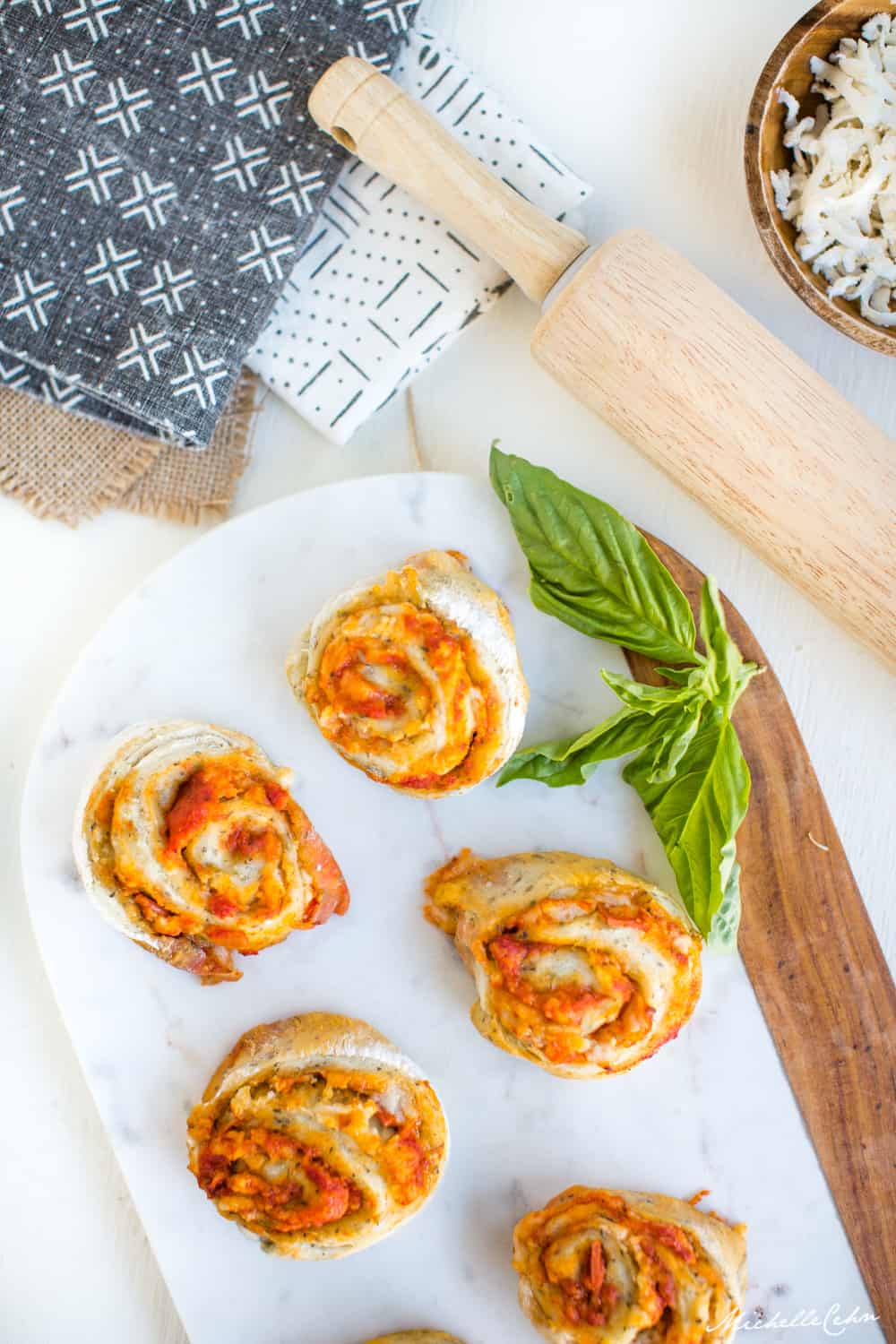 For more family-friendly vegan tips and recipes from Stephanie Dreyer, subscribe to her newsletter here. Pizza roll photos by Michelle Cehn.