Looking for a comfortable and eco-friendly way to catch some Z's? Look no further than vegan mattresses! In this guide, you'll discover the most popular mattress brands that will have you dozing in Dreamland in no time.
Did you know that traditional mattresses use materials that are not only harmful to the environment, but can also be harmful to your health? From synthetic foams to chemical flame retardants, the ingredients used in traditional mattresses can leave a toxic footprint on the planet and in your bedroom.
But with a vegan mattress, you can sleep soundly knowing that you are making a positive impact on both your health and the environment. Made from natural, organic materials such as cotton and latex, cruelty-free mattresses are free from harmful chemicals and toxins that can cause allergies and other health issues.
Do you think you're ready to make the switch? If so, keep reading!
Why Choose a Vegan Mattress?
It might be a no-brainer that you wish to choose a mattress that is labeled vegan, but let's delve deeper into the specific reasons why.
Sustainability: The production of animal-based materials like down and leather requires a huge amount of resources, such as water and feed. This practice also contributes to deforestation and greenhouse gas emissions. While vegan materials require fewer resources to produce and have a lower environmental impact.
Health: Most mainstream mattresses contain toxic chemicals (like benzene, phthalates, heavy metals, formaldehyde, and flame retardants). As you sleep, you are absorbing the chemicals through your skin. Also, for 8 hours per night, you may be breathing in the off-gasses they produce as well. Ick!!
Comfort and Support: You can get the same level of comfort and support as traditional mattresses, if not more! Natural latex, for example, conforms to your body's shape for personalized support. While linen and cotton provide a soft and breathable surface for a cool and comfortable sleep.
Breathability: Natural fibers breathe! Plant-based fibers naturally and easily allow ventilation to occur and they can absorb excess sweat quickly and release it into the air.
Plus, you can feel good knowing that you are not harming animals by purchasing this type of mattress for your bed. By choosing a vegan mattress, you are supporting ethical and cruelty-free practices in the bedding industry without sacrificing comfort for sustainability.
What Makes A Mattress Non-Vegan
A mattress can be non-vegan due to its materials and manufacturing process. Many traditional mattresses use animal-derived materials in their construction, such as:
Additionally, some mattresses are treated with chemicals or other substances that may not align with a healthy and conscious lifestyle. For example, some mattresses are treated with flame retardants that contain animal products like gelatin. When it comes to animal-free options, natural latex, organic cotton, and plant-based foam are popular vegan materials.
What Materials Make Up a Cruelty-Free Mattress?
This type of mattress uses a variety of natural and organic materials that are free from animal products. Here are some of the most common materials in vegan mattresses:
Natural Latex originates from the sap of rubber trees and is a popular material due to its durability, breathability, and support. Latex comes in different firmness levels to accommodate different sleep positions and preferences.
Organic Cotton is an organic material that doesn't use pesticides or synthetic fertilizers, making it a sustainable and eco-friendly option for bedding. It's soft, breathable, and hypoallergenic, making it an ideal material for vegans.
Plant-Based Fibers are breathable, supportive, and eco-friendly, utilizing materials such as coconut coir, hemp, and bamboo most often.
Microcoils are small, individual springs that are supportive and comfortable. Recycled steel is the most popular material for this type of construction.
By using natural and organic materials in their mattresses, manufacturers are able to create a comfortable and supportive sleep surface that is free from animal products and harmful chemicals.
Best Vegan Mattress Brands
Upgrade your sleep game by investing in one of these vegan mattresses! These brands are super comfy, eco-friendly, and completely animal-free. So say bye to gross chemicals and hello to a healthier, more sustainable way to get a great night's sleep.
Avocado Green Mattress
Avocado Green Mattresses has organic cotton and natural latex for the foundation. Their mattresses are both eco-friendly and luxurious, with features like zoning for specialized support and a reinforced perimeter for edge reinforcement.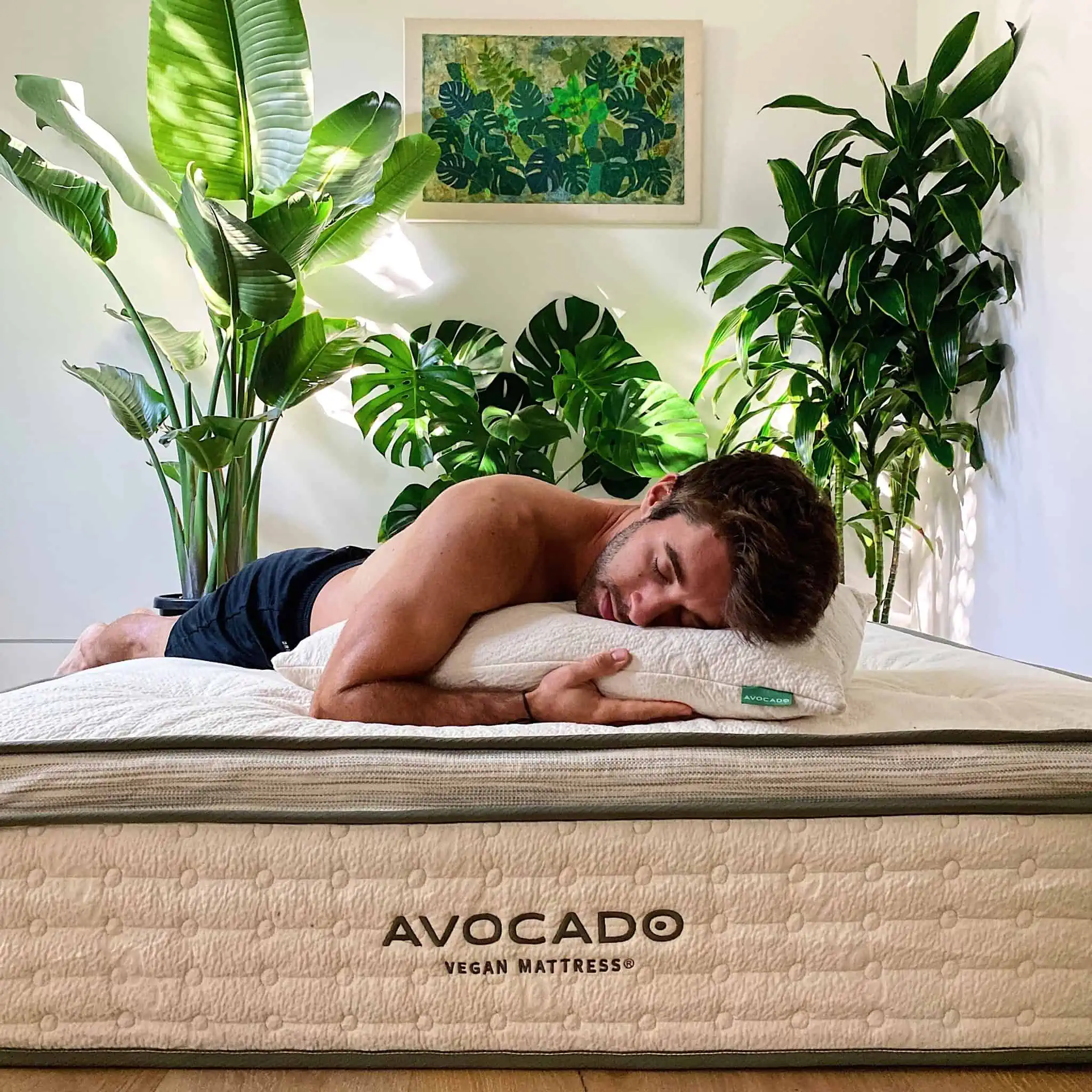 Brentwood Home
Brentwood Home's Crystal Cove has a dual-sided design for customizable firmness. Made with natural and organic materials like coconut coir and latex, it's hypoallergenic and free from harmful chemicals.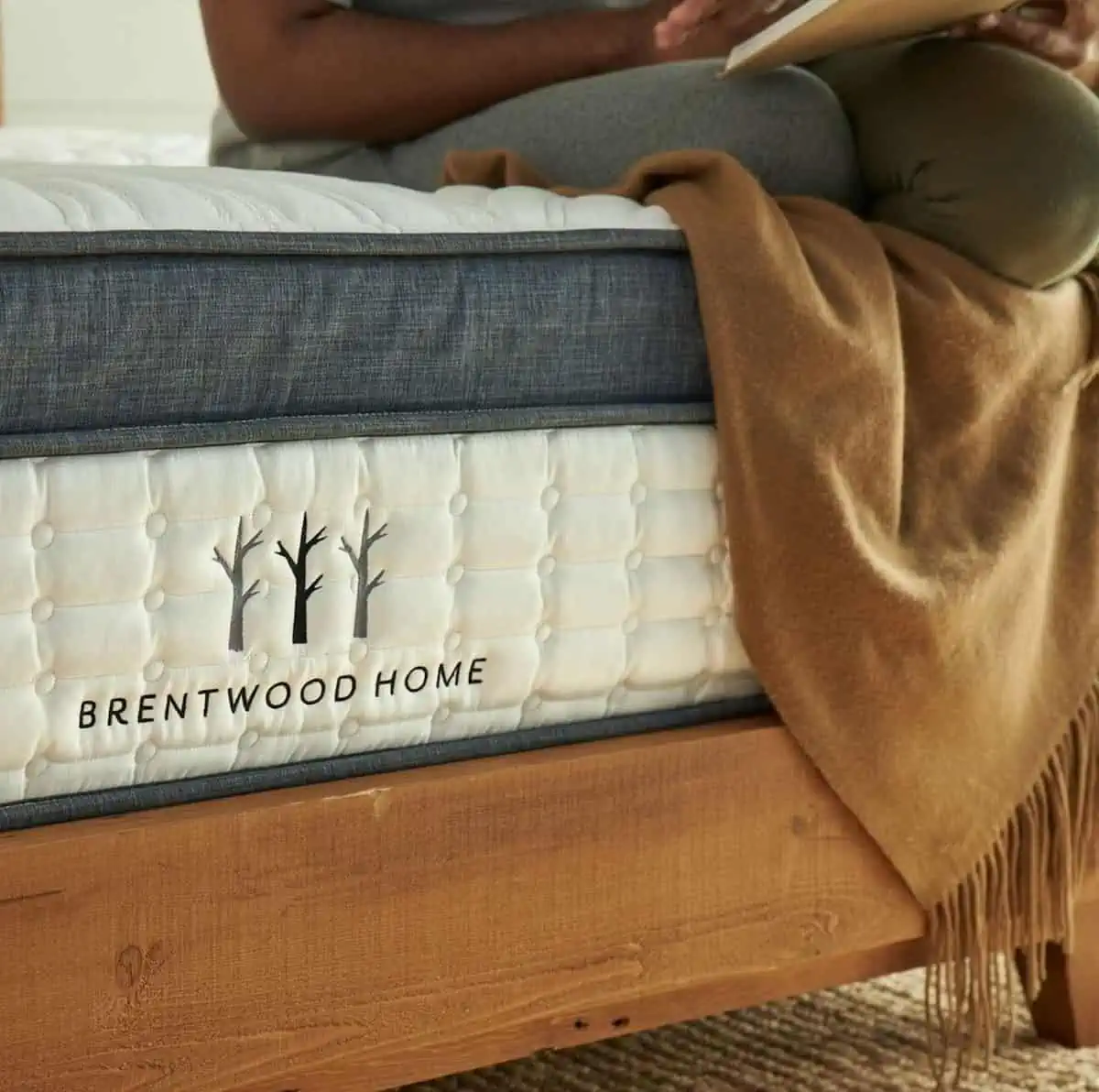 Cariloha
Cariloha's Bamboo Mattresses feature a lush, pillowy soft surface of bamboo viscose and promise a "comfier, cooler, and cleaner" sleeping experience.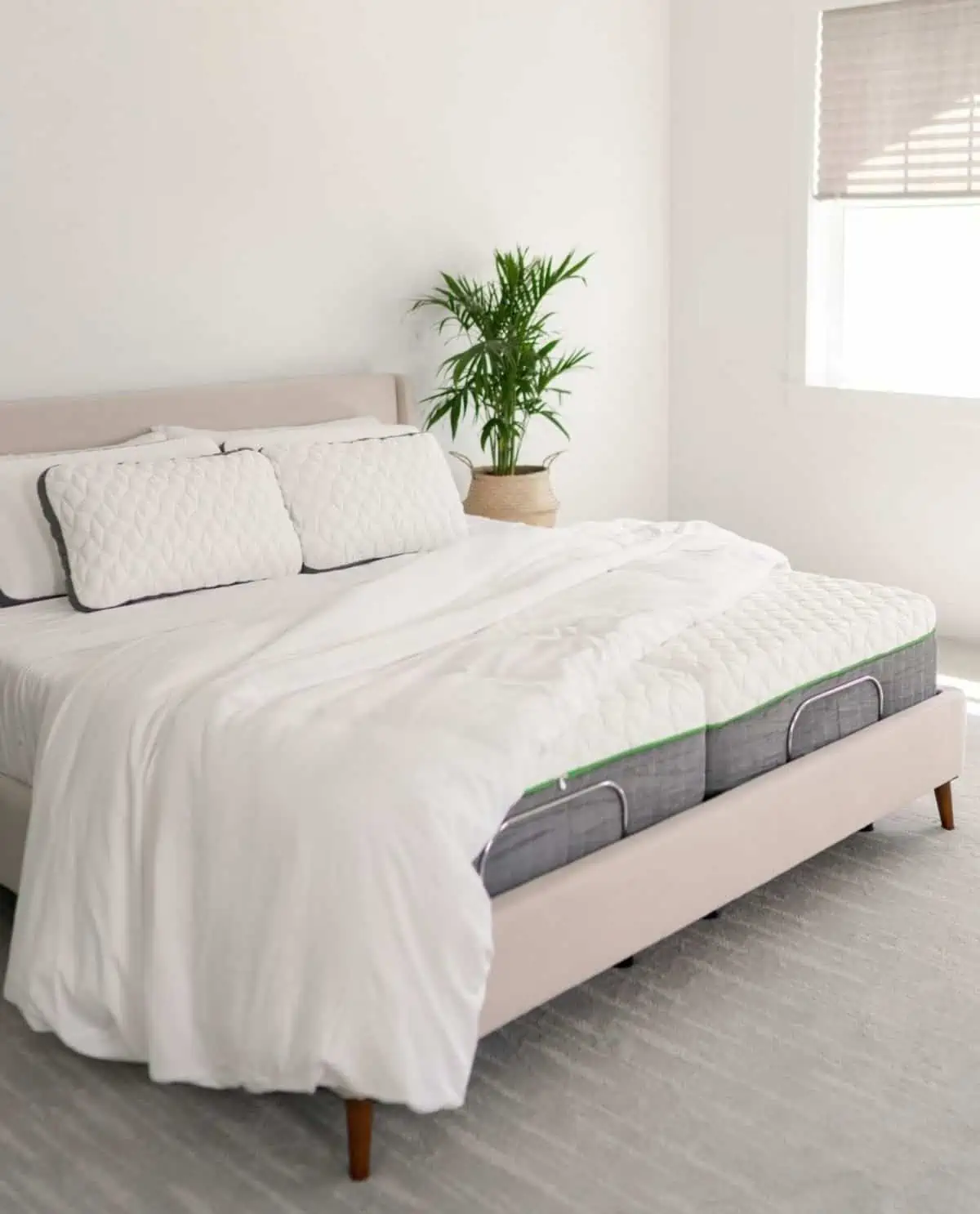 Naturepedic
Naturepedic's EOS Trilux utilizes certified organic materials and features a customizable modular design for maximum comfort and breathability.
Nest Bedding
Nest Bedding's Quail uses a durable and breathable high-density foam that is both cooling and comfortable to the sleeper.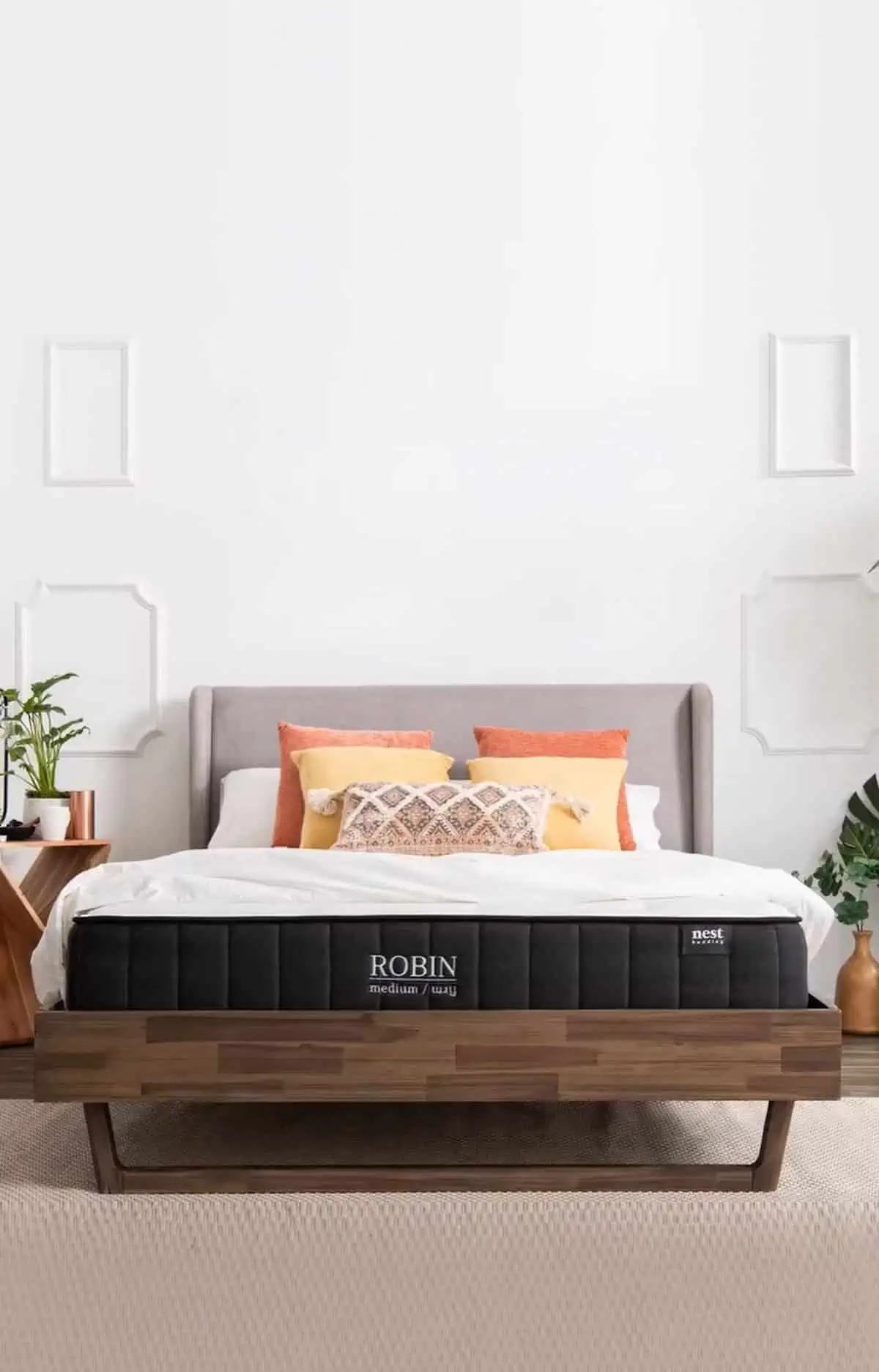 PlushBeds
PlushBeds' The Natural Bliss uses organic latex and cotton. These mattresses provide optimal support and pressure relief, while also being hypoallergenic and resistant to dust mites.
Saatva
Saatva's Zenhaven mattresses features 100% natural Talalay latex, which is sustainable and hypoallergenic. They provide a comfortable and supportive sleep surface, with features like zoned support for targeted pressure relief.
Sleep with a Clear Conscience: The Ethical Benefits of Vegan Beds
Whether you choose a mixed organic cotton and latex Avocado vegan mattress, a cushiony option with coils, or something in between, there are multiple reasons why a vegan mattress will enhance your life. Awake or asleep, choosing an animal-free mattress matters.
So the next time you're in the market for a new mattress, consider going vegan. It's not only good for the planet and animals, but it's also good for your health and sleep quality. Sweet dreams!
How to Care for Your Cruelty-Free Mattress
Your mattress may be the foundation of your sleep sanctuary, but it's also a long-term investment that deserves some TLC. So, what are the secrets to keeping your mattress in tip-top shape? Here are a few pithy tips to get you started.
Flip it and reverse it: To prevent uneven wear and tear, flip your mattress every 6 months, and rotate it 180 degrees every time you flip it.
Keep it clean: Use a mattress protector to protect against spills, stains, and dust mites. Wash your sheets every week and vacuum your mattress every month to keep it fresh and clean.
Give it some air: Strip your bed and open your windows to let your mattress breathe for a few hours every month. This will help prevent mold and mildew growth.
Don't let it get too hot: Avoid placing your mattress in direct sunlight or near a heat source. Heat can damage the materials and cause them to break down faster. By following these simple tips, you can extend the life of your mattress and ensure a more restful, hygienic sleep.
Don't jump on the bed: Although it's tempting to bounce around on your mattress like a trampoline, jumping can damage the springs and foam layers.
Are Vegan Mattresses More Expensive?
When it comes to the cost of vegan mattresses, it's important to consider the value you're getting for your money. While vegan mattresses can be more expensive upfront than traditional ones, they often provide long-term cost savings. This is because vegan mattresses are typically made with high-quality, durable materials that are designed to last for years.
Additionally, vegan mattresses are often made with eco-friendly materials that are sustainably sourced and responsibly produced. This means that while you may pay a bit more upfront, you're investing in a product that is better for the environment and for your health.
It's worth noting that the cost of vegan mattresses can vary widely depending on the brand and materials used. Some high-end mattress brands can cost upwards of $5,000, while others may be more affordable in the $500-$1,000 range.
Overall, while vegan mattresses may require a higher initial investment, they are often a cost-effective option in the long run. They provide a high level of comfort and durability while also being environmentally conscious, making them a smart choice for conscious consumers looking to make a positive impact with their purchases.
More Vegan Home and Lifestyle Guides
These vegan mattress brands offer a number of wonderful options to suit different preferences and needs. They all inspire to use natural, sustainable materials and ethical manufacturing practices. Whether you're looking for a luxurious mattress with targeted support or a hypoallergenic mattress for sensitive skin, there's a vegan bed option out there for you!