When my vegan-curious friend told me she tried a recipe for vegan hummus pasta and loved it, I was instantly intrigued! I saw some recipes online that called for a tub of hummus—which is great—but I wanted to create a recipe that's inspired by hummus but even more affordable and just as delicious.
Instead of dumping in a tub of hummus (save that for dipping!) I pulled out my food processor to whip up my own hummus-like creamy pasta sauce. I left out the tahini since that sounded a bit odd to include in a pasta dish, and added in some classic Italian spices and mix-ins to bring a traditional pasta feel to this unique spin on a cheese-less sauce.
The result? AMAZING! I've since made this many, many times and am always eager to make it again. The food processor makes it super quick to whip up and I love that it's all cooked in one pot and even makes use of some of the pasta water.
Take a peek at what you'll need for this recipe and get to it! I hope you love it as much as I do.
Equipment You'll Need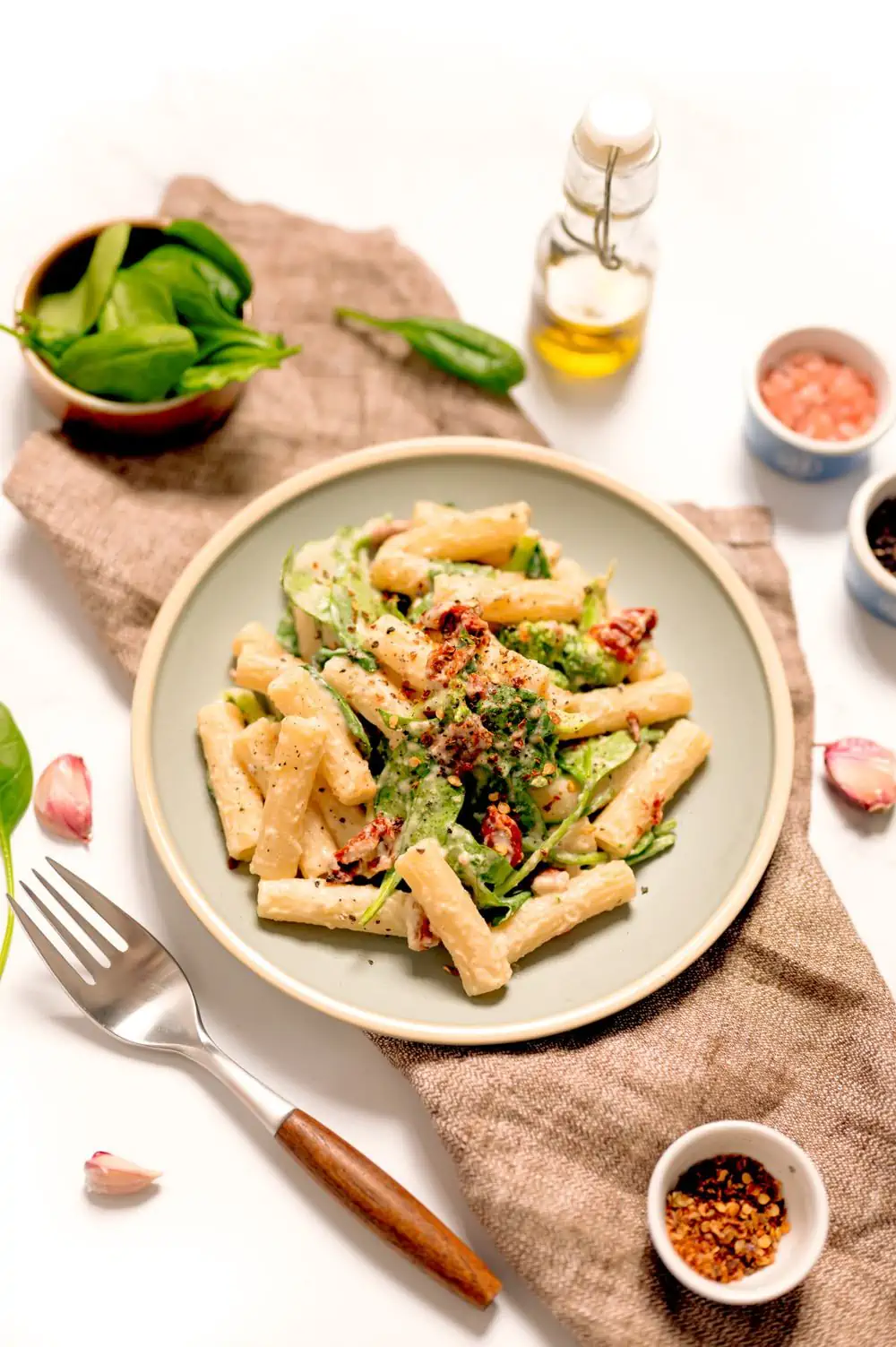 1 pound pasta, I love using shell pasta—aka "conchiglie" pasta
2 cups fresh broccoli, chopped into small pieces
1 15-ounce can chickpeas, aka garbanzo beans drained but not rinsed
3 cloves garlic, medium-sized
3 tablespoons olive oil
2 tablespoons nutritional yeast
¾ teaspoons salt
¼ teaspoon pepper
½ cup pasta water
1 cup baby spinach, tightly packed
¼ teaspoon red pepper flakes
¼ cup sun-dried tomatoes, cut into thin slices, with their juices
In a large pot, bring water to a boil.

In a food processor (or high-powered blender), add the chickpeas, garlic, olive oil, nutritional yeast, salt, and pepper and set aside.

Once the pot of water is boiling, add the pasta and cook according to package directions—but two minutes before it's done cooking, add in the broccoli. Before draining the pasta water, take one cup of pasta water and add it to the food processor (this starchy water helps create the perfect sauce). Then drain the pasta and broccoli (do not rinse), return it to the hot pot, and immediately mix in the spinach and allow it to wilt.

Return to your food processor and process on high until you have a smooth and creamy sauce. This may take a minute of blending—there should be no remaining chunks. Pour into pot of drained pasta.

Add in the red pepper flakes and sun-dried tomatoes and mix until well combined.

Serve immediately, sprinkle with salt and pepper to taste, and enjoy!
This dish is best enjoyed right after it's made. The pasta will absorb the moisture and the sauce will get dry if left out. If you do have leftovers, store them in an airtight container in the fridge and add a splash of water before reheating.
Calories: 567kcal | Carbohydrates: 94g | Protein: 19g | Fat: 13g | Saturated Fat: 2g | Polyunsaturated Fat: 2g | Monounsaturated Fat: 8g | Sodium: 475mg | Potassium: 763mg | Fiber: 7g | Sugar: 6g | Vitamin A: 1085IU | Vitamin C: 46mg | Calcium: 67mg | Iron: 3mg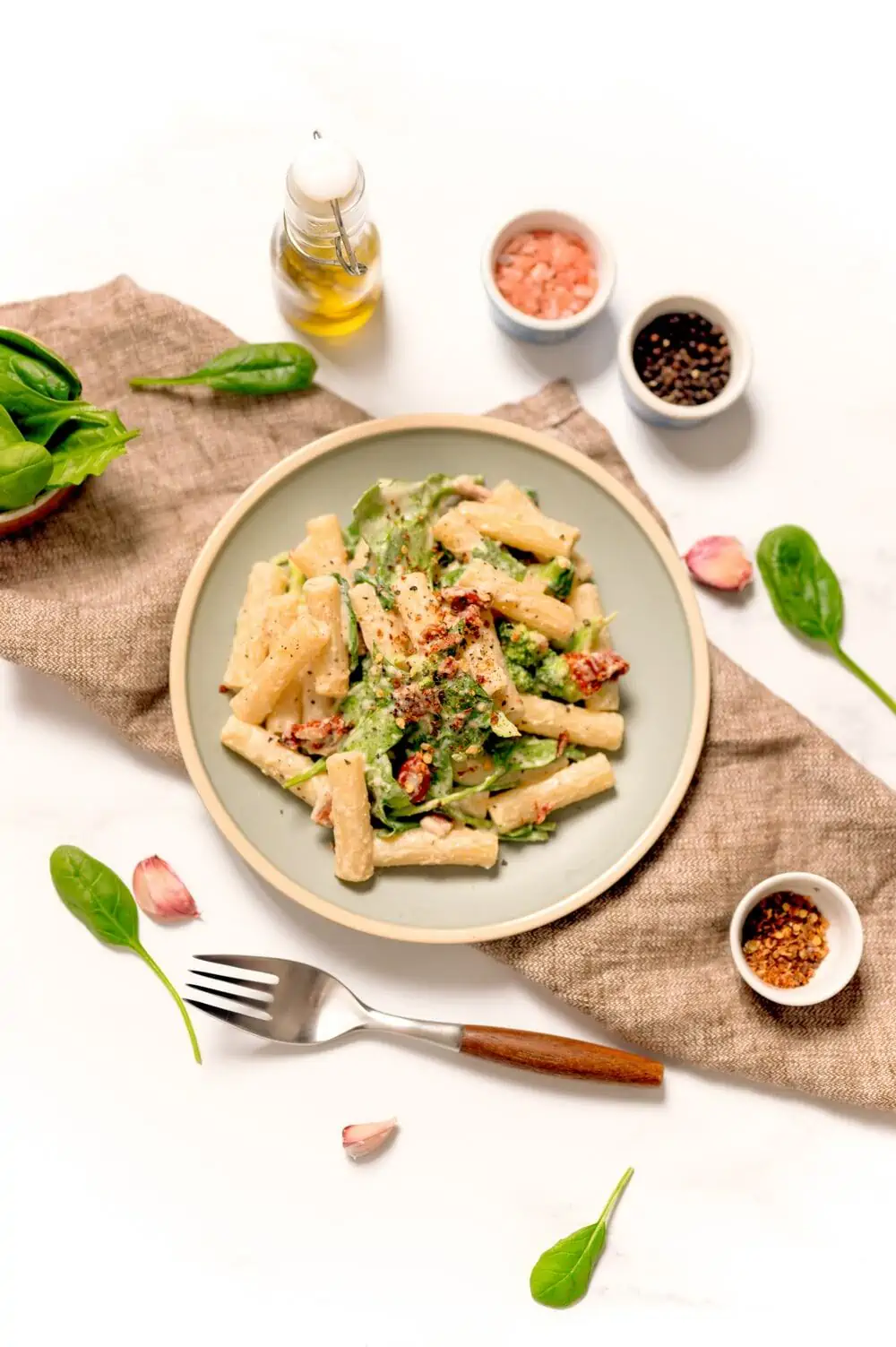 More Creative Vegan Chickpea Recipes: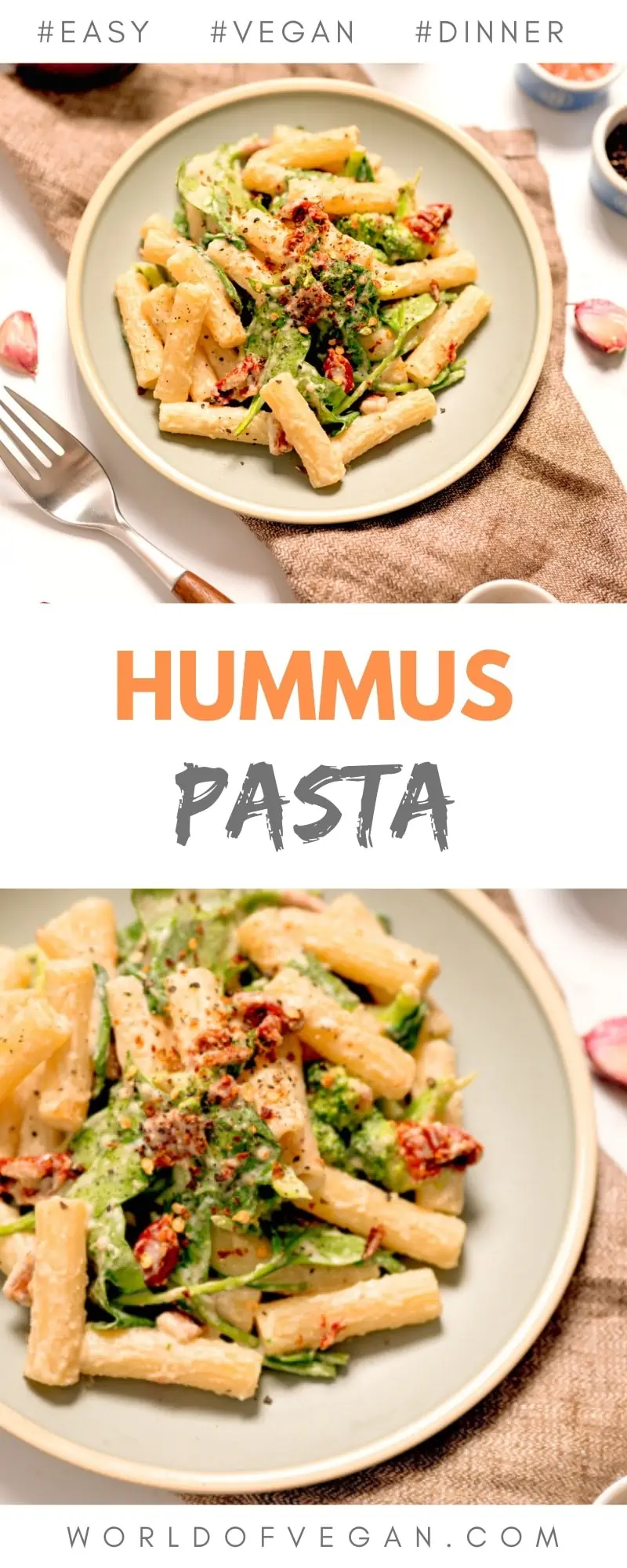 This vegan hummus pasta recipe and article was written by Michelle Cehn. Hummus pasta photos by Zhoro Apostolov, copyright of World of Vegan. Please note that this article contains affiliate links that support our work at World of Vegan. Happy cooking!