Are you hungry for a dish of rich and delicious Haluski? We know we are! This simple vegan cabbage and noodles casserole is high on the comfort food scale. Heavenly, warm, and easy to make any night of the week.
With just a handful of ingredients and a little more than half an hour, you can prepare this popular Polish plate and fill your belly with happiness. All you need are nicely shaped noodles, a crispy cabbage, aromatic alliums (garlic and onion), and a small amount of olive oil. Sauté, bake, and savor––so good!
Gotujmy! (Let's get cooking!)
How Do You Pronounce Haluski?
Haluski is pronounced "ha-loosh-key" and has its roots in the Polish and Slovakian culture. Traditionally, this uses egg noodles, butter, cabbage, and some type of meat. Some versions also include potatoes or use potato filled dumplings instead of the noodles. Our take on this tasty recipe eliminates all of the animal products, but keeps every bit of the flavor. It's a win-win!
Why You Should Make This Recipe
The only reply to that is––why shouldn't you make this recipe?? In our eyes, there are only pros and no cons. Want to know our reasoning why?
Warm and satisfying
Healthy and delicious
Uses simple and easily found ingredients
Makes luscious leftovers
Dairy-free, soy-free, nut-free, and always cruelty-free!
Star Ingredients
We love when a recipe is both high on the health scale, as well as delicious. If you decide to use a whole grain or bean-filled pasta, the health benefits will be even more impressive.
Napa Cabbage – Great source of both soluble and insoluble fiber, low in calories, high in fiber, full of B vitamins (especially B9), vitamins C and K, calcium, manganese, and antioxidants.
Onion (both yellow and green) – Good amount of vitamin C, folate, vitamin B6, and potassium. Rich in antioxidants and flavonoids, contain prebiotic fibers that are good for your gut. Also antibacterial and antiseptic.
Garlic – Low in calories and rich in vitamin C, vitamin B6 and manganese. Antibacterial, antiviral, anti-fungal, and also has anti-inflammatory benefits.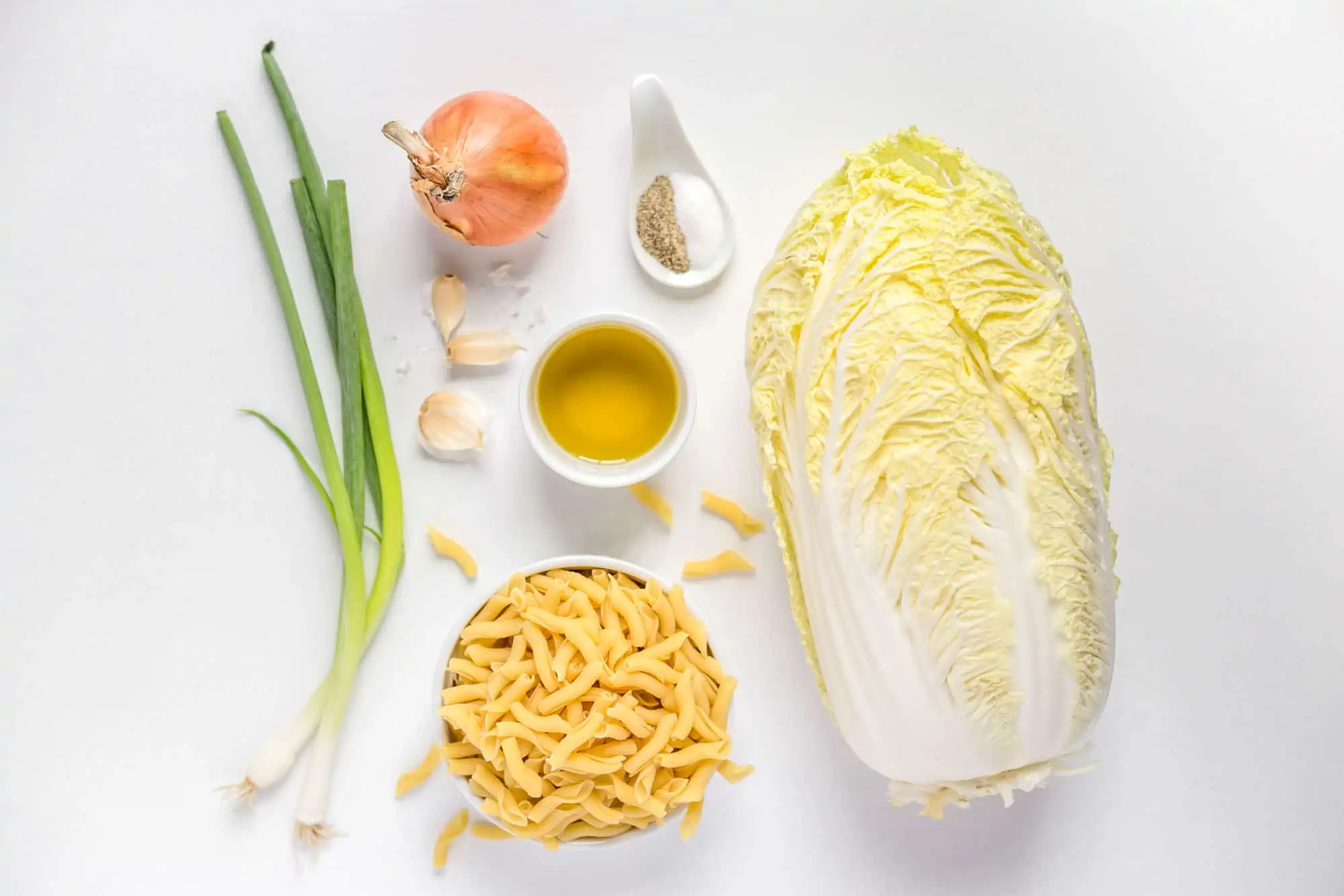 Tips for Serving Up This Delightful Dish
The simplicity of this dish speaks for itself (and doesn't really need anything else), but we've come up with a few flavorful suggestions for adding extra enjoyment to your food.
Calling All Carrots! – Carrots are the perfect accompaniment to this noodle recipe. Traditionally, they are served sautéed, but you could cook them any way that you wish––boiled, steamed, broiled, or roasted. Gives added color, texture, vitamins and minerals to the meal.
Sprinkle With Special Seasoning – For a little bit of extra oomph, use a peppering of paprika on top of your casserole before baking. Smoked, sweet, or Hungarian—all taste terrific as a topping.
Living the Dream With Sour Cream – A favorite final topping for vegan cabbage and noodles is vegan sour cream. Whip up a quick and easy sour cream by mixing ¾ cup of unsweetened, plain, plant-based yogurt with the juice of one lemon, a pinch of salt, and one tablespoon of nutritional yeast. Voila!
Pile on the Plant-Based Sausages – Bump up the savory sensation in this recipe by serving with a few sizzling vegan sausages. Either whole or sliced, roasted or fried in a skillet would work really well as a salty side.
How to Make Vegan Cabbage and Noodles
Making this savory and satisfying dish is super easy. Cook the pasta, garlic, onions, cabbage, and then pop into the oven—that's it!
Boil the pasta noodles, drain, rinse, and put aside for later.
Sauté the onion and garlic in a pan with a little bit of olive oil.
Add the cabbage and cook until soft.
Mix the cabbage mixture along with the spices, green onion, and pasta. Add to baking dish.
Bake in a preheated 350 degree oven for 25 minutes.
Equipment You'll Need
Only a few things are needed to make this tasty and traditional Polish meal. Isn't that awesome?
Sharp Knife
Large Saute Pan
Baking Dish or Casserole
1 pound pasta, torchiette is my favorite in this but fusilli, bowtie, or other pasta shapes will work too
⅓ cup olive oil
1 yellow onion
3 cloves garlic, minced
1 large head Napa cabbage or green cabbage, roughly chopped into strips or chunks about 1-inch wide.
½ teaspoon black pepper
¾ teaspoon salt
2 green onions, sliced
Preheat oven to 350 degrees F.

Cook pasta according to package instructions. Drain, rinse, and set aside.

In a large sauté pan over medium-high heat, add the olive oil. Once hot, add the onion and garlic and cook for 3-4 minutes.

Add the chopped cabbage to the sauté pan and using a spatula, mix it together with the garlic and onions. The cabbage will shrink down dramatically while it cooks, so don't worry about mixing it all thoroughly in the beginning. Cook the cabbage for 5-8 minutes, until soft.

Add salt, pepper, and sliced green onions, and mix well. Add drained pasta, mix well, and remove from heat. Taste the cabbage and noodles and if you'd like to add additional salt (to taste), you can do so here.

Pour the pasta cabbage mixture into a baking dish and bake in pre-heated oven for 25 minutes.

Remove from oven and enjoy!
Calories: 633kcal | Carbohydrates: 96g | Protein: 18g | Fat: 20g | Saturated Fat: 3g | Polyunsaturated Fat: 3g | Monounsaturated Fat: 13g | Sodium: 466mg | Potassium: 858mg | Fiber: 7g | Sugar: 8g | Vitamin A: 777IU | Vitamin C: 65mg | Calcium: 213mg | Iron: 2mg
If you try this vegan cabbage and noodles recipe, let us know what you think by leaving a comment and rating below! Be sure to follow along on Pinterest, Instagram and Facebook for even more vegan recipe inspiration.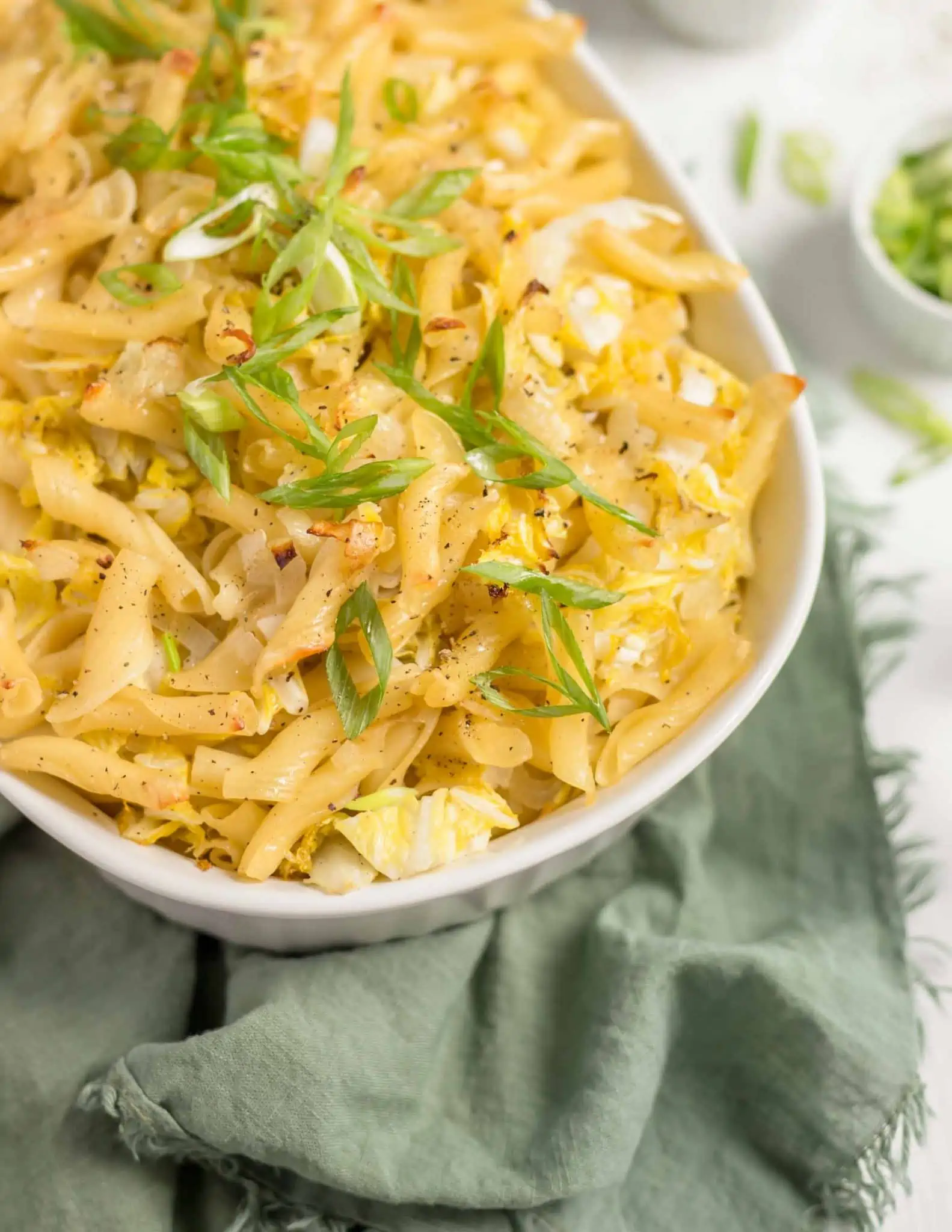 Frequently Asked Questions
Even a recipe as simple and straightforward as this receives a few questions. Let us know in the comments below if you have any other tips or tricks that you can share with us.
Can this noodle recipe be made gluten-free? For sure! Just swap out the wheat-based noodles for your favorite gluten-free pasta. Everything else will stay the same.
Is it okay to substitute red cabbage for green cabbage? Yes, you can. Although this recipe traditionally uses Napa cabbage, you can use red cabbage with no trouble. Just keep in mind that it will have a slightly different look and taste.
Since all of the ingredients are already cooked, do I have to bake this recipe in the oven? – That's a good question! Technically, there's no reason why you need to bake the noodles and vegetables together. Baking the mixture in the oven gives it that extra thick and slightly crusty texture we all love, plus it's the authentic way of cooking this dish. But, feel free to eat it right out of the sauté pan!
How long will this casserole stay fresh? Our vegan cabbage and noodles dish will be good for 3-5 days refrigerated in a covered container. If you think you won't be able to finish the leftovers before that, feel free to freeze whatever you have remaining. Using a freezer safe container will allow your noodles to last about 2-3 months.
More Tender and Tasty Noodle Recipes to Try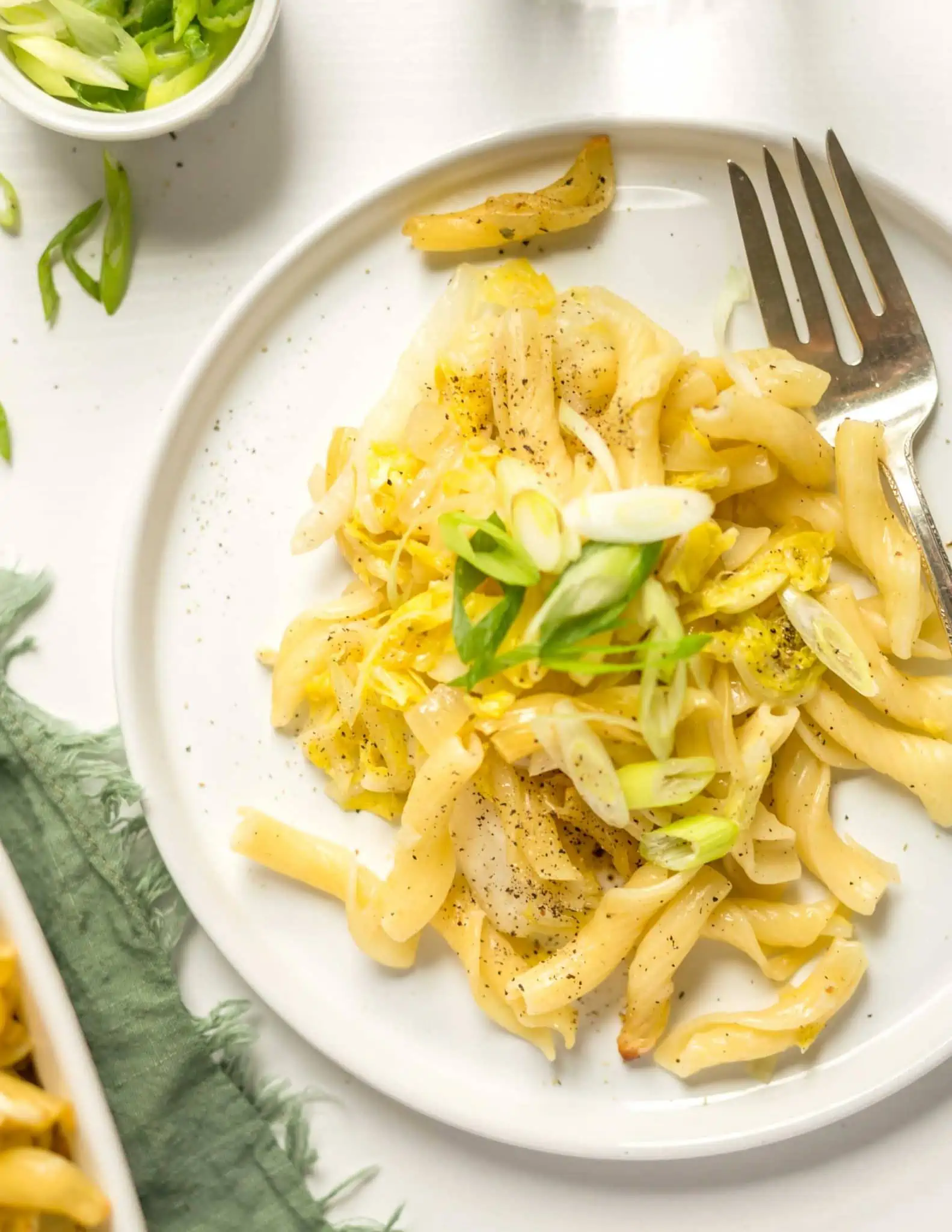 Vegan cabbage and noodles recipe by Michelle Cehn, copyright of World of Vegan™. Photos by JJ Steele. Article written by Gina House and edited by Amanda Meth. Please note that this dairy-free noodle recipe article may contain affiliate links which supports our work at World of Vegan.