The perfect easy vegan kids meal for busy weeknights or packing a vegan lunchbox for school. This rainbow veggie mac and cheese is loved by toddlers, kids, teens, and adults, this is a particularly colorful way to inspire everyone in the family to eat more veggies. After all, who doesn't love a rainbow meal?
It's hard to beat a bowlful of luscious, gooey mac and cheese. Quite possibly the most popular comfort food in America, if not farther afield, anyone can understand the broad appeal. Tender noodles cooked al dente and smothered in a buttery cheddar sauce really speak for themselves. Even the pickiest eaters will gladly dig into this beloved vegan kids meal without protest.
Simple and straightforward, classic mac is already a great go-to dinner, but that doesn't mean we can't have more fun with it. Create a pasta masterpiece by adding in a full rainbow of roasted vegetables that taste so amazing, you won't even realize it's healthy! Rainbow mac & cheese is the ultimate everyday meal that will never get boring.
This vegan kids meal recipe was kindly sponsored by Goodles, makers of delicious vegan boxed mac and cheese. 
What Makes This The Best Vegan Kids Meal Ever
Secretly nutritious: Kids who would otherwise turn up their noses at a plate of vegetables will gobble these down. Adding a colorful array of produce into their diets helps get a diverse array of vitamins and minerals which are better absorbed through food than supplements.
Allergen-friendly: Everyone's invited to the table! Since it's vegan, it's also naturally dairy-free and eggless. If you have celiac disease, use gluten-free noodles to keep wheat out of the equation.
Crowd-pleasing: Chop the veggies small usually makes them more appealing to kids, so even veggie-haters can be won over with this approach.
Fast and easy: Use packaged vegan mac & cheese for truly instant gratification. Anyone who can boil water can whip this one up in minutes. If you plan ahead and roast the vegetables in advance, you can quickly accommodate the dinnertime rush.
Seasonal, all year round: No matter the weather, there's always something fresh in local markets. Change the array of additions to keep things exciting 365 days a year.
Affordable: Start from scratch to get a restaurant-quality meal for pennies on the dollar. Save even more by using frozen vegetables and shopping produce sales.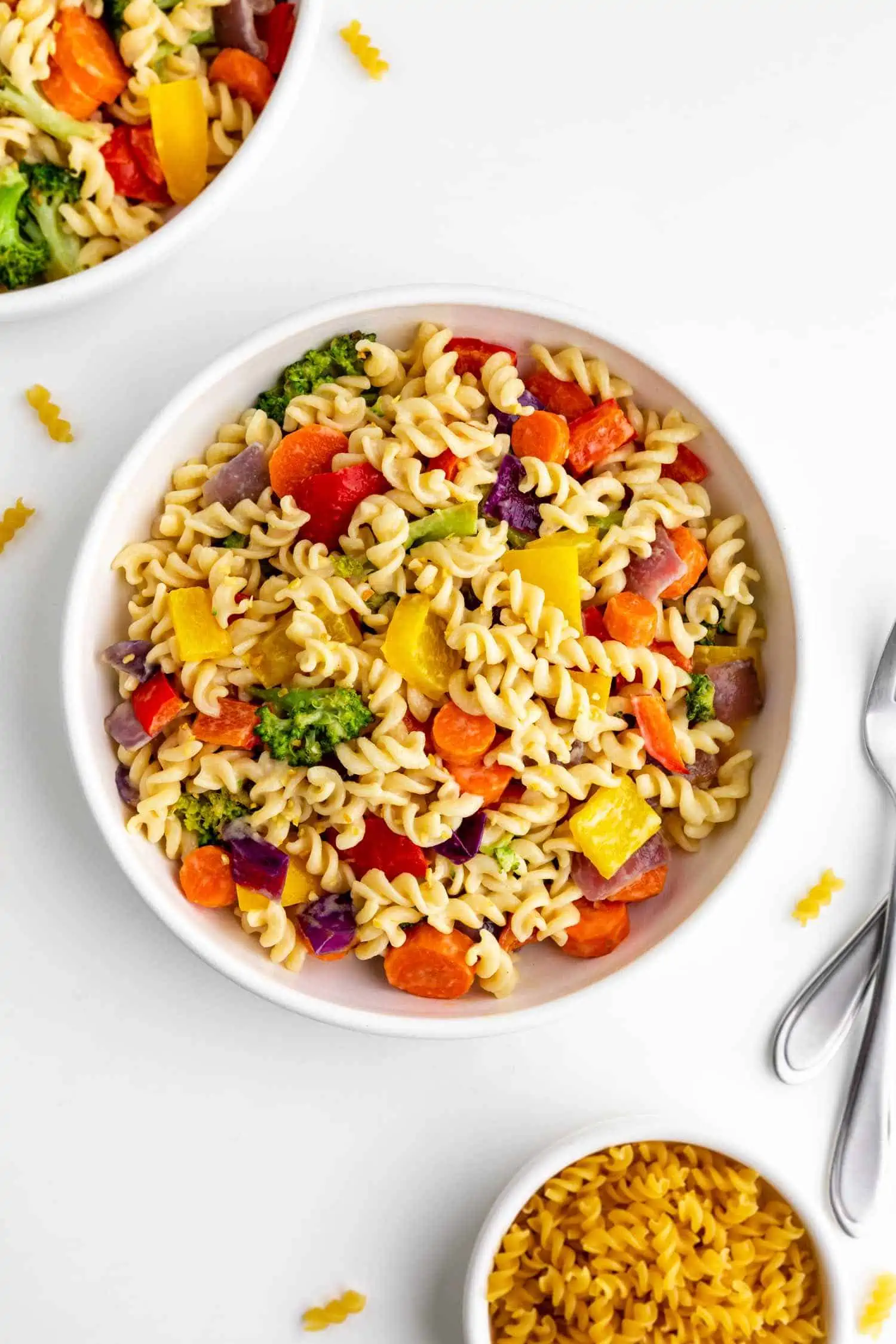 Boxed or Homemade Mac & Cheese?
Either will work great for this kids meal! You can use your favorite boxed vegan mac and cheese, or cook up your own from scratch. Everyone claims that their mom's or grandma's or great-grandma's recipe is best, and honestly, everyone is right. It's just hard to go wrong with mac and cheese!
If you want to make your own, here are a few excellent options to try:
There's no shame in taking shortcuts either. For this version, we used the Goodles boxed mac, which is totally reminiscent of the boxed mac we had as a kid. Kids love it, and the Goodles ingredients are truly nutritious, which is a big win for health conscious parents. Look out for the green Goodles box – that's their vegan flavor!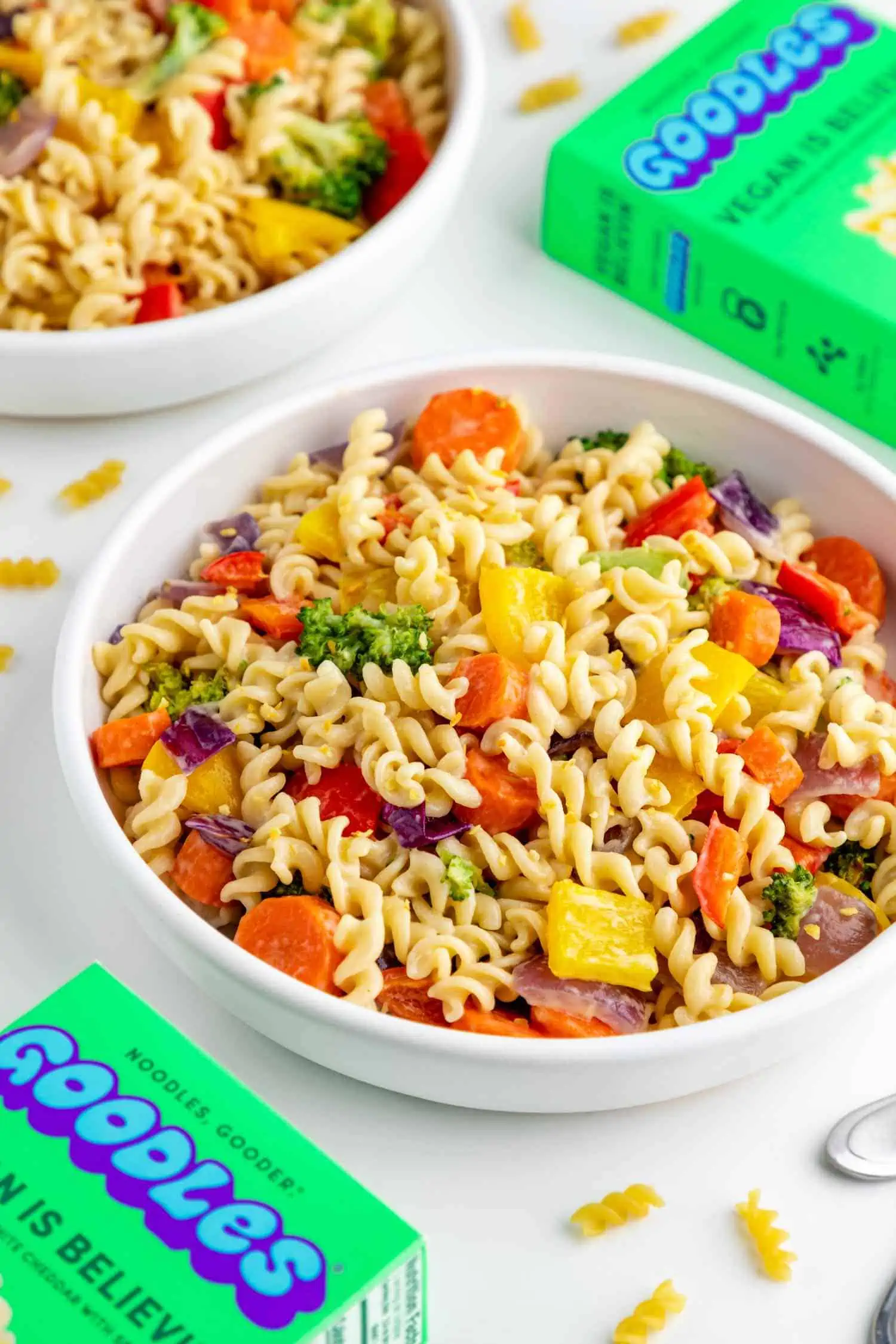 What Are The Best Vegetables To Use?
Consider this more of a blueprint than formal recipe. You can mix and match any of your favorites, taking into consideration seasonality or just what you happen to have on hand. There's no rule that you need to include one option of every color, and there are no bad combinations. Here's are some ideas if you get stuck:
Red: Tomatoes, red bell pepper, radishes, or red pepper (if serving to adults)
Orange: Carrots, pumpkin, orange bell pepper, sweet potato
Yellow: Summer squash, yellow bell pepper, corn
Green: Zucchini, broccoli, green beans, snap peas, asparagus, Brussels sprouts
Purple: Eggplant, red onion, red cabbage, beets
White: Cauliflower, rutabaga, potato, button mushrooms
Here is our recipe for rainbow roasted veggies and roasted root veggies for two delicious options.
Tips For Roasting Vegetables Perfectly Every Time
A properly roasted vegetable is a thing of beauty. Golden brown with a gentle char around the edges and fork-tender all the way through, anything on the market will taste like the absolute best version of itself. Perfect your technique with these simple tips:
Cut everything to about the same size.
You want all the pieces to cook evenly, so consistency is key.
Space it out.
Give the vegetables room to breath in there! Arrange them in one layer to properly brown the edges. Anything covered will simply steam, not roast. Divide it between two sheet pans if you need to, rotating them halfway through the cooking process.
Group similar vegetables together that will cook at the same rate.
That means it's a good idea to combine root vegetables, like potatoes and carrots, on one sheet, while more tender cruciferous vegetables, like broccoli and cauliflower, on another.
Don't be afraid of the heat.
Between 425°F – 450°F is ideal to brown the outsides and cook through the insides without the vegetables burning or turning into mush.
Season simply at first.
Stick with the basics to greater flexibility: Olive oil, salt, and pepper will never do you wrong. Add spices, herbs, and other flavorings to taste afterward.
Serving Suggestions To Make Your Mac A Meal
Mac and cheese is an ideal one-bowl meal with everything you need and crave together, but there's always room on the table for more. If you're serving guests and want a more complete spread, or simply want some variety for yourself, here are some great ideas for side dishes and accompaniments:
FAQs & Common Questions About This Recipe
Q: Can I make this without an oven?
A: Sure! You can air fry the vegetables instead at 370 degrees. You may need to cook them in a number of batches though, since air fryers are much smaller than conventional ovens.
Q: How can I add more protein?
A: You can start by making your sauce with soy milk (unsweetened and plain), which has the highest protein content of any non-dairy option. Then, you can top the finished dish with anything from baked tofu to crunchy chickpeas, or simply serve some meatless nuggets on the side for picky eaters.
Q: Can the recipe be doubled?
A: Absolutely! You could even triple or quadruple it to feed a crowd if you'd like. The only thing potentially stopping you is the size of your pots and pans! The leftovers are also great in lunchboxes the next day.
Q: How long will leftovers keep?
A: Stored in an airtight container, leftovers should keep in the fridge for 5 – 7 days. To reheat, warm in the microwave for 1 – 2 minutes, adding a splash of water to loosen up the sauce if needed. Stir well.
2 boxes boxed vegan mac and cheese, we used Goodles' vegan mac or one batch of homemade vegan mac and cheese, prepared according to box or recipe instructions.
Red bell pepper, diced
Carrots, sliced into small rounds or finely diced
Yellow bell pepper, diced
Broccoli florets, finely chopped
Red onion, finely diced (use purple cabbage if your kids don't like onion)
Drizzle of olive oil or vegetable oil
Salt, sprinkle to taste
Pepper, sprinkle to taste
Preheat oven to 400 degrees F.

Chop veggies of choice into small bite-sized pieces (the smaller the better for kids). We used: red pepper, orange carrots, yellow pepper, green broccoli florets, and red onion (purple). 

Line baking sheet with a silicone baking mat, parchment paper, or oil, and add the chopped veggies. If you're involving the kids, add the veggies in rainbow color order so they can have fun with the rainbow effect! 

Drizzle with oil, and add a generous sprinkle of salt and pepper. Toss gently to evenly coat.

Bake for around 15-30 minutes, depending on the veggies use and the size you chop everything.

Prepare vegan mac and cheese according to box or recipe instructions. 

Add roasted veggies to the prepared mac and cheese, mix, and serve!
Rainbow Veggie Color Options: Red: Baby tomatoes, red bell pepper, red chili pepper (if serving to adults) Orange: Carrots, orange bell pepper, sweet potato, pumpkin Yellow: Yellow bell pepper, corn, squash Green: Broccoli, green beans, zucchini, snap peas, asparagus, Brussels sprouts Purple: Red onion, purple cabbage, eggplant White: Cauliflower, rutabaga, button mushrooms
Calories: 342kcal | Carbohydrates: 48g | Protein: 13g | Fat: 11g | Sodium: 785mg | Potassium: 202mg | Calcium: 149mg | Iron: 2mg