These vegan bagel bites are easy to make and perfect for vegan kids and adults alike! They are made with simple ingredients, your choice of dairy-free cheese and veggie meat, and can be made in the oven, microwave, or as air fryer bagel bites. Eat them right away or meal prep them in advance and freezer until you're ready to eat. Pack them in a kids lunchbox or bring them out for snack time. These are the most versatile mini pizza bagels ever!
Every 90s kid undoubtedly has fond memories of defrosting Bagel Bites (mini pizza bagels) from when they were young. Bursting through the door after a school day, ravenous and impatient, nothing would satisfy quite like having pizza on demand. A few seconds in the microwave was all that separated us from instant comfort food gratification.
As much a cultural phenomenon as basic snack food, these humble frozen staples have developed a cult following over the years. Songs have been written as tributes to their greatness, endless imposters have sprung up to capitalize on the viral trend, and most importantly, crafty home cooks have figured out how to reverse engineer the concept to make at home, from scratch.
The original pizza bites are far from vegan, but that doesn't mean we have to go hungry until dinner! It's a snap to make homemade mini bagel pizzas with higher quality ingredients, better nutrition, and all that for much less money. If you've missed these savory snacks from your childhood, here's the secret to reviving them for your kids, or kids-at-heart!
Why You'll Love These Vegan Bagel Bites
The attraction of anything remotely pizza-flavored is an obvious, easy win. Even the pickiest of eaters will gobble up this combination of crispy, chewy bagels piled high with savory red sauce, gooey dairy-free cheese, and any meatless proteins your heart desires. Beyond that, there are still so many more reasons why you'll want to save this vegan bagel bites recipe to make again and again.
Super simple: You only need four ingredients to make an amazing snack! We're not talking about anything crazy or hard to find, either. There's a good chance you already have what you need close at hand.
Adaptable for all diets: Since these bagel bites are vegan, that makes them eggless and dairy-free by default. Choose gluten-free mini bagels or toast to make them suitable for those with celiac disease and double-check labels to find soy-free options to accommodate those with soy sensitivities.
Perfect to prep in advance: Just like the original inspiration, these are fantastic to make ahead, freeze, and defrost whenever cravings strike!
Good source of protein: Pick your favorite plant-based meat substitutes to add a boost of protein power into every bite. Beefy crumbles are the easiest to distribute evenly, but vegan pepperoni slices, sausage crumbles, diced meatballs, or even bacon bits are all great choices.
Kids can make their own: Get the kids involved for this easy treat! They'll find it even more satisfying when they can make their own savory creations. All you need to do is supervise to heating process for especially young children.
Key Ingredients In These Homemade Bagel Bites
Although there are only four primary ingredients needed to make your mini bagel masterpieces, you could even pare that down to three, for a plain cheese version.
Mini Bagels:
You should be able to find big bags of mini bagels right alongside the full-sized version in your typical grocery store. Thomas' makes a great option that's "accidentally" vegan, as does Target's store brand, Favorite Day.
Pizza Sauce
Thick, rich, and heavily seasoned with herbs and spices, pizza sauce packs a punch of flavor into every drop! In a pinch, you can substitute your favorite marinara or pasta sauce instead, but it might be a bit waterier.
Dairy-Free Shredded Cheese
Simple mozzarella is classic for pizza, but there's no wrong way to make things cheesy. The most popular brands are Daiya, Follow Your Heart, and Violife.
Vegetarian Beefy Crumbles
These meat "alternatives" are so good, they should be your first choice! Our favorite brands are Plant Boss and Urban Accents since they're both shelf-stable and ready to eat. Visit your local freezer aisle for tons of other brands, including Beyond Meat, Gardein, and so much more.
Flavor Variations and Fresh Ideas for Customizing Your Mini Pizza Bagels
The real beauty of this recipe is that it's more like a guideline that exacting formula. Take those ratios and swap in different ingredients for a completely different flavor adventure every time!
Instead of mini bagels, try: quartered pieces of toast, mini pita pockets, naan dippers, or small flour or corn tortillas.
Instead of pizza sauce, try: vegan pesto, alfredo sauce, BBQ sauce, ranch dressing, or buffalo sauce.
Instead of shredded cheese, try: nutritional yeast, cashew queso, vegan sour cream, or a drizzle of tahini.
Instead of beefy crumbles, try: crushed crunchy chickpeas, chopped up veggie burgers, shredded deli slices, or even diced veggie dogs.
In addition, feel free to sneak in a serving of veggies with any of your favorites: chopped bell peppers, sliced mushrooms, diced onions, sliced olives, and anything else you'd enjoy on a traditional slice of pizza! Also check out our Vegan Bagel Guide for more bagel recipes and inspiration.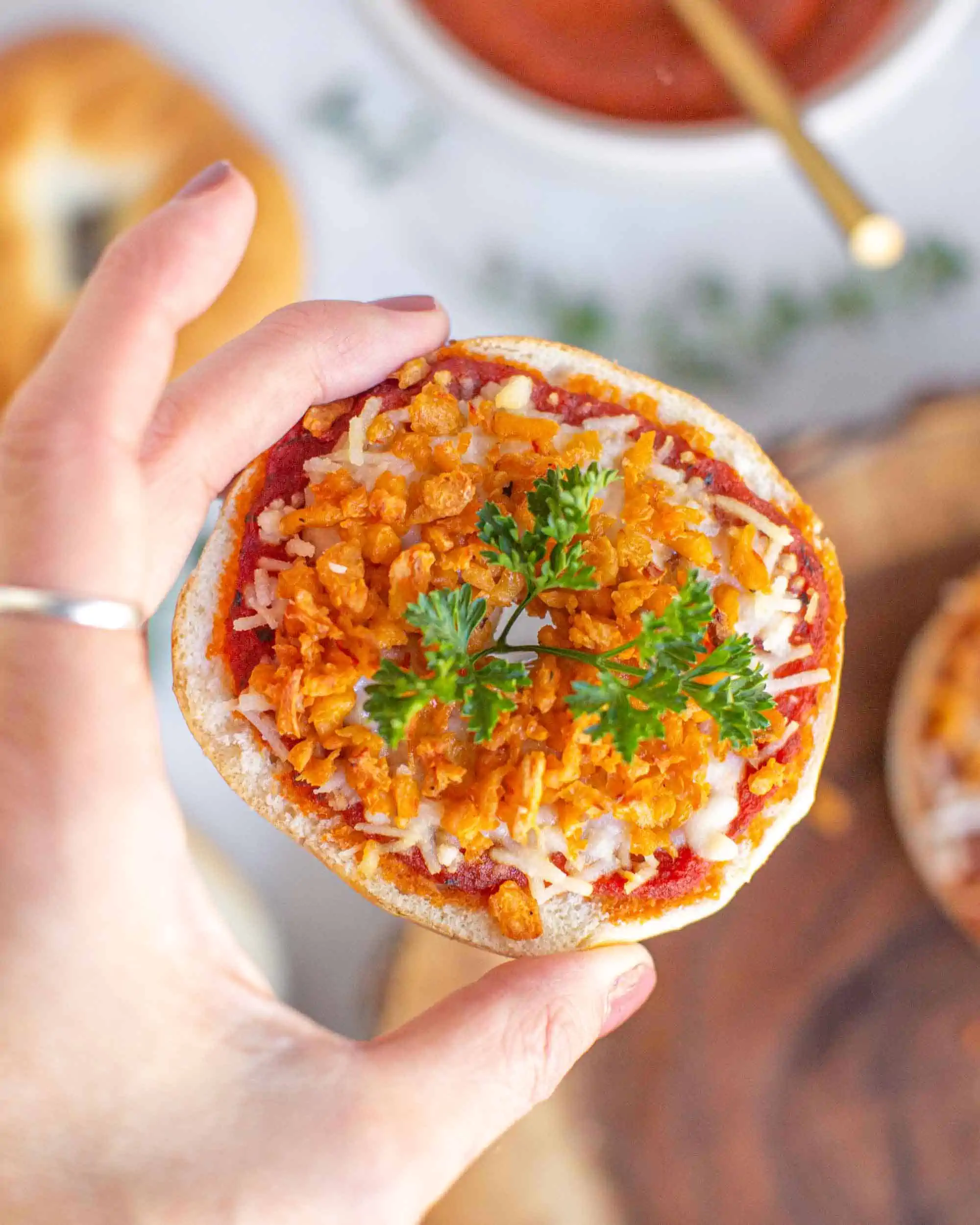 How to Cook Your Pizza Bagel Bites
If you don't have a full-sized oven or simply want an approach that's a bit more kid-friendly, we've got you covered. No matter what equipment you have in the kitchen, you can enjoy a hot plate of cheesy bagel bites in no time!
Convection oven: Bake at 350 degrees for 15 minutes.
Air fryer: Cook at 370 degrees for 8 – 10 minutes
Microwave: Heat at full power for 2 – 3 minutes.
Air Fryer Bagel Bites? Oh Yes!
If you have an air fryer, you've gotta try cooking these up in the air fryer! Air fryer bagel bites have that extra satisfying crunch and cook in less time than the oven.
The key is to cook just until the cheese has melted. It won't brown in the microwave, so err on the side of caution. You can always put them back in for another round if they're not warm enough yet.
How to Keep Leftovers, Freeze Your Bagel Bites, or Prep in Advance
Let's be honest: It's unlikely you'll have leftovers even if you double the recipe. If you'd like to prepare your bagel bites in advance so you can just heat and eat, though, that's just as easy!
Fully cook the mini bagel bites according to the recipe and let cool completely.
Store in an airtight container lined with parchment paper, making sure they're not on top of each other. Keep in the fridge for up to 4 days, or in the freezer for up to 6 months.
When you're ready to eat, reheat in an air fryer at 370 degrees for 3 – 5 minutes, microwave for 2 – 3 minutes, or oven preheated to 350 degrees for 10 minutes.
Frozen bagel bites are a perfect treat to keep on hand for the kiddos.
Equipment You'll Need
10 Mini Bagels
14 ounces pizza sauce, marinara or pasta sauce will work too if you don't have pizza sauce
1 cup vegan shredded cheese
1/2 pound vegan beefy crumbles, any brand cooked according to package instruction (I used Plant Boss)
Garnish with your choice of parsley chives, oregano, or basil)
Preheat oven to 350 degrees F.

Prepare the meatless crumbles according to package instructions, adding 2 tablespoons of pizza sauce to the crumbles while they're cooking. Feel free to add additional spices, garlic, or onion to the pan at this time if you'd like a more complex meaty topping.

Assemble bagel pizzas. Cut all bagels in half and on each half, spread on a generous dollop of pizza sauce, sprinkle on vegan cheese, and top with your cooked vegan meaty crumbles.

Assemble on a baking sheet and bake for 15 minutes until the vegan cheese is melted. If cheese is not melted, broil for additional minute or two.

Top with green garnish and serve!
Calories: 101kcal | Carbohydrates: 15g | Protein: 4g | Fat: 2g | Saturated Fat: 1g | Polyunsaturated Fat: 0.4g | Monounsaturated Fat: 0.2g | Sodium: 327mg | Potassium: 118mg | Fiber: 2g | Sugar: 1g | Vitamin A: 88IU | Vitamin C: 2mg | Calcium: 26mg | Iron: 1mg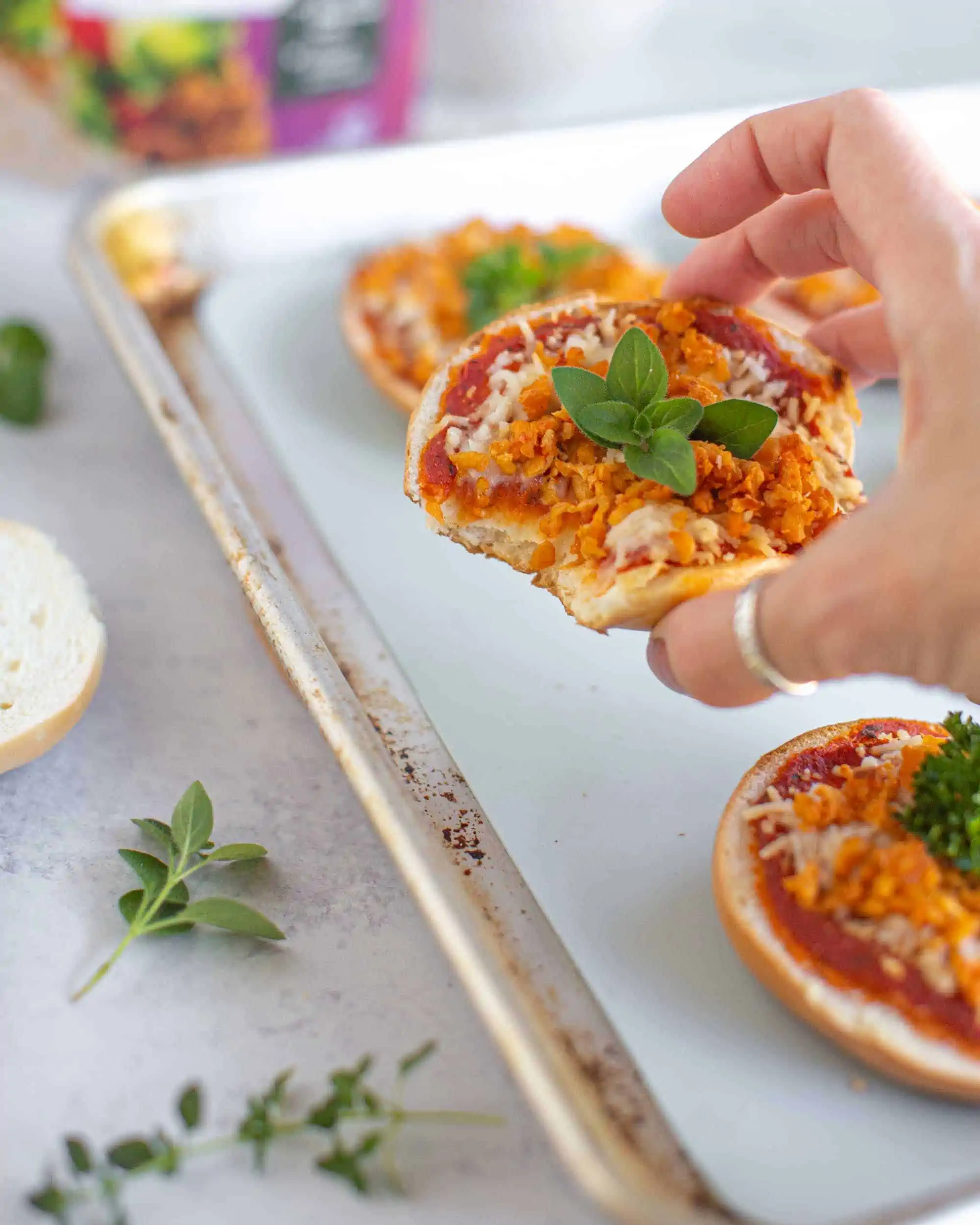 More Tasty Vegan Pizza Recipes
This vegan bagel bites recipe and article was photographed by Michelle Cehn and written with support from Hannah Kaminsky. Please note that this article contains affiliate links that support our work at World of Vegan. Happy cooking!