These mushroom skewers are the perfect easy recipe for grilling season. When the heat of summer reaches its peak, it's time to take the party outside and fire up the grill; mushroom skewers are the crowd-pleasing centerpiece of any great meal. Naturally rich with deep umami flavor and meaty texture, oyster mushrooms are the plant-based superfoods you've been craving.
All it takes is a few minutes over high heat to gently crisp the edges and cook them through to tender, juicy perfection. That gentle char creates a genuine smoky flavor that nothing else can replicate. Keep it simple with the basics or dress it up with a bold palate of your favorite flavors with ease. The world is truly your oyster (mushroom) when you take on this foolproof recipe inspired by Alexander Gershberg's new cookbook Plantbased!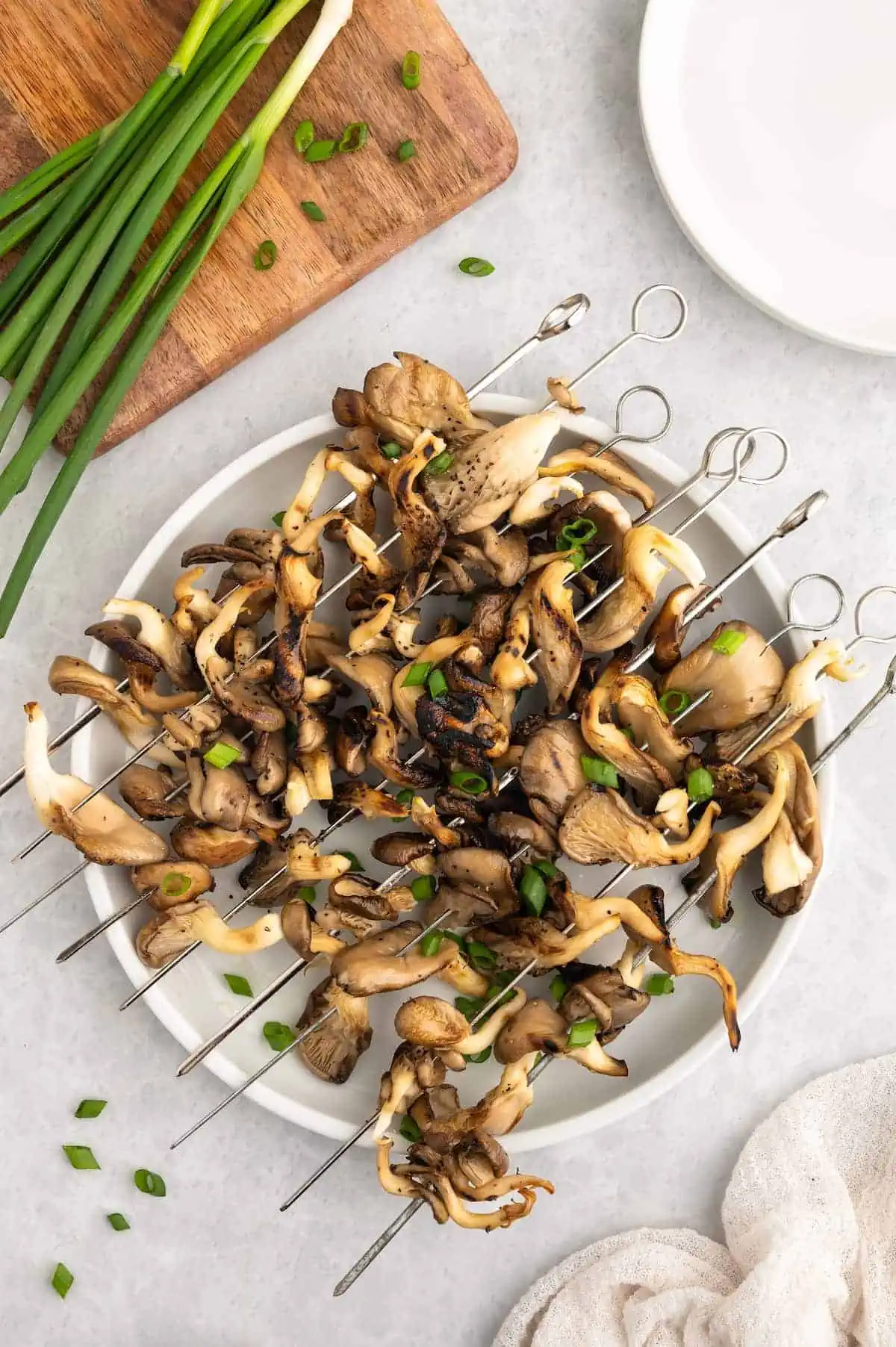 Why You'll Love These Grilled Oyster Mushrooms
Mushrooms are always a savory treat no matter how they're prepared. Even if you're not a mushroom fan, this brilliant approach might just win you over for a wide variety of reasons.
Allergen- and diet-friendly. Gluten-free? Soy-free? Sugar-free? Nut-free? Keto? Paleo? Vegan? Omnivore? Everyone's covered! This is a dish that fits into every meal plan without compromises.
Endlessly versatile. Whether you want a light appetizer to start the meal or a grand entrée to base the whole menu around, these kabobs will never steer you wrong. Make them mild or spicy, protein-packed or veggie-forward; you have full control to make exactly what you're craving.
Just one ingredient. If you don't count the oil, salt, pepper, or garnish, it all comes down to a single ingredient: Mushrooms! It doesn't get any simpler than that.
Ready in 20 minutes. From start to finish, you can get these incredible skewers on the table faster than delivery, and much healthier than anything from a restaurant, too!
Key Ingredients
You won't even need to make a shopping list for this quick trip! You probably have all the essentials already.
Oyster mushrooms: Brush dirt away from the caps gently, rather than washing them. The added water will make them steam, rather than sear on the grill.
Olive oil: Save your extra virgin varieties for salad dressings or other raw preparations. For high-heat cooking, those delicate nuances will be lost in the fire.
How To Make These Mushroom Skewers
Making these skewers is as simple as 1-2-3! Gather your ingredients and get ready for some big umami flavor.
Step One: Thread the oyster mushroom onto skewers. Brush the mushrooms all over with olive oil and season with salt and pepper.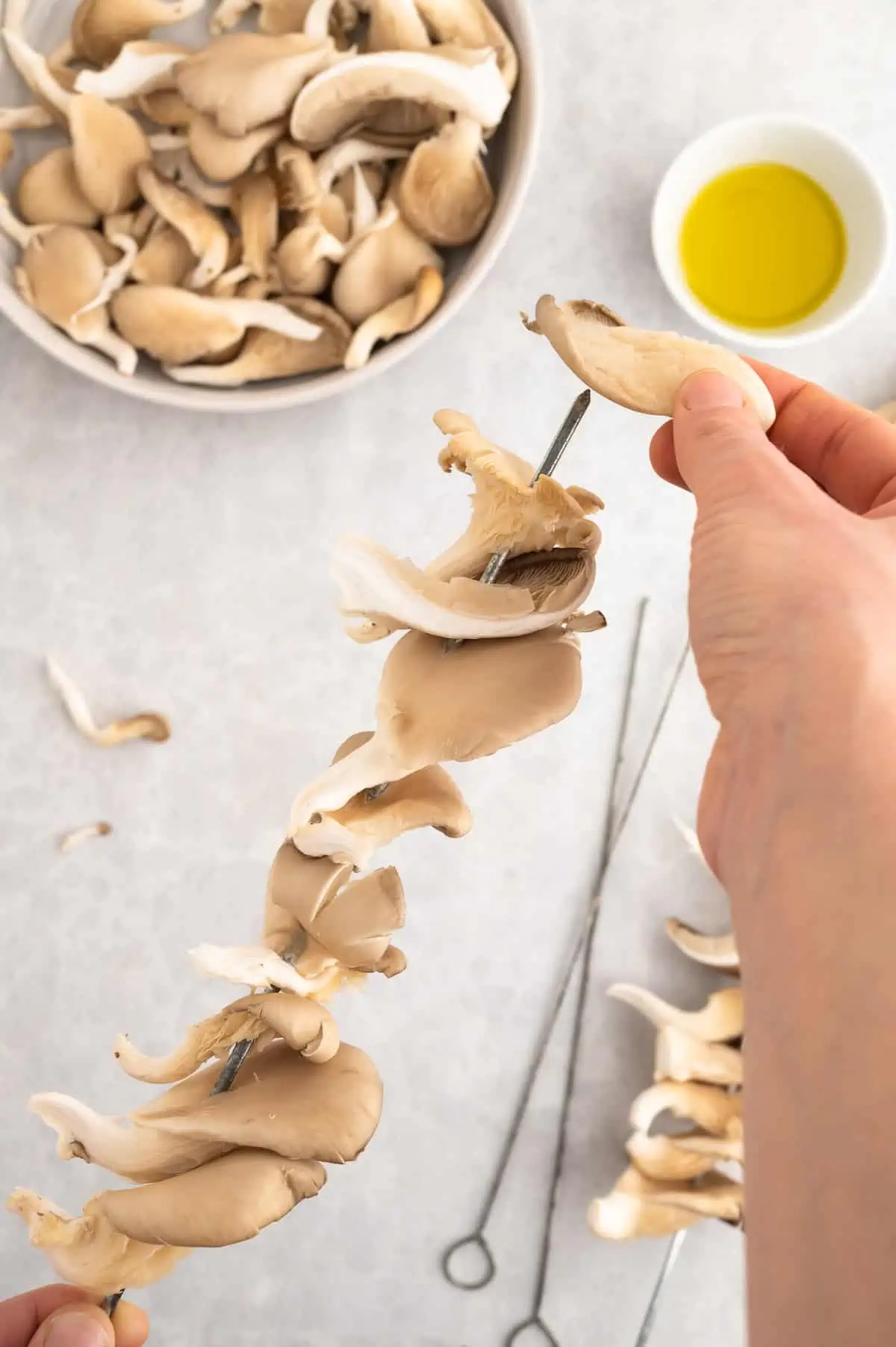 Step Two: Preheat a grill pan over medium-high heat. Oil the pan with olive oil and add the skewers.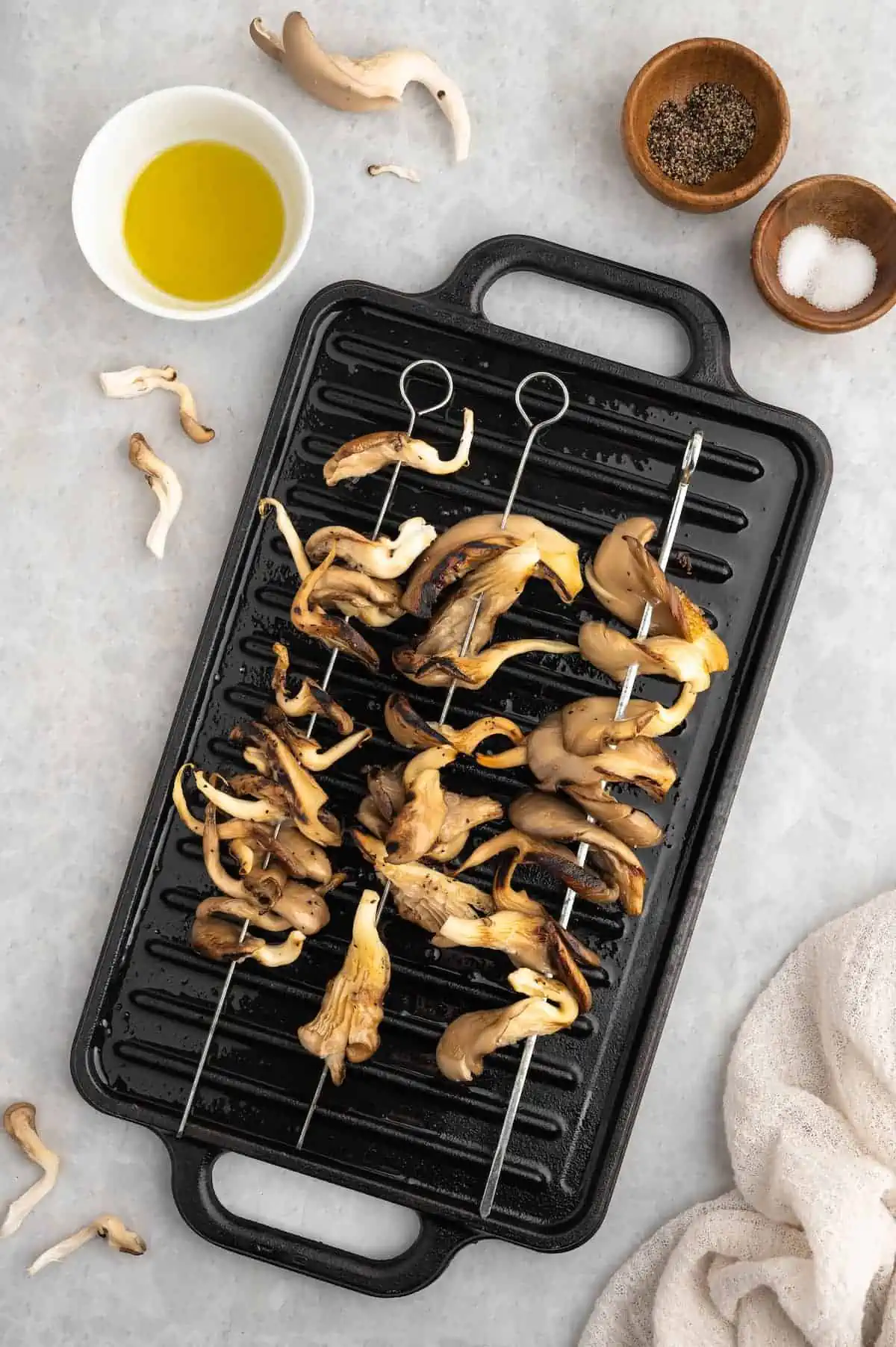 Step Three: Sauté on each side for about 5 minutes. The mushrooms are done when they develop dark brown edges.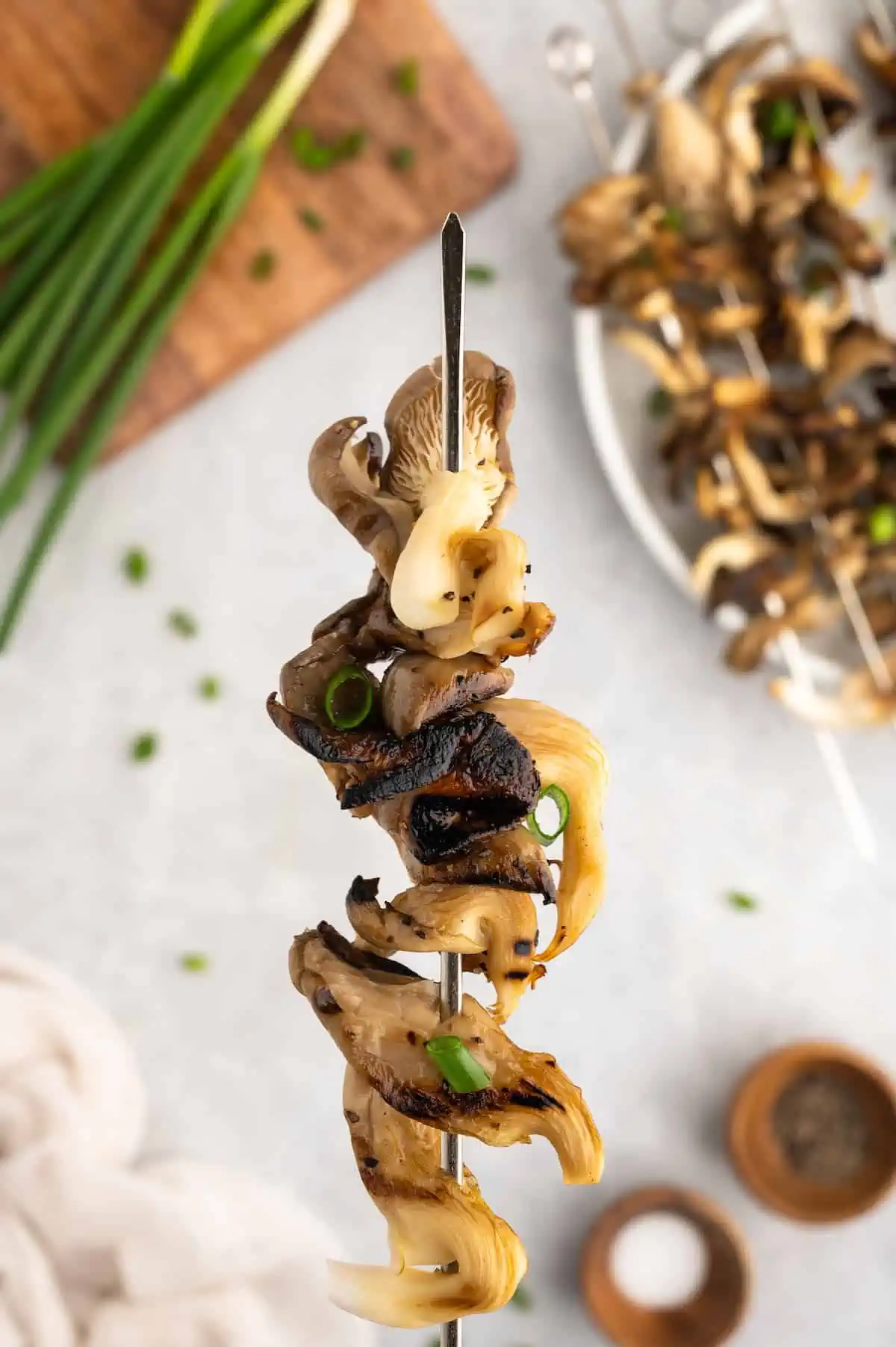 To serve, season with more salt and pepper if desired and garnish with spring onions. See the "Ideas For Additions" section below for ideas on how to add vegan protein and sauces to your skewers!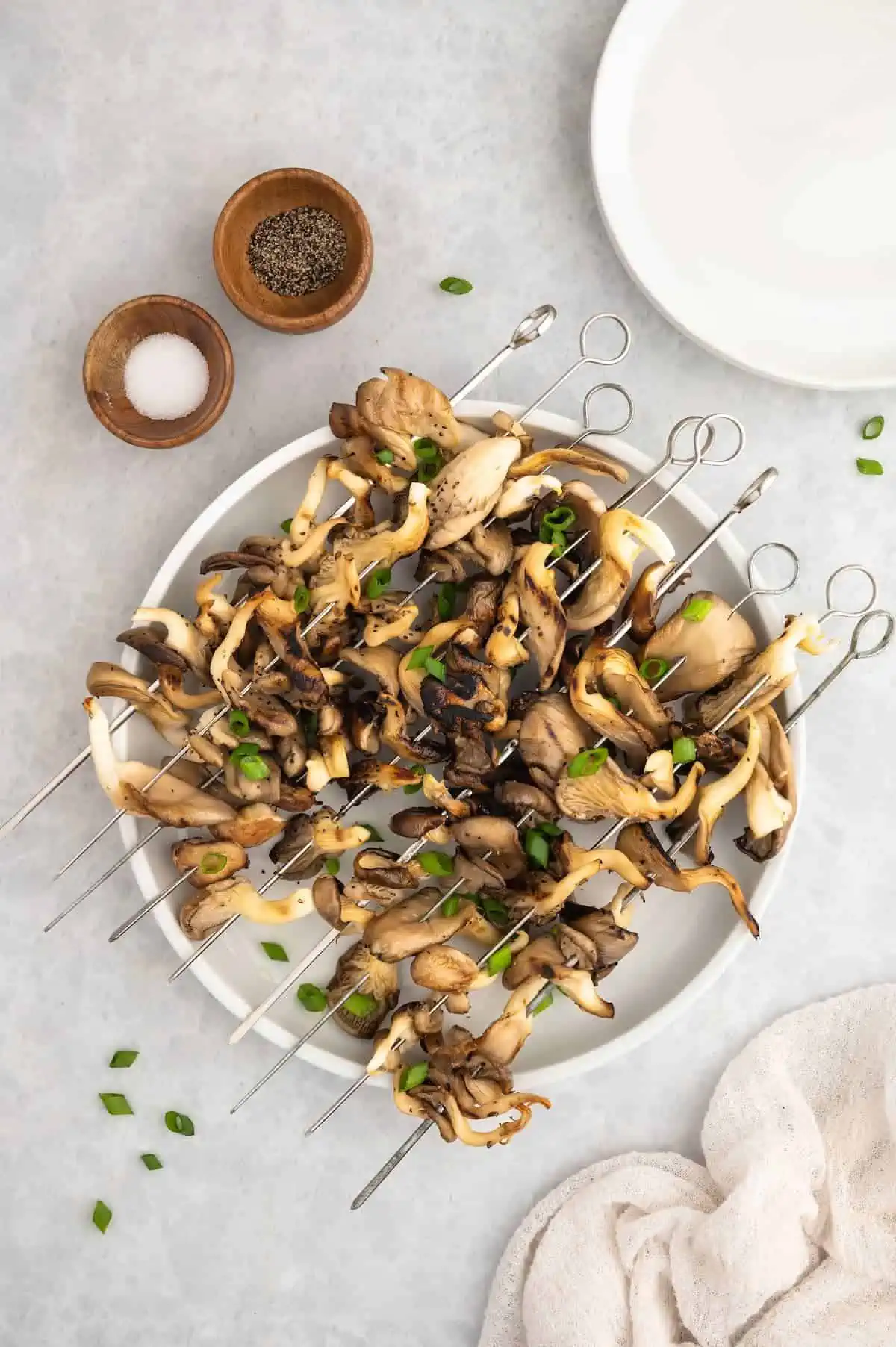 Tips For Success
Get outside and grill like a pro from the very first time. Ensure success by following these handy pointers:
Prior to cooking, soak wood or bamboo skewers in water for at least 30 minutes so they won't burn or catch on fire while over high heat.
If using metal skewers, select squared or twisted types, rather than rounded, which can hold the food better.
Cut the mushrooms and any additions into equally sized pieces to ensure even cooking.
It's better to cut the vegetables into chunkier pieces, rather than smaller, so they won't fall off as they cook (and reduce in size during the process).
Leave space between each skewer on the grill so you can turn them more easily.
Use long, heat-proof tongs to turn the skewers while cooking, rather than a spatula (and never hands, please!)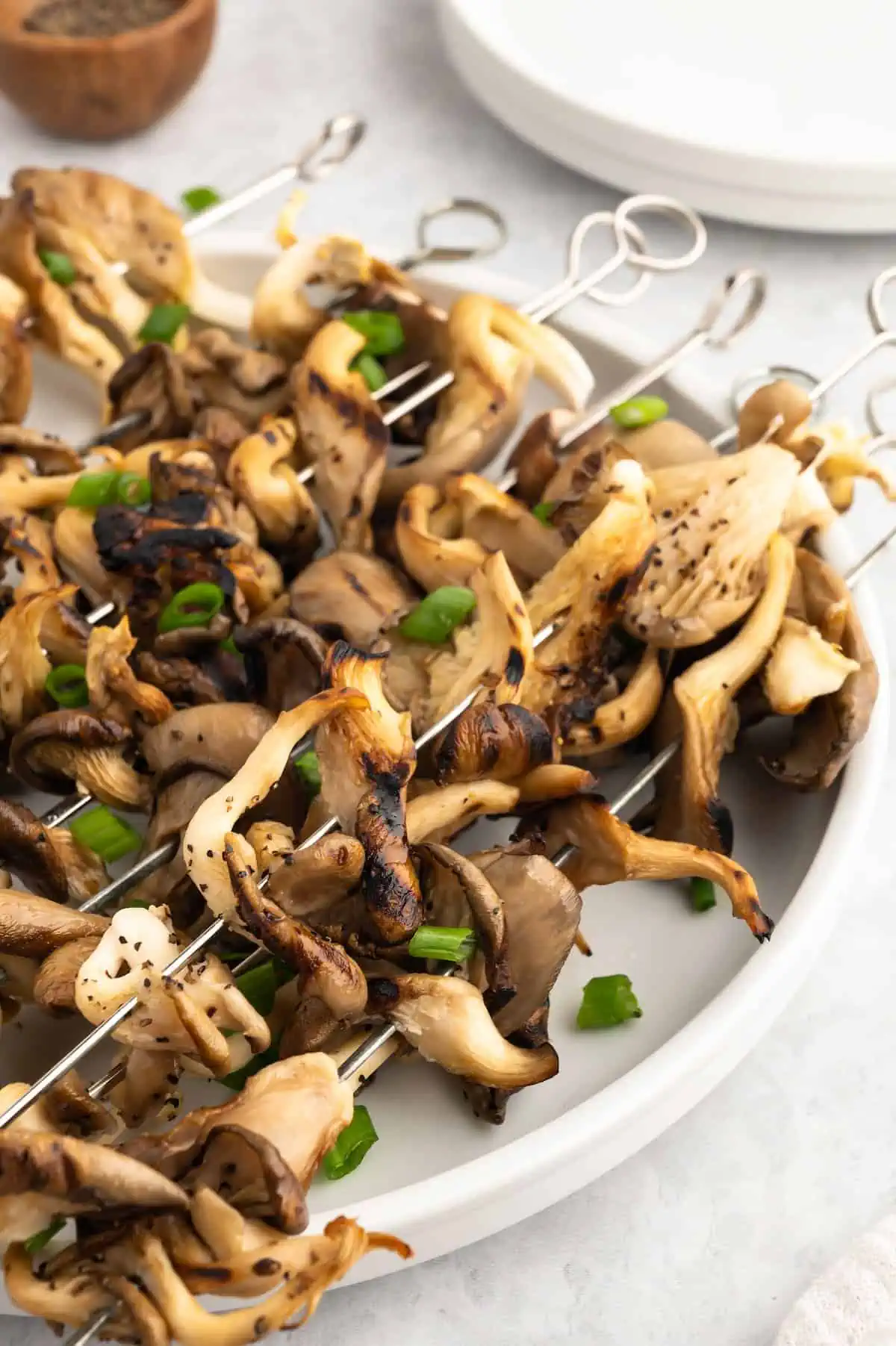 Ideas For Additions
The real fun starts when you start customizing this recipe to fit your preferences, dietary restrictions, seasonal inspiration, and pantry supplies. These are just a few ideas to kick start your inspiration; don't be afraid to run with it and go down your own culinary path!
Protein
We all know that it's easy to get plenty of protein on a plant-based diet. Bump up the nutritional prowess with these particularly high-protein picks.
Veggies
Think seasonally to create the best vegetable combinations. What grows together, goes together! Of course, you can always mix and match according to taste.
Spring: Asparagus, radishes, ramps, fiddle head ferns
Summer: Cherry tomatoes, zucchini, bell peppers, eggplant
Fall: Brussels sprouts, acorn squash, cauliflower, broccoli
Winter: Sweet potatoes, onions, plantains
Sauces
Dip, drizzle, and slather your way to a more satisfying skewer! These finishing flavors can completely transform the whole meal or jazz up leftovers if you're lucky enough to have them. Nutty mushroom satay is just one simple dipping sauce away!
FAQs
How can I feed a crowd with this recipe?
No problem at all! As written, you'll end up with about 10 skewers or four servings, depending on how you divide them. You can easily double, triple, or even quadruple the amounts to accommodate more guests, or simply bigger appetites. Plan to cook the skewers in batches to avoid crowding the grill.
What if I don't have a grill or a grill pan? Can I still make a mushroom kabob some other way?
While you won't get those aesthetically pleasing grill marks, you can make brilliant kabobs in a regular skillet over medium-high heat on the stove.
Can I make this recipe oil-free?
The oil is important in the cooking process, preventing the mushrooms from sticking to the grill or grill pan surface, while adding a more satisfying richness to the dish overall. You can, however, omit it if needed by using a non-stick pan. You may need to add a splash of water to help it to release.
I can't find oyster mushrooms; can I use a different type?
There's so mush-room in my heart for all these fun-gis! All puns aside though, the more mushrooms, the merrier. Use a variety or swap as needed with halved cremini or button mushrooms, sliced portobello or trumpet mushrooms, or whole shiitake caps.  
More Savory Skewer Recipes To Try
1 pound + 2 ounces oyster mushrooms, (do not wash the mushrooms. If they have dirt on them, wipe it away with a dry or slightly damp paper towel)
2 tablespoons olive oil, plus more for brushing
¼ teaspoon salt, plus more if you'd like
¼ teaspoon pepper, plus more if you like
2 thinly sliced spring onions, scallions, to garnish
Alternatively thread the oyster mushrooms with anything you'd like from the "Protein or Veggies Ideas for adding to the skewers" list onto 10 skewers.

Brush the mushrooms and anything else you are adding to the skewer with olive oil. Season with the salt and pepper.

Preheat a barbecue grill plate on medium-high or a chargrill pan over medium-high heat.

Drizzle the 2 tablespoons of olive oil onto the grill plate, then add the skewers.

Saute the skewers for about 5 minutes on each side, until very well grilled with dark brown edges.

Serve hot straight from the grill plate. Season with more salt and pepper if you'd like. Garnish with the spring onions. Serve with any dipping sauce of your choice.
Calories: 64kcal | Carbohydrates: 1g | Protein: 0.1g | Fat: 7g | Saturated Fat: 1g | Polyunsaturated Fat: 1g | Monounsaturated Fat: 5g | Sodium: 146mg | Potassium: 18mg | Fiber: 0.2g | Sugar: 0.1g | Vitamin A: 61IU | Vitamin C: 1mg | Calcium: 5mg | Iron: 0.1mg
This Mushroom Skewer recipe was inspired by the Grilled Mushrooms & Seitan Satay Skewers from the cookbook Plantbased: 80 nourishing, umami-rich recipes from the kitchen of a passionate chef by Alexander Gershberg.
Many thanks to our amazing recipe tester Nicole Benson for testing this recipe! Photos by Amanda McGillicuddy for World of Vegan, all rights reserved.