On the hunt for a vegan delicacy that will satisfy the loudest of tummy grumbles? Look no further than this fried oyster mushrooms recipe! These breaded mushrooms are chewy, delicious, and completely cruelty-free, you're going to want to eat this on repeat.
What sounds like seafood, looks like seafood, and tastes like seafood, but is definitively plant-based? If you guessed oyster mushrooms, you'd be right on the money! Prized for their delicate, chewy texture and subtle savory flavor, oyster mushrooms manage to blur the line between fungus and fauna, all while managing to appeal to picky eater that would otherwise detest either. Once breaded, seasoned, and fried to a golden brown and crispy finish, they're simply irresistible. No one can turn down a heaping plateful of these vegan fried mushrooms, especially with a generous dish of rémoulade for dipping on the side.
Drawing inspiration from Louisiana's beloved flavor profiles with plant-forward ingredients, this recipe comes from The Cajun Vegan Cookbook by Krimsey Lilleth. Transforming time-honored dishes into hearty yet wholesome vegan eats, now everyone can enjoy an authentic taste of down-home southern cooking. Indulge in all your favorite Cajun classics like jambalaya, étouffée, gumbo, and hush puppies, in addition to over 130 other recipes you'll want to eat on repeat.
Why You'll Love This Fried Mushroom Recipe
Party starters: Fried food simply tastes like a celebration, no matter what, when, why, or with who. They're great for feeding a small group of guests, and you could always multiply the
Crowd-pleasing: Who doesn't love crispy, savory, fried treats? Young and old, adventurous and picky eaters alike will dive right in when you present this platter.
Easy, not greasy: It's very simple to whip up this recipe, despite any misgivings you might have about deep frying oyster mushrooms. When done right, the results aren't the least bit greasy either.
Budget-friendly: Bought at a restaurant, a comparable dish would cost at least five times as much as it does when prepared at home. Get more for your money and do it yourself!
Scoot over, fried chicken: Let the birds be, and make this oyster mushroom fried chicken instead! It may sound strange, but it has that same meaty vibe as fried chicken and works as a perfect substitute.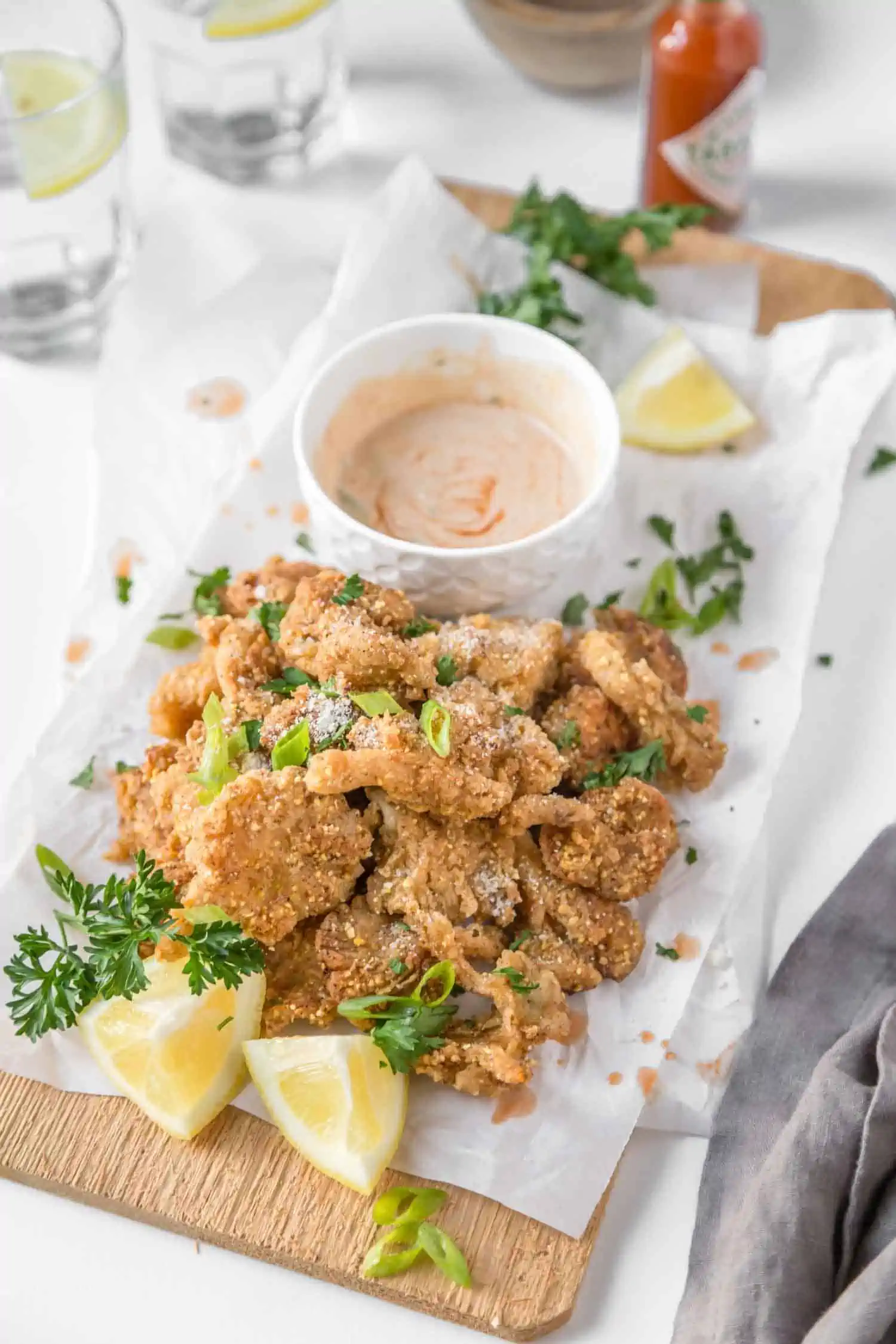 Tips For Making and Enjoying Oyster Mushroom Fried Chicken
Always season to taste!
If you like it hot, add some extra cayenne pepper into the batter.
Don't crowd the pan while frying.
Fry the mushrooms in batches so they have space to brown on all sides, without risking an oil spill or splatter while you work.
Use tongs to protect your hands!
The mushrooms are buoyant, which means they'll float in the oil. Use tongs to flip and stir them occasionally, making sure they're evenly cooked.
Battered mushrooms are best when served immediately after being cooked, while they're still piping hot and extra crispy. However, leftovers can be refrigerated and reheated quite successfully. When you're ready to serve, spread them out in an even layer on a baking sheet and cook in the oven at 350 for 6 – 10 minutes.
Star Ingredients
Unsweetened non-dairy milk: Rice milk is recommended here for its lighter texture and mild flavor, but any dairy-free option you prefer will work just as well.
Apple cider vinegar: A tiny splash of vinegar adds the tartness that approximates conventional buttermilk, adding complexity to the batter.
Oyster mushrooms: The star of the show, these fungi vary in size in shape, with relatively flat, delicate caps that approximate the appearance of their namesake. You can find them in most high-end grocery stores and some farmers markets.
All-purpose flour: Simple wheat flour is the foundation of the batter which turns out light, crunchy, and golden brown.
Cornmeal: Add extra flavor and texture with just a tiny bit of coarsely ground yellow cornmeal. This is a great trick to use when making pizza dough, too.
What Is Remoulade Sauce?
Creamy, tangy, and slightly spicy, this blushing red condiment is both a dip and a spread, perfect for smearing on sandwiches, tossing with salads, and of course, pairing with all sorts of fried foods. It has a mayo base which creates a cooling sensation, perfect for taking the burn out of fiery spice blends and cutting through the richness of crispy fried batter. In France, it leans more heavily on fresh herbs and briny capers, but in Louisianian, Creole and Cajun spices give it a distinctly reddish hue and gentle bite.
It's a snap to whip up your own remoulade sauce using prepared vegan mayo, but for a flavorful change of pace, you could also dip your breaded mushrooms into barbecue sauce, ketchup, or tartar sauce.
Frequently Asked Questions
Q: Can I make these in an air fryer?
A: If you have a fear of frying or just hate the idea of a bubbling vat of hot oil, it's okay! You can totally make air fried mushrooms instead! Prepare the mushrooms as instructed in the recipe but arrange them on a foil-lined air fryer rack or bucket. Spray generously with cooking oil, to coat. Cook in a single layer at 375 degrees for 10 – 12 minutes, until golden brown and crispy. You may need to cook in many separate batches since it's a smaller cooking area.
Q: Do oyster mushrooms taste like meat?
Depending on how they're cooked and seasoned ,oyster mushrooms can have a very similar taste and texture to meat products such as pork, chicken, and even fish. "Fried chicken mushrooms" might sound funny but we promise they're delicious!
Q: Can oyster mushrooms be poisonous?
If you're buying your oyster mushrooms from the grocery store, then you've got nothing to worry about! Foraging for mushrooms on your own? Just be sure to have a reliable resource such as a mushroom guide or app.
Q: Can I make the batter gluten-free?
A: Absolutely, it's a snap to make these this fried mushroom recipe suitable for those with celiac disease. All you need to do is use your favorite gluten-free flour blend instead of all-purpose flour, and you're good to go.
Q: Is it possible to make the recipe oil-free?
A: A little bit of fat really does wonders for the texture here, in addition to making the vitamins and minerals in the mushrooms more bioavailable (AKA, digestible.) If you don't mind sacrificing the texture to end up with a softer, more bready coating, you can take the air fryer approach as described above and omit the spray oil.
Special Equipment
Mini electric fryer: Effortlessly prepare small batches of your favorite fried foods with this plug-and-play solution. The entire cooking vessel is contained, which makes it safer than conventional approaches, too. However, if you can still make this recipe the "old fashioned" way on the stove top with a skillet or frying pan.
Tongs: You never want to reach into hot oil, or get anywhere near it, for that matter. Long metal tongs help you get a handle on the food while staying out of the danger zone.
¾ cup unsweetened non-dairy milk, rice milk recommended
1 tablespoon apple cider vinegar
½ pound oyster mushrooms, rinsed
Oil for frying, canola oil recommended
½ cup all-purpose flour
3 tablespoons cornmeal
2½ tablespoons cornstarch
1 teaspoon salt
1 teaspoon freshly cracked black pepper
1 teaspoon garlic powder
1 teaspoon onion powder
½ teaspoon paprika
½ teaspoon chili powder
½ teaspoon cumin
⅛ teaspoon cumin
For the Rémoulade Sauce, makes about 1¼ cups
1 cup vegan mayo
2 tablespoons Dijon mustard
1 tablespoon fresh lemon juice
1 tablespoon ketchup
1 tablespoon dried parsley
1 tablespoon Tabasco sauce
½ teaspoon unsulphured molasses
1 teaspoon garlic powder
1 teaspoon paprika
½ teaspoon cane sugar
¼ teaspoon salt
¼ teaspoon freshly cracked black pepper
⅛ teaspoon liquid smoke
Pinch cayenne pepper
Optional: You may also add 1 green onion, very finely sliced, if you are going to use the sauce within a few days. Otherwise, omit because the green onions will go bad in a week or so. Note: That's 1 stalk, not 1 bunch!
Fried Oyster Mushrooms:
In a small mixing bowl, combine non-dairy milk and apple cider vinegar.

Separate oyster mushrooms into chunks of whatever size you like. It's okay toleave several 'shrooms together on one branch—it's fun. Dump them into thebowl with the non-dairy milk-vinegar mixture, toss to coat, and let sit while youheat your frying oil.

If using a mini electric fryer, fill the fryer with oil and set the temperature to 375°F.To fry on the stovetop, you'll want to have at least 1 inch of oil in your frying pot.

In another small bowl, whisk together flour, cornmeal, cornstarch, salt, blackpepper, garlic powder, onion powder, paprika, chili powder, cumin, and cayennepepper. Set aside.

Once oil is at the right temperature, use tongs to remove a tester mushroom from the liquid and roll it in the flour mixture, smushing the batter into the gills and crevices.

Use your tongs to gently drop tester mushroom into the hot oil. Fry for 2 minutes, or until batter is golden brown. Remember that controlling frying temperatures on the stovetop can be tricky, so watch your 'shroomies and adjust the frying time as necessary.

When tester mushroom is finished cooking, use tongs to remove it and transfer to a towel–lined plate to cool for 1 minute. Sprinkle with vegan parmesan cheese and top with fresh parsley. Taste test it. All good? Continue with the rest of your shrooms. If it's under- or overdone, adjust the oil temperature as needed. Fry the rest in batches.

When the entire batch is finished, serve immediately with Rémoulade Sauce.
Calories: 535kcal | Carbohydrates: 40g | Protein: 6g | Fat: 38g | Saturated Fat: 4g | Polyunsaturated Fat: 1g | Monounsaturated Fat: 0.5g | Sodium: 1287mg | Potassium: 397mg | Fiber: 4g | Sugar: 5g | Vitamin A: 518IU | Vitamin C: 5mg | Calcium: 34mg | Iron: 3mg
If you try this recipe for fried oyster mushrooms, let us know what you think by leaving a comment and rating below! Be sure to follow along on Pinterest, Instagram and Facebook for even more vegan recipe inspiration.
About the Author
Krimsey Lilleth was born and raised in Baton Rouge, Louisiana, where she developed a taste for bayou's own blend of African, French, and Spanish cuisines. She later opened Krimsey's Cajun Kitchen restaurant in North Hollywood, California, which sadly closed in 2021 during the COVID-19 pandemic. Keeping the spirit of Cajun culture alive through The Cajun Vegan Cookbook, her goal is to encourage budding cooks to let the good times roll, have fun with your food, and also eat your vegetables.
More Delicious Vegan Mushroom Recipes
This vegan oyster mushroom recipe was reprinted from The Cajun Vegan Cookbook with permission from Blue Star Press. Copyright 2022, Krimsey Lilleth. Special thanks to Lexia Cicone for her help with recipe testing! Article written with support from Hannah Kaminsky. Please note that this article may contain affiliate links which supports our work at World of Vegan.