With its sweet and slightly tart flavor, glorious purple color, and luscious creamy texture, this blackberry smoothie makes an unbeatable morning pick-me-up or afternoon snack. You'd think that such a bright blend would only be available with access to the freshest fruit, but this one is made from frozen berries! Great taste is always in season once you know this foolproof smoothie blueprint.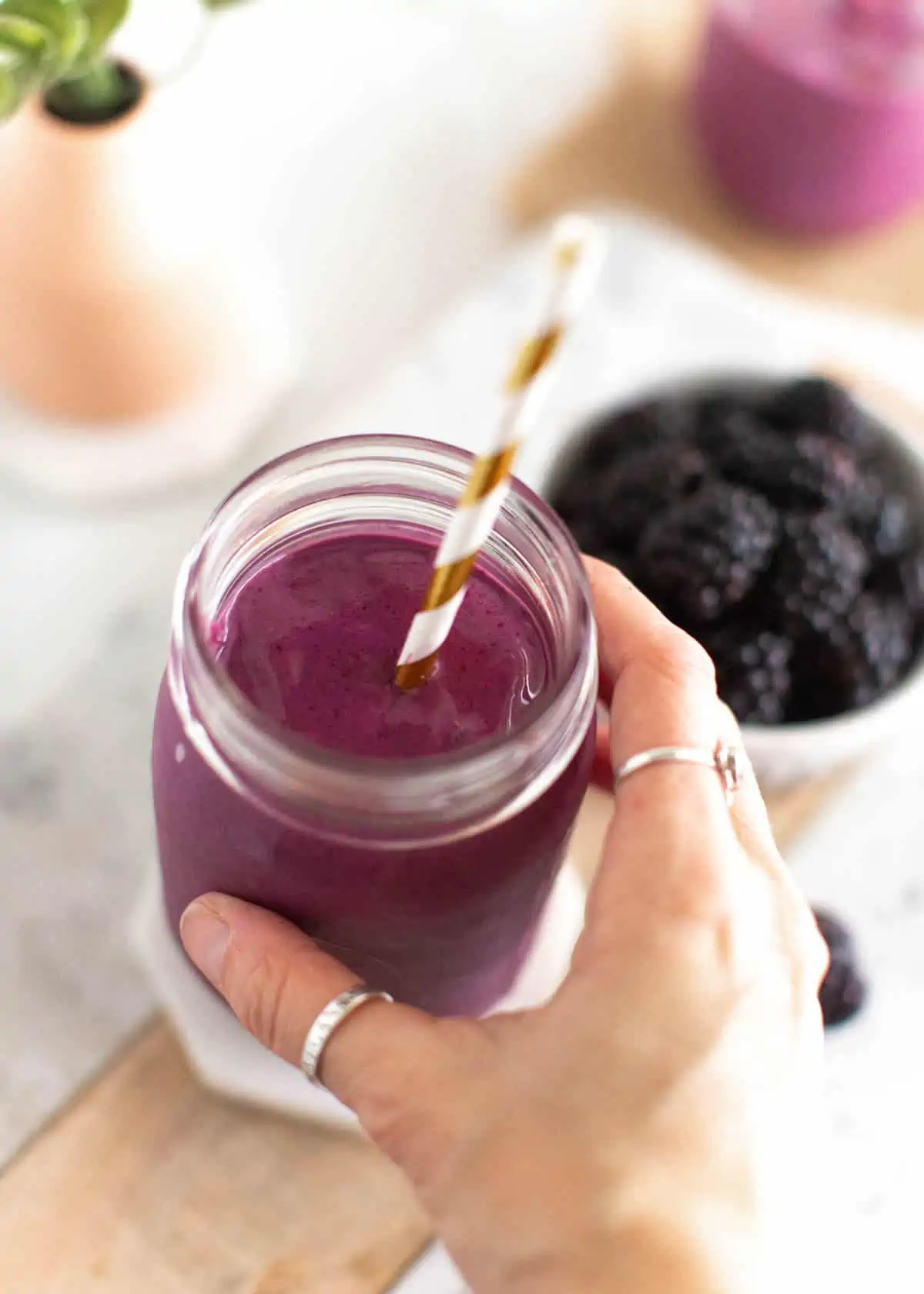 Why You'll Love This Blackberry Banana Smoothie Recipe
If you're a fan of blackberries, this should be an easy win right off the bat. There's a lot going for such a recipe.
Only 3 ingredients: All you need is fruit and liquid to make an incredible sweet treat! Blackberries are the star of the show while bananas create a rich creamy base, and non-dairy milk brings everything together. Soymilk is my favorite for the added protein and luscious flavor, but any alternative milk will do.
Ready in 5 minutes or less: Even if you've hit the snooze button on your alarm a half dozen times already, you can still make it out the door with this healthy breakfast in hand.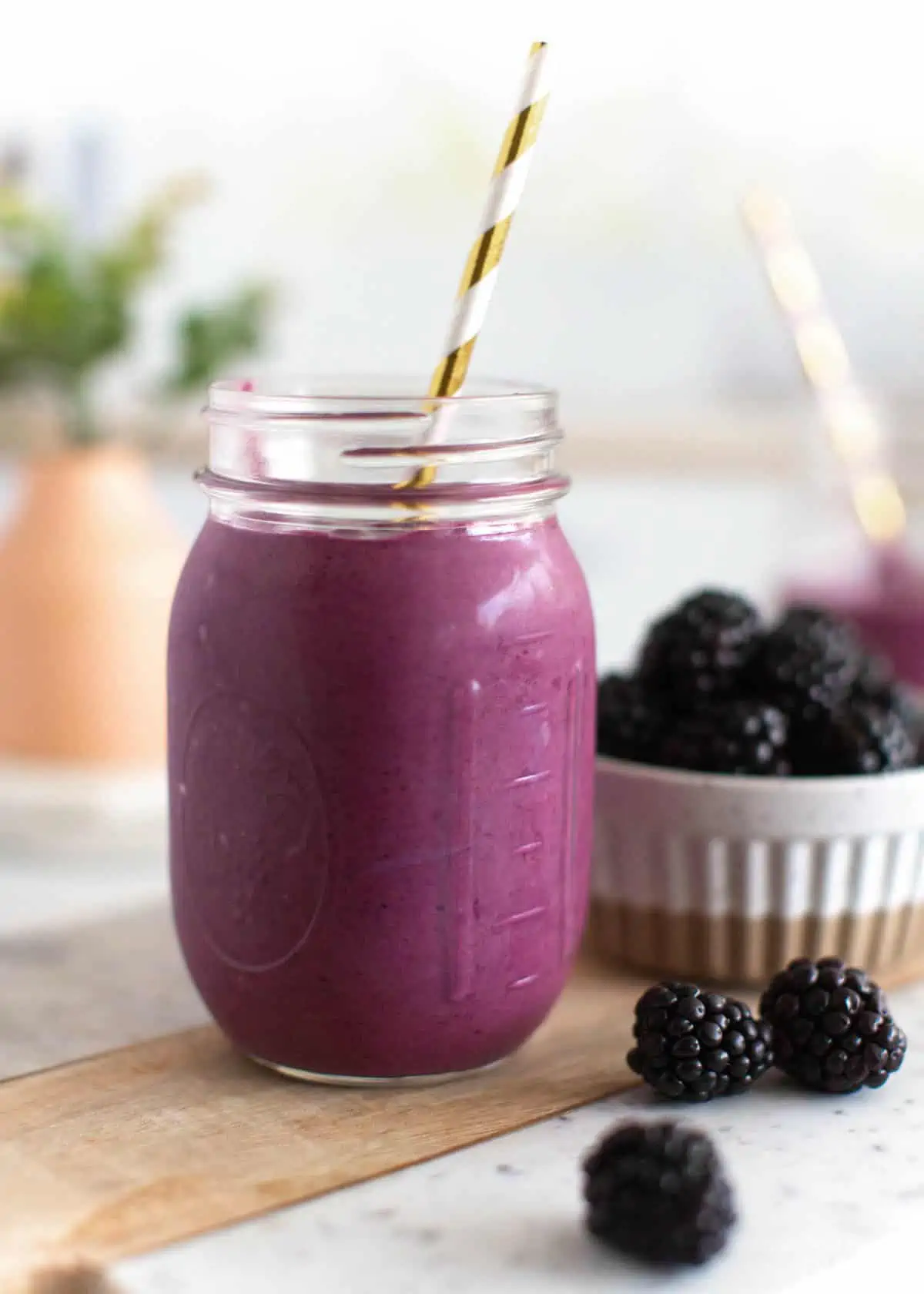 How To Make A Blackberry Smoothie Without Yogurt
Mainstream cafes and fast-food franchises seem to put yogurt in every smoothie they serve. It's frustrating for anyone avoiding dairy, especially when you realize it's even easier to make one without yogurt than it is with!
In this case, the combination of a super-ripe banana blended with soymilk adds the same thickness, without any added sugar, flavors, or preservatives commonly found in conventional packaged yogurt. You can always add more or less liquid to achieve exactly the consistency you prefer.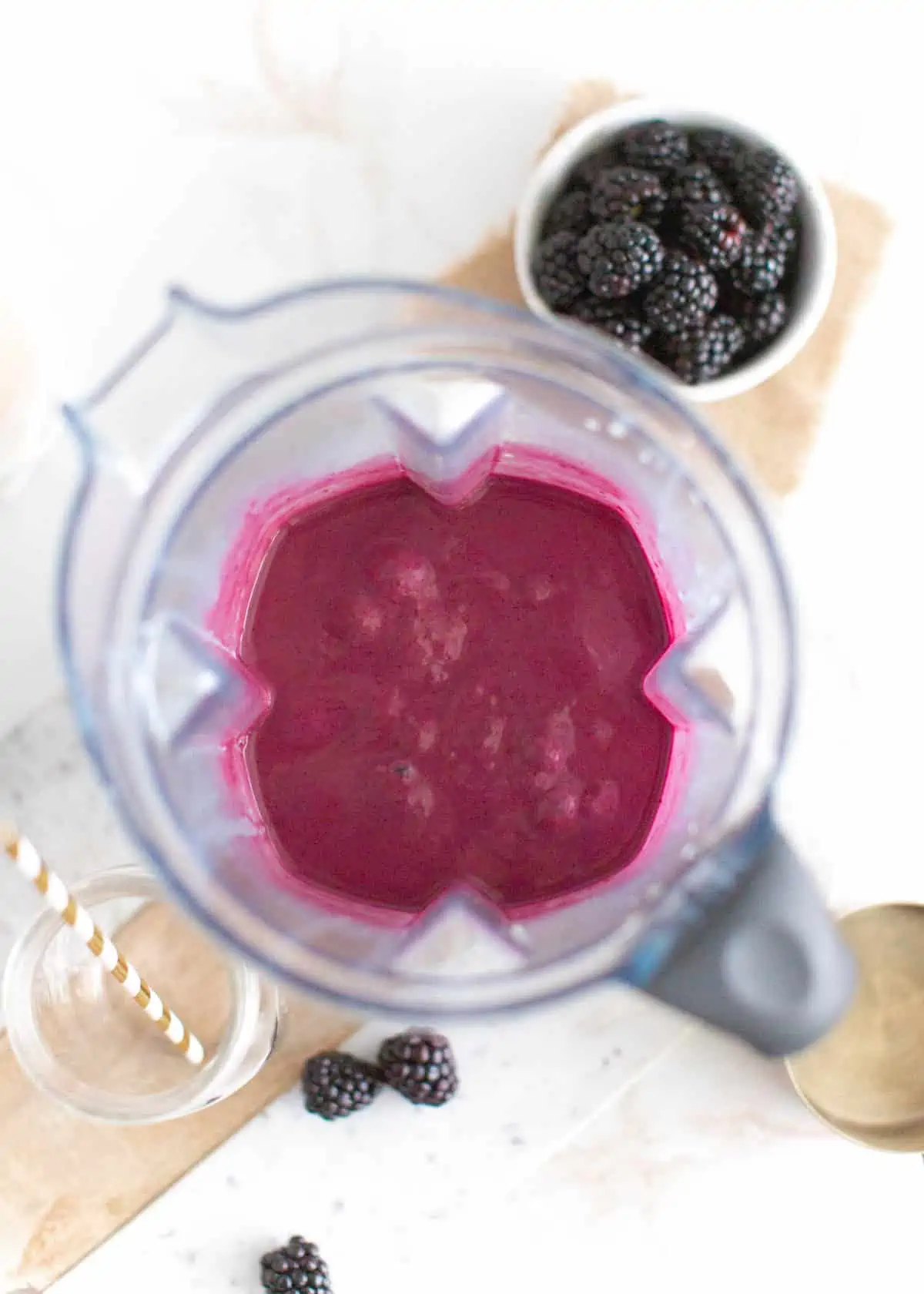 Health Benefits Of Blackberries
Blackberries are unsung superheroes of the fruit world. Anthocyanins are what give them their deep, dark coloring, which are powerful antioxidants that help protect against heart disease, cancer, inflammation, and more. They're also said to boost brainpower, just like strawberries, blueberries, and raspberries too.
In terms of vitamins and minerals, blackberries are packed with vitamin C, manganese, and fiber. Plus, they're very low in sugar and calories, making them a great way to treat your sweet tooth while maintaining a healthy weight.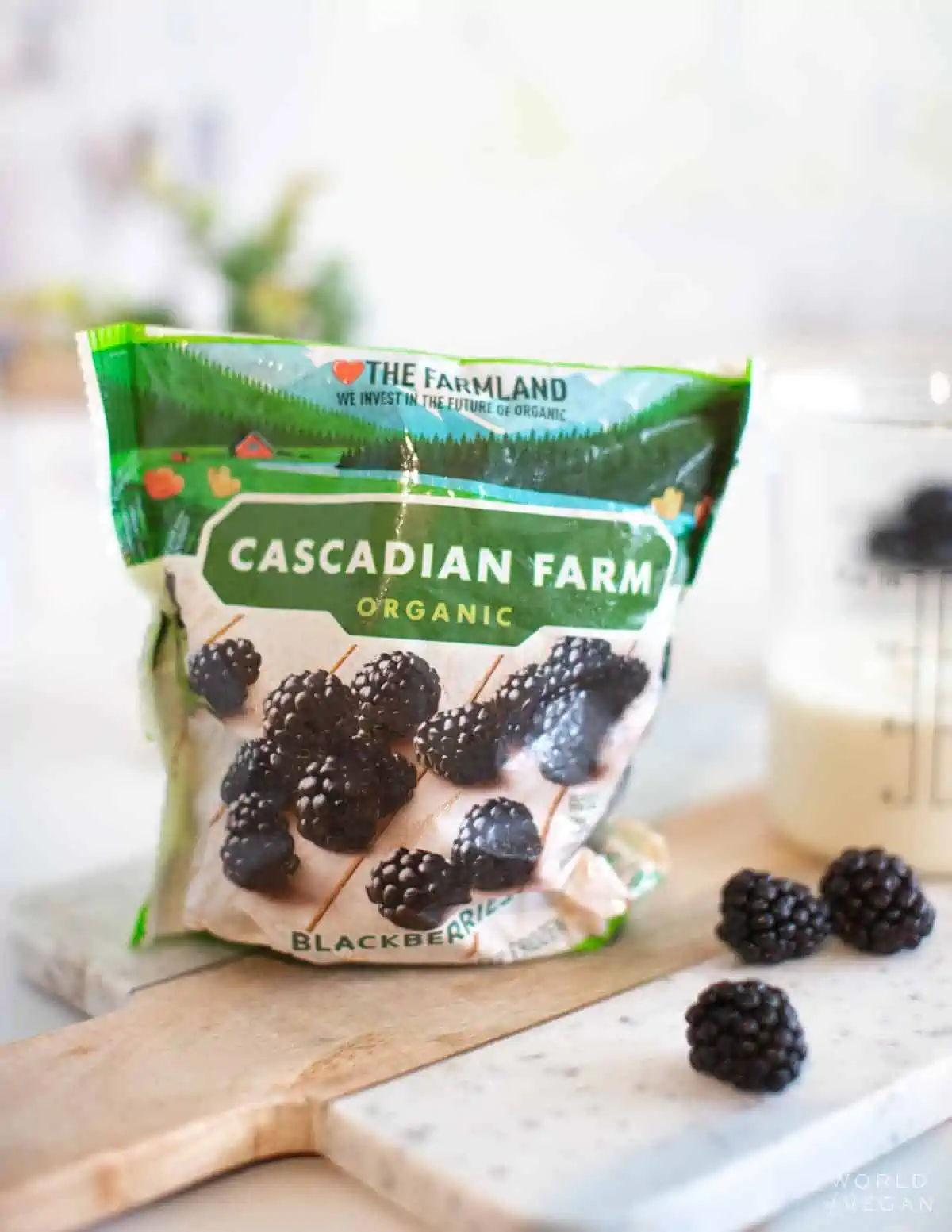 FAQs
Can I make this smoothie with fresh blackberries?
When blackberries are ripe during the summer, their sweetness and flavor is unparalleled. Take advantage of the harvest and use fresh berries when available! If you want a more refreshing blend, you can freeze your fresh berries, and even your bananas, which will create a texture almost like soft serve ice cream. Simply spread out your fruit in a single layer on a sheet pan and stash in the freezer until frozen solid; 2 – 3 hours. You can then store it in an airtight container in the freezer for up to 6 months or blend right away.
How can I make my blackberry and banana smoothie into a more filling meal?
If you wake up with a monster appetite, consider a few simple upgrades to stay full and satisfied until lunch, such as hulled hempseeds, ground flaxseeds, almond or peanut butter, protein powder, a handful of fresh spinach, or ripe avocado. You could even trade the soymilk for coconut milk to make a truly indulgent blend.
Can I store leftover smoothies for later?
Smoothies are best when enjoyed fresh, since the frozen fruit will continue to thaw and make the drink waterier overtime. That said, you could always re-freeze the blended smoothie in an ice cube tray and then pop it back into the blender when you're ready to drink again. Add an extra splash of soymilk to thin it back out.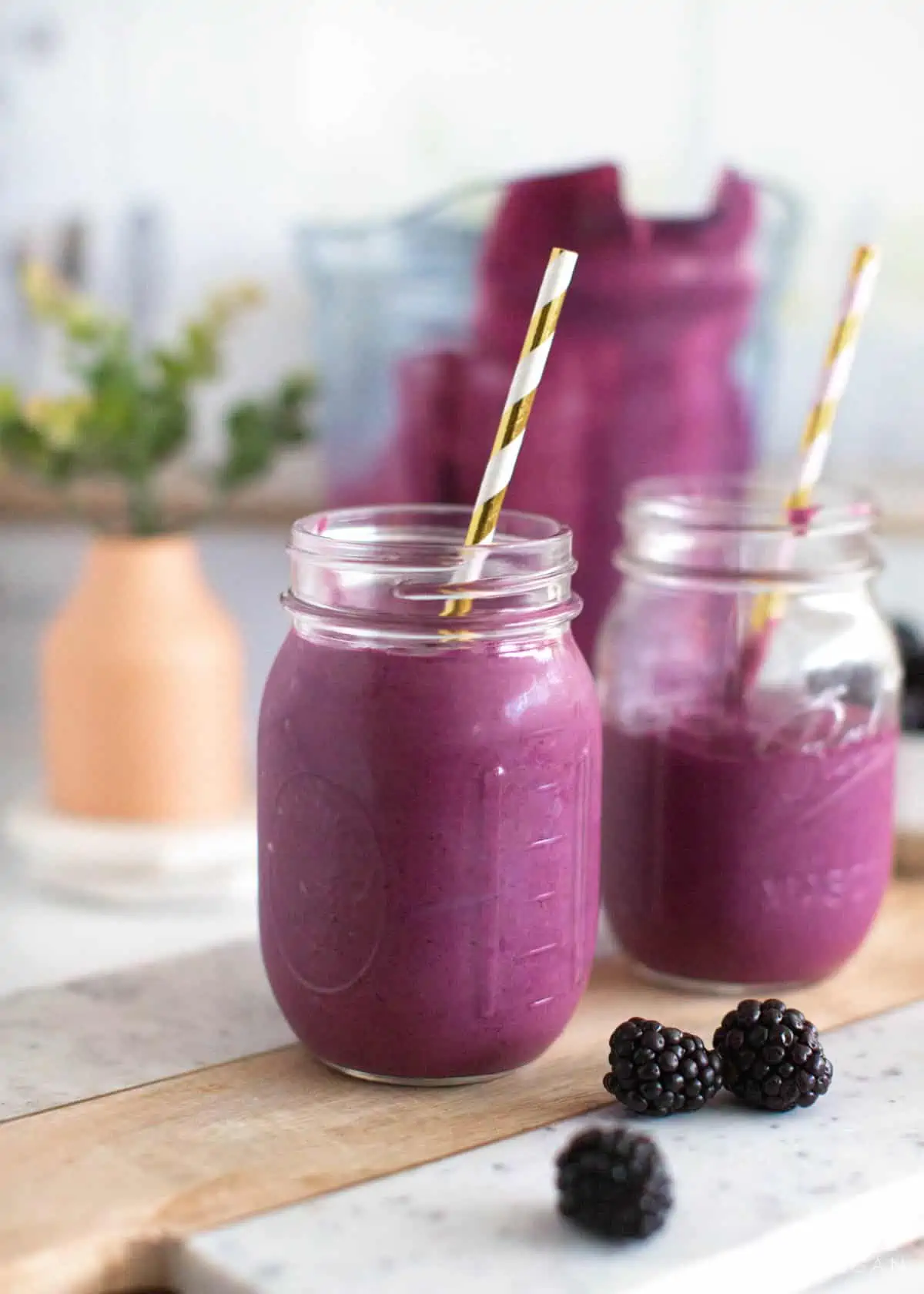 More Delicious And Easy Smoothie Recipes
Love berries? Try this Raspberry Smoothie, Strawberries 'n' Cream Smoothie or Grape Smoothie for a sweet snack! Looking for something easy and super nutritious with extra greens, whip up a mouthwatering Mango Spinach Smoothie.
If you love bright, colorful creations, a Dragonfruit Smoothie, Orange Juice Smoothie, or Heart Beet Smoothie Bowl are the way to go. When your appetite only wants a mid-afternoon treat with a tropical flavor, you'll love either this Creamy Pineapple Banana Smoothie or Tropical Mango Banana Smoothie!
2 ½ cups blackberries, frozen
2 bananas, ripe and spotty, peeled
1 cup soymilk, any variety, or your favorite plant-based milk
In the blender add the frozen blackberries, bananas, and soy milk. Blend on high until smooth.

Pour into one large glass or two small glasses and enjoy!
Serving: 1g | Calories: 471kcal | Carbohydrates: 97g | Protein: 15g | Fat: 7g | Saturated Fat: 1g | Polyunsaturated Fat: 4g | Monounsaturated Fat: 1g | Sodium: 124mg | Potassium: 1761mg | Fiber: 26g | Sugar: 52g | Vitamin A: 1849IU | Vitamin C: 113mg | Calcium: 447mg | Iron: 4mg