Is it just me or is there something special about smiling gingerbread faces and their sweet and spicy cookie crunch? If I could eat gingerbread cookies every day, I would. But, cookies take time and I'm usually impatient for a delicious dessert.
A smoothie that has all the elements of perky gingerbread people without the bother of baking is my idea of heaven. I've taken all the best bits of this holiday biscuit and combined it with your favorite plant milk to make this vegan gingerbread smoothie perfect. So creamy, so dreamy, it might be the perfect replacement to a certain 'nog that shall remain nameless.
Give this vegan gingerbread smoothie a try and see if it doesn't satisfy your deepest dessert desires!
2 large frozen bananas
½ cup frozen mango
2½ cups vanilla plant-based milk, oat or cashew is great!
1½ teaspoons ground cinnamon, Vietnamese, preferably
1½ teaspoons ground ginger
⅛ teaspoon ground cloves
⅛ teaspoon ground nutmeg
Add the frozen fruit to the blender.

Add the plant-based milk and spices.

Blend on medium high until smooth and creamy, around 1 minute.

Pour into glasses or mason jars to serve.

Sprinkle with a dusting of cinnamon, if desired.
If you enjoy a thinner consistency, feel free to add ½ cup extra plant milk. If you love your smoothies super thick, add ½ cup less. It may become harder to blend with less liquid, but you can add a tablespoon of plant milk at a time to get the mixture to move along.
Adjust the spices to your liking. If you're not as fond of ginger as you are of cinnamon, add a little more cinnamon and reduce the ginger by ½ teaspoon. Or vice versa. If you'd like an overall stronger gingerbread flavor, add ½ teaspoon more of each cinnamon and ginger and another ⅛ teaspoon of cloves and nutmeg.
This smoothie tastes best when consumed immediately. If you are saving it for later, keep it in a covered container and place in the fridge until ready to serve. Give it a quick blend before pouring.
If you have some gingersnaps or gingerbread cookies on hand, they would pair perfectly with this smoothie.
Double the recipe if you want to share with someone else. If you love smoothies, this might be only enough for one person.
Calories: 316kcal | Carbohydrates: 69g | Protein: 7g | Fat: 4g | Saturated Fat: 0.3g | Polyunsaturated Fat: 0.2g | Monounsaturated Fat: 0.1g | Sodium: 144mg | Potassium: 732mg | Fiber: 8g | Sugar: 46g | Vitamin A: 1154IU | Vitamin C: 27mg | Calcium: 460mg | Iron: 3mg
Equipment You'll Need
Sugar and Spice and Everything Nice
The natural sugar from the ripe bananas and mellow mangos gives this smoothie just the right amount of sweetness. When mixed with cinnamon, ginger, nutmeg, and cloves, you get the most delightful aroma of warmth with a subtle peppery kick at the end.
The best part about this recipe is that you can adjust the spices any way you like. If you're not as fond of the ginger-y zing, then add a bit less. If you absolutely love cinnamon, feel free to add as much as you wish. Clove and nutmeg are too strong or bitter? You can leave them out altogether.
As soon as you assemble your spices and add your smoothie ingredients, you can blitz it up and enjoy your blissfully blended drink.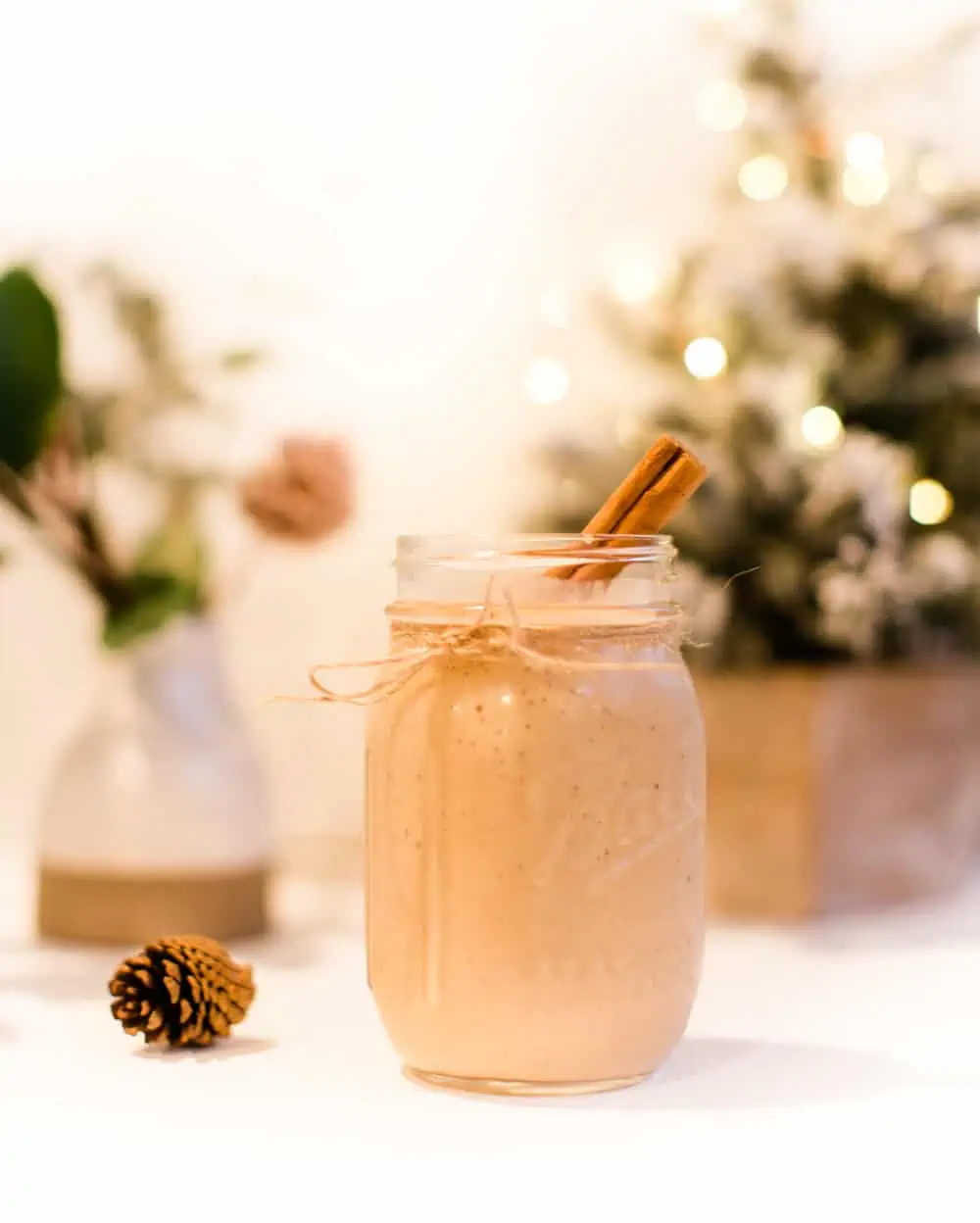 How to Serve Up Your Vegan Gingerbread Smoothie
Garnish With Gingerbread – Add a festive gingerbread friend alongside your smoothie to make a perfect pair. If you have time to bake your own little buddies beforehand, they will be a warm compliment to your cool beverage.
Sprinkle With Cinnamon – Place a pinch of this super spice to the top of your smoothie for a tiny bit of extra sweetness before you sip. Try a mixture of different types of cinnamon, such as Vietnamese, Ceylon, Cassia, or Saigon.
Go Wild With Vegan Whipped Cream – Dropping a dollop of delicious whipped cream (try our coconut whipped cream) adds another layer of loveliness to this creamy concoction.
Build a Beautiful Smoothie Bowl – Create your own gingerbread smoothie Scene! Use a little less plant milk to make the mixture a bit thicker and pour into a chilled bowl. Smooth over the surface with the back of a spoon. Top with all of your favorite festive toppings or make a Winter Wonderland design. For this, I would suggest arranging these ingredients in rows: unsweetened, finely shredded coconut (for falling snow), 3 large banana slices (for a snowman, using vegan mini chocolate chips for eyes or buttons), crushed gingerbread cookie pieces or gingersnaps, and whipped cream for a snowy background.
Serve in a Gorgeous Glass – Sometimes, appearance is even more important than taste. In this case, you'd have both! Choose a glass that you use only on special occasions so that you can enjoy this delightful drink with your eyes as well as your stomach!
How to Save Your Smoothie
There are two ways that you can save your leftover smoothie:
Refrigerate – Add any leftovers to a thermos or a covered container and place in the fridge. This will keep your smoothie cold and you'll only have to shake it or re-blend it before drinking. The only downside to this is that you lose some of the thick, smoothie-like texture. The flavor will still be fantastic.
Freeze – Pour your remaining vegan gingerbread smoothie into an ice cube tray. Place in the freezer until firm, pop out, and store the smoothie cubes in a freezer safe bag until ready to use. Though the smoothie keeps it texture this way when re-blended, it does lose some of its original taste.
More Plant-Based Smoothies & Bowls to Try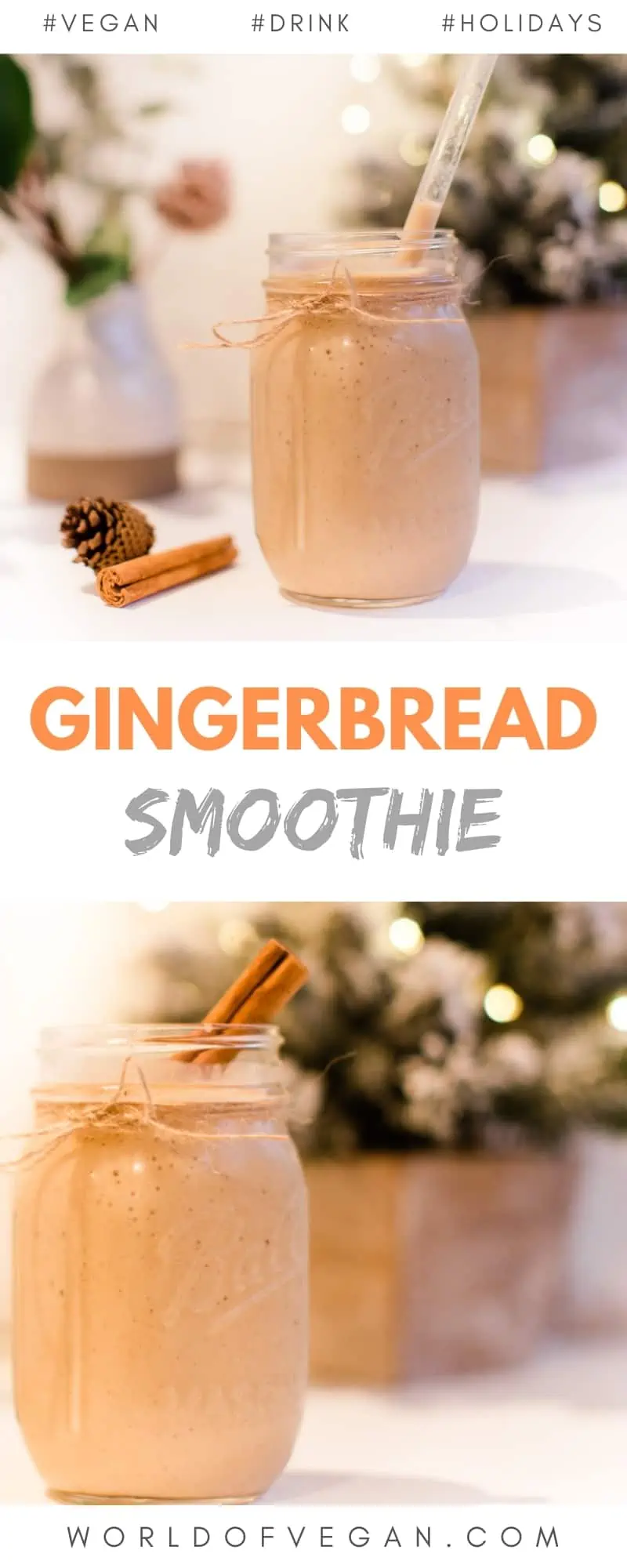 Vegan Gingerbread Smoothie recipe by Gina House for World of Vegan. Photos by Michelle Cehn. Article edited by Amanda Meth. Copyright of World of Vegan™, all rights reserved.